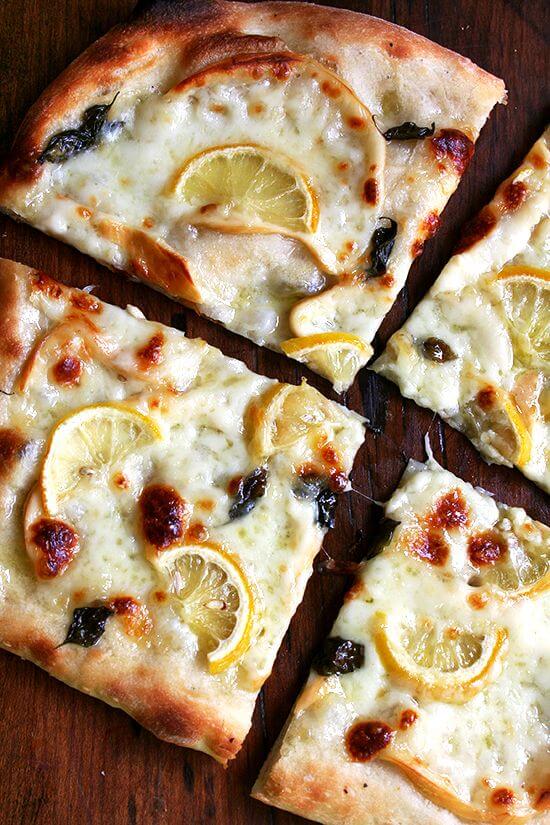 As much as I love lemons, the thought of placing them atop pizza never would have crossed my mind. Squeezing a wedge of lemon over a slice of white clam pizza — that's natural; biting into whole slices of lemon, rind and seeds included — that takes some convincing.
But the story and photo of Kesté's Pizza Sorrentina, a Neapolitan pizza topped with lemon slices, basil and smoked mozzarella, in the WSJ a few weekends ago sent me racing off to the store to find smoked mozzarella. Story goes that this pie was invented in Naples by a great pizza maestro's daughter who created it for her lemon-adoring mother.
Never would I have imagined this group of ingredients to work so well together, but they do. And it makes sense. Lemon cuts the smokiness of the mozzarella; basil, even after seven minutes in the oven, adds a touch of freshness. The bites with lemon slices are big — tart and tangy and refreshing all at the same time; the bites without beg for one. But the beauty of the pizza lies in the balance: it would be a shame to overdo the lemon, to be flinging pieces aside rather than longing for more.
For lemon lovers, of course, this pie is a winner; but skeptics beware: it's beguiling enough to win you over, too.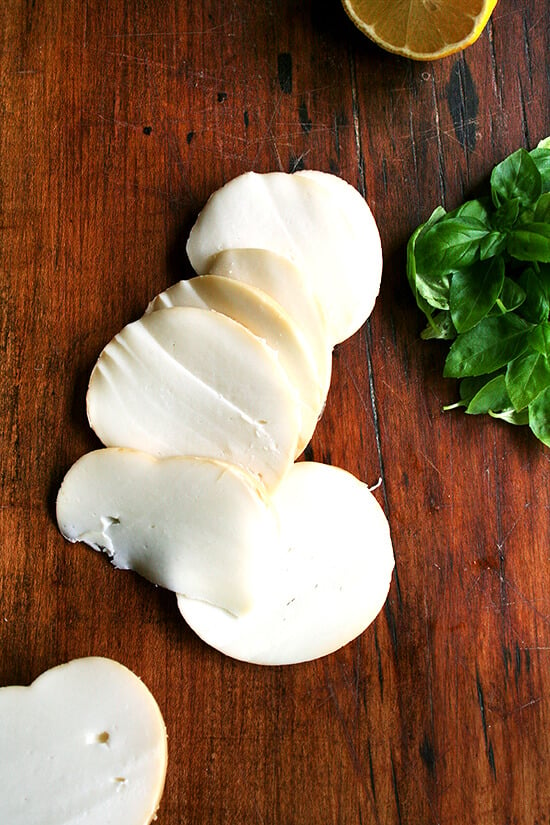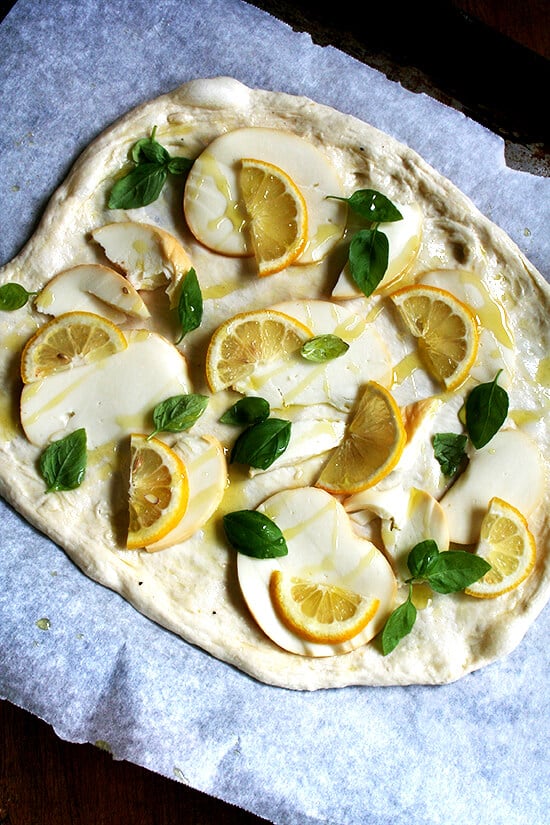 Print
Pizza Sorrentina
---
Prep Time:

25 minutes

Cook Time:

7 minutes

Total Time:

19 hours 32 minutes

Yield:

1 pizza
Description
Source: WSJ: Pizza with a Twist
Notes: I used the Jim Lahey pizza-making method with tipo 00 flour, which I wrote about more extensively back here. If you want to use the Kesté dough recipe, find it here. Also, if you don't have the 18 hours required to make the Lahey dough, this Todd English recipe is fantastic — it was my favorite for many many many years.
---
Ingredients
Topping for one pizza:
6

thin lemon slices (as thin as possible)

3 ounce

s smoked fresh mozzarella, thinly sliced

5

large leaves fresh basil
extra-virgin olive oil for drizzling
Jim Lahey Pizza Dough:
Source: Bon Appetit
7 1/2 cup

s all-purpose flour (

1000 gram

s) plus more for shaping dough

4 teaspoon

s fine sea salt

1/2 teaspoon

active dry yeast
---
Instructions
Whisk flour, salt, and yeast in a medium bowl. While stirring with a wooden spoon, gradually add 3 cups water; stir until well incorporated. Mix dough gently with your hands to bring it together and form into a rough ball. Transfer to a large clean bowl. Cover with plastic wrap and let dough rise at room temperature (about 72°) in a draft-free area until surface is covered with tiny bubbles and dough has more than doubled in size, about 18 hours (time will vary depending on the temperature in the room).
Transfer dough to a floured work surface. Gently shape into a rough rectangle. Divide into 6 equal portions. Working with 1 portion at a time, gather 4 corners to center to create 4 folds. Turn seam side down and mold gently into a ball. Dust dough with flour; set aside on work surface or a floured baking sheet. Repeat with remaining portions.
Let dough rest, covered with plastic wrap or a damp kitchen towel, until soft and pliable, about 1 hour. DO AHEAD: Can be made 3 days ahead. Wrap each dough ball separately in plastic wrap and chill. Unwrap and let rest at room temperature on a lightly floured work surface, covered with plastic wrap, for 2–3 hours before shaping.


To Make the Pizzas:

During the last hour of dough's resting, prepare oven: If using a pizza stone, arrange a rack in upper third of oven and place stone on rack; preheat oven to its hottest setting, 500°–550°, for 1 hour. If using a baking sheet, arrange a rack in middle of oven and preheat to its hottest setting, 500°–550°. (You do not need to preheat the baking sheet.
Working with 1 dough ball at a time, dust dough generously with flour and place on a floured work surface. Meanwhile, soak lemon slices in water for 15 minutes, then pat dry.
Place dough on a rimmed baking sheet and stretch, using your fingers, until it is approximately 8 to 10 inches in diameter. Distribute 3 ounces cheese over the surface, leaving a 1-inch rim. Arrange 6 lemon slices over cheese and tuck in 5 basil leaves, then drizzle everything lightly with oil, including the rim. Place on highest rack in the oven and bake until puffy, about 6 minutes; then turn on the broiler and broil until the crust takes on some color, 30-60 seconds. (Note: I skipped the broiling step.) Remove pizza from oven and serve. Repeat with remaining dough.
---