Maple Cream Tart
This post may contain affiliate links. Please read my disclosure policy.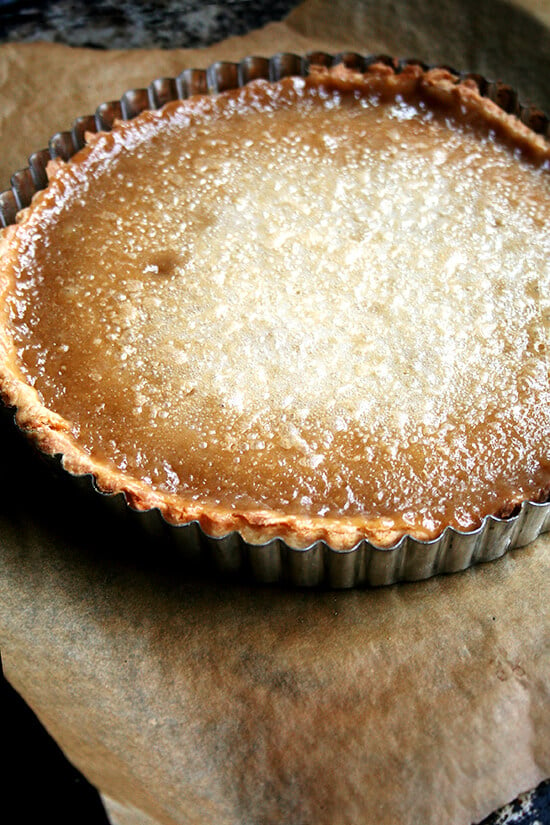 Sometimes things just work out for the best. Just as I was about to declare Thanksgiving ruined — my third corn syrup-less pecan pie tasted just as curdled and watery and messy as my first — I took a stab at yet another recipe, making a most-delectable discovery in the process: maple cream tart, a recipe Food52 adapted from NYC's Left Bank.
I am in awe of this tart's texture. The absence of eggs makes it exceptionally light yet somehow it tastes as smooth and creamy as an untorched crème brûlée. For maple syrup lovers, nothing could be more delicious, and best of all, it's a cinch to assemble. The custard, as promised, comes together in two minutes and while the tart shell requires a blind baking, the assembled tart bakes in just twenty-five minutes.
I know it's very late in the game to start switching up dessert menus, but if you're still looking for something to serve or perhaps to bring to a Thanksgiving feast, this one is just as festive as any of the classics. For me, it's even better and will always be considered the tart that saved Thanksgiving 2012. Gobble Gobble.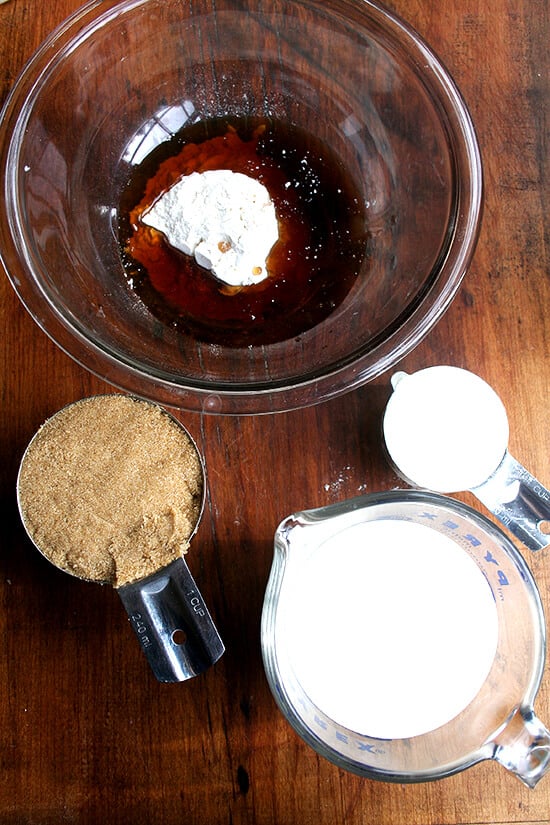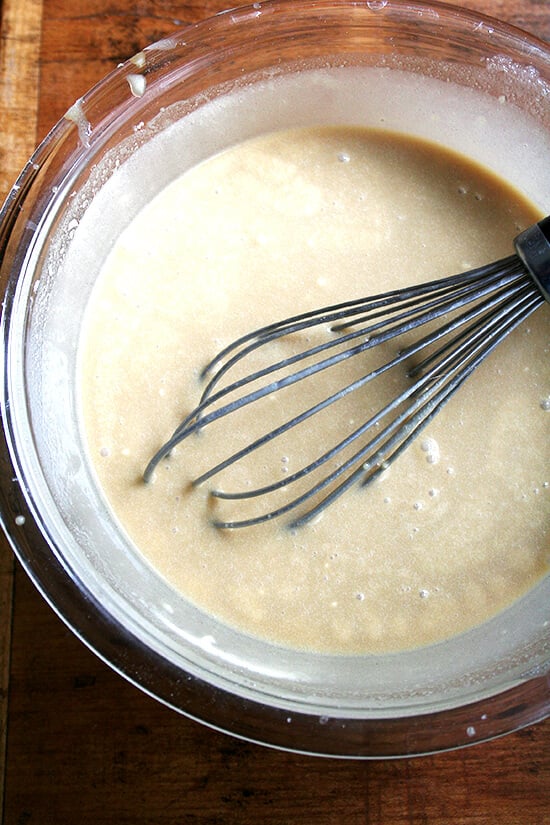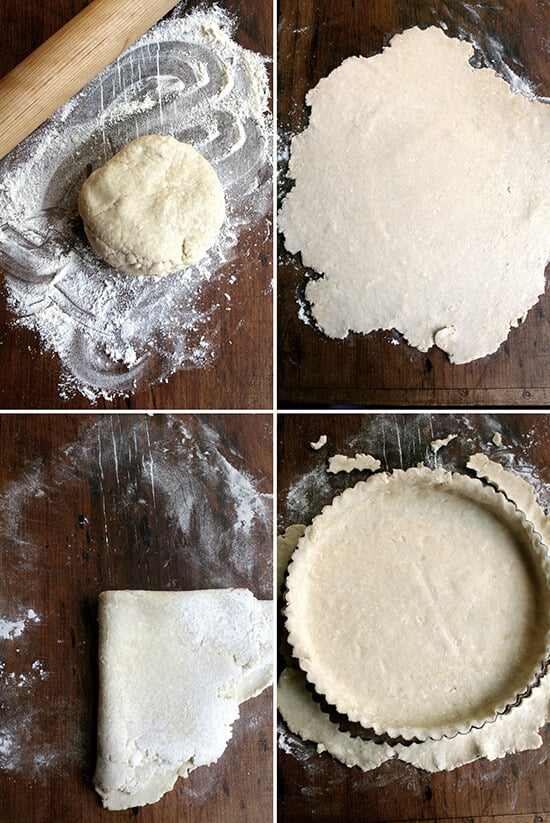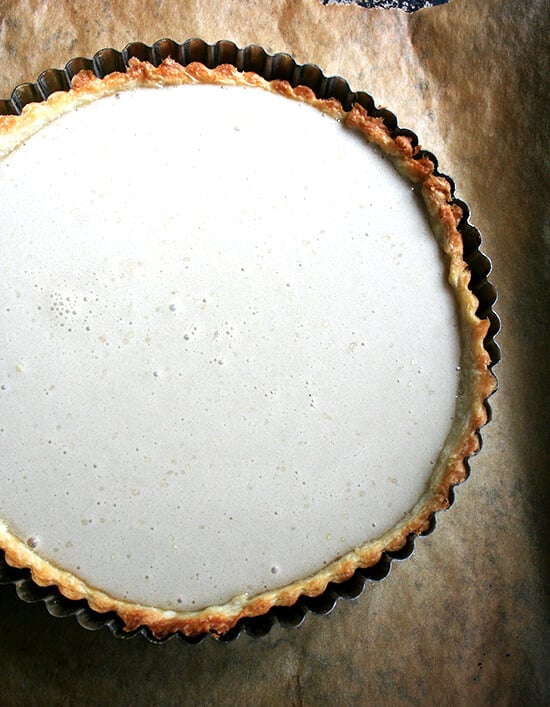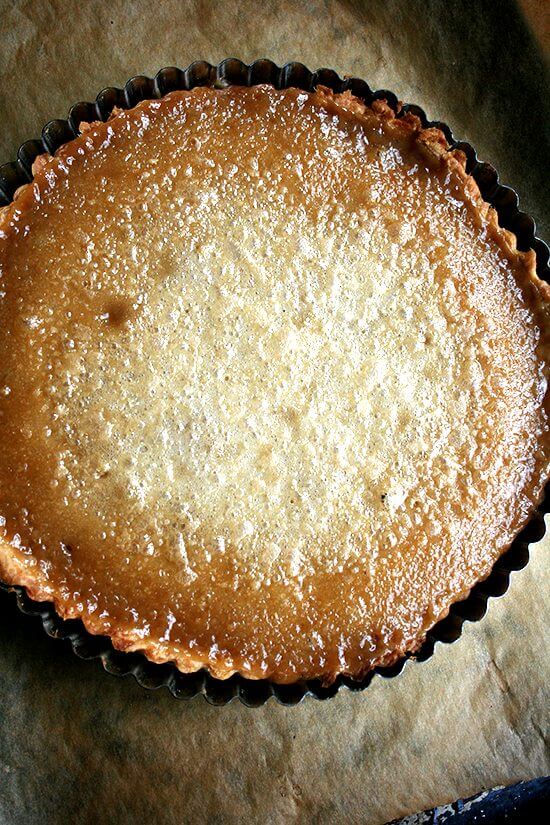 Print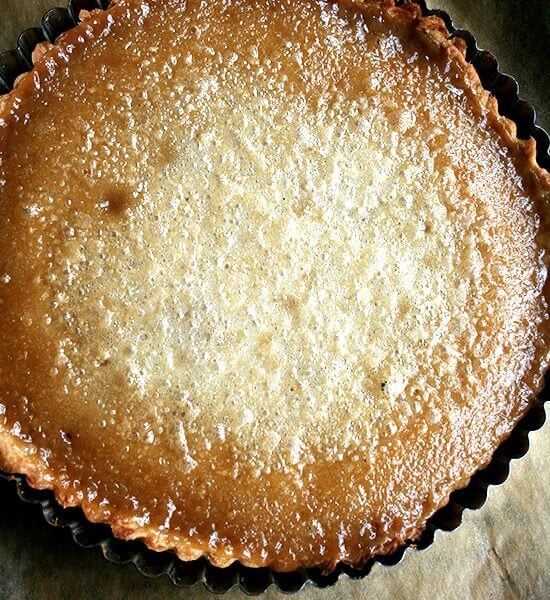 Maple Cream Tart
---
Description
**Update: I've made some changes based on a few comments regarding spillage.**
First: This is a sweet tart. Do not make it if you tend to like less sweet desserts. A dollop of crème fraîche offsets the sweetness, but it's still sweet.
I never blind bake anymore — I don't think it's necessary. I've adjusted the recipe below to reflect how I make my tart dough and freeze it prior to baking it.
If you are using a 9-inch tart pan, you may want to use these proportions for the filling. I made the tart yesterday (10/11/2019) and had no issue with spilling:

3/4 cup (165 g) light brown sugar
3 tablespoons maple syrup
1 cup heavy cream
3 tablespoons (28 g) all-purpose flour

I just ordered an 11-inch tart pan and will revisit the recipe once it arrives with the original proportions.
Source: Food52
---
**Please See Notes Above Before Making: You may need to adjust quantities based on the size of your tart pan.**
For the tart dough:
1 1/4 cups

(

160g

) all-purpose flour

1 tablespoon

sugar

1/4 teaspoon

table or kosher salt

8 tablespoons

(

4 oz

|

114g

) cold, cubed butter, salted or unsalted

1/4

C. + 1 T. (

71 g

) ice water
For the filling:
1 cup

(

195 g

) packed light brown sugar

1/4 cup

maple syrup

1 1/4 cups

heavy cream

1/4 cup

(

32 g

) all-purpose flour

1/4 teaspoon

kosher salt
---
Instructions
Make the pastry: In the bowl of a food processor, pulse the flour, sugar and salt together. Add the cold, cubed butter to the food processor. Pulse at 1-second intervals until butter is the size of peas—should be about 10 quick pulses. Add the ice water and pulse again about 10 times until the mixture is crumbly but holds together when pinched. Lay a clean tea towel on a work surface. Dump the crumbly dough mixture into the center of it.  Grab the four corners of the towel together and twist to create a beggar's purse, pressing the dough into a round.
On a lightly floured work surface, roll out the dough into a 12- or 13-inch round. Use as much flour as needed to prevent the dough from sticking, and every few rolls, flip the dough over. Transfer dough to a tart pan with a removable bottom. Fit the dough into the pan, trimming the edges.  Transfer to freezer for 30 minutes.
Make the tart. Preheat the oven to 350ºF and place a rack in the center of the oven. In a medium bowl, whisk together the sugar, maple syrup, cream, and flour until smooth. (Please see notes above regarding quantities if using a 9-inch tart pan.) Pour this mixture into the tart shell. Bake until the maple cream just sets — it should still jiggle a little — 20 to 25 minutes. Let cool. Serve sliced with dollops of crème fraiche or Greek yogurt. (Store in fridge if making a day in advance. Bring to room temperature briefly before serving.)
Prep Time:

45 minutes

Cook Time:

30 minutes

Category:

Dessert

Method:

oven

Cuisine:

American
Keywords: maple, cream, tart, Thanksgiving, dessert, brown, sugar, syrup
This post may contain affiliate links. Please read my disclosure policy.