Green Olive, Walnut & Pomegranate Salad; Thanksgiving Day Recap
This post may contain affiliate links. Please read my disclosure policy.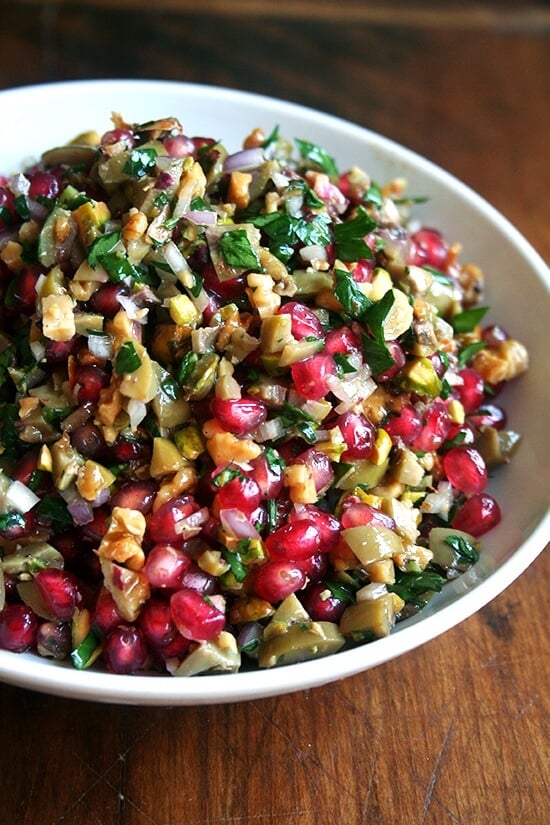 Tired of cooking? Me too. But I have one more teensy tiny recipe to share with you before I disappear into I-don't-feel-like-cooking-anything mode. And it's a good one. You HAVE to make this. Not immediately, but soon and definitely before the end of the year, because nothing will look more festive on your holiday table and nothing will taste more restorative in the season of endless feasting.
The recipe comes from the book Turquoise by Greg and Lucy Malouf, which my aunt introduced to the family last winter when she served this stunning salad at a dinner party. The myriad textures and sweet-salty-hot dressing make this salad irresistible.
Just a head's up, there are a few ingredients that you might not have in your pantry — walnut oil and pomegranate molasses — but please don't run out and buy either of these ingredients. This is just a salad, a salsa really: if you take out the crunchies (the nuts and pomegranate seeds) and think about a classic tomato salsa, here, the olives become the tomatoes, shallots the onions, lemon the lime, parsley the cilantro. The walnuts, pistachios and pomegranate seeds add a nice crunch, flavor, and dimension that a simple salsa just doesn't possess but the spirit of the dressing — a balance of sweet, salty and hot — is something that can be achieved by any number of pantry items. (See notes below.)
The recipe says it serves four, but don't buy it. You'll have a hard time sharing this. I could have eaten it all by myself as could have Ben. Personally I think this would make a wonderful meal for two served with some Turkish flatbread — I've been dying to make this Paula Wolfert recipe for years — and some hummus or eggplant caviar or a few slices of cheese.
Also, if you want to extend this salad's life expectancy, you could certainly fold in some farro or quinoa or your grain of choice, but don't go overboard. There is something so lovely about the salad as it is. Hope you all had a wonderful holiday.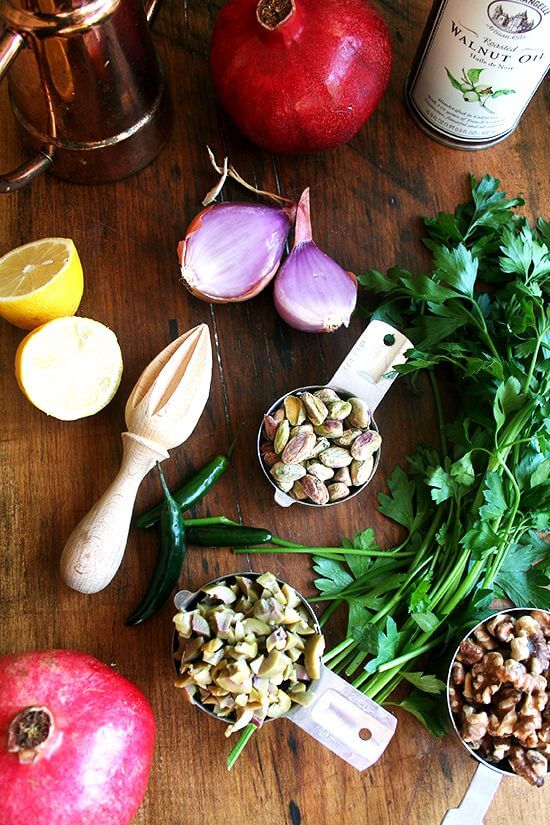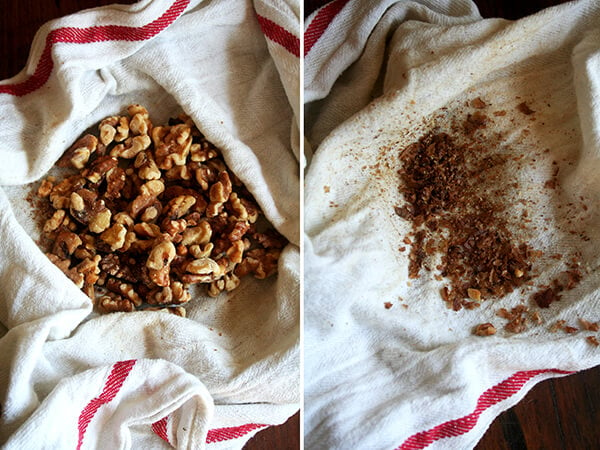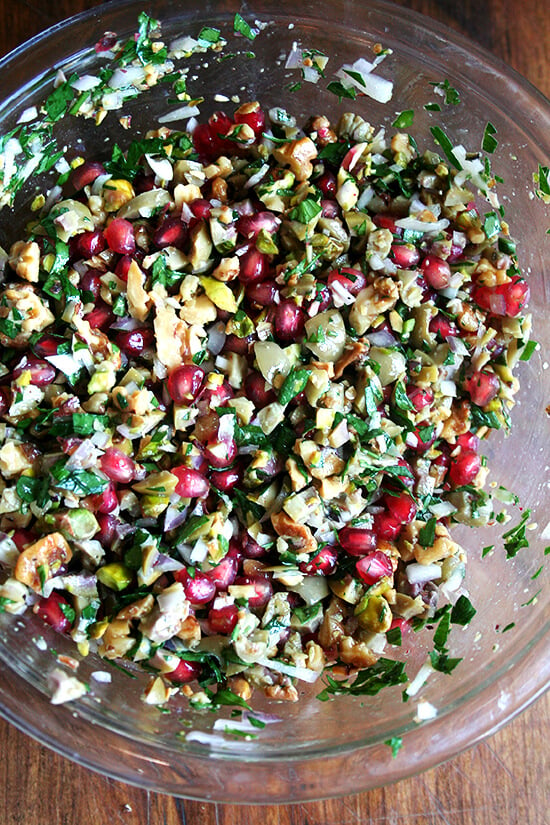 Print
Green Olive, Walnut & Pomegranate Salad
---
Total Time:

30 minutes

Yield:

4 servings
Description
Source: Turquoise: A Chef's Travels in Turkey by Greg & Lucy Malouf
Notes: Use the amounts as a guide. I added a bit more of almost everything. Also, make sure the green olives are good. If you are able to taste them — from an olive bar, for example — before you buy them, that is ideal. Remember: if you don't like the olive before you chop it up and throw it in the salad, you probably won't like it any better when it's in the salad.
Substitutes for pomegranate molasses: Pomegranate molasses is syrupy in texture and both sweet and tart in flavor, so if you really want to add a splash (which is all the recipe calls for) of this ingredient, then you want something like a mixture of honey and lemon or brown sugar and cranberry juice. I found lots of good ideas from the Food52 community as well as a recipe from Simple Recipes, but all I ended up doing — did I mention I've been feeling super lazy? — was splashing in some white balsamic vinegar, which certainly doesn't create the same effect as pomegranate molasses but which added a nice bite and flavor.
---
3/4 cup

walnuts

1/2 cup

pitted green olives, coarsely chopped (I added more)

1/4 cup

unsalted shelled pistachios, coarsely chopped

1/2 cup

pomegranate seeds (I added more like a cup)

2

small shallots, peeled and finely diced

1

red Serrano chile, seeded and finely diced (I used green)

1 tablespoon

shredded flat-leaf parsley (or more)

1 tablespoon

extra virgin olive oil

1 tablespoon

walnut oil (optional — use extra virgin olive oil if you don't have walnut)
splash of pomegranate molasses (optional)
juice of

½

lemon
sea salt
freshly ground black pepper
---
Instructions
Preheat oven to 350⁰F. Scatter the walnuts onto a jelly-roll pan and roast for 5-10 minutes, until deep golden brown. Pour the nuts into a tea towel and rub well to remove as much skin as possible. Chop the walnuts coarsely and toss in a sieve to remove any remaining skin or dust.
Combine all the ingredients in a large bowl and toss gently. Leave to stand for 5 minutes or so before serving to allow flavors to meld. Taste and adjust seasoning as necessary — add more lemon, olive oil, pepper, salt (just be careful because the olives are salty), etc.
Prep Time:

15 minutes

Cook Time:

10 minutes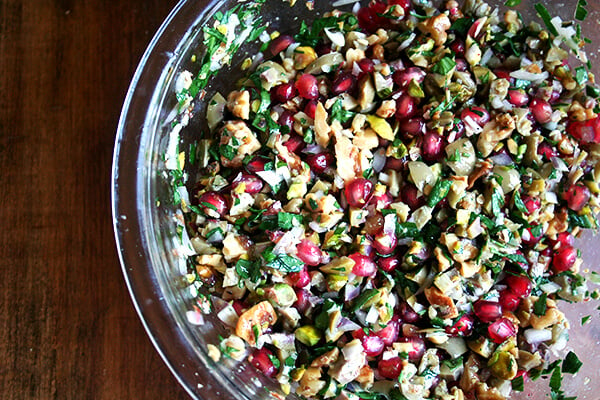 Thanksgiving Day Recap:
The breakfast table. As suspected, clotted cream was requested, lemon cream ignored: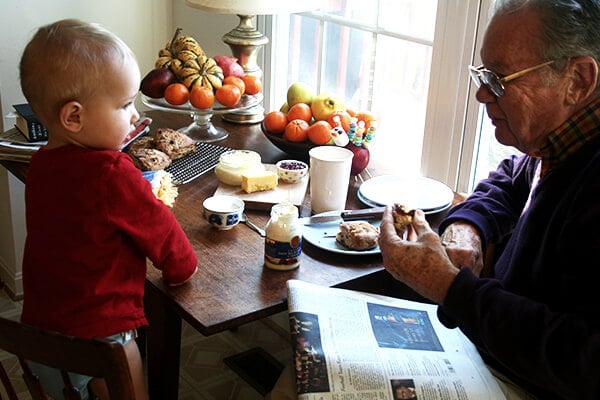 It was so nice having frozen scone dough on hand to pop in the oven on Thanksgiving Day morning. The scones were delectable: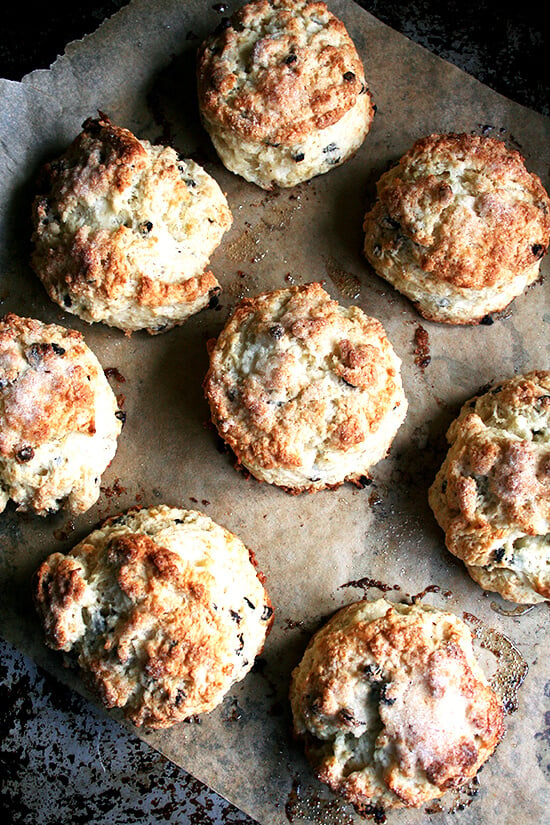 Cranberry sauce, simmering; bread, rising; Suzanne Goin's stuffing, which was the unanimous favorite dish of the occasion, waiting for oven space: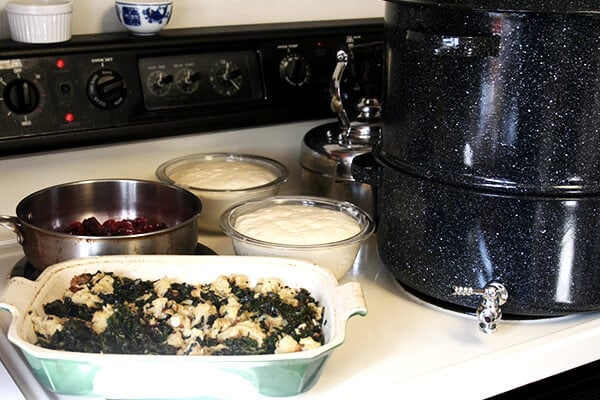 Turkey, steaming: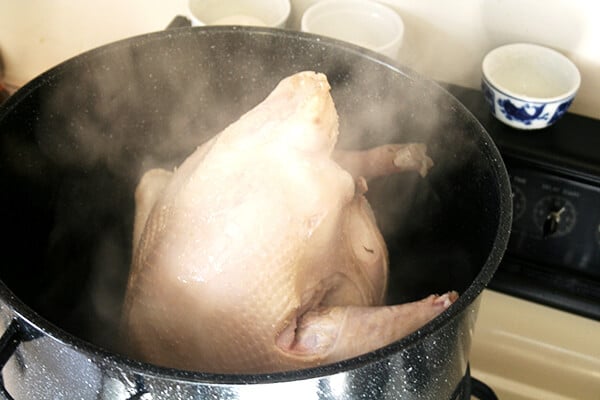 Darcy's apple crumble, ready for the oven. SO delicious: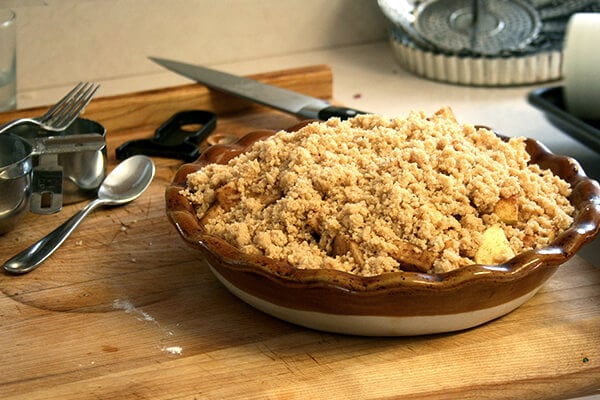 Graham:

Steam-roasted turkey: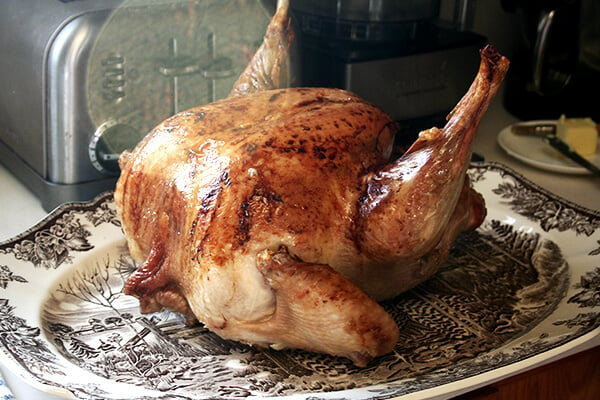 Almost there: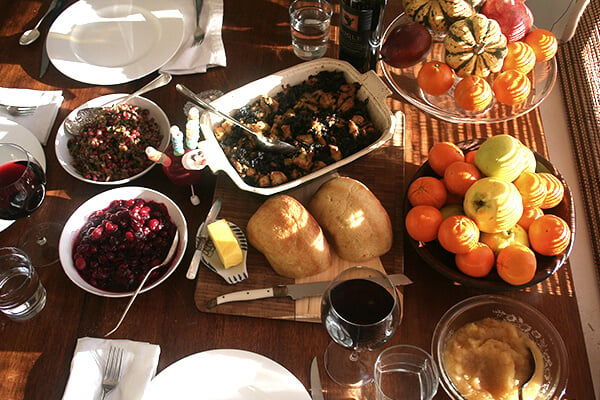 The feast:

For dinner the next day, we had leftover turkey paninis with Talley's shaved Brussels sprouts, bacon and pomegranate salad — delicious!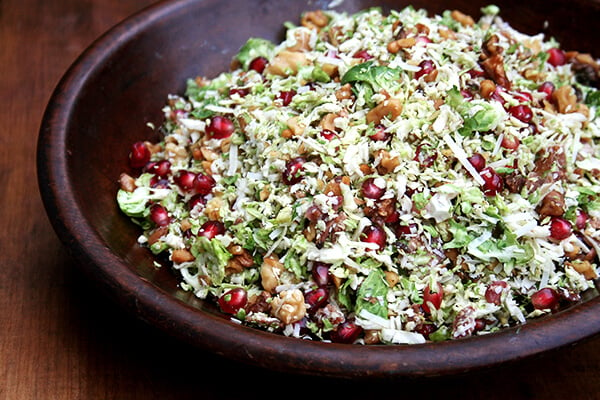 This post may contain affiliate links. Please read my disclosure policy.