Suzanne Goin's Slow-Cooked Kale ( & Stuffing)
This post may contain affiliate links. Please read my disclosure policy.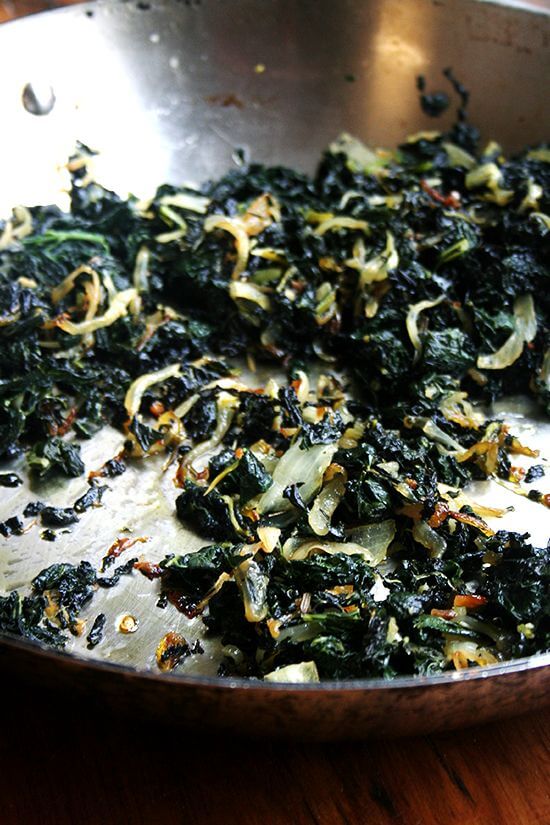 I've been trying to do a test run of Suzanne Goin's stuffing with slow-cooked kale, but I can't get beyond the cooking of the slow-cooked kale step. I've tried twice, but the kale keeps disappearing, and as a result, my loaves of country bread and bulbs of fennel continue to be neglected.
Cooking kale in this manner is new for me. For one, like many people, I have taken to eating it raw not only because it tastes good but also because one raw bunch can be stretched over more meals than one cooked bunch. Second, if I do sauté it, I do it very quickly over high heat with a little olive oil, garlic and crushed red pepper flakes. I'm not sure I'll ever do that again.
In Goin's method, the kale is blanched first, roughly chopped and then sautéed over low heat for thirty minutes in olive oil with onions, garlic, rosemary and chile de árbol. It's almost black and slightly crispy when finished. It is sweet and addictive. It's dishes such as this that make me understand (almost) how people can be vegetarian. I ate the first batch in one sitting — yes, nearly one pound of kale — directly from the pan spooning bites here and there onto toasted bread only wishing I had the motivation to poach an egg. With the second batch, I did the same but saved enough to cover the surface of a giant omelet sprinkled with feta, which Ben and I devoured for dinner.
Time's a ticking, and I'm not sure the stuffing will make an appearance this year, but I'll be sure to report back if it does. I hope all of your Thanksgiving preparations are going well. I've made my to-do list and with any luck red wine cranberry sauce and apple sauce will materialize; a corn syrup-less pecan pie will be baked (though I've struck out twice now); and a steamed-roasted turkey — cannot wait to try this — will be as juicy as promised.
Happy Thanksgiving Everyone.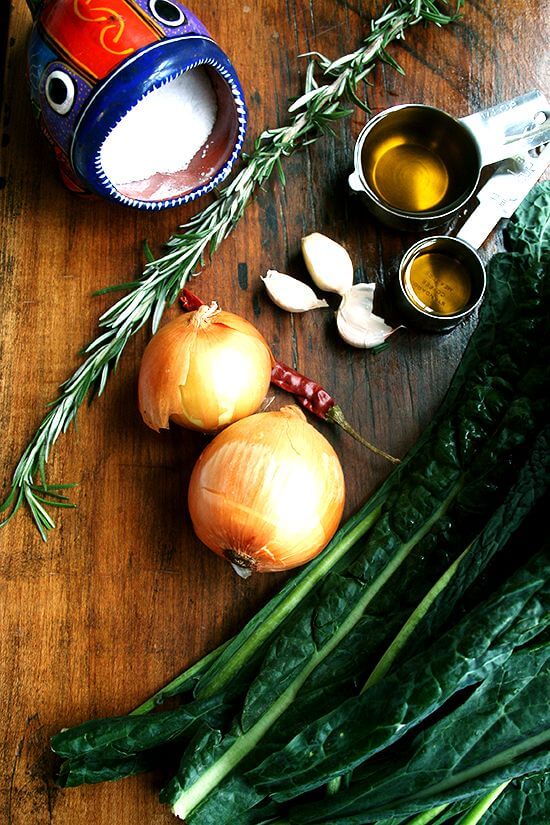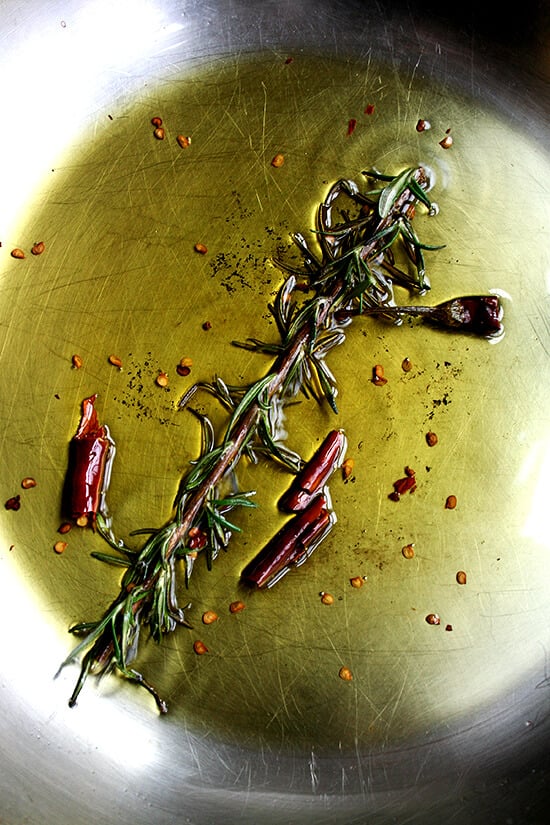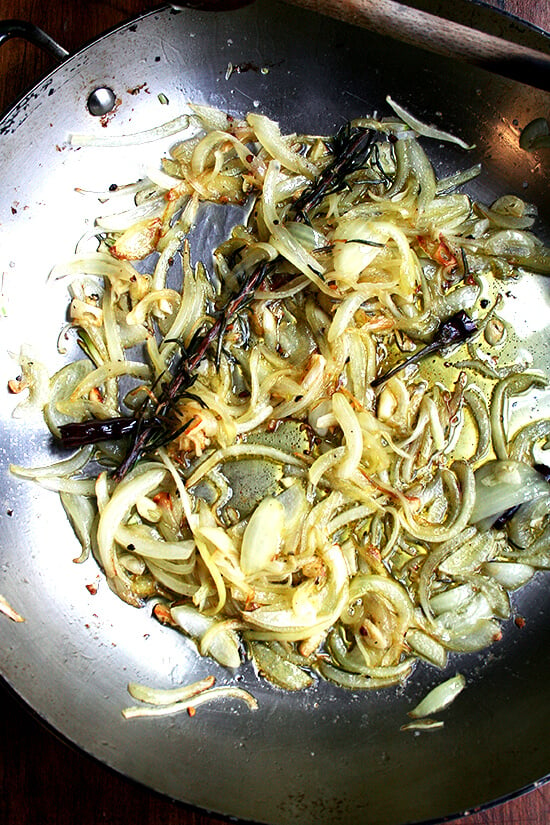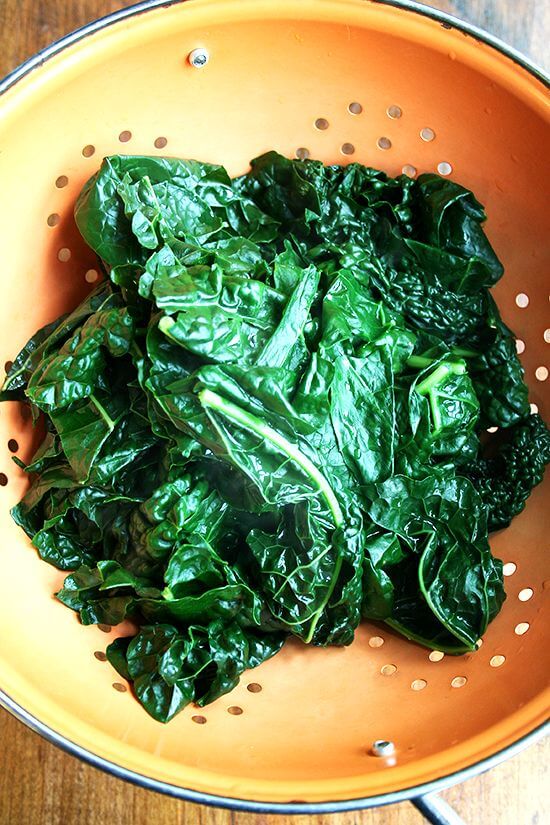 It's unfortunate that this doesn't look more appetizing because it is SO good: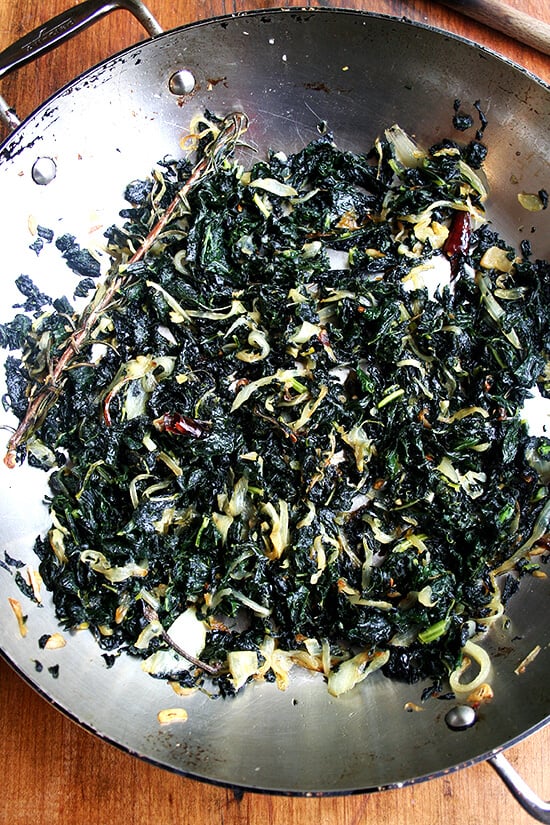 This is the batch I made with curly kale as opposed to Tuscan. It was still delicious, but as I noted above, I over crowded the pan a little bit, which prevented the pieces from getting as dark and crispy and delicious. This issue of course could have been rectified had I removed some of the kale and let the remainder crisp up on its own.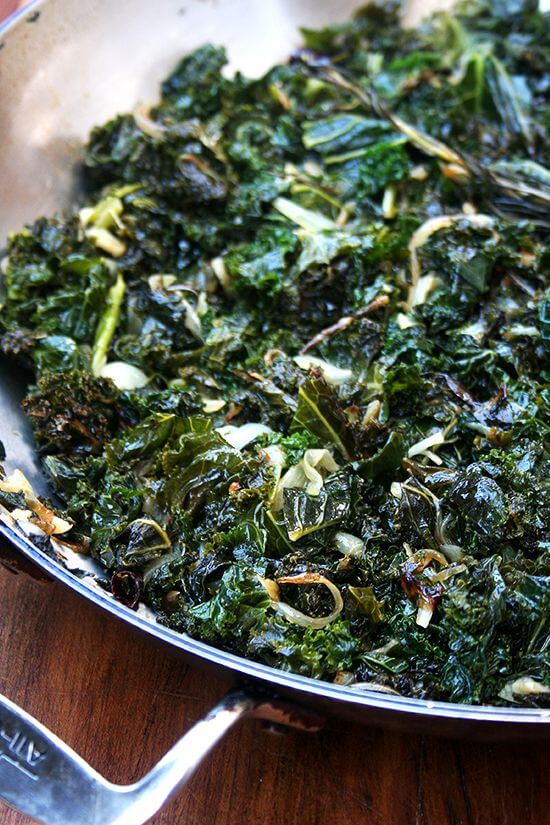 Print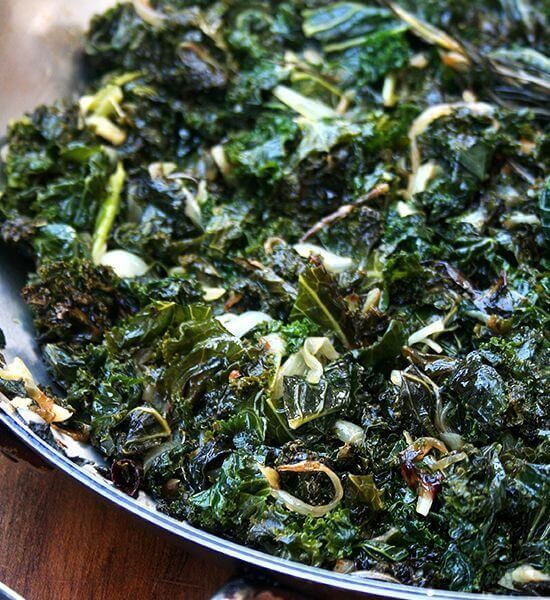 Suzanne Goin's Slow-Cooked Kale & Stuffing, Maybe
---
Author:

Alexandra

Total Time:

55 minutes

Yield:

2
Description
Source: Bon Appetit Bon Appetit's notes: Tuscan kale, also called black kale, dinosaur kale, Lacinato kale, or cavolo nero, has long, narrow, dark green bumpy leaves; find it at farmers' markets and some supermarkets. Dried chiles de árbol are available at Latin markets, specialty foods stores, and some supermarkets. My notes: I made one batch with Tuscan kale and another with curly kale. They were both delicious but the Tuscan kale was more so. The second time, too, I overcrowded the pan with kale and the pieces didn't get as dark and delicious, so I would caution against trying to cram more than a generous layer of kale into whatever pan you are using. It does cook down a little bit, but not as dramatically as unblanched spinach or chard when sautéed. This kale is delicious on its own, but also makes a wonderful filling for omelets. I made a giant omelet in a 12-inch skillet using 6 eggs. After the eggs were mostly set, I covered them with the kale and then sprinkled some feta over top, which was delicious, but any number of cheeses would work well. I finished it off in a 350ºF oven for about five minutes or less — just until the uncooked egg was set. The stuffing, by the way, is delicious, too. I make a much simplified version, omitting the fennel and the fennel seeds.
---
3/4 teaspoon

kosher salt, divided, plus more

1

pound Tuscan kale (about

2

bunches), center ribs and stems removed

1/4 cup

plus 2 tablespoons extra-virgin olive oil

1/2

sprig rosemary

1

dried chile de árbol, broken into

4

pieces

1 cup

sliced yellow onion
Freshly ground black pepper

2

garlic cloves, thinly sliced
---
Instructions
Bring a large pot of heavily salted water to a rapid boil over high heat. Working in 2 batches, blanch kale for 2 minutes. Drain, let cool, and squeeze out excess water with your hands. Coarsely chop; set aside. (Note: I used a little more than one pound of kale to start (before removing the center rib and stem) and got about 3 cups of chopped kale out of it.)
Heat a large pot over medium heat for 2 minutes. Add 1/4 cup oil, rosemary sprig, and chile. Let sizzle, shaking pan often, for about 1 minute. Reduce heat to medium-low; add onion. Season with 1/2 teaspoon salt and a pinch of pepper. Cook for 2 minutes, stirring often; stir in garlic. Cook, stirring often, until onion is soft and starting to brown, 5-7 minutes.
Add remaining 2 tablespoons oil and kale; stir to coat. Season with 1/4 teaspoon salt, reduce heat to medium-low, and cook, stirring often, until kale turns almost black and is slightly crisp at edges, about 30 minutes. Let cool. Discard rosemary and chile.
Prep Time:

10 minutes

Cook Time:

45 minutes
This post may contain affiliate links. Please read my disclosure policy.