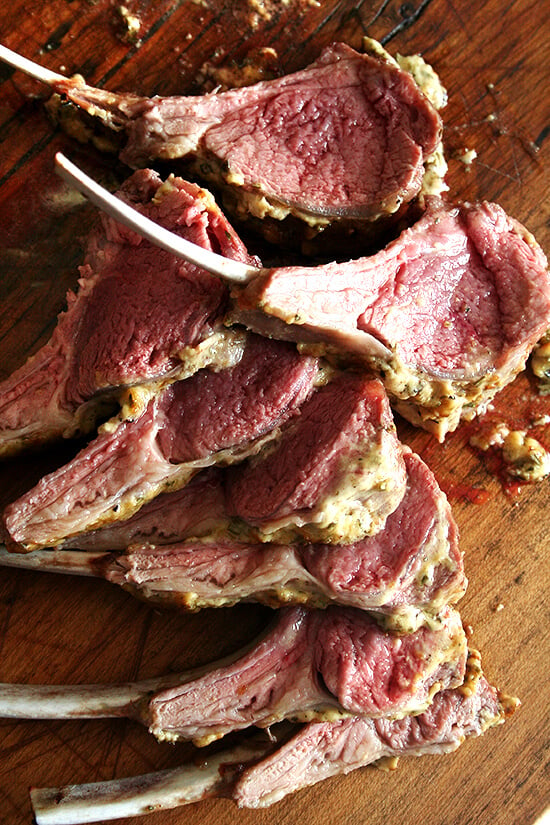 I think I found a magic sauce. It transformed my chicken-breast eating experience and now my rack-of-lamb-eating experience. Never would I have guessed that a simple stir of mayonnaise, mustard and some fresh herbs would play such a role in my meat-cooking endeavors these days. Seriously, everything this sauce touches turns to mouth-watering goodness.
Let's see, how else can I sell this recipe to you? It takes five minutes to prepare. It's foolproof. And if you enjoy gnawing on bones as if they were lollipops, this recipe is for you. Make it.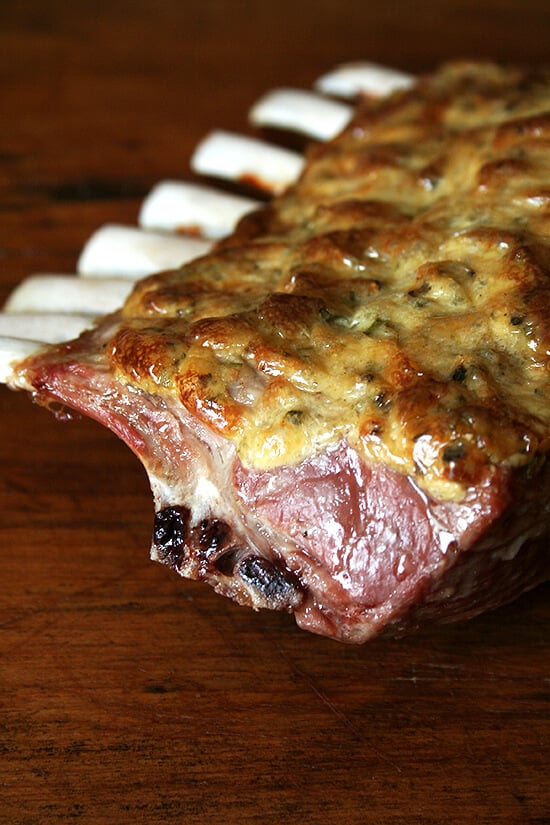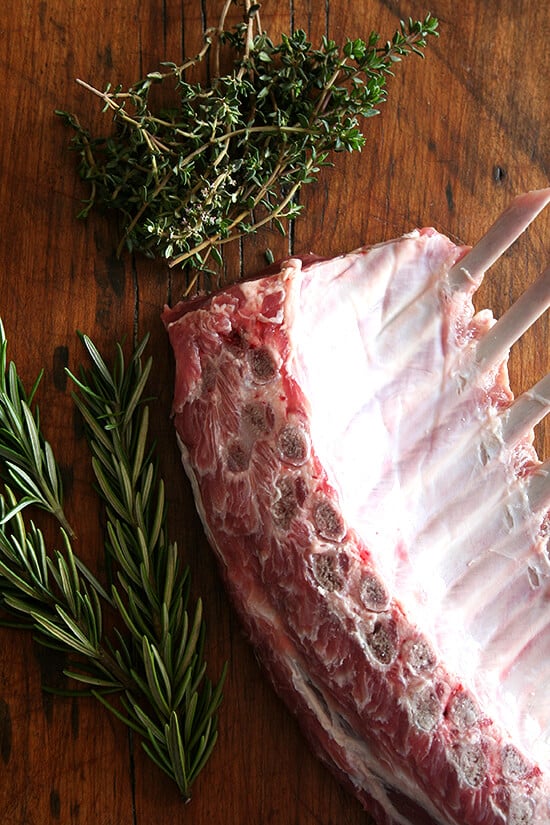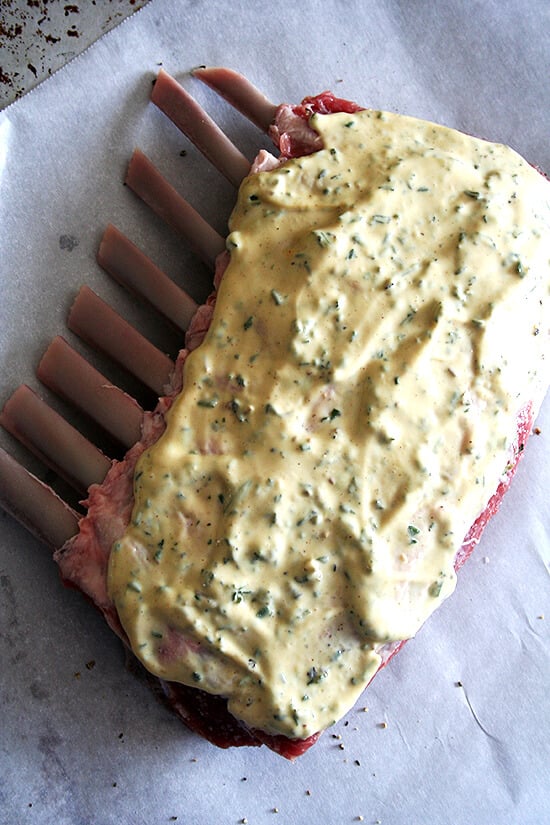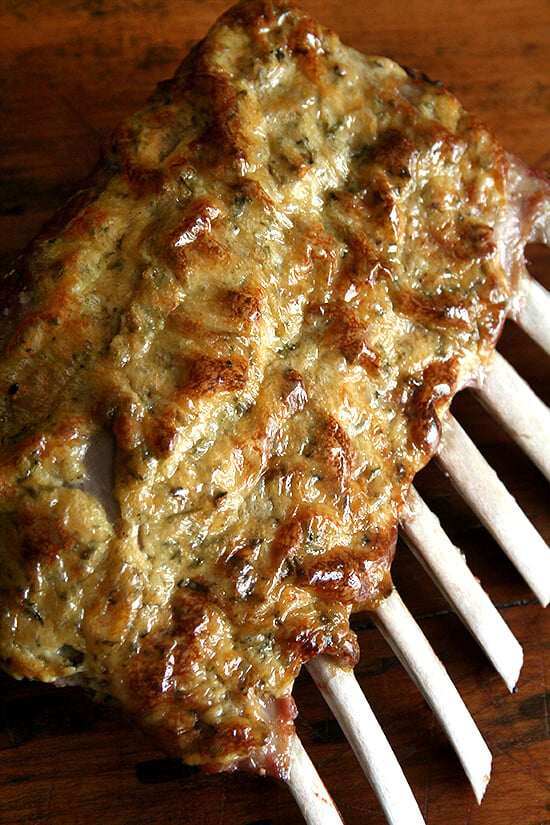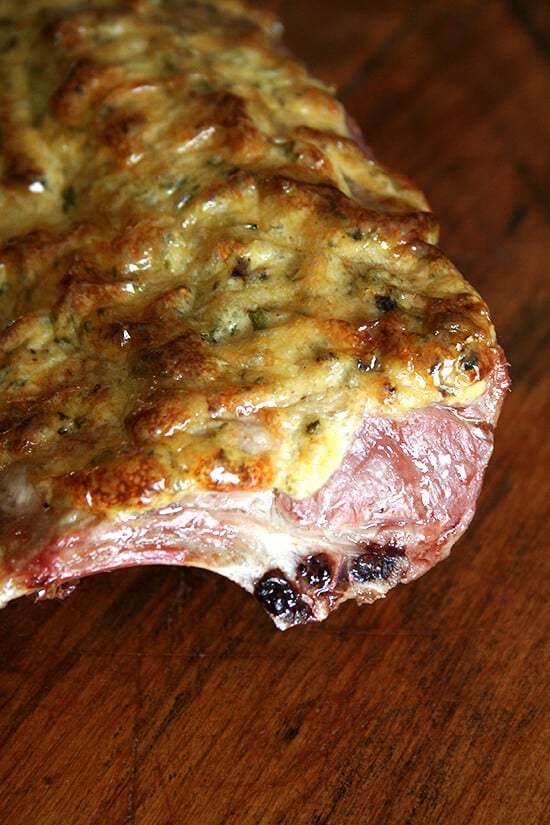 Print
Easiest Rack of Lamb
---
---
Ingredients
1

rack of lamb, about a pound
kosher salt
fresh cracked pepper

2

T. mayonnaise

2 tsp

. mustardchopped fresh herbs*: rosemary, thyme, chives, mint, tarragon — whatever you have
---
Instructions
Preheat the oven to 475ºF. Place lamb on a parchment-lined (for easy clean-up) rimmed baking sheet. Season with salt and pepper on all sides. Mix together mayo, mustard and herbs. Spread in an even layer across the rack of lamb — you might not need it all.
Place pan in the oven. Bake for 10 minutes, reduce heat to 400º and bake for 10 more minutes. Take pan out of the oven and place lamb on a board to rest. Let rest for at least 10 minutes. Seriously, no less than 10 minutes — I can't emphasize resting enough. Cut and serve.
---
Notes
*Rosemary and lamb always go well together but I adore tarragon with this recipe as well.
The lamb takes about 20 minutes to cook but depending on the size of the rack, the temperature of the lamb (room temperature or cold), and the reliability of your oven, the time will vary slightly. It might take a teensy bit of practice to nail it. For example, I made a rack today that weighed .92 lbs, and I removed it before the 20-minute mark because after 18 minutes it felt perfectly firm.