Soba Salad with Marinated Tofu, Mint & Scallions
This post may contain affiliate links. Please read my disclosure policy.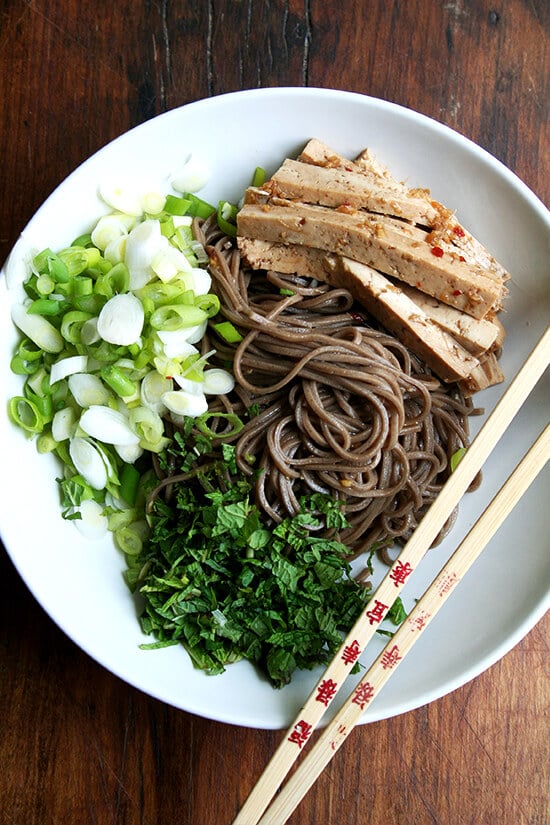 I have yet to hear of a tofu preparation touted for allowing tofu's true flavor to shine, lauded for not overpowering tofu's delicate nature. Subtlety is not the name of the game when it comes to dressing up tofu. Domination is more like it. It's all about the sauce.
This principle holds true with the two tofu recipes I make with some regularity. In the first, a block of tofu that has gently simmered in water bathes in a scallion and garlic soy-based sauce; in the second, cubes of crispy sesame-coated tofu plunge into nuoc cham, a pungent spicy, sweet, and sour Vietnamese dipping sauce.
And this principle holds true as well for marinated tofu, a preparation I have only just discovered. I hadn't really given marinated tofu a thought before last month, when I was on my soba noodle salad with peanut sauce binge, and a variation I had made with tofu left me unsatisfied. Even when tossed with that yummy peanut dressing, the cubes of tofu I had pan-fried tasted bland, and they were a pain to prepare to boot.
Suspecting that marinating might be the best preparation for tofu in these sorts of salad, I tried a few recipes, all of which I really liked. You see, what's great about this treatment for tofu is that if you like the marinade, you're going to like the tofu. There are no surprises. A tofu marinade won't ever behave like cake batter, tasting delectable unbaked but inedible baked. The only trick is to use firm or extra-firm tofu and to drain the tofu for as long as possible — an hour at least — before marinating. The longer you marinate, too, the more flavorful the tofu. It's completely straightforward.
I'm sorry to bore you with another soba noodle salad, but I can't get enough of them these days. They are a great way to use up leftover steak or chicken or any number of meats you have stashed in your fridge; they take no time to whip up — soba noodles cook in four minutes; and they taste as light as can be.
And should you not have any leftover meat on hand, marinated tofu is a great option for making these salads feel a little more complete. Here, both the tofu and the noodles are dressed with the same sauce, a ginger and garlic soy-based dressing that I learned (source now forgotten) to make years ago. It's a great all-purpose dressing to use with any number of Asian noodles, but it excels in one area in particular: complete tofu domination. There's nothing subtle about it.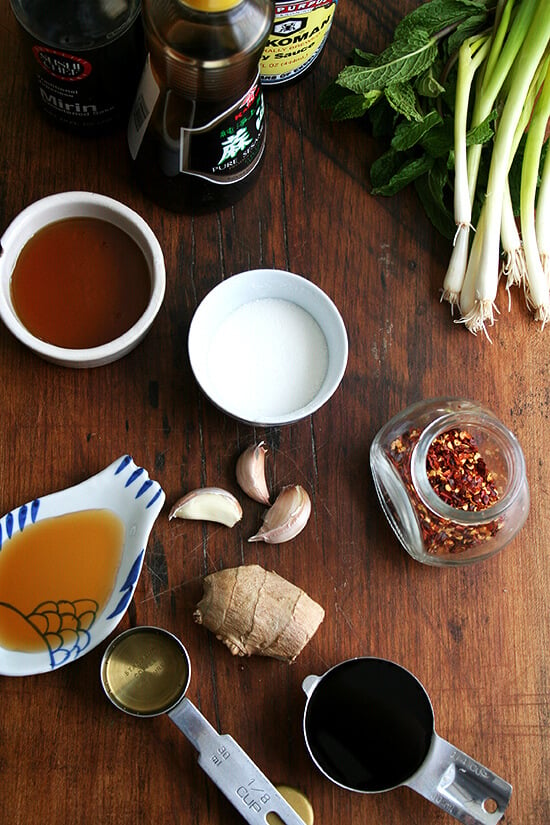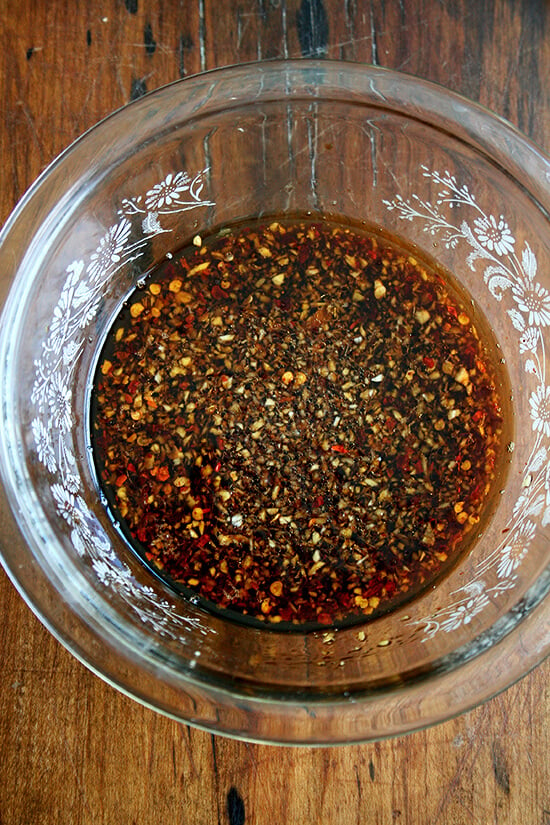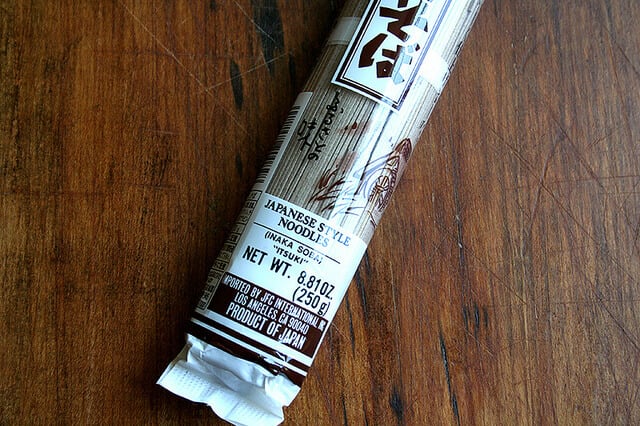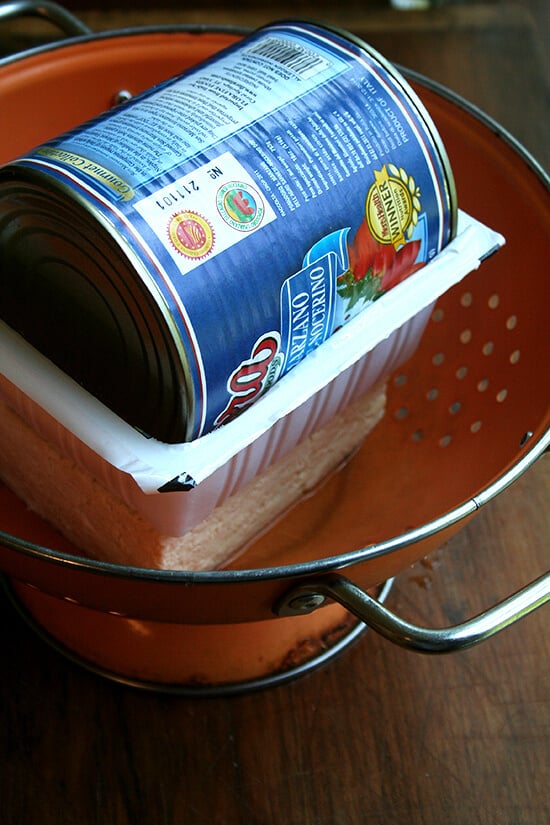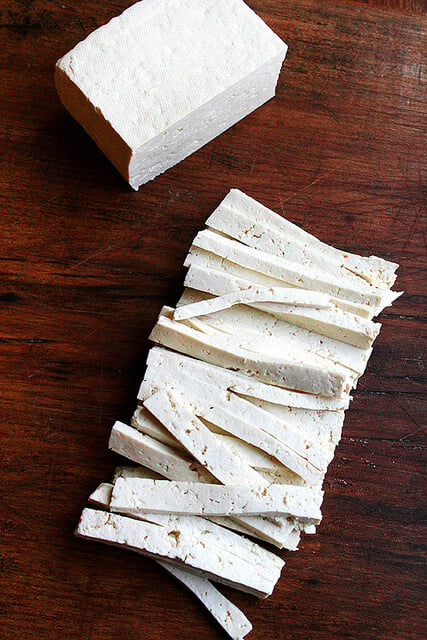 Print
Soba Noodle Salad with Marinated Tofu, Mint & Scallions
---
Description
Notes: Obviously, the contents of this salad can be tailored to your liking. Recently I am really liking these types of salads on the simple side: one or two herbs, scallions, cucumbers if I have them, and a small amount of protein — chopped peanuts, leftover steak, tofu, etc.
---
soba noodles, dried or fresh (about 3 oz. per serving for dried; don't know about fresh unfortunately)
scallions, white and green parts thinly sliced (about 3 scallions per serving)
mint, cilantro, Thai basil, whatever you like (1-2 tablespoons minced per serving)
marinated tofu (3 to 4 oz. per serving), recipe below
soy dressing, recipe below
---
Instructions
Bring a pot of water to a boil. Add soba to water and turn heat down so that the water is gently simmering — soba is a little more delicate than pasta and you don't want the water rapidly boiling if you can help it. Boil 4 minutes (for dried) and about a minute (for fresh), drain and rinse under cold water using your hand to disperse the water evenly over the noodles — again, the noodles are delicate.
Let the noodles dry in a colander, and if need be, gently pat them dry with some paper towels. Meanwhile, mince the scallions thinly on the bias (if you wish) and julienne the mint.
At this point, you can serve the salad however you wish. I don't like to toss the noodles with the tofu — it just becomes a big mess. This is what I like to do: toss the noodles with the dressing so that the noodles are nicely coated. Divide noodles among bowls. Top each bowl with scallions, mint and tofu. You can kind of mix the noodles with the herbs and scallions as you eat, and grab bites of tofu along the way, too.
Serve with Sriracha on the side.
Prep Time:

10 minutes

Cook Time:

10 minutes
---
Print
Description
Note: I like to make a double batch of this dressing because it's nice to have on hand and because it makes a nice marinade for tofu. Also, while a knife might be just as fast, you can mince the garlic and ginger together in the food processor. I know it seems like a lot to clean for such a small amount of ingredients, but if you rinse out your processor immediately after you mince up the garlic and ginger, it cleans up nicely and easily.
---
1/4 cup

soy sauce

2 tablespoons

rice vinegar

2 tablespoons

mirin

1.5 tablespoons

sesame oil

1

–

2

cloves garlic, minced
a small nub of ginger, minced to yield about 1-2 tablespoons

1

to

3

teaspoons sugar, depending on your taste

1/4

to

1/2

teaspoon crushed red pepper flakes
Sriracha (optional)
---
Instructions
Combine all of the ingredients with the exception of the sugar, crushed red pepper flakes and Sriracha in a small bowl. Add one teaspoon of the sugar and 1/4 teaspoon of the crushed red pepper flakes. Stir to combine. Taste. Add more sugar by the teaspoonful or half teaspoonful to taste — I like it with about 1.5 to 2 teaspoons of sugar. Add more crushed red pepper flakes to taste. If you wish, add a splash of Sriracha. You can always add the Sriracha directly to the noodle salad, too.
---
Print
Marinated Tofu
---
Total Time:

13 hours 5 minutes
one

14 oz

(about) block of firm or extra-firm tofu
---
Instructions
Drain the tofu for as much time as possible — I would say for at least an hour if possible. This is how I drain it: place block of tofu in a colander. Place the package (or some other similar-sized vessel) on top of it and weigh it down with a can of tomatoes or some other relatively heavy canned good. Note: this also can be done ahead of time. I essentially leave mine out all day, but if leaving it out all day worries you, you could line a bowl with paper towels and stick the tofu on the paper towels, weigh it down as described and leave it in the fridge until you are ready to slice and cook it.
Remove tofu from colander or plate and dab it dry with paper towels. Lay the large surface of the block on a cutting board. With your knife parallel to the short side of the block, slice down every quarter or half inch. After you have made four or five cuts, stack these slices on top of one another and cut again into strips about a quarter- or a half-inch thick. Note: You can cut the tofu however you wish. You just don't want the slices to be too thick because they will take longer to marinate and might not marinate as well; you also don't want the slices to be too thin, because if they marinate for too long, they tend to fall apart a bit.
Place tofu slices in flat-bottomed vessel. Pour marinade overtop to submerge. Let sit for at least an hour and for as long as overnight.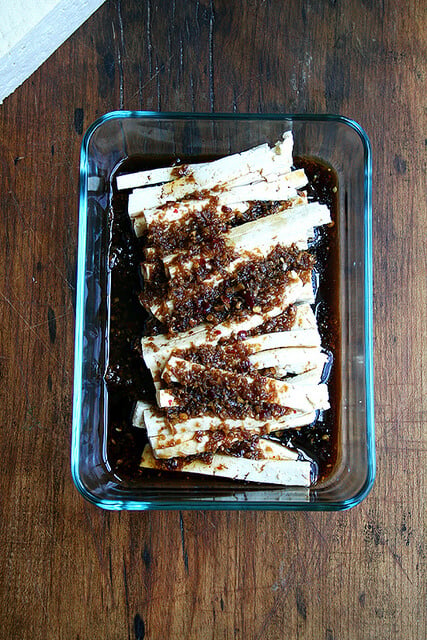 This post may contain affiliate links. Please read my disclosure policy.