Campanelle with Hard-Boiled Eggs, Capers & Watercress
This post may contain affiliate links. Please read my disclosure policy.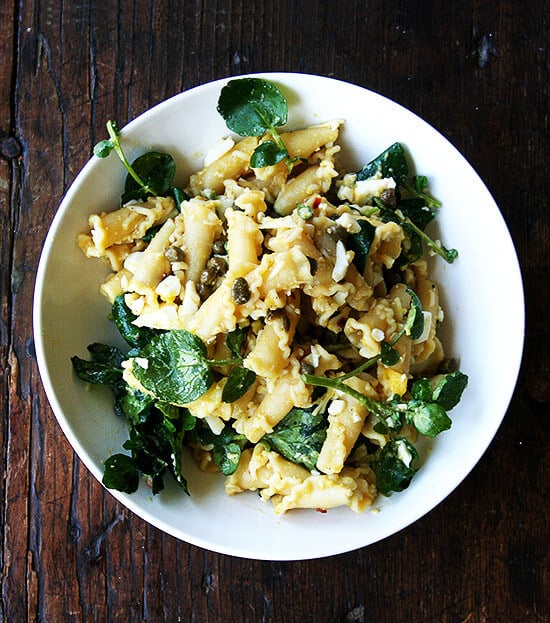 The union of egg and noodle has long been celebrated: beaten eggs form the base of a creamy sauce in pasta carbonara; eggs scrambled with rice noodles are essential in Pad Thai; and poached or fried eggs cracked atop fresh pasta make an instant sauce for an impromptu, deeply satisfying dinner.
As much as I adore this pairing, I'd never thought to enter hard-boiled eggs into the equation until I spotted a recipe in the April Bon Appetit. The goal of the three succinct recipes tucked into the corners of this one page was to offer ideas for using up those colored eggs many of us find in our fridge this time of year. But the combination of hard-boiled eggs, capers and anchovies works so well together, you might find yourself — I have at least — boiling eggs even once you've depleted your stock.
In this dish, a warm anchovy-caper-olive oil sauce dresses the pasta first; then a splash of lemon juice and reserved cooking liquid thin out the sauce ensuring it coats the pasta nicely; finally chopped hard-boiled eggs and greens complete the dish.
If your hard-boiled eggs cooperate during the peeling process, this meal should take 20 minutes to prepare: while the water boils, you chop your garlic, mince your anchovies and get your sauce going. While the pasta cooks, you grate your cheese, juice a lemon and, with any luck, peel and chop those eggs.
I used pea shoots the first time I made this dish, but I've since been using watercress, whose peppery flavor complements the eggs so nicely. If a tea sandwich could be made into pasta, this would be it — a little less dainty, certainly, but no less delicious.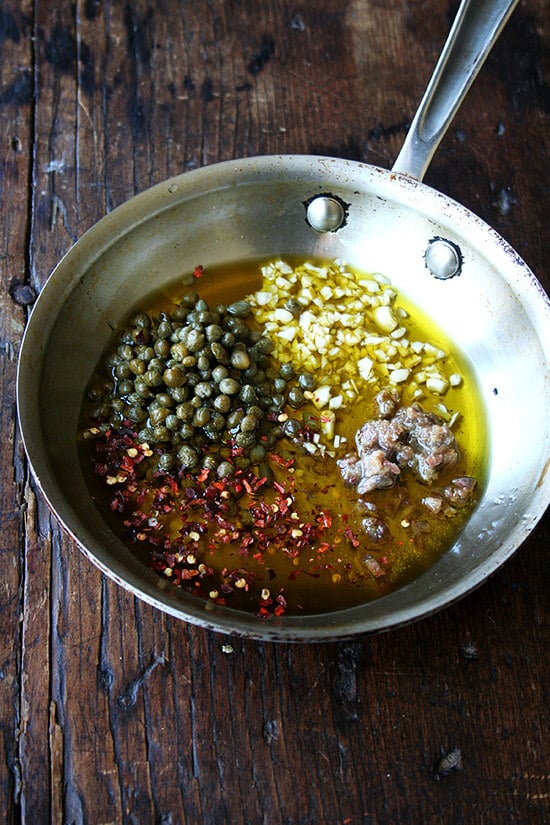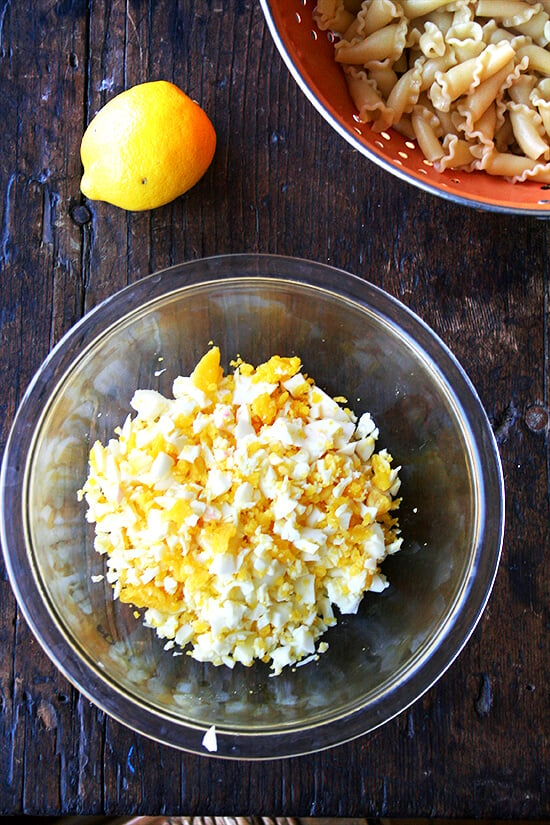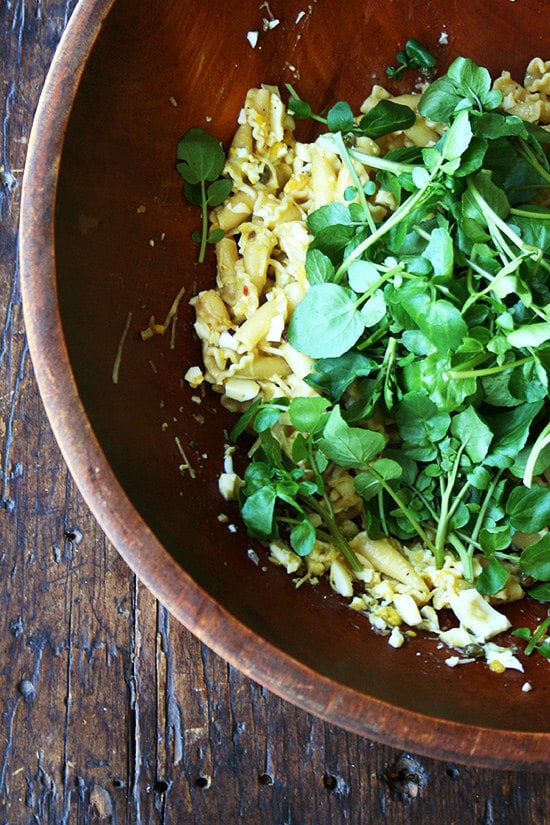 Print
Campanelle with Hard-Boiled Eggs, Capers & Watercress
---
Total Time:

25 minutes

Yield:

2 servings
---
½

pound campanelle (or other short pasta)

¼ cup

olive oil

4

anchovy fillets, minced

2

finely chopped garlic cloves

2

to

3

tablespoons capers

¼ teaspoon

crushed red pepper flakes (or more or less to taste)

¼ cup

finely grated Parmesan

2 teaspoons

fresh lemon juice

4

coarsely grated (I prefer to chop them) hard-boiled large eggs
a handful of greens such as watercress or arugula (or chopped parsley to taste)
---
Instructions
Cook campanelle in salted water until al dente; drain, reserving 1 cup pasta cooking liquid.
Meanwhile, heat oil over medium heat. Add anchovies, garlic, capers, and red pepper flakes and cook, stirring, until anchovies dissolve, about 2 minutes. Note: If you do this before your pasta finishes cooking, just bring it back up to a simmer before tossing it with the pasta.
Place pasta in a large mixing bowl, toss with 2 tablespoons reserved cooking liquid, the warm anchovy sauce, parmesan and lemon juice. Taste. Add kosher salt and pepper to taste. Throw in eggs and greens or parsley. Toss again. Taste and add more pasta cooking liquid as needed until sauce coats pasta. You might want to add a splash more lemon juice, too. I usually end up using a quarter cup of the pasta cooking liquid and a squeeze more of lemon.
Prep Time:

15 minutes

Cook Time:

10 minutes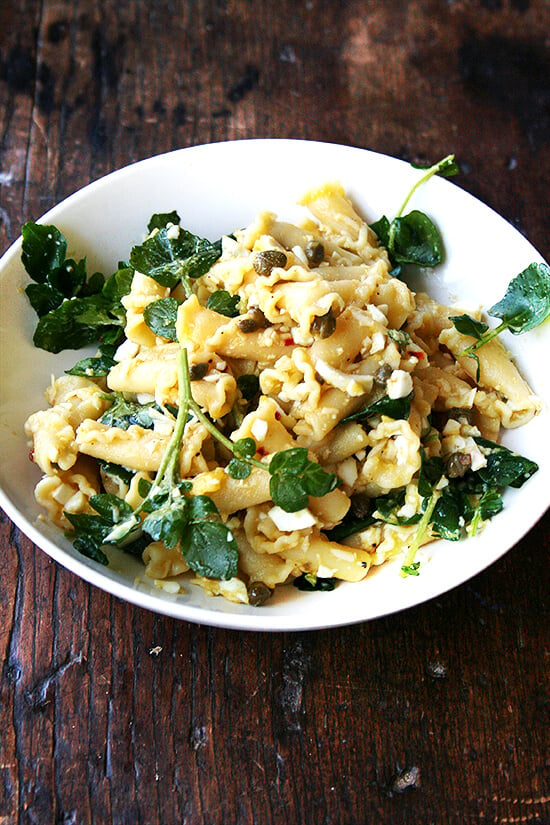 This post may contain affiliate links. Please read my disclosure policy.