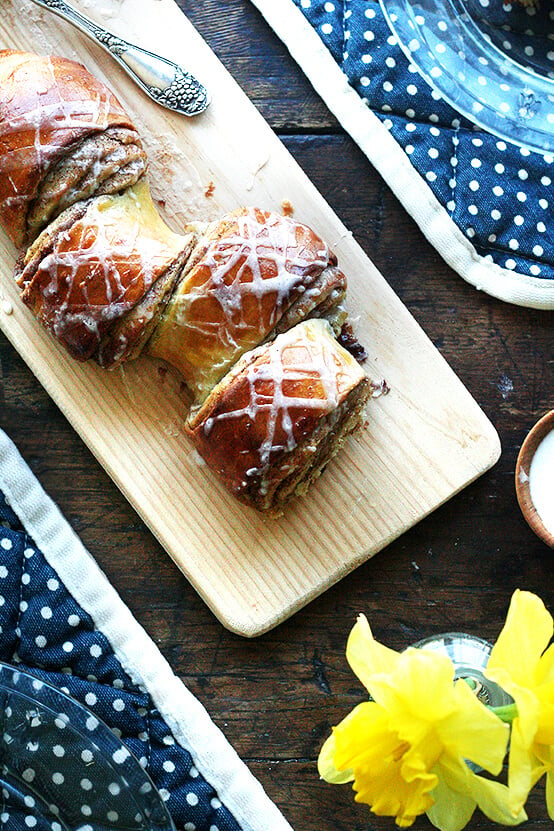 A few weeks ago while searching for recipes online by Bea Ojakangas, the Scandinavian chef to whom Nigella Lawson credits the processor Danish pastry dough recipe, I stumbled upon a most delectable looking cinnamon pull-apart bread. Its creators, Lindsay and Bjork, had taken a class with Bea and learned how to make this "pulla," which they described as "everything you love about cinnamon rolls in a pull-apart bread form."
With that in mind, last Saturday, I made a batch of my favorite cinnamon roll dough, shaped it into a log as described on Pinch of Yum, and baked it for a few friends passing through town en route to an Easter gathering. The loaf of pulla stretched from corner to corner of the sheetpan, oozed with cinnamon and sugar upon baking, and required my largest cutting board for serving.
When our friends arrived, we tucked in immediately, each pulling at the nearest coil, spreading cream cheese icing over each bite, eating and talking and sipping coffee until not a crumb remained — it couldn't have been more fun.
Have a wonderful weekend, Everyone.
A Few Ideas for Mother's Day:
1. Many of you may receive the beautiful Provisions by Food52 emails and so perhaps do not need any more temptation, but with Mother's Day rapidly approaching, it might be a good idea to take a peak? Just a quick one? These quilted placemats (pictured below) are SO cute.
2. I am loving Deborah Madison's The New Vegetarian Cooking for Everyone

3. Just started reading The Dirty Life — very inspiring.
4. Next up is Molly Wizenberg's Delancey. I loved A Homemade Life and am so looking forward to her latest.
5. This is still one of my favorites: Blood, Bones & Butter. I find myself rereading passages from it all the time.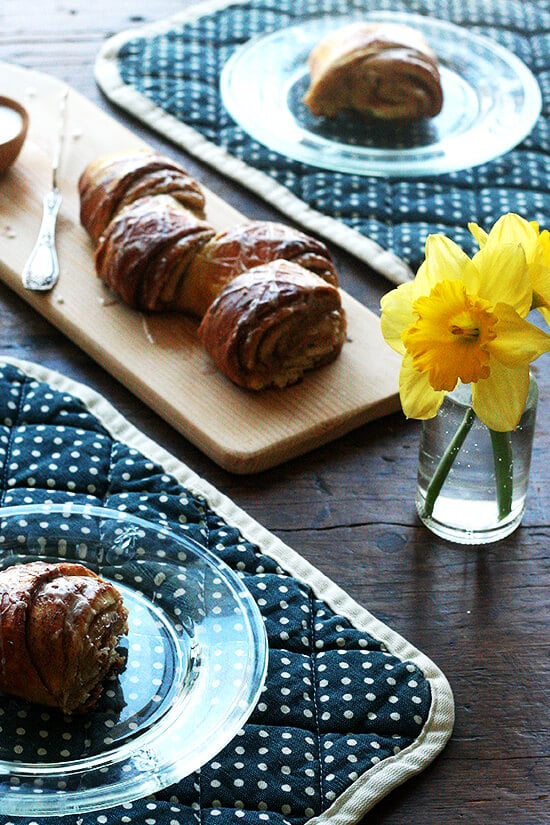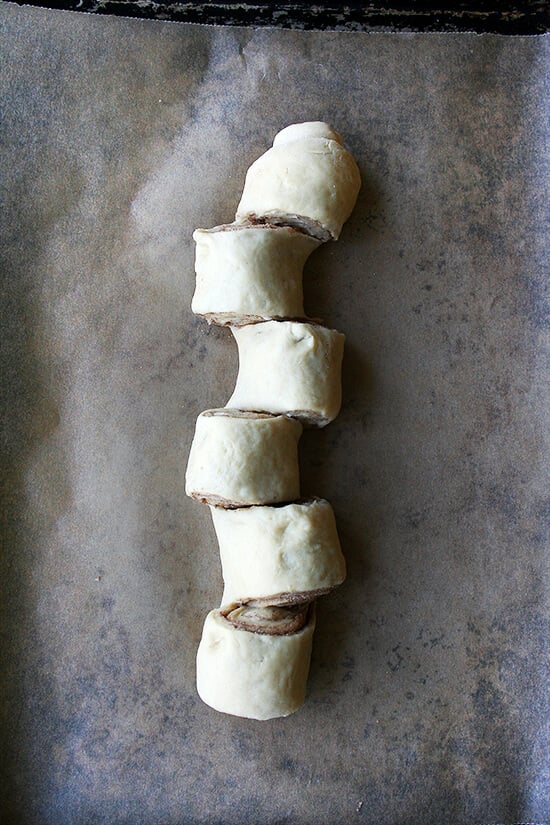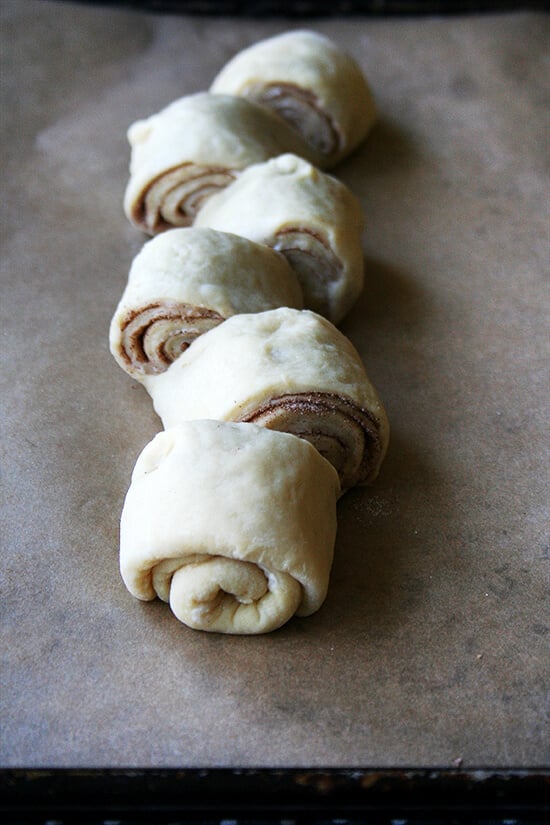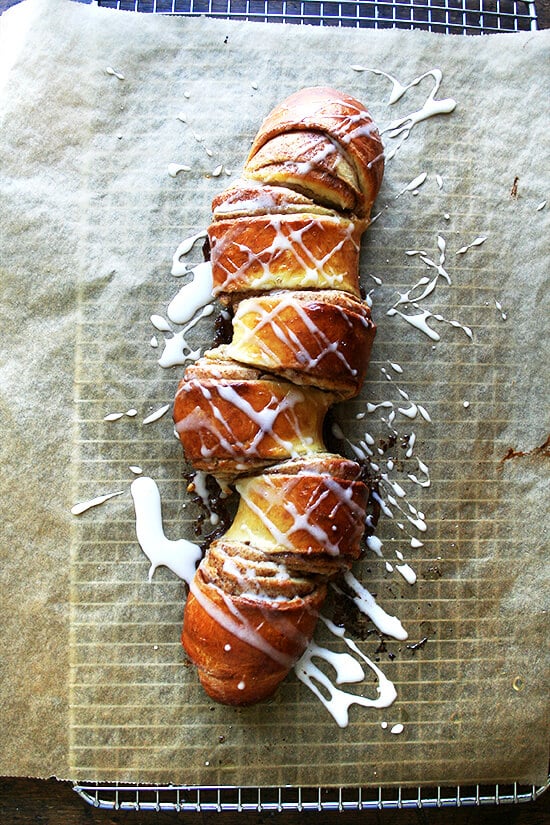 Print
Cinnamon Pull-Apart Bread
---
Prep Time:

35 minutes

Cook Time:

15 minutes

Total Time:

3 hours 30 minutes

Yield:

6 servings
---
Ingredients
Dough:
1 cup

whole milk

3 tablespoon

s unsalted butter

3 1/2 cup

s (

446

g) unbleached all purpose flour, divided

1/2 cup

(

114

g) sugar

1

large egg

1 teaspoon

table salt

2 1/4 teaspoon

s rapid-rise or instant yeast
olive oil or butter for greasing
Filling:
3/4 cup

sugar or brown sugar

1 tablespoon

ground cinnamon

4

to

5

tablespoons unsalted butter, room temperature
Egg Wash:
Icing:
1 cup

confectioners' sugar2 tablespoons milk
---
Instructions
Combine milk and butter in glass measuring cup. Microwave on high until butter melts and mixture is just warmed to 120°F to 130°F, 30 to 45 seconds. (If you don't own a microwave, gently heat the butter and milk together in a small skillet.) Place 1 cup (128 g) of the flour, the sugar, the egg and the salt in the bowl of a stand mixer fitted with the dough hook and mix on low speed. Slowly pour the warm milk and butter mixture into the bowl. (Note: If you pour slowly you will ensure not cooking the egg if your mixture is a little too hot). Beat on low speed 3 minutes, stopping occasionally to scrape down sides of bowl. Touch the mixture to make sure it is just barely warm. Sprinkle yeast over top and stir. Add remaining 2 1/2 cups (318 g) flour to the mixing bowl. Continue beating on low speed until flour is absorbed and dough is smooth and elastic (or actually quite sticky), about 8 minutes. Note: In the past, I have added more flour (only about a quarter cup) but most recently I don't add any more flour. The dough will not gather around the hook — it will look like a sticky mess — but after the two hour rise, it is surprisingly easy to work with.
Lightly grease a large bowl with butter or oil. Transfer dough to bowl, turning to coat. Cover bowl with plastic wrap. Let dough rise in warm draft-free area until doubled in volume, about 2 hours.
Meanwhile, mix sugar and cinnamon in medium bowl. Punch down dough. Divide the dough in half. Roll each into a large rectangle about ½-inch thick. Spread 2 (or more) tablespoons butter onto each half, sprinkle with just enough cinnamon sugar to cover — you will have extra; don't go overboard or you will have issues with the cinnamon and sugar oozing out during the baking — and roll into a log starting with the short side. Place each log seam side down on a baking sheet lined with parchment paper. Make cuts every couple of inches straight down leaving the last layer of the log intact. Gently pull the sections outward as pictured above. Let rise for about 40 to 45 minutes or until slightly puffed. Preheat the oven to 375 degrees.
Brush the loaves with the beaten egg. Bake for 15 to 20 minutes or until golden — this may take more or less time depending on the size of your loaves and on your oven. Let cool slightly. Whisk the powdered sugar and milk together. Drizzle over top. Serve.
---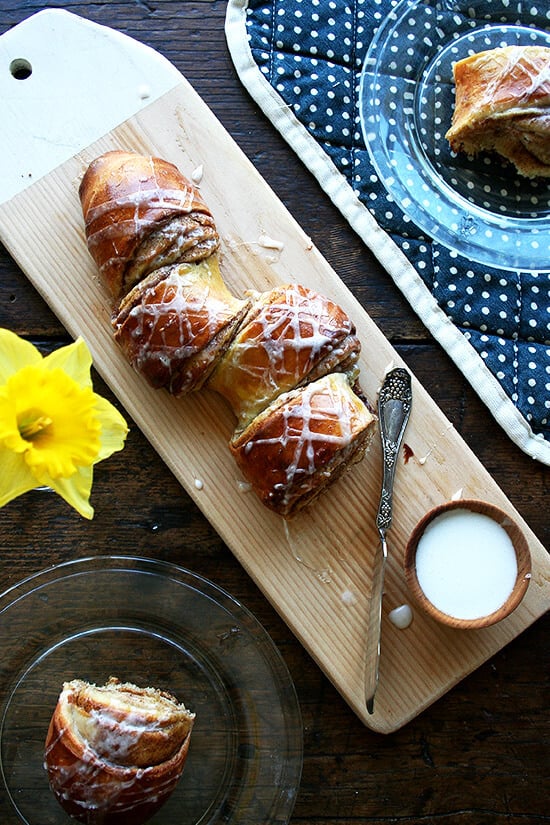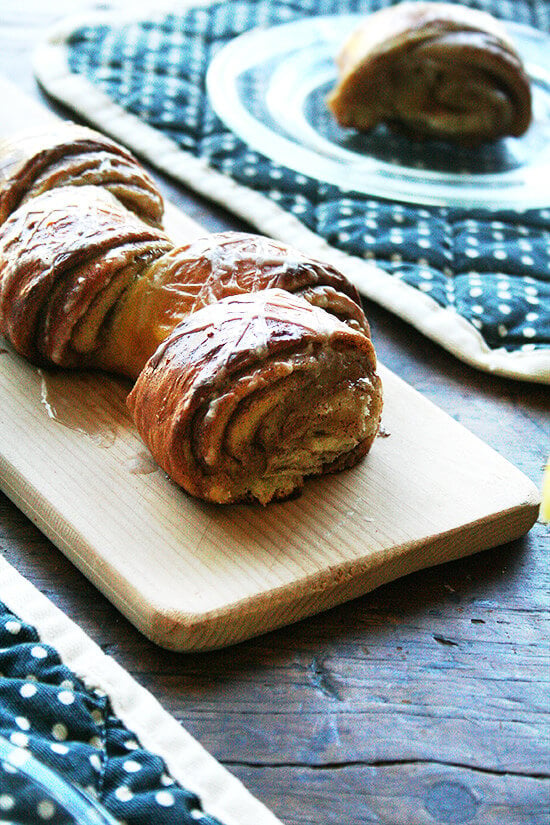 This is the loaf I made last Saturday. As you can see it stretches from end to end of a large cutting board. This is kind of fun — very dramatic! — for a large gathering, but for a daintier presentation, cut the dough in half and bake two smaller loaves: