Classic Chicken Tinga Tacos
This post may contain affiliate links. Please read my disclosure policy.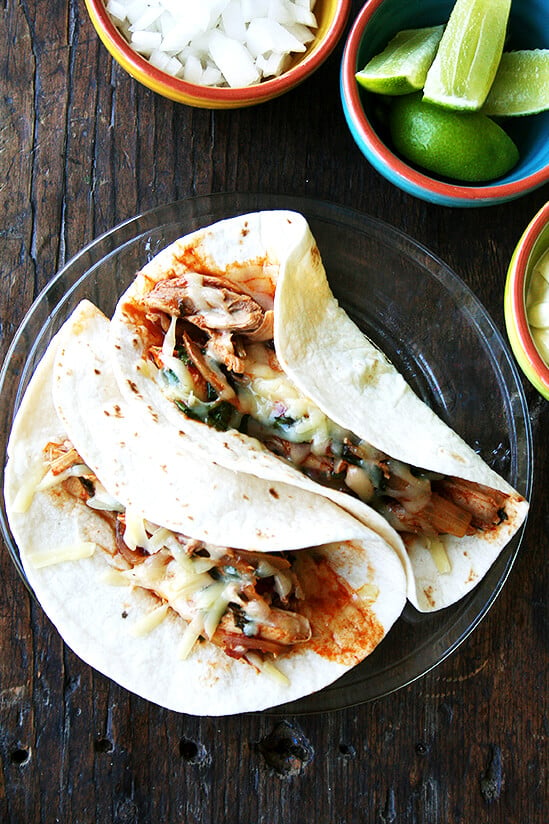 Do you know anyone who, upon seeing the Sriracha bottle on the dinner table, says: "That's a good sign."? Or who likes to enjoy a side of scrambled eggs with his hot sauce in the morning? Or who, when watching Rick Bayless make chilaquiles on the cooking channel nods his head and says, "Amen, brother, amen."?
Well, if you do, tinga is something you should add to your repertoire. Made with only a handful of ingredients, tinga derives most of its flavor from chipotles in adobo sauce, which offer both smoke and heat. Traditionally, the dish begin by boiling a chicken, then pulling and shredding the meat from the carcass. Once the meat is off the bone, it stews with onions, chipotles, tomatoes and chicken stock. Chopped fresh cilantro finishes the dish.
I first tasted tinga in tostada form layered with crispy corn tortillas, shredded lettuce and crumbled cotija cheese, and while I love tostadas, I prefer eating tinga this way: wrapped in warm, soft flour tortillas — I know, I'm a wimp — topped with grated cheddar cheese, diced white onion, a dollop of sour cream and a squeeze of lime.
The heat of tinga precludes the need for salsa, though some sort of fresh, crisp, minimally spiced tomatillo or cucumber salsa would be really nice. As noted, tinga can be used in tacos and tostadas but it's also delicious in burritos or quesadillas, and while I've never made them, I suspect it would work well in enchiladas, too.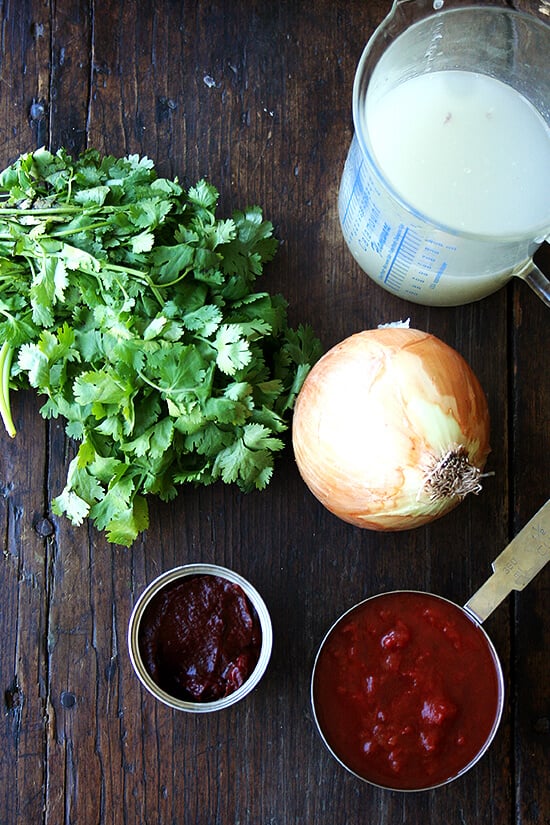 Tinga starts by boiling a chicken: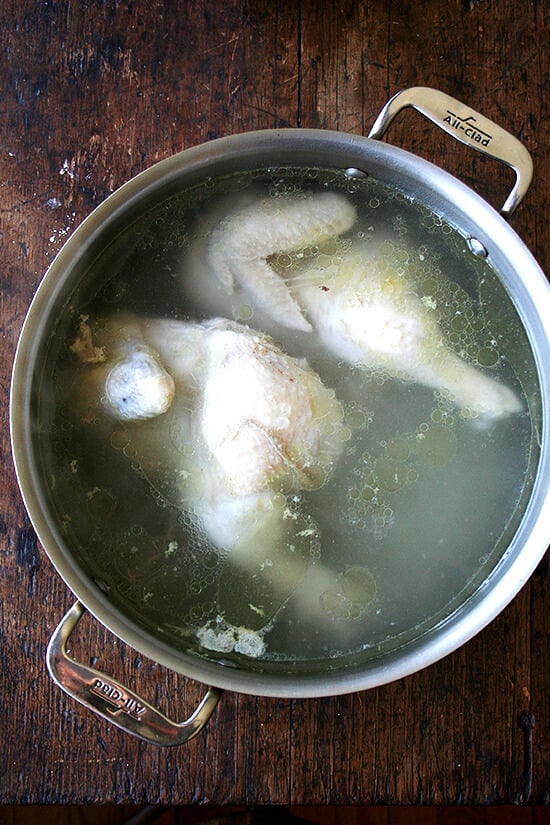 Meanwhile, you sauté an onion: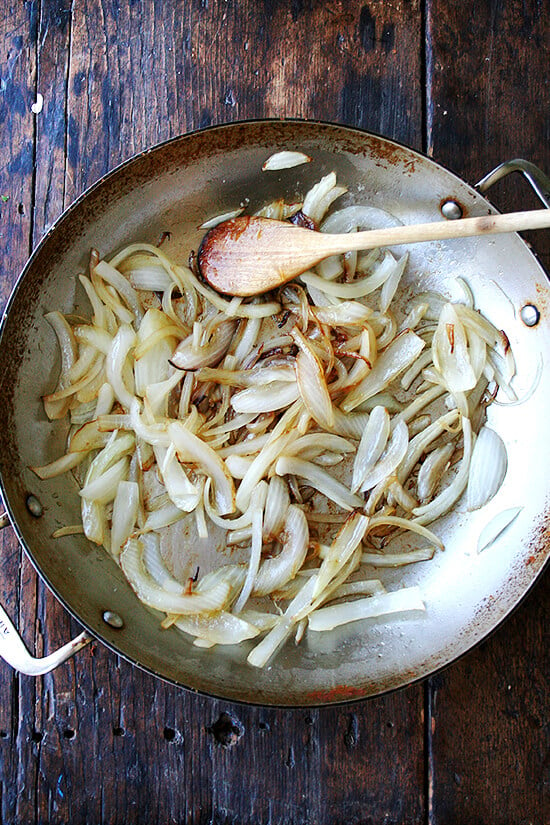 Then add half a can or a heaping quarter cup of chipotles in adobo: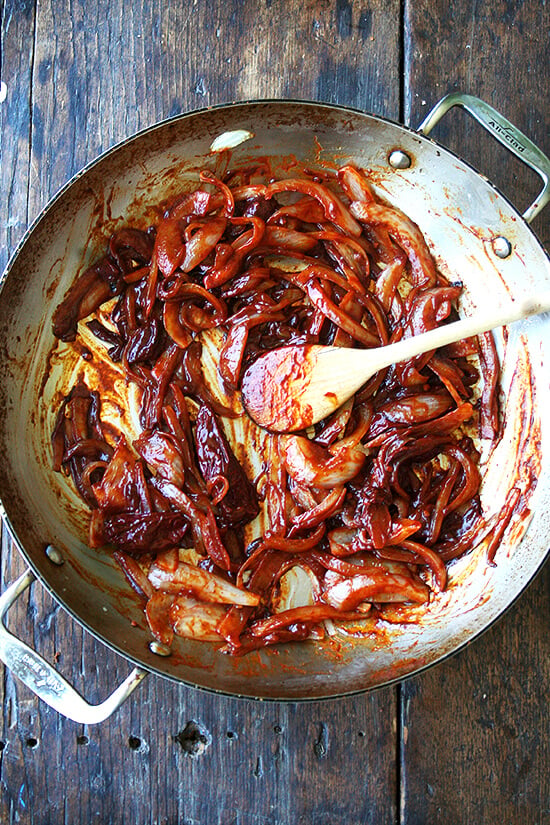 Into the sauce go crushed tomatoes and chicken stock, and when the chicken has cooked and cooled, you shred it and add it to the sauce: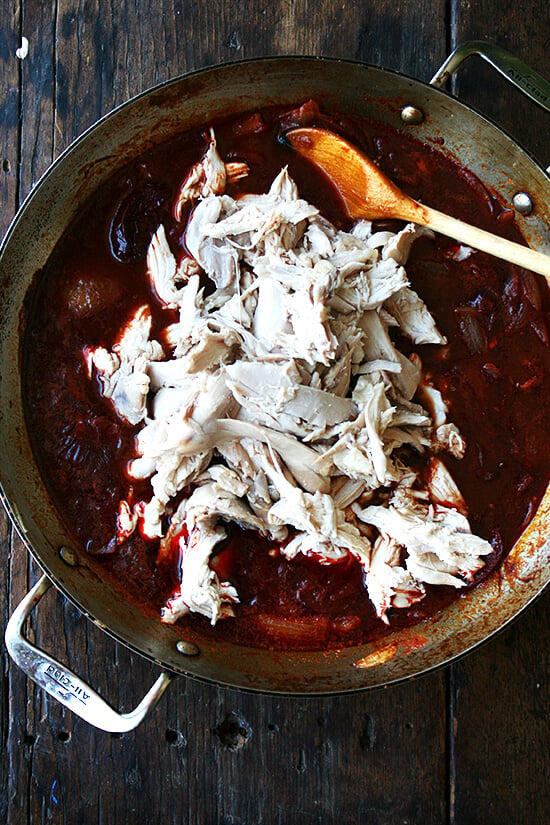 Stir it around: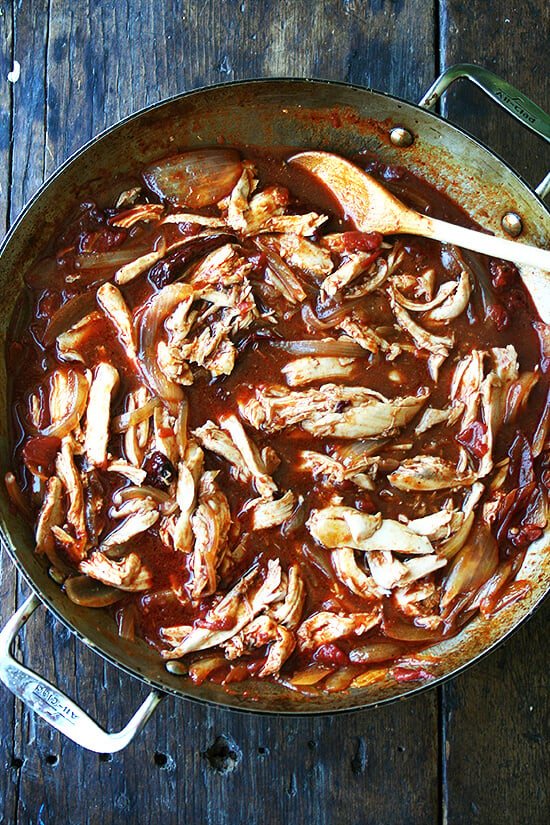 Add cilantro: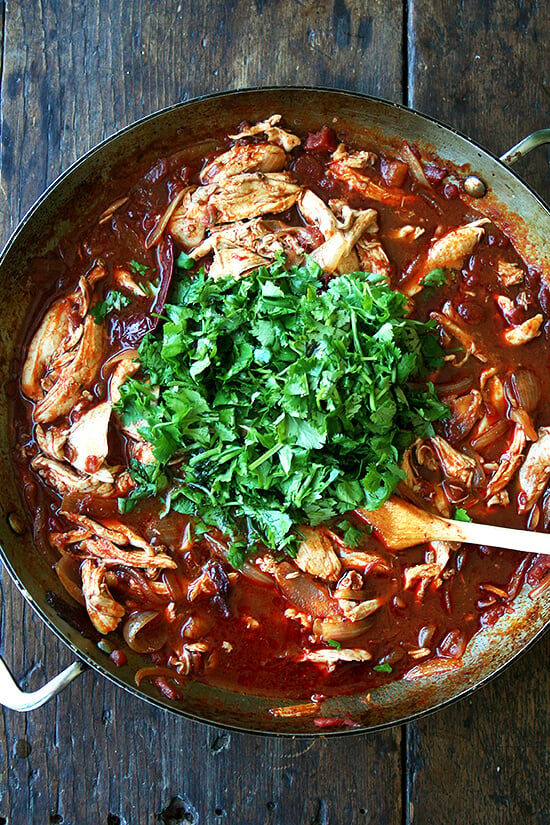 And that's all there is to tinga: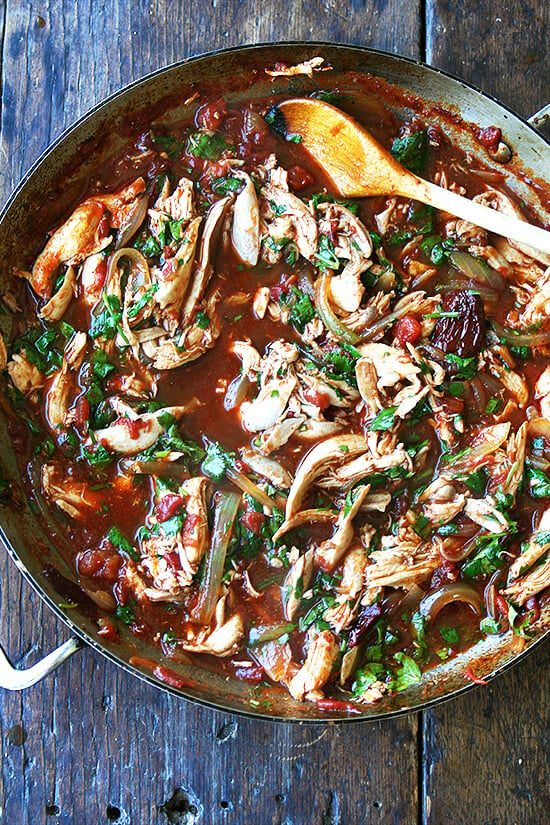 You can use tinga in tacos, burritos, tostadas, enchiladas, etc.: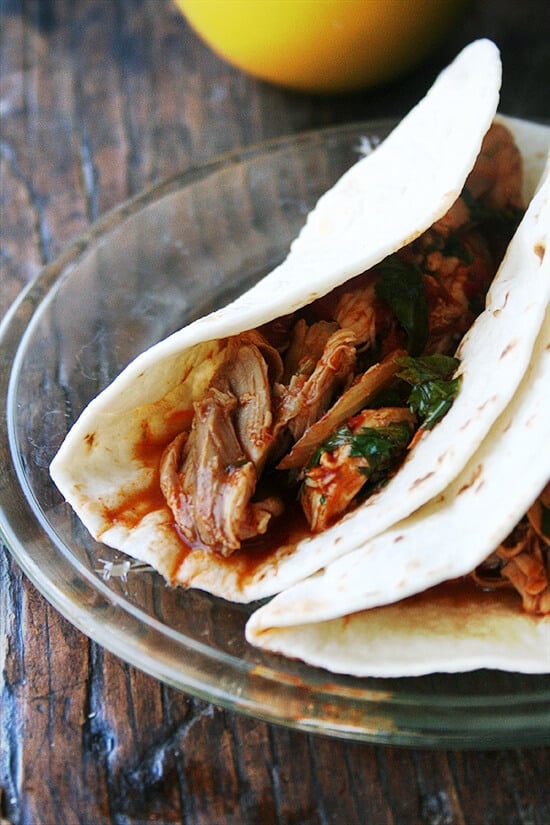 Making chicken stock with carcass and onion scraps: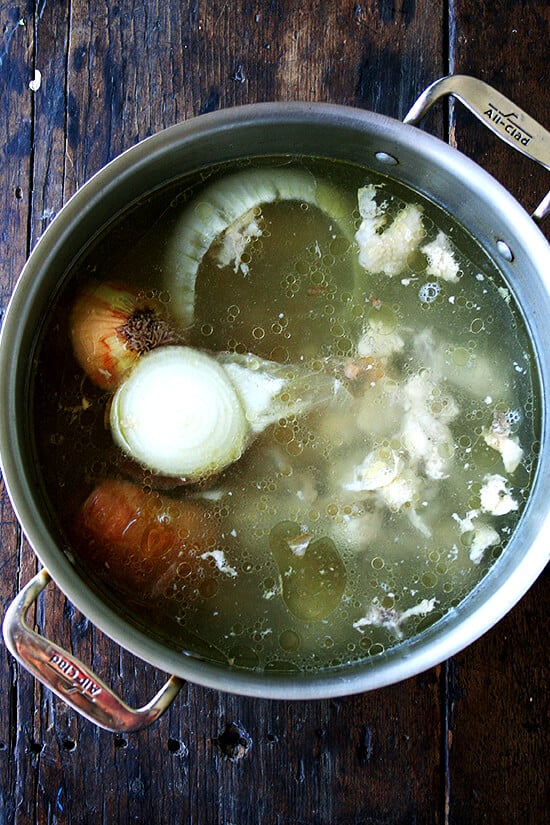 Print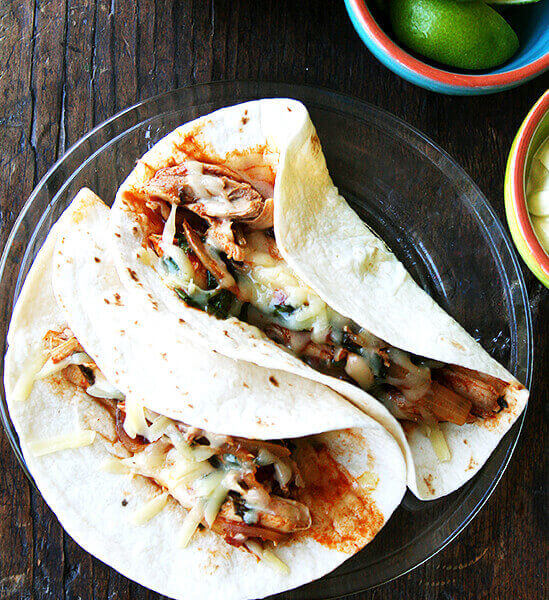 Classic Chicken Tinga Tacos
---
---
for the tinga:
1

3-4 lb. chicken

2 tablespoons

olive oil

1

white onion, sliced

1

small can chipotles in adobo sauce (you'll only need half the can or about

1/4

heaping cup)

1½ cups

canned crushed tomatoes, I use the Pomi brand

2 cups

chicken stock, preferably homemade, or water
kosher salt to taste

1

bunch cilantro
for serving:
flour or corn tortillas
grated cheese, cheddar or monterey jack or whatever you like
diced white onion
sour cream
lime wedges
---
Instructions
Place chicken in a large pot and cover with cold water. Bring to a boil, turn off the heat, cover the pot and let sit for 25 minutes. Transfer chicken to a large bowl or a colander placed in the sink to cool. Return the pot with the cooking liquid to the stove.
Meanwhile, in a large sauté pan or pot, add the oil and place over medium heat. Add the sliced onion to the pan with a pinch of kosher salt and sauté over medium heat until translucent or lightly brown, about 5 minutes. Add half the can of chipotles in adobo or about 1/4 cup including two or three of the chilies. (If you are really sensitive to heat, add just a tablespoon or two of the sauce. You can always add more.) Stir for a minute until the onions are nicely coated in the sauce, then add the tomatoes and chicken stock. Season with a pinch of salt.
Let the sauce simmer over low heat while you pull the chicken meat from the skin and bones. Shred the meat and add to the sauce. (Discard the skin; place bones in the reserved cooking liquid and let simmer for a couple of hours. Strain, and transfer the stock to storage containers. Refrigerate overnight. The following day, scrape off the fat and discard. Freeze stock.)
Bring the pan with the chicken to a simmer and let cook for 15 minutes over low heat. Coarsely chop the cilantro, add to the pot and stir to incorporate. Taste mixture, add more salt if necessary. You can pull out any chipotles that are still intact or you can just avoid pulling them from the mixture when you are serving.
Serve with heated tortillas, grated cheese, lime wedges, chopped onion and sour cream on the side.
Notes
Can be made a day or more ahead of time. To reheat, simmer mixture very slowly adding chicken stock if liquid becomes too thick. Freezes well, too. 
Prep Time:

15 minutes

Cook Time:

30 minutes

Category:

Chicken

Method:

Stovetop

Cuisine:

Mexican
Keywords: homemade, chicken, tinga, Mexican, chipotles, adobo
This post may contain affiliate links. Please read my disclosure policy.