Bok Choy Salad with Sesame-Almond Crunch
This post may contain affiliate links. Please read my disclosure policy.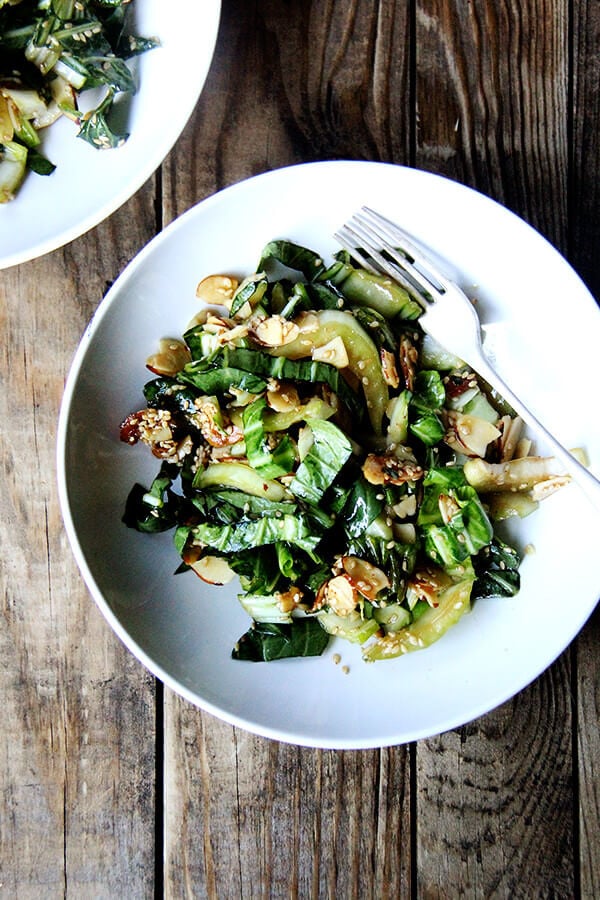 Last summer I learned that Swiss chard, like kale, can be eaten raw and is especially delicious with a lemony dressing and toasted garlic breadcrumbs.
You would think this revelation would have opened my mind and inspired experiments with other greens I had assigned to the cook-only category. It did somewhat — mustard greens and broccoli rabe, I learned, do well with that same treatment — but these discoveries were not enough to reform me completely.
On Sunday, for instance, my friend emailed me her "tried-and-true" bok choy salad recipe, and I couldn't help but think: Shouldn't bok choy be cooked?
It turns out bok choy makes an excellent salad, its crunchy stalks and sturdy leaves capable of enduring a bold, salty-sweet dressing. A slightly sweet dressing, in fact, is just what slightly bitter bok choy needs. My particular head of bok choy — the largest I had ever seen with tough greens begging to be braised and big, watery stalks — brightened under this assertive dressing. The whole salad, moreover, kept well in the fridge.
The most fun part about this recipe, however, is the sesame-almond crunch, a mix of melted sugar, toasted almonds and sesame seeds, that comes together in a flash and disappears about as quickly. Warning: Do not in an effort, say, to get a jumpstart on dinner make the crunch ahead of time. It will not, I promise, last five minutes.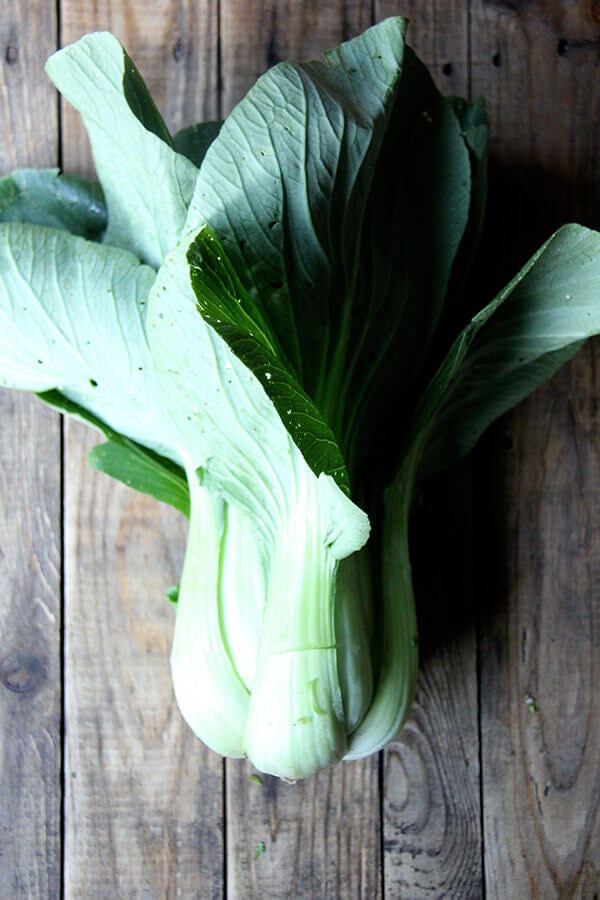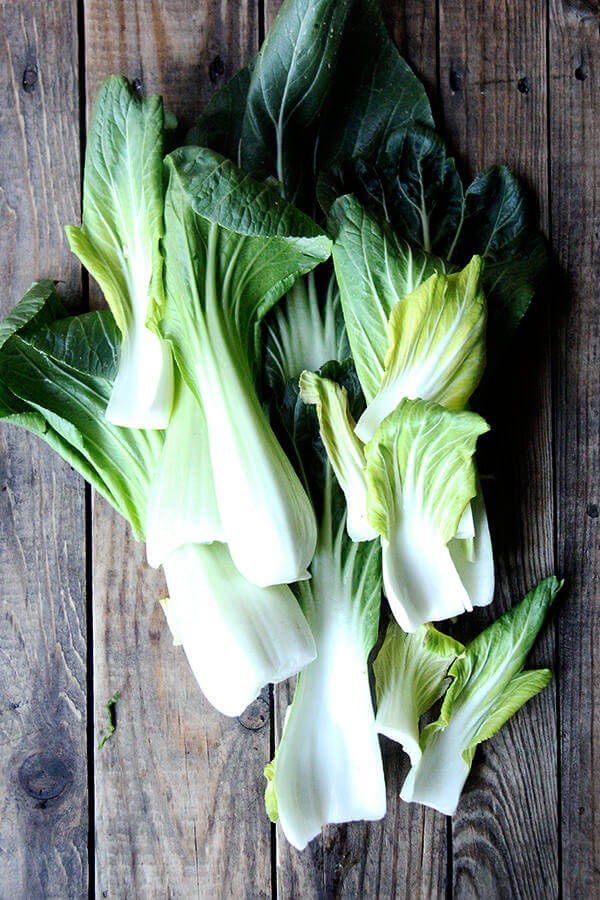 When the sugar looks like this, add the almonds and sesame seeds: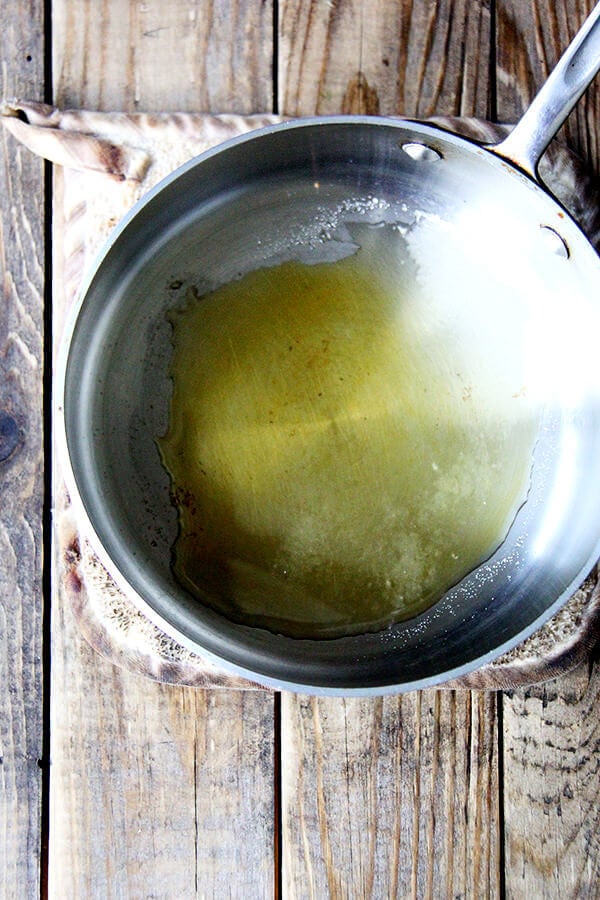 Thief!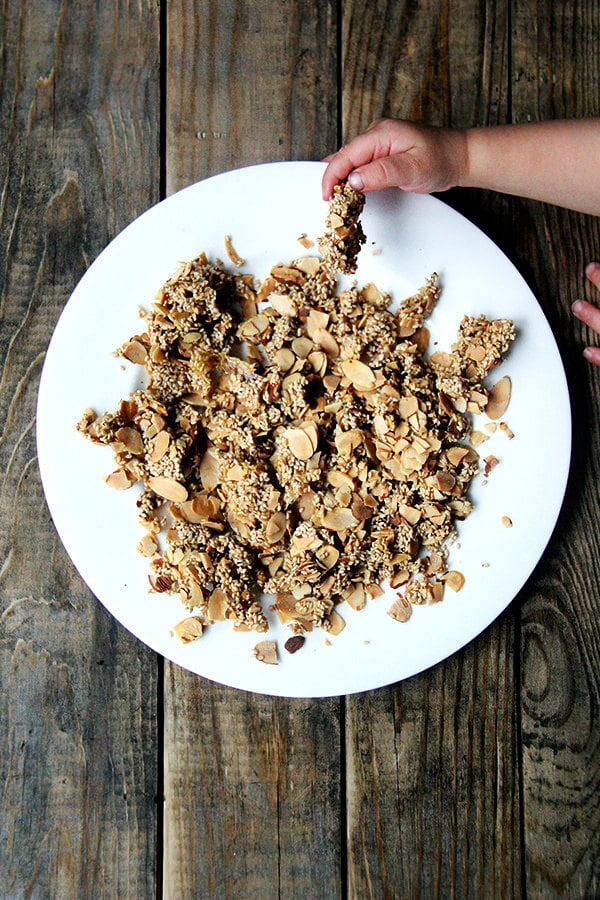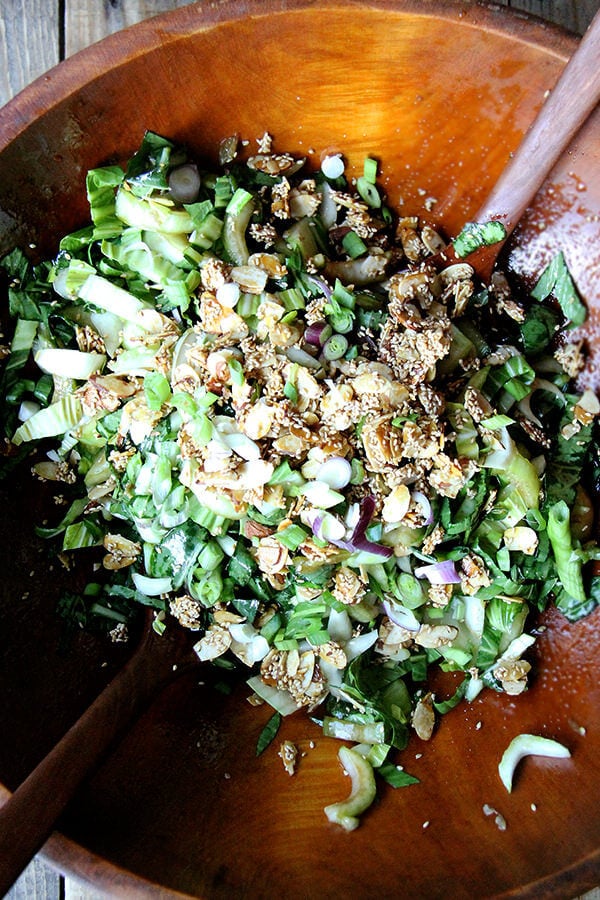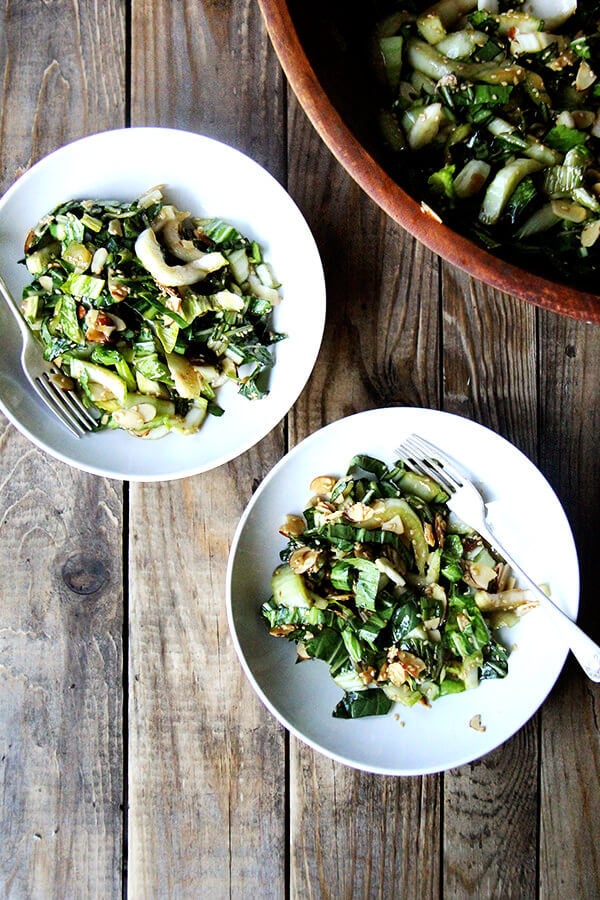 Print
Bok Choy Salad with Sesame-Almond Crunch
---
Prep Time:

35 minutes

Cook Time:

10 minutes

Total Time:

45 minutes

Yield:

2 servings
Description
Source: Charlene from Table of Gratitude My bok choy was really dirty, so I cut off the very end, separated the leaves, chopped them into ½-inch pieces and let them soak in a bowl of cold water till the dirt settled. Some of the pieces were still dirty and required some rubbing.
---
Ingredients
for the sesame-almond crunch:
1 cup

slivered almonds

1/4 cup

sugar

⅓ cup

sesame seeds

1/2 teaspoon

flaky sea salt, such as Maldon, or

1/4 teaspoon

kosher salt
for the dressing:
1 tablespoon

minced garlic or ginger or lemongrass or a combination of all three

1 tablespoons

rice vinegar

3 tablespoons

fresh lime juice plus more to taste

2 tablespoons

fish sauce

1 tablespoons

olive oil

1 tablespoon

sesame oil

1 tablespoon

+

1 teaspoon

sugar
squirt Sriracha or spoonful of hot chili sauce of choice
for assembly: 
6

green onions, thinly sliced

1½

pounds bok choy, thinly sliced and soaked in cold water to allow dirt to settle, then drained—it's OK if a little water is clinging to the greens
flaky sea salt, such as Maldon 
---
Instructions
Place almonds and sesame seeds in a large, dry skillet set over medium heat, and cook, stirring occassionally (watching like a hawk) until golden brown. Transfer to a small sheet pan to cool.
Sprinkle the sugar in an even layer over the same pan and set over medium heat. The moment the sugar is completely liquefied and beginning to turn brown, add the almonds, sesame seeds, and sea salt. Stir with a heat-proof spatula or wooden spoon until the nut-seed mixture is evenly distributed. Do this quickly, so that the mixture does not burn. Immediately transfer nut-seed mixture to the sheet pan or to a plate to cool.
In a medium bowl, stir together the dressing ingredients. Taste. Add more olive or sesame oil to taste.
Meanwhile, slice the bok choy crosswise thinly—as you would cabbage for a slaw. Place bok choy in a large bowl, and toss with some of the dressing. Taste; add more or all of the dressing if desired. Add the scallions and nut mixture to the bowl and toss well. Taste. Season with more sea salt to taste. 
---
This post may contain affiliate links. Please read my disclosure policy.