TKO Ice Cream Sandwiches
This post may contain affiliate links. Please read my disclosure policy.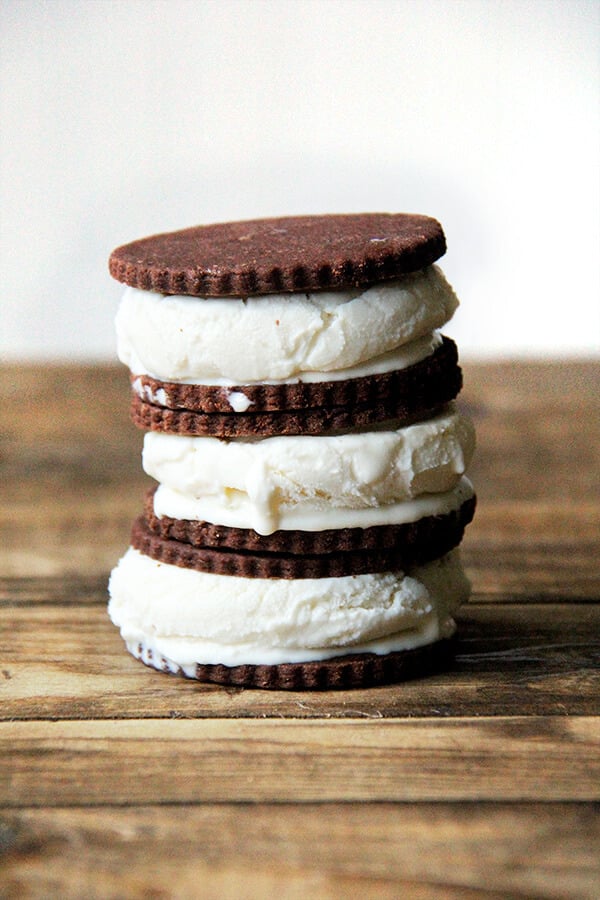 Two summers ago, I spent a week with my friend Bates, home from abroad for the summer, in Duxbury, Mass. We spent most of our days tending to the kiddies, but always made time for a little baking, often from The Bouchon Bakery Cookbook, a rental from the library Bates had been relishing all summer, a book she cherished for its precision in both ingredient quantities — 104 g flour, 1.3 g baking soda, etc. — and instruction: Mix on low speed for 15 to 30 seconds. Form into 4×6-inch block.
The book won me over before I even opened it — a tin of three-day old pecan sandies disappeared within five minutes of my arrival — but everything we made, namely the TKOs (Thomas Keller Oreos) sans filling, was perfection.
I was reminded of those TKOs earlier this summer, when our neighbor returned from TCBY with tubes of ice cream cookie sandwiches, which are made with giant Oreos and froyo and happen to be delicious. One bite inspired me to make a batch of TKOs and flank them around scoops of vanilla ice cream.
The result? Heaven. TKOs on their own — I've never actually made the filling — are a treat, a not-too-sweet chocolate shortbread, big on salt, with a crisp, sandy texture. Combined with vanilla ice cream, well, as Ina would say, "How bad can that be?" Had the vanilla ice cream not come shooting out the sides with nearly every bite, I would have posted the recipe immediately.
For the TKOs to work in an ice cream sandwich, the recipe would need just the slightest bit of tweaking, an adjustment to the baking time to ensure the cookies would be soft enough to meld into the ice cream with every bite. The original recipe calls for baking the cookies for 15 to 17 minutes, and after tests at 10, 7, and finally 5 minutes, I found the answer: five minutes of baking with a complete cooling on the sheetpan.
Even in soft-batch form, TKOs shine, their deep cocoa flavor permeating every bite, their yielding texture preventing the ice cream from squirting out the sides. Once assembled, these sandwiches benefit from a brief chilling in the freezer to set up, but as far as I can tell, there's no wrong way to eat ice cream's favorite cookie…or something like that?
Have a wonderful weekend, Everyone.
PS: Bouchon's Vanilla Bean Pots De Crème.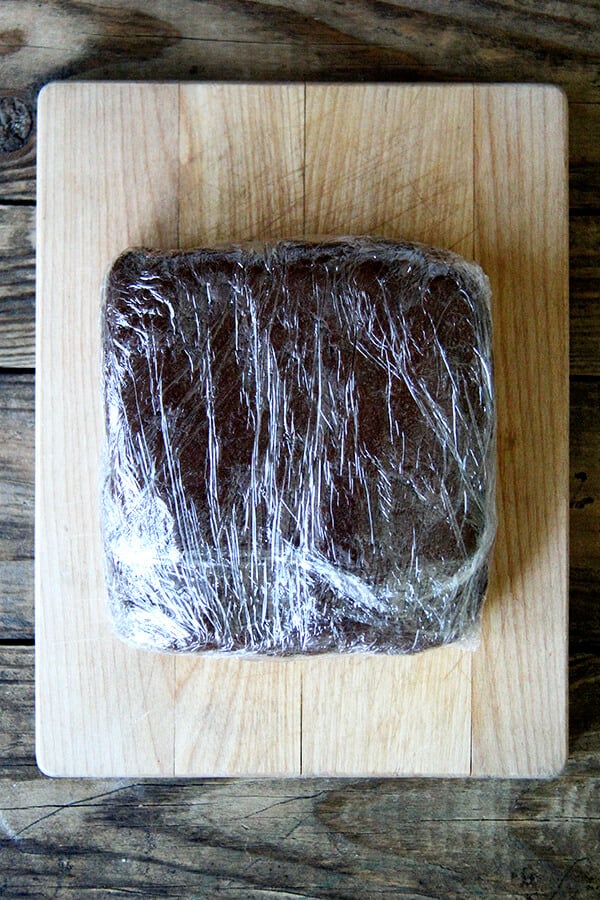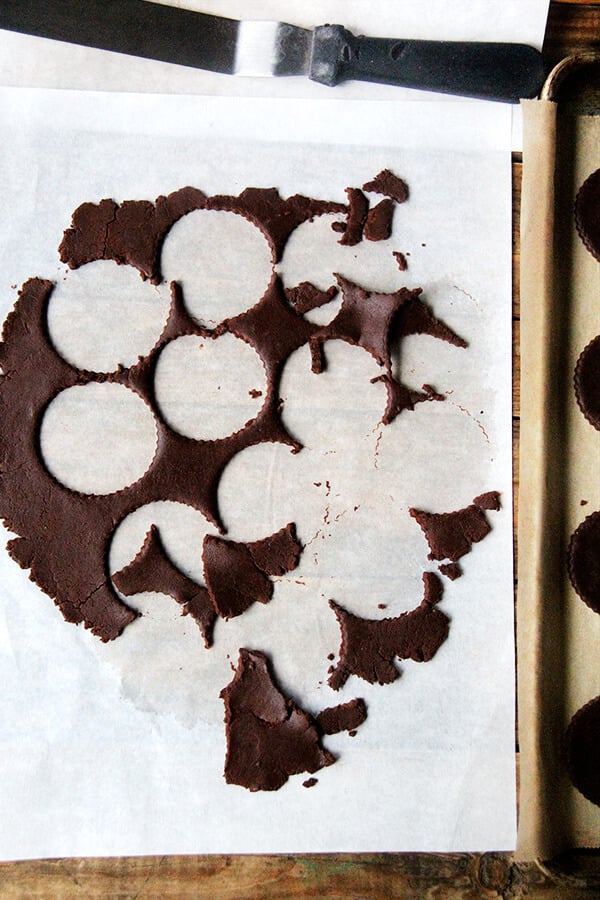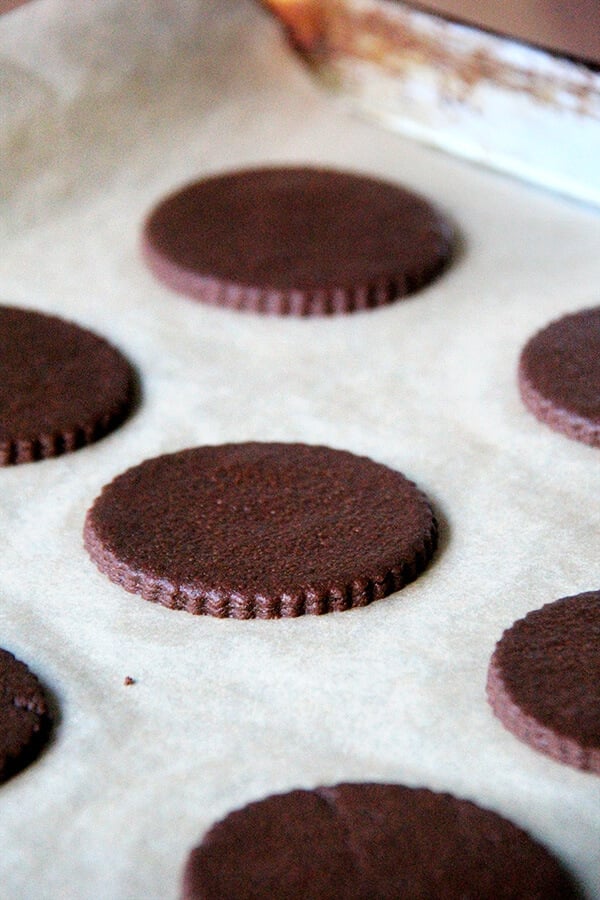 I love this part of the recipe: baking the scraps, then grinding them up to sprinkle on ice cream — a treat in itself.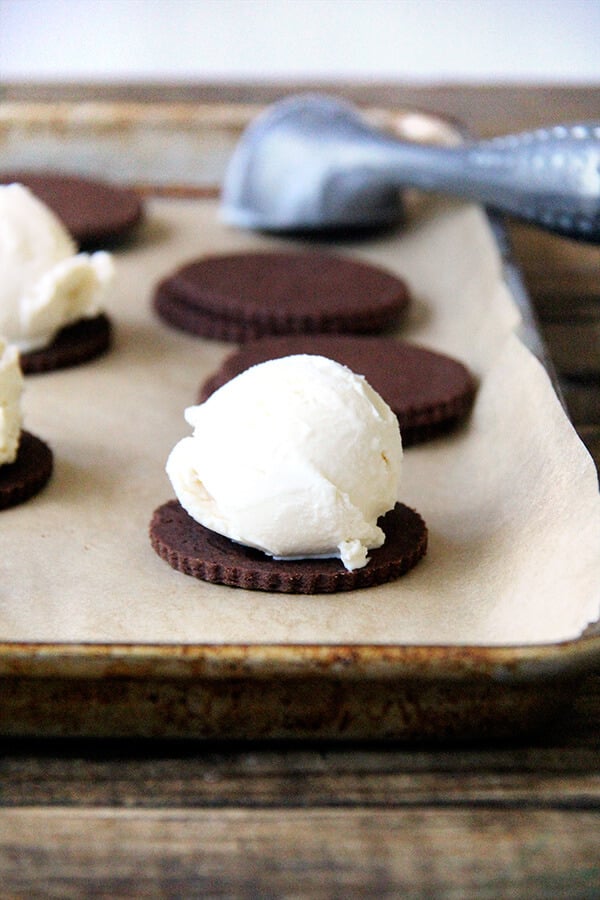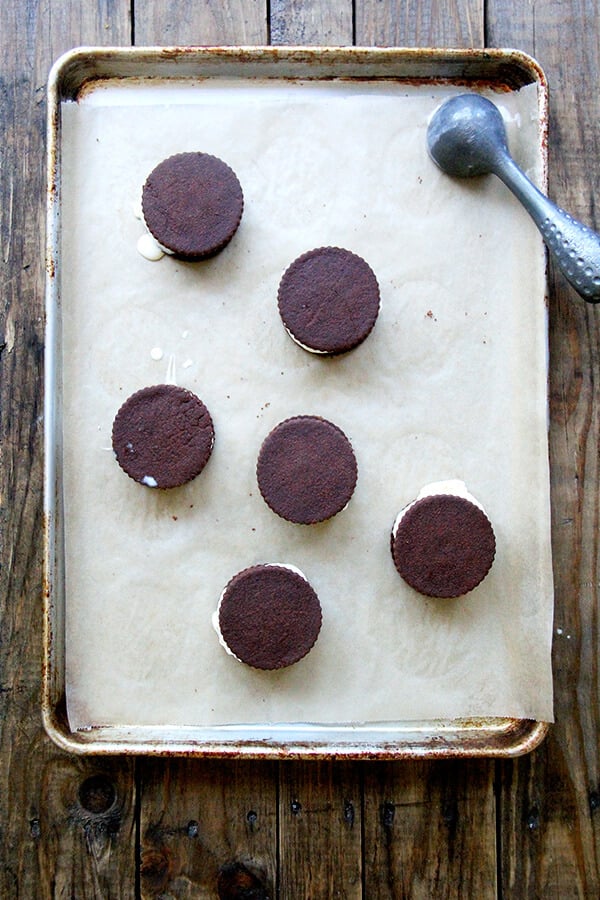 Print
Thomas Keller Oreo Ice Cream Sandwiches
---
Total Time:

1 hours 55 minutes

Yield:

12 sandwiches, plus a whole lot of cookies crumbs for sprinkling
---
1 3/4 cups

+ 1 1/2 tablespoons (

259 grams

) all-purpose flour

1 cup

+ 1 1/2 tablespoons (

87 grams

) unsweetened alkalized cocoa powder

3/8 teaspoon

(

1.6 grams

) baking soda

8 ounces

(

227 grams

) unsalted butter, slightly soft

2 teaspoons

(

6 grams

) kosher salt

3/4 cup

+ 1 tablespoon (

161 grams

) granulated sugar

1 pint

vanilla ice cream
---
Instructions
Place the flour in a medium bowl, sift in the cocoa and baking soda, and whisk to combine.
Place the butter in the bowl of a stand mixer fitted with the paddle attachment. Turn to medium-low speed and mix until smooth. Add the salt and mix for another 15 to 30 seconds. Add the sugar and mix for about 2 minutes, until fluffy. Scrape down the sides and bottom of the bowl.
Add the dry ingredients in 2 additions, mixing on low speed for 15 to 30 seconds after each, or until just combined, then mix until the dough begins to come together.
Mound the dough on the work surface and, using the heel of your hand or a pastry scraper, push it together into a 6-inch-square block. Note: I like to cut this block in half and wrap each half separately — I find it easier to roll out half a block at a time. Wrap in plastic wrap and refrigerate for at least 1 hour, until firm. (The dough can be refrigerated for up to 2 days or frozen for up to 1 month.)
Place oven rack in middle of oven and preheat the oven to 325°F. Line two sheet pans with Silpats or parchment paper.
Unwrap the dough and place it between two pieces of parchment paper or plastic wrap. With a rolling pin, pound the top of the dough, working from left to right, to begin to flatten it, then turn the dough 90 degrees and repeat (this will help prevent the dough from cracking as it is rolled). Roll out to a 1/8-inch-thick sheet. If the dough has softened, slide it (in the parchment) onto the back of a sheet pan and refrigerate until firm enough to cut.
Using a 2.5-inch fluted cutter, cut rounds from the dough. Note: I get 12 rounds from each half of dough, for a total of 24 rounds. With the scraps, you can do two things: 1. push them together, refrigerate until firm, and reroll/cut or 2. bake them as is, let them cool and grind in the food processor to use as cookie crumbs over ice cream. If the dough softens, return to the refrigerator until the cookies are firm enough to transfer to a sheet pan. Note: I find the easiest way to release them from the scraps is to slide my hand underneath the parchment paper and push up with even force underneath the cut cookie — hope that makes sense. Arrange the rounds on the sheet pans, leaving about one inch between them.
Bake for 5 minutes. Set the pans on a cooling rack and let cookies cool completely on pans.
To assemble the sandwiches, slide a flat spatula underneath each cookie to release it from the parchment. Cookies will be delicate, so be gentle. Flip half of the cookies over. Drop a scoop of vanilla ice cream over the turned over cookies. Top with another cookie using a delicate hand — gently press down from the middle of the cookie to prevent cookies from breaking. Wrap each sandwich in plastic wrap and freeze until ready to serve. If ice cream has gotten too soft, place whole sheet pan of sandwiches in freezer for 20 minutes, then wrap each individually for storage. Freeze for at least one hour before serving. Will keep for days in the fridge.
Prep Time:

30 minutes

Cook Time:

5 minutes
This post may contain affiliate links. Please read my disclosure policy.