Two-Lentil Dal
This post may contain affiliate links. Please read my disclosure policy.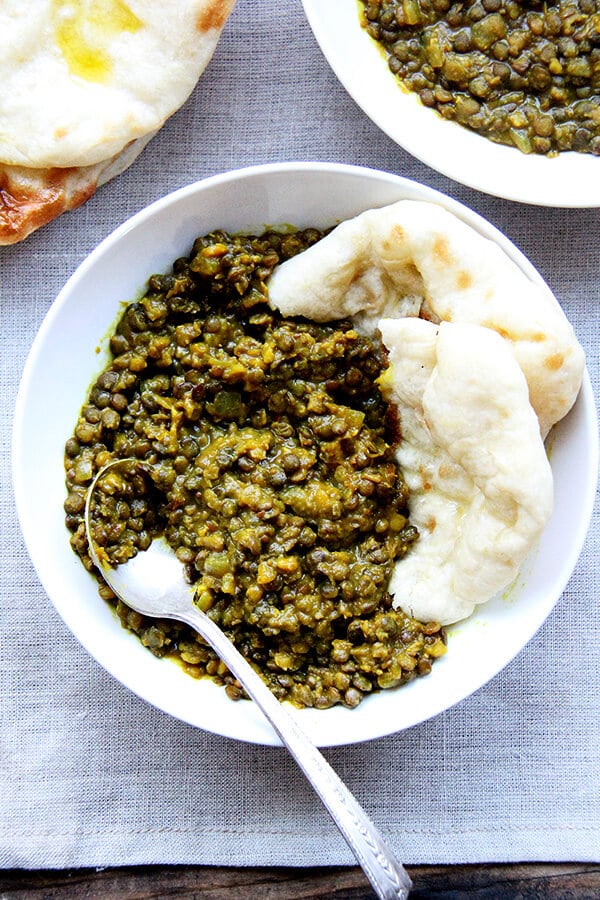 On the topic of kitchen mistakes, Cal Peternell in Twelve Recipes writes: "There's no losing them, so we invite them to the table to teach us what they can."
Wise words. This is how two-lentil dal materialized in my kitchen. One night I scrounged two cups of assorted lentils from several near-empty, many-months-old bags, threw them in a pot and crossed my fingers. But the result, a happy mix of creamy and chunky, like a partially puréed soup, was very welcomed at the table, even more so than subsequent purebred dal attempts.
Now, I realize, the texture I am describing may push this dish out of the category of dal altogether, but it's delicious nonetheless and couldn't be simpler to throw together: sweat an onion, add spices (cumin, coriander fennel, turmeric and crushed red pepper flakes) and lentils, cover with water, simmer until done. As I noted above, I like to use a mix of lentils such as petite French green lentils, which hold their shape, along with red, brown or yellow lentils, which quickly dissolve to mush, but experiment with what you have on hand and tailor to your liking.
This is another great cooking-from-the-pantry recipe, which I welcome you to complicate by making your own flatbread.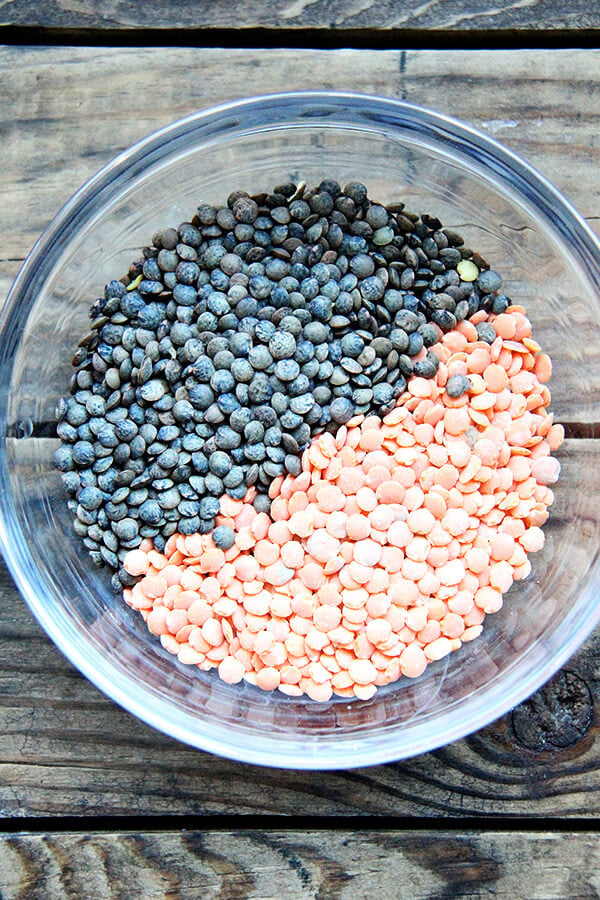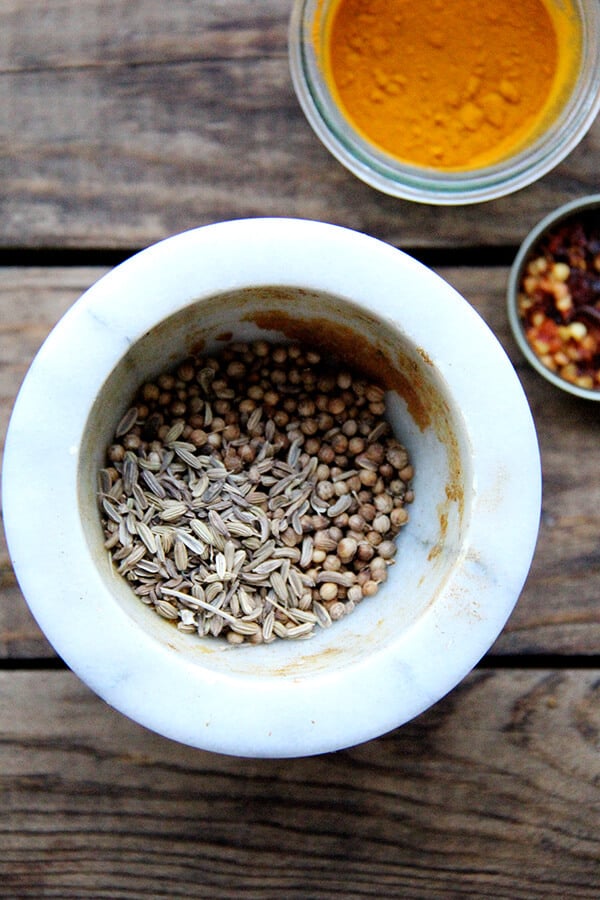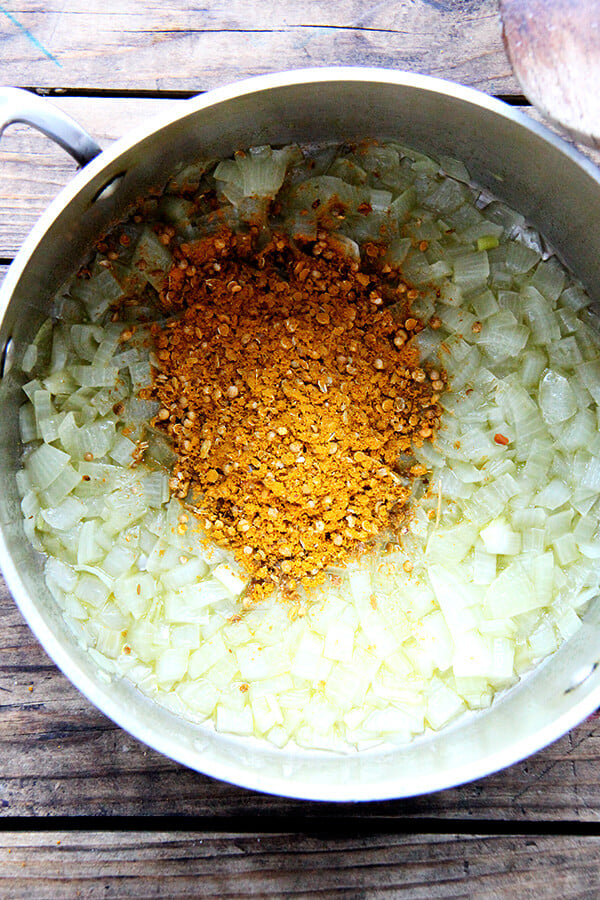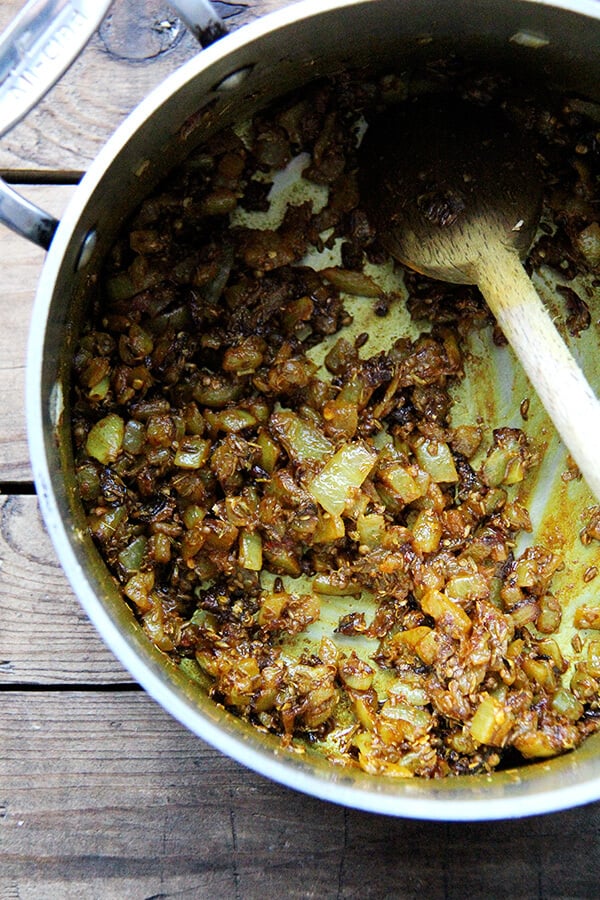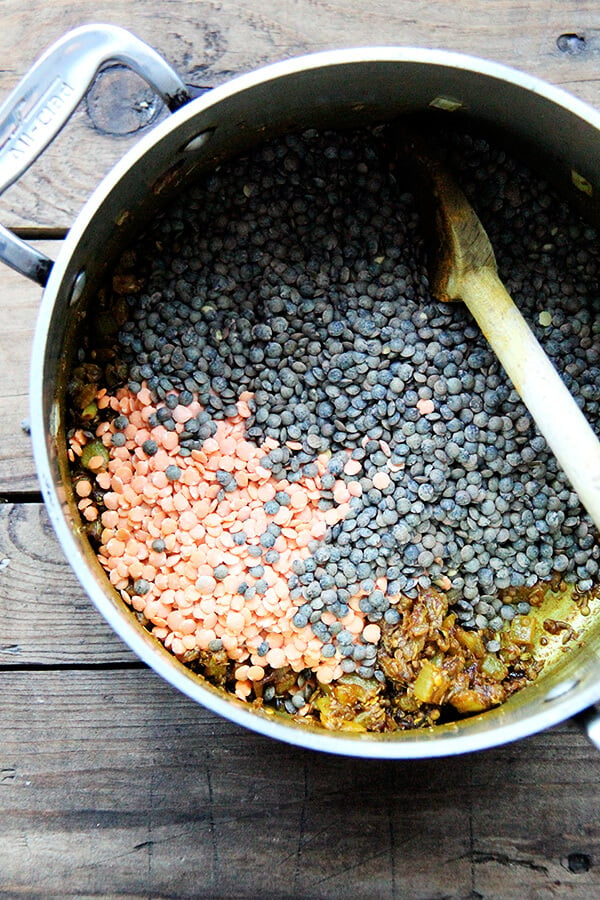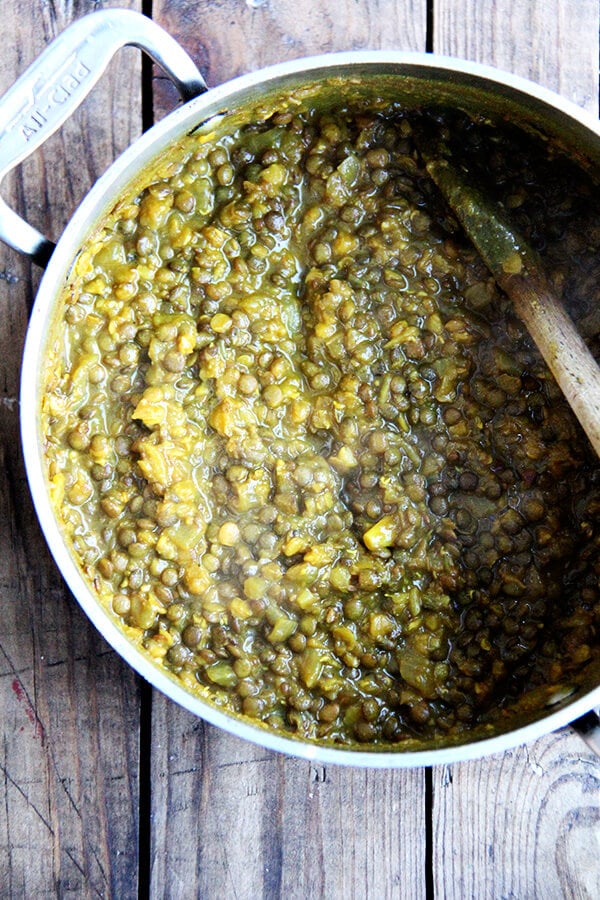 Baked on the Baking Steel: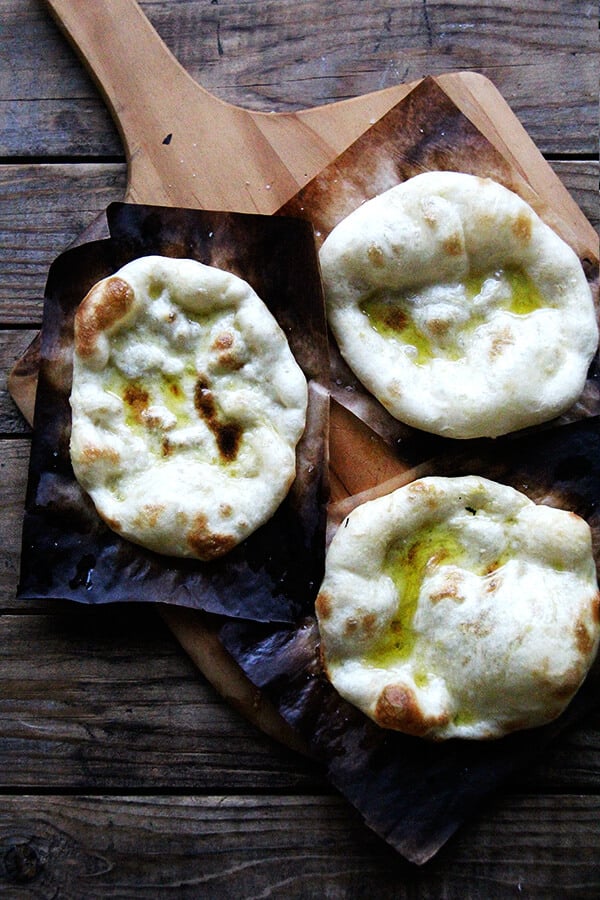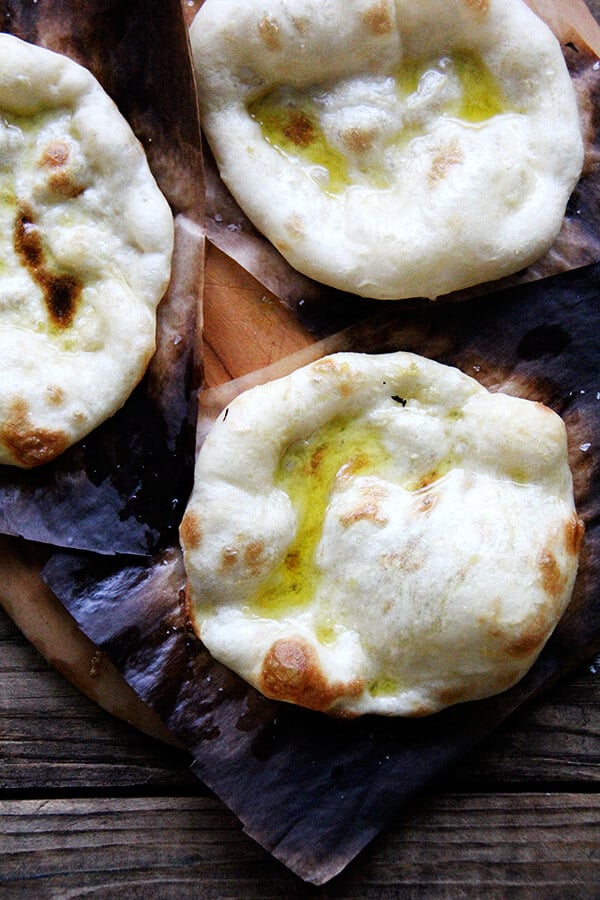 Incidentally, the same friends who gave me Twelve Recipes, taught me the coolest trick: Swaddle just-cooked flatbreads in tea towels, which will cause them to steam and soften, making them pliable, perfect for scooping up dal or cradling chicken souvlaki. More on this shortly.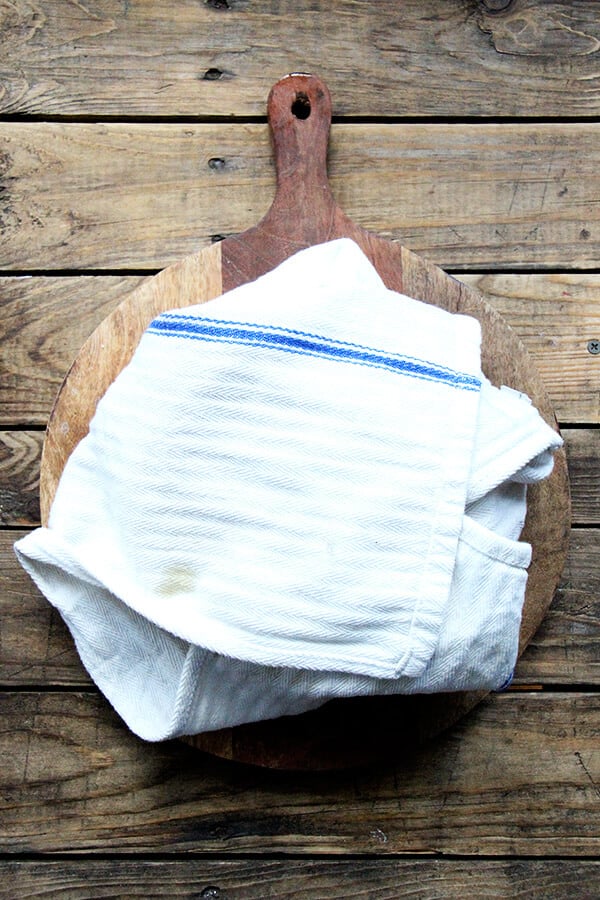 This is becoming one of my favorite cookbooks: Twelve Recipes. See Fried Greens Meatlessballs.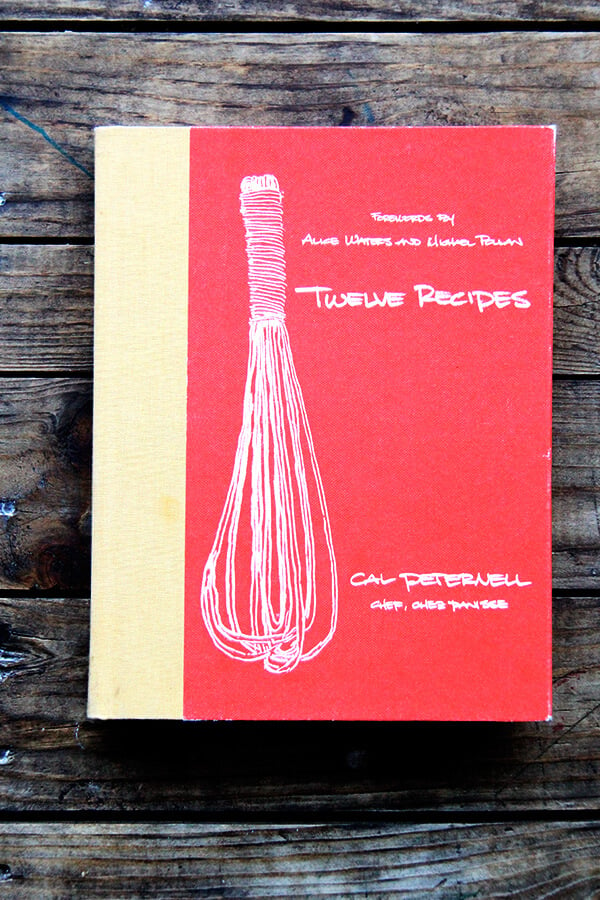 Print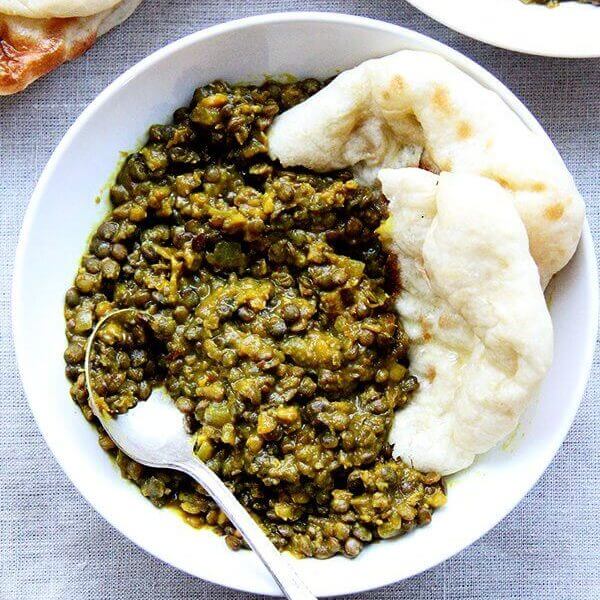 Two-Lentil Dal
---
Author:

alexandra

Total Time:

1 hours 15 minutes

Yield:

6 to 8
Description
Slightly adapted from Cal Peternell's Twelve Recipes.
I know it's fussy to call for a.) a specific lentil and b.) two different types of lentils, but I love how the green petite French lentils hold their shape while the red lentils (or brown or yellow) dissolve into mush.
Also, only once have I made this when I actually had all of the proper spices: whole cumin, coriander, and fennel, etc. I've used ground cumin. I've made it without fennel. I've used curry powder in place of the turmeric, and each time it was delicious. So, feel free to improvise.
Finally, in the book, Peternell says that often dal is served with a "sizzle," which is a mixture of melted butter, garlic, and a pinch more each of the spices used in the dal sizzled together for 30 seconds and spooned over the dal. I've yet to make the sizzle, nor have I served this with cilantro or yogurt, all of which sound like delicious additions.
---
3 tablespoons

olive oil

1

medium yellow onion, diced

1 teaspoon

salt, plus more to taste

1 tablespoon

crushed whole cumin seeds

1 tablespoon

crushed whole coriander seeds

1 teaspoon

crushed whole fennel seeds

1/2 teaspoon

crushed red pepper flakes

1 tablespoon

ground turmeric

1 cup

French green lentils (see notes above)

1/2 cup

brown, yellow or red lentils
yogurt, for serving, optional
cilantro, optional
---
Instructions
Heat a soup pot over high heat. Add the oil and then the onions and salt. Stir, turn the heat to low, and cover the pot. Check and stir after a few minutes, letting the moisture on the lid drip back into the pot to keep things steamy. Lower the heat if there is any browning going on, and re-cover. Cook like this until the onion is tender, about 15 minutes.
Add the cumin, coriander, fennel and red pepper flakes and cook, stirring, for 1 minute to toast the spices. Add the turmeric and stir for 30 seconds more. Add the lentils and 4 cups water and bring to a boil. Lower the heat to a simmer and cook, stirring occasionally, until the lentils give up their earthly bodies and become one with your dinner, about 30 minutes. Taste, and adjust seasoning as necessary. I've been adding at least another 1/2 teaspoon of salt as well as at least a cup (maybe 2) more of water to the pot as needed while it is simmering. If you are using the French lentils, it may take as long as one hour for the lentils to cook through.
Prep Time:

15 minutes

Cook Time:

1 hours
This post may contain affiliate links. Please read my disclosure policy.