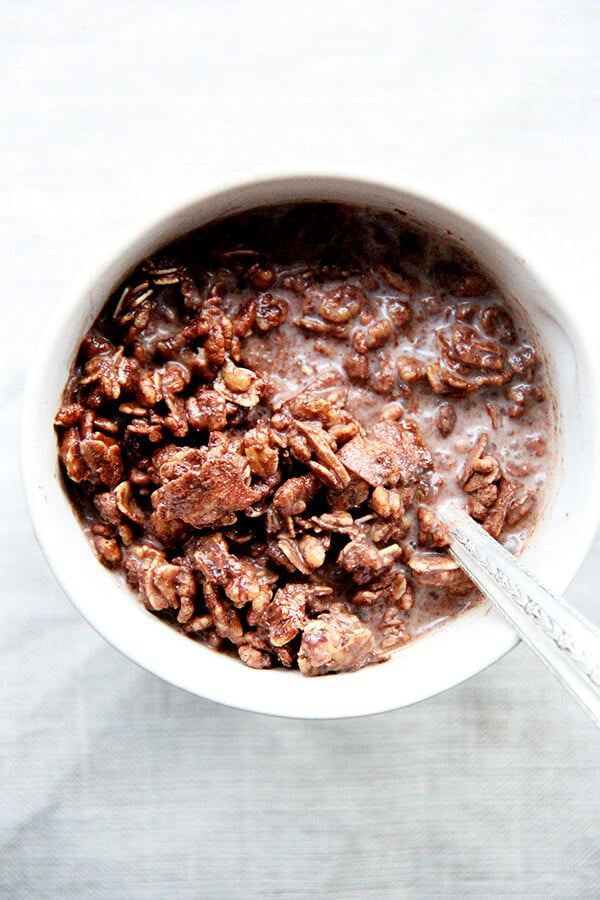 The origin of cocoa crunch — not Koko Krunch — dates back to the onset of the organic movement and a UK company called Whole Earth Foods, who extolled the importance of planet-friendly fare 40 years before it became a trend, and who created this breakfast cereal to appeal to adults and children alike.
In essence it's chocolate granola made without nuts, a mixture of oats, crispy rice cereal, coconut, cocoa, and chocolate, which bake into clusters fit for snacking on their own or drowning in milk, which ultimately turns into chocolate milk, a boon for little ones especially.
The original recipe, from Green and Black's Chocolate Recipes, calls for making a thick sugar syrup, which I have replaced with maple syrup — eliminating the syrup-making step simplifies the process and the maple flavor does not dominate the chocolate. Like the coconut oil granola, this cocoa crunch makes a great gift, but is also a treat to have on hand: my children and many of the neighborhood kiddies have been gobbling it up after school, but on more than one occasion, too, I have spotted in my kitchen an adult, head thrown back, bowl covering face, finishing off a late-night snack.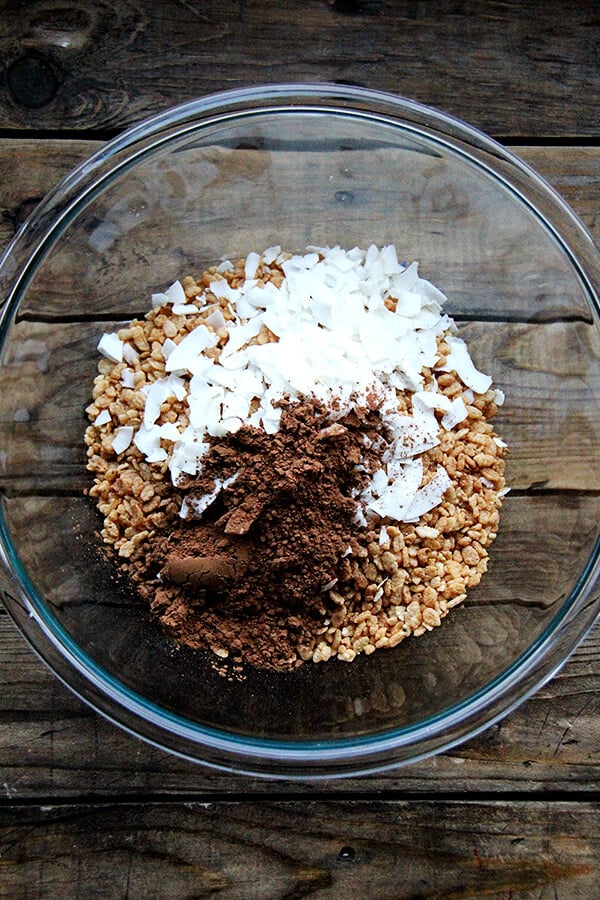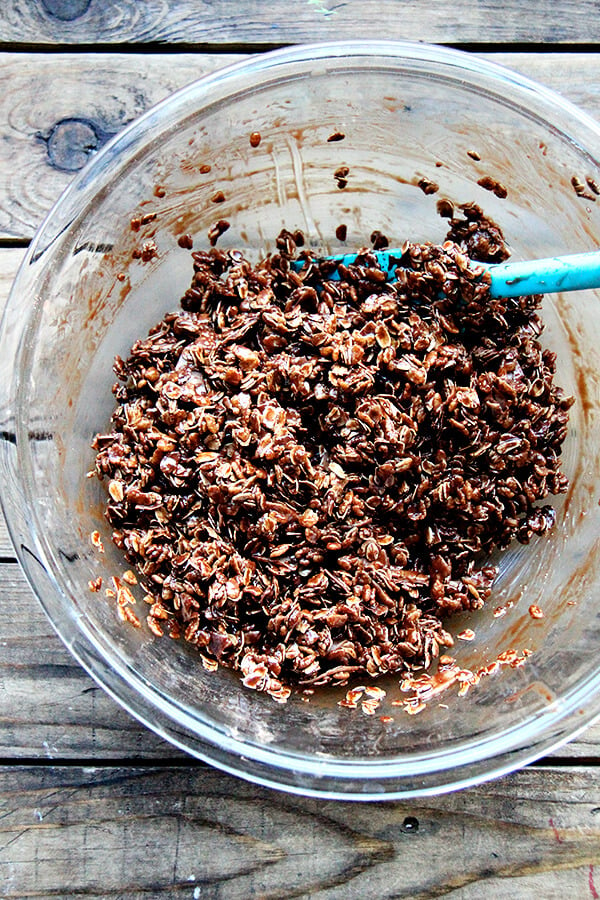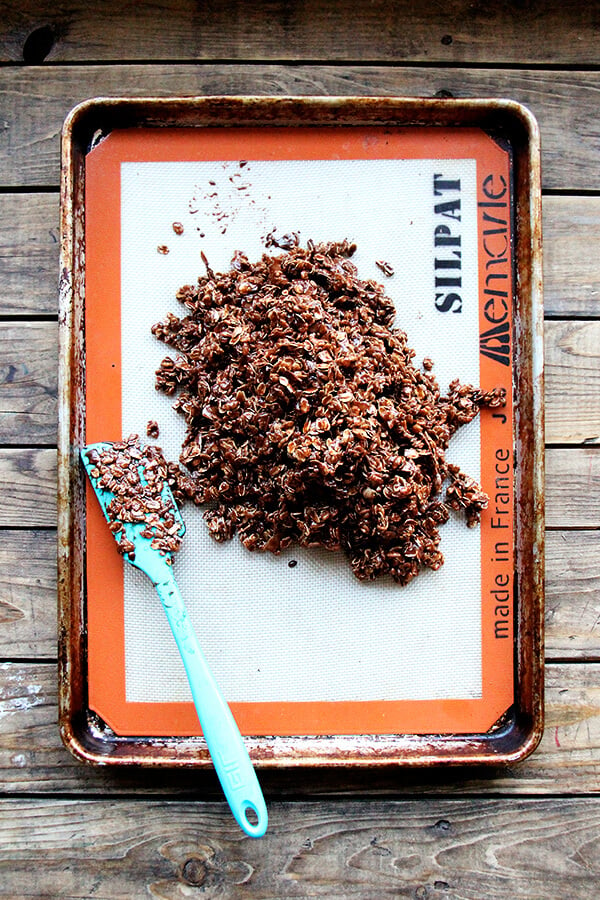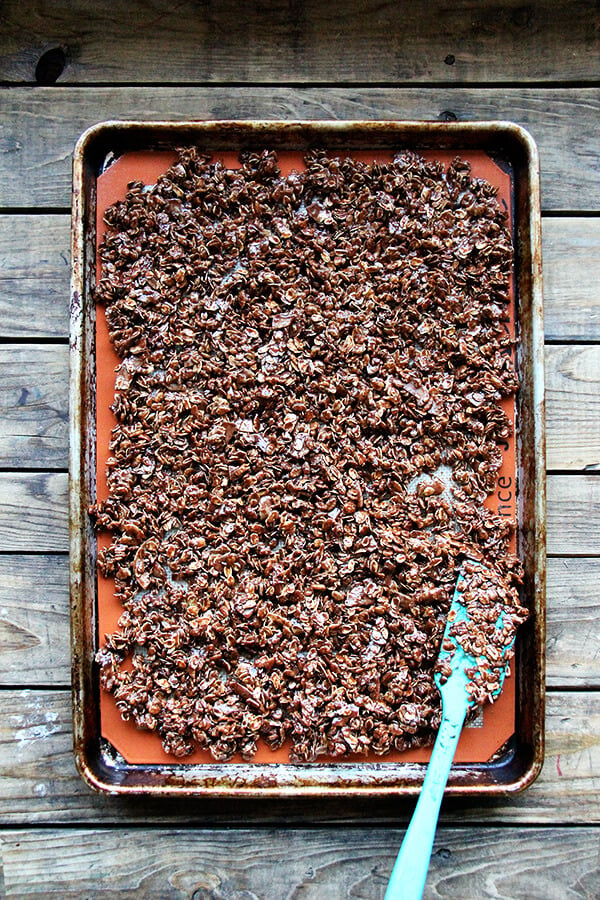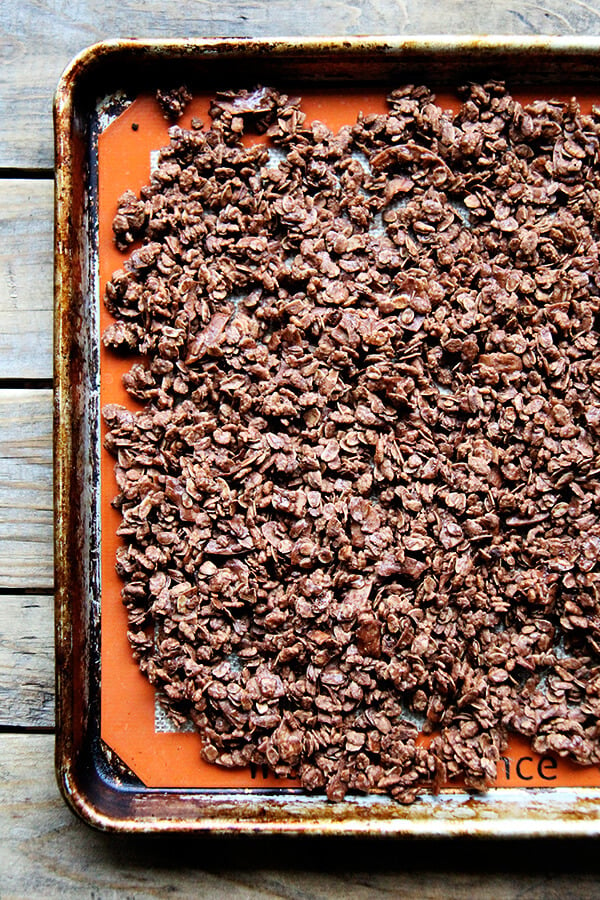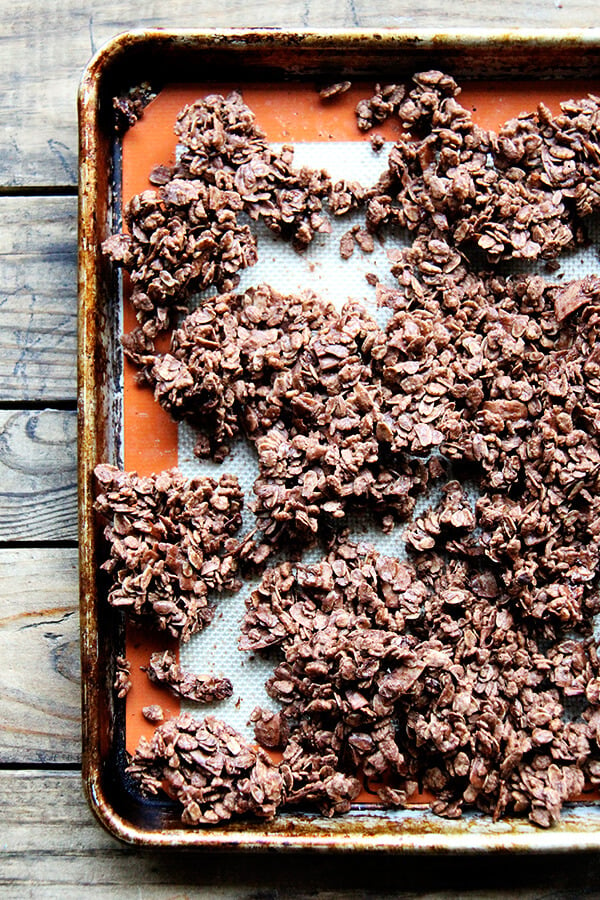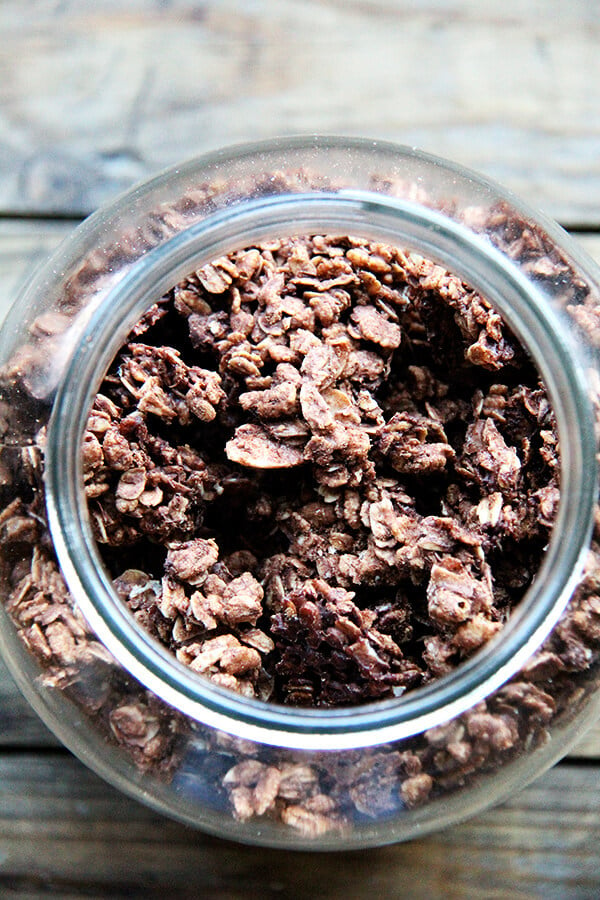 Cocoa Crunch: Proudly feeding the neighborhood since 2016!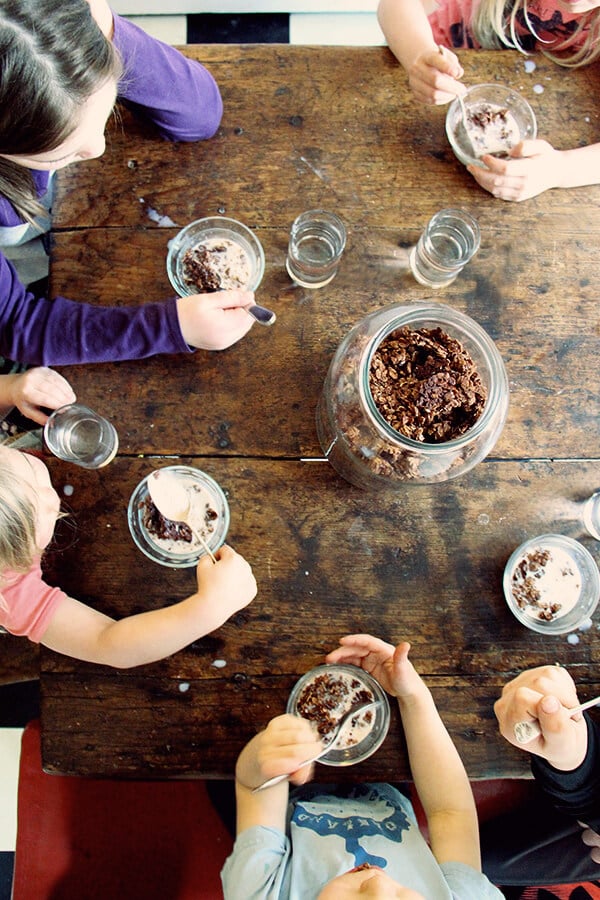 Print
Cocoa Crunch
---
Prep Time:

15 minutes

Cook Time:

35 minutes

Total Time:

50 minutes

Yield:

4 servings
Description
Source: Inspired by the cocoa crunch recipe in Green and Black's Chocolate Recipes
Rice cereal: I don't love buying products like crispy rice cereal for recipes, but it's sort of essential in this one. Here I've used Erewhon Crispy Brown Rice, which has only three ingredients — Michael Pollan approved! — though the original Rice Krispy cereal would work just fine, and in fairness to RK, its ingredient list isn't horrid.
Cocoa and chocolate: I've been using Hershey's unsweetened cocoa and Ghirardelli 60% cacao bittersweet chocolate. After you make this once, you may want to alter the amount/type of chocolate.
Silpat: My parchment paper use had gotten a little out of control, so I reccently bought a Silpat, which I have owned and loved before, and which I am loving having on hand again. To stir or not? The key to getting nice chunks of cocoa crunch is to not stir the mixture at all while it bakes. Once it cools completely, it will break into nice shards, which can be broken up further. That said, big shards can be hard to eat. So as you break this up before transferring it to a storage vessel, you may want to break it into bite-sized chunks.
---
Ingredients
1½ cup

s (154g) oats

2 cup

s crispy brown rice cereal (71g), such as Erewhon brand* (see notes above)

½ cup

(40g) unsweetened coconut flakes

3 tablespoon

s (

17

to 20g) cocoa

½ teaspoon

salt

¼ cup

melted coconut oil or vegetable or canola oil

1.5 oz

. (

42.5

g) dark chocolate, see notes above

½ cup

maple syrup
---
Instructions
Preheat oven to 275ºF. In a large bowl, combine oats, rice cereal, coconut, cocoa, and salt. Toss to combine.
Heat the coconut oil and dark chocolate together in a small skillet over low heat until chocolate has melted. Alternatively, melt in microwave. Stir to blend; then add to dry ingredients along with the maple syrup. Stir to combine.
Turn mixture out onto a Silpat- or parchment-lined baking sheet. Spread into an even layer. Cook 35 minutes. Remove from oven and let cool. Break into shards or into small pieces (see notes above).
---