Simplest Beef (or Chicken) Tacos
This post may contain affiliate links. Please read my disclosure policy.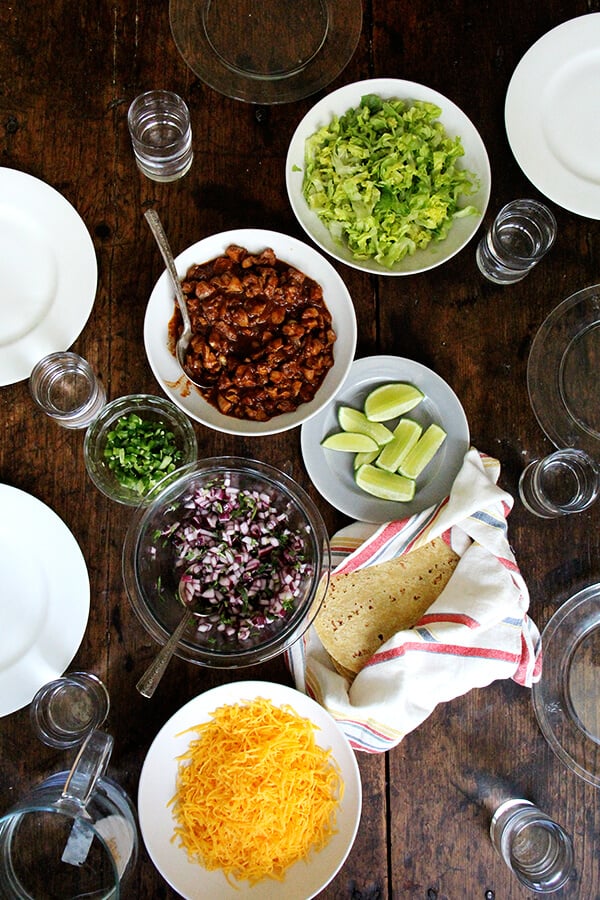 Several years ago when I lived in Virginia, I remember watching friends with older children race off to afternoon activities. Just as my day was winding down, theirs was beginning anew with soccer practice, swim lessons, tae kwon do. Dinner was either at 4 or 8 pm; they packed snacks for in between.
At the time, this idea was so foreign, but all of a sudden, I'm in it, too. Three times a week, Ben gets home from work, and if his parents haven't already done so, shuttles Ella off to baseball or Graham off to t-ball. Sometimes Wren, Tig, and I join in on the fun — why not? — but when we do, dinner is a serious scramble. For the first time ever, I'm feeling the need to plan meals, to have dinner prepared by 4, which is so not my nature, but which, surprisingly, I'm liking very much.
The children are liking it, too, the consistency, the weekly rituals, the pizza Fridays, spaghetti Sundays, taco Tuesdays — most especially the taco Tuesdays thanks to my genius friend Holly, of Holly's Challah, who told me her kids' enthusiasm for tacos increased tenfold after she read them Dragons Love Tacos, which she is convinced is a production of the National Taco Council.
I, of course, immediately ordered DLC, read it to the children the moment it arrived, then presented them with tacos later that evening. We've since been on a Taco Tuesday roll, which has been a near smashing success.
For Ella and Graham, assembling their own tacos couldn't be more fun, and they consistently gobble up every shred of lettuce, cheese, chicken, and tortilla on their plates. For Wren, keeping the tacos intact is a challenge, but not enough to ruin dinner. For Tig, taco Tuesday happens on her own time, and thus far, she approves.
The success of Taco Tuesday for me lies in keeping the occasion very simple: toppings consist of shredded lettuce and grated cheese. I've been making a simple red onion salsa, keeping the jalapeños on the side — remember, Dragons HATE spicy salsa — and that's it. No avocado, no sour cream.
Note: Taco Tuesday is a messy affair: For Ben, the post-dinner sweep has never been more demanding but, as for me, there's little more gratifying than seeing clean plates and smiling faces, making every bit of cleaning and prep well worth the effort.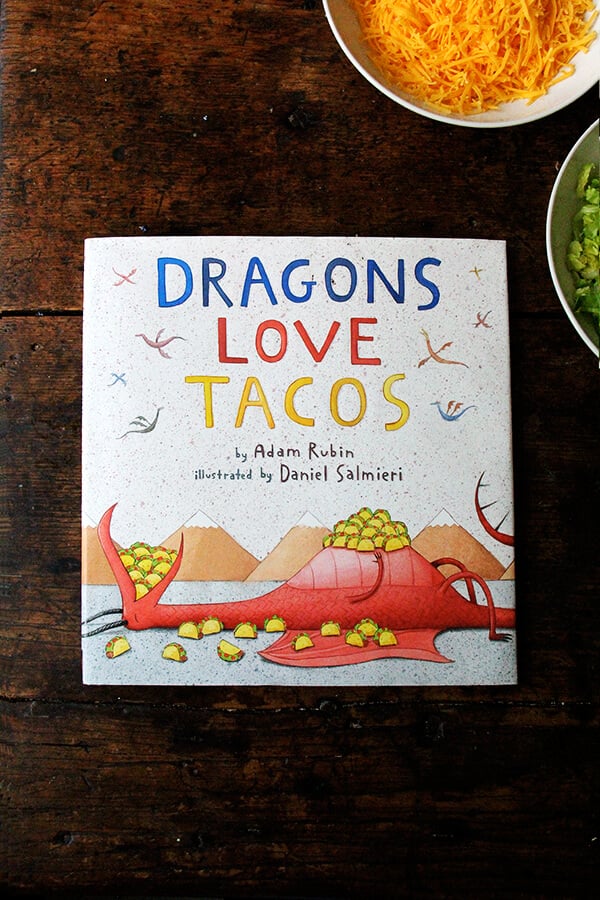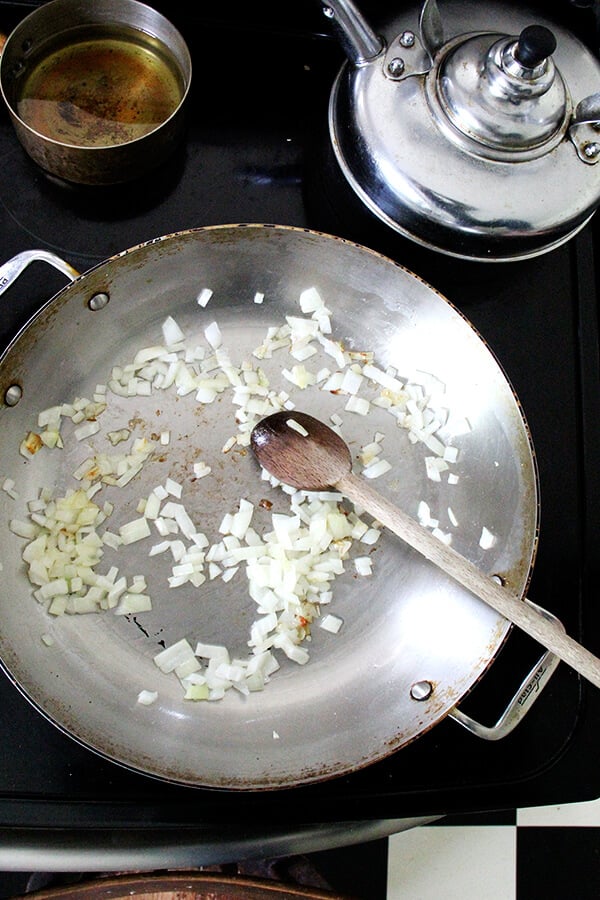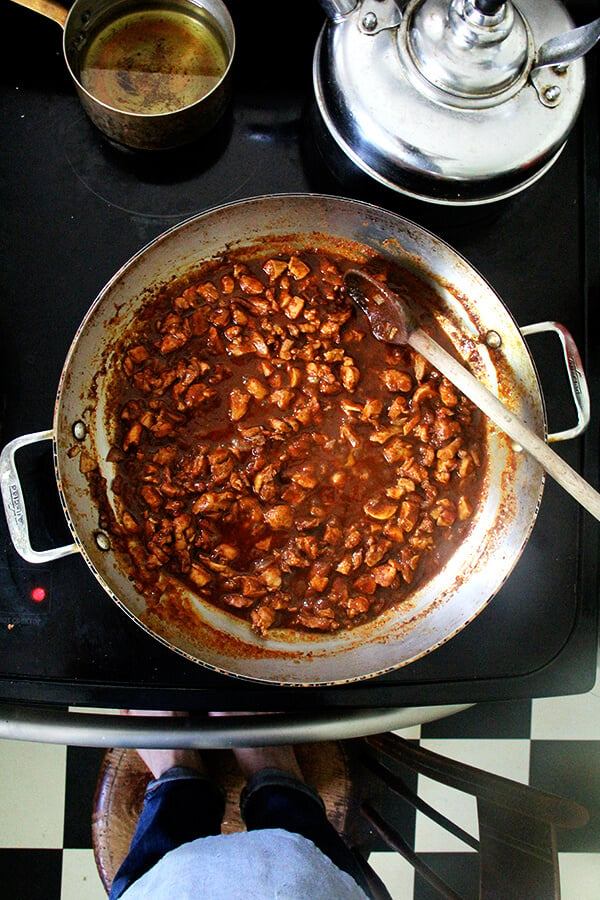 Love these TJ's corn & wheat tortillas. Whole Foods Market' sells their own version, which I love as well.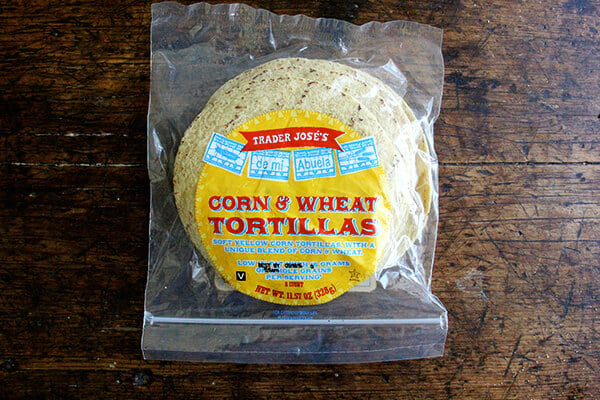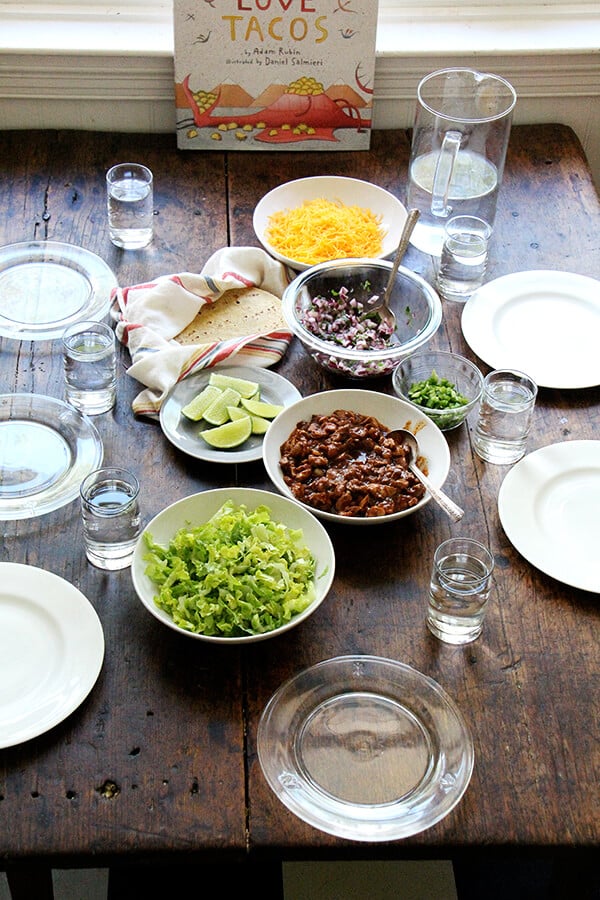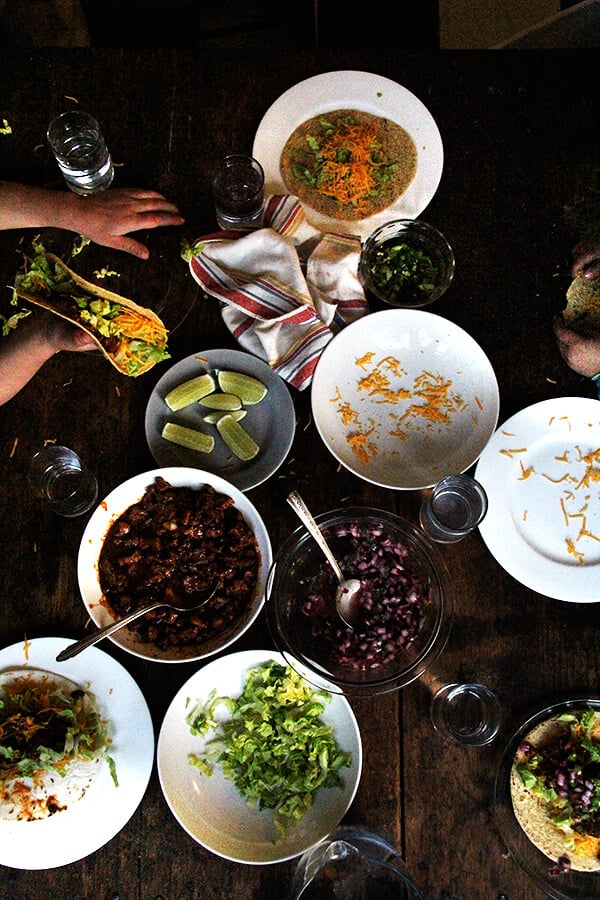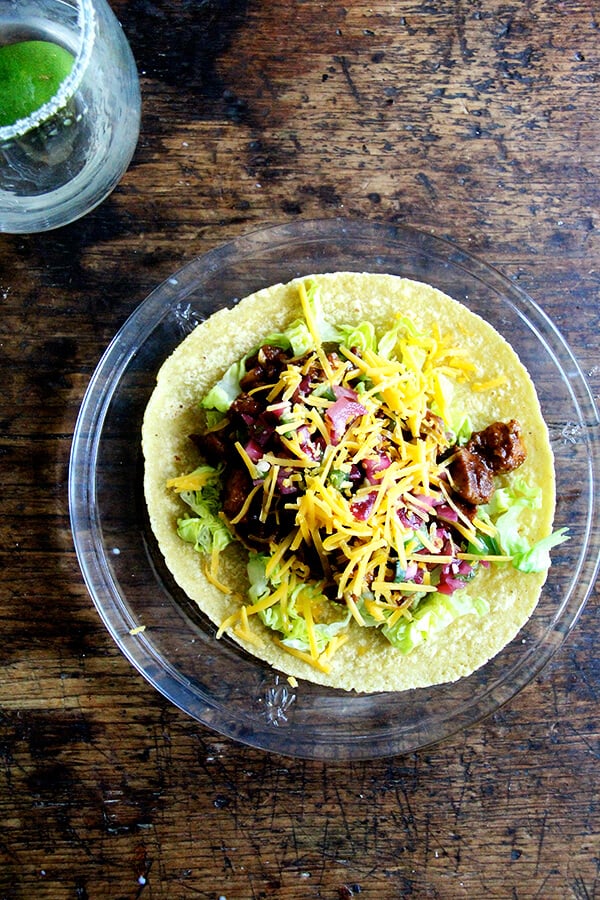 Dragons.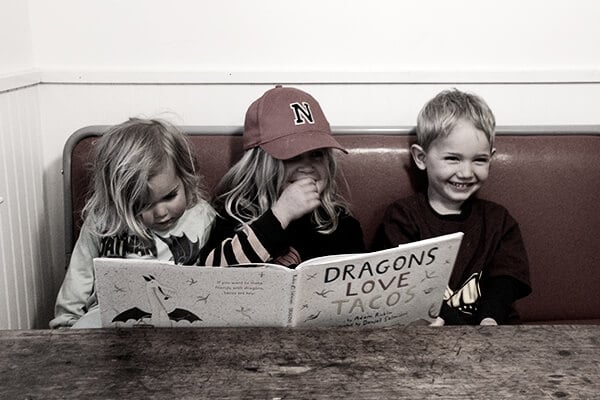 Tiglets.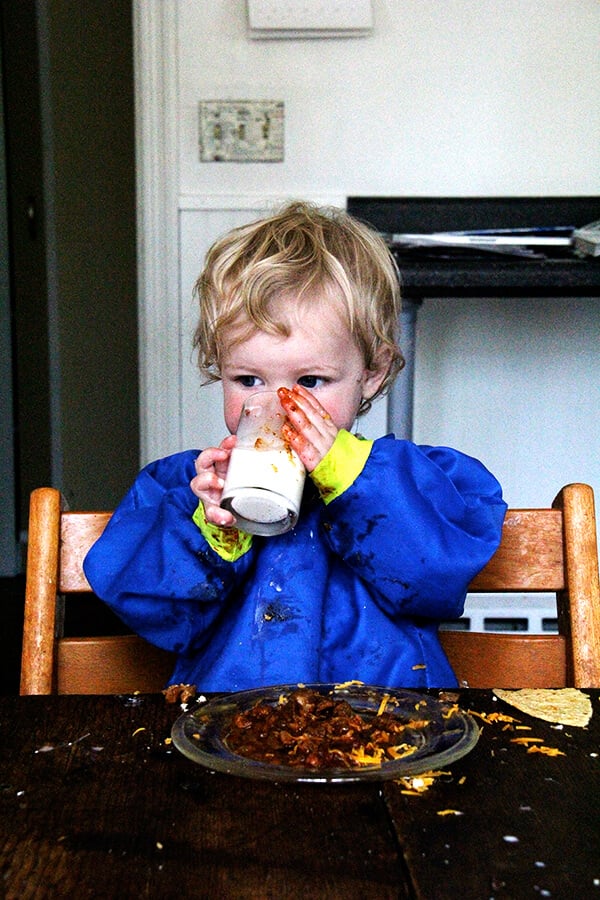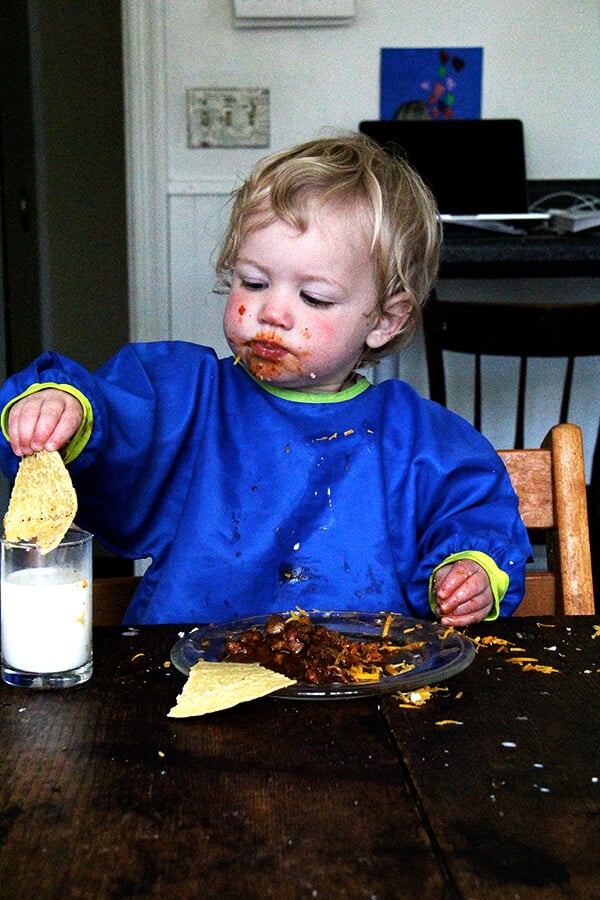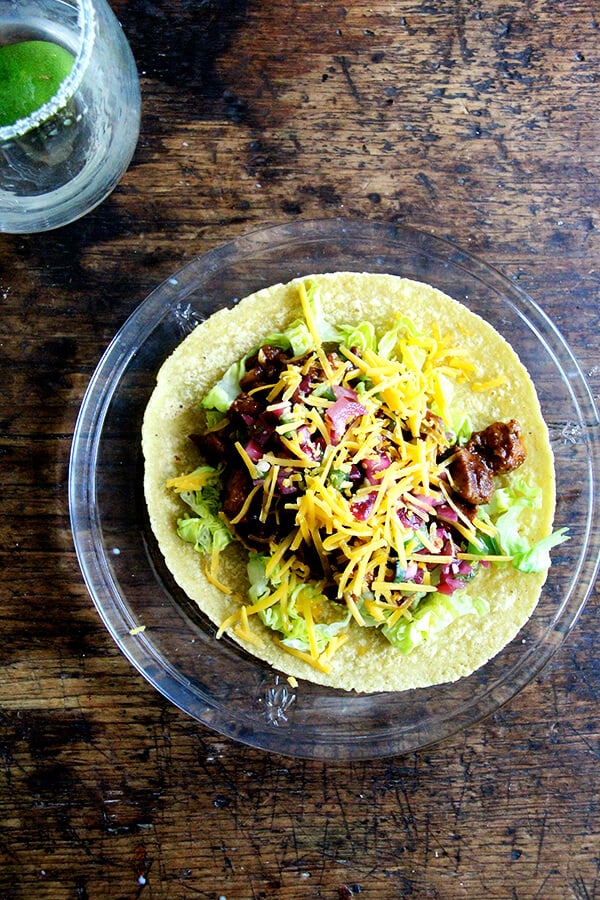 Print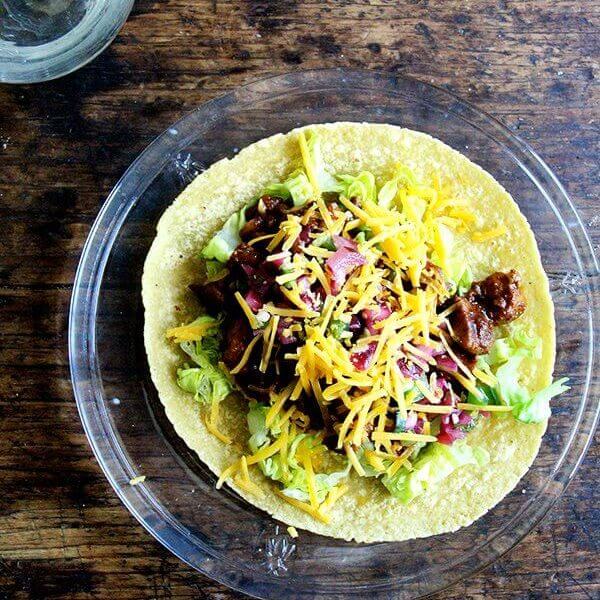 Simplest Chicken or Beef Tacos
---
Description
Recipe adapted from this Cook's Illustrated recipe for beef tacos. Since posting this, I almost always use beef, too.
Both Trader Joe's and Whole Foods sell tortillas made with a mix of flour and cornmeal, which are so tasty, but use what you like. You can, of course, serve this with any salsa you'd like, but remember that dragons don't like spicy salsa.
When tomatoes aren't in season, I make a simple onion salsa: Finely dice a red onion, squeeze over fresh lime juice, season with a pinch of salt, stir in chopped cilantro, drizzle in olive oil, toss to coat and let stand till serving.
I keep finely diced jalapeño on the side for Ben and me, but if the little people in your life aren't eating the red onion salsa anyway, just stir in the jalapeños.
Almost everything can be prepared ahead of time. Chicken/beef filling can be made up to 3 days ahead and reheated slowly just before serving. Cheese and lettuce can be grated/shredded hours ahead of time and stored in the fridge. Heat the tortillas (I often do this in the toaster, each tortilla folded in half) just before serving, of course, and if you're making any kind of salsa, that's best freshly made as well.
*Chili powders vary in degrees of spiciness. If your chili powder is especially spicy, start with 1 tablespoon or less. You can always add more to taste.
---
for the taco filling:
2 teaspoons

grapeseed or olive oil

1

small onion, finely chopped to yield a scant cup

3

medium cloves garlic, minced

2 tablespoons

chili powder, see notes above

1 teaspoon

ground cumin
kosher salt and pepper to taste

1

pound chicken thighs, ground or finely chopped or

1

lb. ground beef

1/2 cup

crushed tomatoes (pureed or slightly chunky)

1/2 cup

water

1 teaspoon

sugar

2 teaspoons

cider (or other) vinegar
for serving:
tortillas, see notes above
shredded cheddar cheese
shredded Romaine lettuce
salsa, see notes above
sour cream, optional
diced avocado, optional
---
Instructions
Heat oil in a large skillet over medium heat until hot and shimmering but not smoking, about 2 minutes; add onion and cook, stirring occasionally, until softened, about 4 minutes. Add garlic, spices, and 1/2 teaspoon salt; cook, stirring constantly, until fragrant, about 1 minute. Add ground chicken or beef and cook, stirring occasionally, until it is no longer pink, about 5 minutes. Add crushed tomatoes, water, sugar, and vinegar; bring to simmer.
Reduce heat to medium-low and simmer, uncovered, stirring frequently, until liquid has reduced and thickened (mixture should not be completely dry), about 10 minutes. Taste, adjust seasonings with salt and pepper. This can be done up to 3 days in advanced and reheated slowly before serving.
For taco night: Wrap tortillas in foil, and place in a 350ºF oven for 15 minutes or until warm. Sometimes I just toast them in the toaster. Remove from oven, and transfer to tea towel to keep warm. Place chicken, shredded cheese, lettuce, salsa, sour cream, and avocado in bowls. Start assembling.
Prep Time:

10 minutes

Cook Time:

25 minutes

Category:

Taco

Method:

Stovetop

Cuisine:

Mexican
Keywords: simple, chicken, beef, tacos
This post may contain affiliate links. Please read my disclosure policy.