Zucchini Parmesan
This post may contain affiliate links. Please read my disclosure policy.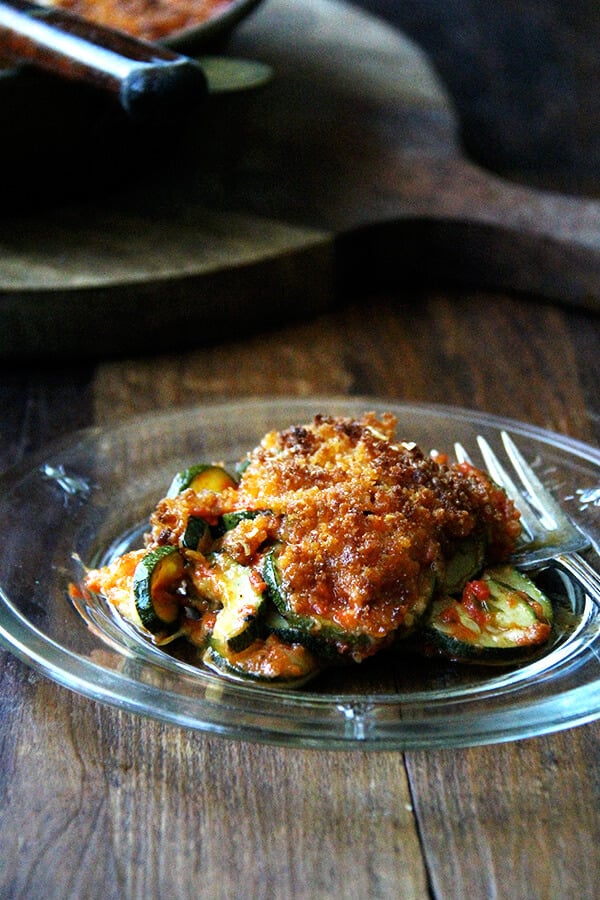 I am not so fortunate to have a prolific backyard garden, and I have yet this season to feel overwhelmed by anything from my CSA, but when I saw a Bam Bam-sized pale green club on a friend's counter, I knew the time had come — the time to pull out the zucchini-recipe file, to scour the Internet, to ask anyone and everyone for zucchini-culling inspiration.
This recipe essentially is an adaptation of the No Breading, No Frying, No Fussing Eggplant Parmesan from last summer, calling for roasting zucchini rounds for 10 minutes, then layering them with homemade sauce and parmesan cheese. A breadcrumb topping — fresh crumbs mixed with parmesan cheese, olive oil, salt and pepper — finishes it all off: it bakes for 25 minutes or until golden and bubbling.
I've used my favorite red pepper tomato sauce recipe, not only because I love it but also because I find it simpler than other tomato sauces — there's no peeling, no food mill, etc. After the tomatoes and peppers stew in a small amount of water (which sounds odd, but it works) for about 25 minutes, you purée them with basil, butter, and olive oil. Of course, your favorite tomato sauce will work well here.
Have a wonderful weekend, Everyone!
PS: More pepper, zucchini, and tomato recipes.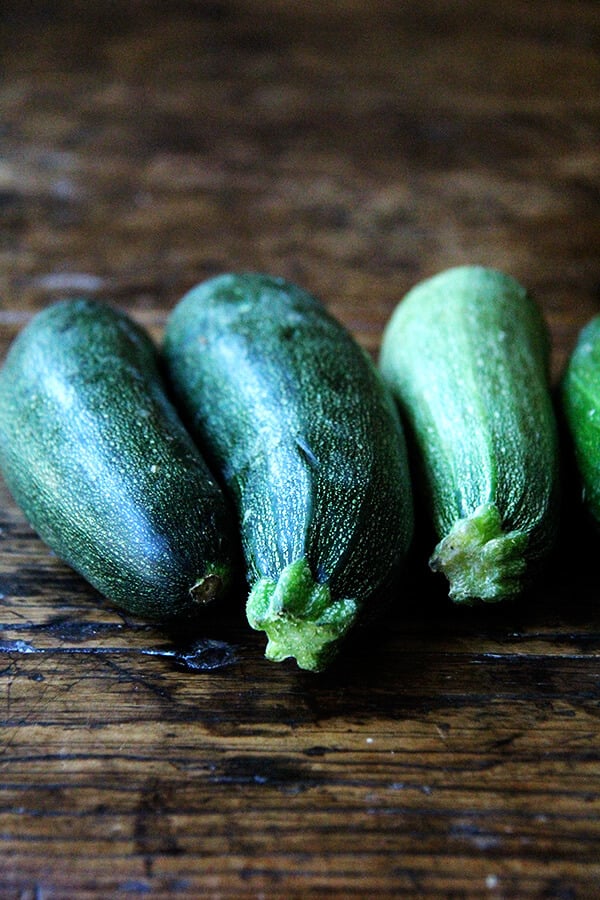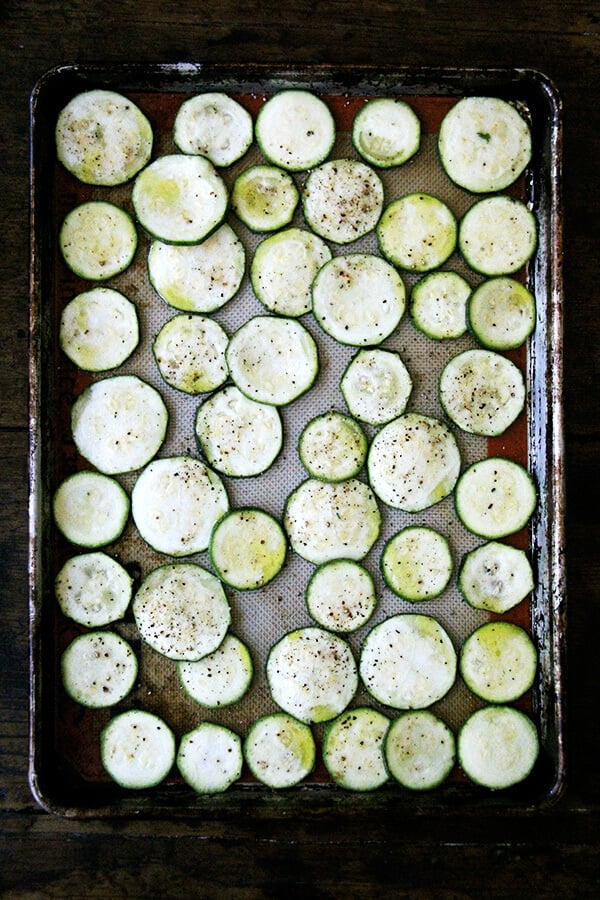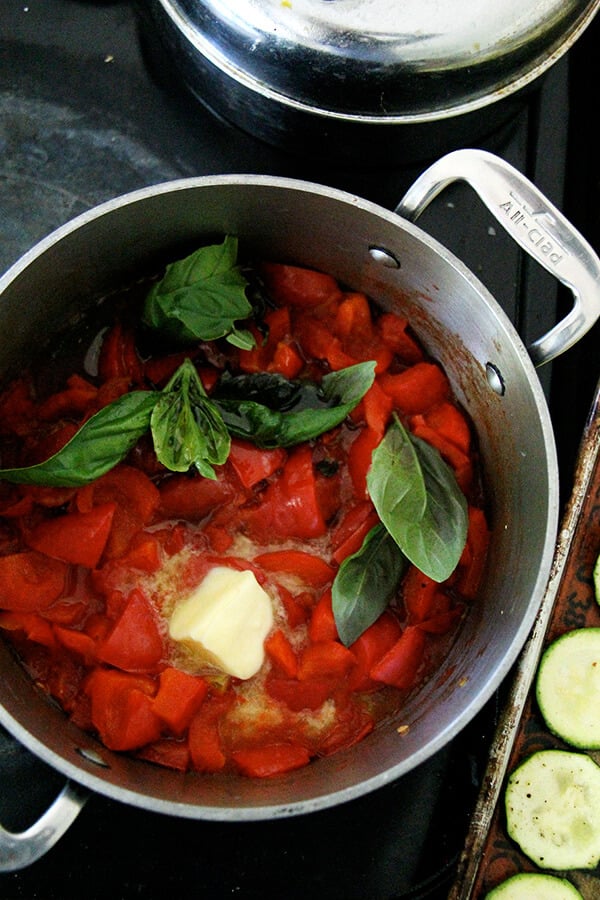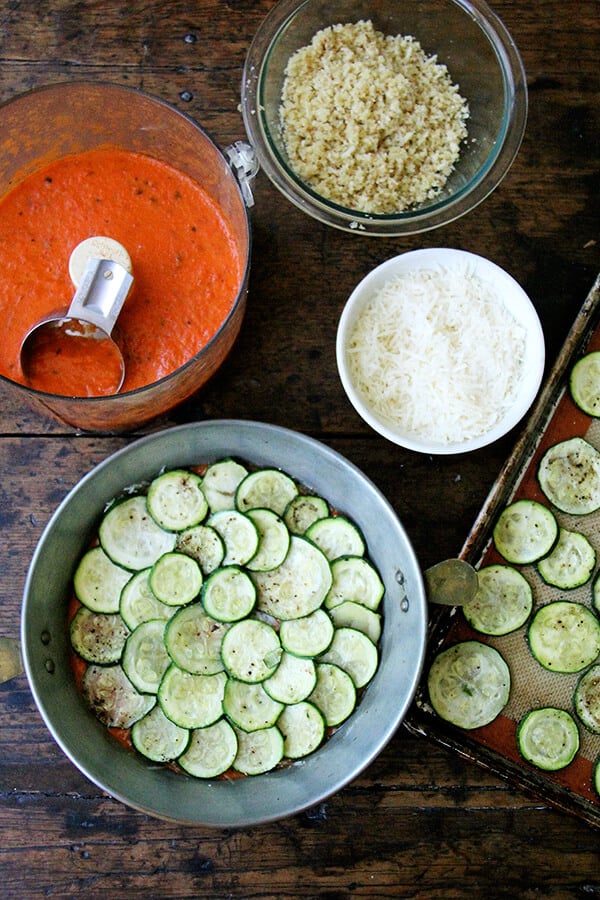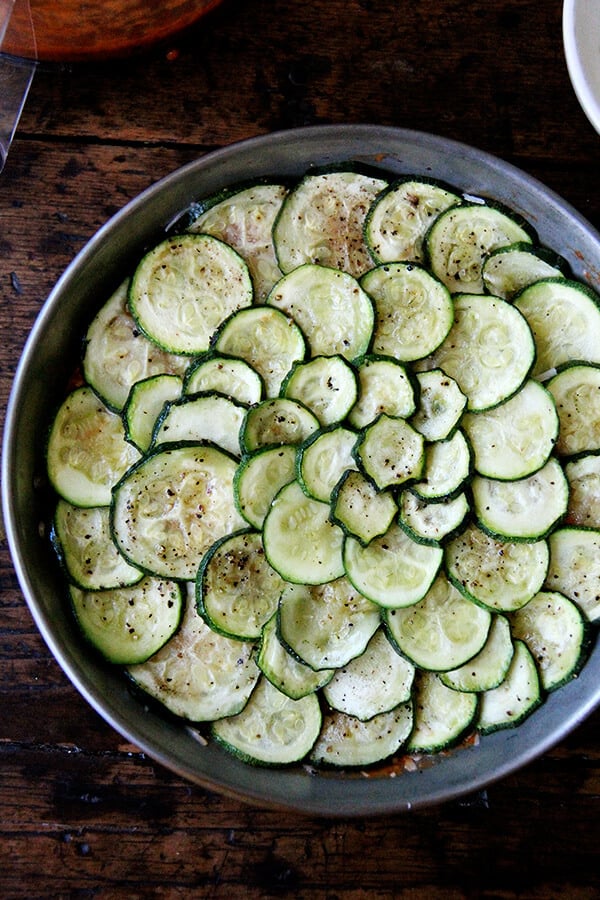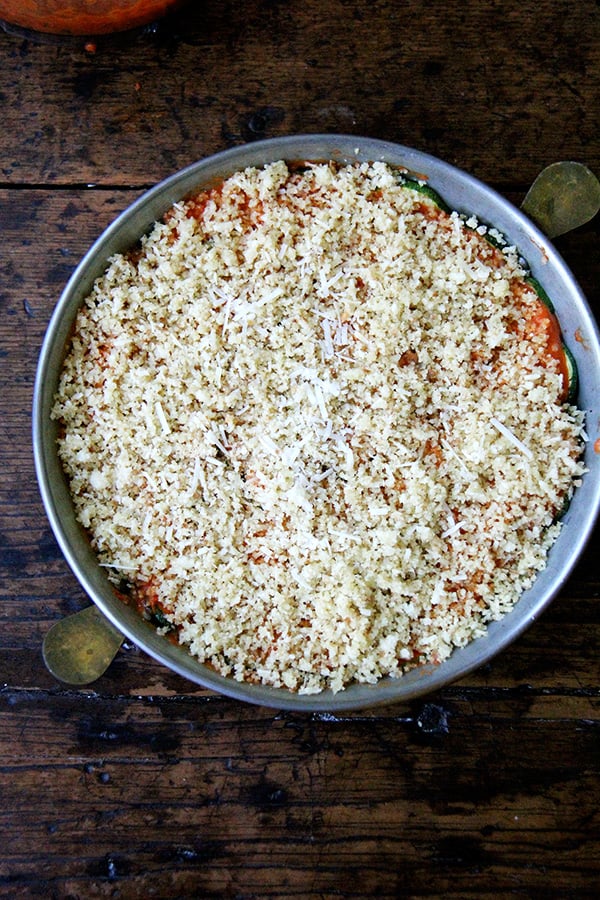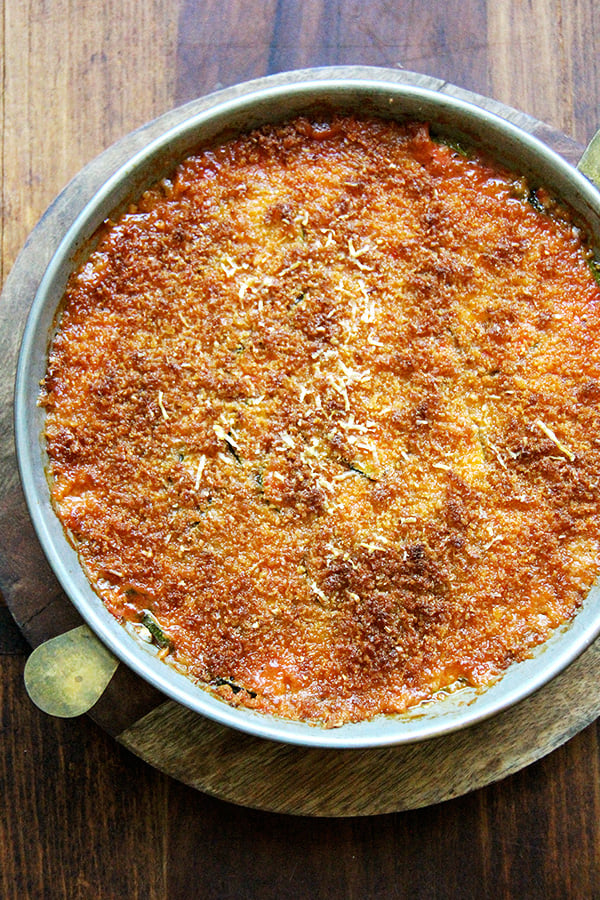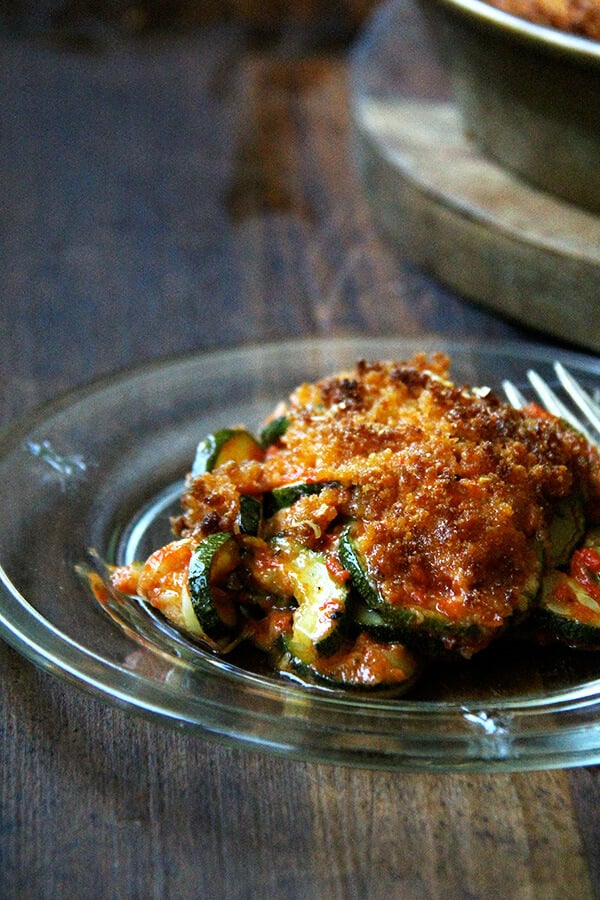 Print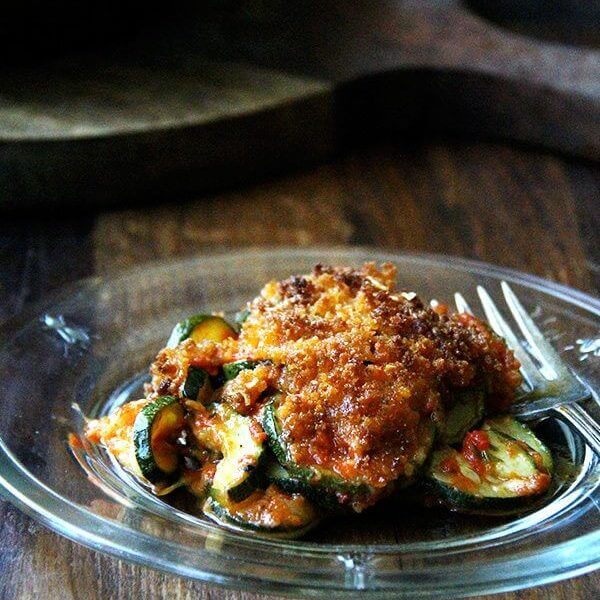 Zucchini Parmesan
---
Description
This zucchini parmesan follows the same simple method as the No Breading, No Frying, No Fussing Eggplant Parmesan recipe from last summer I've included my favorite simple red pepper-tomato sauce recipe below, but feel free to use your own favorite sauce. If you use this one, make the sauce before you get going on the gratin — you can prep everything for the gratin as the sauce simmers away.
---
2

lbs. zucchini, ends trimmed, sliced into rounds 1/4-inch thick
kosher salt and pepper to taste

4 tablespoons

extra-virgin olive oil, divided

1 cup

fresh breadcrumbs

1/3 cup

freshly grated Parmigiano-Reggiano for the topping, plus about

3/4 cup

more for layering
your favorite tomato sauce (recipe for red pepper tomato sauce is below, or whatever tomato sauce you love)
---
Instructions
Preheat the oven to 450ºF. Arrange the zucchini in single layers on two Silat- or parchment-lined rimmed sheet pans. Season with salt and pepper on each side, drizzle each pan with 1 tablespoon olive oil, toss to coat, then spread into an even layer. Roast for 10 minutes. Remove pans from oven and set aside.
Reduce oven to 400ºF.
Meanwhile, make the breadcrumb topping: toss the breadcrumbs with the 1/3 cup grated parmesan cheese, remaining 2 tablespoons oil, 1/2 teaspoon salt and pepper to taste. Set aside.
Into a circular gratin dish (about 9 inches in diameter) or a 9-by-9-inch or similar baking pan, spoon a small amount of sauce (about a heaping 1/3 cup), then add a thin scattering of parmigiano, then a single layer of zucchini, shingling the slices slightly. Repeat until all ingredients are used, ending with a little sauce and cheese—you should have about 3 layers of zucchini. Top with the breadcrumb mixture.
Bake until the mixture is bubbly and top is golden, 25 minutes or so depending on size of pan and thickness of layers. Remove from heat and allow to rest for 10 minutes before serving. This also tastes great at room temperature.
Prep Time:

10 minutes

Cook Time:

35 minutes

Category:

Gratin

Method:

Oven

Cuisine:

American
Keywords: zucchini, parmesan, gratin, summer, squash
Print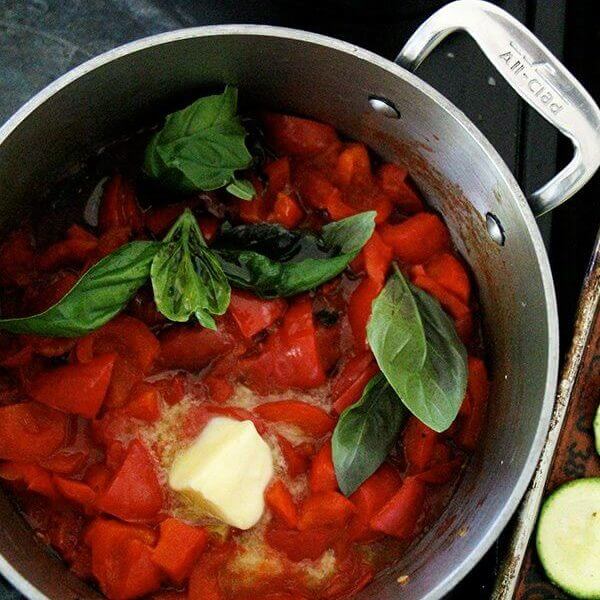 Red Pepper Tomato Sauce
---
2

red bell peppers, stemmed and seeded, diced to yield about

2 cups

2

beefsteak tomatoes, diced to yield about

2 cups

kosher salt and pepper to taste

1/4 cup

loosely packed fresh basil leaves

2 tablespoons

butter, room temperature

2 tablespoons

olive oil
---
Instructions
Place peppers and tomatoes in a medium-sized saucepan or pot. Pour in 1/2 cup water and turn heat to high. Season with 1 teaspoon kosher salt and pepper to taste. Bring to a simmer, then turn heat down to medium high. Set a timer for 25 minutes. After about five minutes, the tomatoes and peppers will begin to release their juices, and the whole mixture should be bubbling. Adjust the heat if necessary so that the mixture stays at a constant bubble — medium to medium-high should do it. Stir every five minutes or so to make sure the tomatoes and peppers are not sticking to the bottom of the pan. If they are, add water by the 1/4 cup.
When the peppers and tomatoes are tender and nearly all of the liquid has evaporated and the tomatoes and peppers are beginning to stick to pot, add the basil, butter, and oil to the pot, give it a stir, then transfer the contents of the pot to a food processor or blender. Blend until smooth. Taste. Adjust seasoning with more salt and pepper as necessary.
Prep Time:

5 minutes

Cook Time:

25 minutes
This post may contain affiliate links. Please read my disclosure policy.