Quinoa Bake with Roasted Butternut Squash and Onions
This post may contain affiliate links. Please read my disclosure policy.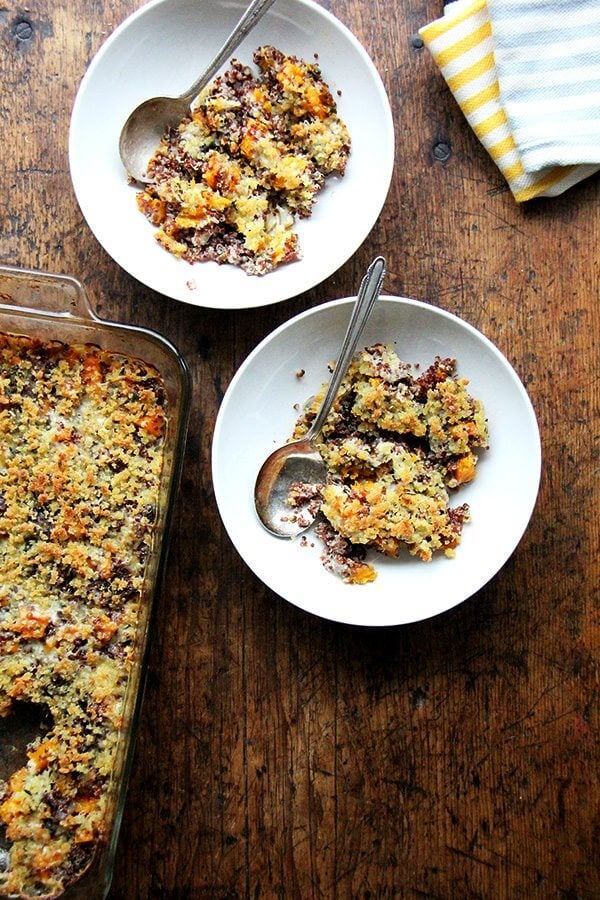 If you are unfamiliar, quinoa bakes, in essence, are casseroles made with quinoa. As you can imagine (and confirm with a quick Pinterest search), the variations are limited only by your imagination. From feta to gouda, ground turkey to chorizo, boiled broccoli to roasted onions, cumin to oregano, the ingredients, seasonings, and combinations can all be tailored to your liking.
I like this combination: roasted onions and butternut squash, a mix of Gruyère and parmesan, and ALL the Thanksgiving herbs: sage, rosemary, and thyme.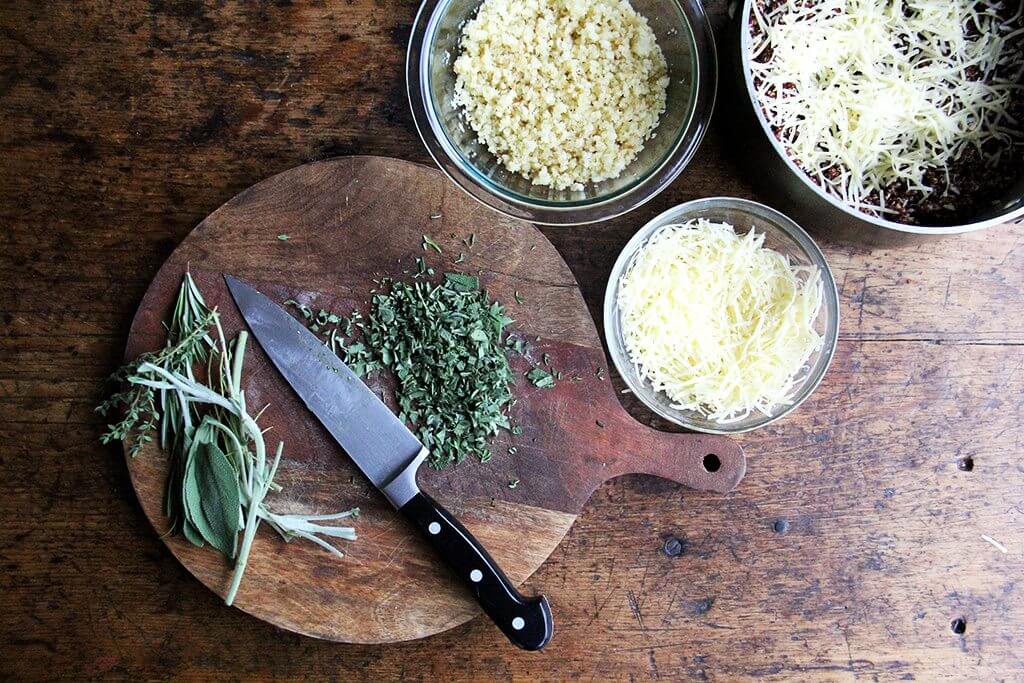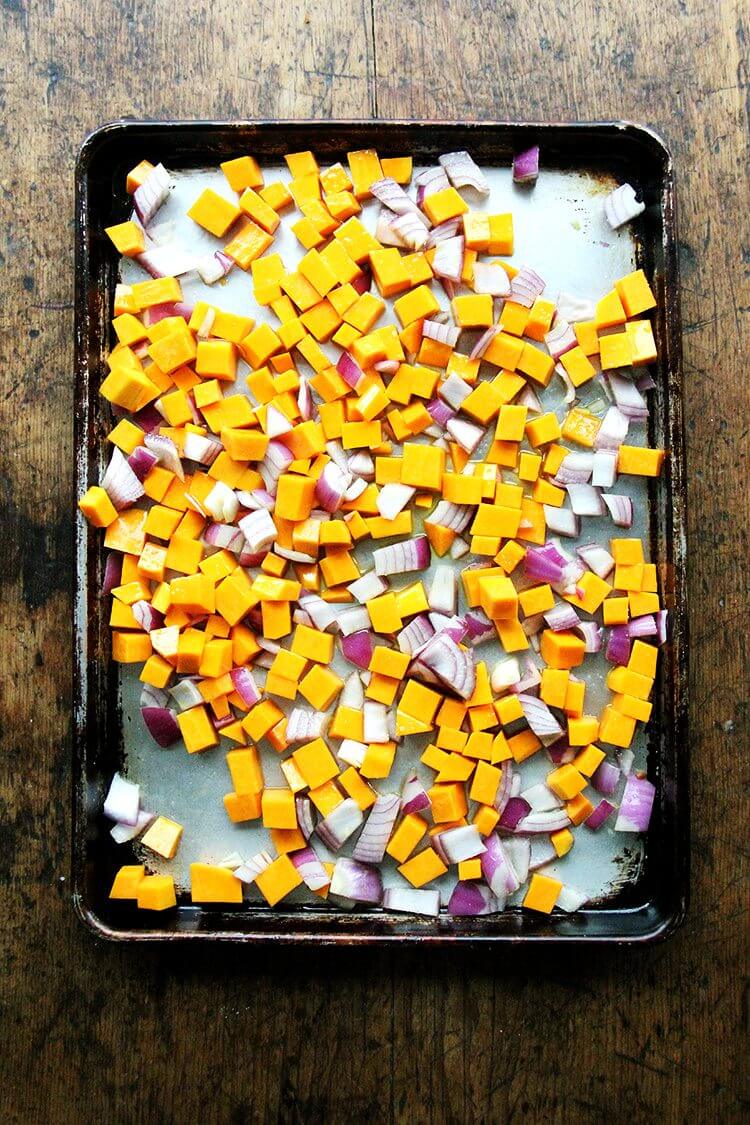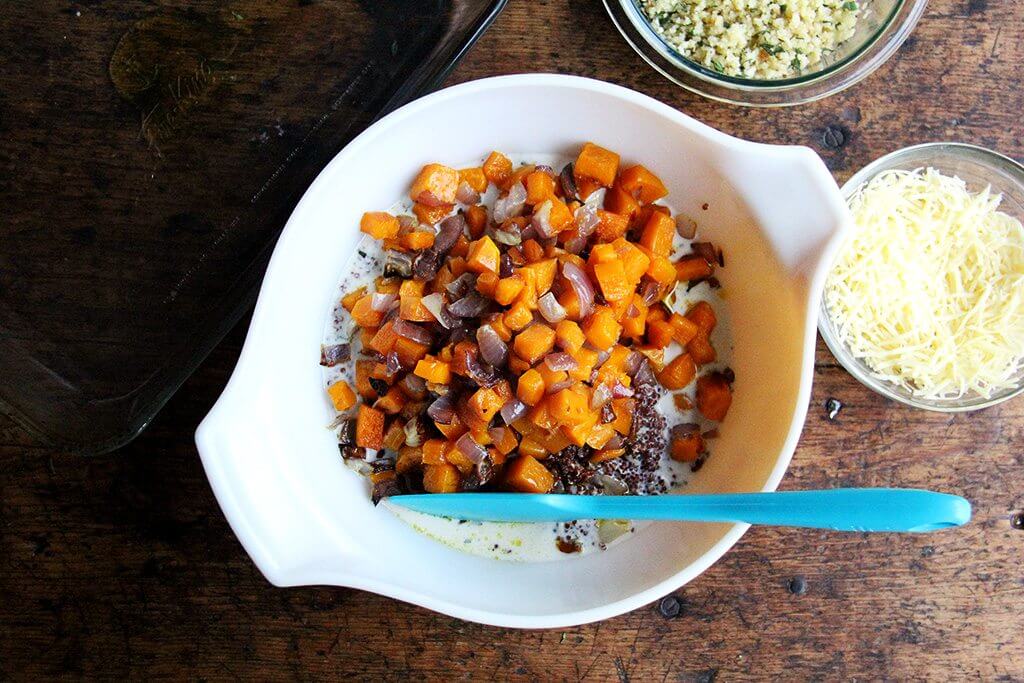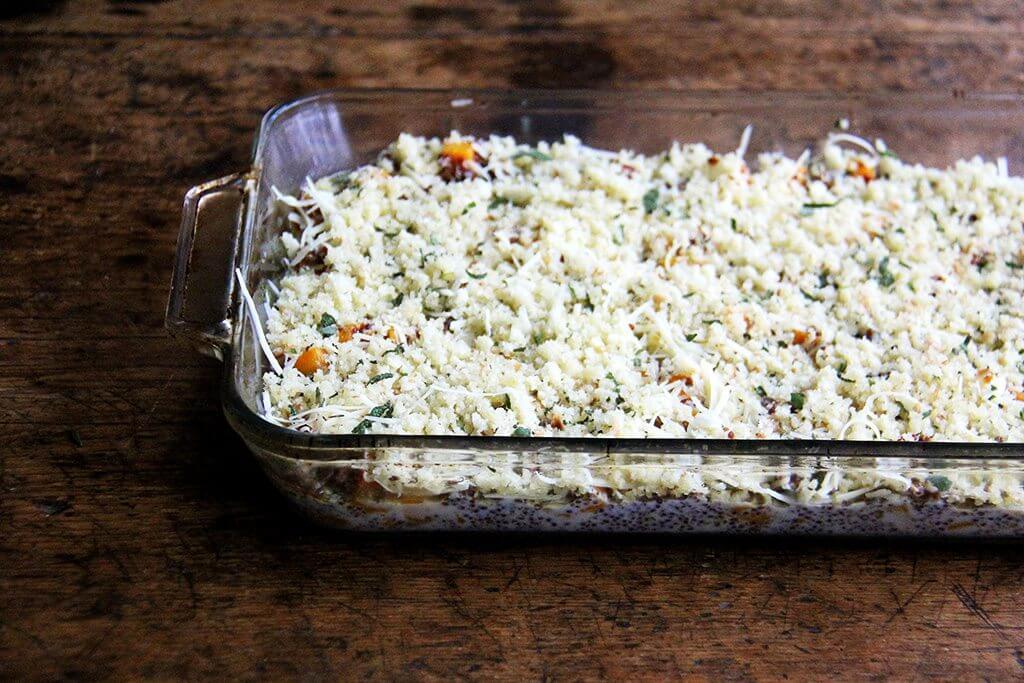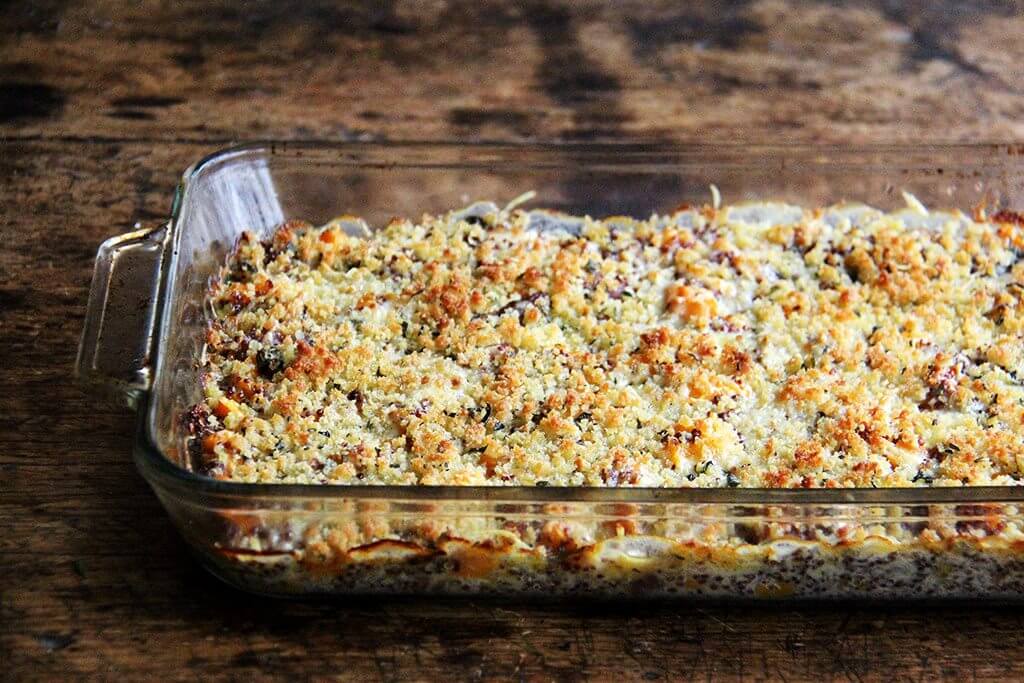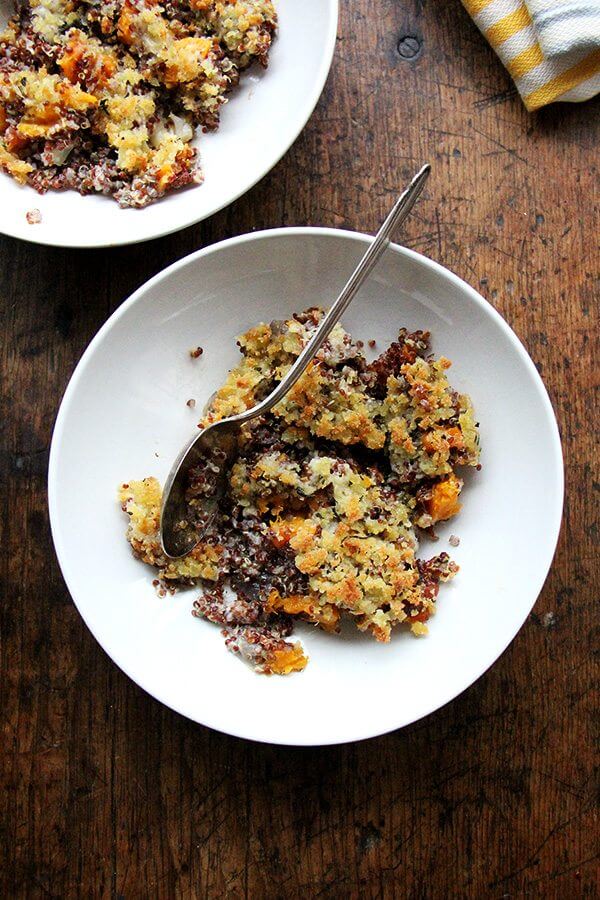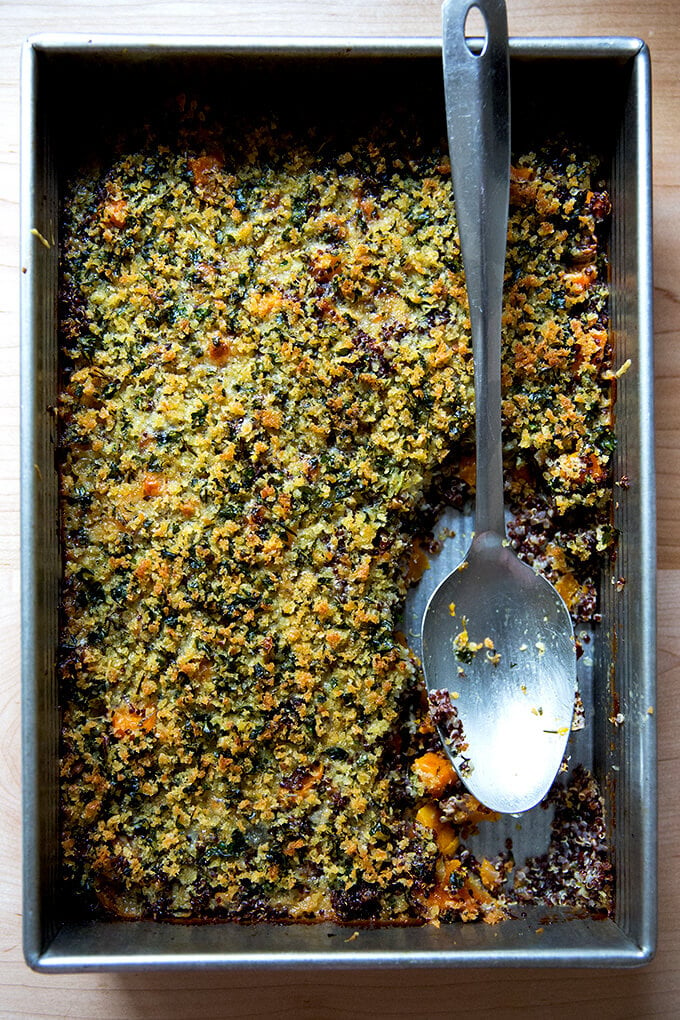 Print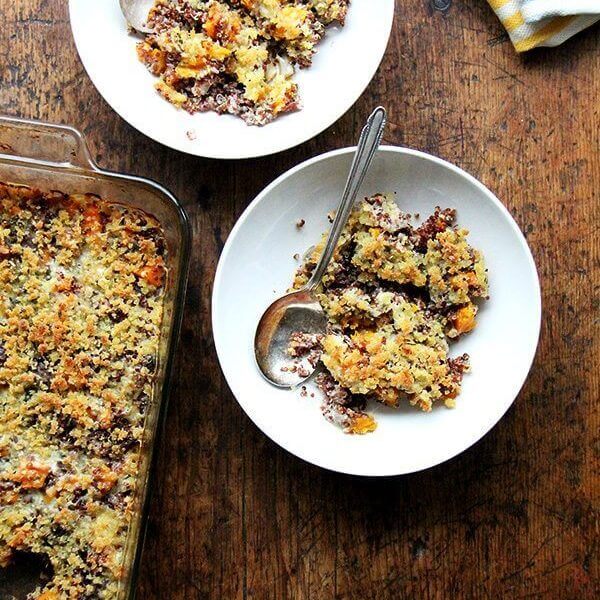 Quinoa Bake with Roasted Butternut Squash and Onions
---
1 

cup quinoa (I like red for visual appeal)


3 1/2 

teaspoons kosher salt, plus more to taste


6 

tablespoons extra-virgin olive oil, divided plus more for greasing


4 

cups 1/2-inch cubes butternut squash (about), 1.25 lbs. post peeling


2 

cups diced red onion


2 

tablespoons finely minced herbs, any combination of thyme, sage, and rosemary


1 

cup milk, any milk fat you like (I use whole)


4 

ounces grated Gruyère cheese (about 1 1/4 cups)


1 1/2

 

cups fresh breadcrumbs 
---
Instructions
Preheat the oven to 400°F. In a medium saucepan, combine the quinoa, 2 cups of water, and 1 teaspoon kosher salt. Bring to a boil over high heat. Reduce heat to low, cover, and let cook for 15 minutes. Remove pan from heat.
Meanwhile, grease a rimmed sheet pan lightly with olive oil. Place cubed squash and diced onion on pan. Drizzle with 3 tablespoons olive oil, sprinkle with 1 to 2 teaspoons kosher salt (depending on your tolerance — if you are sensitive, use 1 teaspoon), and toss to coat. Spread vegetables out into an even layer. Transfer to the oven and roast for 25 to 30 minutes or until squash and onions are just beginning to brown. Remove pan from oven. Increase oven temp to 425°F.
Uncover quinoa pan and fluff with a fork. Add 1 tablespoon of the herbs, the milk, and half of the cheese, and mix with a spatula to combine. Transfer to a large bowl. Add the roasted squash and onions and fold gently to combine. Transfer mixture to a lightly greased 9×13-inch baking dish. Cover evenly with the remaining cheese.
In a small bowl, combine the breadcrumbs, the remaining 3 tablespoons of olive oil, the remaining herbs, and the remaining 1/2 teaspoon salt. Toss with your fingers until the breadcrumbs are fully saturated and seasoned. Spread this evenly atop the cheese. At this point, the pan can be stashed in the fridge for as long as a day (maybe longer) and baked when needed. Bake for 20 to 25 minutes or until evenly golden. Let cool briefly before serving.
Prep Time:

30 minutes

Cook Time:

1 hour

Category:

Dinner

Method:

Oven

Cuisine:

American
Keywords: quinoa, bake, butternut, squash, roasted, onions, rosemary, sage, thyme, Gruyère, bread, crumbs
This post may contain affiliate links. Please read my disclosure policy.