Gourmet's Double Chocolate Cake, Revisited
This post may contain affiliate links. Please read my disclosure policy.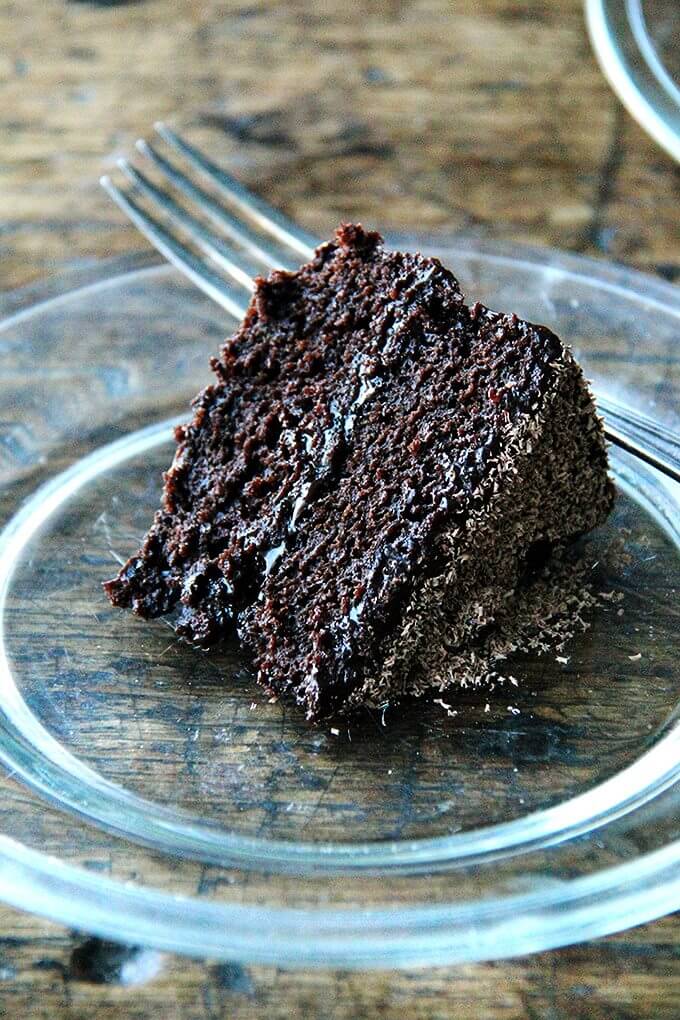 The only trouble, if I can call it that, with baking cakes is having leftovers. A bite with my morning coffee, a sliver post lunch, a nibble with afternoon tea—I am the one at home making sure those leftovers don't go to taste.
To mitigate the leftovers-for-days situation, I bought two small cake pans. They're round, measuring 6×2 inches, and they've been so handy to have on hand. I use them to bake a half recipe of my children's favorite one-bowl buttermilk birthday cake, and I've found I can nearly always halve a recipe and bake off all of the batter in one of the pans or split the batter between the two pans, as I've done here.
This is Gourmet's double chocolate cake, which I blogged about several years ago now, and which has been as well received here as at the recipe's source site. If this cake is new to you, you're in for a treat. It's made with buttermilk (magic!), oil (as opposed to butter), lots of cocoa powder, and coffee, if you wish, which intensifies the chocolate flavor.
A halved version of the recipe still yields a more-than-decent sized cake—I made a two-layer cake with chocolate ganache for Ben and me, and a two-layered cake with chocolate-whipped cream frosting for the children. The leftovers this time around have been manageable, though I still find myself sneaking slivers morning, noon and night. Next time, a quarter recipe it will be—I'll keep you posted.
Happy Valentine's Day, Lovebirds. Bake something delicious for yourselves. More desserts here.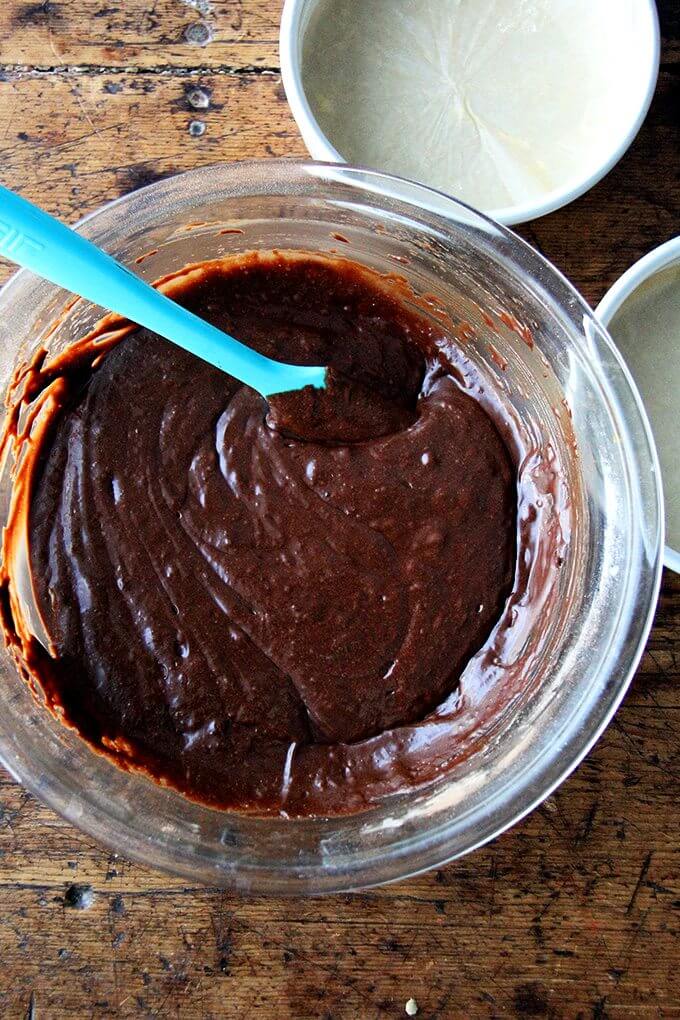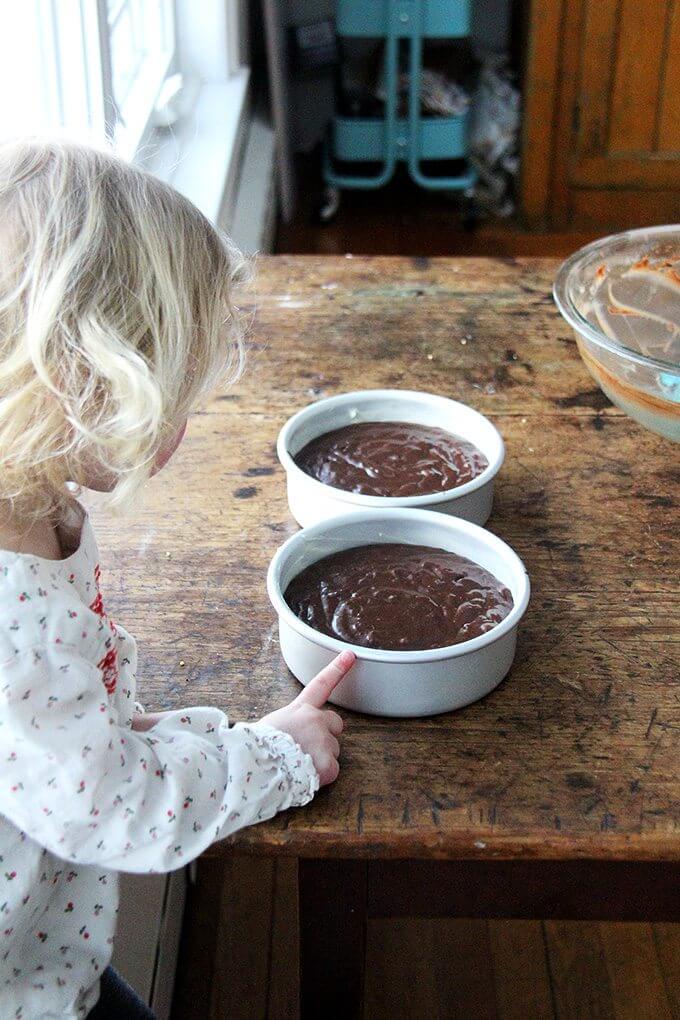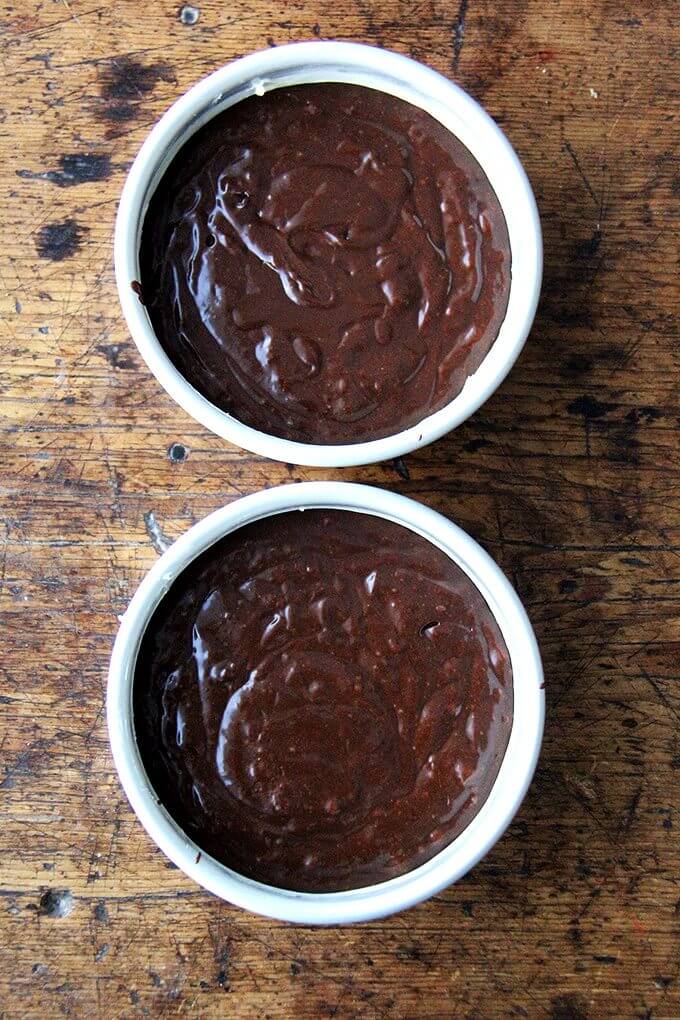 As noted above, this is a half recipe. It still yields two thick, round cakes, which can be halved, iced, decorated, etc.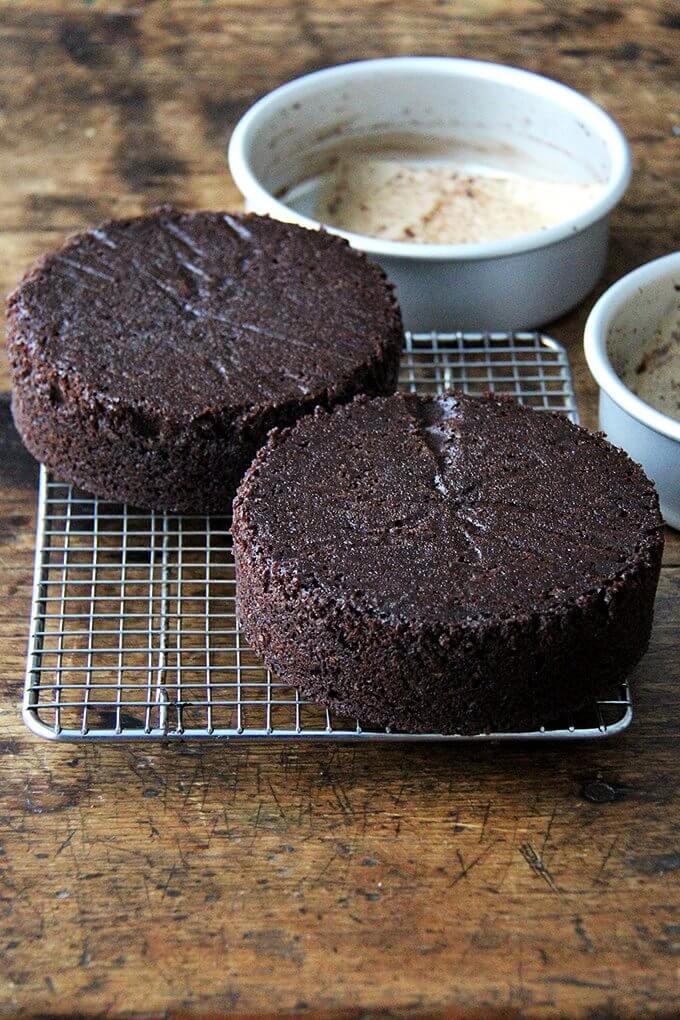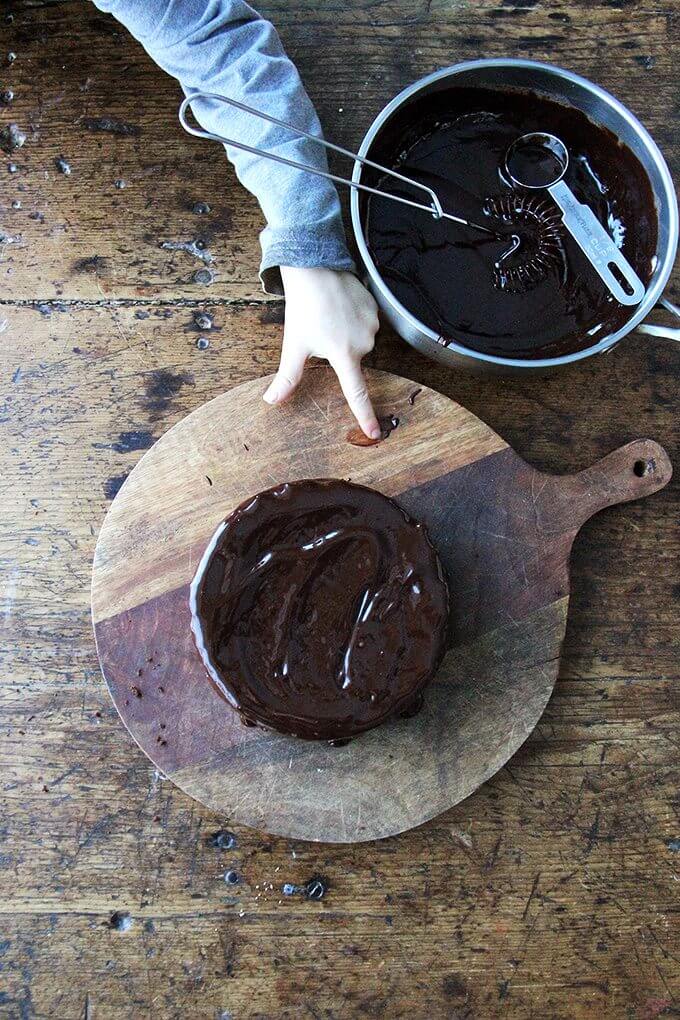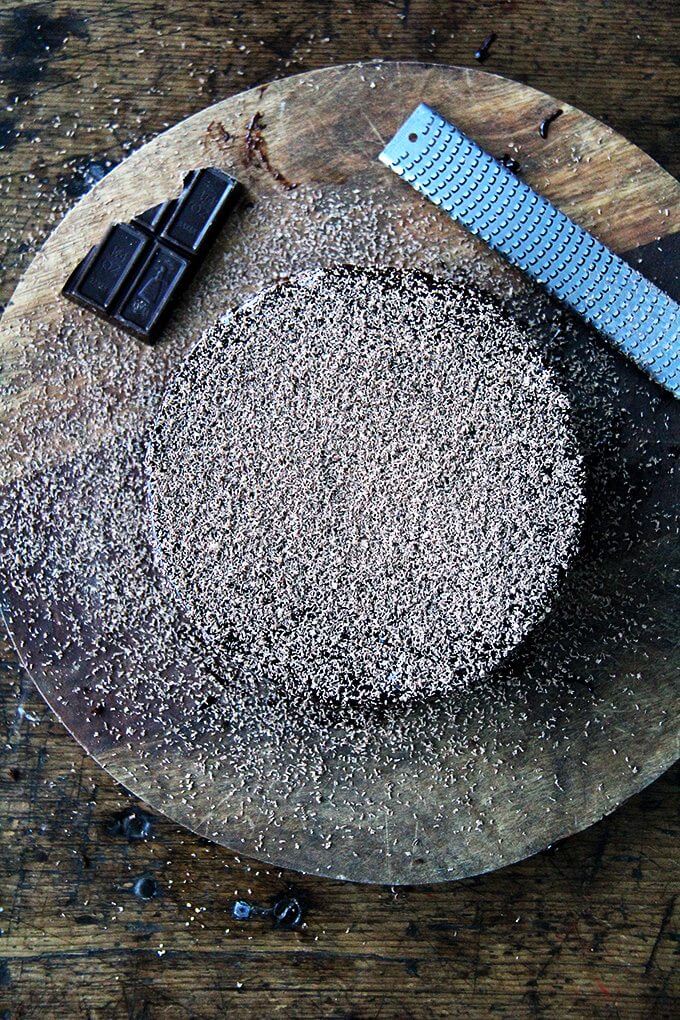 For Ben and me: chocolate ganache + chocolate shavings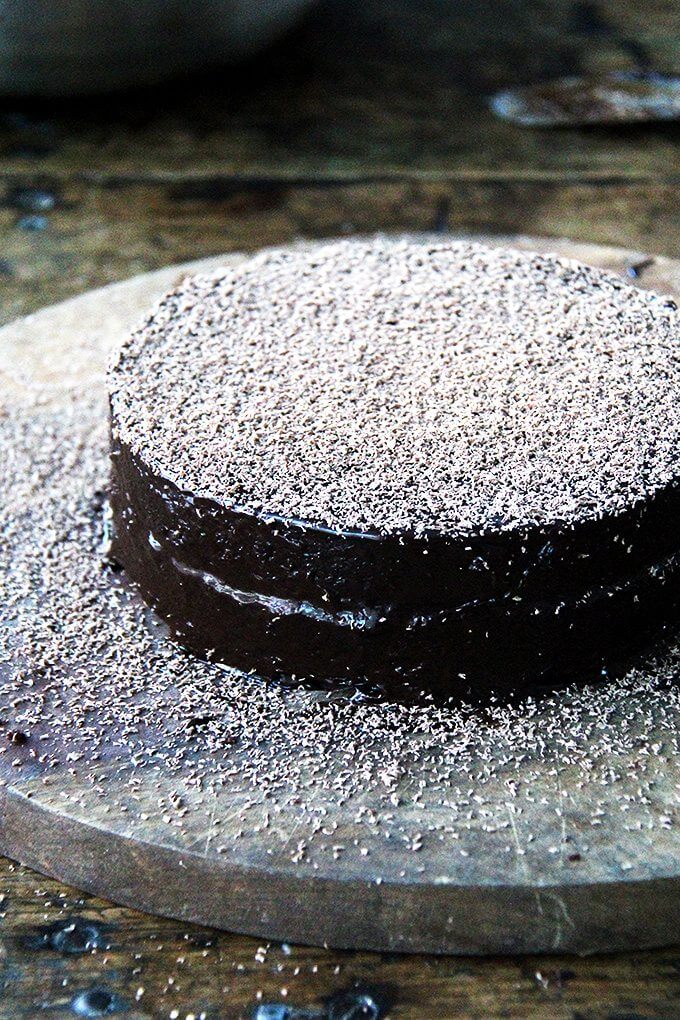 Kids' cake: chocolate-whipped cream frosting (see notes in recipe ) + chocolate shavings.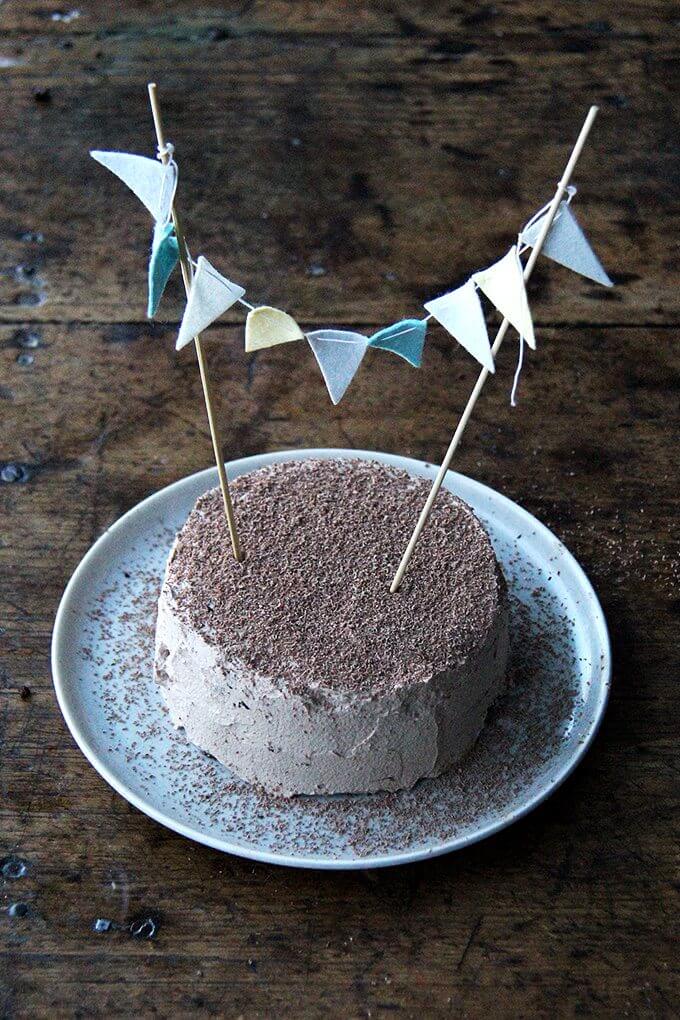 Print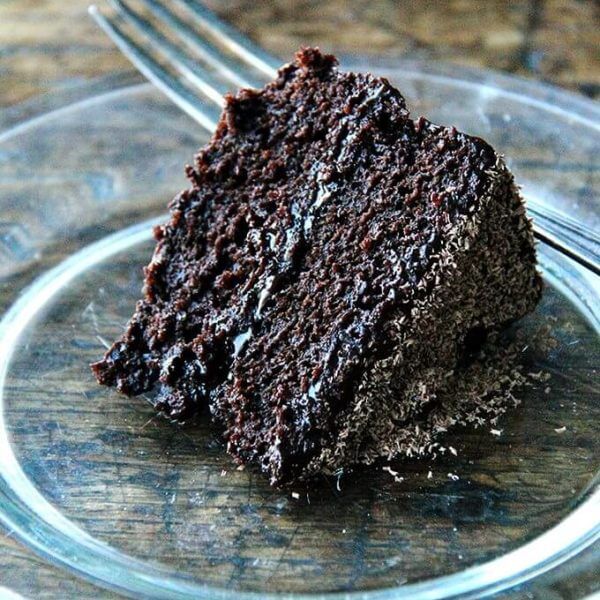 Gourmet's Double Chocolate Cake with Chocolate Ganache
---
Description
Source: Gourmet via Epicurious
Notes: If you want to make a larger cake, you can make the original recipe. Find it here.
Here, I've made a half recipe and baked it in two 6×2-inch round cake pans. You could also use one standard round or square cake pan (measuring about 10×2-inches).
For the first time, too, instead of making my grandmother's black velvet icing, which I love, but which is a little fussy (calling for eggs and one's full attention), I made Gourmet's chocolate ganache, which is delicious.
Note: Even if you halve the recipe (as I have here), you may have leftover ganache. If so, let it cool so that it firms up a bit—you can do this at room temperature or in your fridge. Using a small scoop (melon-ball size), scoop the remaining ganache into balls and drop into a plate of sifted cocoa powder. Roll the balls to coat. Chill until ready to serve, but bring to room temperature before serving — truffles!
For the chocolate whipped cream frosting (for the kids' cake), see this recipe: Homemade Angel Food Cake with Whipped Cream Frosting 
---
for the cake:
1½ ounces

fine-quality semisweet chocolate (chips are fine, too)

¾ cups

boiling water or hot brewed coffee

1½ cups

sugar

1¼ cups

(

160 g

) all-purpose flour

¾ cups

(

72 g

) unsweetened cocoa powder (use high quality if you can)

1 teaspoon

baking soda

½ teaspoon

baking powder

¾ teaspoons

salt

1

egg

1/3 cup

vegetable oil

¾ cup

well-shaken buttermilk

1 teaspoon

vanilla
for the ganache: 
8 ounces

fine-quality semisweet chocolate (chips are fine, too)

½ cup

heavy cream

1 tablespoon

sugar

1 tablespoon

corn syrup or Lyle's Golden Syrup, optional

2 tablespoons

unsalted butter
sea salt, optional
to finish:
small square of semi-sweet (or other) chocolate
---
Instructions
Preheat oven to 300°F. and grease pans or pan (see note above). Line pan or pans with round of parchment paper. Finely chop chocolate and in a bowl combine with boiling water or hot coffee. Let mixture stand, stirring occasionally, until chocolate is melted and mixture is smooth.
Into a large bowl sift together sugar, flour, cocoa powder, baking soda, baking powder, and salt. (If you don't feel like sifting, whisking is fine, too.)
In another large bowl whisk egg vigorously until thickened slightly and lemon colored (about 3 minutes). Slowly add oil, buttermilk, vanilla, and melted chocolate mixture to egg, beating until combined well. Add sugar mixture and whisk until just combined. Divide batter between pans (or pan, see notes above) and bake in middle of oven until a tester inserted in center comes out clean, about 45 minutes for smaller pans, 55 minutes or longer for larger pans. Note: I simply touch with my finger, and if it feels mostly springy, I remove the pans from the oven.
Meanwhile, make the ganache: Finely chop chocolate. In a small saucepan bring cream, sugar, and corn syrup to a boil over moderately low heat, whisking until sugar is dissolved. Remove pan from heat and add chocolate, whisking until chocolate is melted. Cut butter into pieces and add to chocolate mixture, whisking until smooth. Season with sea salt to taste, if desired.
Cool cake layers completely in pans on racks, at least 30 minutes. Run a thin knife around edges of pans and invert layers onto racks. Remove parchment paper and cool layers completely. Cake layers may be made 1 day ahead and kept, wrapped well in plastic wrap, at room temperature.
If you are making a layer cake, spread a thin layer of ganache over one cake layer. (Note: If you baked a single layer, halve it crosswise with a serrated knife, and spread ganache over top of one layer.) Top layer with other cake layer. Pour ganache on top of top layer, and with an off-set spatula, spread it all over the sides. If desired, run square of chocolate across a microplane grater or shave with a peeler until top of cake is covered in chocolate shavings. Cake keeps, covered and chilled, 3 days. Bring cake to room temperature before serving. (I just keep mine at room temperature always…no space in the fridge.)
This post may contain affiliate links. Please read my disclosure policy.