Chickpea Tagine with "Tomato Jam" and Roasted Delicata Squash
This post may contain affiliate links. Please read my disclosure policy.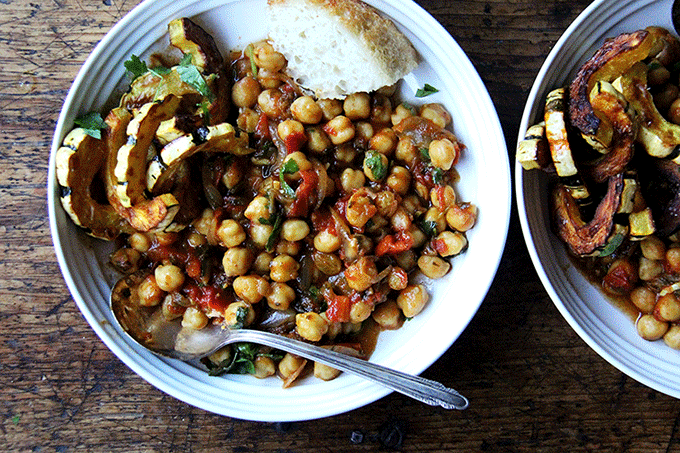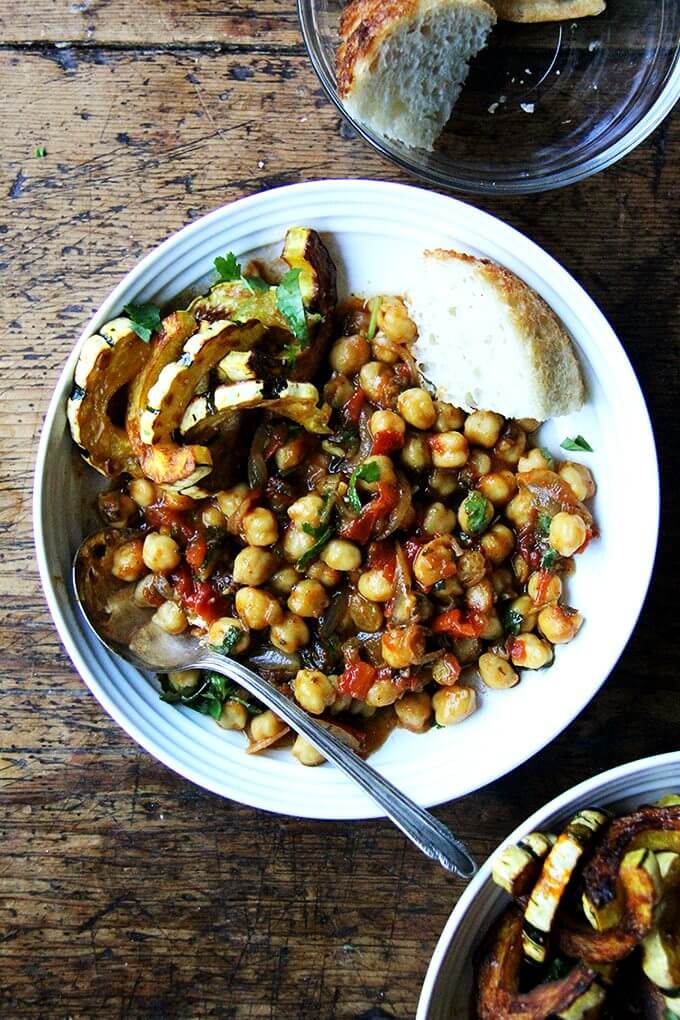 Tara Kitchen, a nearby Moroccan restaurant, makes the most delicious chickpea and eggplant tagine. I discovered it a few years ago, shortly after we moved to upstate New York, but only recently tried to recreate it at home. I had been deterred by the prospect of having to make a tomato jam, an ingredient essential to the sweet-and-sour flavor of the tagine. Instead, I made preserved lemons and then, with my homemade preserved lemons, a chicken tagine with green olives after learning about the process at a cooking class at Tara Kitchen .
Recently I took a stab at making the chickpea tagine, taking a shortcut with the tomato jam. Instead of making the jam separately and adding it to the tagine, I make the tomato jam as I go by sweating onions first, then cooking the tomatoes down with a hefty pour of vinegar. The chickpeas and other ingredients cook with the jam. Make sense?
I've been serving it with roasted delicata squash — so good. Here's a step-by-step guide for making it:
Gather your ingredients. I've used both cooked-from-scratch chickpeas and canned. I prefer from-scratch, of course, but canned chickpeas work well here.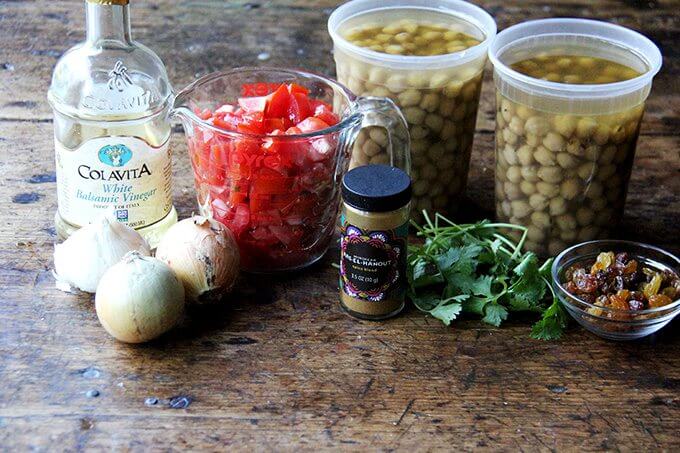 This is the ras-el-hanout from a local Moroccan restaurant, Tara Kitchen, which I've written about before: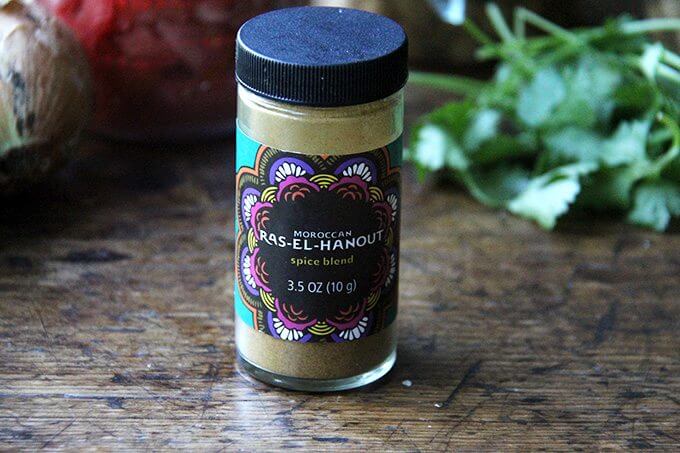 Sauté an onion.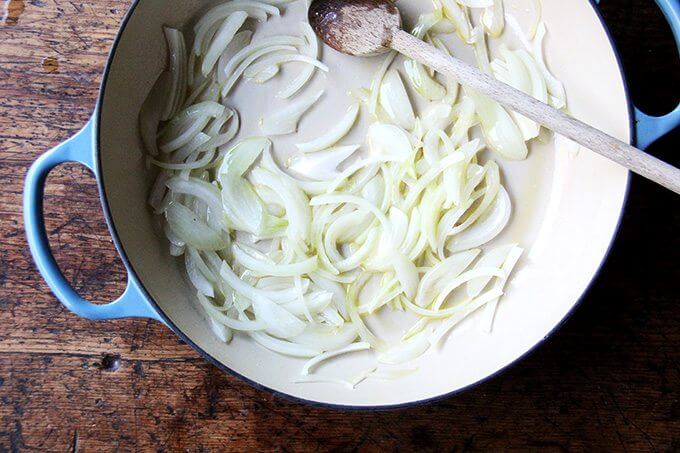 Add garlic.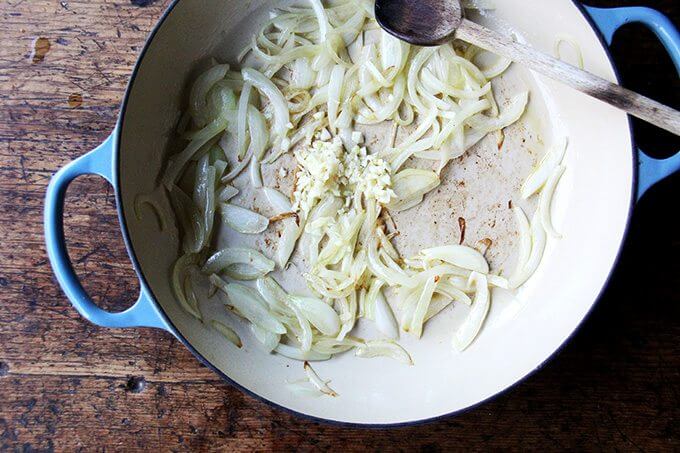 Add ras-el-hanout.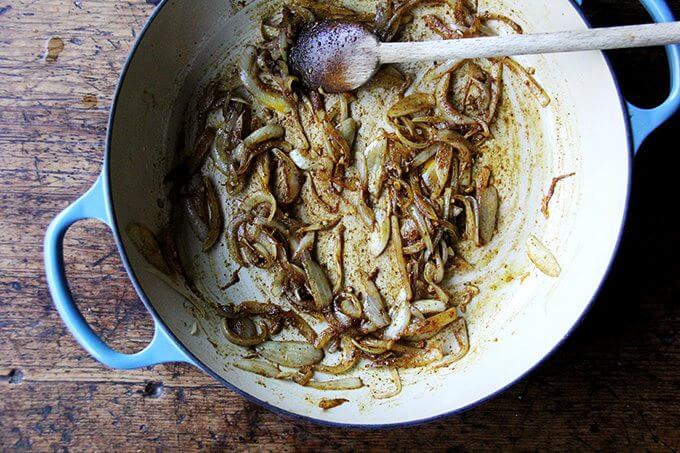 Add cilantro.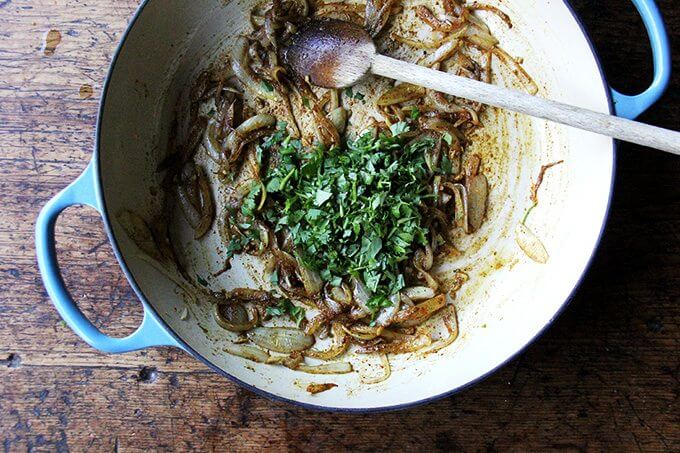 Stir.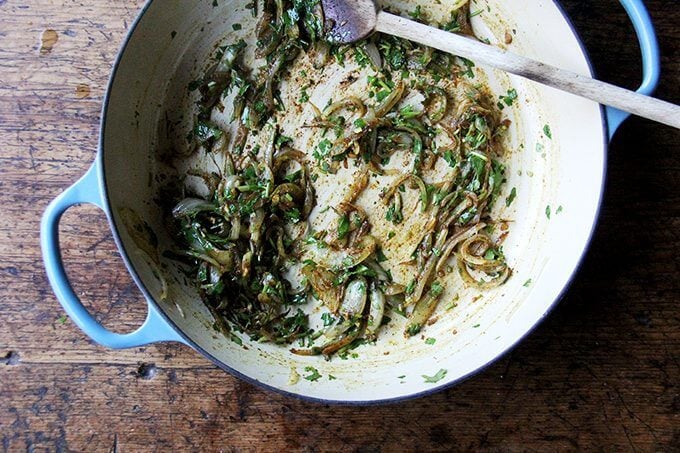 Add tomatoes.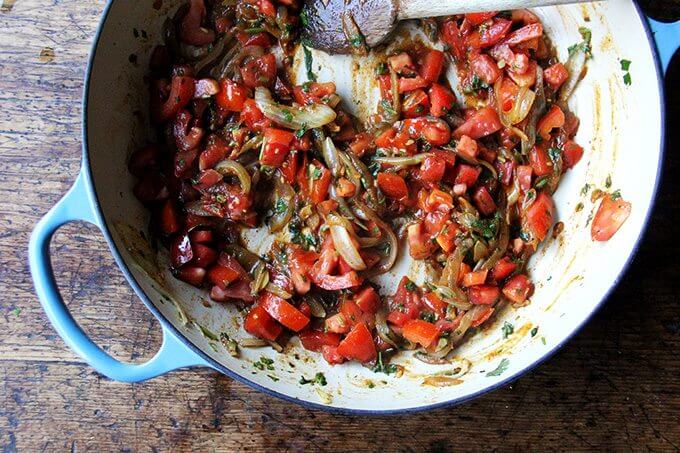 Add cooked chickpeas and raisins.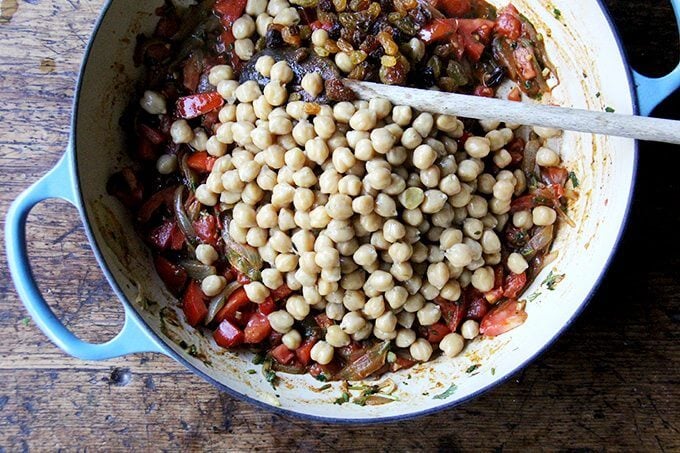 Add water.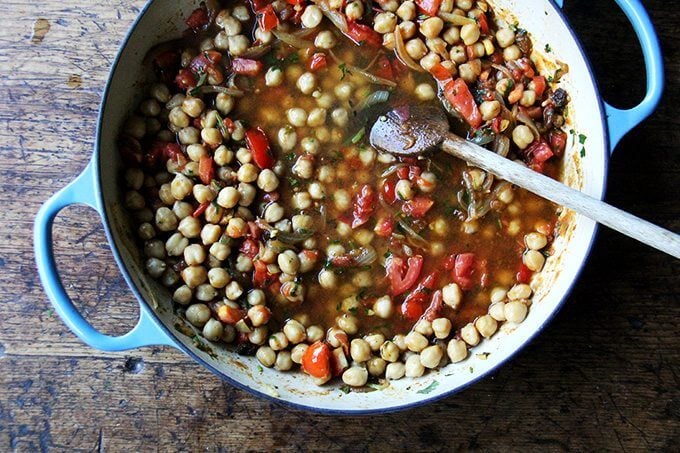 Simmer 30 minutes.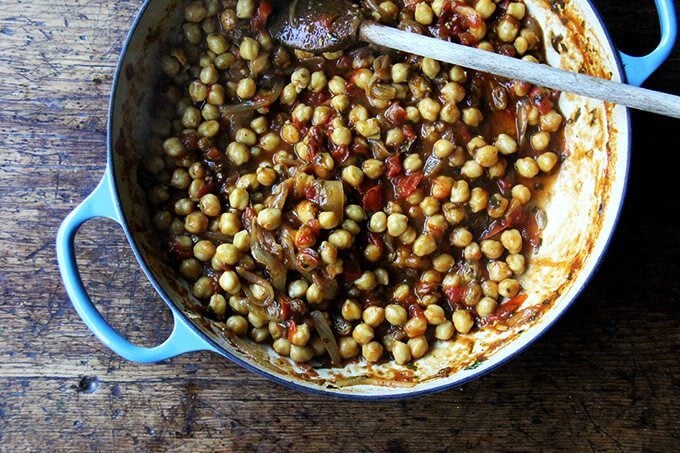 Add some more fresh cilantro for color and freshness.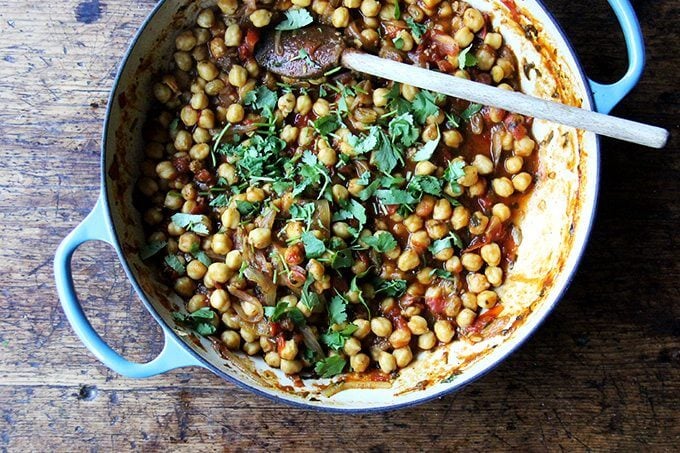 Meanwhile, cut up delicata squash and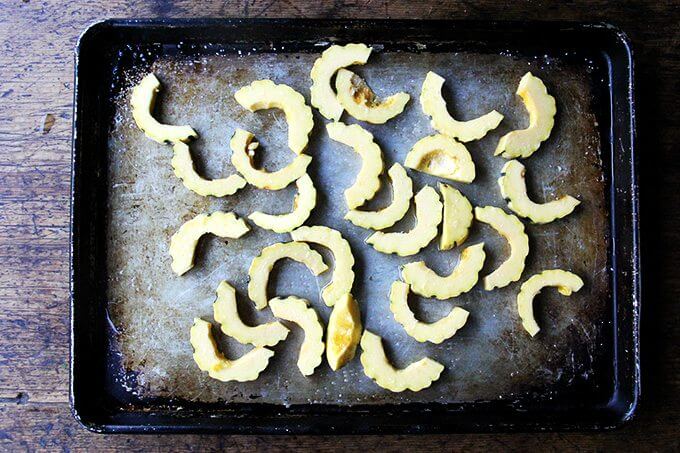 roast it.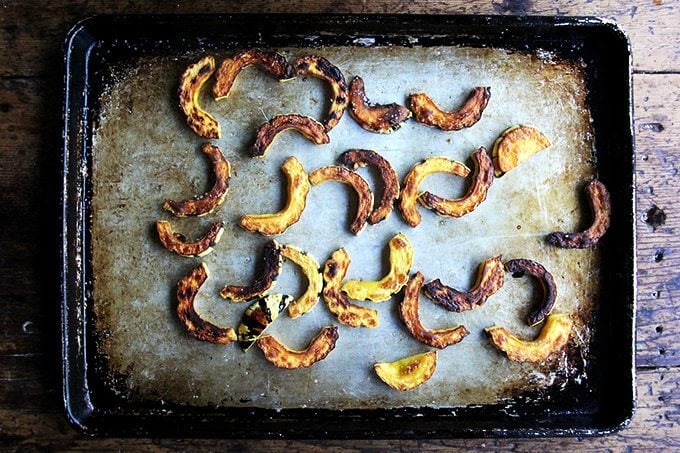 Spoon into bowls and serve with plenty of good bread, of course.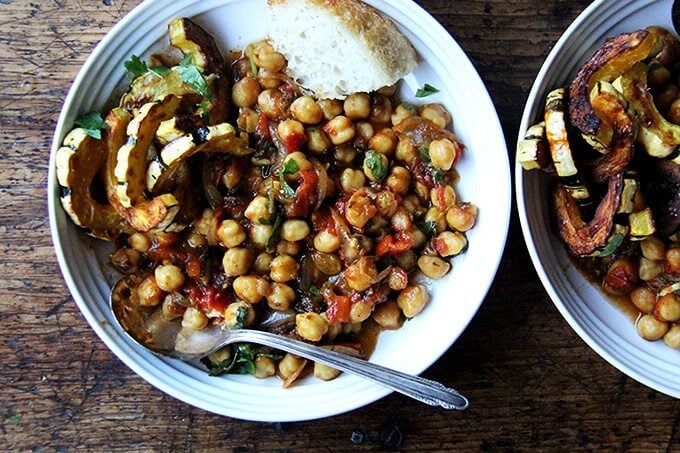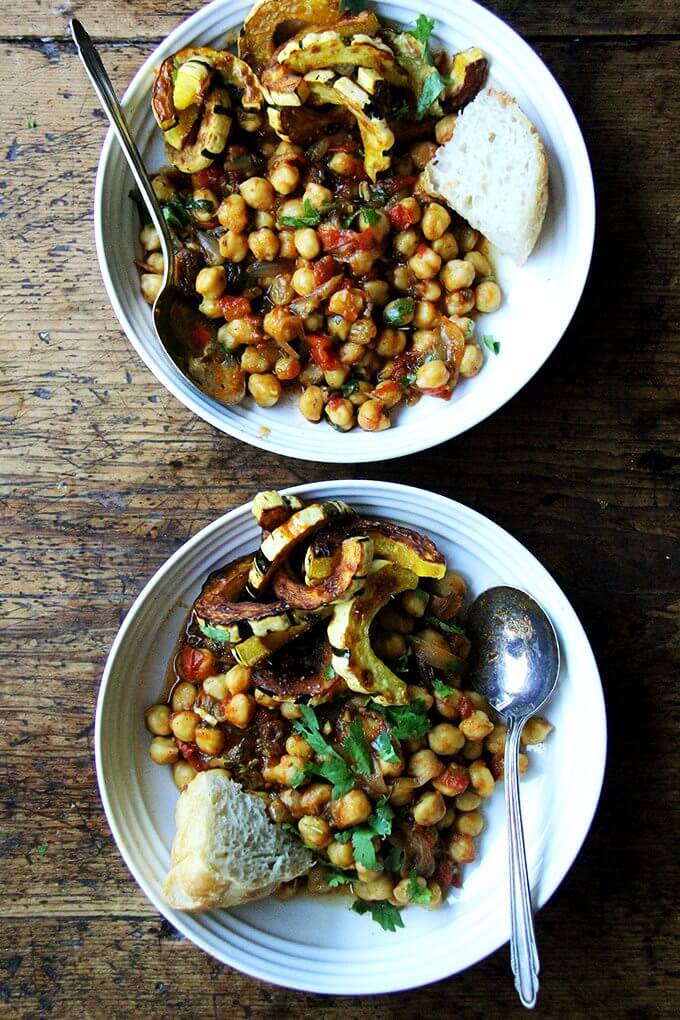 Print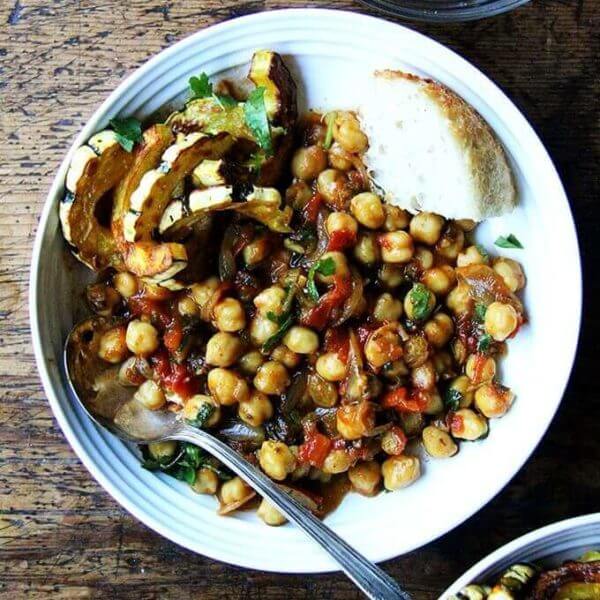 Chickpea Tagine with "Tomato Jam" and Roasted Delicata Squash
---
Description
This recipe is inspired by the chickpea tagine at Tara Kitchen, a Moroccan restaurant in Schenectady, New York.
Ras el hanout, which translates to "head of the shop" or "top of the shop," is a blend of many spices, often including turmeric, paprika, cumin, coriander, cardamom, and cinnamon, to name a few. I purchase mine from Tara Kitchen, but you can find the blend from many sources or you can make your own. 
I prefer cooking chickpeas from scratch, but you can use canned chickpeas here with fine results. You'll need two 15-oz cans, drained and rinsed. If you use from scratch-cooked chickpeas, save the cooking liquid for the tagine.
---
2 tablespoons olive oil
1 onion, thinly sliced to yield about 1 1/2 cups
Kosher salt to taste
2 cloves garlic, minced
1 tablespoon ras el hanout
½ cup finely diced cilantro, plus a few tablespoons for sprinkling at the end
4 to 6 Roma (plum) or other tomatoes, finely diced to yield 2 heaping cups (or 2 cups crushed tomatoes, I like Pomi, finely minced)
3 cups cooked chickpeas
¼ cup golden raisins
¼ cup white balsamic vinegar
Bread for serving, optional
---
Instructions
Heat the oil in a large skillet over medium-high heat. When it shimmers add the onion and immediately turn the heat down to medium. Season the onion with salt. Cook until the onion softens, stirring occasionally, and turning the heat down if necessary to ensure the onion isn't browning, about 10 to 15 minutes. (A little browning is fine.)
2. Add the garlic and cook for one more minute. Add the ras el hanout and cook for another minute. Add the cilantro and cook for another minute. Add the tomatoes, season with a big pinch of salt, and stir to distribute. Cook for another minute, then add the chickpeas, raisins, vinegar, and 1.5 cups of the chickpea cooking liquid (if you cooked the chickpeas from scratch) or water. Bring to a simmer, then adjust heat so mixture is gently simmering. Simmer for 30 minutes, stirring occasionally to ensure the liquid hasn't reduced too much. If it gets low, add water by the 1/4 cup.
3. When the chickpeas have simmered for about 30 minutes, taste the mixture. Add salt to taste. Because I cook the chickpeas from scratch and use the cooking liquid, which has salt in it, I rarely need to add much salt at the end. If you are using water, you may need to add more salt at the end. Just taste it, and add salt as needed. Stir in the reserved chopped cilantro.
To serve, spoon chickpeas into bowls and serve with bread alongside.
Prep Time:

15 minutes

Cook Time:

45 minutes

Category:

Dinner

Method:

Stovetop

Cuisine:

Moroccan
Keywords: Moroccan, chickpea, tagine, tomato, jam, cilantro, delicata, squash
This post may contain affiliate links. Please read my disclosure policy.