Whole Roasted Cauliflower with Lemony Yogurt Sauce
This post may contain affiliate links. Please read my disclosure policy.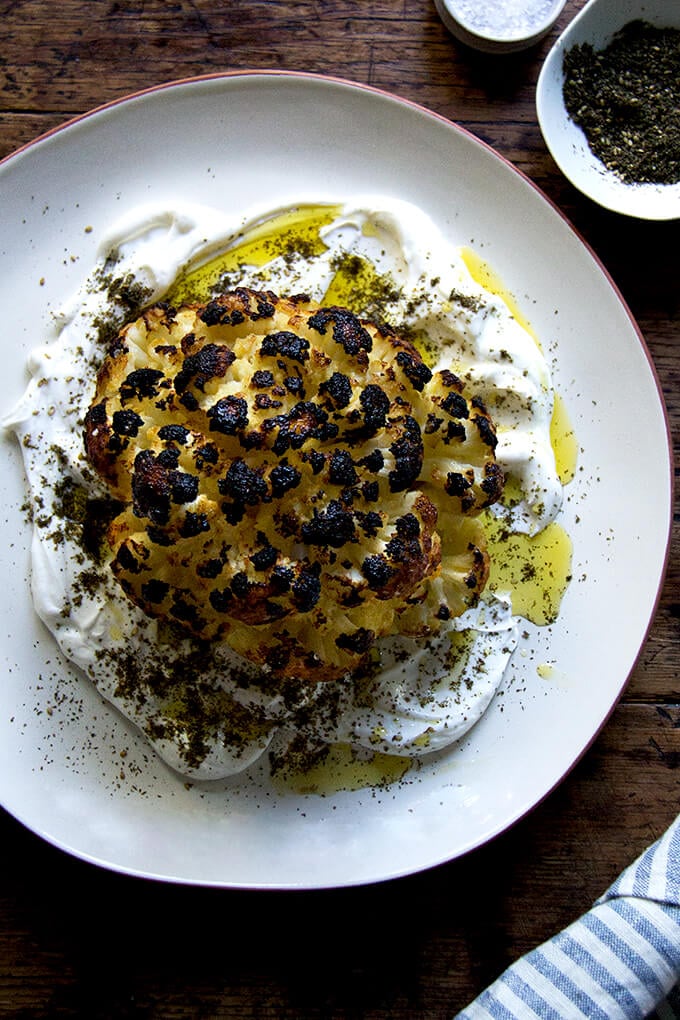 Several weeks before heading to Paris, the September issue of Food and Wine arrived, and I quickly dog-eared a half dozen of their "40 Best Recipes Ever," including this one: Miznon's Whole Roasted Cauliflower.
What struck me about the recipe was its simplicity, calling for nothing more than salt, water, and olive oil. I have seen (and made) other fussier whole-roasted cauliflower recipes, calling for entire bottles of wine for poaching and brown-butter bread crumbs for garnishing. (Sorry.)
No such embellishments here.
This one calls for poaching whole heads of cauliflower in well-salted water, followed by blasting the drained, dried, then well-oiled and further-salted heads in a 550ºF oven for 25-30 minutes or until they become beautifully golden with irresistibly crisp edges. Upon exiting the oven, the heads receive another drizzling of olive oil and sprinkling of salt, if you wish.
The heads are so tasty on their own: the salt-water bath ensures the heads will be well-seasoned throughout, and the generous sea salt sprinkling before the heads are roasted makes the exterior especially tasty.
That said, I love a condiment with this sort of thing, and a lemony yogurt sauce is simple to stir together and a particularly good match. Inspired by a dish I had at Mokonuts in Paris, I drizzled olive oil and za'atar over the smear of yogurt on the plate. Skhug would be a nice one here, too.
Two more reasons why I love this dish:
1. You can boil the heads ahead of time, leaving you minimal prep come dinner time. Note: you'll need a good half an hour to get the heads golden and crisp in the oven.
2. It's festive and fun—thee heads look so dramatic on the table. Count on one head for every two people (depending, I suppose, on how many other dishes you are serving.)
Incidentally, I made this most recently for Ben and my parents, all of whom loved it. I boiled two heads in the same pot several hours before they arrived, then roasted the heads on a single sheet pan about half an hour before dinner.
Also on the menu: Chicken with Sherry and Sherry Vinegar, Favorite Kale Salad (without the bread crumbs), Peasant Bread, and One-Bowl Buttermilk Birthday Cake for Graham, who (somehow) turned 7 on Monday. More soon. Hope all is well!
PS: All of My Favorite Cauliflower Recipes Right Here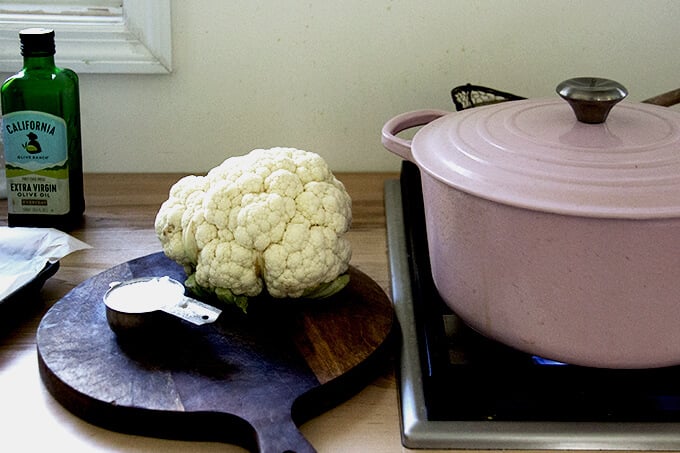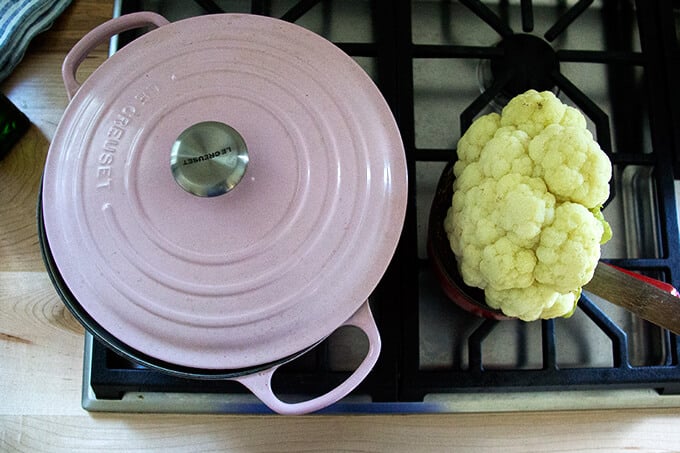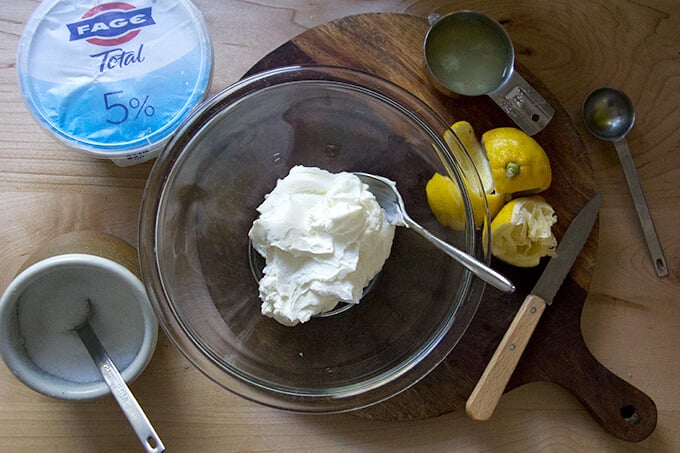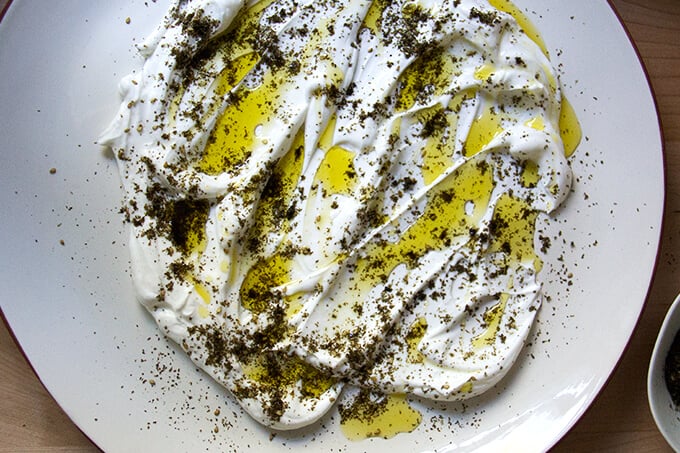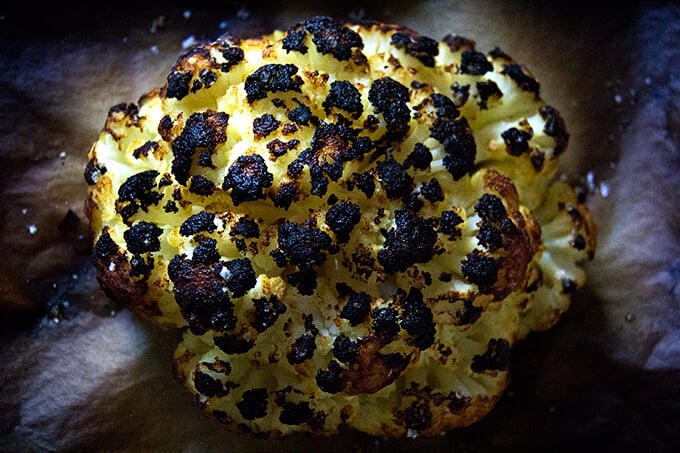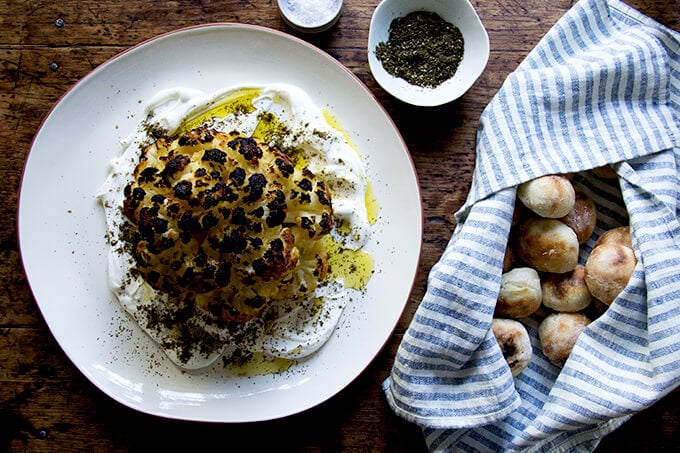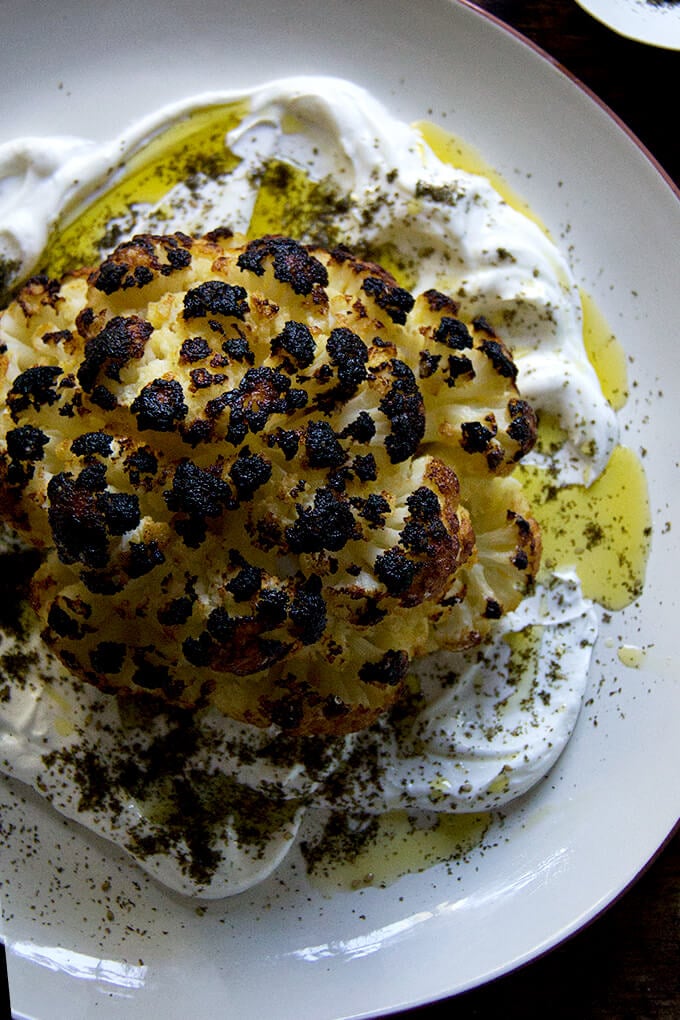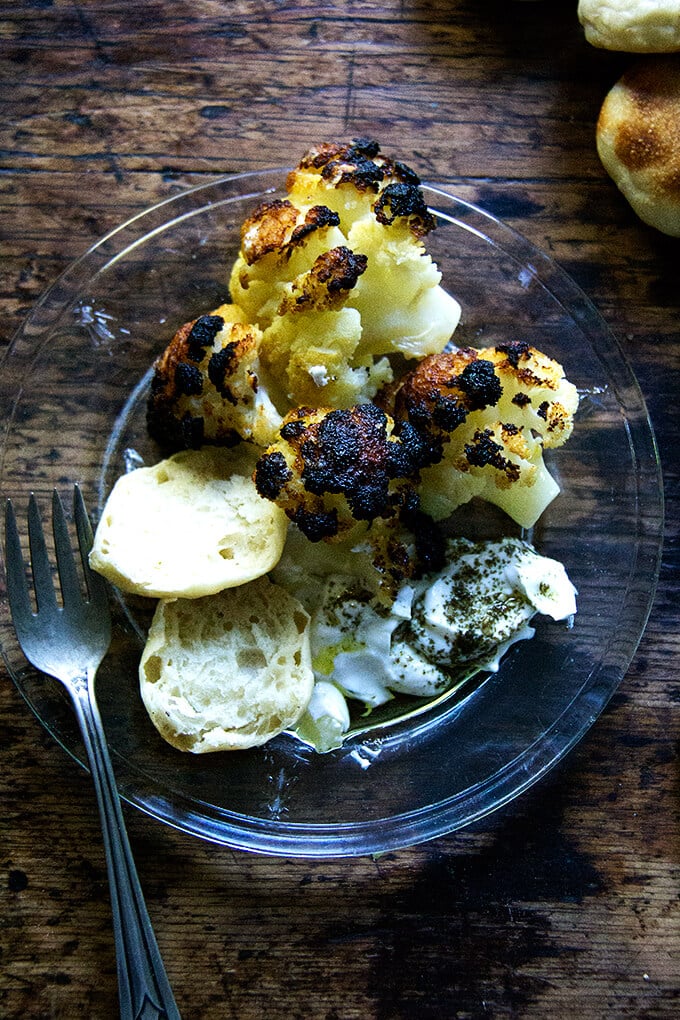 Print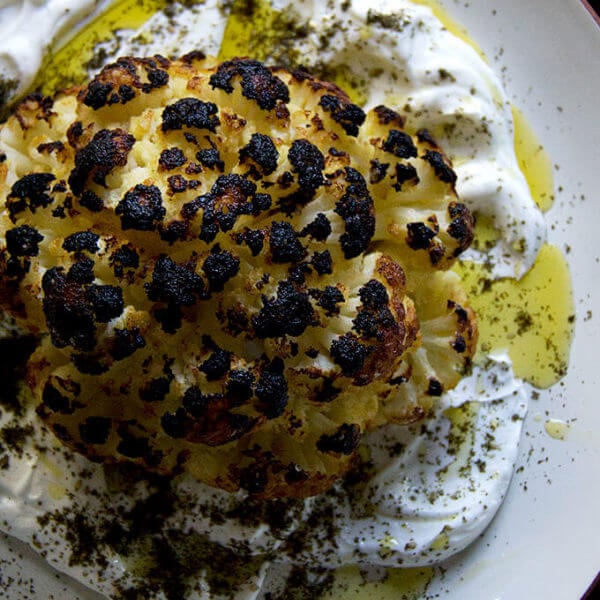 Whole Roasted Cauliflower with Lemony Yogurt Sauce
---
Description
I've made this three times since spotting the recipe in the September Food and Wine: Miznon's Whole Roasted Cauliflower. I've slightly changed the salt quantities/types — I use kosher salt (as opposed to sel gris) to boil the cauliflower, and I use Maldon sea salt (as opposed, again, to sel gris) for seasoning. I like serving this with a lemony yogurt sauce, but know that that is totally optional.
---
---
Instructions
Preheat oven to 550°F with oven rack in center of oven. Trim stem of cauliflower, keeping leaves intact, so it will sit level on a rimmed baking sheet—I line mine with parchment paper. Bring a large pot of water to a boil in a stockpot over high heat. Stir in the 1/3 cup kosher salt until dissolved.
Add cauliflower to water; place a heatproof ceramic plate on top of cauliflower to keep it submerged or use a lid and partially cover the pot. Boil until tender and a fork inserted in cauliflower meets no resistance, 10 to 13 minutes—NOTE: If you are using a smaller head of cauliflower, consider reducing the boiling time to 8-10 minutes. Using a spider, gently lift cauliflower from water, and let drain in spider or transfer to a colander and drain in the sink. Let stand until cauliflower has cooled slightly and is dry to the touch, about 15 minutes. Place cauliflower, stem side down, on a rimmed baking sheet.
Rub 1 tablespoon olive oil between hands, then rub over cauliflower to apply a thin, even layer OR:  drizzle the cauliflower with some of the tablespoon of oil, then coat your hands with the remainder and rub the oil all over it. Sprinkle 1 to 1 1/2 teaspoons sea salt over the cauliflower (salt might clump in some places). You may need to turn the cauliflower upside down and rub it in the salt that falls on the sheet pan. Bake in preheated oven until dark brown, about 25 minutes—this may take longer depending on your oven. If you find it's not getting as dark as you would like, you can run it under the broiler, watching closely the entire time.
Meanwhile, make the yogurt sauce: stir together the yogurt, lemon, and salt.
To serve, smear the yogurt onto a plate. Drizzle with olive oil. Sprinkle with za'atar.
Remove cauliflower from the oven, and carefully rub with remaining 2 tablespoons olive oil. Place on top of yogurt smear. Serve hot.
Prep Time:

15 minutes

Cook Time:

45 minutes

Category:

Vegetable

Method:

Oven

Cuisine:

Middle Eastern
Keywords: whole, roasted, cauliflower, yogurt, sauce, za'atar, lemon
This post may contain affiliate links. Please read my disclosure policy.