Sister Pie's Salted Maple Pie
This post may contain affiliate links. Please read my disclosure policy.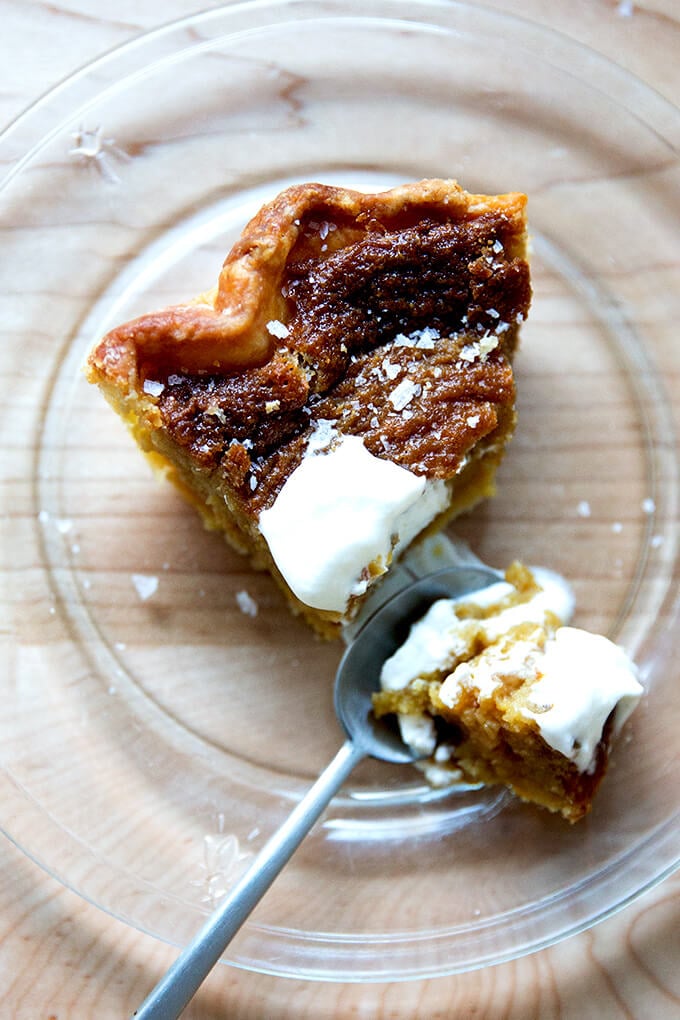 A few days before last Thanksgiving, in search of one more pie to add to my dessert spread, I began paging through Sister Pie and landed on this recipe for salted maple pie, the bakery's take on a classic chess pie, an old-fashioned Southern dessert which typically contains cornmeal, butter, sugar and eggs.
Sister Pie's version also contains cornmeal but is sweetened with maple syrup and is finished, once the pie cools, with a nice sprinkling of sea salt. I find it irresistible. I think you might, too.
Sister Pie, if you don't know, is a bakery in Detroit founded by Lisa Ludwinski, a Michagan native, and her cookbook came out a few months ago.
Though I've only made one recipe from the book, I have no doubt it's going to get heavy use — the day after Thanksgiving, I curled up on the couch by the fire and read it nearly cover to cover, transfixed as much by its story as its recipes, the sweet and savory alike.
The introduction to the book, which includes the bakery's mission statement and an analysis of each sentence, made me cry multiple times. This was one trigger: To support their mission of accessibility, they have a program — the Sister Pie-It-Forward program — that allows customers to pre-purchase pie slices, the paper representation of which gets strung along a pie-it-forward clothesline, ready for anyone to unclip at anytime and to use for any reason. No one leaves without a slice. Pie it forward. Can you handle it?
I don't want to spoil too many more details, but Lisa also encourages her employees to dance, drink water, sleep, eat cookies, hustle, and be kind. I mean, what? Who? Where? Places and people like this really exist? Fellow cookbook collectors, bakers, and pie lovers: I think you should add Sister Pie to your wish lists.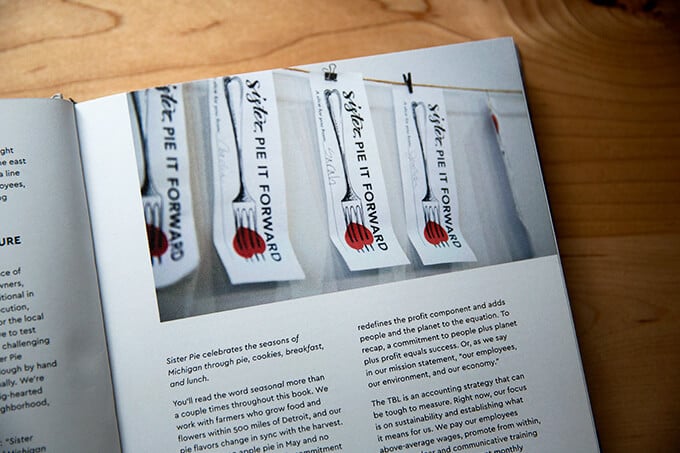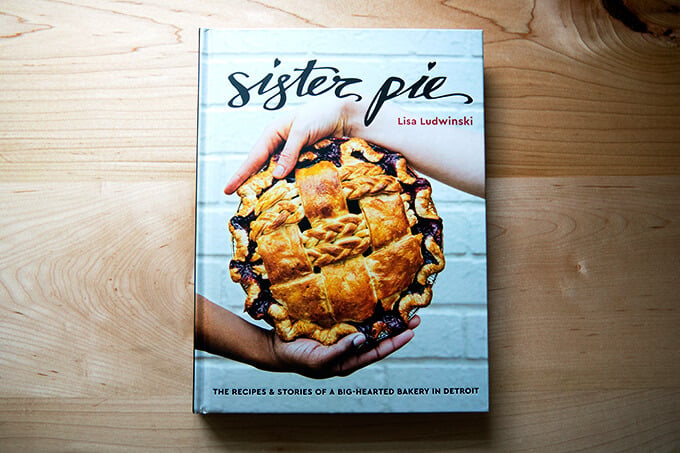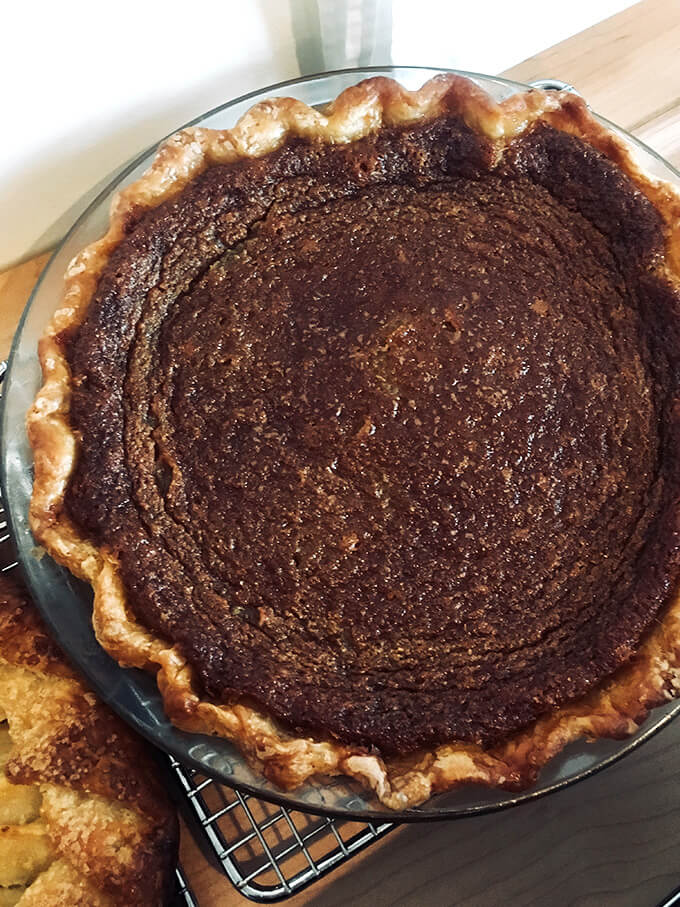 Print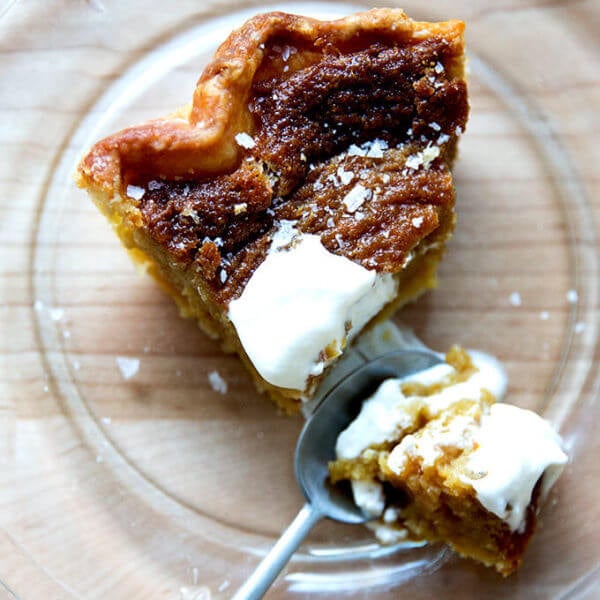 Sister Pie's Salted Maple Pie
---
Description
Adapted from Sister Pie, a cookbook from the eponymous bakery in Detroit, this salted maple pie, to me, is everything I want in a dessert: a sweet and salty custard in a flaky, buttery crust. Heaven. It is perfect for Thanksgiving, but I think it's nice for fall in general.
Pie dough recipe adapted from David Lebovitz. To make a double recipe (which I recommend if you are baking for the holidays, follow this recipe.)
I love my Emile Henry pie plate — it makes the best crust.
---
For the pie dough:
1 1/4 cups

(

160g

) all-purpose flour

1 tablespoon

sugar

1/4 teaspoon

table or kosher salt

8 tablespoons

(

4 oz

|

114g

) cold, cubed butter, salted or unsalted

1/4

C. + 1 T. (

71 g

) ice water
For the pie:
1⁄2 cup

plus 2 tablespoons (

1

1⁄4

sticks) unsalted butter, melted and cooled

1 cup

maple syrup

3⁄4 cup

packed light brown sugar

1⁄4 cup

fine yellow cornmeal
Heaping

1⁄4 teaspoon

kosher salt

3

large eggs

1

large egg yolk

3⁄4 cup

heavy cream

1

–

1⁄4

teaspoons pure vanilla extract
for finishing:
Flaky sea salt

1 cup

heavy cream
confectioner's sugar
---
Instructions
Make the pastry: In the bowl of a food processor, pulse the flour, sugar and salt together. Cut the butter into small pieces, then add to the food processor. Pulse at 1-second intervals until butter is the size of peas—should be about 10 quick pulses. Add the ice water and pulse again about 10 times until the mixture is crumbly but holds together when pinched. Lay a clean tea towel on a work surface. Dump the crumbly dough mixture into the center of the towel. Grab the four corners of the towel together and twist to create a beggar's purse, pressing the dough into a round. Use your hands to pack and flatten the round.
On a lightly floured work surface, roll out the dough into a 12- or 13-inch round. Use as much flour as needed to prevent the dough from sticking, and every few rolls, flip the dough over.
Roll the dough on a lightly floured surface until it's 12- to 13-inches in diameter. Transfer it to a 9-inch pie plate or pan. Trim dough that hangs over by a lot — leave at least an inch over hanging; you may not need to trim everywhere. Tuck the overhanging edges under, between the rim of the pie plate and the dough, and crimp the edge of the dough. Chill the dough in the freezer until firm, at least 30 minutes.
Preheat your oven to 350°F.
Make the filling: In a medium bowl, combine the melted butter and maple syrup. Whisk in the brown sugar, cornmeal, and kosher salt.
Crack the eggs and yolk into another medium bowl. Add the cream and vanilla and whisk until combined.
Slowly pour the egg mixture into the maple mixture and whisk just until combined.
Place the pie plate on a parchment-lined baking sheet. Pour the filling into the pie shell.
Transfer the baking sheet with the pie on it to the oven and bake for 45 minutes to 1 hour, until the edges are puffed and the center jiggles only slightly when shaken. It will continue to set as it cools.
Remove the baking sheet from the oven and transfer the pie to a wire rack to cool for 4 to 6 hours. Once fully cooled and at room temperature, sprinkle generously with flaky sea salt, slice, and serve.
To make the whipped cream, beat the heavy cream with a wire whip or in an electric mixer until soft peaks begin to form. Sprinkle in a small handful of sugar and a pinch of sea salt and beat until peaks begin to get firmer. Taste. Add more sugar and salt to taste. Beat until peaks begin to hold their shape or until they reach a texture you like — I like billowy, not-quite-stiff peaks. Store in fridge until ready to serve.
Store leftover pie, well wrapped in plastic wrap or under a pie dome, at room temperature for up to 3 days.
Prep Time:

30 minutes

Cook Time:

1 hour

Category:

Dessert

Method:

Oven

Cuisine:

American
Keywords: pie, maple, salted, Chess, Thanksgiving, dessert
This post may contain affiliate links. Please read my disclosure policy.