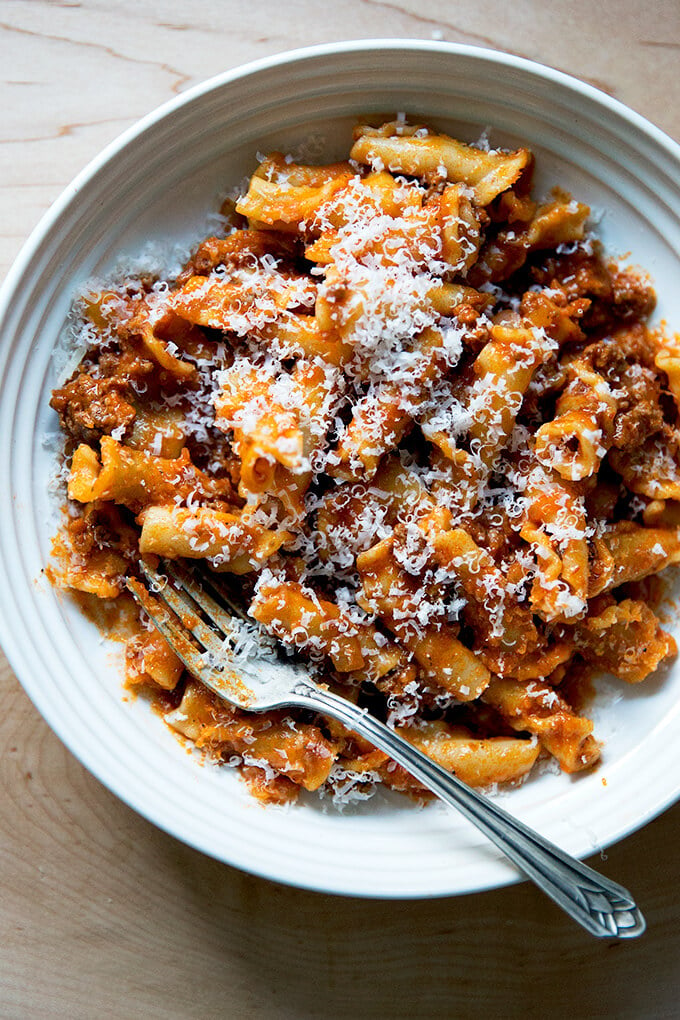 Whenever I have an Instant Pot win, it feels big, miraculous even.
Take this one-pot spaghetti and meat sauce. It comes from Skinny Taste's One and Done cookbook, and, as the title suggests, it will leave you with one — one! — pan to clean.
I have made and loved Martha Stewart's famous one-pot pasta, which is cooked stovetop, but somehow I doubted the idea would transfer to a pressure cooker: in such a short period of time, could good flavor develop?
In turns out yes. Here's the process: Using the sauté function, cook the onion and brown the meat. Switch to manual pressure, add tomato sauce, water, and pasta. Seal and cook at high pressure for 6 minutes. Uncover to find cooked pasta and a meaty, flavorful sauce. Dinner: one and done.
You may notice I am not using spaghetti, but a short pasta, Campanelle, instead. My children have trouble with spaghetti … can't win 'em all.
PS: Should I Buy an Instant Pot? Yes, if you like Perfectly Cooked Brown Rice and Eggs that Peel Like a Dream.
Tips: Instant Pot Spaghetti and Meat Sauce
It may take a bit of trial and error on your part to get the timing down. The recipe calls for 9 minutes at high pressure, and I've reduced it to 6 minutes with success but could even see 5 minutes being OK. Depending on the size of your Instant Pot, it may take more or less time.
The flavor of the final dish in part relies on the tomato sauce you use. I've found a local brand, It's a Utica Thing, at my co-op, and I love it. I've been using their Maa-Da-Nad Marinara for this.
The flavor of the final dish also relies, of course, on the meat. I've been using grass-fed ground beef from a local farm, Sweet Tree Farm, which I find at the Honest Weight Food Co-op in Albany.
Final Thought: ButcherBox & Grass-Fed Beef
I am lucky to have access to shops such as the above-mentioned Honest Weight, which sell a variety of humanely raised meats, many of which come from local farms. If you are not so lucky but have been wanting to purchase humanely raised meat, ButcherBox may be a good option for you.
If you are unfamiliar, ButcherBox is a high-quality meat delivery service. You can sign up for deliveries every month or two months. The meat arrives frozen on dry ice in individual portions. You can select from a wide variety of cuts, anything from boneless skinless chicken breasts to St. Louis style ribs. Here is some more information about ButcherBox, and what you can expect when it arrives at your door.
Here's the Instant Pot one-pan pasta play-by-play:  Gather your ingredients.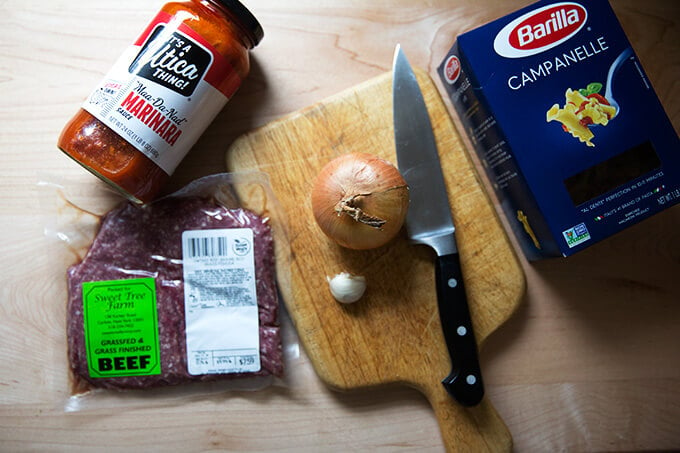 Finely chop an onion; mince some garlic.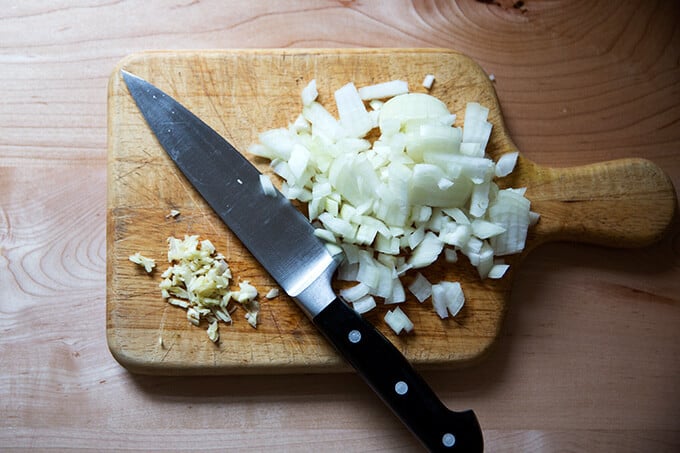 Sauté the onion; brown the meat; add the garlic.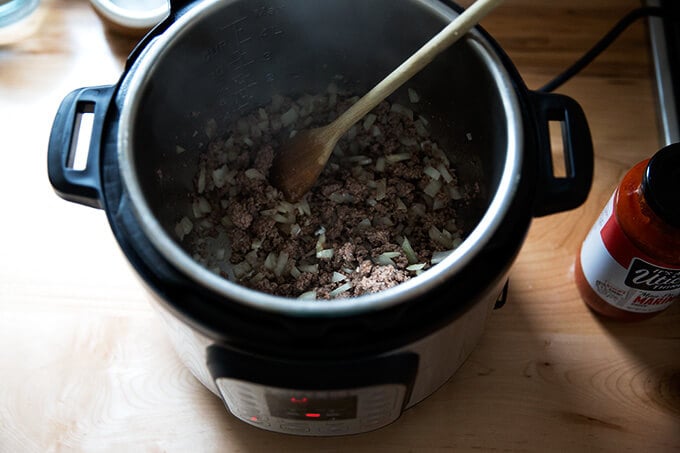 Add the pasta, water, and sauce all at once. Seal lid. Set the IP for high pressure, 6 minutes. Quick release.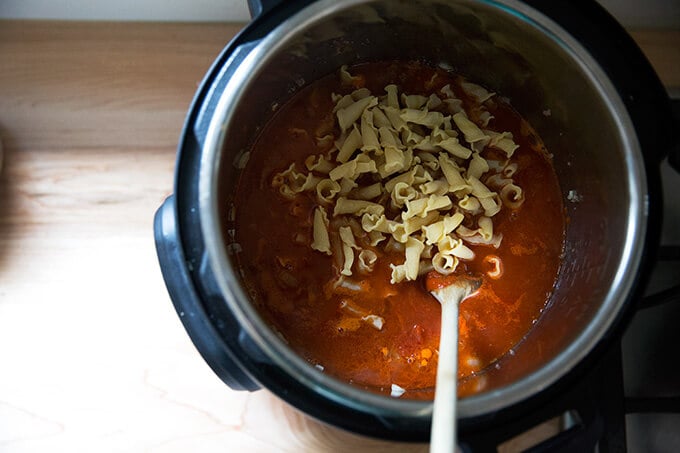 Ta-da! One-pot pasta and meat sauce.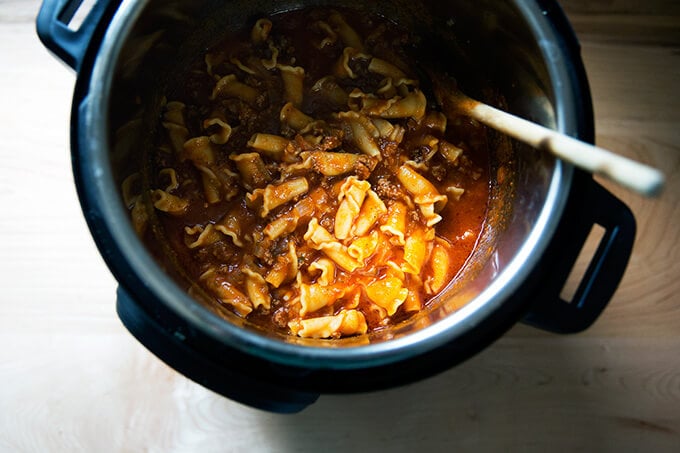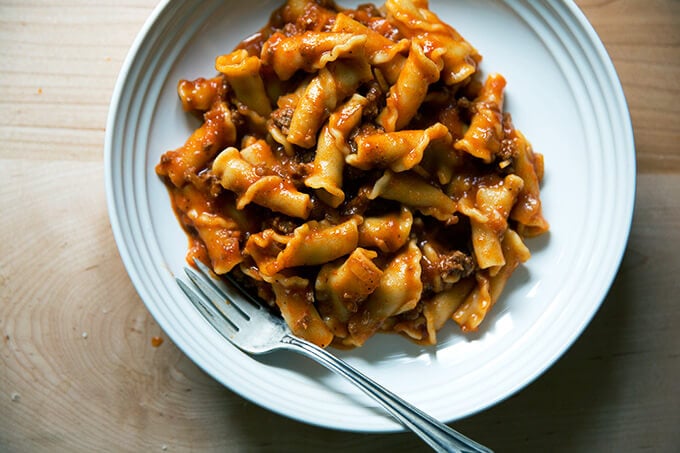 Shave parmesan over top and serve immediately.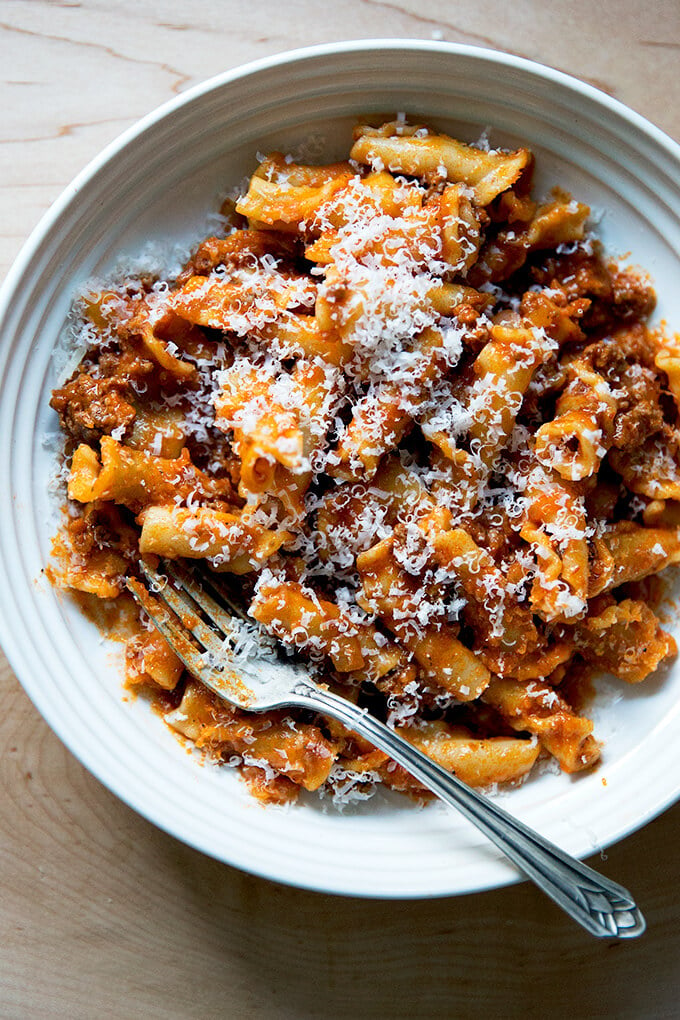 Print
The Instant Pot Miracle: One-Pan Pasta & Meat Sauce
---
Author:

Alexandra Stafford

Prep Time:

5 minutes

Cook Time:

15 minutes

Total Time:

20 minutes

Yield:

5
Description
Adapted from Skinny Taste's One and Done Cookbook, this Instant Pot one-pan pasta with meat sauce comes together very quickly. It has been a huge hit with the kids and a godsend on busy weeknights.
For video guidance, see this Instagram story.
Notes:
I have the 6-qt Instant Pot IP Duo. The timing may differ for you depending on the size/model of your Instant Pot. The recipe calls for high pressure for 9 minutes. I've been doing 6 minutes. It may take some trial and error to get right given your model/pasta shape. The recipe calls for spaghetti, broken in half. My children have trouble with spaghetti, so I use a short pasta.
Marinara Sauce: I've been liking a local-ish brand called It's a Utica Thing. I've been using their Maa-Da-Nad marinara sauce.
1 pound of ground meat makes for a very meaty sauce. You can use 3/4 a pound of meat with success. Recipe calls for 93% lean ground turkey; I use 85% lean ground beef.
Finally, the recipe does not call for any olive oil. I prefer sautéeing the onion (in the Instant Pot) in a little bit of olive oil first, then adding the ground meat, but know that you can skip the olive oil, brown the meat first, then add the onion and garlic.
---
Ingredients
1 tablespoon

olive oil

1

small onion, minced to yield about

1/2 cup

1

garlic clove, minced

3/4

to

1

pound ground beef, see notes above

3/4 teaspoon

kosher salt plus more to taste

1

(25.25-ounce) jar marinara sauce, see notes above

8 ounces

dried short pasta, such as Campanelle or rotini, see notes above
Freshly grated Pamigiano Reggiano, for serving
Freshly cracked black pepper, for serving
---
Instructions
Press the sauté button on an Instant Pot or other electric pressure cooker. Add the oil, onion and a pinch of salt. Sauté for 3 to 5 minutes or until beginning to soften. Add the garlic and cook for a minute more. Add the ground beef and salt and brown the meat, using a wooden spoon to break it into small pieces as it cooks, about 3 minutes.
Add the marinara sauce, 2 cups water — I pour some of the water into the empty marinara jar and shake it to get every drop of sauce out — and the pasta to the Instant Pot. Give it a stir.
Seal and cook on high pressure for 6 minutes (see notes above). Quick release, then open when the pressure subsides. Stir. Serve right away, topped with Parmesan and pepper, if desired.
---
Category:

Pasta

Method:

Instant Pot/Pressure Cookier

Cuisine:

Italian
Keywords: pasta, Instant Pot, one-pan, meat sauce, weeknight