Homemade Ranch Dip with Greek Yogurt
This post may contain affiliate links. Please read my disclosure policy.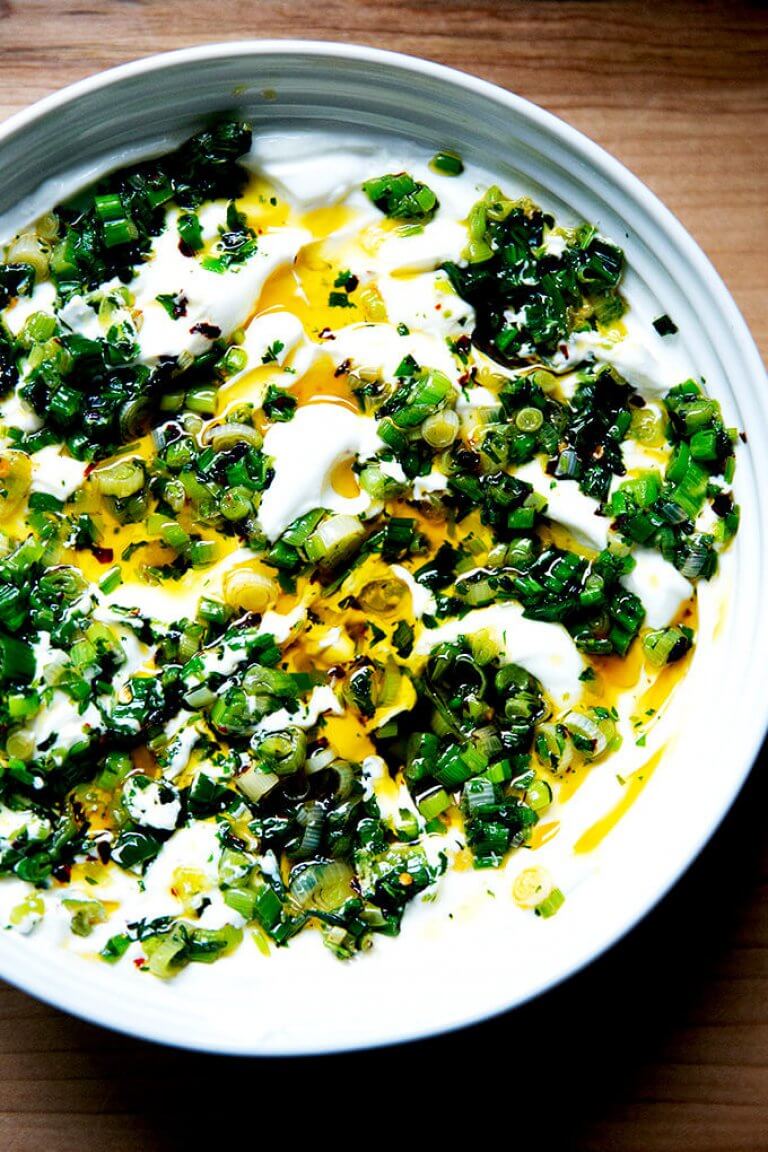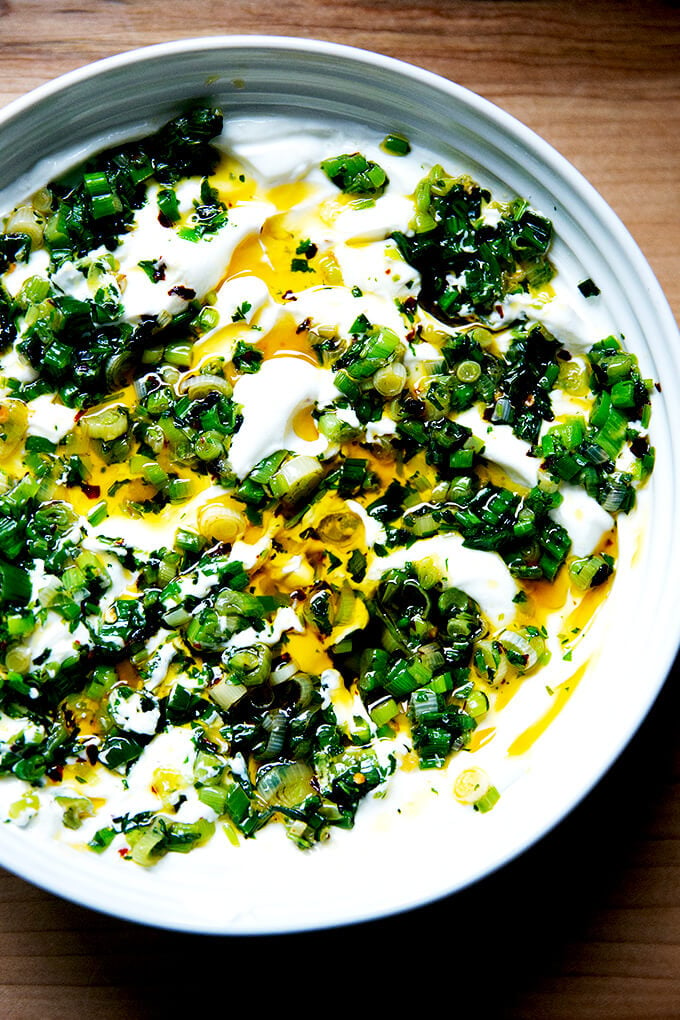 This recipe is not the result of a mission to create a homemade ranch dip or even to make a "healthier" ranch dip by subbing in Greek yogurt for the mayonnaise and sour cream.
Rather it is simply the first recipe I spotted in Alison Roman's new book, Nothing Fancy, that spoke to me. In Nothing Fancy, it's called "labne with sizzled scallions and chile", and it's described as a "very high-brow version of ranch dressing."
Truthfully, its resemblance to ranch dressing had little appeal — I'm not really a ranch fan — but I took one bite and thought: yes, almost ranch indeed! And also: holy buckets this is delicious! And then: So maybe I am a ranch fan after all?
Hard to say, but what is not hard is making this dip, and should you be in search of something to serve as an appetizer for a New Year's Eve gathering, I think this should be in the running. I have no doubt it will be wildly well received.
Homemade Ranch Dip How-To
This recipe couldn't be simpler. In essence, you:
Stir together labne or Greek yogurt with fresh lemon juice and salt; smear this yogurt-sauce over a platter.
Heat olive oil with crushed red pepper flakes, scallions, and cilantro in a skillet.
When the greens and chilies begin to frizzle, pour the oil over the yogurt sauce. Resist the urge to stir; allow the oil to pool in the valleys of the yogurt sauce.
Serve immediately with crudité or crackers or whatever you like.
Incidentally, I first made this dip upon returning from my parent's house with a hunk of beef tenderloin in tow but without a lick of horseradish sauce to go with it. This homemade ranch dip so nicely complemented the meat and made me wonder: what else, apart from crackers and crudité, might be nice to serve it with?
I'm thinking: roasted vegetables of all kind, grilled or roasted chicken, or a heap of crispy chickpeas.
PS: Real Sour Cream and Onion Dip
PPS: Maydan's Beet Dip with Labneh and Za'atar
PPPS: Black Olive Tapenade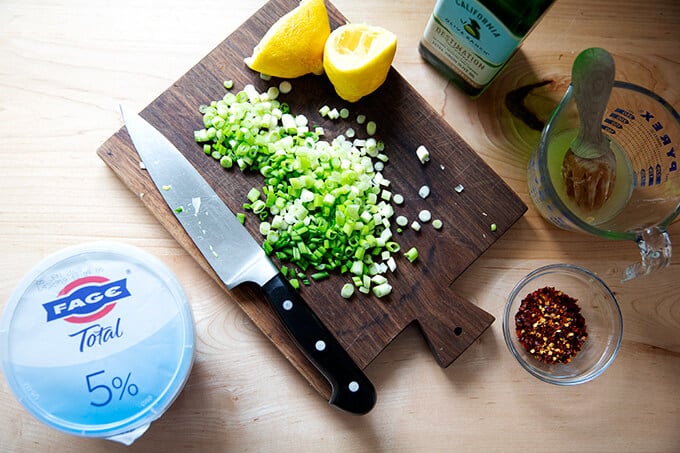 Here's the play-by-play: Gather your ingredients: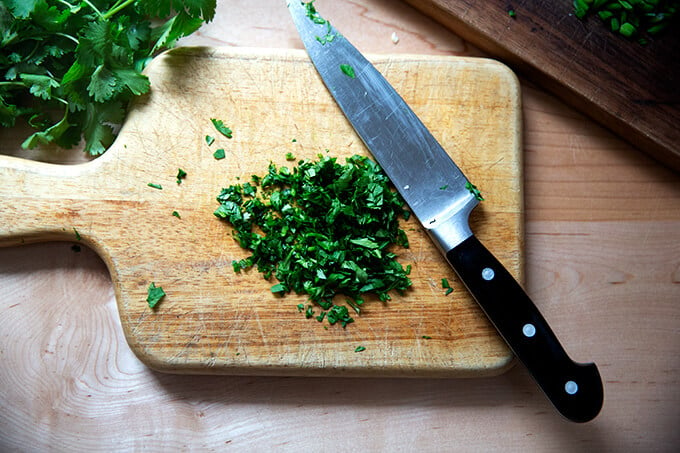 Chop a small bundle of cilantro, stems and all, to yield a couple of tablespoons: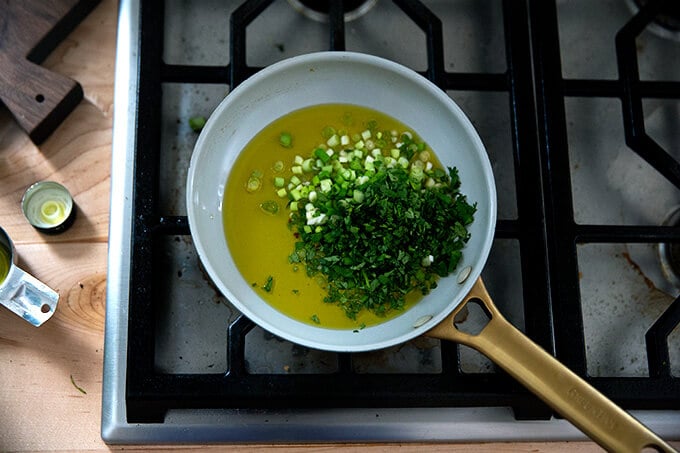 Heat 3 tablespoons of olive oil in a skillet with cilantro, scallions, and crushed red pepper flakes.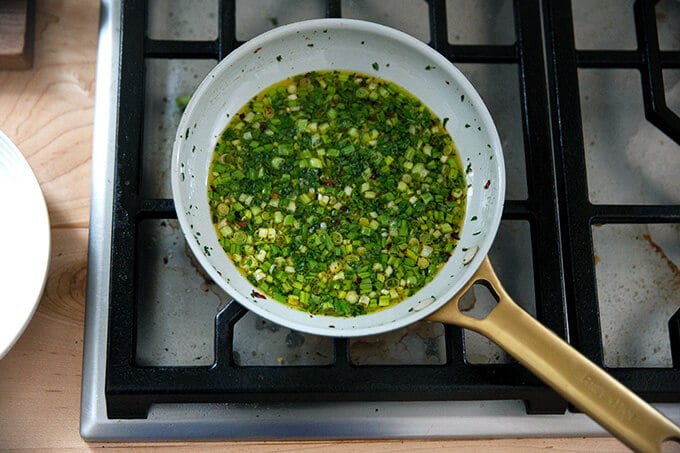 When the greens and chili flakes begin to frizzle, it's done.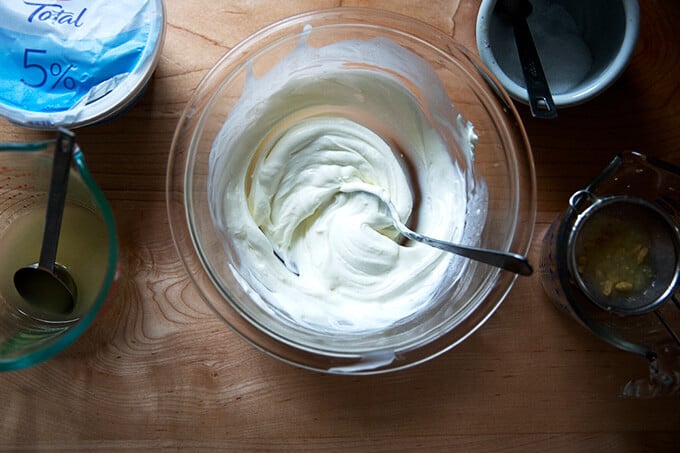 Combine 1 cup Greek yogurt with a half teaspoon kosher salt and 1 tablespoon fresh lemon juice.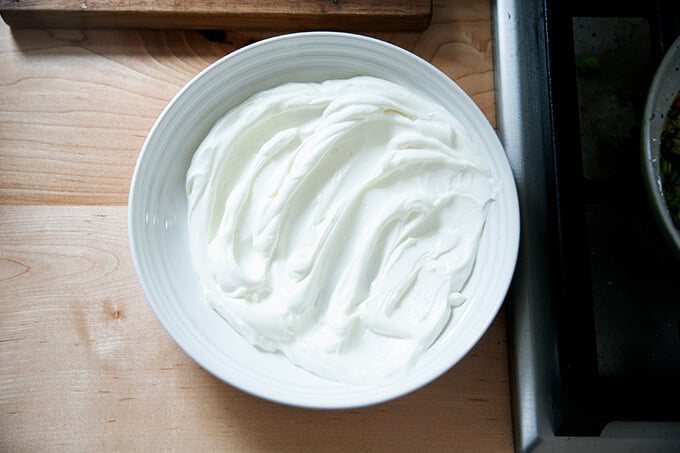 Smear the yogurt sauce over a serving dish.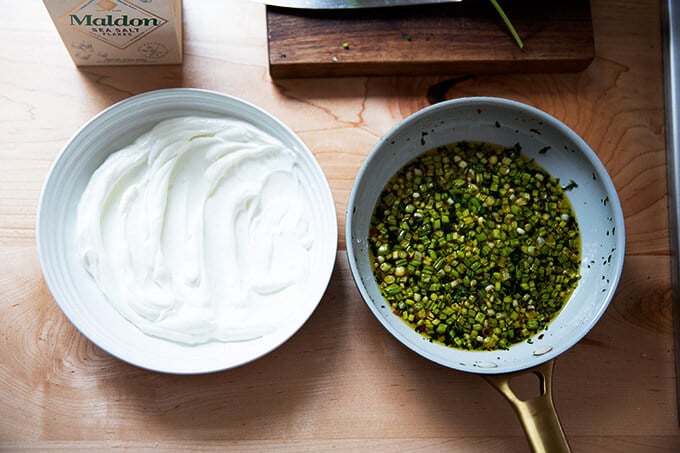 Get ready to assemble by carefully pouring the scallion oil…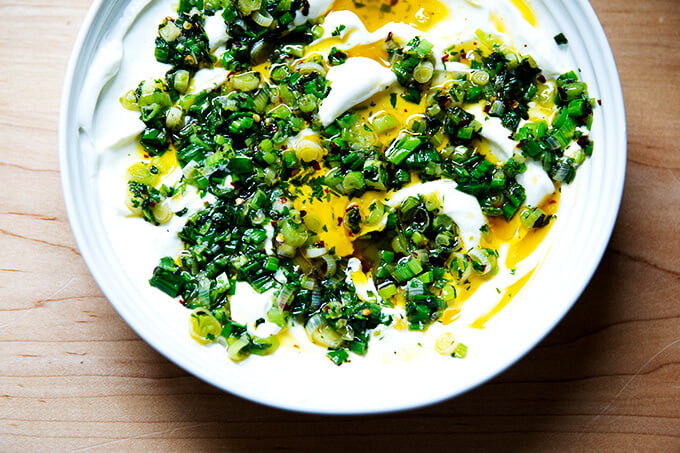 … over the yogurt sauce.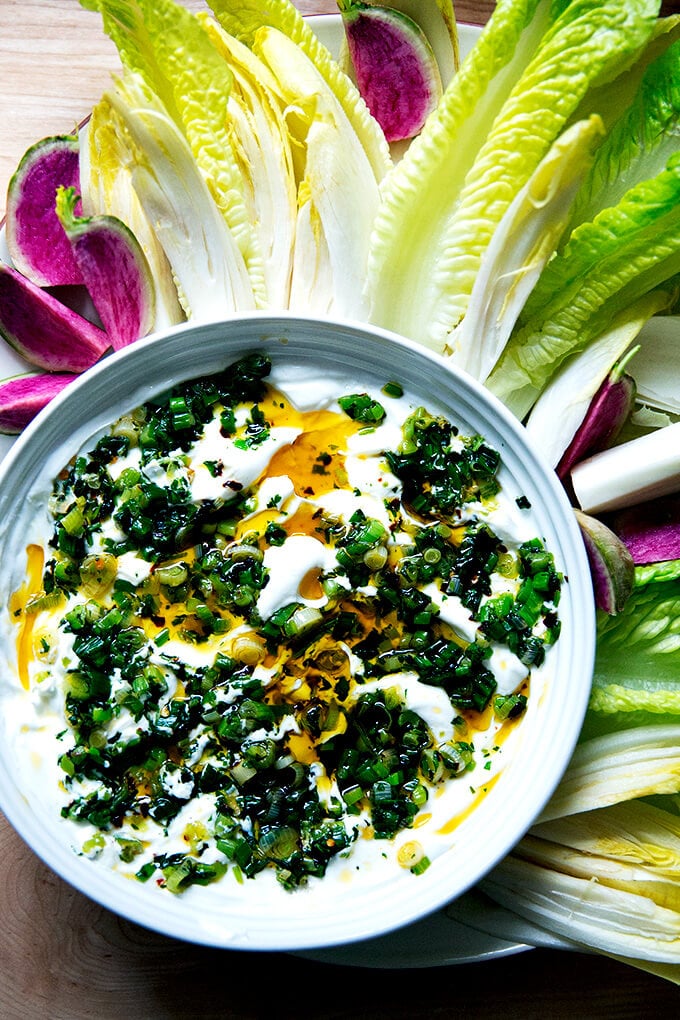 Serve with vegetables or chips or crackers or whatever you like.

Print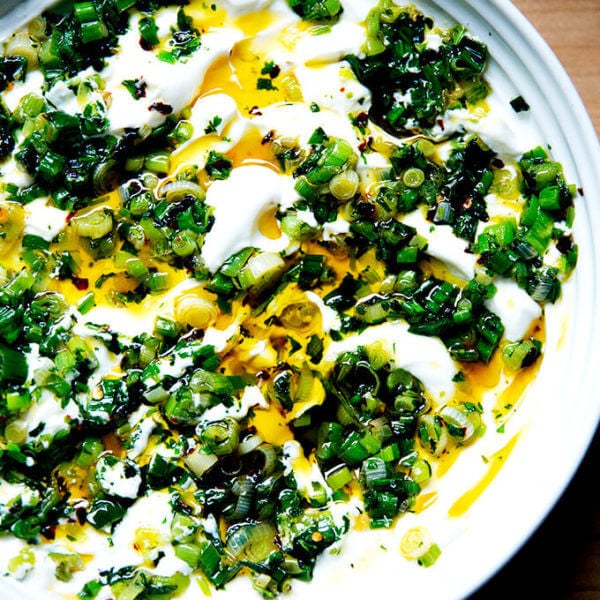 Homemade Ranch Dip with Greek Yogurt
---
Author:

Alexandra Stafford

Prep Time:

10 minutes

Cook Time:

5 minutes

Total Time:

15 minutes

Yield:

1 cup
Description
From Alison Roman's Nothing Fancy Recipe can be doubled. The recipe below in fact is a half recipe. A few notes:
The recipe calls for labne, which can be difficult to find. I find Greek yogurt works just as well. I like the Fage 5%.
1/2 teaspoon of red pepper flakes offers a nice kick, but if you are sensitive to heat, consider starting with 1/4 teaspoon
For serving, I especially love the way endive tastes with this dip, but serve it with any vegetables you like. If you can find Little Gems, which are like miniature heads of Romaine lettuce, that would be ideal, otherwise, use Romaine — the smaller, sturdier, inner leaves are perfect here, but outer leaves can be chopped into smaller pieces and work just as well. Treviso is another great option. Watermelon radishes are so pretty, if you can find them. Small, turnips are another great option.
---
1 cup

Greek yogurt

1 tablespoon

fresh lemon juice

1/2 teaspoon

kosher salt

3 tablespoons

olive oil

4

scallions, thinly sliced

1/4

to

1/2

teaspoon crushed red pepper flakes, see notes above

1

to

2

tablespoons finely chopped cilantro
flaky sea salt
For serving (see notes above):
endive, quartered through the core or cut into sixths
Romaine leaves
radishes, quartered
carrots, cut into sticks
chips or crackers
---
Instructions
In a medium bowl, stir together the yogurt, lemon, and salt. Transfer the yogurt sauce to a shallow bowl or plate or serving platter. Use the back of a spoon to spread the sauce across the bowl, creating shallow peaks and valleys in the yogurt — the sizzling oil will pool in these crevices.
Heat the oil, scallions, crushed red pepper flakes, and cilantro in a small skillet or saucepan over medium-low heat. Cook, swirling occasionally, until the scallions and red pepper flakes start to visually and audibly sizzle and frizzle. Season with a pinch of sea salt and remove from the heat.
Carefully pour the scallion oil over the yogurt sauce. If necessary, hold the bowl and turn it to allow the oil to spread evenly over the yogurt sauce — resist the urge to try to combine the yogurt sauce with the oil for two reasons: 1. It won't incorporate very well, and 2. It doesn't look very pretty.
Serve immediately with vegetables or chips or whatever you like.
Category:

Dip

Method:

Stir

Cuisine:

American
Keywords: dip, homemade, ranch, scallions, cilantro, spicy, Greek, yogurt
This post may contain affiliate links. Please read my disclosure policy.