Spinach-Artichoke Dip
This post may contain affiliate links. Please read my disclosure policy.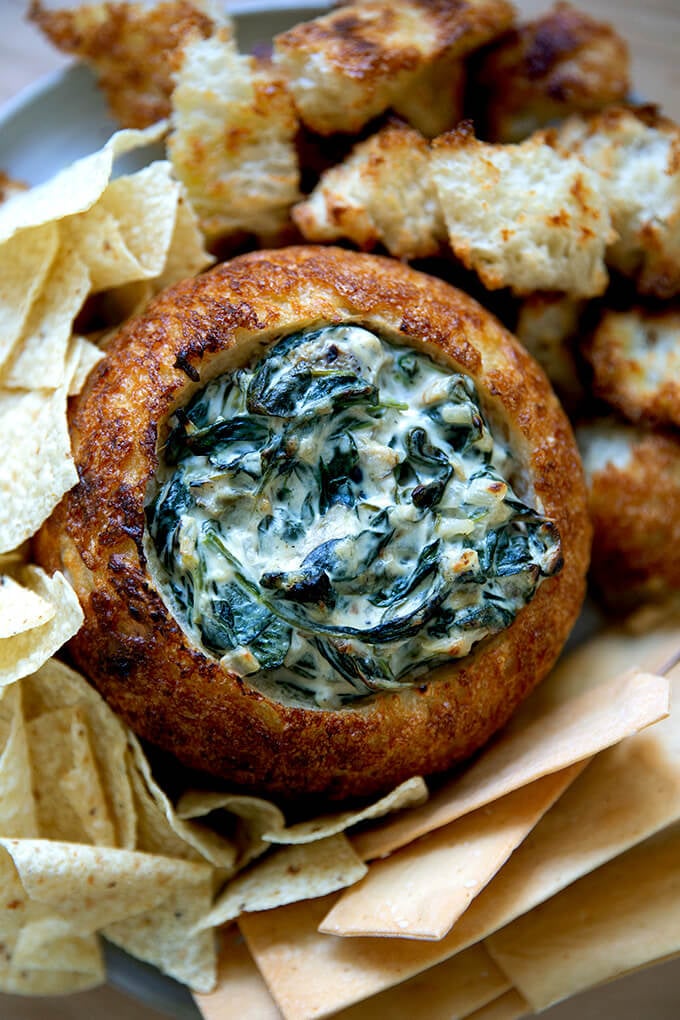 I feel about as comfortable making "game day" food as I do about pulling Udon noodles from scratch, which is to say: not very.
But in anticipation of our cozy game day together this year, I thought it might be fun to make some Super Bowl classics, like foods preceded by the word "buffalo" and dips presented in bread bowls. My children thrilled at the latter. (They passed on the buffalo cauliflower).
This past month, I've tried a number of recipes for spinach-artichoke dip, most of which have been delicious, all of which have called for heaps of mayonnaise, sour cream, cream cheese, mozzarella, and parmesan.
The version I liked best is based on Martha Stewart's hot crab dip, which calls for sautéing shallots, adding spices, then making a creamy sauce with half and half, cream cheese, and cheddar.
I use this formula here, omitting most of the spices, and using parmesan in place of cheddar. I also use my favorite grilled artichoke hearts from Trader Joe's, a pantry staple for this recipe, and fresh baby spinach as opposed to frozen (though I'm sure frozen would work just fine here).
The result? Heaven! Rich but not exceedingly so, the flavors of the artichoke hearts and spinach prevailing. With the only prep being to mince shallots, coarsely chop artichoke hearts, and grate parmesan, this dip comes together incredibly quickly, and best of all, you can prep as you go: while the shallots sweat, chop the artichoke hearts; while the cream cheese slowly melts into the simmering half and half, grate the parmesan.
You can serve this dip several ways:
Warm, just-cooked, in a serving dish.
Broiled in a shallow dish for 2 to 5 minutes, until slightly blistered.
In a bread bowl! If you have made my mother's peasant bread, that's all you need to know. Watch the video above (or below) for a little more guidance.
Serve it with crackers, chips, fresh bread, or vegetables. Go Team! 🎉🎉🎉🎉
PS: 12+ Favorite Dips for Super Bowl Sunday and Beyond
How to make spinach-artichoke dip
Gather your ingredients: These are the grilled artichoke hearts from Trader Joe's I love: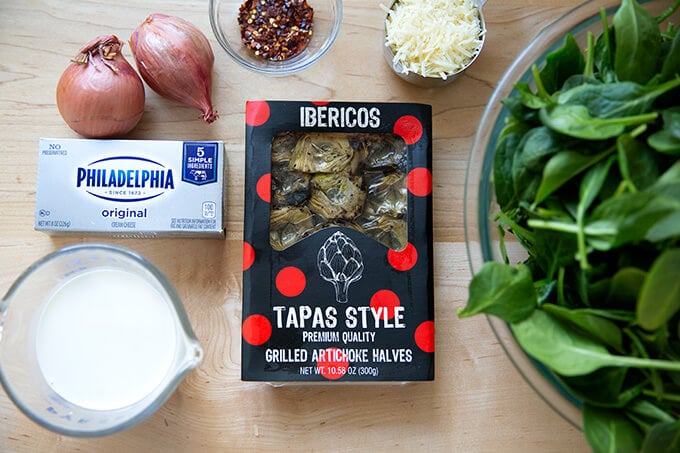 Finely dice a shallot or two to yield 1/2 to 1 cup: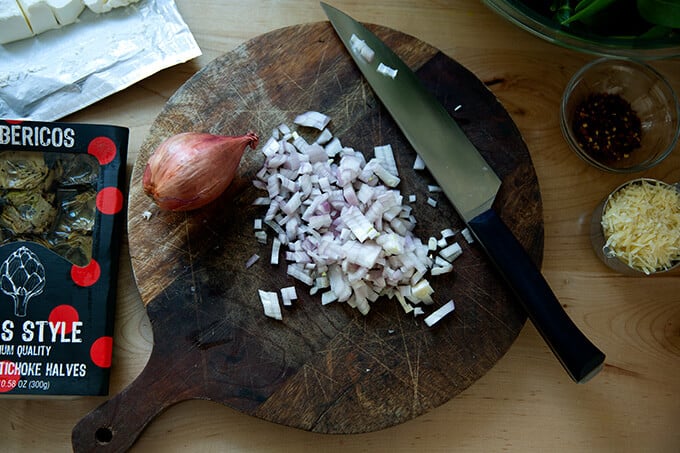 Add the shallots to a pot with a couple tablespoons of olive oil and a pinch of salt: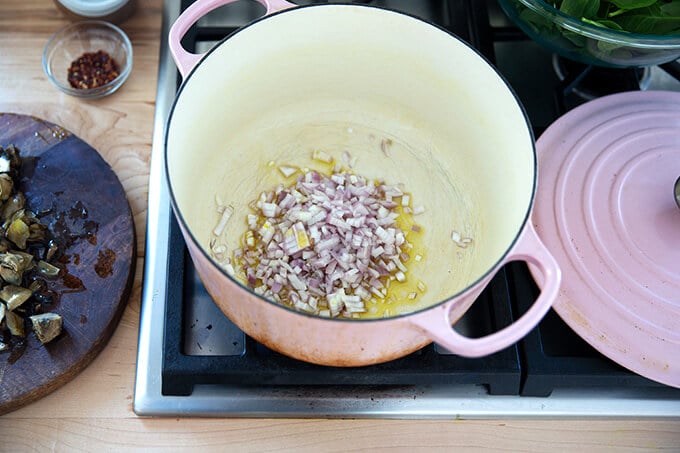 Sweat over low heat, covered, for 5 minutes: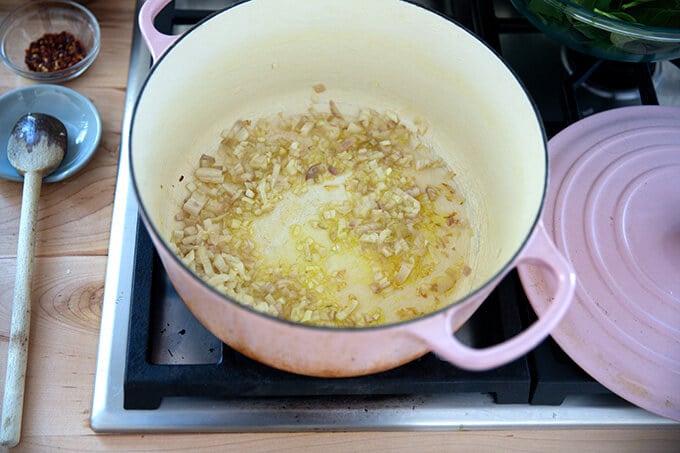 Meanwhile coarsely chop the drained artichoke hearts: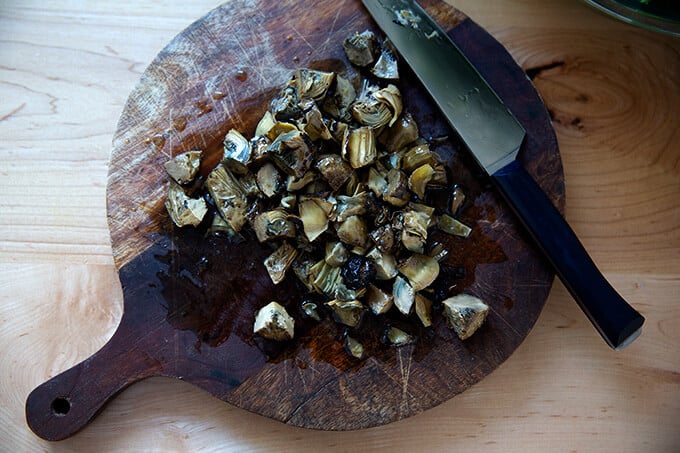 Add the artichoke hearts to the pot and cook for 30 seconds: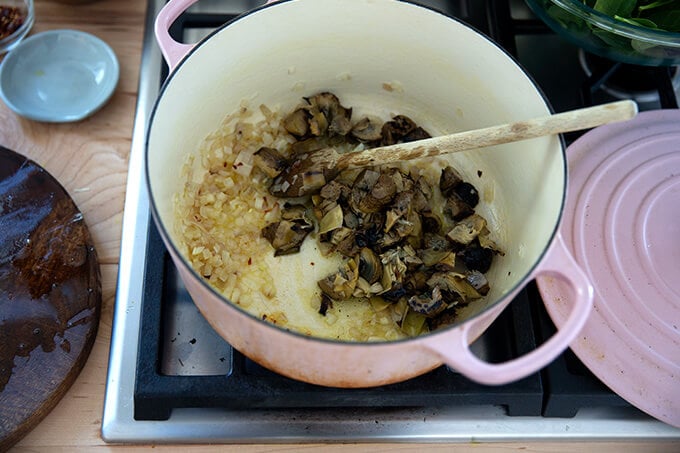 Add a heap of spinach and a pinch of salt to the pot: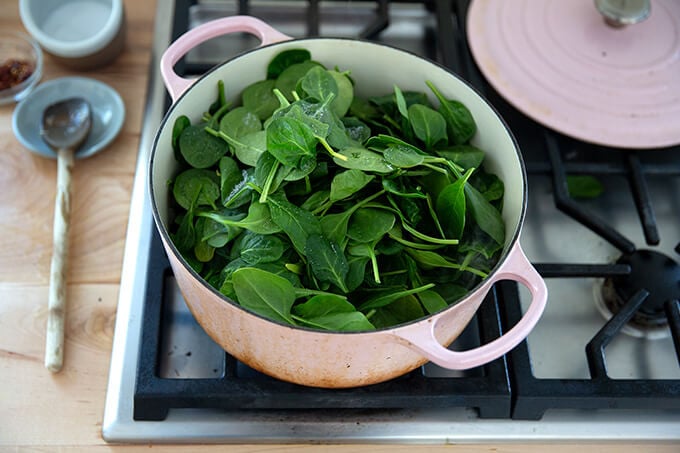 Let cook for a minute undisturbed; then use tongs to help the spinach wilt down.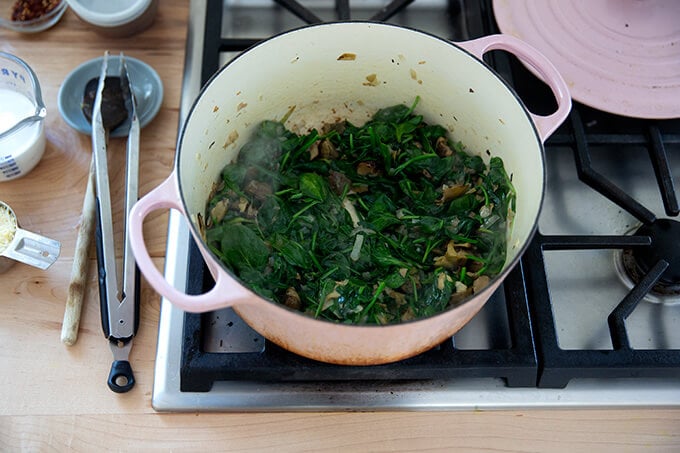 Add half and half and cream cheese and stir to combine.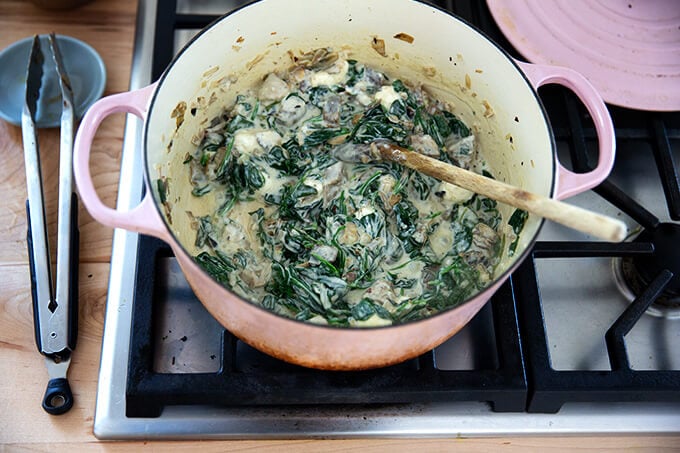 Add some parmesan and stir to combine.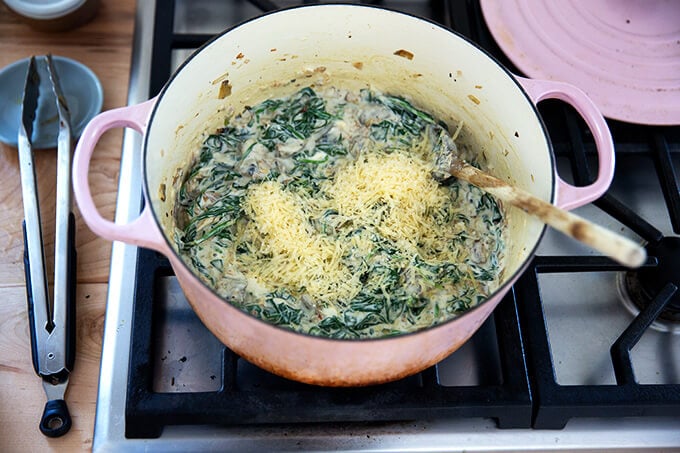 You can serve this straight from the pot or …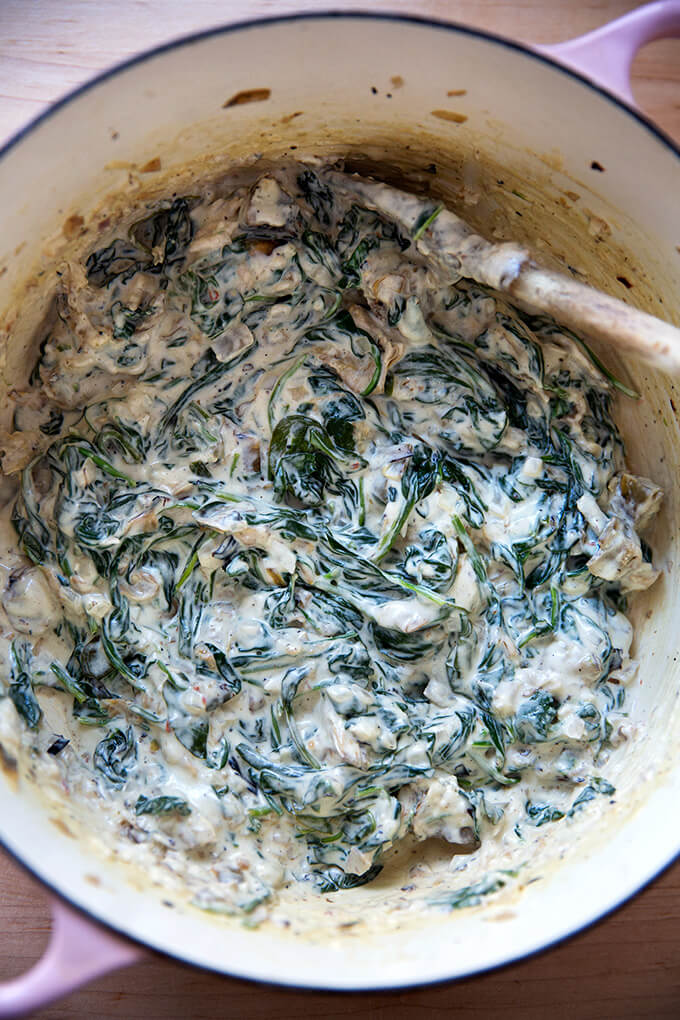 … transfer the mixture to a small oven-safe dish and …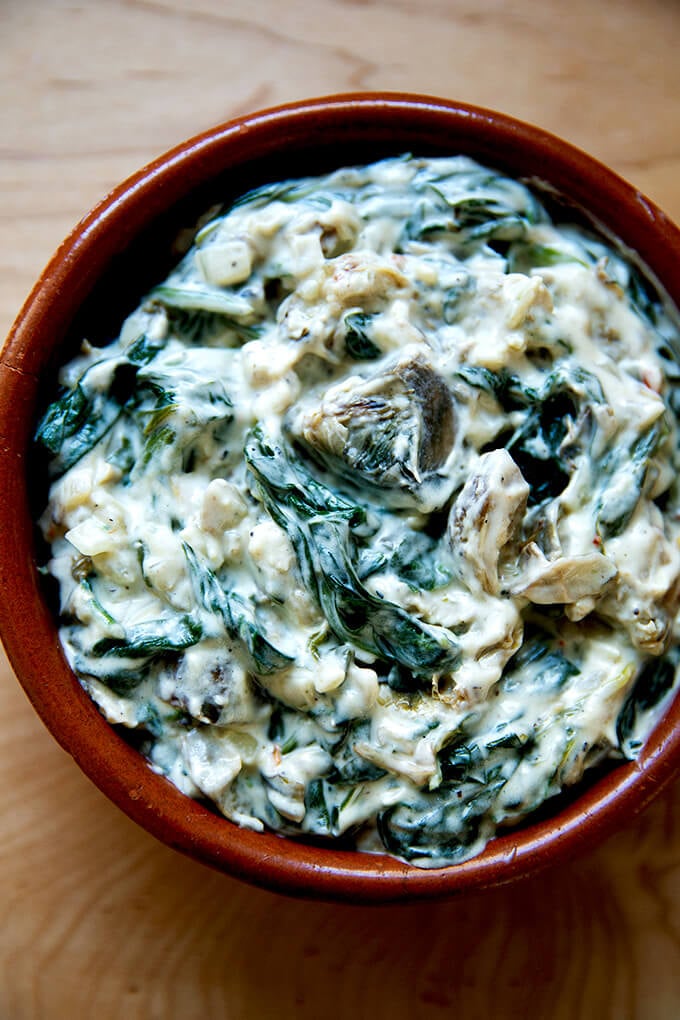 … broiler it for a few minutes, keeping a close watch: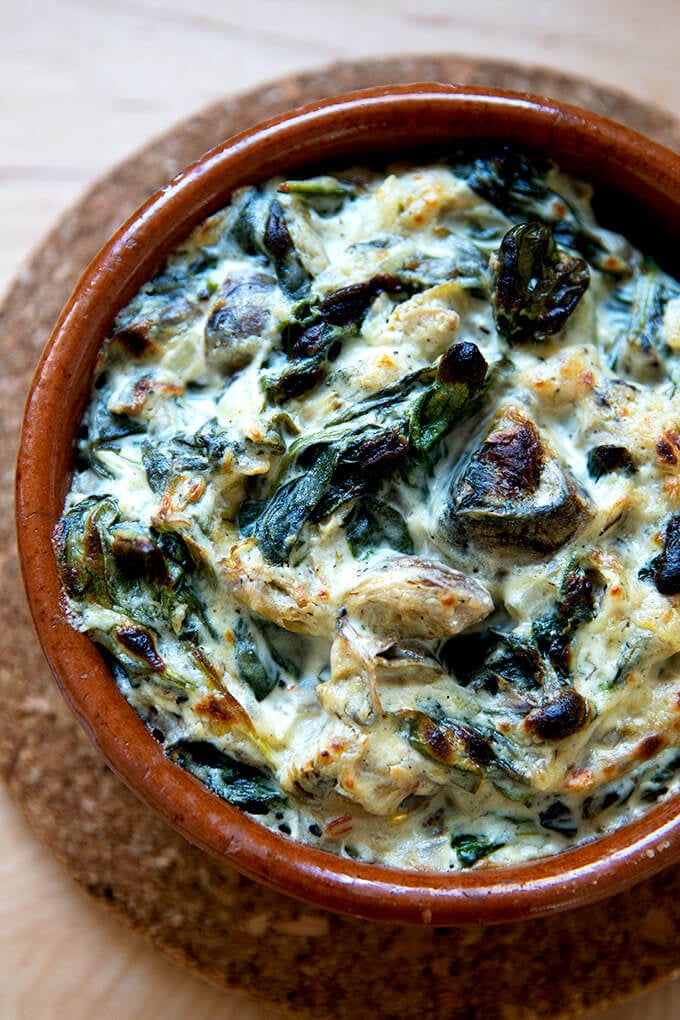 OR: MAKE A BREAD BOWL 🤗🤗🤗🤗 This is simply one of the peasant bread loaves, innards removed and drizzled with olive oil, the cavity filled with dip, all roasted together for roughly 10 minutes at 450ºF.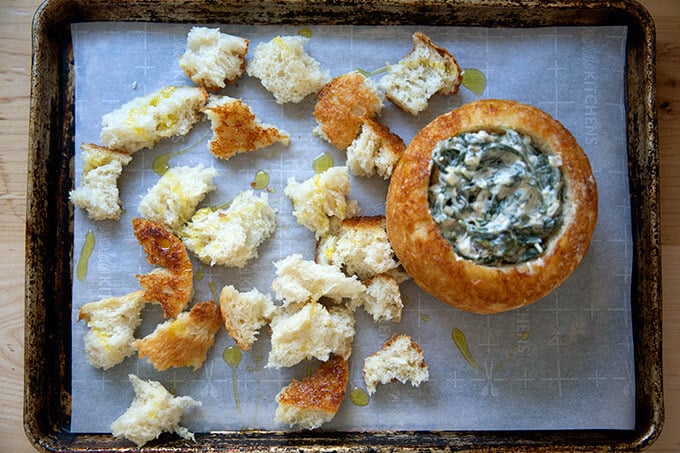 Serve with more crackers, chips, or veg!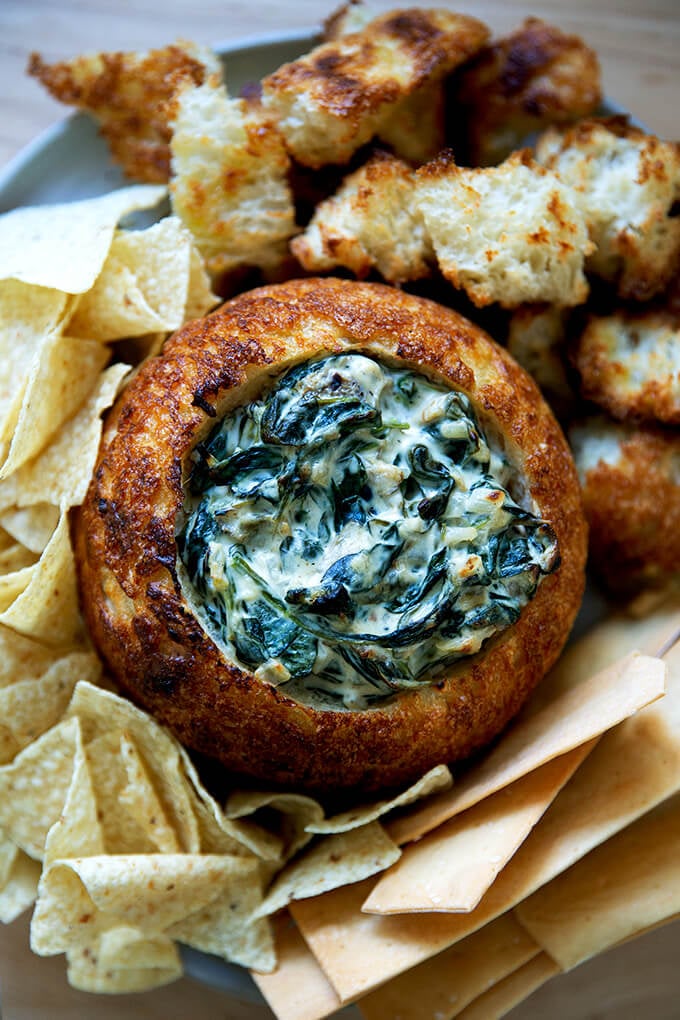 Print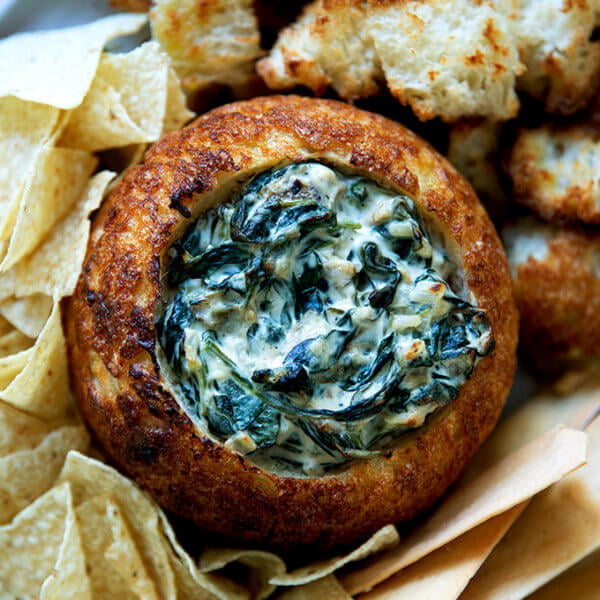 Spinach-Artichoke Dip
---
Description
I love using Trader Joe's grilled artichoke hearts in this recipe, which are found in the store's main grocery aisle, as opposed to the refrigerated or freezer aisles. If you can't find them, use canned, which typically are 14 oz. each. Be sure to drain the can first; then coarsely chop the hearts.
---
For the dip: 
2 tablespoons

olive oil

2

shallots minced, to yield 1/2 to 1 cup
salt

10

–

14

ounces artichoke hearts, see notes above, I love the grilled artichoke hearts from Trader Joe's
pinch crushed red pepper flakes

10 ounces

baby spinach

3/4 cup

half and half

8 ounces

cream cheese, cut into small cubes

1/2 cup

(

1.3 ounces

|

38 g

) grated Parmigiano Reggiano
flaky sea salt and pepper to taste
For serving:
---
Instructions
Place the oil and shallots in a large pot over high heat. Season with a pinch of salt. As soon as the oil and shallots begin to sizzle, give them a stir, turn the heat to low, and cover the pot. Cook 5 minutes.
Meanwhile, coarsely chop the artichoke hearts. 
After 5 minutes, remove the lid from the pot, add a pinch of crushed red pepper flakes and give everything a stir. Turn heat to medium. Add the artichoke hearts and cook 30 seconds.
Add all of the spinach and season with a pinch of salt. Let spinach stand undisturbed for about 60 seconds; then use tongs to rearrange the spinach from the bottom of the pot to the top, until it has all wilted down. 
Add the half and half and bring to a simmer. Add the cream cheese. Stir until the cream cheese has melted. Add the parmesan and stir to combine. 
Taste. Add flaky sea salt to taste until it tastes nicely seasoned — I had a few big pinches. Add pepper to taste if you wish. 
To finish: transfer dip  — or a portion of it — to a small, shallow, oven-safe vessel. Transfer to the broiler for 3 – 5 minutes or until blistered to your liking, keeping a close watch the entire time. Or, make a bread bowl: remove the "innards" from 1 loaf of my mother's peasant bread recipe, fill the cavity with the spinach artichoke dip, transfer the filled bowl to a sheet pan, nestle the torn bread "innards" all around, drizzle with olive oil, and roast at 450ºF for roughly 10 minutes or until lightly golden. 
Prep Time:

10 minutes

Cook Time:

10 minutes

Category:

Dip

Method:

Stovetop

Cuisine:

American
Keywords: spinach, artichoke, dip, easy
This post may contain affiliate links. Please read my disclosure policy.