Broccoli Crunch Salad
This post may contain affiliate links. Please read my disclosure policy.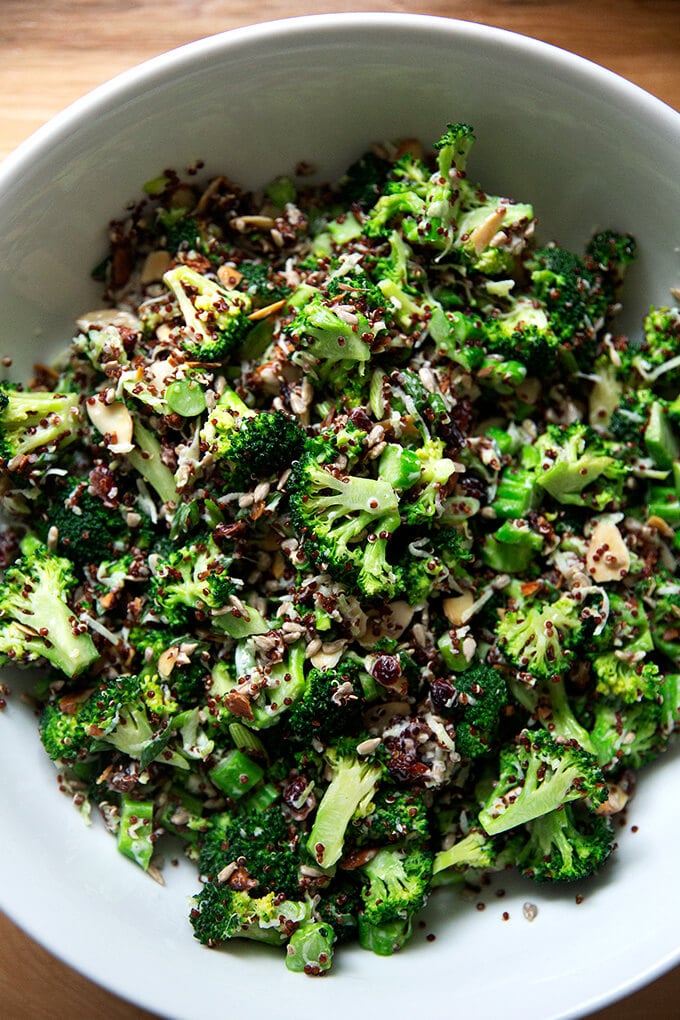 The funny thing about not having traveled anywhere in nearly a year is that even the most ordinary of excursions would be a thrill right now.
I'd give anything to spend a morning at the Honest Weight Food Co-op in Albany, wandering the aisles, loading up on bulk-food essentials, sipping an apple zinger, a freshly squeezed ginger-spiked juice (costing a small fortune).
Or to pop into Nora's for labneh and pomegranate molasses or any of the homemade Armenian food the owners have prepared that morning and so generously will sample should you show a whisper of interest. Once, while eyeing an enormous bowl filled with an enticing red paste, my stares were answered: You want muhammara? Come. I'll show you.
Or to cruise the aisles of the Asian Supermarket filling my cart with bags of baby bok choy, giant bundles of scallions, frozen udon noodles, and tins of Korean double hot tuna.
In pre-Covid times, this sort of shopping was my favorite pastime, my therapy, outings that always left me feeling rejuvenated, inspired.
Recently I've been reminiscing about another favorite grocery store, Byerlys, in my husband's hometown in Minnesota. Partially carpeted — how warm? how welcoming? — Byerlys introduced me to what a grocery store could be, not only a place to buy groceries but dinner, too: fully prepared meals, delicious soups and salads, all packed and ready to go.
Can I tell you the best part though? After you paid for your groceries, you left them there! Then you walked to your car and drove to a designated location where someone loaded them into your trunk! This all sounds almost normal given the times, but back then it felt revolutionary.
One of my favorite salads from Byerlys was loaded with broccoli, sunflower seeds, raisins, and bacon. Ben's mom always picked up several quarts of it before we headed off to the lake for the weekend. Oh, Friends, what a dream?! Carpeted grocery stores! Deli salads! Trips to a lake!
Will we ever get there again?
About This Broccoli Salad
Inspired by the Byerlys Sunny Broccoli Salad, this one differs in a few ways:
Blanched broccoli. I don't mind a raw broccoli salad, but I prefer broccoli that's been briefly blanched: here, I dunk the broccoli into boiling, salted water; then immediately remove it. This step not only takes that raw edge off the broccoli but also transforms its hue from muted to bright green.
No stem left behind. Here, I use the whole head of broccoli: the florets are broken into small pieces; the tender stems sliced into rounds; the tough stalks grated into fine shreds. It's all so delicious. (Video guidance provided below)
I've added quinoa. You can definitely make this salad without the quinoa, but I find its addition bulks it up. I love using red quinoa for the pops of color it adds. I boil it "pasta-style" in the same pot the broccoli has quickly blanched in.
No bacon. There's so much flavor going on here, adding bacon is unnecessary. I don't think you'll miss it.
Different dressing. The Byerlys broccoli salad dressing recipe calls for mayonnaise, but I've used my favorite "coleslaw" dressing in its place: 1/2 cup sour cream, 1/2 cup buttermilk, 2 tablespoons vinegar, 1 tablespoon sugar, 1 teaspoon salt. It's delicious, and if you've never made it, I can't recommend it enough the next time you find yourself needing to make a slaw. It couldn't be simpler either. If you are looking to avoid dairy, here are four other dressings you could make in its place:
This salad holds up well in the fridge, so if you're looking for something to make on the weekend to pack up for lunches for the week ahead, look no further. These quart containers are great for that purpose.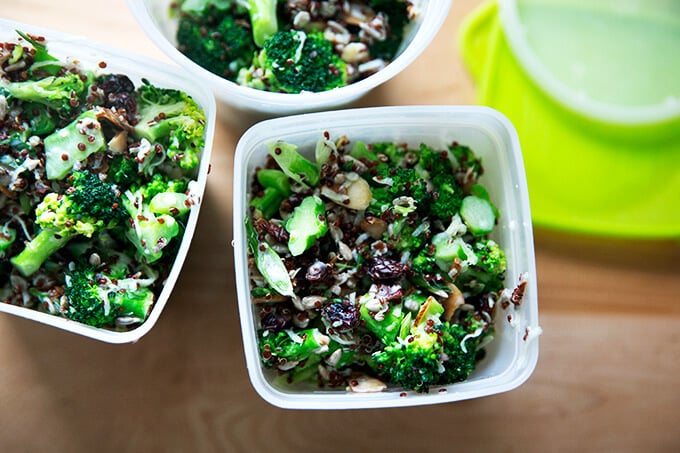 Here's the play-by-play:
How to Make Broccoli Crunch Salad
Gather your ingredients. The crunchy elements in this salad include toasted almonds, sunflower seeds, dried cranberries, and the broccoli itself.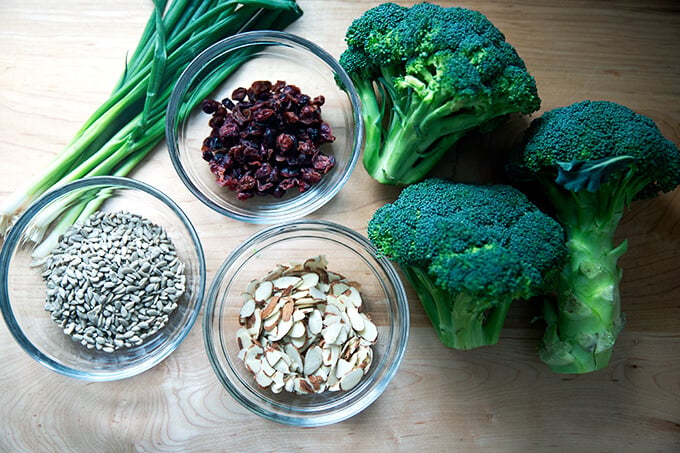 Chop the florets and tender stems into small pieces.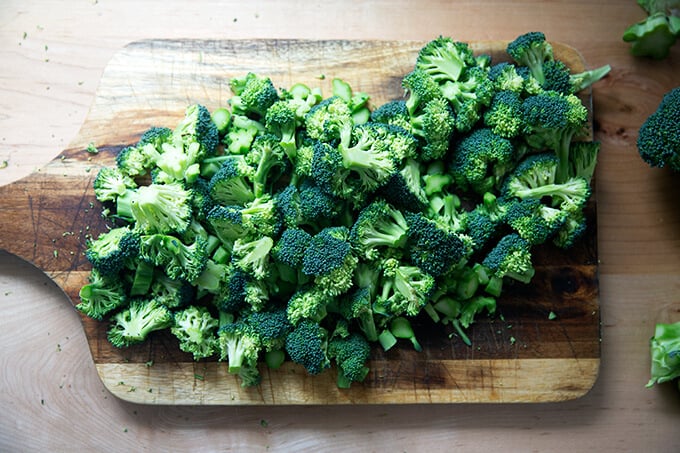 Grate the tough stalks into fine shreds.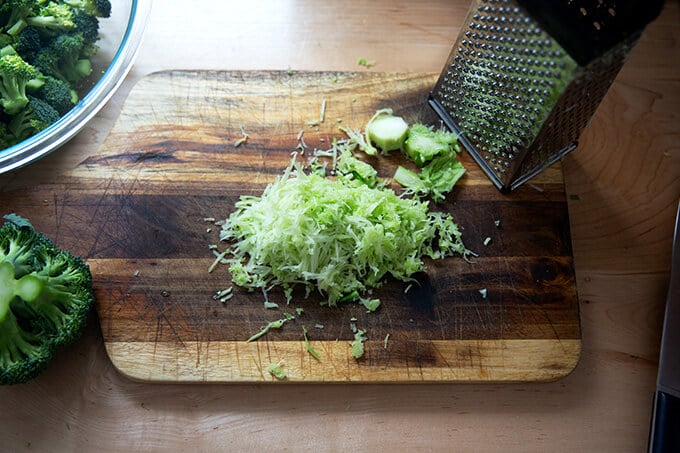 Thinly slice some scallions.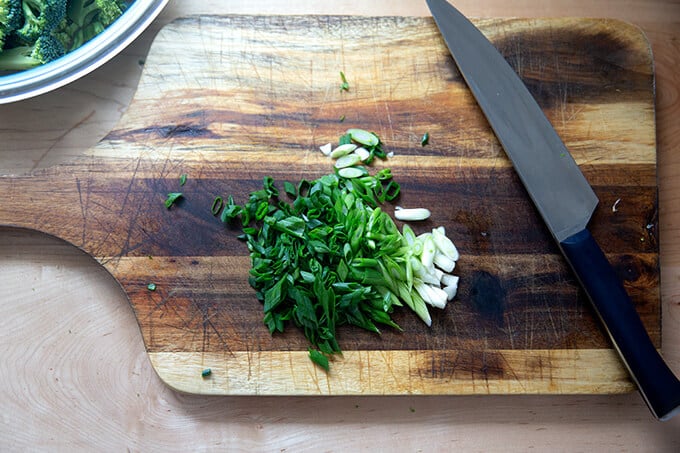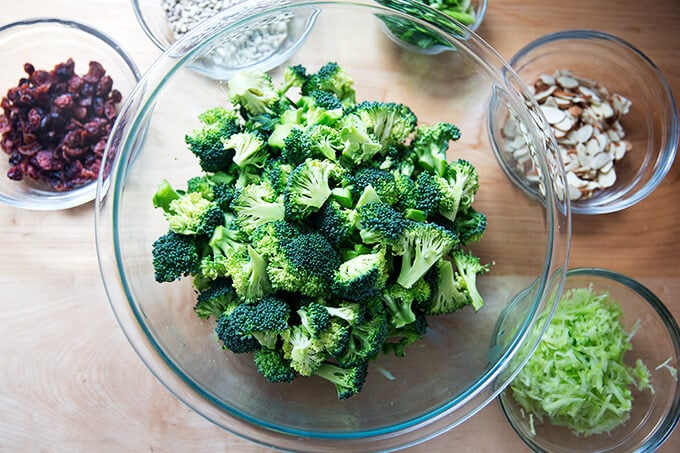 Blanch the broccoli: submerge it into boiling water; then remove it immediately.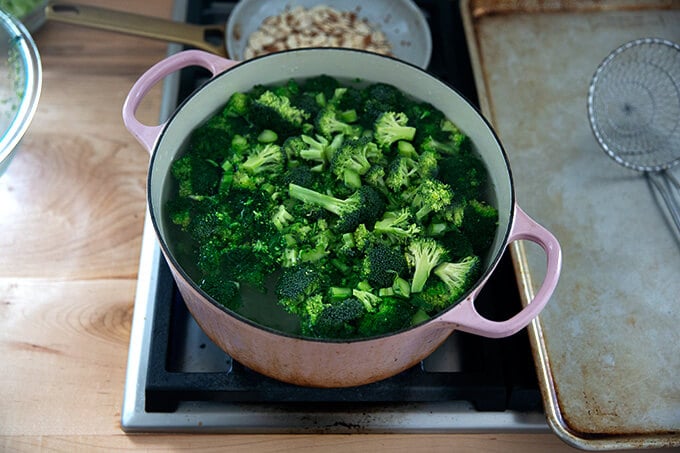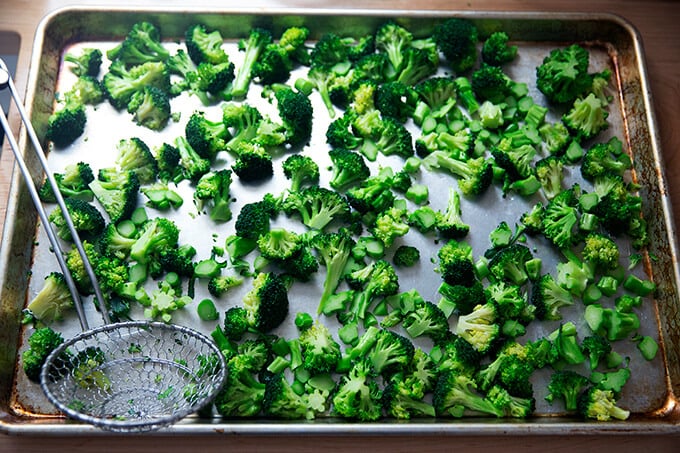 Boil the quinoa immediately after the broccoli is removed.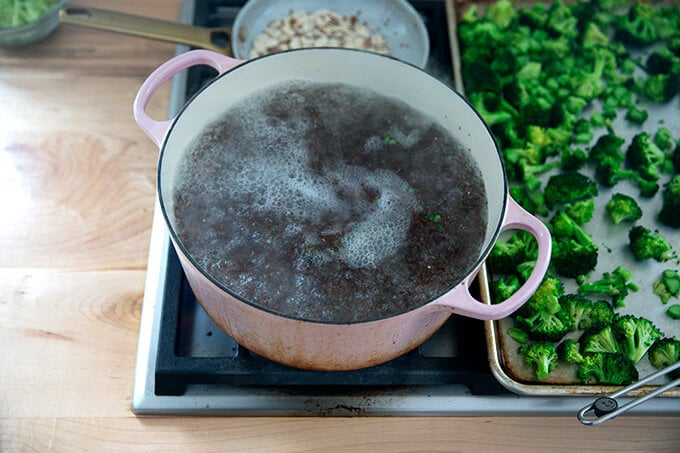 Combine all of the ingredients.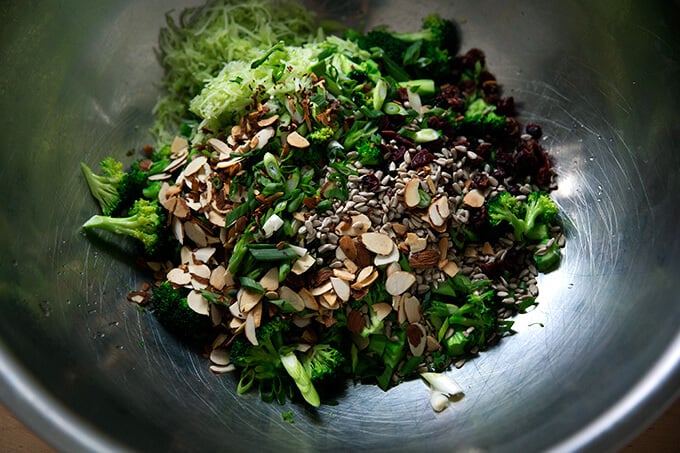 Make the dressing: whisk together sour cream, buttermilk, vinegar, sugar, and salt.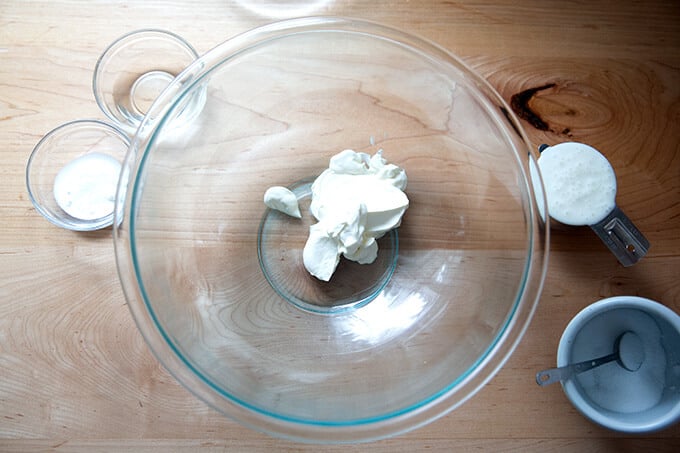 Toss everything together.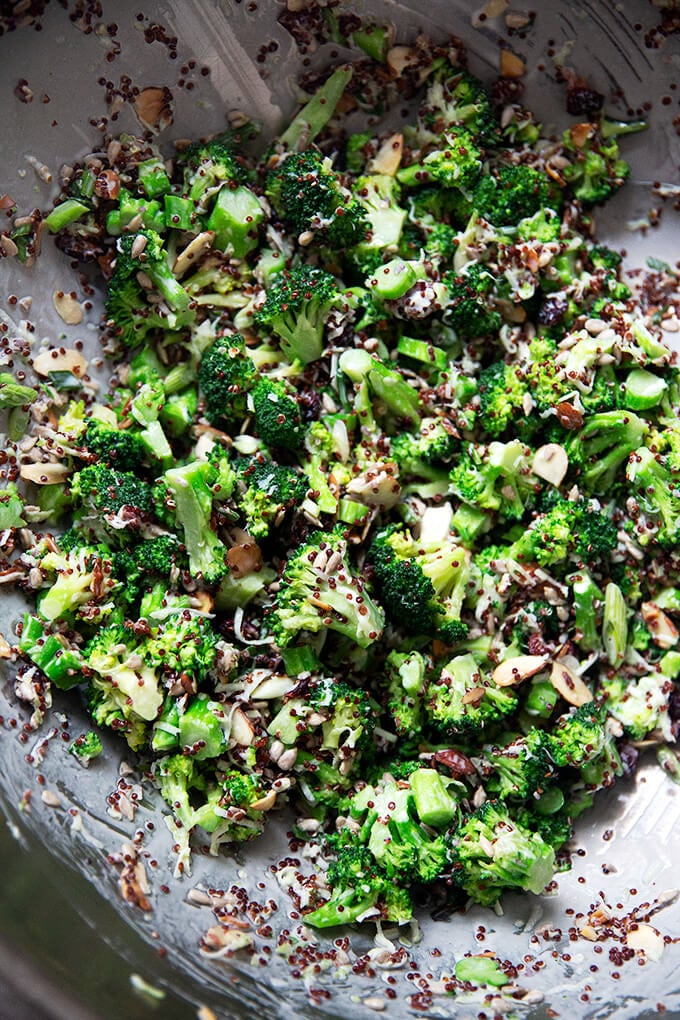 Transfer to a serving bowl and serve immediately or stash away in storage containers for the future.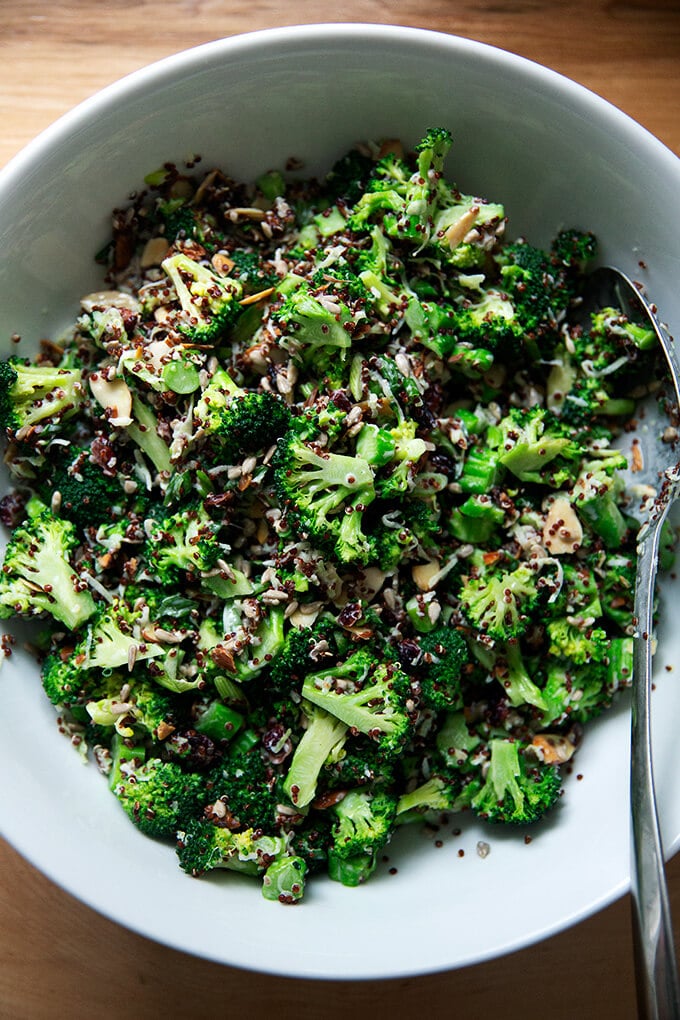 Print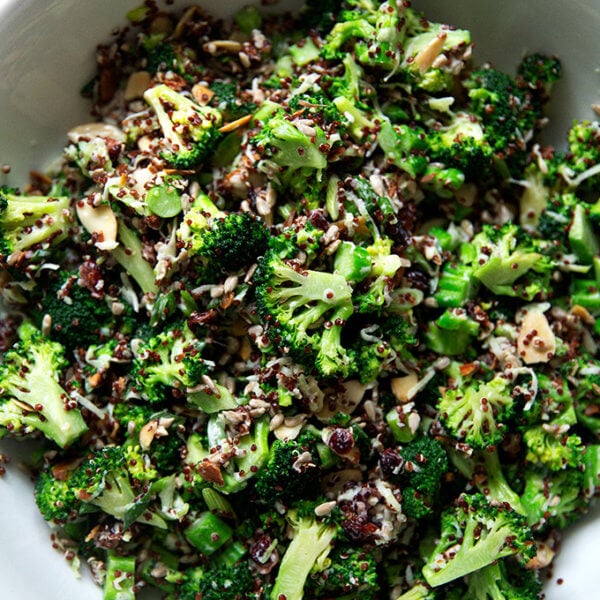 Broccoli Crunch Salad
---
Description
This broccoli salad is inspired by the broccoli salad served at Byerlys, a grocery store in my husband's hometown in Minnesota, many years ago. It's loaded with almonds, sunflower seeds, dried cranberries, and quinoa. It keeps well in the fridge for days, so don't be ahead to make it ahead of time. 
The dressing here is a buttermilk-sour cream dressing, my favorite for a classic coleslaw. If you are avoiding dairy, this salad would be great with any of these four dressings:
---
For the broccoli salad: 
kosher salt

2

lbs. broccoli

1/2 cup

quinoa

1/2 cup

sliced almonds

4

scallions, thinly sliced, whites and green parts

1/2 cup

dried cranberries

1/2 cup

sunflower seeds
For the dressing: 
1/2 cup

sour cream

1/2 cup

buttermilk

2 tablespoons

white balsamic vinegar or apple cider vinegar

1 tablespoon

sugar

1 teaspoon

kosher salt
---
Instructions
Bring a large pot of water to a simmer. Season with a teaspoon of kosher salt. Have a large sheet pan nearby as well as a slotted spoon or spider.
Meanwhile, prep the broccoli: trim off the tough bottom end and discard. Cut away the florets. Cut the florets into small-ish pieces (about an inch) — think about the size you would want if you were stabbing it with a fork. Cut tender stalks into 1/2 inch pieces. For any remaining tough stalks, trim away the outer layer with a paring knife or a peeler. Grate the stalk on a box grater. (Find video guidance here or below for prepping the broccoli.)
Dump the broccoli into the simmering water. Submerge it with your spoon. As soon as it's submerged (this should take no more than 10 seconds), transfer it to the sheet pan with your slotted spoon or spider.
Return the pot of water to a simmer. Add the quinoa and boil for 12-15 minutes or until you see the white tail begin to pop from the kernels. Drain through a fine-mesh sieve.
Meanwhile: toast the almonds stovetop in a small skillet over low heat until evenly golden.
Prepare the dressing: In a very large bowl, whisk together the sour cream, buttermilk, vinegar, sugar, and 1 teaspoon kosher salt.
To the bowl with the dressing: Add the blanched, cooled broccoli, the toasted almonds, the sliced scallions, cranberries, and sunflower seeds. Toss to combine. When the quinoa is cooked and drained, add it to the bowl and toss to combine. Taste. Adjust with salt if necessary.
Prep Time:

15 minutes

Cook Time:

15 minutes

Category:

Salad

Method:

Stovetop

Cuisine:

American
Keywords: broccoli, salad, quinoa, sunflower seeds, almonds
This post may contain affiliate links. Please read my disclosure policy.