Egg Salad Sandwich
This post may contain affiliate links. Please read my disclosure policy.
This egg salad sandwich has become a staple not only for its deliciousness but also for the ease in which it comes together. A stovetop steaming method makes for eggs that peel like a dream. And a simple dressing — celery, scallions, mayonnaise, and pickle juice — makes for fast assembly.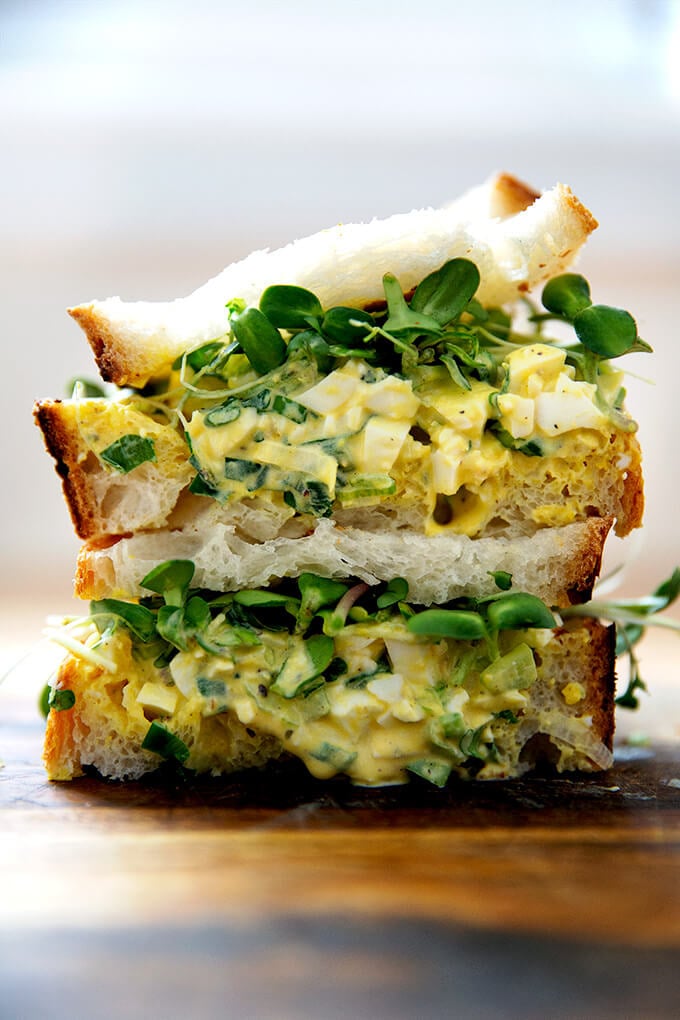 This post is about egg salad and about my recent gratitude for it. But before we get there: An Ode to the Scallion.
Long ago as a budding cook, I was taught to prep scallions as such: trim off and discard the hairy end, thinly slice the white and light green parts only, discard the remaining greens.
Imagine my surprise, years later, when the chef I found myself working for at Fork in Philadelphia used every inch of every scallion that entered the building. The hairy stems went into the stockpot. The whites, light greens, and dark greens all were thinly sliced, sometimes on the bias, and used in nearly every salad we made: chicken, potato, grilled mushroom, asparagus-endive, edamame-radish. The scallions provided not only a much welcomed and appetizing color but also: flavor.
And this is what always blows my mind about the scallion: its ability to behave as both allium and herb, its ability to offer both flavor and color.
It's almost as if when a recipe calls for both red onion and chives or garlic and parsley, you could simply use scallions. Not perfectly, not always, but in a pinch, right? More and more, I use this swap even when I'm not in a pinch.
What's more, by nature, scallions are very low-maintenance, often very clean (unlike leeks, which could be a scallion's older, very dirty sibling), but easy to wash if necessary. And unlike onions, garlic, and shallots, all of which require peeling, scallions don't. The scallion's small diameter, moreover, makes it very easy to cut, no fancy knife skills required, no extreme concentration demanded.
Scallions for President? Wait! There's more.
For me, rarely can there be too many scallions. I can't say the same about onions and garlic. And unlike chives, which seem to start deteriorating as soon as you lift them off the produce shelf, scallions keep well for weeks (as long as you snip away any bands holding the bundle together).
Friends: is there anything not to love about a scallion?
About This Egg Salad…
… where has it been all my life? This obsession all started because my mother asked me on the phone one day: Have you tried steaming your eggs yet? Kenji's method for steaming hard-boiled eggs is perfect. The shells slip right off.
(Back story: Another name for this post, if written by my mother, could be: "Why I don't need an Instant Pot." I have never encouraged my mother to buy an Instant Pot, but because she knows much of my love for the Instant Pot stems from its ability to cook soft-boiled and hard-boiled eggs perfectly, with shells that peel off painlessly, I think she feels puzzled: If you can achieve the same perfectly cooked easy-to-peel eggs with a tool you already have, why do you need an Instant Pot? Ugh, Mom, I don't know! You just do. Do I sound like a mature 39-year old? 😂)
No, but seriously, for the easy-to-peel benefit, I resisted trying another method, but it turns out — shocker! — my mother was right: Steamed hard-boiled eggs peel like a dream. And though I haven't timed each method start-to-finish, my hunch is that the stovetop steaming method is even faster than the Instant Pot.
With all of my steamed eggs, I made a somewhat classic egg salad with loads of scallions, a generous amount of diced celery, and a few spoonfuls of mayonnaise. And, inspired by this cashew dressing recipe, which my friend Liane of Foodie Digital introduced me to, I used pickle juice, an underutilized ingredient I always have on hand, as the acid.
You certainly can use vinegar or fresh lemon juice in its place, but there is something really satisfying about dipping a measuring spoon into the pickle jar and extracting the juice — free goodness!
This time of year, when I often feel like an evening taxi driver, ferrying to and from the ice rink, dropping off and retrieving children with each run, I feel so grateful for things like the broccoli salad I obsessed over last month and this egg salad. Knowing that, during these busy few hours, I have a hearty, nourishing, protein-rich salad on hand, which, in the case of the egg salad, I can slather between two slices of bread with a handful of sprouts and call dinner done is immensely comforting.
I hope you find it so, too.
PS: No Tuna "Tuna" Salad (another great salad to have on hand for meals throughout the week.)
How to Make an Egg Salad Sandwich
Here's the play-by-play: Gather your ingredients.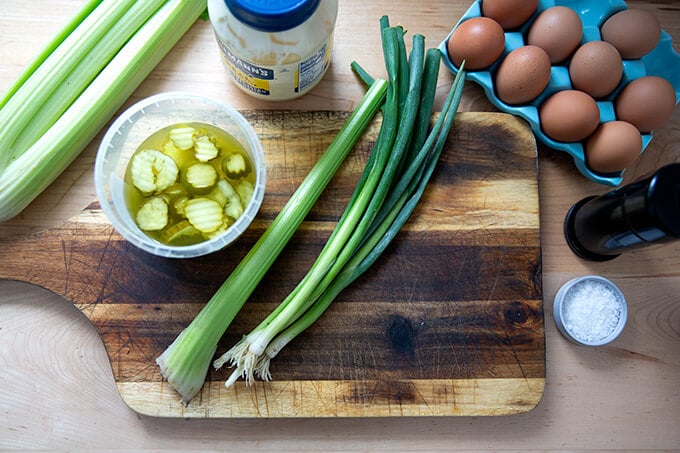 Steam eggs for 10 minutes.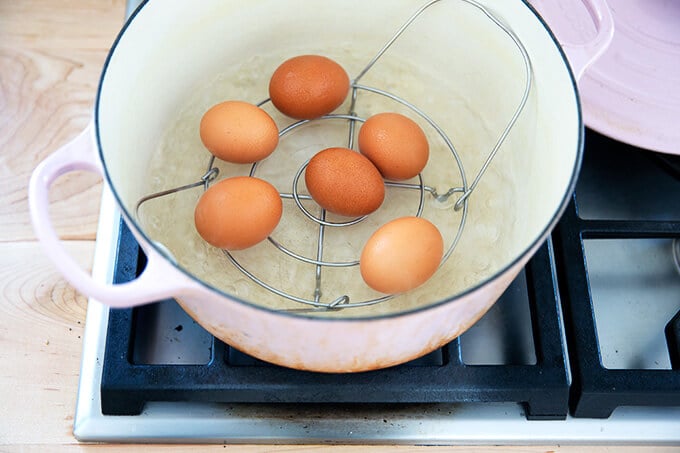 Transfer to an ice bath to cool briefly.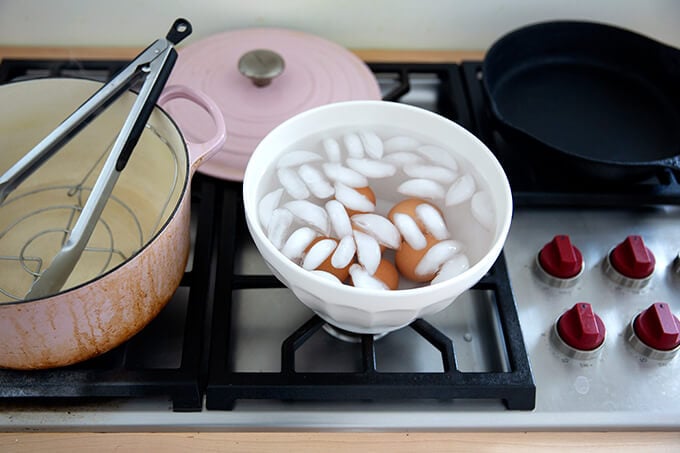 Then peel. This method is brilliant: the eggs peel right off.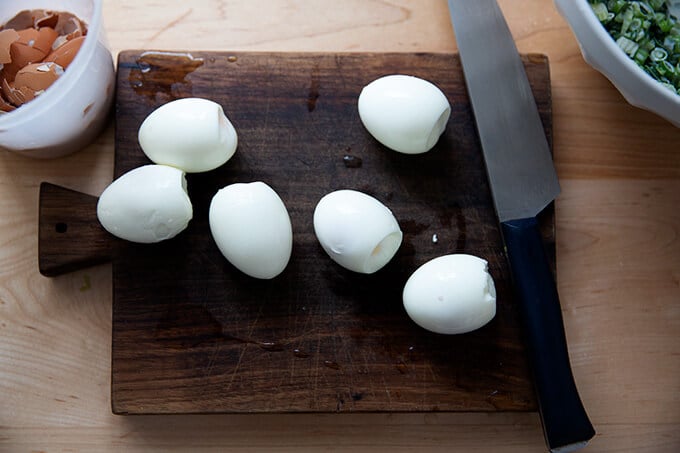 For the salad, you'll need to dice 1 stalk of celery, which, depending on its size, will give you a heaping third cup. And you'll need to slice 4 to 6 scallions, whites and green parts.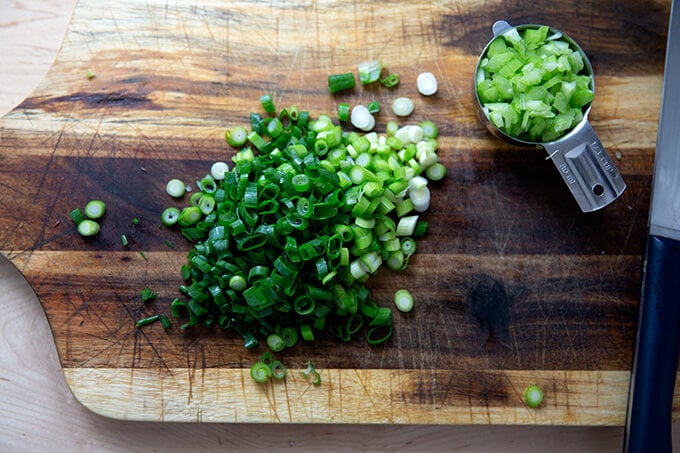 Add them to a bowl along with 1/4 cup mayonnaise and 2-3 tablespoons pickle juice.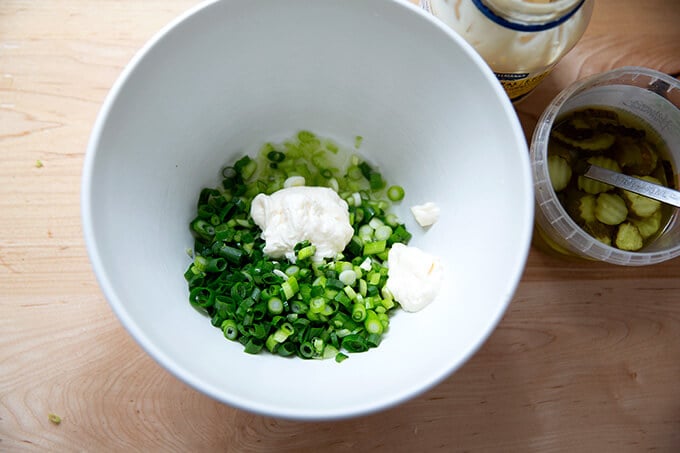 Stir to combine.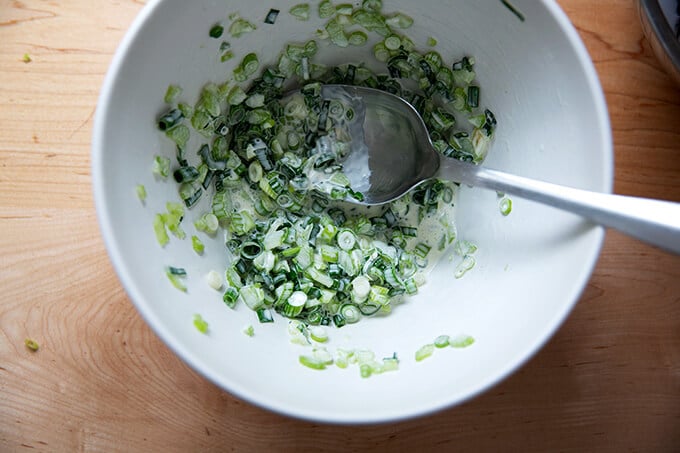 Coarsely chop the eggs and add them to the bowl.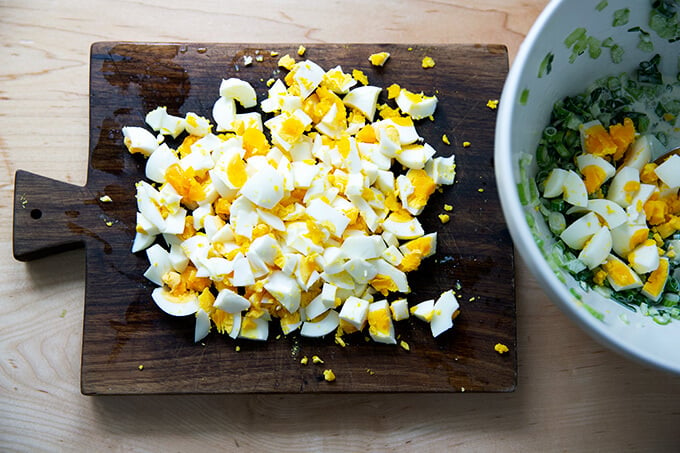 Season with salt and pepper to taste.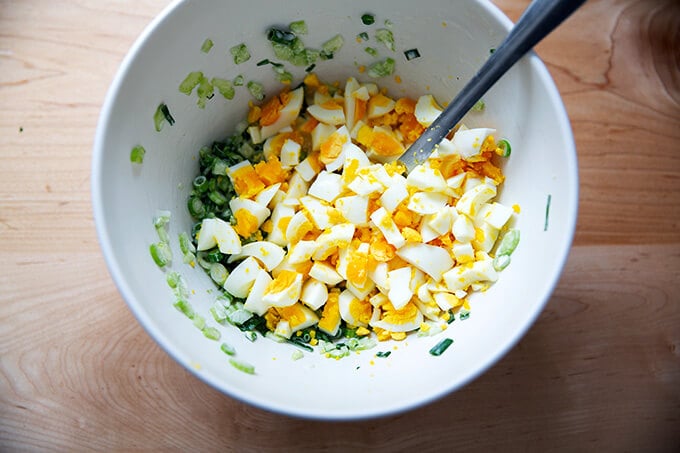 Stir to combine.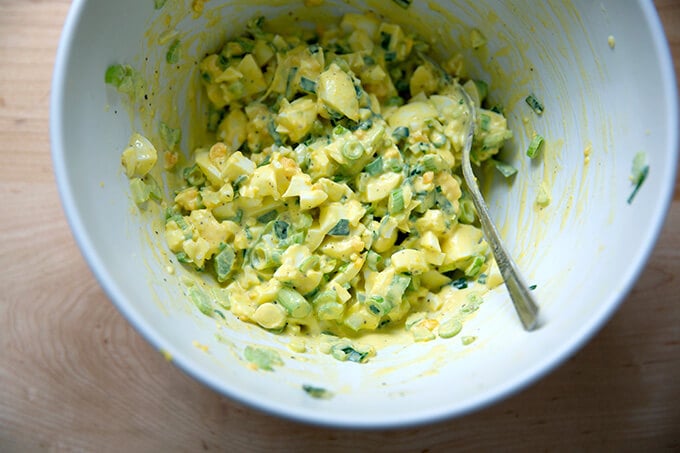 Meanwhile slice some bread. Pictured below is this recipe made with all bread flour.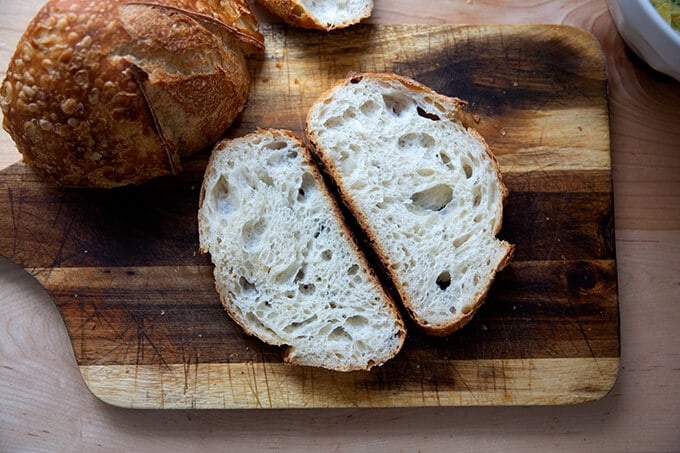 Top half with egg salad.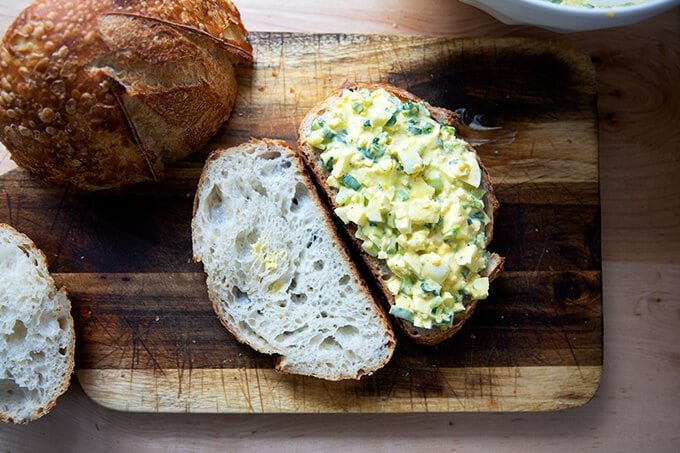 Top with sprouts.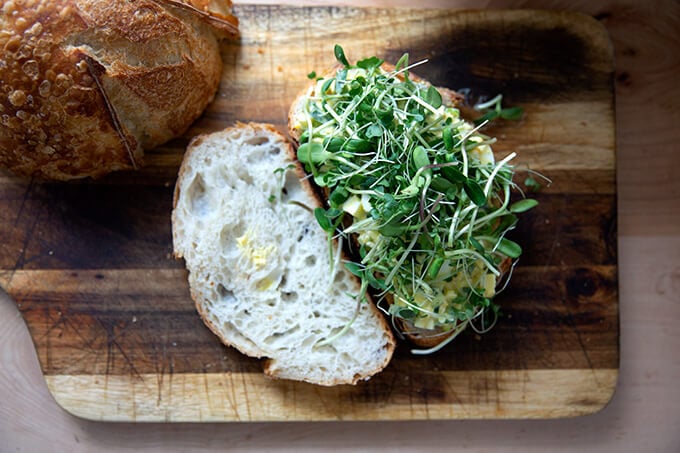 Close sandwich. Cut in half and serve immediately.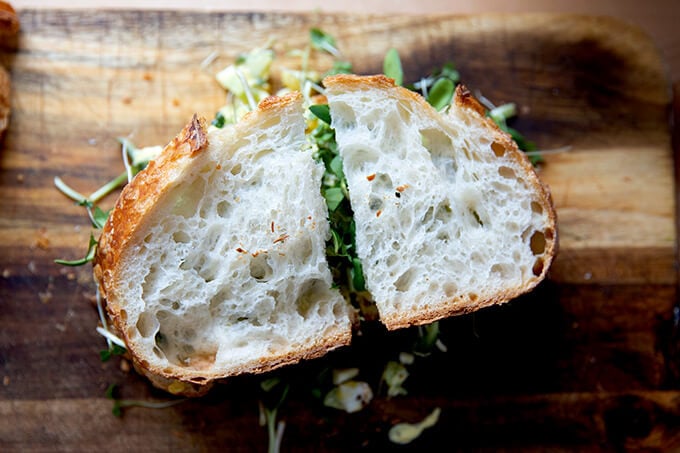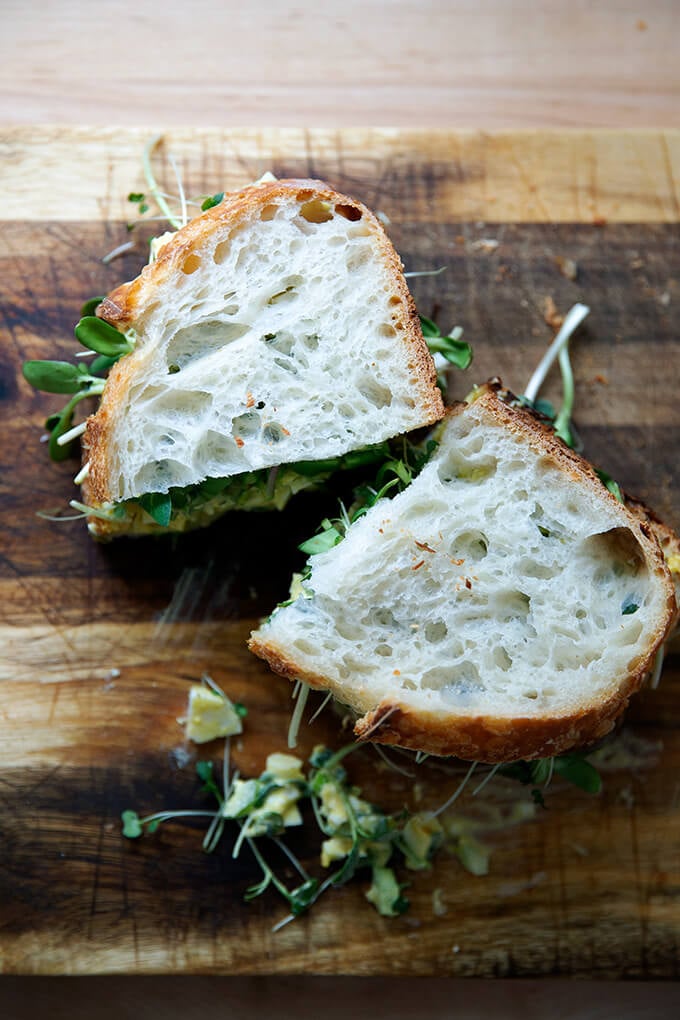 Equally delicious on the peasant bread: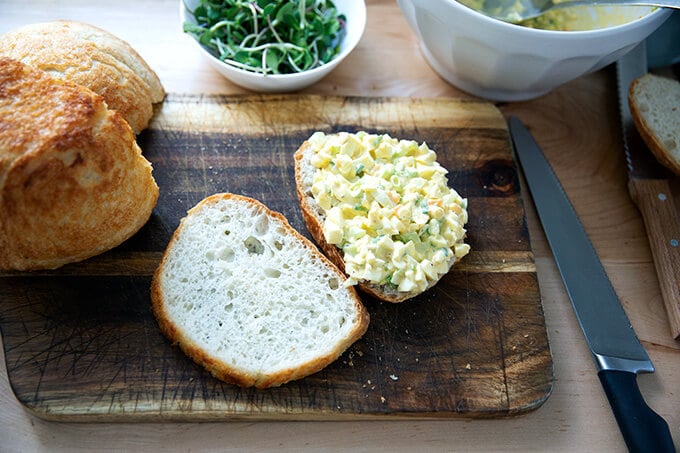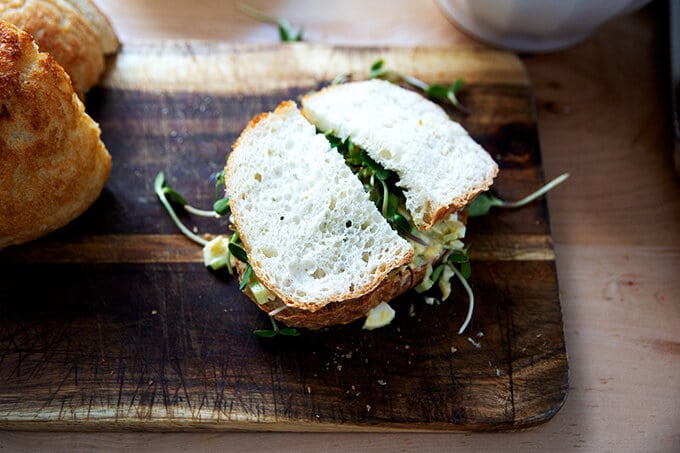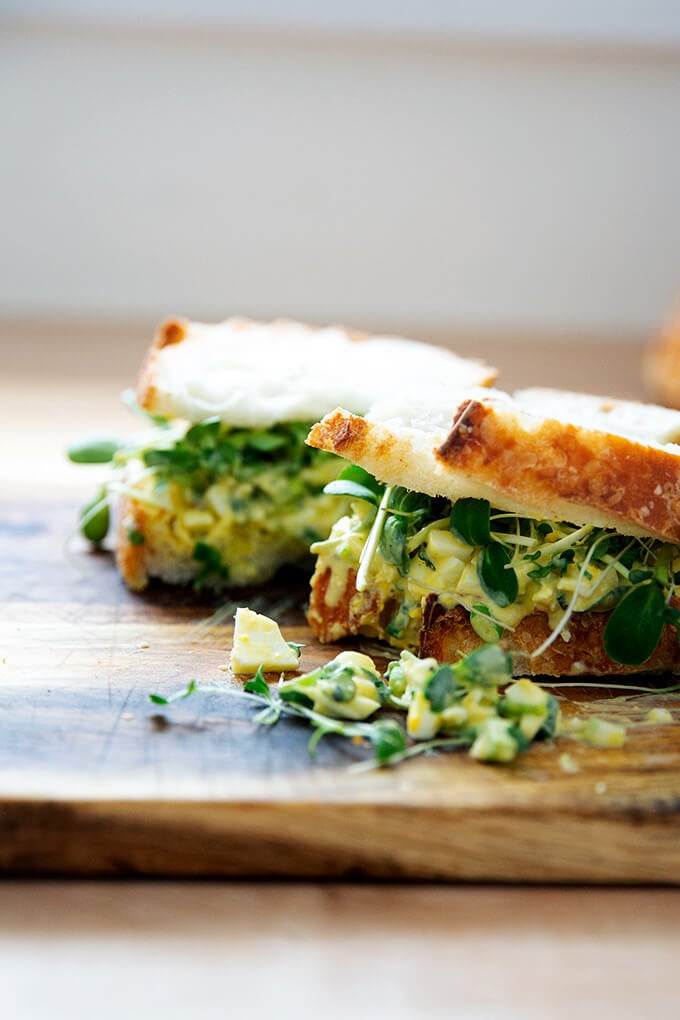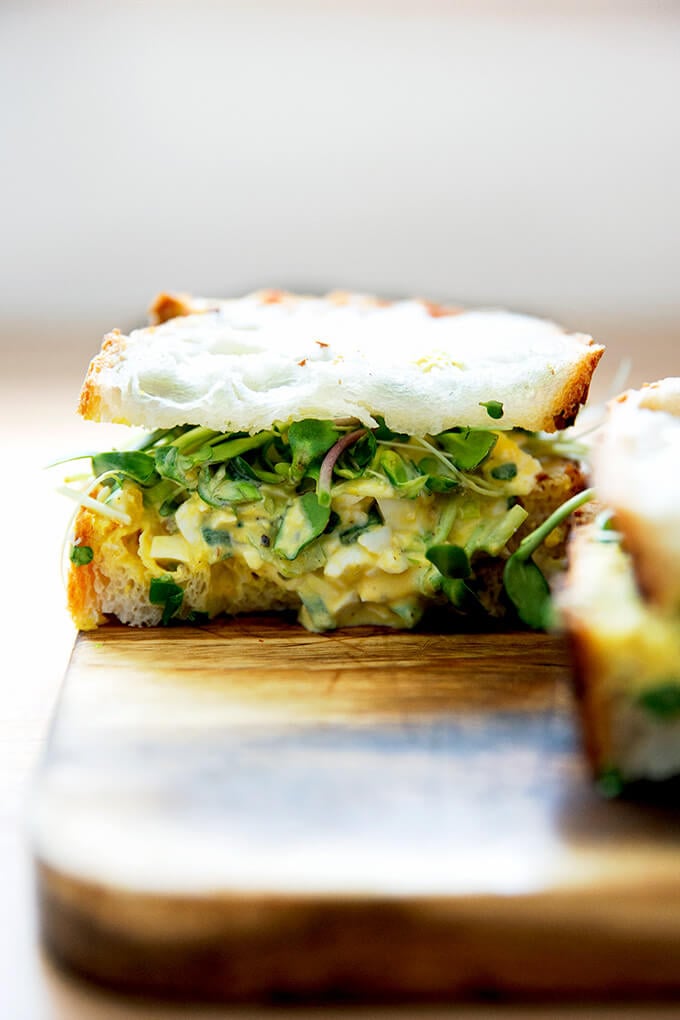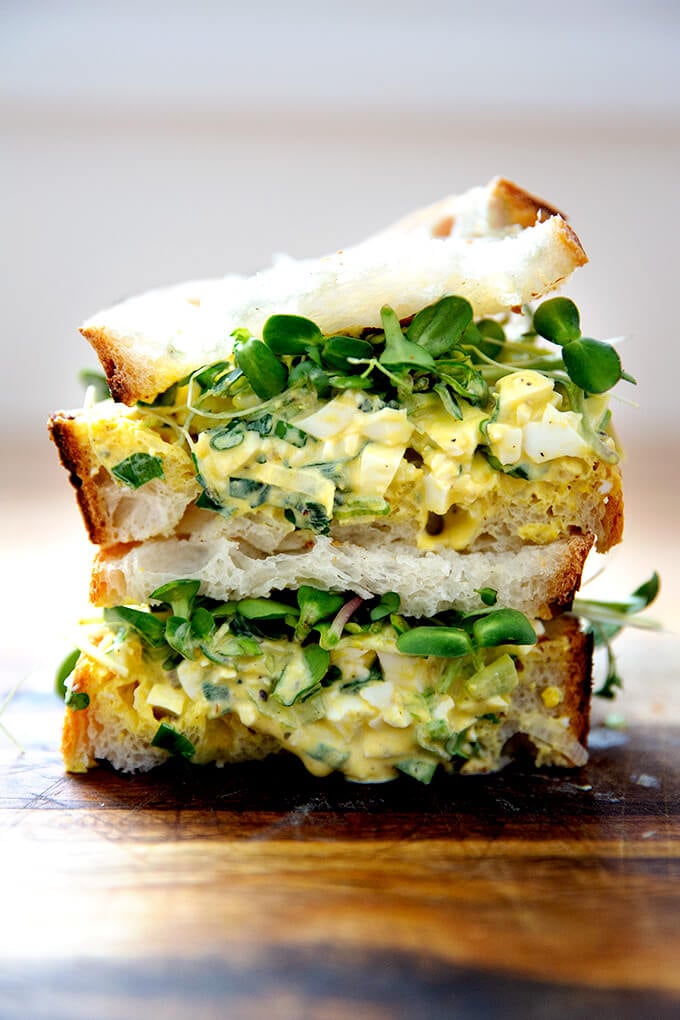 Print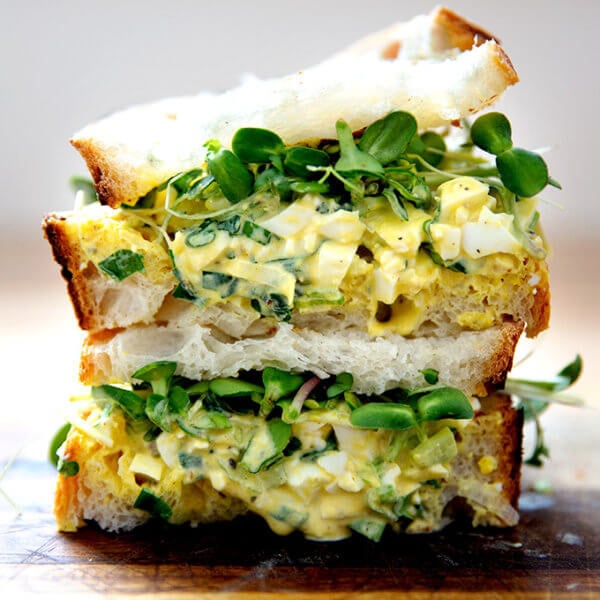 Egg Salad Sandwich
---
Description
Notes: 
Egg steaming method adapted from J. Kenji Lopez Alt's The Food Lab. I steam my eggs for 10 minutes as opposed to 12, and I find that to be perfect. It may take some trial and error to get the timing right for you. If you like to use your Instant Pot, here is my Instant Pot hard-boiled egg recipe.
I find 1 large celery stalk yields about a heaping 1/3 cup of diced celery. I use all of it. I like celery. Use more or less to taste. 
Pickle Juice: This is a recent discovery and underutilized ingredient in my kitchen. If you don't have pickled on hand, you can use vinegar or fresh lemon juice in its place. I would start with a tablespoon of vinegar and, if using lemon, maybe 2 teaspoons to start. As always, add more to taste. 
---
For the egg salad:
6

eggs

1/4 cup

mayonnaise

1/3 cup

or more diced celery, see notes above

6

scallions, thinly sliced, whites and greens, see notes above

2

to

3

tablespoons pickle juice, see notes above
sea salt, such as Maldon, to taste
fresh cracked black pepper to taste
For the sandwich:
---
Instructions
Place a steamer basket into a large pot. Fill pot with 1 inch of water. Cover and bring to a simmer over high heat. Remove the lid. Carefully place the eggs into the steamer basket. Cover the pot. Steam for 10 minutes. Meanwhile, fill a bowl with ice and cover with water. After the ten minutes. remove the lid, and carefully transfer the eggs to the ice bath.
Meanwhile: make the dressing. Place the mayonnaise, diced celery, sliced scallions, and 2 tablespoons of pickle juice in a large bowl. Stir to combine. 
Peel the eggs; then roughly chop them. Add them to the bowl of dressing. Season with a big pinch of sea salt and pepper to taste. Use a large spoon to toss the chopped eggs with the dressing. If you like a more finely chopped egg salad, use the back of a fork to crush the eggs to the desired consistency and texture. 
Taste. Add more salt and pepper to taste. Add another tablespoon of pickle juice if you like a sharper dressing. Add a spoonful more mayonnaise if you like it richer. You can store the egg salad in the fridge for 3 to 5 days. 
To make the sandwiches: lay the slices of bread on a board. (If the bread isn't fresh, consider lightly toasting it.) Spoon half the egg salad onto one slice of bread. Spoon the remaining half onto another. (Note: These are large sandwiches. Use less egg salad for a smaller sandwich.) Top the egg salad with sprouts or lettuce. Top with another slice of bread. Cut each sandwich in half and serve immediately. 
Prep Time:

15 minutes

Cook Time:

10 minutes

Category:

Sandwich

Method:

Stovetop

Cuisine:

American
Keywords: egg, salad, sandwich, simple
This post may contain affiliate links. Please read my disclosure policy.