Simple, Homemade Guacamole
This post may contain affiliate links. Please read my disclosure policy.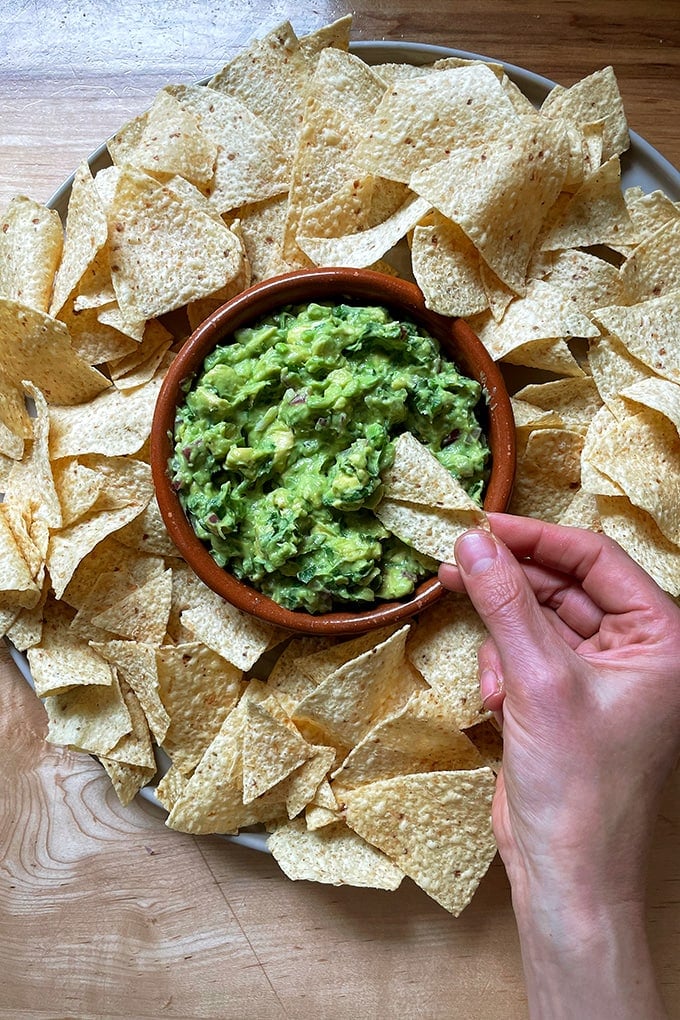 As someone who snacks all day long, a dinner cookbook focused on snacking is very appealing. And if it's written by someone whose recipes you love, well, all the better.
In his latest cookbook, Snacks for Dinner, Lukas Volger gives us permission to make meals out of all of the nibbles we've long relegated as 'starters.' Why shouldn't dinner be a union of creamy, dilly white beans, charred radicchio with burrata, and a hunk of focaccia? Now it can.
I was immediately drawn to the dips chapter, which includes recipes for eggplant and chickpea whip, charred allium and labneh dip, and this elemental guacamole.
In the intro to the recipe, Lukas notes: "Guacamole is one of those things I've always made without a recipe. It feels like it ought to be intuitive since it's just about embellishing a few good ripe avocados. And yet I always get asked for one when I serve it, so here it is."
I'm so glad Lukas felt compelled to include his guacamole recipe in the book because it is outstanding. My husband, who rarely throws around superlatives, declared it the best guacamole he's ever tasted. My children said it was "better than Chipotle's"… high praise!
Friends, I imagine many of you fall into the no-recipe guacamole camp. And if you do, I encourage you to try Lukas's recipe even so. It has a few tricks up its sleeve.
The first, and the one that distinguishes it from other guacamole recipes I've seen, is that it calls for letting the red onion soak in freshly squeezed lime juice for 5 to 10 minutes. This is something I often do when making dressings, but I've never thought to employ the method for guacamole, and I really love the effect: as the onions soak, they soften, losing a bit of their bite. They also pickle ever so slightly.
The next trick is more common but important nonetheless: salt properly. So often, says Lukas, "homemade versions [of guacamole] are underseasoned." As always, it's important to taste as you go, and to add salt as needed. With that in mind, Lukas suggests tasting the guacamole with the chips you plan on serving to ensure you are salting the dip properly. Smart!
Finally, Lukas encourages you to leave plenty of texture in the guacamole by using a spoon to mix, noting a "sauciness" will form if the avocados are properly ripe. Each time I've made this, I've needed to gently mash the avocados with the back of my spoon, but I am taking more care to not over mash, and I am loving the coarse texture of the finished dip.
To wrap up the guacamole revelations, I think the reason I love this guacamole so much is not only for everything Lukas includes, but also for what he leaves out: most notably tomatoes but also dried spices such as cumin and cayenne as well as other ingredients you sometimes see in guacamole recipes: hot sauce, garlic, Worcestershire. The simplicity of flavors here makes it taste especially fresh and bright.
Friends, as you might gather, to me this guacamole is heaven, a perfect balance of salt, fat, acid, and — wait for it — heat! Samin, no doubt, would approve. That said, when I make this for my children, I do omit the chilies and tone down the cilantro a bit.
---
How to Pit an Avocado Safely
For years I used my knife to remove pits from avocados. It works but it's not safe. Here's a safe, just as effective way to remove a pit from an avocado:
---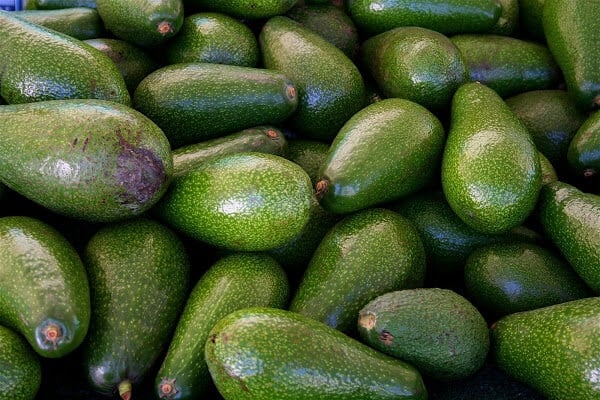 How to Buy and Store Avocados
Unless I am in a real pinch and need ripe avocados immediately, I prefer to buy rock-hard avocados and let them ripen at room temperature on my countertop. Why? The ripe avocados at the grocery store often are overripe and bruised. It's crushing to cut into expensive avocados only to find brown spots and mushy flesh.
To test for ripeness, press gently on the very top of the avocado where it was stemmed: it should yield slightly to the pressure of your finger. Once the avocados are ripe, transfer them to the fridge to ensure they don't overripen on your counter.
How to Ripen Avocados Faster
If you want to expedite the ripening process of an avocado, tuck it into a paper bag with an apple or a banana, close the bag, and let it sit at room temperature for 1 to 3 days. Why does this work? Because the plant hormone ethylene found in apples and bananas triggers the ripening process, and trapping the ethylene gases in a paper bag, hastens the process.
---
Lukas Volger's Snacks for Dinner: I know I said this already, but isn't the cover cute?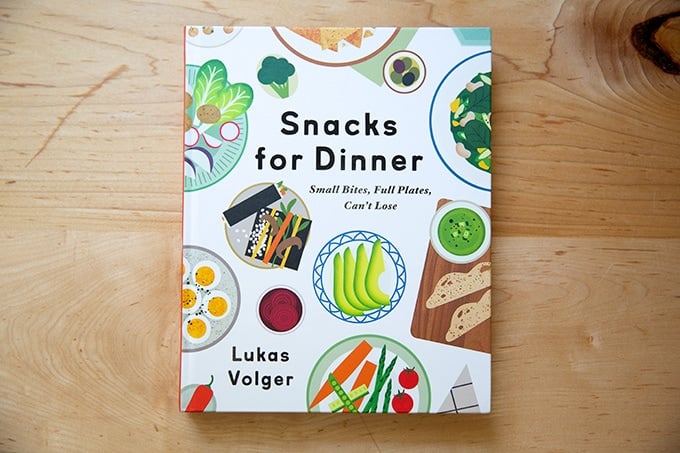 How to Make Guacamole, Step by Step
Gather your ingredients.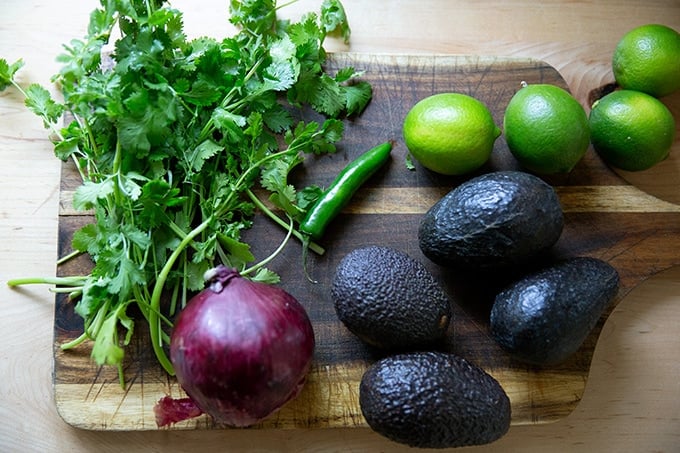 Finely dice the red onion. You'll need about 1/3 cup for this recipe.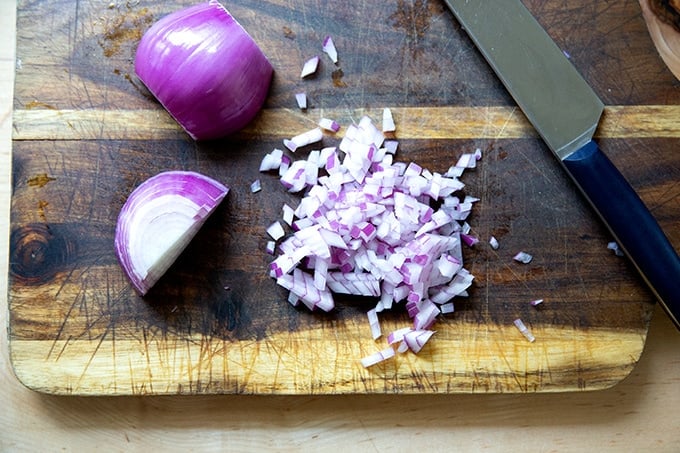 Season the onion with a few big pinches of salt; then squeeze the juice of one lime over the top.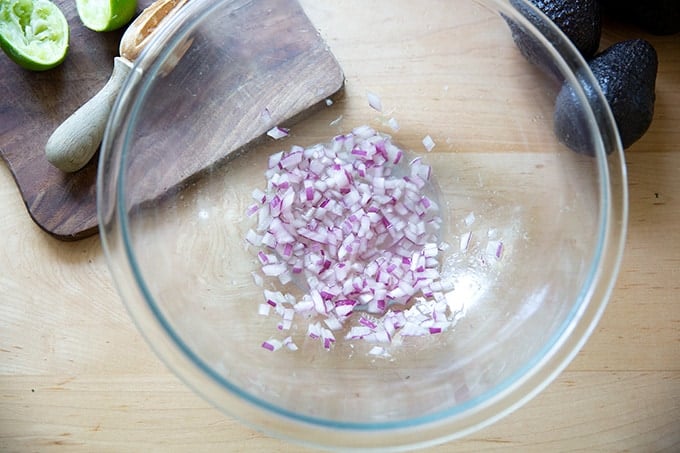 Halve and pit each avocado. Then use a knife to make a crosshatch pattern through the flesh.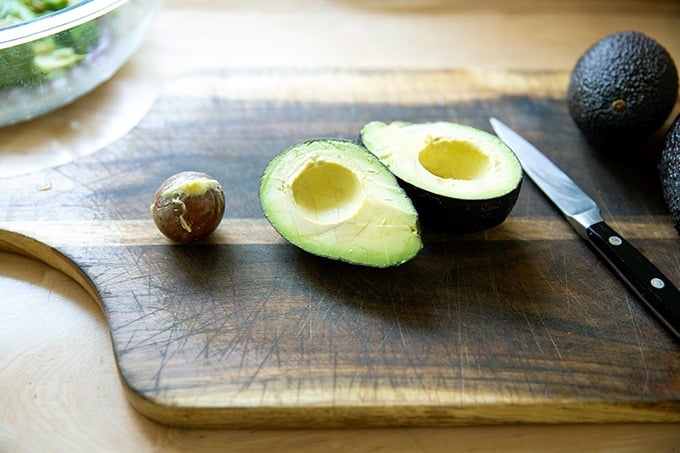 Scoop the avocado into the bowl over the onions.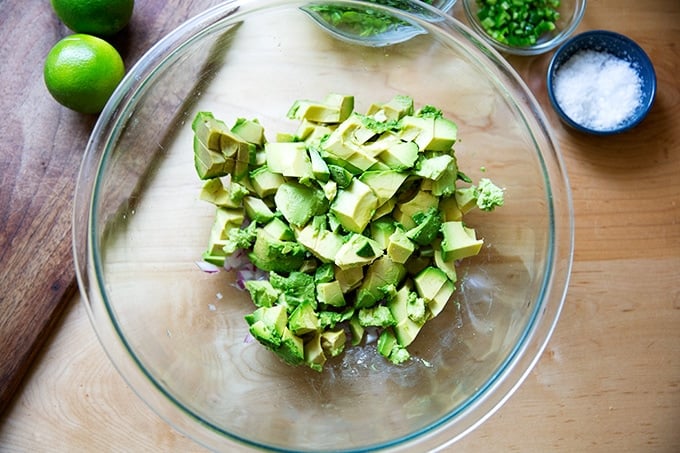 Mince one to two hot chilies, such as serrano, jalapeño, or cubanelle.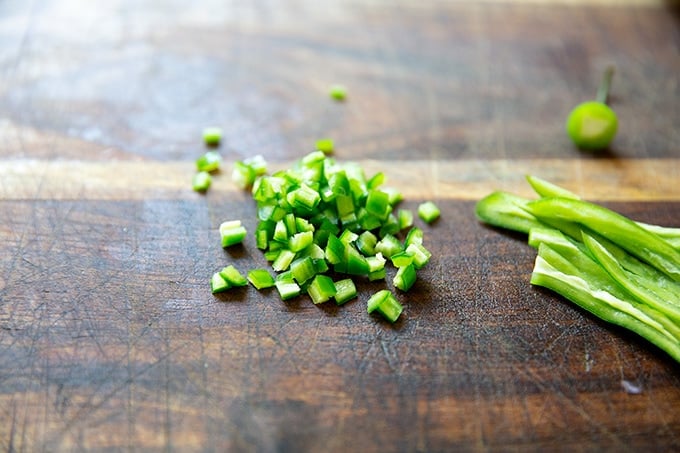 Add it to the bowl and stir to combine. Taste. Adjust with more salt and lime juice to taste. Finally, fold in the cilantro.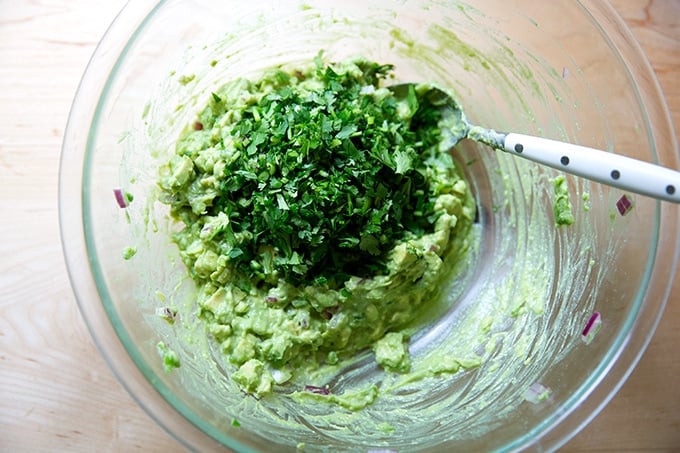 Serve immediately or…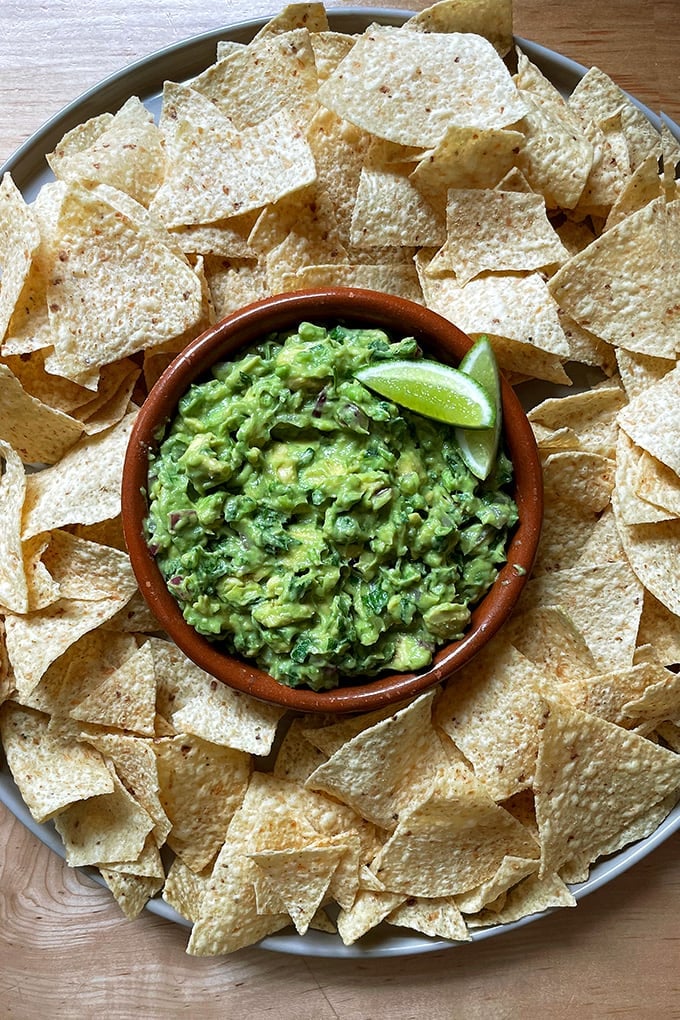 … store in the fridge for several hours ahead of time. To prevent browning, cover the guacamole with a sheet of plastic wrap.
Print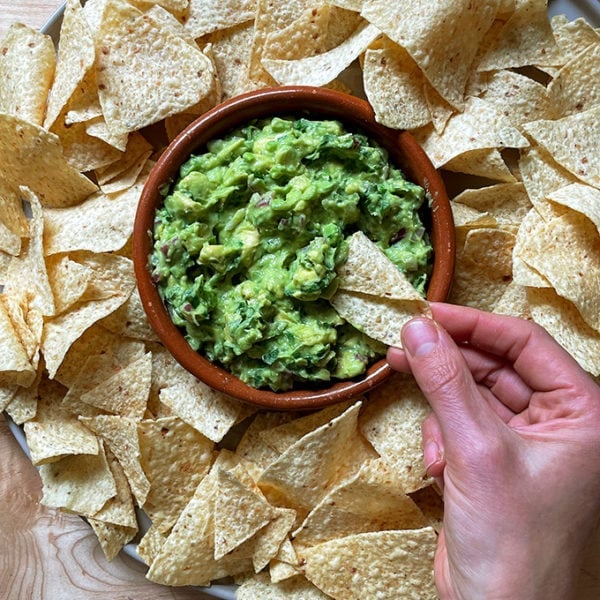 Simple, Homemade Guacamole
---
Description
From Lukas Volger's Snacks for Dinner
Notes:
When I make this for my children, I omit the minced hot chilies, and it's still delicious. I also reduce the amount of cilantro. 
If you hate cilantro, you can omit it. Lukas also likes using basil in place of cilantro here. 
---
1/3 cup

finely minced red onion
kosher salt or flaky sea salt

1

–

2

limes

4

ripe avocados

1

or

2

serrano chilies, seeded and finely diced, see notes above

2/3 cup

chopped cilantro, see notes above
---
Instructions
Place the minced onion in a large bowl. Sprinkle with two big pinches of salt and the juice of one lime. Stir to combine, then let stand 5 to 10 minutes so the onion ever so slightly pickles.
Cut each avocado in half and remove the pit. Score a crosshatch pattern into each avocado half using your knife, then scoop out the flesh into the bowl with the onions using a spoon. Season the avocados with salt. Add the chilies, if using.
Stir everything together. If your avocados are ripe, a "sauciness" will form as you stir the mixture, and you won't necessarily need to mash it. If necessary, however, use the back of a fork or a pastry cutter to gently mash the avocado cubes. Taste for acidity and salt. I've been adding more salt to taste and the juice of one more lime, but I tend to like things on the acidic side, so add lime to taste. Lukas's Note: It's a good idea to taste the guacamole with the chips you plan to serve alongside, so as to make sure to salt the dip properly.
Last, stir in the cilantro. Serve immediately.
To store, transfer to a storage vessel. Lay a sheet of plastic wrap over the surface of the guacamole, pressing it flush against the surface to create a barrier from the air. Store in the fridge for 4 to 5 hours or until ready to serve.
Prep Time:

15 minutes

Category:

Dips

Method:

Stir

Cuisine:

Mexican, American
Keywords: guacamole, red onion, lime, salt, chilies, cilantro, avocados
This post may contain affiliate links. Please read my disclosure policy.