Falafel with Lima Bean Salad
This post may contain affiliate links. Please read my disclosure policy.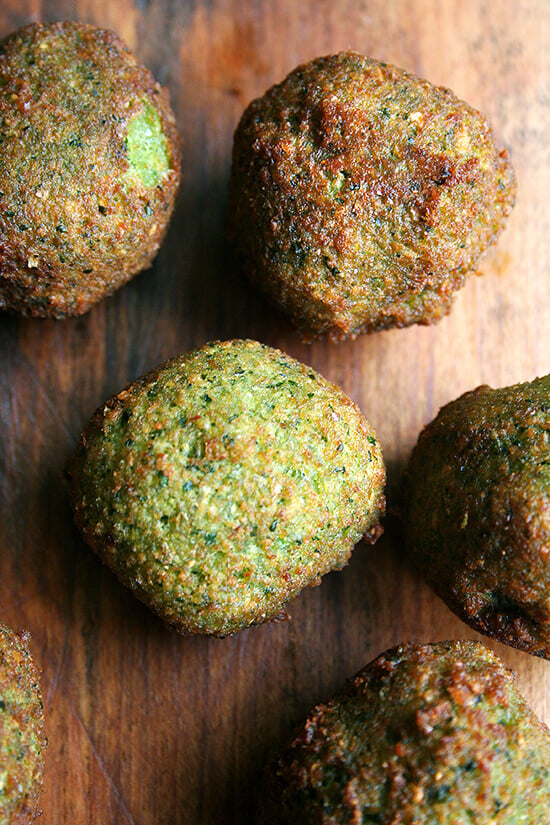 When you live in a land where your best options for ethnic food reside in the hot-food buffet line at Wegmans, you have to take matters into your own hands. Several days ago, after finding myself pedalling to Christos' falafel cart in a daydream, I hopped off my bike, pulled out my "bean" file, and thumbed to a Bittman recipe I've been meaning to make for five years now:
For the Best Falafel, Do it All Yourself.
And so I did. And now I'm kicking myself for having waited so long. Especially when, as it turns out, there is nothing tricky about making falafel.
A few notes: 1. Plan ahead — dried chickpeas or fava beans have to soak for 24 hours. 2. A food processor (or a good blender) is essential. 3. Deep frying is required, but don't be scared — falafel, as Bittman says, "is perfect for novice deep-fryers." If you're at all wary, watch Bittman's falafel-making video — it gave me just the boost of confidence I needed before game-time.
Falafel is delicious. Also, filling. You won't miss the meat. With some pita or naan (store-bought naan is quite delicious these days), a few chopped tomatoes and cucumbers, and some sort of spicy sauce (recipe below), you have a meal. I made a lima bean salad but any green or chopped vegetable salad would complement the falafel nicely.
A note on this lima bean salad: Last fall, I received an incredible package in the mail. It was filled with Rancho Gordo beans. I ate those beans for months and then ordered some more, including some large white limas, the foundation for one of my favorite dishes at Amada, a fava and lima bean salad, served warm swimming in olive oil aside toasted bread. It is delicious. Elements from the Amada salad — roasted red peppers, sliced red onion, fresh fava beans (or frozen edamame in a pinch) — have inspired the lima bean salad featured here.
A note on Rancho Gordo beans: I've made this salad several times now and must say that while Rancho Gordo beans (or any heirloom beans) are not essential, they do make a mighty tasty salad. My dear friend's mother, Ruth, a bean connoisseur, said it best: "I like beans when they've cooked enough to start creating their own sauce rather than clinking around together in the water." We had been discussing beans over email and analyzing the differences between heirloom beans and standard super market beans. For Ruth, the biggest difference comes down to texture: the RG beans are able to maintain their integrity — their skin provides just a bit of resistance before giving into the tooth — while still creating a creamy sauce. I couldn't agree more.
One final note: Sike. So many notes here! No more notes. I promise.
Apparently in Egypt, falafel is more often made with fava beans than with chickpeas.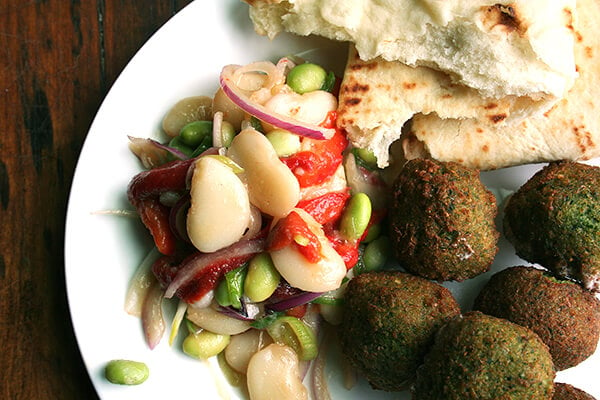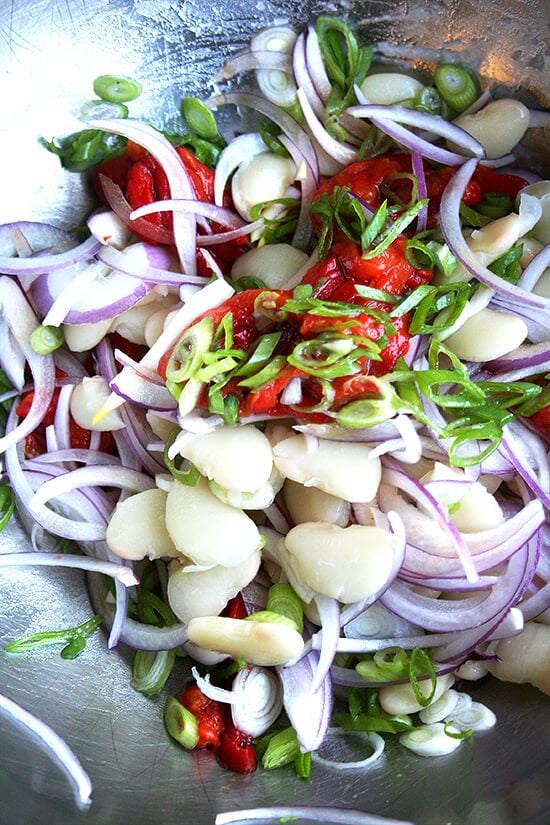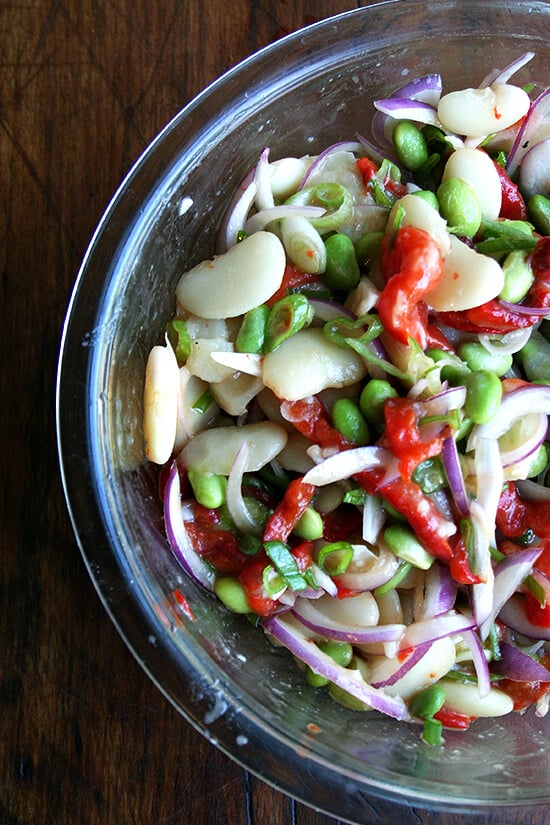 Print
Homemade Falafel
---
Total Time:

24 hours 25 minutes

Yield:

4 servings
Description
Source: Mark Bittman and the New York Times
Watch Bittman prepare the recipe here.
Super Simple Roasted Red Pepper – Yogurt – Sriracha Sauce
Note: Use tahini in place of the yogurt if you are keeping this vegan.
This is just a super simple sauce you can whip up to your liking. Finely chop 2 (or more) roasted red peppers (to yield about 1/4 cup) and place in a bowl. Add in a few heaping spoonfuls of Greek yogurt (about 1/4 cup as well). Season with kosher salt. Splash with Sriracha or the hot sauce of your liking. Stir to combine. A food processor or blender will produce a smooth sauce, but then you have to clean them. Your call.
---
1¾ cup

dried chickpeas or fava beans

2

cloves garlic, lightly crushed

1

small onion, quartered

1 teaspoon

ground coriander*

1 tablespoon

ground cumin*
Scant teaspoon cayenne pepper, espelette, or crushed chili flakes

1 cup

chopped parsley or cilantro or a mix

1 teaspoon

kosher salt

½ teaspoon

black pepper

½ teaspoon

baking soda

1 tablespoon

lemon juice
Neutral oil, like grapeseed or corn, for frying
*I like to toast the cumin and coriander seeds before grinding them. Just a thought if you feel like taking the extra step.
For serving:
pita bread or naan bread
chopped tomatoes, cucumbers or lettuce (optional, especially if you're serving a salad on the side)
spicy dipping sauce (recipe above) or Sriracha
---
Instructions
Put beans in a large bowl and cover with water by 3 or 4 inches; they will triple in volume. Soak for 12 to 24 hours, adding water if needed to keep the beans submerged.
Drain beans well (reserve soaking water) and transfer to a food processor. Add remaining ingredients except oil; pulse until minced but not puréed, scraping sides of bowl down; add soaking water if necessary to allow machine to do its work, but no more than 1 or 2 tablespoons. (Note: Try to be patient and scrape down the sides of the machine several times before adding the liquid. You might not need it.) Keep pulsing until mixture comes together. Taste, adding salt, pepper, cayenne or lemon juice to taste.
Put oil in a large, deep saucepan to a depth of at least 2 inches; more is better. The narrower the saucepan the less oil you need, but the more oil you use the more patties you can cook at a time. Turn heat to medium-high and heat oil to about 350ºF (a pinch of batter will sizzle immediately).
Scoop heaping tablespoons of batter and shape into balls or small patties. Fry in batches, without crowding, until nicely browned, turning as necessary; total cooking time will be less than 5 minutes. Serve hot or at room temperature. (Note: As Bittman notes in the video, the whole process will take less than 10 minutes — that means frying all of the falafel takes less than 10 minutes. I find that each individual ball cooks in about 1 minute total, and I cook no more than five balls at a time.)
Prep Time:

10 minutes

Cook Time:

15 minutes
---
Print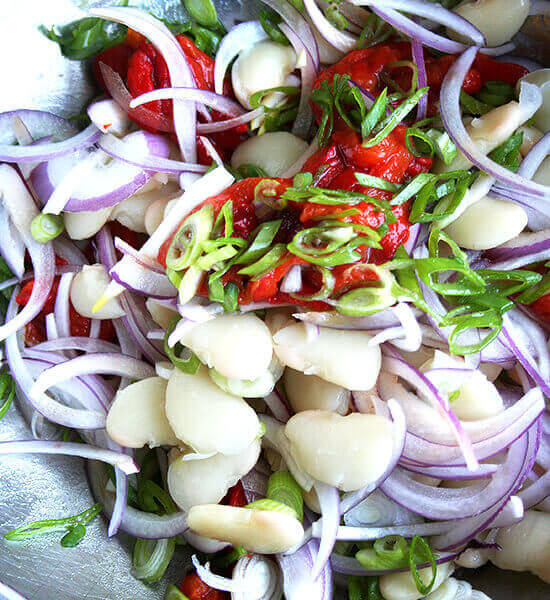 Lima Bean Salad
---
Total Time:

1 hours 55 minutes

Yield:

4 servings
1 cup

dried lima beans or any dried bean you like — you need about

2 cups

cooked beans
kosher salt
roasted red peppers, cut into strips (about a cup)
red onion, thinly sliced (about a 1/2 cup)

4

scallions, thinly sliced, white and light green parts

1 cup

cooked shelled edamame or cooked fresh fava beans

2 tablespoons

extra-virgin olive oil

1 tablespoon

white balsamic vinegar
---
Instructions
Cook lima beans: Cook your beans as you wish. I've been using the "quick-soak" method on the bag, which calls for boiling the beans for two minutes, then letting them sit for an hour. Then I simmer the beans until they are tender, about 40 minutes, and let them cool completely in their cooking liquid. Once I turned the burner off, I add a teaspoon of kosher salt.
When the beans are cooled, make the salad: Drain the beans and place in a large bowl. Season with a large pinch of kosher salt. Add the roasted red peppers, red onion, scallions and edamame to the bowl. Drizzle with the olive oil and vinegar and toss. Taste, adjusting seasoning as necessary with more salt, oil, vinegar, or pepper if desired.
Prep Time:

5 minutes

Cook Time:

50 minutes
This post may contain affiliate links. Please read my disclosure policy.