Bulgogi with Cucumber-Apple Pickle
This post may contain affiliate links. Please read my disclosure policy.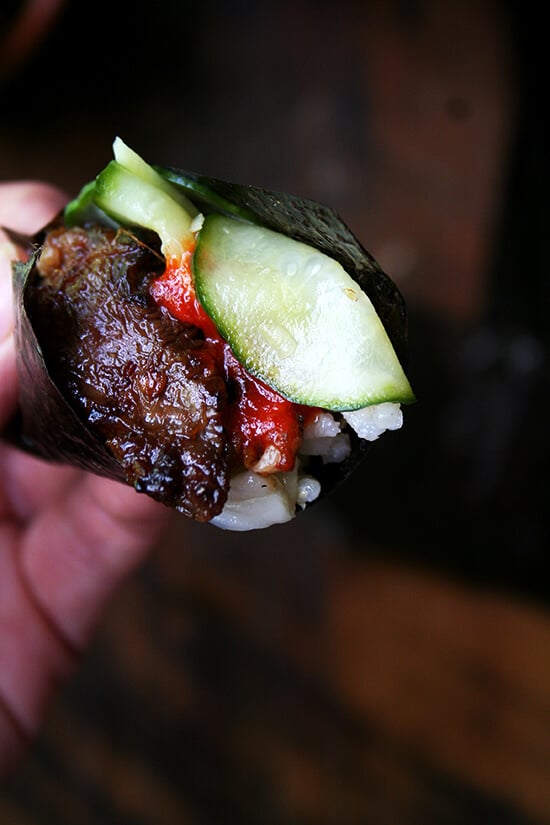 Last Friday, Ben and I arrived at our friends' house to find a beautiful scene: a rice cooker sitting on the counter, a serving dish spilling with pickled bean sprouts, a plate towering with sheets of roasted seaweed, and a jar glistening with brilliant red pickled cabbage. All week we had been looking forward to Korean bbq, a meal we learned to love many years ago at Kim's, a hole-in-the-wall in North Philadelphia.
At Kim's we could always count on a few things: a blazing hot charcoal grill, replaced several times over the course of the evening; an array of banchan ranging from spicy pickled daikon to steamed egg custards to scallion pancakes; and a table surrounded by a crew — friends, family, coworkers, anyone willing to spend an evening charring whole cloves of garlic, slices of jalapeno, and platters of paper-thin beef.
More often than not, the gathering at Kim's had been organized by Thien, the chef of Fork at the time, who found any excuse to cab north for Korean food, and who somehow managed to pack into his messenger bag both wine (for everyone) and glasses (for everyone) — as much as Thien loved his cheap eats, he pooh-poohed plastic cups. We always stayed at Kim's for hours. We never left hungry, and upon exiting, we never felt more grateful for fresh air — Kim's ventilation system (or lack there of) could use some work.
One step through our friends' front door, the pungent smell of kimchi pervading the house, took us right back to north Fifth Street. And the incredibly tender bulgogi served with addictive salty sheets of seaweed had me itching for the recipe. Prying, however, turned out to be unnecessary. Our friends, without apology, revealed their bulgogi secret: Hmart. Sliced, marinated, cryovacked. They love Hmart. I love them.
For four nights in a row following this dinner, I made bulgogi, and I served it the way our friends did with sheets of roasted seaweed — so good! — and kimchi rice, à la The Good Fork in Brooklyn. The sole banchan, a cucumber-apple pickle, while unexotic and untraditional, played the banchan-role nicely, striking that irresistible sweet-tart-spicy balance. I found the recipe in a great spread from the May 2009 Gourmet, (the same one that led me to discover warm tofu with spicy garlic sauce), and while it sparkles as a condiment, it certainly can be eaten on its own, like a salad, and paired with any number of Asian dishes, honey soy chicken legs, sesame-crusted tofu, Asian lettuce wraps, come to mind.
If you make any recipe from this post, I hope it's this one. Apples and cucumbers have never been so happy together.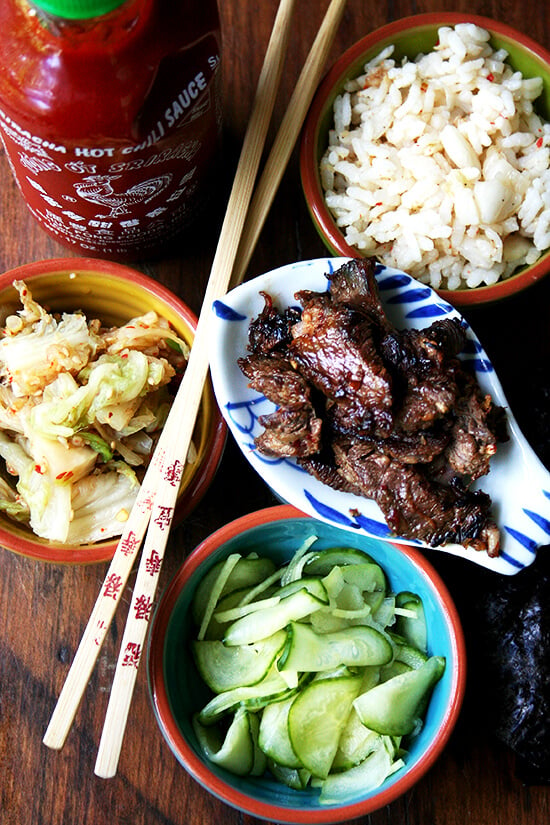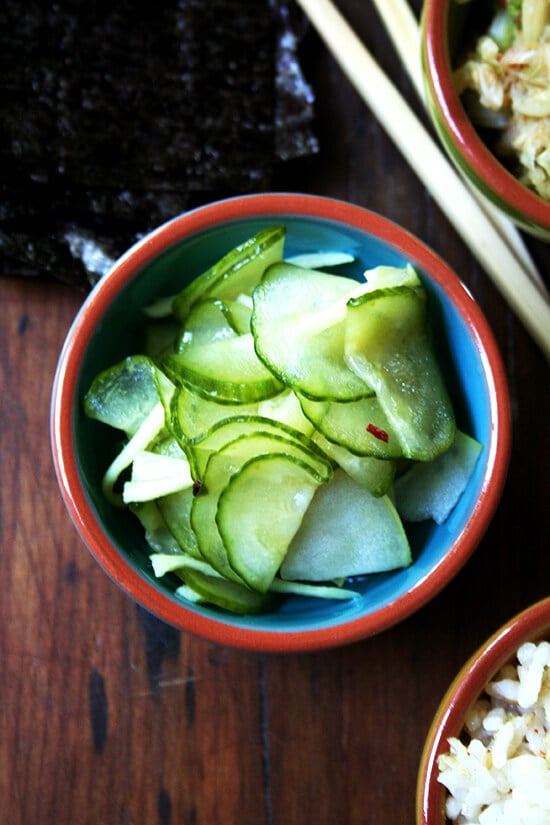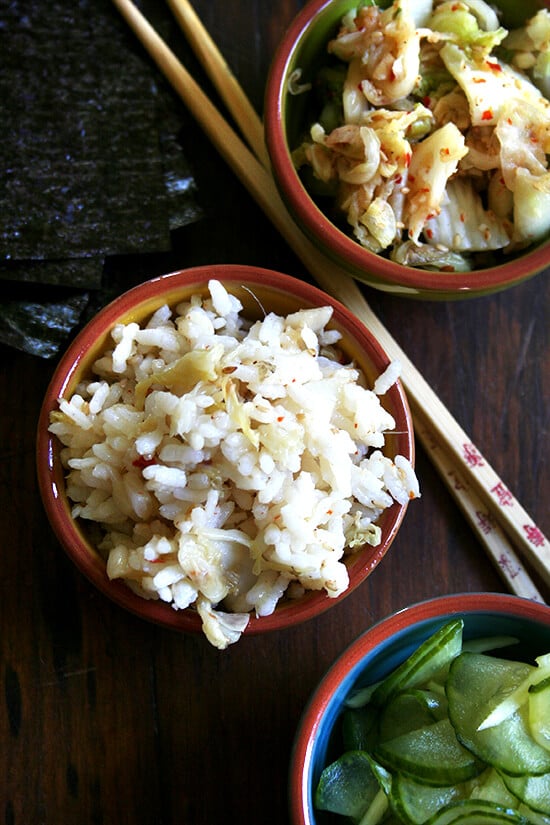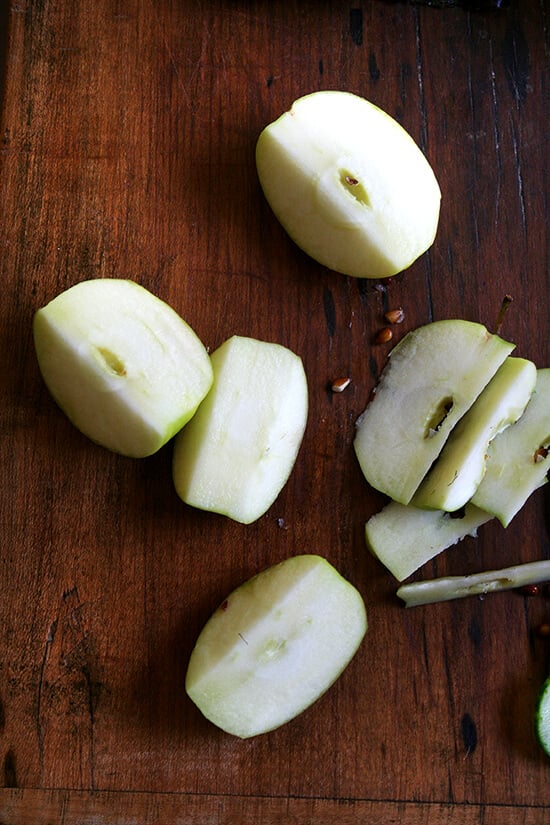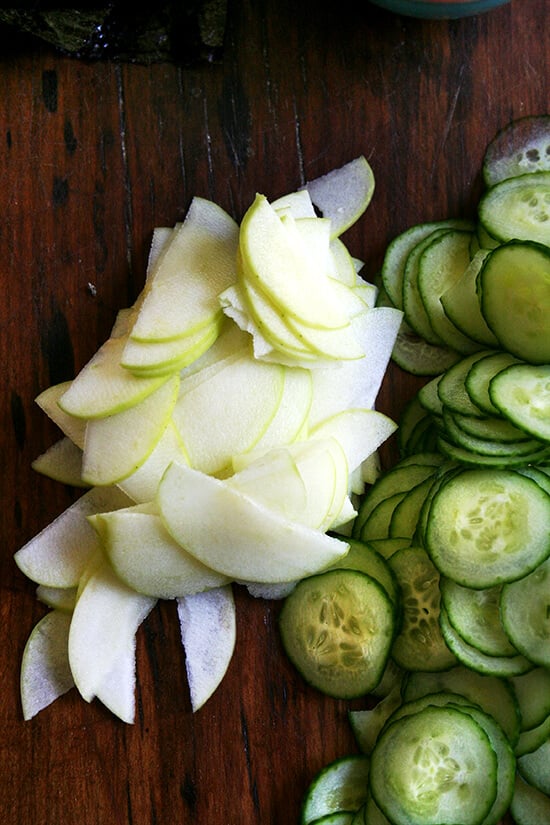 After 30 minutes, the salted cucumbers look like this (right photo):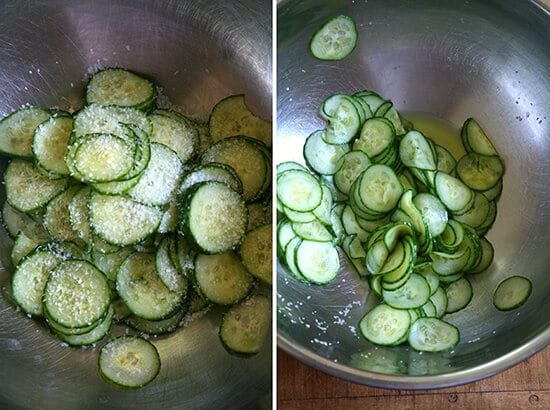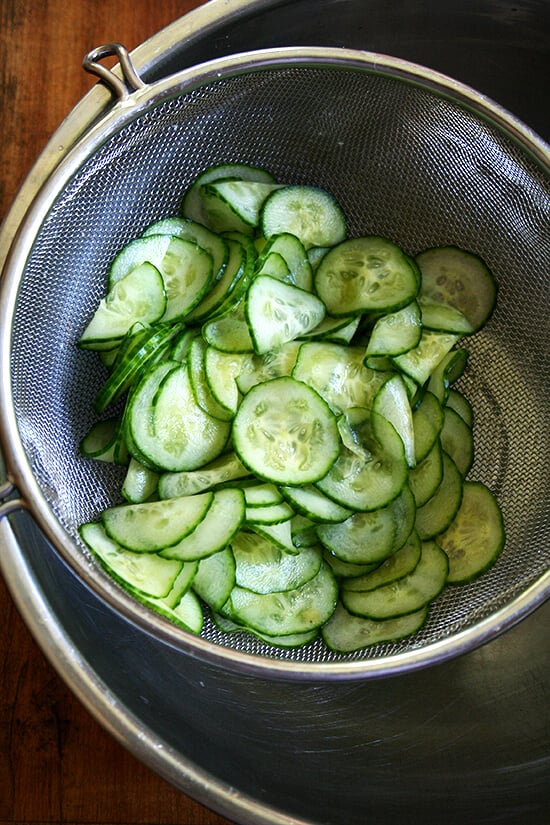 You all know to peel ginger with a spoon, right? Loved this Serious Eats post with essential kitchen tips and tricks.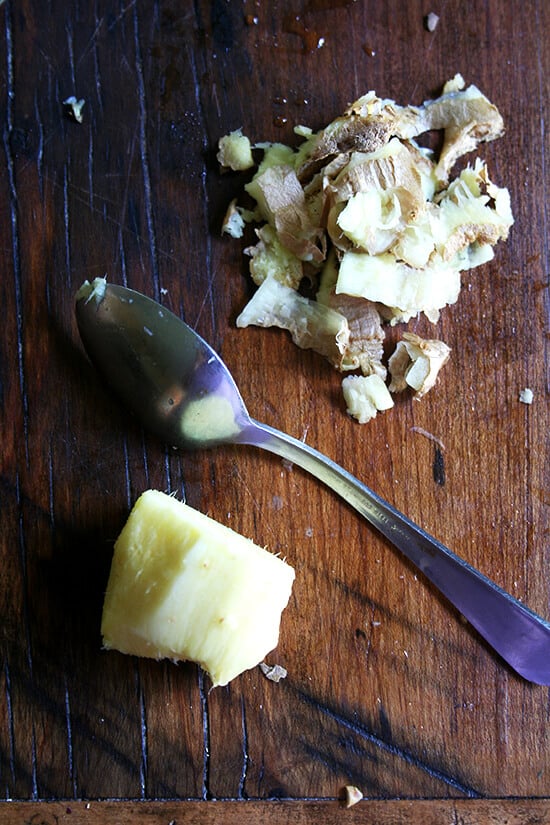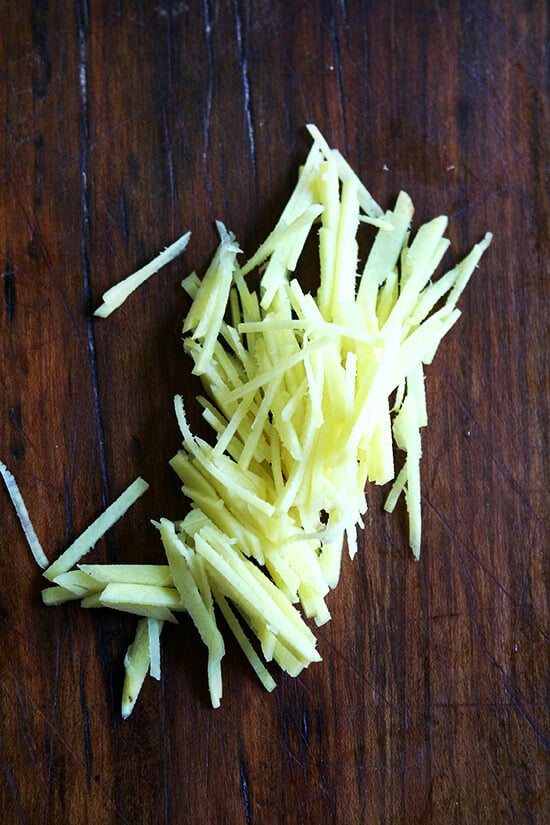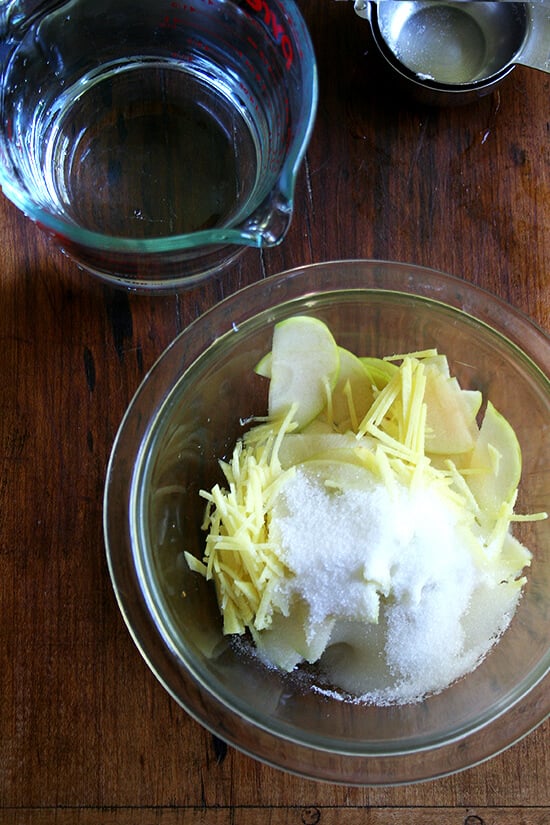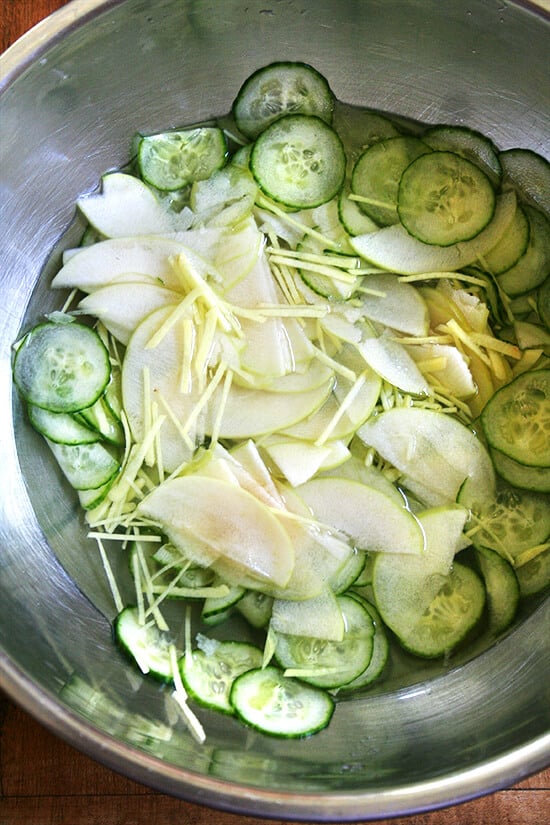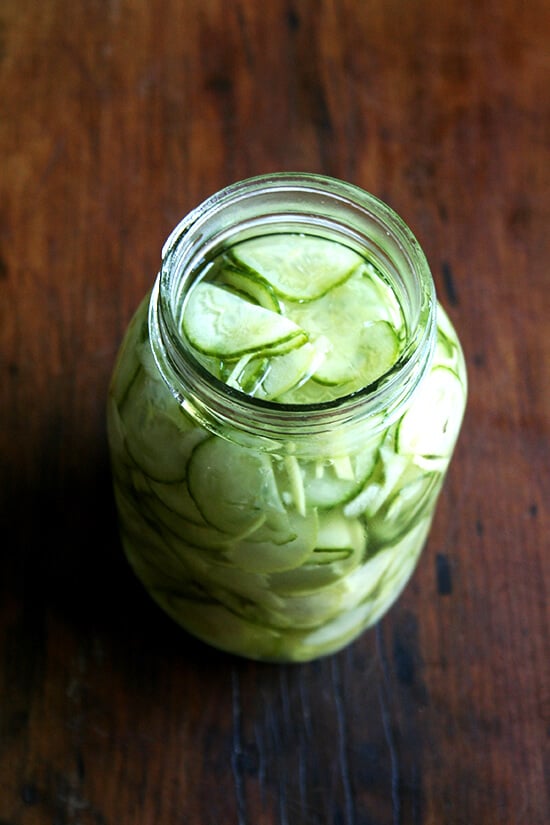 This bulgogi marinade comes from The Good Fork in Brooklyn and was featured in a 2007 Bon Appetit recipe for Steak and Eggs Korean Style. Marinating overnight is ideal, but the marinade imparts an amazing amount of flavor in a short time — try for an hour at least: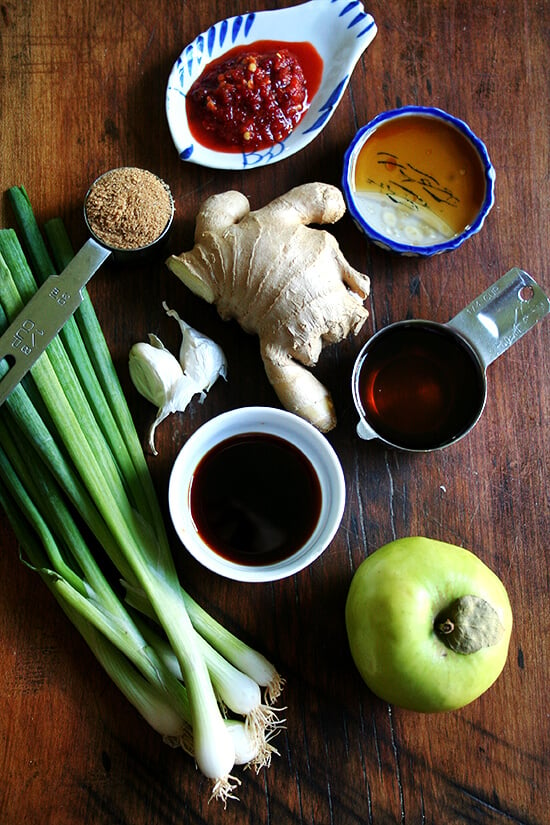 This marinade calls for both grated ginger and apple: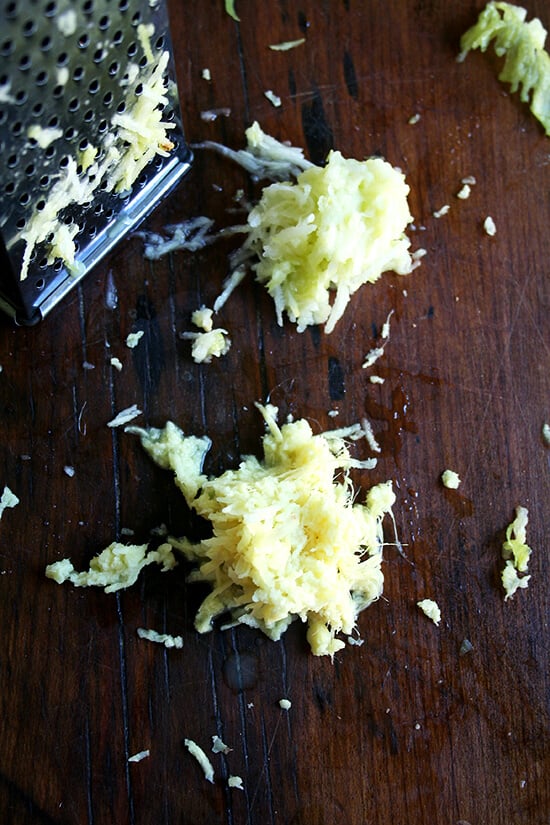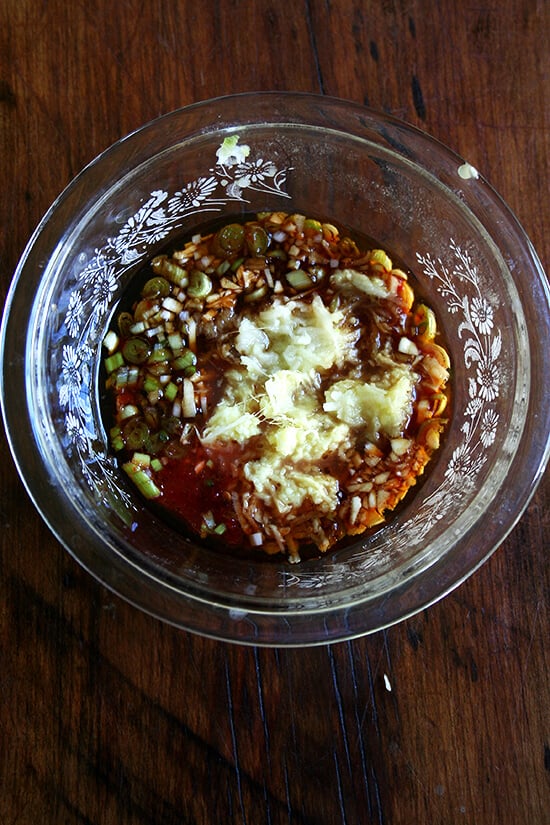 If you want to get a nice char on your beef, it's important to pat it dry after removing it from the marinade: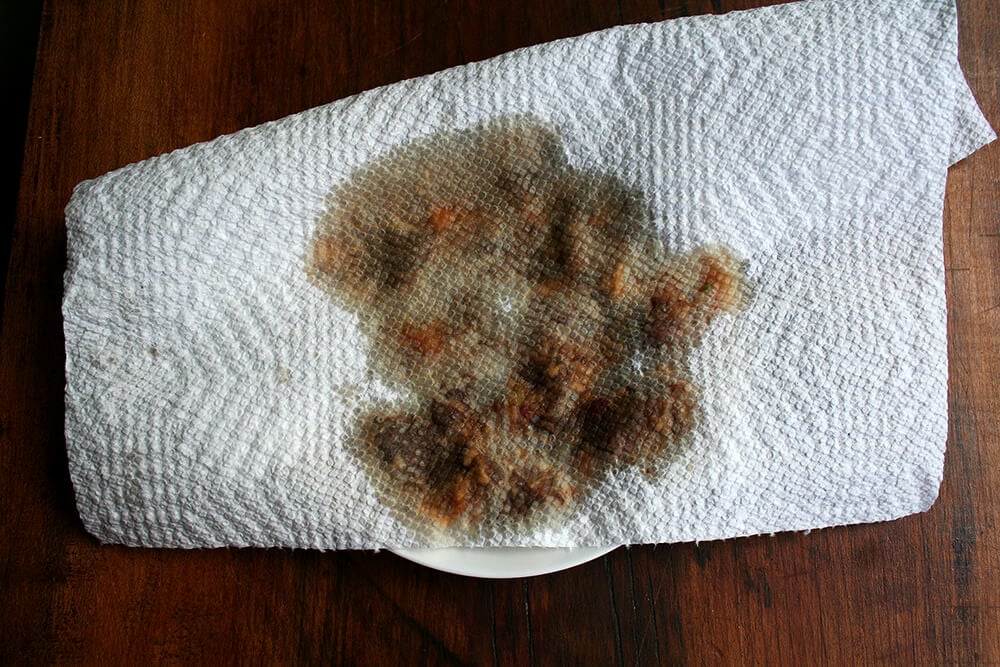 In a hot pan, thinly sliced meat will cook in less than a minute per side: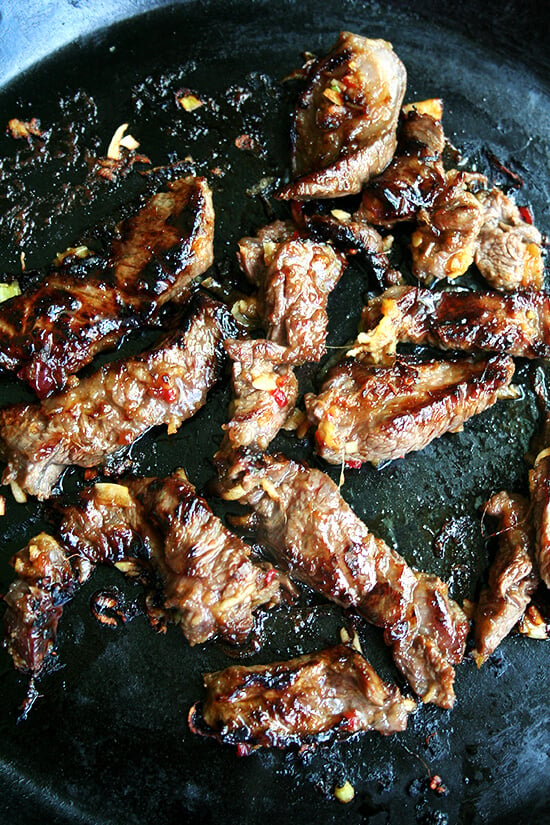 If you live near an Asian grocery store, look for these packs of seaweed — they are especially good. Our friends found them at Hmart. If you can't find them, any variety of nori (for making sushi for example) will work just fine: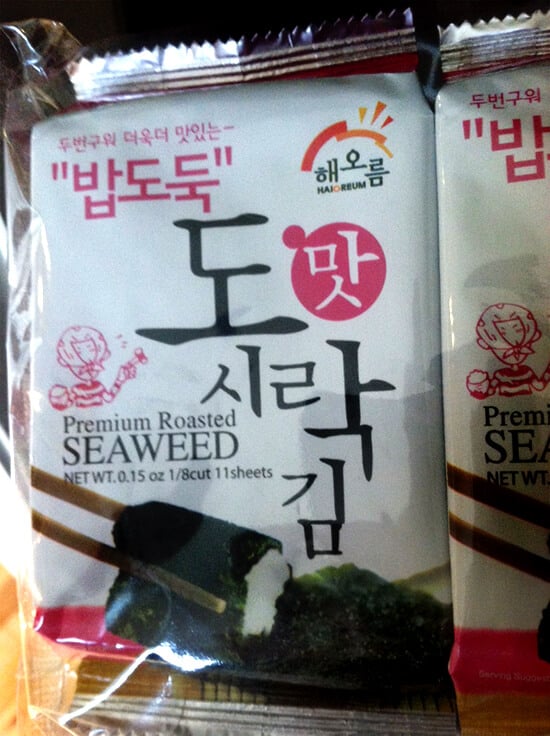 I did not plan on making kimchi before setting out on this quest to make Korean BBQ at home, but I couldn't find it at my local grocery store, and I didn't think the meal would feel complete without it, so I went for it. This recipe for "Quick Kimchi" relies on fish sauce to give it a fermented flavor in a short period of time. I did not detail the process as closely as I would have liked, but if you are up for it, it really is easy to make. Also, don't be totally misled by the word "quick" — the cabbage, after it is salted, sits for 2 hours. If you're not up for making it, just buy it: I love jarred, store-bought kimchi.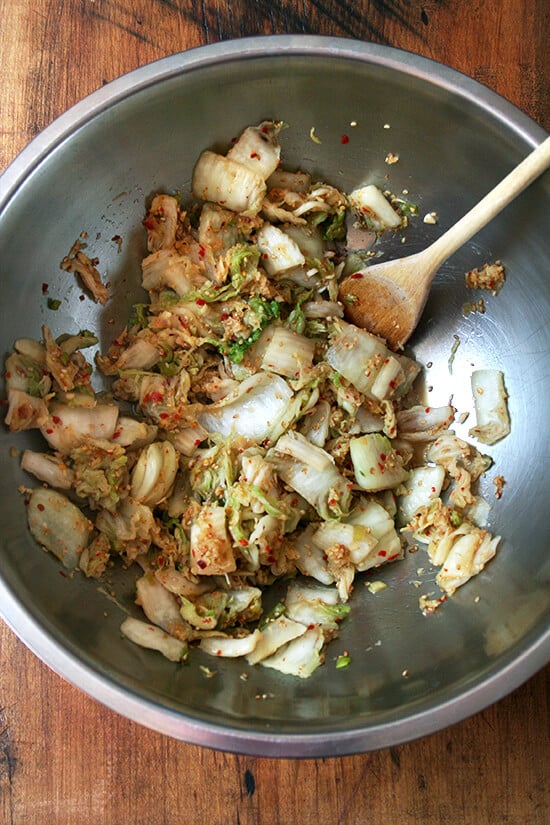 At The Good Fork in Brooklyn, they serve their Steak and Eggs with kimchi rice, which happens to be delicious: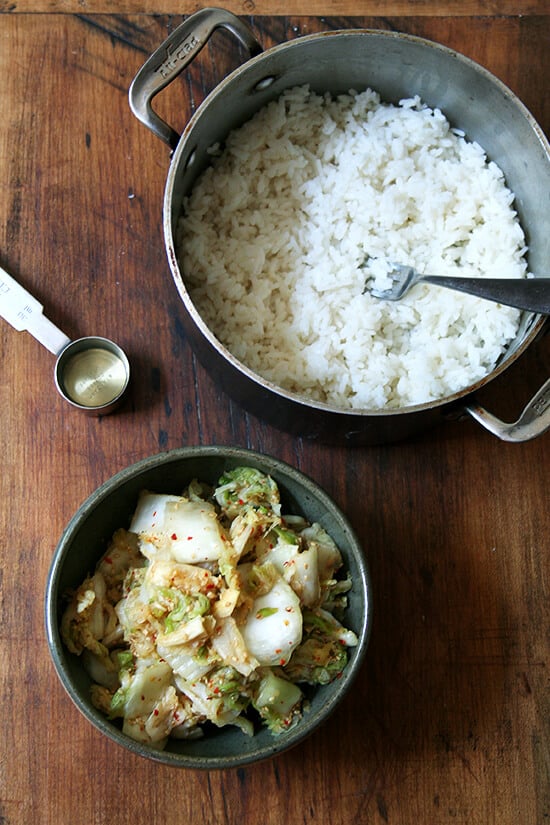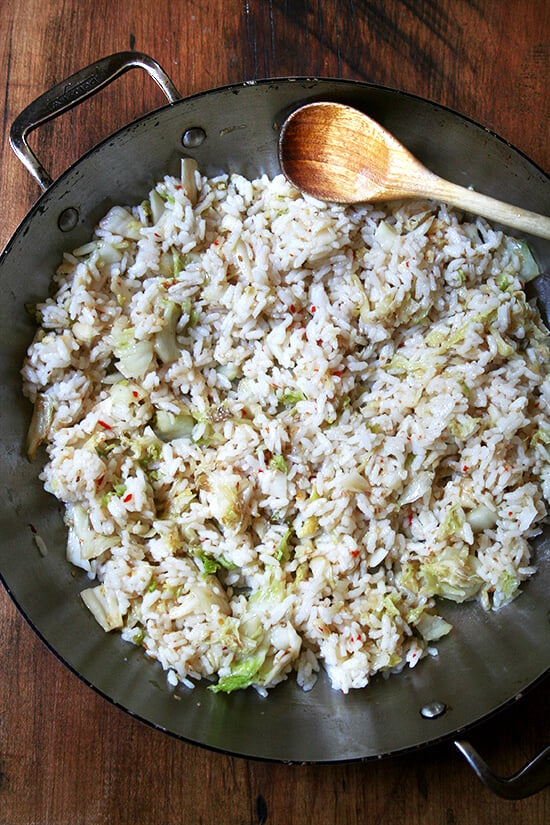 Korean BBQ at Home
Making Korean bbq at home can be as simple or as complicated as you make it. To keep things really simple: make just one banchan, such as this cucumber-apple pickle, and the bulgogi marinade, which looks like a lot of ingredients but which comes together in no time.
Out of necessity, I made the kimchi, but this is completely unnecessary: if you can find it at your grocery store or Asian market, buy it. I loved chopping the kimchi and adding it to the rice — it not only is delicious but makes for easier eating in some ways, too.
The cucumber-apple pickle can be made a day ahead (though I like eating it immediately) and the beef marinade can (and should) be made ahead too. If you are thinking about making this for a party, on serving day, the only work you really need to do is the steaming of the rice, opening the packs of roasted seaweed, and pulling out the Sriracha.
Here are the elements for a simple Korean bbq at home:
Cucumber-apple pickle (recipe below)
bulgogi (recipe below)
kimchi (recipe below)
steamed rice
roasted seaweed sheets
Sriracha
Print
Print
Print
Print
This post may contain affiliate links. Please read my disclosure policy.