Super Easy Summer Squash Gratin
This post may contain affiliate links. Please read my disclosure policy.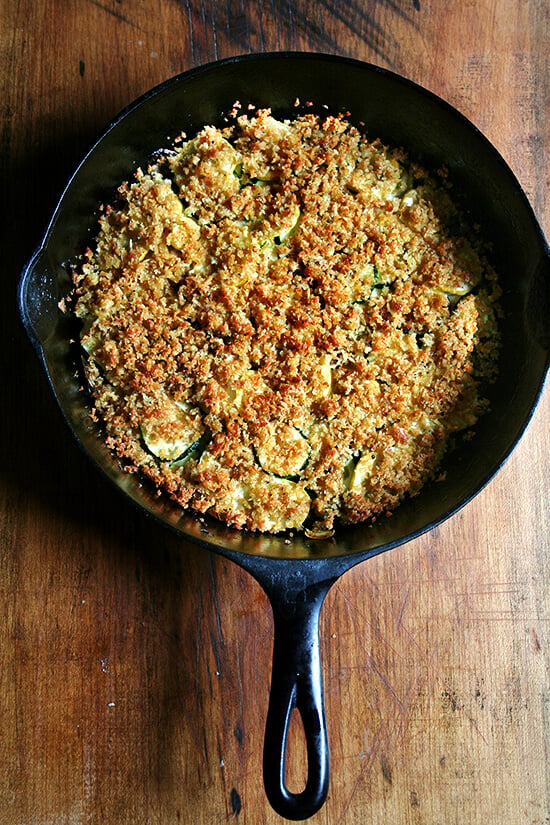 This time of year I suspect few of you are thinking about summer squash. Many of you are more likely celebrating the last prune plums of the season or refusing to eat anything but tomatoes before they disappear for too many long cold months. And some of you may have already moved on to pumpkins and apples.
But it's been an odd summer for me. I just haven't had my summer squash fill. So last Sunday at the Schenectady farmers' market, I stocked up — they're practically free at the market these days — with visions of spending the week making bread and fritters and spaghetti and salads with shaved Pecorino.
But I'm not sure I'll be getting to any of these dishes anytime soon, because tonight I will be making this gratin for the third evening in a row, and I have enough squash on hand to carry this trend through the weekend. This gratin couldn't be simpler to throw together, and unlike so many gratins, this one is not laden with cream and cheese. A third cup of grated Parmigiano (or whatever cheese you have on hand) along with a cup of fresh bread crumbs form the crispy — irresistible — topping, and a layer of sautéed onions or tomatoes (as the original recipe suggests) and thinly sliced summer squash form the foundation.
Of course the seasonings can be dolled up with garlic or herbs or minced anchovies, and after you've made this once, you'll start wondering how you might adapt this gratin later this fall, perhaps with sautéed kale or green beans or leftover cannellinis.
The important thing to keep in mind here is that you can't mess this up. The layer of vegetables can be thin or thick. There's no perfect ratio of squash to topping. This dish is rustic. It's fast. It's easy. Go wild. Doesn't summer squash deserve one last hurrah? By the weekend we'll be dreaming about Paula Reds, Ginger Golds and Jonamacs.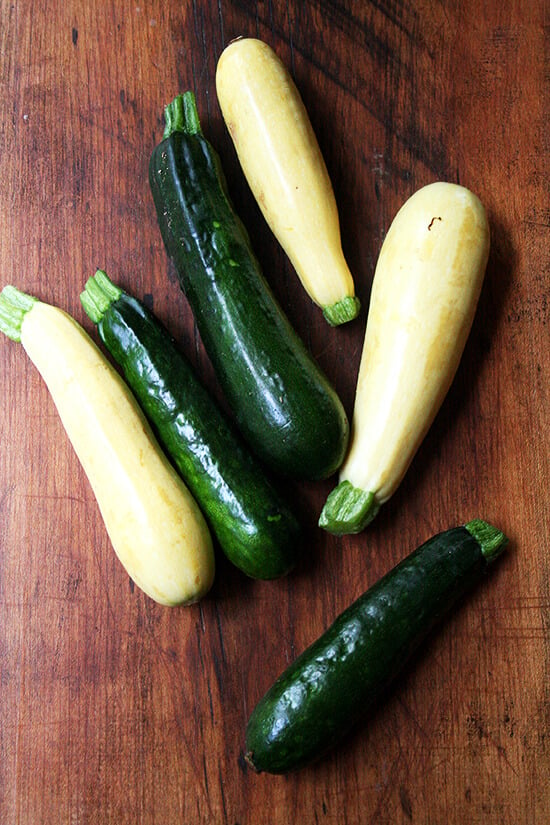 This is a good time to break out your favorite mandoline: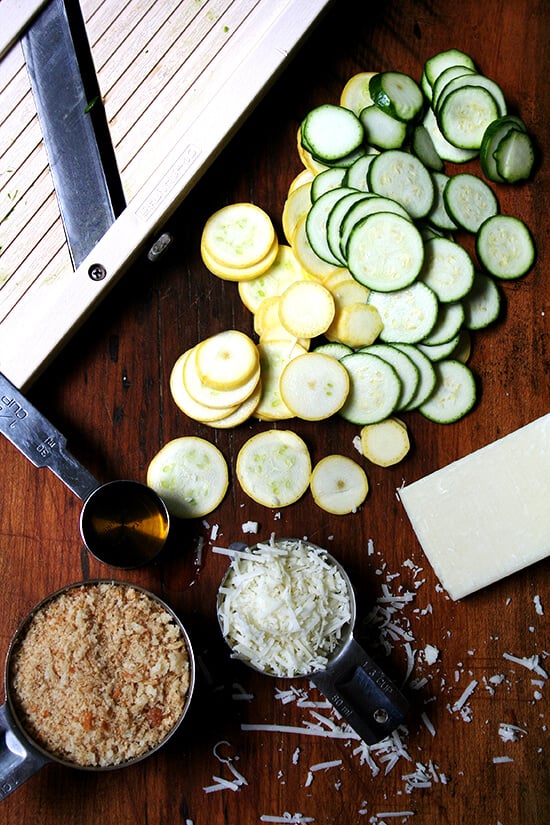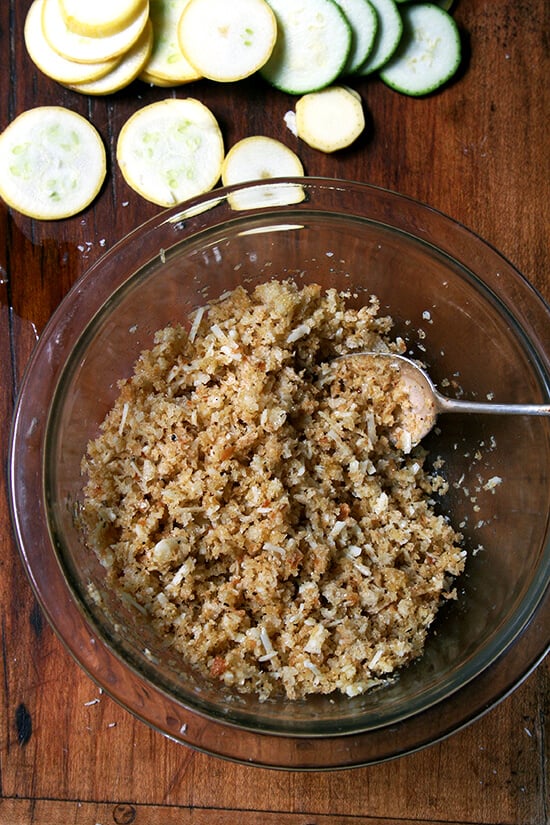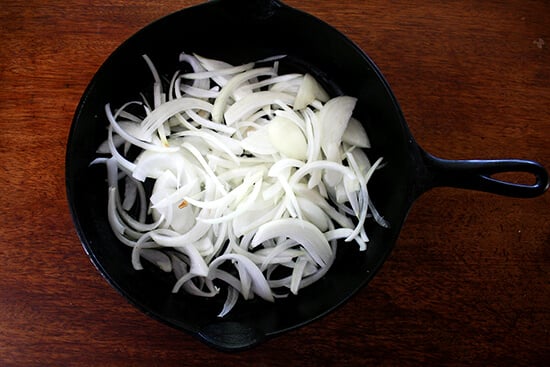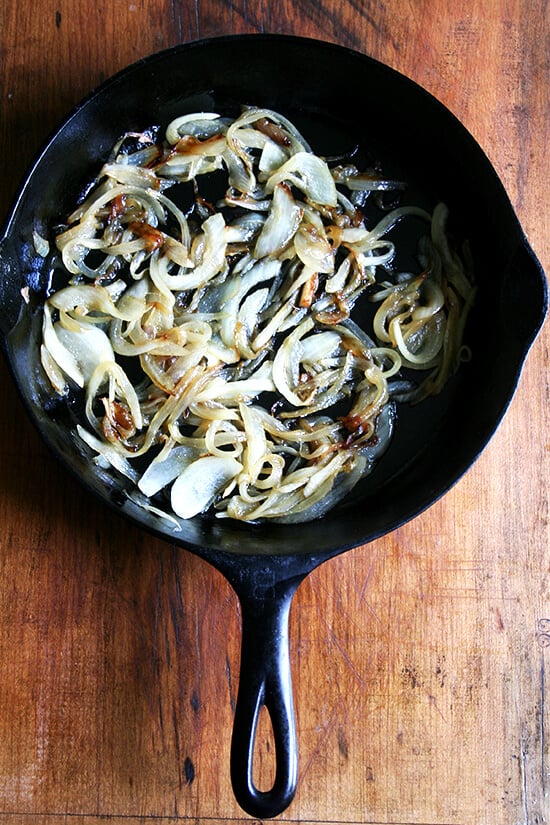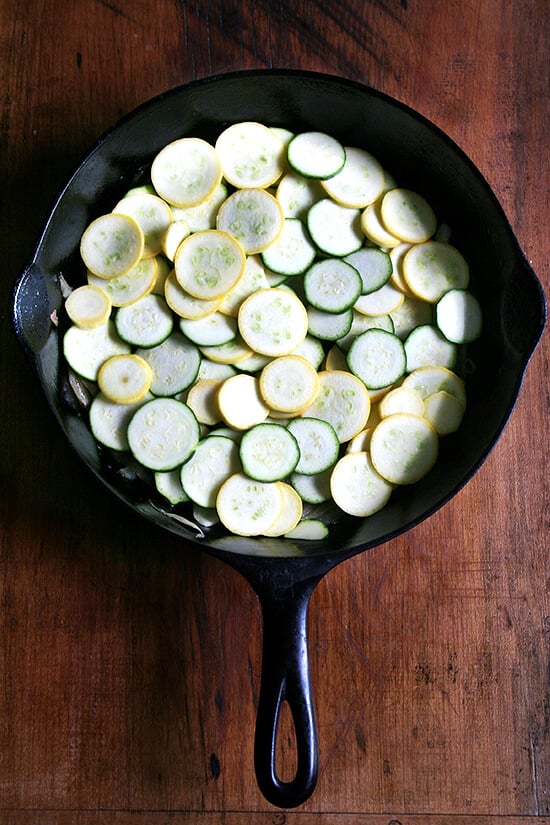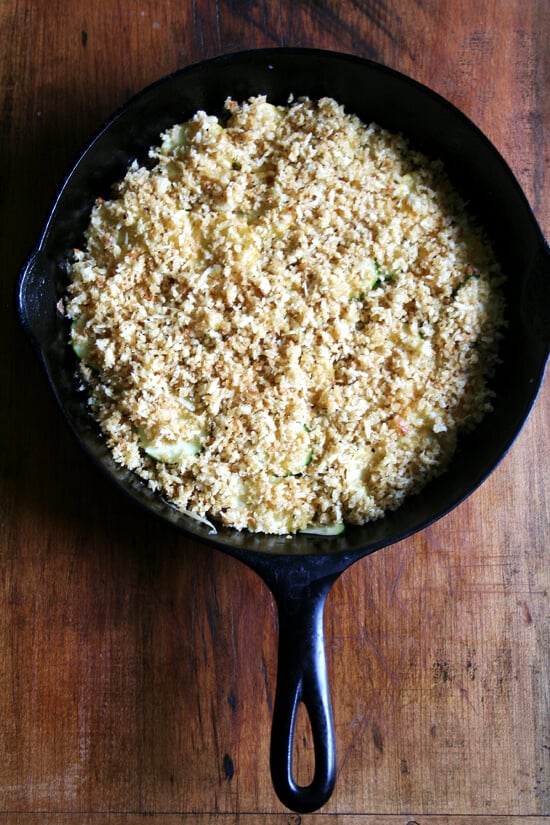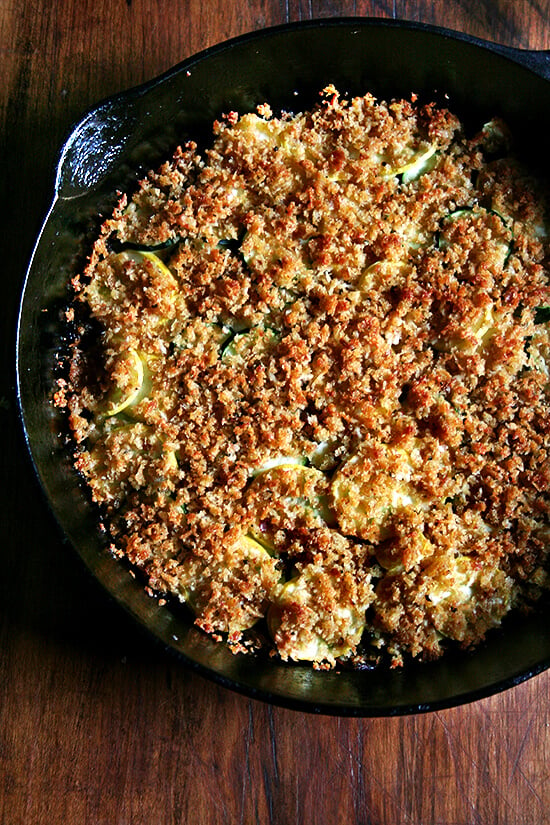 Meatless Monday: summer squash gratin, Suzanne Goin's slow-cooked kale with white beans and Pecorino, peasant bread, and a wedge of Drunken Goat.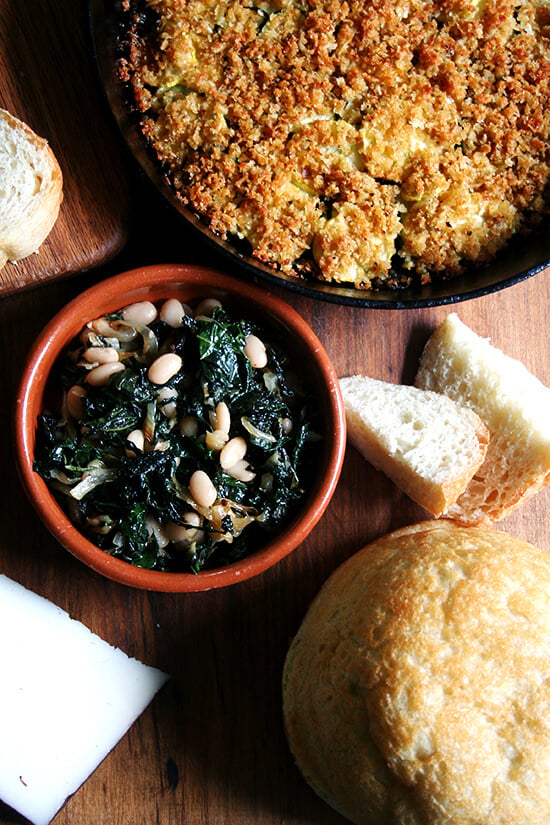 Finally: I found this white Pyrex gem at a flea market last weekend. Similar in size to the Pyrex #322, the Pyrex #441 makes a perfectly round little boule of bread. It has been hard these past few days not engaging in any eBay bidding wars…

Print
Summer Squash & Onion Gratin
---
Total Time:

40 minutes

Yield:

3-4 side servings
---
1

large onion, thinly sliced

4 Tbsp

. olive oil, divided

1 cup

fresh breadcrumbs

1/3 cup

grated Pecorino or Parmigiano Reggiano or whatever you have on hand
kosher salt and freshly ground black pepper

2

summer squash (large or small), thinly sliced (to yield 8oz (225g) to 12oz (340g) or

2

to

3

cups)
---
Instructions
Heat 2 Tbsp. oil in a medium ovenproof skillet over medium heat. Add onion; cook, stirring occasionally, until onions are soft and starting to caramelize, 10 to 15 minutes. Note: if you have time to really allow the onions to caramelize at a slow pace, do so; if you don't, just sauté the onions until they are soft. Season with salt and pepper.
Meanwhile, toss breadcrumbs with cheese and remaining 2 Tbsp. oil; season with salt and pepper. Top onions with squash (this can be a single layer or two or three layers) and breadcrumb mixture. Bake at 350° until squash is tender and breadcrumbs are golden brown, 20–25 minutes. Note: I am still getting used to my oven and my new oven thermometer, which doesn't seem to be reliable. Both times I baked this, the oven was probably more at 400ºF or even 450ºF for parts of the baking time. So, if you know your oven, I suggest starting at 400ºF and checking the gratin after 15 minutes. If the gratin is looking too brown, turn the oven down to 375ºF or 350ºF; if it's looking ok, just keep the oven as it is.
Prep Time:

10 minutes

Cook Time:

30 minutes
This post may contain affiliate links. Please read my disclosure policy.