Chicken with Preserved Lemons & Green Olives
This post may contain affiliate links. Please read my disclosure policy.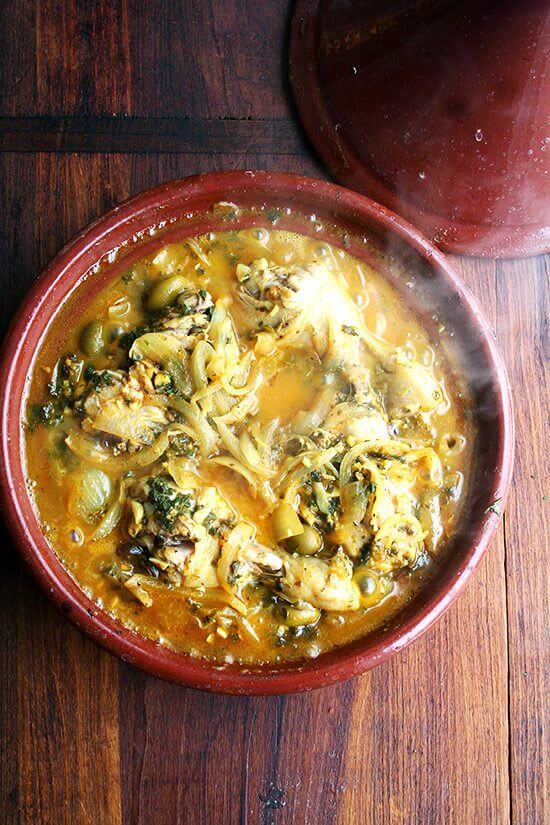 I will consider this post a success if, by the end, one of two things happens:
1. You feel inspired to tackle Moroccan cooking, immediately buy a tagine, preserve and then purée a batch of lemons, find a source for ras-el-hanout, and, in the short term at least, join me on a tagine-making bender, throwing any and everything possible into your new favorite kitchen tool.
2. You move to Schenectady so you, as I, have a Moroccan pantry in your backyard, a supply of Aneesa's ras-el-hanout, preseved lemons, tomato jam, parsley chermoula, all of which make throwing together a Moroccan feast as effortless as popping a frozen pizza in the oven.
Either outcome will be a win for me, especially number two — perhaps we could meet for lunch? — but let's start from the top.
Scenario #1. If you are more inclined to stay where you are and take a stab at tagine-style cooking…

…first disregard everything you know about braising, which typically calls for searing meat then finishing it in a covered pot with a small amount of liquid. Tagine cooking in essence is braising but there is no initial browning, no deglazing of the pan, no multi-step process. Everything gets thrown into the tagine at step one and forgotten until step two, at which point your food is cooked and you, pita bread in hand, are ready to attack it.
Despite having observed the process at Tara Kitchen, it took a lot for me to refrain from browning the chicken in a separate pan first, sautéing the onions in the rendered fat, and tossing it all in the tagine to finish. But with a tagine, there is no need to do this extra work. Sure, browning the skin might impart a bit of flavor, but not enough to warrant the extra effort and cleanup — this tagine of chicken, I can assure you, is plenty flavorful and colorful, too: the various spices in the ras-el-hanout, most likely the turmeric and paprika, imbue the dish with an inviting and appetizing yellow hue throughout.
This is how simple the assembly process is: In no particular order, throw into the base of the tagine a sliced onion and minced garlic clove, a dash of ras-el-hanout, a drizzle of olive oil, a splash of water, a spoonful of preserved lemon purée, and a handful each of raisins, green olives, and chopped parsley. Place your bone-in, skin-on chicken pieces on top and set the tagine on your stovetop. After 30 to 40 minutes over medium heat, the meat will begin pulling from the bones, and the juices will be bubbling all around, the flavors of the onions, preserved lemons, and ras-el-hanout stewing together into a fragrant and delectable sauce.
Although it has only been in my possession for one week, I am completely taken by my tagine. From the little bit of research I did online, I have learned that the conical lid is designed to promote the return of condensation to the base of the tagine, which keeps everything super moist. But what I love most of all is how nicely the food — chickpeas, fish, chicken, whatever — retains its heat throughout the meal.
Scenario #2. If you are thinking this all sounds great but you'd rather move to Schenectady because it just makes sense to let someone else build your Moroccan pantry for you…
… I totally understand. As I noted last week, this whole tagine-making process is astonishingly simple so long as you have a few ingredients on hand, most importantly the ras-el-hanout, the staple in every tagine I have learned to make thus far, but also preserved lemons (for this chicken dish and others) and tomato jam (for the chickpea tagine I mentioned last week) and harissa (for various other tagines).
I am all for making sauces and spice mixtures from scratch, but every so often, I think it makes sense to let someone else, someone more knowledgeable, do the work for you. Making preserved lemons — two ingredients, a basic process — is one thing; mixing ras-el-hanout — 14 or many more ingredients — is another. Sure the process of mixing spices, many of which you might have on hand, is simple, and might not take too long to get right, but if you find a good source for ras-el-hanout, I say go for it.
What do you think? Are you ready to pack up and meet me for lunch? Or does mixing together dozens of spices sound like fun? If any of you have made your own ras-el-hanout or can vouch for a good online source, I would love to hear from you.
As you can see, if you have ras-el-hanout (the orange spice mixture in the center) and preserved lemons (or preserved lemon purée) on hand, the ingredient list for this tagine is minimal.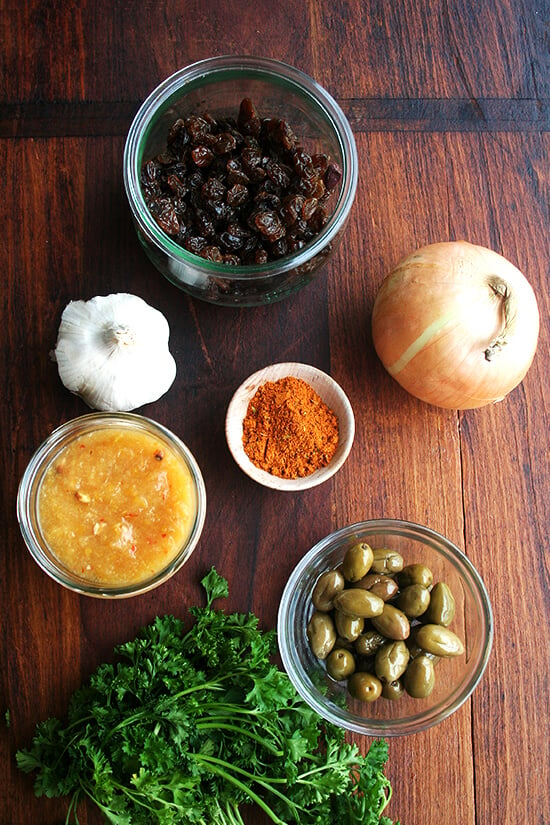 And the process is simple: From left to right, top to bottom, into the tagine throw: 1. Sliced onions and minced garlic. 2. Ras-el-hanout, olive oil and water. 3. Spoonful of preserved lemon purée 4. Green olives and raisins. 5. Chopped parsley. 6. Unseasoned, bone-in, skin-on chicken thighs and drumsticks.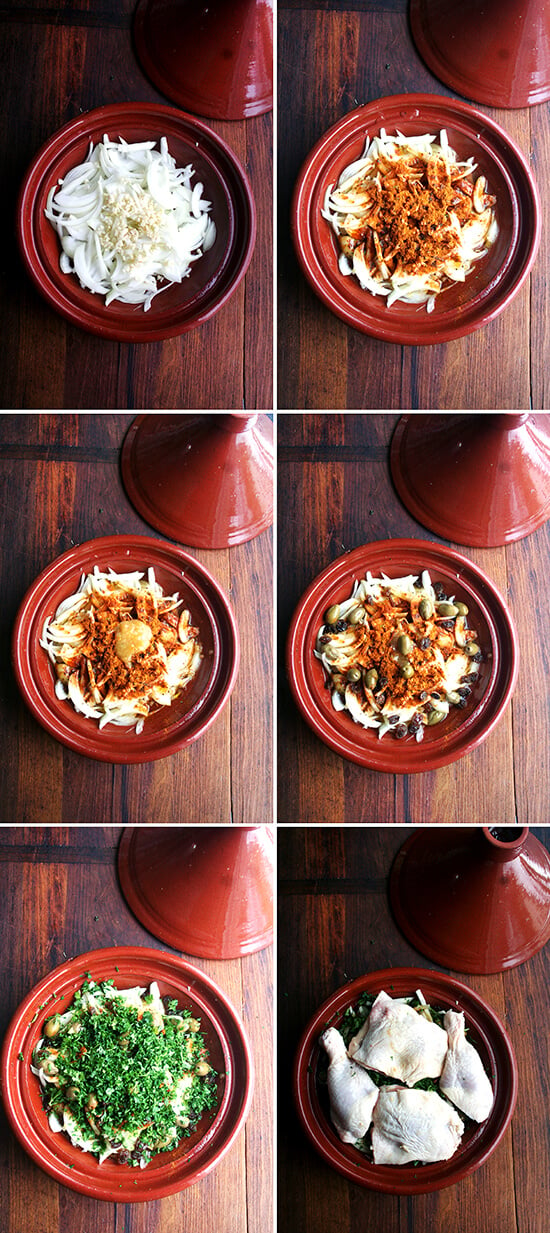 I may have packed a few too many onion slices, chicken pieces, water, everything into my tagine — juices probably shouldn't be bubbling up around the lid as shown here.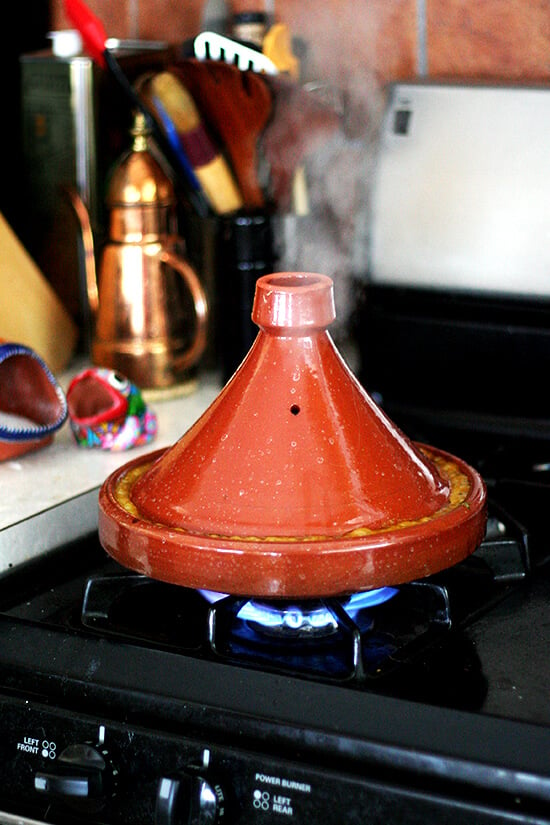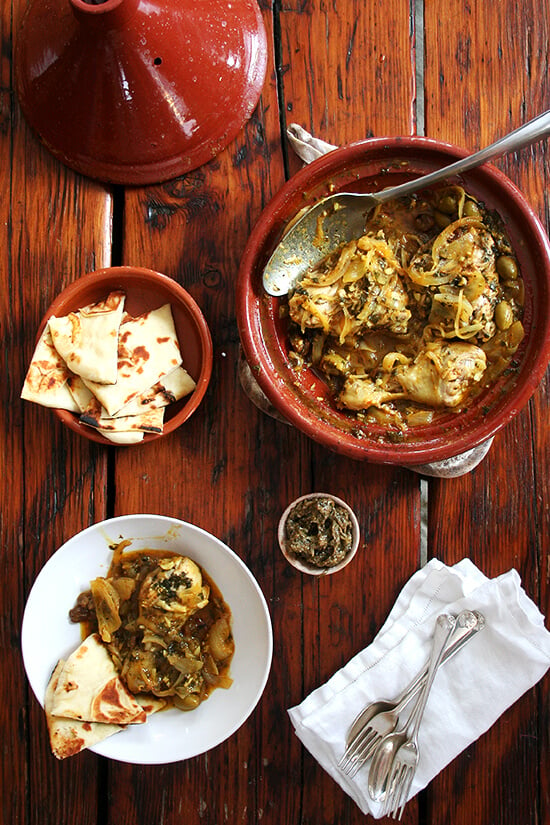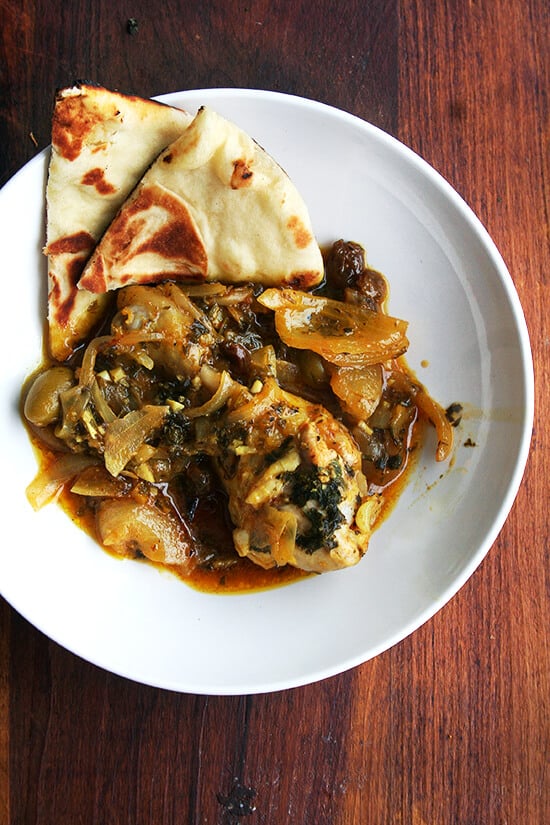 This is a 10-inch tagine, which I ended up purchasing from Tara Kitchen. Aneesa advised looking for a tagine with an air hole, and the two I ordered last week, despite the photo depicting an air hole, arrived without them. Aneesa further advised avoiding tagines that are painted, because the paints can leach into the food. Before using a tagine for the first time, soak it in water for 12 hours and let it dry completely — I waited 4 fours, but longer is probably better. Do not place the tagine on an electric coil stovetop. Diffusers apparently aren't OK either. Tagines are prone to cracking especially when exposed to drastic temperature changes, so heat them up and cool them down slowly.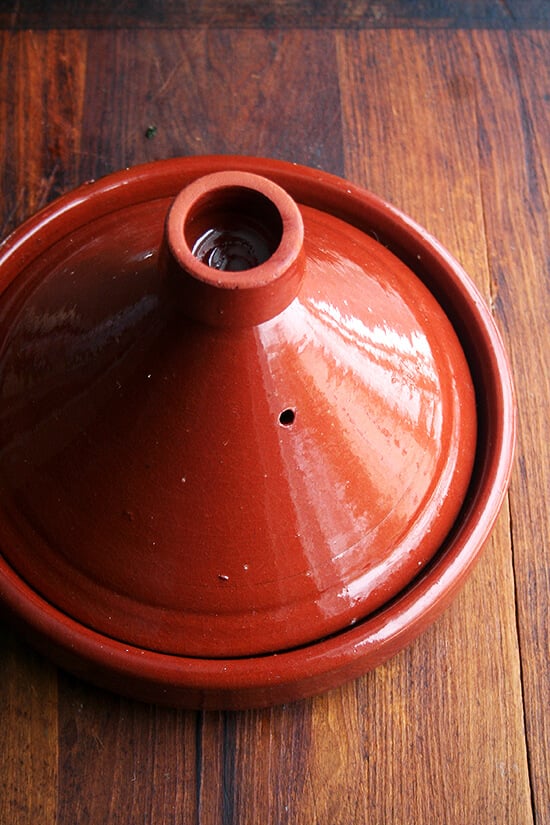 This Moroccan-cooking kick began in early December, when Ben and I joined a few friends at Tara Kitchen for a most delectable dinner. Shortly thereafter I made some preserved lemons and then attended a cooking class, where I stocked up on a few of Aneesa's spice mixtures and sauces. A week ago I purchased a tagine from Tara Kitchen and thus far couldn't be happier with how it is working.
Aneesa sells all of her spices and sauces as well as tagines at Tara Kitchen, and she offers cooking classes once a month. A few of her delectable creations can be found at the Nisakyuna Coop, too.
Tara Kitchen: 431 liberty street | schenectady | 518-708-3485
Upon returning from Tara Kitchen and learning that Aneesa purées her preserved lemons and uses spoonfuls of the purée in her dishes, I did the same: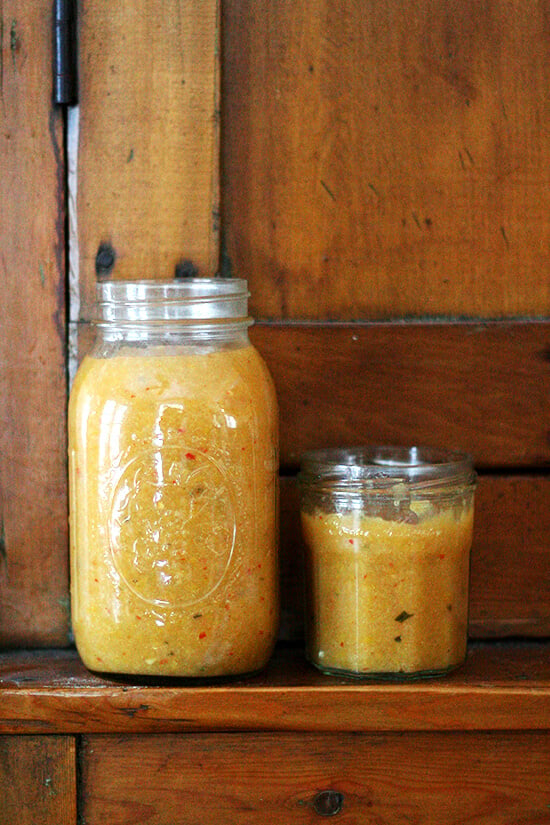 Tara Kitchen ras-el-hanout: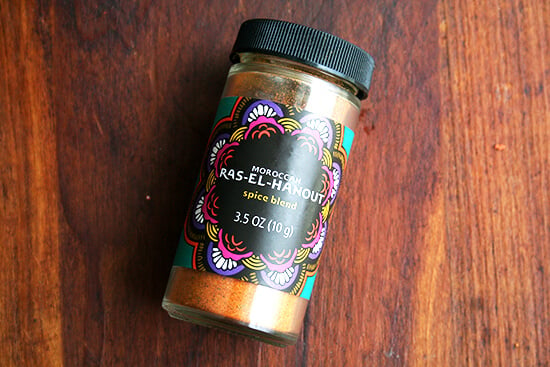 I am a novice tagine user, but I am a fan…look at those juices: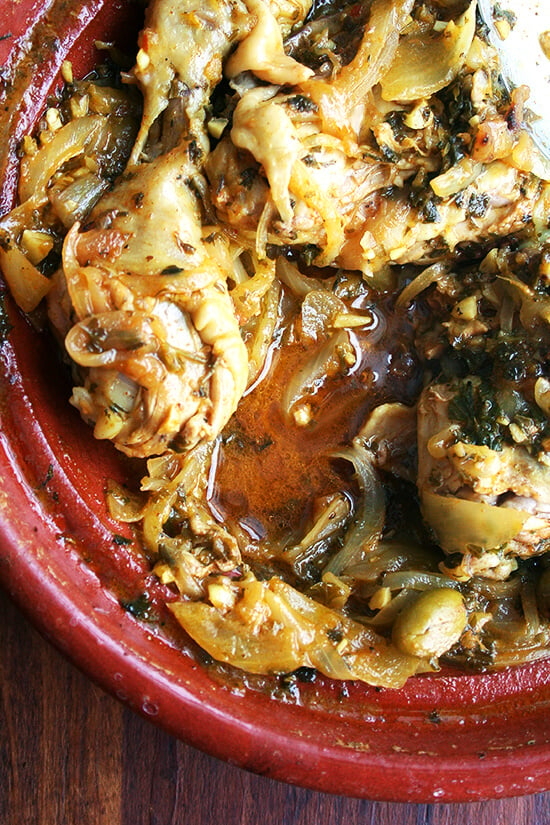 Print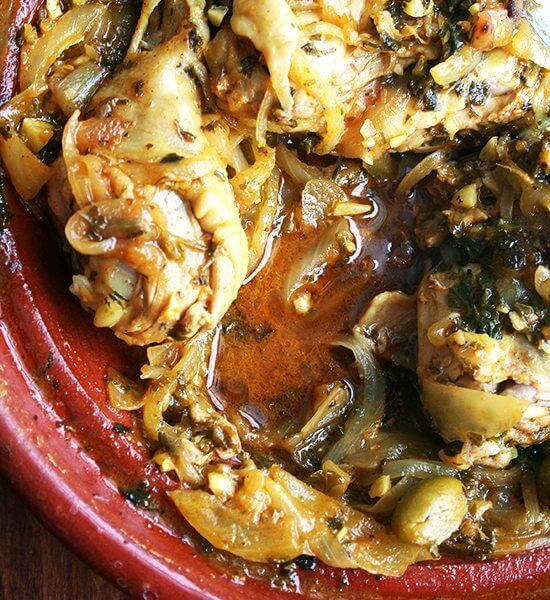 Chicken with Preserved Lemons & Green Olives
---
Author:

alexandra

Total Time:

40 minutes

Yield:

2
Description
I have been using a 10-inch tagine, but I probably should be using a larger one. It works, but it's definitely crowded and stirring can be a little tricky. Two or three bone-in, skin on chicken pieces is probably ideal for this size tagine. Also, you can use boneless, skinless chicken thighs, and the cooking will take half the time, but I don't think it's quite as tasty as using the bone-in, skin-on pieces. You also could use breasts, but as you know, I am not a fan. You also do not need a tagine to make this dish. Before I bought a tagine, I used my everyday pan, which worked well. I had to use a little more water, but otherwise, the process was the same. OK, the two ingredients you will need to make or find to make this dish are preserved lemons and ras-el-hanout. I posted two recipes for preserved lemons a little while ago, but if you know where to buy them, go for it. At the Tara Kitchen cooking class I attended, I learned that Aneesa purées her preserved lemons and uses spoonfuls of the purée in her dishes, and so I did the same. As for the ras-el-hanout, I have not yet tried mixing up my own, so I have two thoughts for you: 1. To keep things simple, find a pre-mixed ras-el-hanout from a spice market or online source. 2. Try mixing up your own (then email me your recipe). Aneesa's contains 14 different spices: paprika, parsley, cinnamon, cardamom, cloves, bay leaves, star anise, cumin, coriander, thyme, fenugreek, pepper, turmeric and ginger. This recipe looks promising, though I can't say for sure. As soon as I take a stab at this, I will report back. Another thing I learned was that fresh cilantro is not common in Moroccan cooking. I love fresh cilantro and loved it in a tagine recipe that one of you sent me, but I wanted to keep the recipe provided here as similar to what I learned in class as possible. Feel free to use some here, however, if you like it. Ground coriander, on the other hand, is common in Moroccan cooking and is often included in ras-el-hanout. Finally, raisins are not typical in this dish — they are Aneesa's addition — but I really like the sweetness they offer especially against the saltiness of the olives and preserved lemons.
---
1

onion, thinly sliced

1

to

2

cloves garlic, minced

1 tablespoon

ras-el-hanout

3 tablespoons

olive oil

1/4

to

1/2

cup water

1

to

2

teaspoons preserved lemon purée
handful of green olives (I like them with the pits, but buy what you like)
handful of raisins, preferably golden
handful of chopped parsley, or more or less to taste

4

pieces bone-in, skin-on dark meat chicken
pita, naan or some sort of flatbread or couscous or rice for serving
---
Instructions
Place all of the ingredients (using the 1/4 cup of water to start) in the base of the tagine. Cover it and set it over medium to medium-high heat.
After 10 to 15 minutes, remove the lid (using a towel or pot holder) and give everything a stir. The liquid should be gently bubbling. If the moisture level is looking low, add another 1/4 cup water.
Return the lid and continue cooking for another 15 minutes, adjusting the heat as necessary to keep the liquid bubbling. Check again and dip a spoon into the sauce to taste. If it needs salt, add a pinch or add another spoonful of preserved lemon purée. Continue cooking until the meat is pulling from the bone. The liquid should be bubbling vigorously at this point. Serve with warm bread or couscous or rice.
Prep Time:

10 minutes

Cook Time:

30 minutes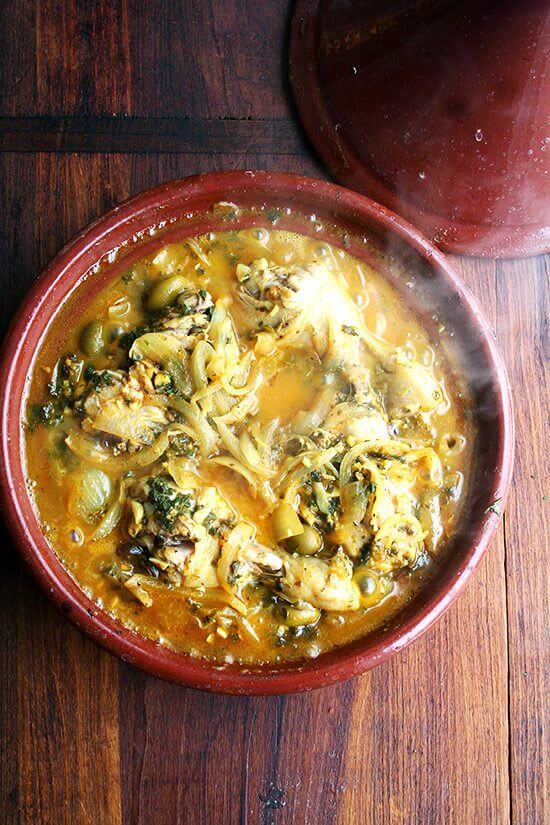 This post may contain affiliate links. Please read my disclosure policy.