Chicken Salad with Olive Oil & Herbs
This post may contain affiliate links. Please read my disclosure policy.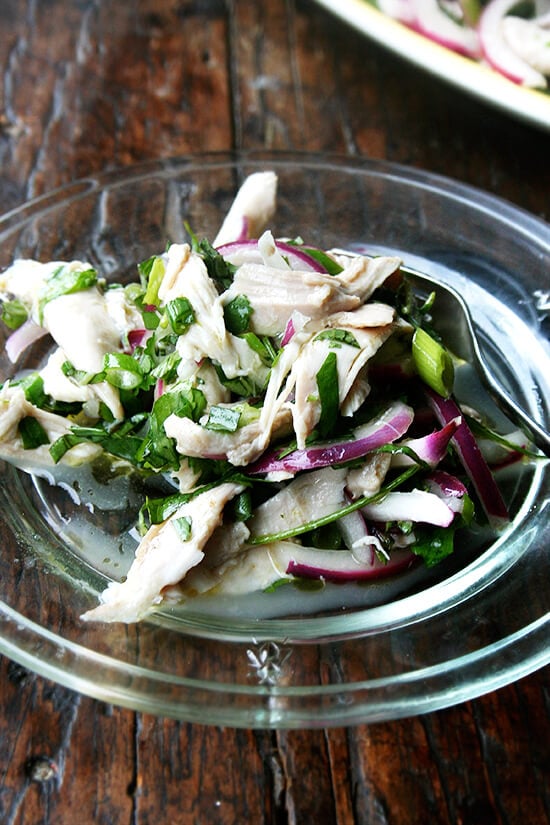 The quantity of herbs heaped onto nearly every dish at every Vietnamese restaurant never ceases to amaze me. And this time of year, I crave nothing more than eating this kind of food: fresh, light, fragrant. Summer rolls lined with mint, green papaya salad speckled with Thai basil, chicken salad loaded with scallions and cilantro — oh Nam Phuong! You feel so far away.
The chicken salad pictured here is made with a simple dressing of olive oil and vinegar — no fish sauce, no lime juice — but it very much resembles what I love about a Vietnamese chicken salad: big, plump pieces of chicken, lots of herbs, a nice bite in the dressing. If you can get your hands on Thai basil, it's particularly good in this salad, but if you can't, a mix of tarragon and basil offers a similar flavor.
This is another nice no-mayo salad to serve at a summer gathering or to bring to a potluck. I love a classic chicken salad, but I love the lightness of this one, too. And there's only one thing to keep in mind while making it: less is not more. Don't be afraid to heap on those herbs.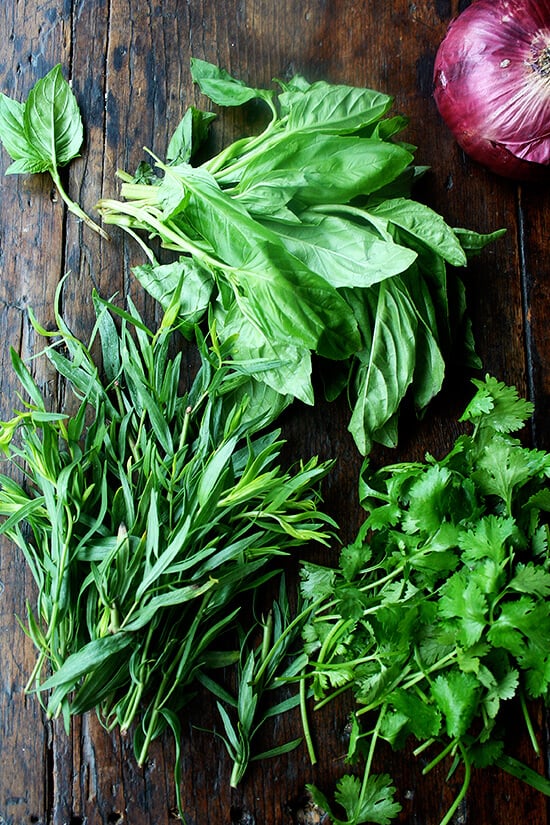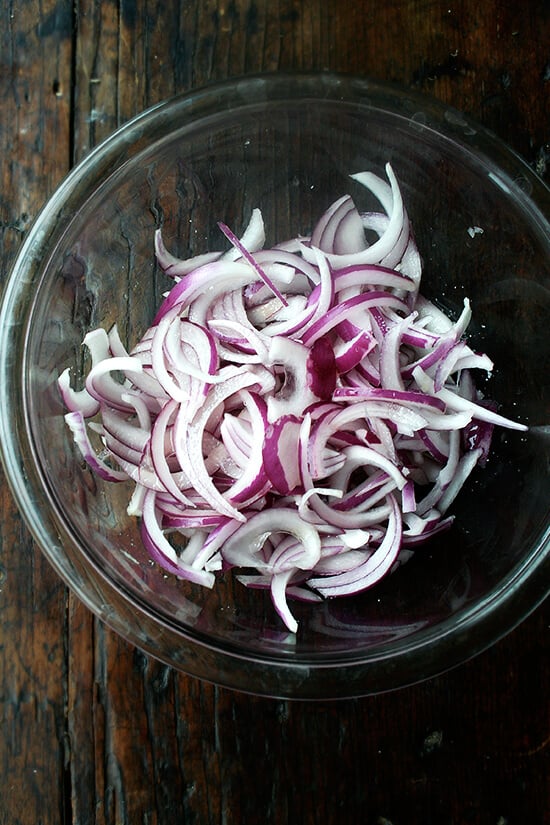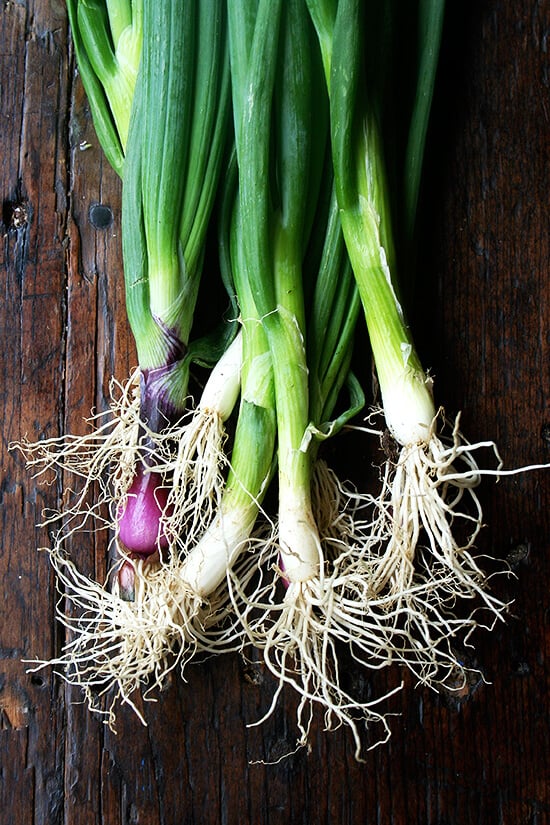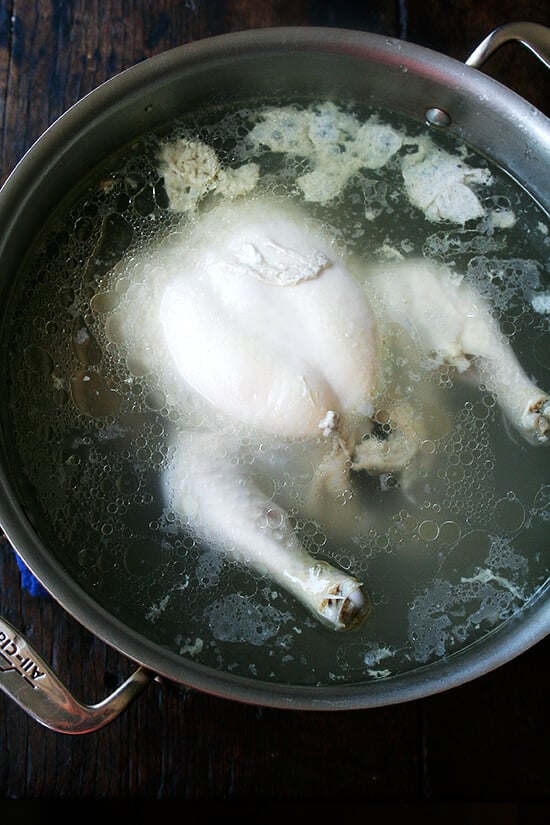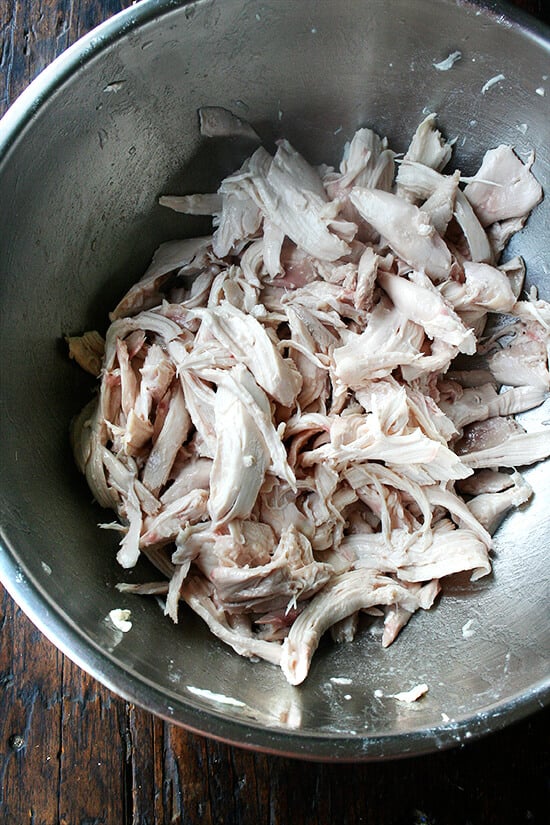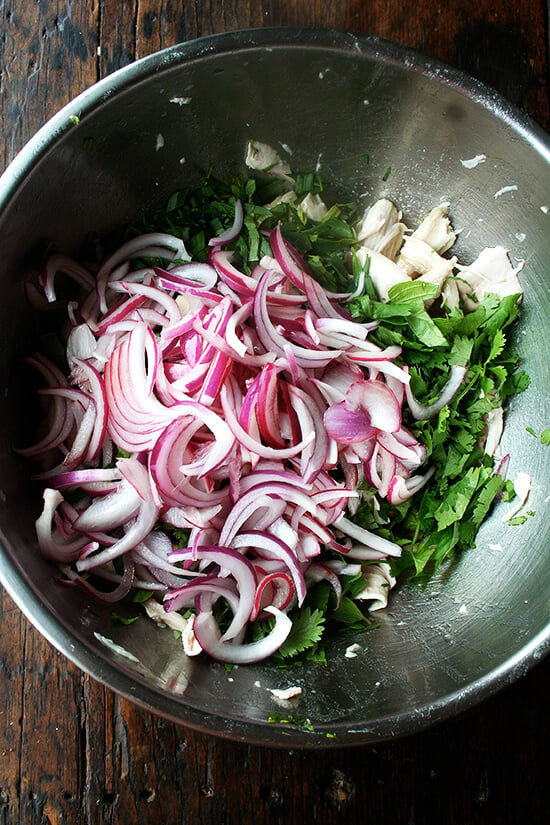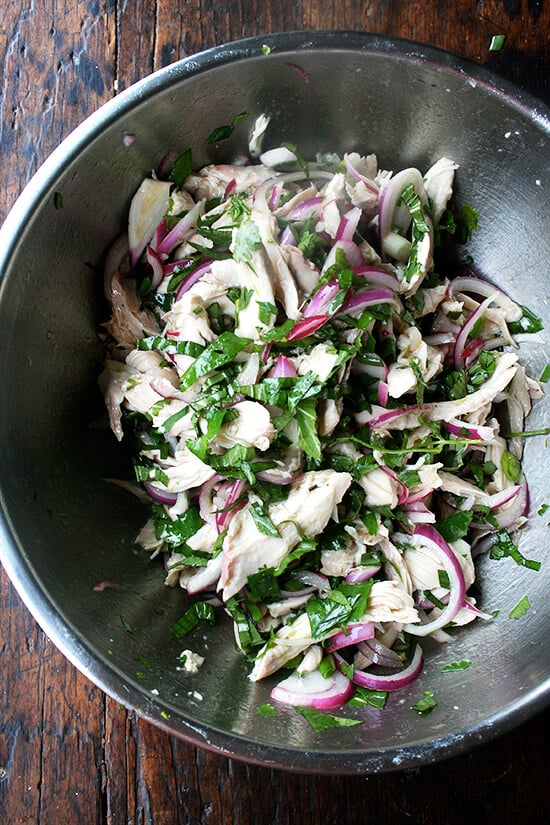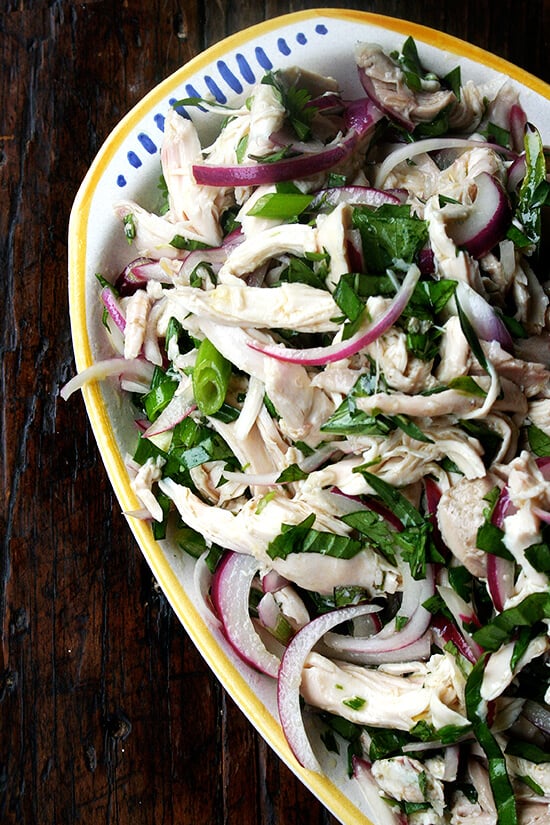 Print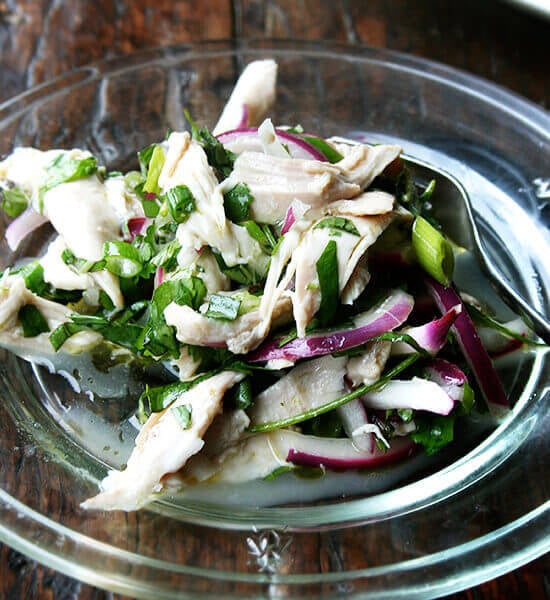 Chicken Salad with Olive Oil & Herbs
---
Total Time:

2 hours 25 minutes

Yield:

6-8 servings
Description
I've given instructions below for how I learned to poach a chicken at the restaurant, which is how I now always poach a chicken: place chicken in a pot; cover with cold water; partially cover pot and bring to a boil; turn off the heat; let chicken finish cooking while it cools completely in the liquid. This takes a few hours. If you do this method, it is imperative that you let the chicken cool completely in the liquid before removing it otherwise it won't be cooked. I like to do this at night — I stick the whole, cooled pot in the fridge (it's always a challenge finding space), and then pull the chicken from the bone in the morning. You can, of course, do this first thing in the morning, too. Also, if you are pressed for time, just simmer your chicken until it's done. What I love about the bring-the-water-to-a-boil-and-shut-it-off method is that the chicken never over cooks — it is plump and moist and juicy. I should note that when you begin pulling the chicken from the bone, the meat might look pink, which will make you think it is not cooked, but it is — the red spots/blood vessels (this is a guess?) sometimes spread into the meat giving it a pinkish hue. If you are nervous, just plunge the pulled meat into a pot of boiling water for a second and drain it, but I can almost assure you your chicken will be cooked if you allow it to cool completely in its cooking liquid.
---
1

small chicken (about

3

lbs. if you can find one)

1

large red onion

2

to

4

tablespoons white balsamic (or other) vinegar
kosher salt

3

to

4

scallions
a ton of herbs: basil, tarragon, cilantro, Thai basil, mint

¼ cup

extra-virgin olive oil plus 1 or

2

more tablespoons
freshly cracked black pepper
crushed red pepper flakes or a mince hot chili (optional)
---
Instructions
Place chicken in a large pot. Cover with cold water. Partially cover, bring to a simmer, then turn off the heat. Let chicken cool completely in liquid. This takes a few hours. (Alternatively, simmer chicken until it's done.)
When ready to make the salad, thinly slice the onion and place in a bowl. Cover with two tablespoons of vinegar and a pinch of salt. Set aside.
Meanwhile pull chicken from bones and place in a large mixing bowl. Slice the scallions somewhat thinly (or not) and add to the bowl. Give the herbs a rough chop and add to the bowl. Add the macerated red onions and the ¼ cup of olive oil. Season with ½ teaspoon kosher salt and freshly cracked pepper to taste. Add pepper flakes or chili to taste.
Use your hands to toss everything together. Take a taste. If necessary add another tablespoon of vinegar and olive oil. Add more salt if necessary. Toss again and taste until seasoning is right. Serve.
Prep Time:

15 minutes

Cook Time:

10 minutes
This post may contain affiliate links. Please read my disclosure policy.