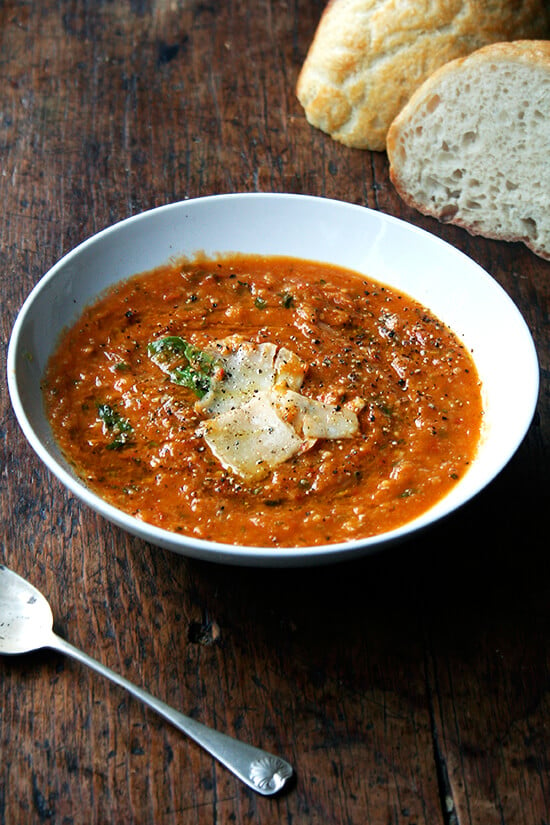 In April of last year, Vince Vaughn hosted SNL, and delivered a hilarious, wise and insightful monologue. After acknowledging the importance of the audience's role in the success of an SNL show, he ventured off stage, engaged a few of the audience members, and confiscated a cell phone, noting he "believe[s] sometimes it's better to take the memories with our hearts and minds." He then turned to the camera to say: "That's for all you kids out there tonight. It's OK to put down the phone and be a part of the memory. That lasts a lifetime as well."
I've thought about this monologue often since seeing that SNL episode but never so much as last week, when three hours after arriving in Minneapolis en route to a cabin in Wisconsin, I realized I had left my camera on the plane and that all of the moments I had looked forward to capturing in billions of pixels during the week with friends and family would by necessity be cemented solely into my heart and mind. I know a camera is just a thing, and I shouldn't fret — we have our health! and happiness! — but I still have a pit in my stomach. New camera arriving tomorrow. Yay.
Anyway, I made this soup the day before we left. We had a ton of beautiful tomatoes that needed to be consumed immediately, and because one can only eat so many bagels with cream cheese and tomato in one day, roasted tomato soup it would be.
I first posted this recipe several years ago now, but since publishing it, I've learned two things about the soup that inspired its creation: the chef used water, not stock, and always used canned San Marzano tomatoes. Both details surprised me, and while I have never successfully made the soup with canned tomatoes, I now only use water.
If this sounds suspicious or if you can't help but think stock could only make this soup taste better, let's review: remember that French onion soup we made last winter? Or that delectable fresh tomato-red pepper pasta sauce we made last summer? Each of these recipes call for water not stock or cream. Here, slow-roasting the tomatoes, onions, carrots and garlic concentrates all of the flavors, making any liquid but water unnecessary. Furthermore, water doesn't muddy the pure tomato flavor. As with the onion soup, you need to plan ahead — the onions roast for almost three hours — but the work is mostly hands off.
I know it's hard this time of year not to eat tomatoes any other way but raw, with a sprinkling of salt and a drizzle of olive oil, but if you're lucky enough to have a glut, this one's for you — I have no doubt it will make an impression in your heart and mind.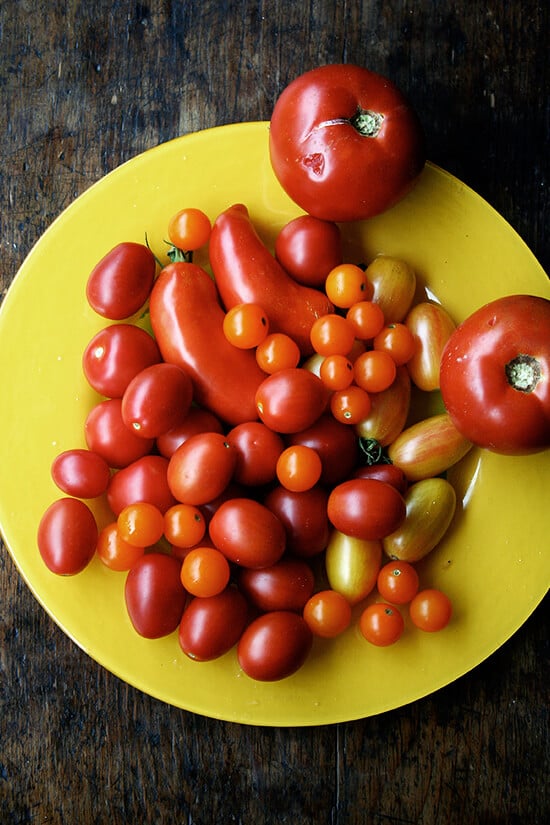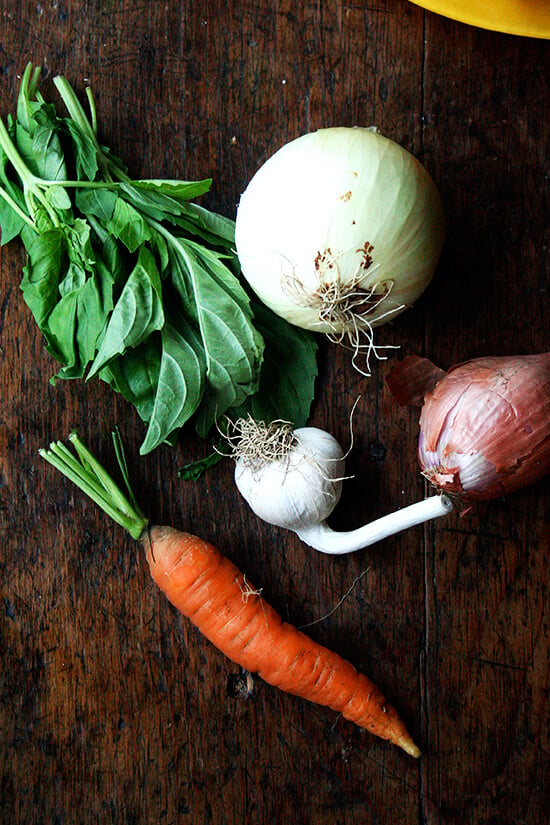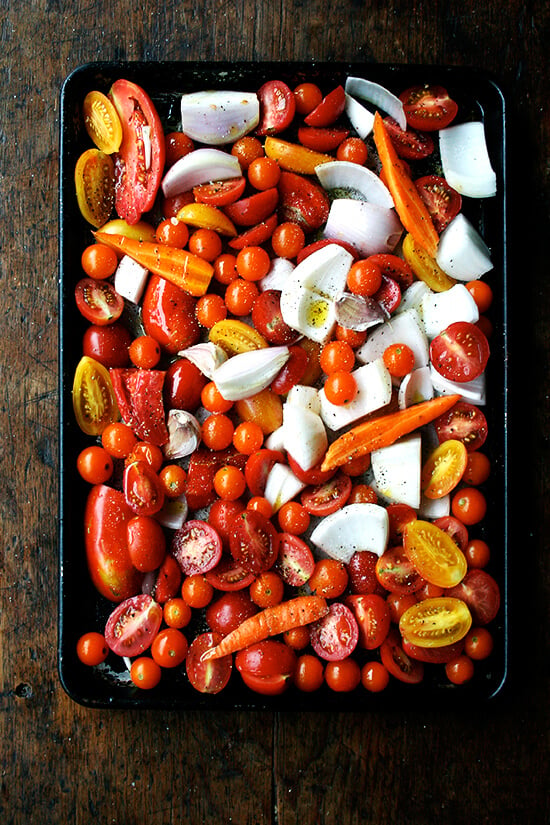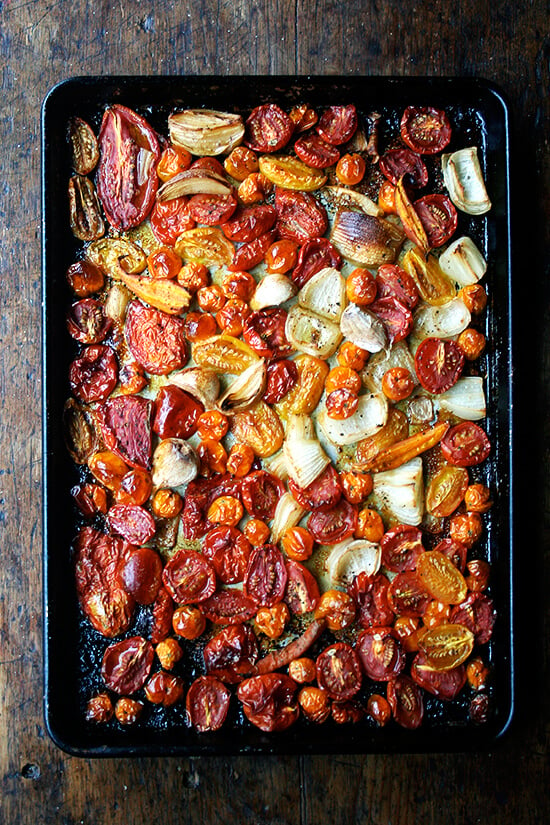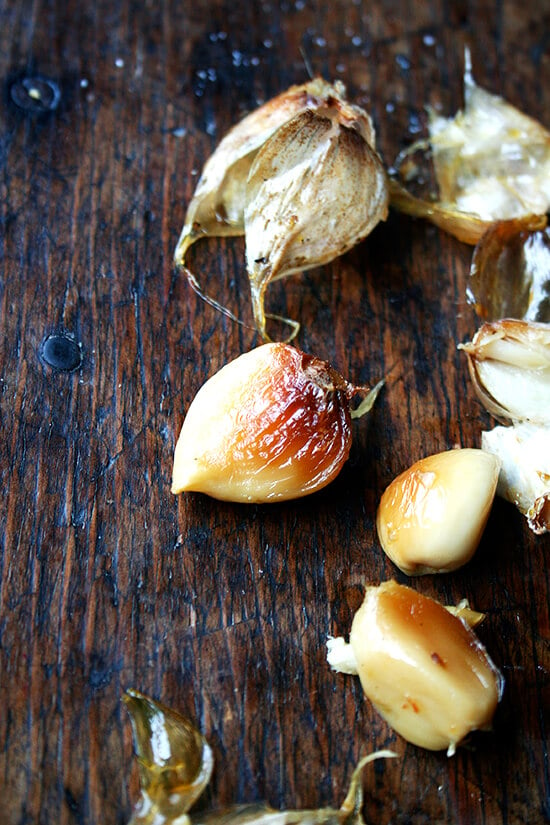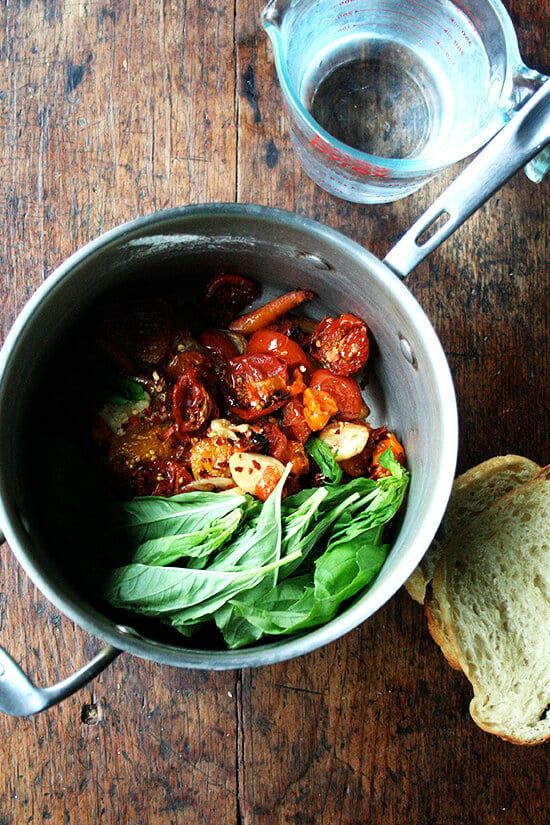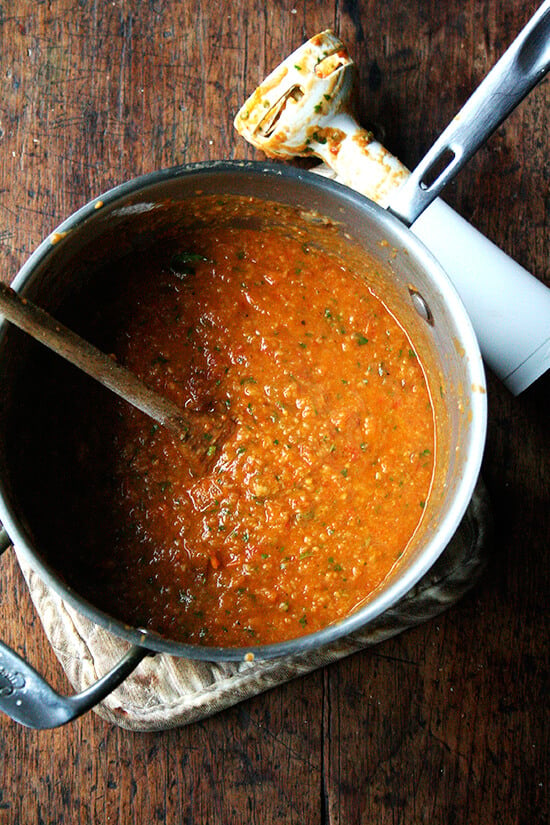 Print
Roasted Tomato and Bread Soup
---
Prep Time:

15 minutes

Cook Time:

3 hours

Total Time:

3 hours 15 minutes

Yield:

4-6 servings as a first course
Description
Inspired originally by a soup served at Cafe Mimosa in San Clemente. Original post here.Notes: Plan ahead: the vegetables roast for three hours. Once they are done, however, the soup comes together in no time. Feel free to use whatever vegetables you have on hand — a few leeks, celery, peppers, etc. would all make nice additions.
Plan ahead: the vegetables roast for three hours. Once they are done, however, the soup comes together in no time. Feel free to use whatever vegetables you have on hand — a few leeks, celery, peppers, etc. would all make nice additions.
---
Ingredients
3

lbs (1.36 kg) tomatoes, about, halved if large, left whole if cherry or grape, enough to fill a sheet tray

1

onion, peeled and chopped into big chunks (

9.5 oz

| 256 g once trimmed)

1

shallot, peeled and chopped into big chunks (

3⅛ oz

| 88 g once trimmed)

1

head garlic, cloves separated but left peeled, lightly smashed (

1.5 oz

| 42 g)

one

large carrot, unpeeled, roughly chopped (

2 oz

| 55 g)

3 tablespoon

s olive oil, about

1 teaspoon

kosher salt plus more to taste
fresh cracked pepper

4

to

5

oz | 135 g (a couple slices) bakery style bread or peasant bread

2

to

3

cups water

1

bunch (1 oz | 28 g) fresh basil
crushed red pepper flakes to taste
Shaved Parmigiano Reggiano and more bread for serving, optional
olive oil for drizzling, optional
---
Instructions
Preheat the oven to 300ºF. Line a rimmed sheet tray with all of the vegetables. The vegetables should cover the tray in a single layer. (Note: the total weight of vegetables is about 4 lbs or 1.812 kg.) Drizzle olive oil over top. Season with 1 teaspoon kosher salt and pepper to taste. Roast for about three hours, but start checking after 2 hours — sometimes they are done in 2.5 hours. The vegetables should be soft and slightly caramelized.
Meanwhile, toast the bread. If you haven't already, slice the bread into ½-inch thick pieces. Place on the counter to dry or toast briefly in the toaster. You can also stick the bread in the oven for about 20 minutes or so while the tomatoes are roasting. You just want to dry out the bread; you're not trying to brown it.
When the vegetables are done, place them in a pot with 2½ cups of water. Bring to a simmer. Note: It's best to bring this soup to a simmer slowly — it spits violently if you heat it too quickly. Also, reheat with the lid on over low heat for the same reason.
Season with a pinch of salt and crushed red pepper flakes if using. Add the bunch of basil. Break one slice of bread into medium-sized cubes and add to the pot. Using an emersion blender or food processor or traditional blender, puree the soup roughly. Add the other slice of bread if necessary. The soup should be slightly chunky. Taste and add more salt or bread if necessary. Thin with more water until soup reaches desired consistency.
Serve with a drizzle of olive oil and a few shavings of Parmigiano Reggiano.
---
peasant bread: