German Peach Pie with Brown Butter & Walnuts
This post may contain affiliate links. Please read my disclosure policy.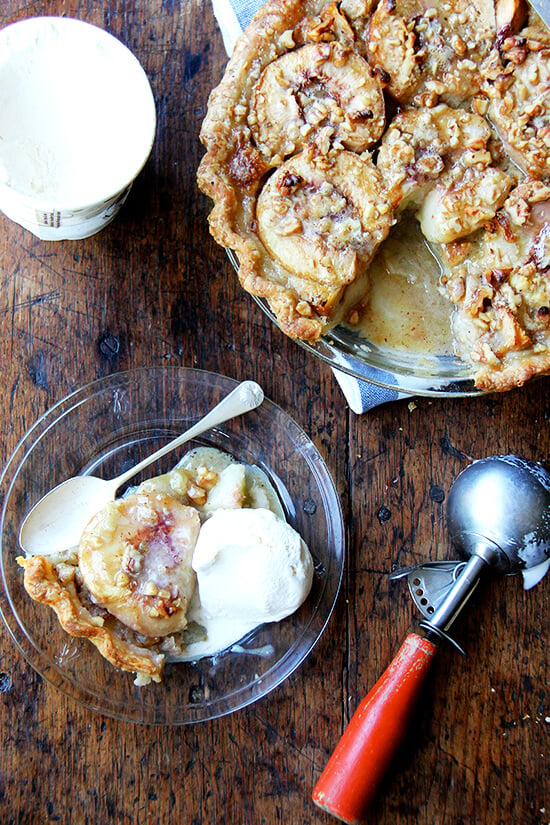 A few weeks ago, in the daily cooking newsletter from the NY Times, Kim Severson discussed the joys of cooking with friends, the benefits of learning from others, the potential discoveries that might be made, such as peach and blackberry crisp, "whose luscious secret, borrowed from the pastry chef Nancy Silverton, [is] four tablespoons of butter browned in a saucepan with a vanilla bean poured over the fruit before the sugar and nut topping [goes] on."
No recipe was provided, and I couldn't find an exact match with my googling, but I think the point is that you don't need a recipe here. Every bubbling-fruit, crumb-topped concoction you make can be adapted to have vanilla bean-flecked brown butter.
The letter almost inspired me to sacrifice the half dozen peaches on my counter, but it sort of felt like a crime — the peaches have been so good this summer, and to eat them any other way but leaning over the sink, juices dripping down chin and arm, felt wrong.
But it also felt wrong to let summer pass without making a single pie, cobbler, or crisp. How has this happened?! Where does life go?! Over the Labor Day weekend, I took action and made this German peach pie, an old recipe my mother has had scribbled on scratch paper for years. I adapted the recipe to include brown butter, vanilla bean paste, and walnuts in place of pecans.
German peach pie, which may or may not be German at all, is like an open-faced pie made with four halved, peeled peaches topped with a butter-sugar-egg mixture and a small sprinkling of nuts. When it bakes, this vanilla custard bubbles around the peach halves, which, after the hour in the oven, become spoon tender and are utterly delicious. Vanilla ice cream is a must as is a crew to help polish off the spoils, though pie for breakfast isn't the worst thought either.
All I can say is that I've been sleeping easy with "make pie" crossed off my summer bucket list. Hope you all have been, too.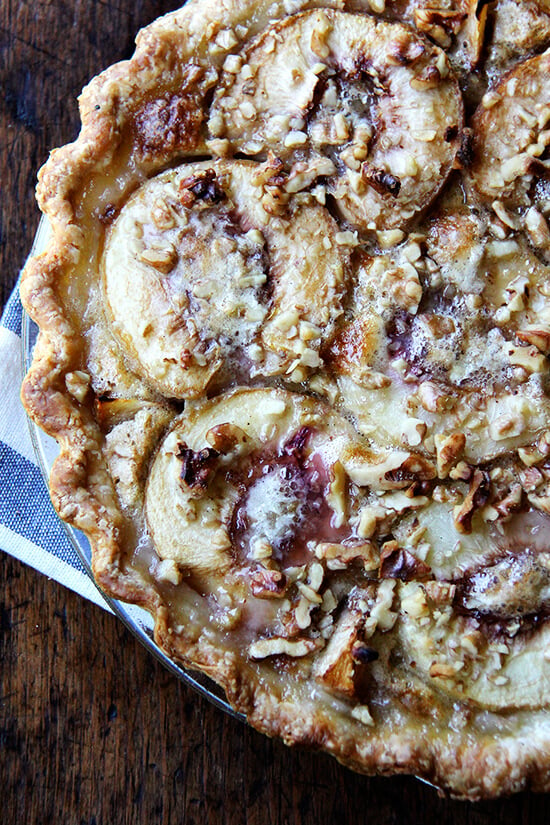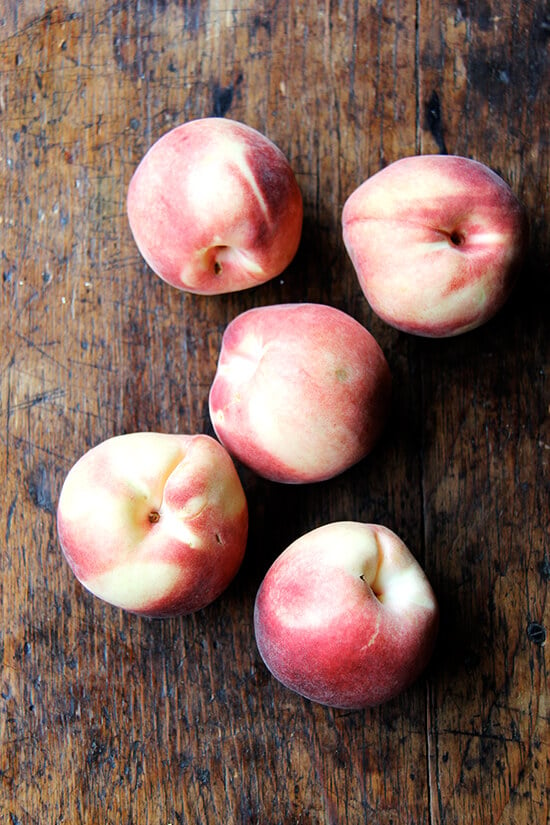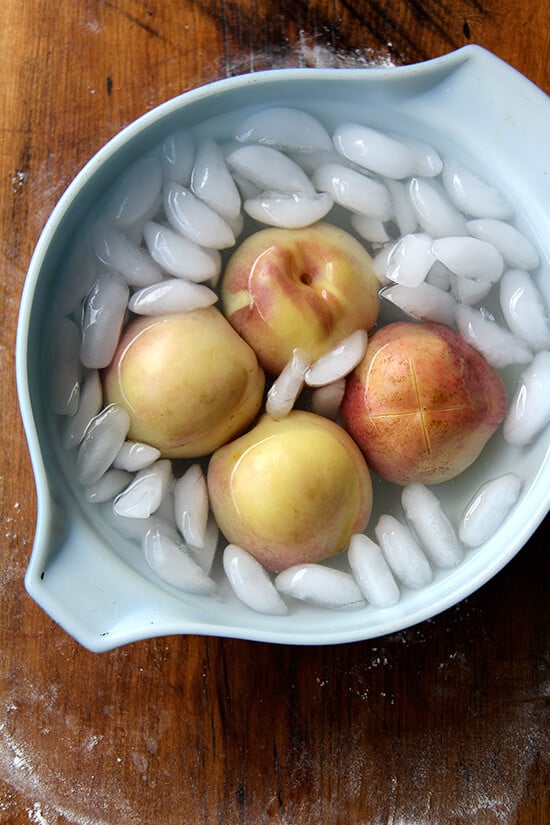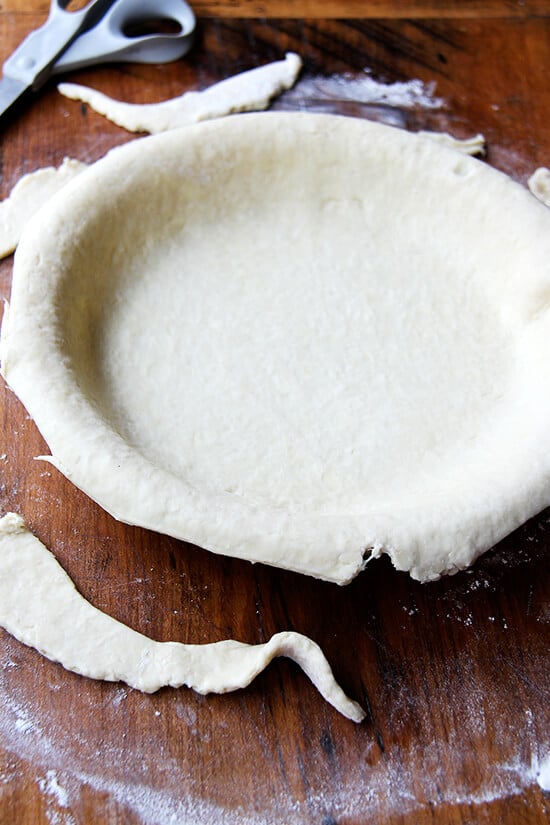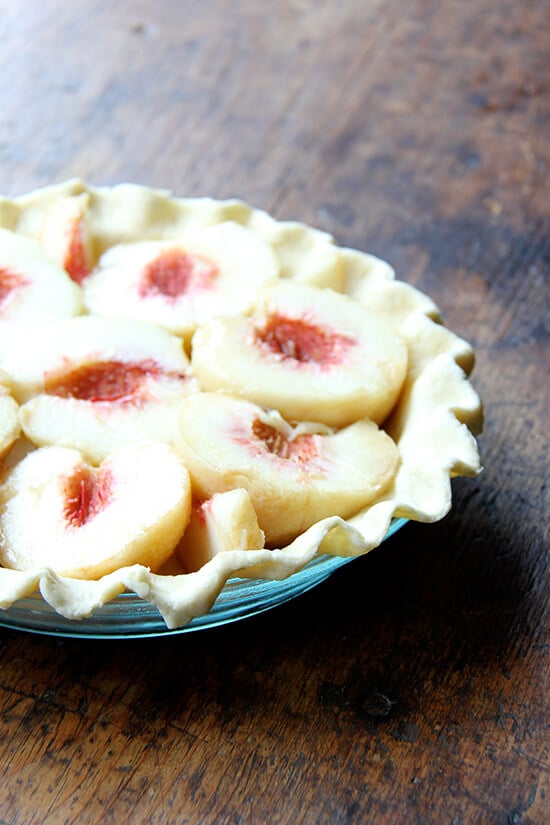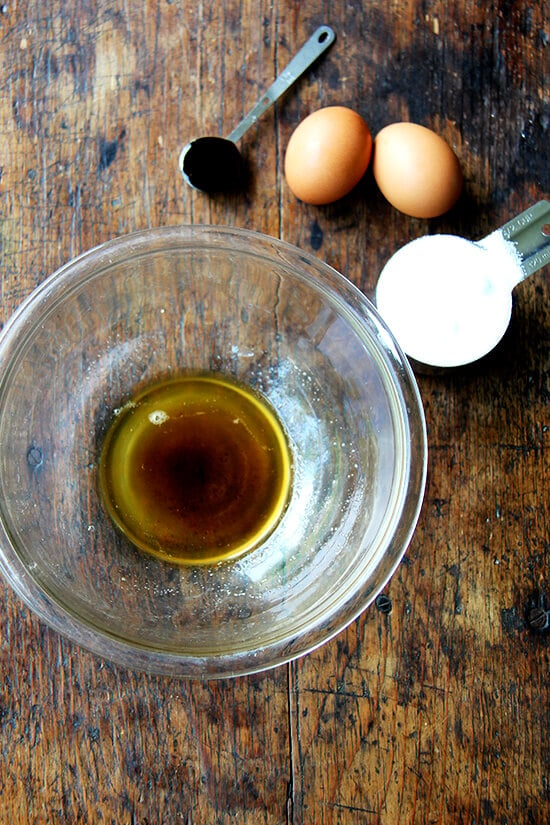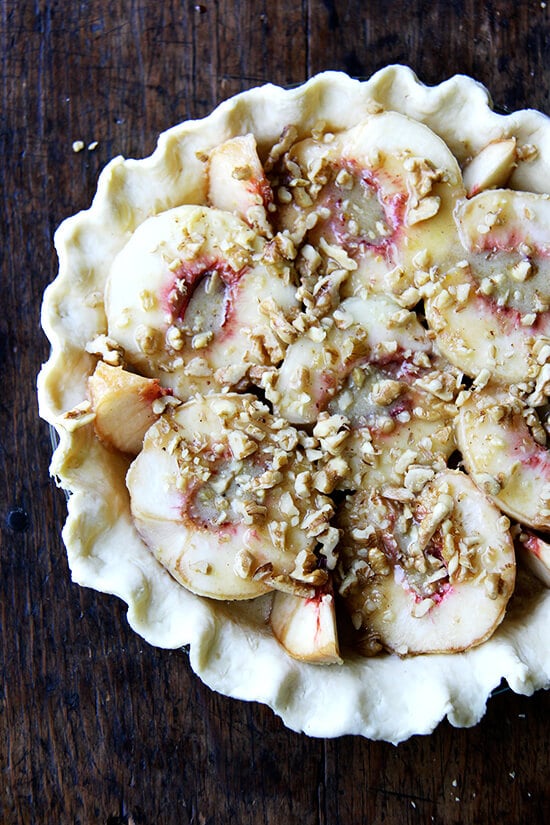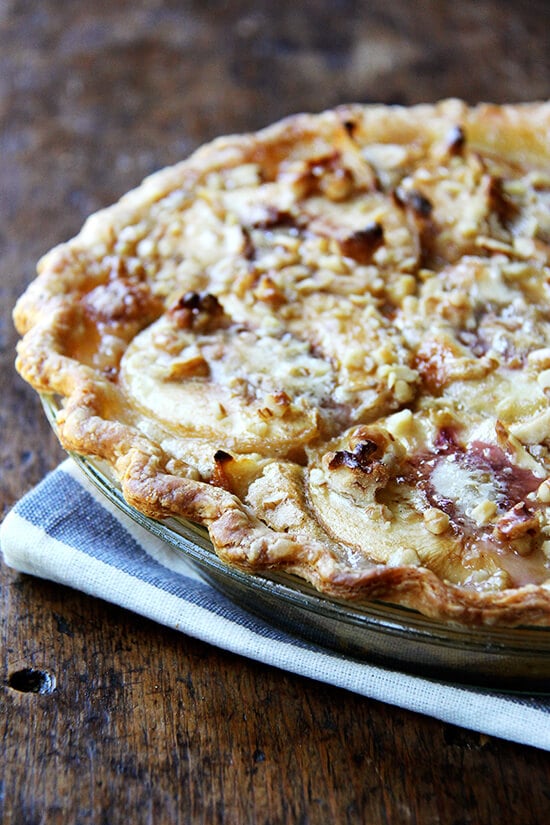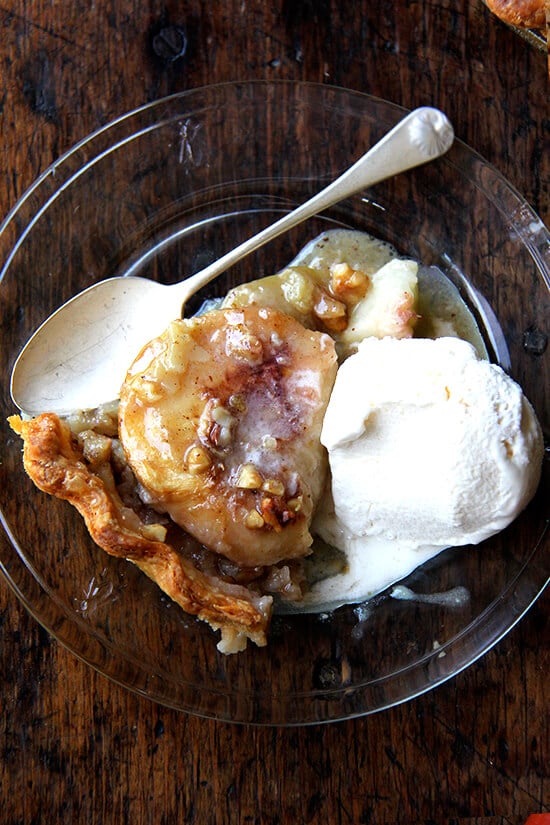 This is a really boring video demonstrating the magic of the Catamount Flameware measuring cup. You can place the measuring cup directly over a flame. I love it.
Print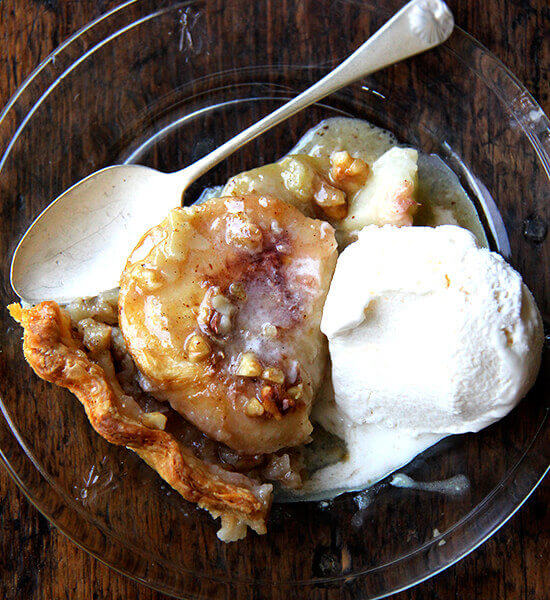 German Peach Pie with Brown Butter & Walnuts
---
Description
This is the pie dough I use for every recipe requiring a crust. For more guidance on pastry and pie making, see this Basic Apple Pie post. King Arthur Flour has a great peach-peeling tutorial. In sum, boil water, prepare an ice bath, blanch peaches for 30 seconds total, transfer to ice bath, peel skin, which should come off easily if peaches are ripe. This recipe source is unknown. My mother has had it scribbled on scratch paper for years. I made a few changes to the recipe: brown butter vs melted, the addition of vanilla and salt, walnuts in place of pecans, omitted cinnamon.
---
1

nine-inch unbaked pie shell (see recipe below)

3 tablespoons

butter

4

peaches, peeled, pitted and halved

1/2 cup

sugar

2

eggs

1 teaspoon

vanilla bean paste or vanilla extract

1/4 teaspoon

kosher salt

1/4 cup

chopped walnuts or pecans or almonds>for the pie crust (this yields

2

9-inch rounds, freeze

one

for later or cut recipe in half):

2½ cups

(

11.25 oz

|

320g

) all-purpose flour

2

T. sugar

½ tsp

. table salt

16

T. (8 oz | 227g) unsalted butter

½

C. + 2 T. (

4 oz

|

114 g

+

1 oz

|

28g

) ice water
---
Instructions
Preheat oven to 400ºF. Roll dough into a circle about an inch larger in diameter than your pie dish. Transfer dough to dish. Press gently to make sure dough fills pie plate. Trim excess dough. Save for cinnamon snails. Crimp edges if you wish. Place shell in fridge while you prepare the rest of the recipe.
Brown the butter: Place butter in a small saucepan or skillet or catamount flameware measuring cup and bring to a bubble over medium heat. Let the butter gently bubble, swirling the pan occasionally, until the mixture smells nutty and starts turning brown. Before the mixture starts turning brown, the bubbles at the surface of the butter will get really small and will be moving rapidly — be careful at this point as the mixture can quickly turn from brown butter to burnt butter. Remove pan from heat and let cool slightly before using.
Whisk butter with sugar. Add eggs, vanilla and salt and whisk until smooth.Arrange halved peaches flat side up in shell. If all of the peaches don't fit, cut up the one that doesn't and nestle the pieces in between the spaces.
Pour the custard over the peaches. Sprinkle with the nuts. Place pie on sheet pan. Bake 15 minutes. Reduce to 325ºF and bake for 35 to 45 minutes more or until crust is brown and peaches are bubbling. To make the the pie crust:In a large bowl, whisk flour, sugar and salt together (or pulse in food processor). Cut butter into flour and using the back of a fork or a pastry cutter, incorporate butter into flour mixture until butter is in small pieces. (If using food processor, pulse at 1-second intervals until butter is the size of peas.) Add ice water and continue to stir with fork until mixture comes together to form a mass. Add more ice water if necessary, one tablespoon at a time. Gently form mass into a ball, divide in half, flatten each half into a disk and wrap each disk in plastic wrap. Chill until ready to use.
This post may contain affiliate links. Please read my disclosure policy.