Pizza with Potato, Bacon and Crème Fraîche
This post may contain affiliate links. Please read my disclosure policy.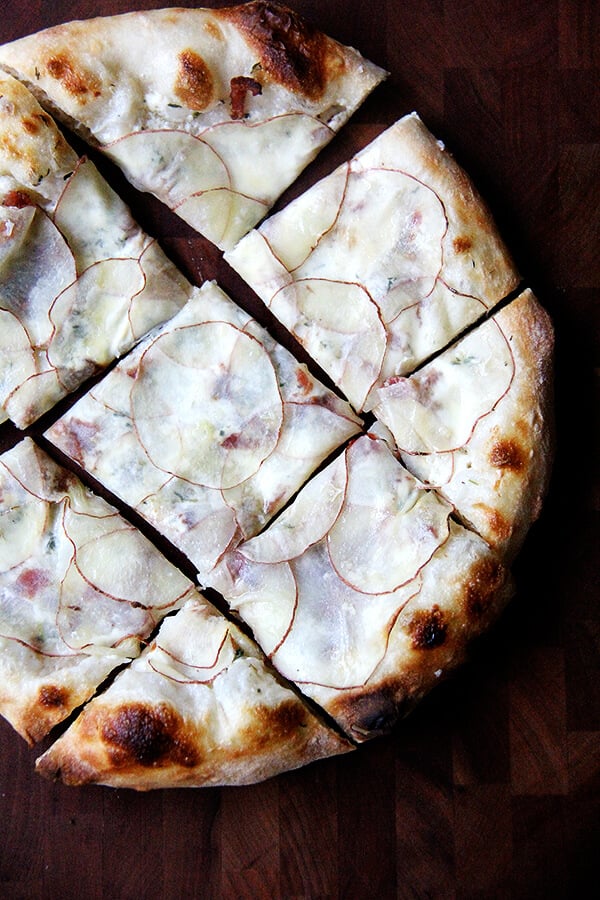 In the middle of the summer, I tore a page from my Food and Wine and stuck it to my fridge. For weeks, the dangling photo of an Alsatian pizza taunted me, reminding me every time I opened the door to add crème fraîche and speck (?!) to my grocery list.
But before long, the page became as much a fixture on the door as the photos and schedules and kindergarten artwork that I stopped seeing it. I had forgotten about the pizza altogether until a few weeks ago, when I came across a recipe in Baking Chez Moi for apple tarte flambée, Dorie Greenspan's sweet twist on the Alsatian specialty, which classically calls for fresh cheeses, cured meat, and raw onions. Greenspan's passage reminded me of that F&W recipe, which I made immediately.
I loved the simple combination of raw bacon, onions, and crème fraîche and have since used the formula as a base for a number of variations: sautéed mustard greens, quickly blanched butternut squash, and thinly sliced apples with thyme.
When two red potatoes arrived in my CSA last week, I gave them the Alsatian treatment, too, slicing them on a mandoline and layering them atop crème fraîche, crisped bacon and thyme. The paper-thin potatoes require no pre-cooking, and a drizzle of olive oil and sea salt overtop renders additional cheese unnecessary. This has to be one of my all-time favorite pizzas (feeling bold!) though I have no doubt the fresh potatoes play a role here. Also bacon. And crème fraîche.
Anyway, Friends, it has been weeks. What have you all been cooking? I've been eating bread morning, noon and night and making lots of pizza in between. I hope you are well.
PS: Savory Apple Tarte Flambée and a few apple-picking tips.
PPS: For game-changing pizza at home, consider investing in a Baking Steel. You won't be disappointed.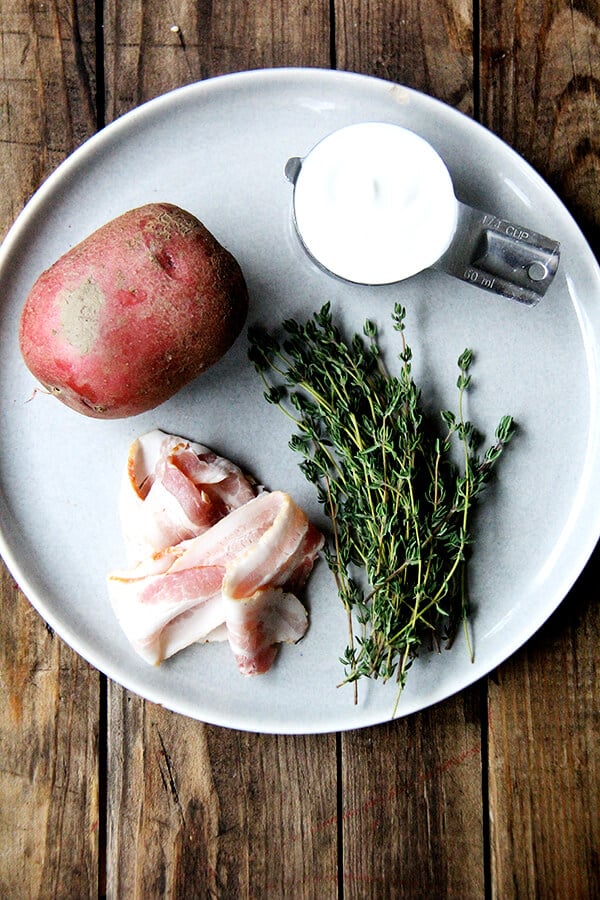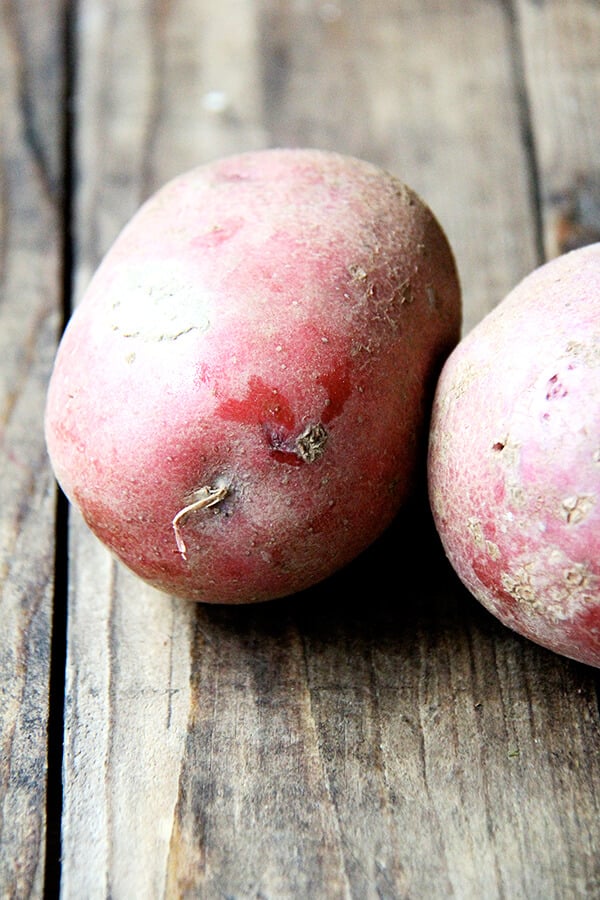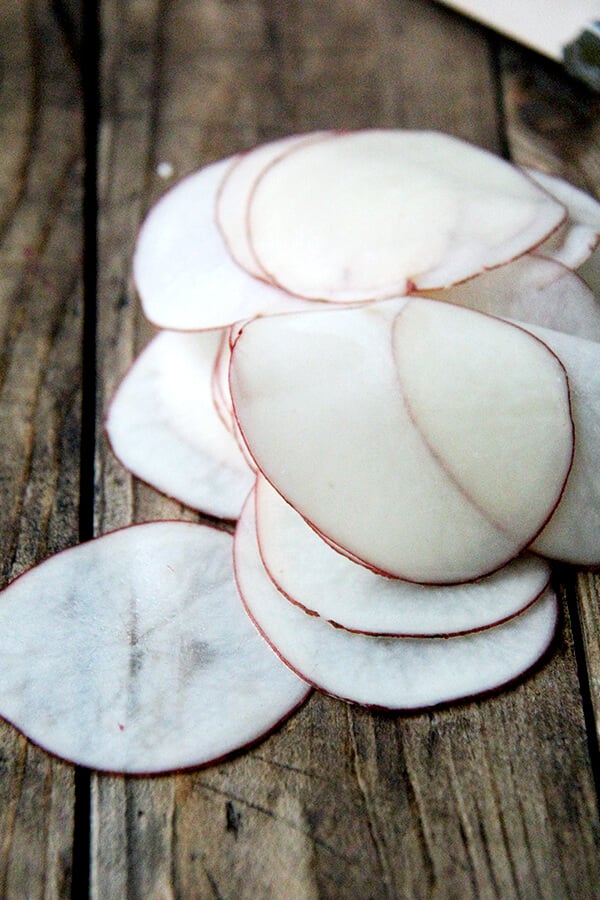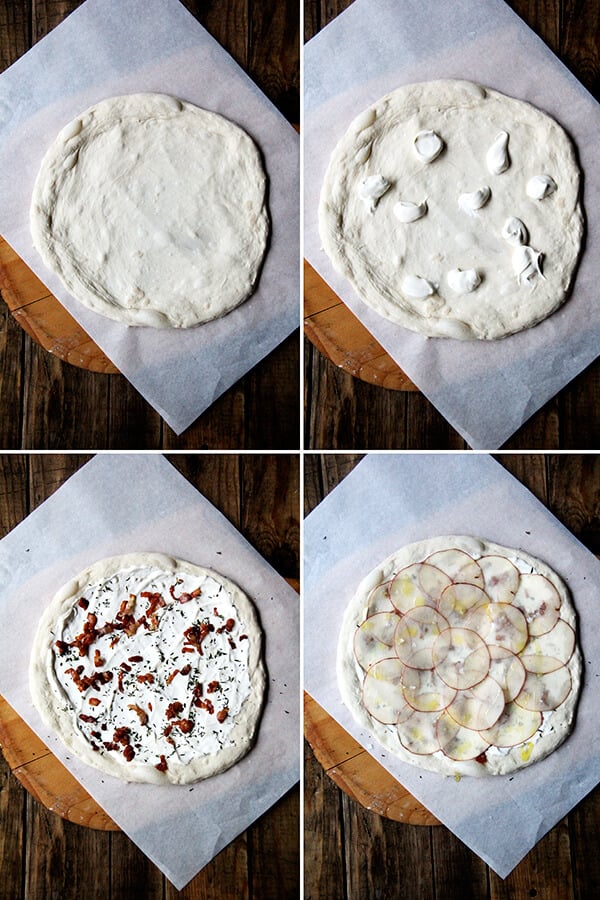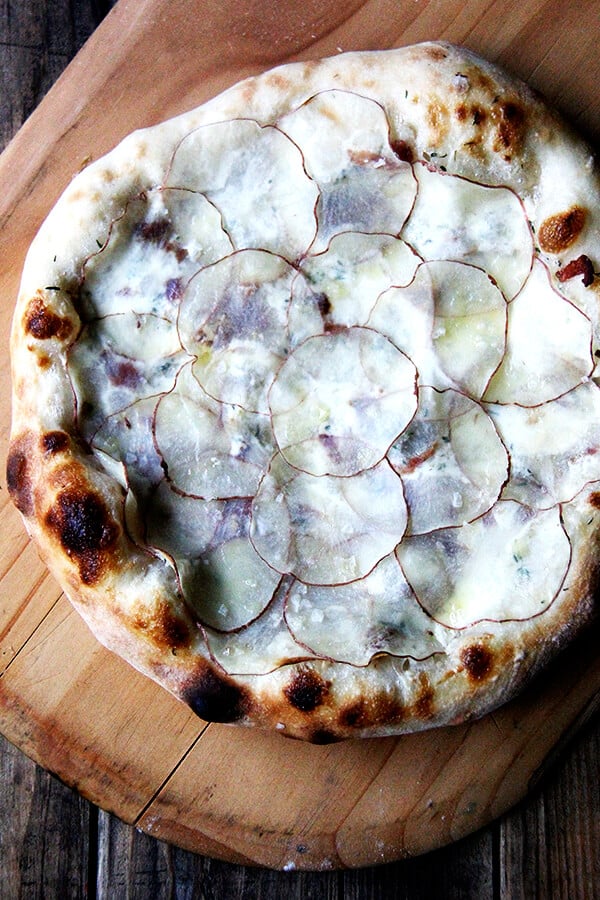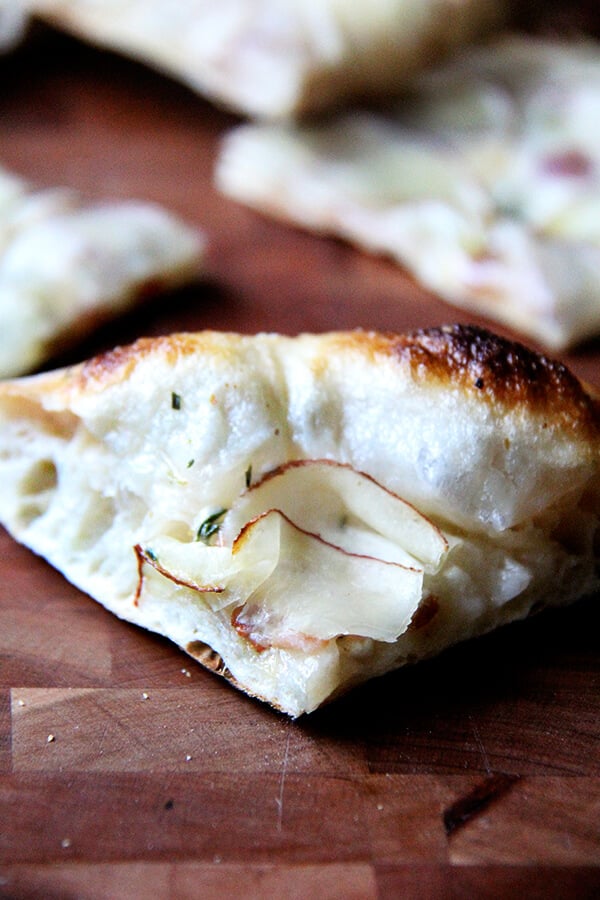 Pizza Perfected
7 Secrets to Mastering Pizza at Home
Always Free. Unsubscribe Anytime.
Print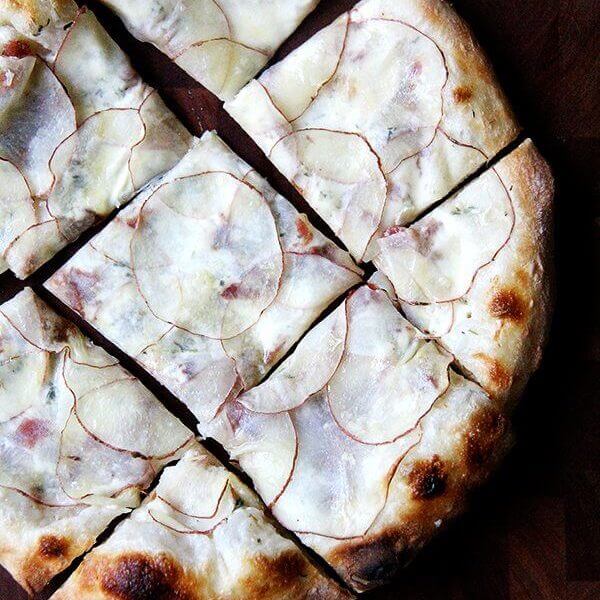 Pizza with Potato, Bacon and Crème Fraîche
---
Author:

alexandra

Total Time:

15 minutes

Yield:

2
Description
Classically, Alsatian pizza or tart flambée calls for raw onions, raw bacon or other cured meat product, and fresh cheeses. I've been loving the formula and using it as a base for all sorts of variations, though it is delicious on its own.
Here I've cooked the bacon and omitted the onion. It is simple and delicious and reminds me of my favorite mashed potato and bacon pizza at Bar. Here's the Food and Wine recipe for reference.
As you know, my preference is to cook pizza on a Baking Steel. If you don't have one, I find a cast iron skillet preferable to a sheet pan for getting a crisp crust. Find instructions here for cast iron skillet. Finally, I love the Lahey pizza dough, but use whatever dough you like.
---
1

round (about

8 ounces

) pizza dough, see notes above
flour for dusting

3

to

4

tablespoons crème fraîche

1

slice bacon, finely chopped and crisped in a frying pan

1 teaspoon

minced fresh thyme

1

red-skinned (or other) potato, thinly sliced on a mandoline
olive oil for drizzling
nice sea salt, such as fleur de del, for sprinkling
---
Instructions
For the pizza: Pull out a pizza round from the fridge one hour before you plan on baking. Dust dough with flour and place on a floured work surface. Place a Baking Steel or pizza stone in top third of oven and preheat oven to 550°F or to its hottest setting. Gently shape dough into a 10″–12″ disk handling it as minimally as possible. Arrange dough disk on parchment-lined baking peel.
Drop dollops of the crème fraîche evenly around the dough, then spread lightly using the back of a spoon or your fingers. Scatter the bacon and thyme overtop. Layer the potato slices over top, slightly overlapping them. Drizzle with olive oil and sprinkle with sea salt.
Bake pizza until top is blistered, about 5 minutes. Cut and serve immediately.
Prep Time:

10 minutes

Cook Time:

5 minutes
This post may contain affiliate links. Please read my disclosure policy.