Fall Tabbouleh with Apples, Walnuts, and Pomegranates
This post may contain affiliate links. Please read my disclosure policy.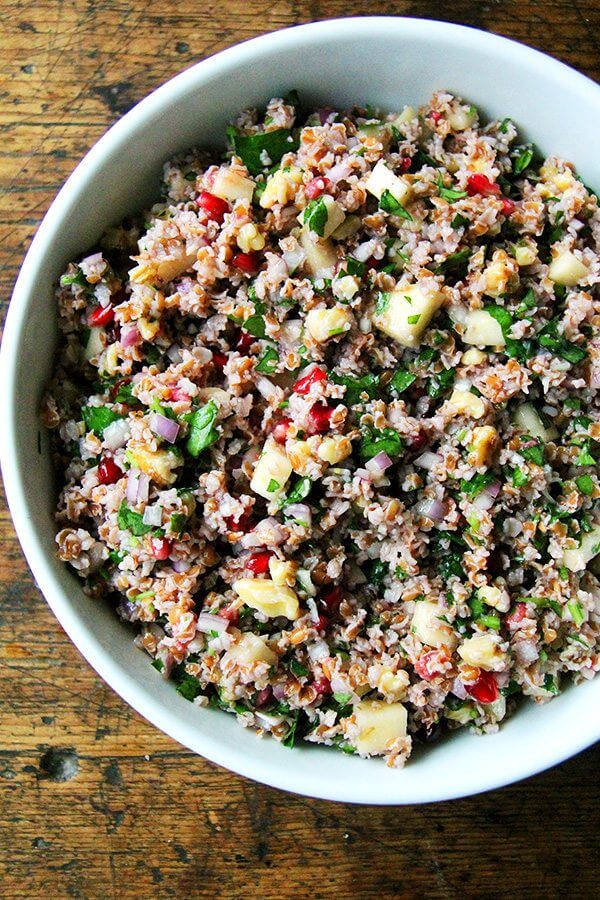 Last Thursday morning I made two pies, juiced some lemons, emptied the contents of a few bottles into a bowl and called my contributions to Thanksgiving done. Later that morning, we drove down to my sister's in Rhinebeck, where we met up with my three parents and kicked off the holiday season. My sister roasted the turkey in the romertopf, my mother's preferred method, and a few hours later, the feast was ready: we set out the cranberry sauce, the stuffings, the gratin, my mom's roasted Brussels sprouts with grapes, and cranberry-walnut dinner rolls. I made sure everyone's punch glass was full, then took a 90-minute nap on the couch, waking up just in time for pie. It was incredibly relaxing. I hope yours was, too.
With a fridge full of leftovers, I spent some time over the weekend paging through a few cookbooks, in particular Zahav, which I've had out from the library for a few weeks now. When I came across the traditional tabbouleh recipe and read in the notes about a fall variation that included pomegranates, apple, and walnuts, I needed to make it immediately — nothing sounded more refreshing. What's more, no cooking was required — bulgur simply needs to be soaked in cold water for about an hour.
I made the salad, then made it again immediately afterwards on Facebook Live, then found myself with four quart containers stuffed with fall tabbouleh salad. There are worse problems to have. This salad is the loveliest mix of textures and flavors—sweet, tart, crunchy. We've been snacking on it all week. I think golden raisins would be nice in here, too. Hope you all are well.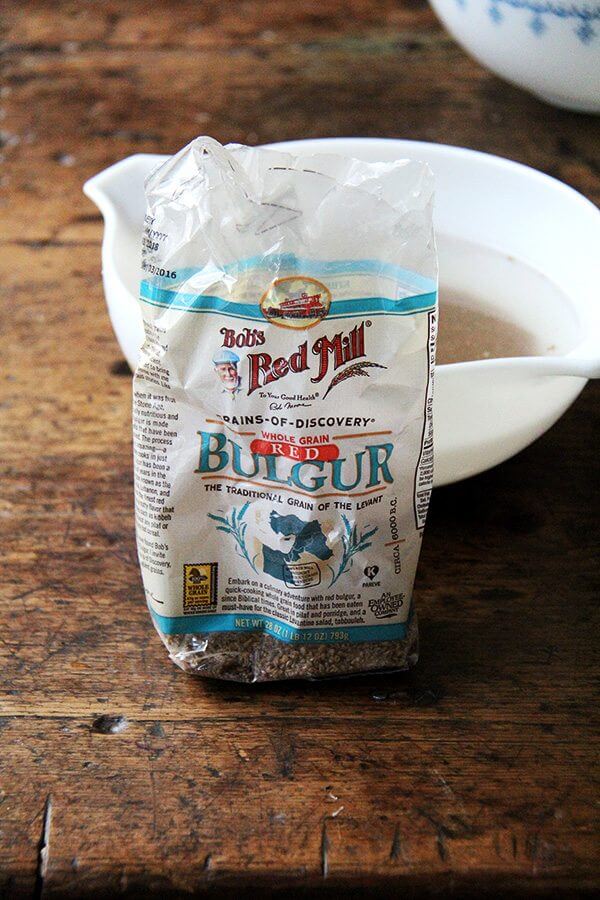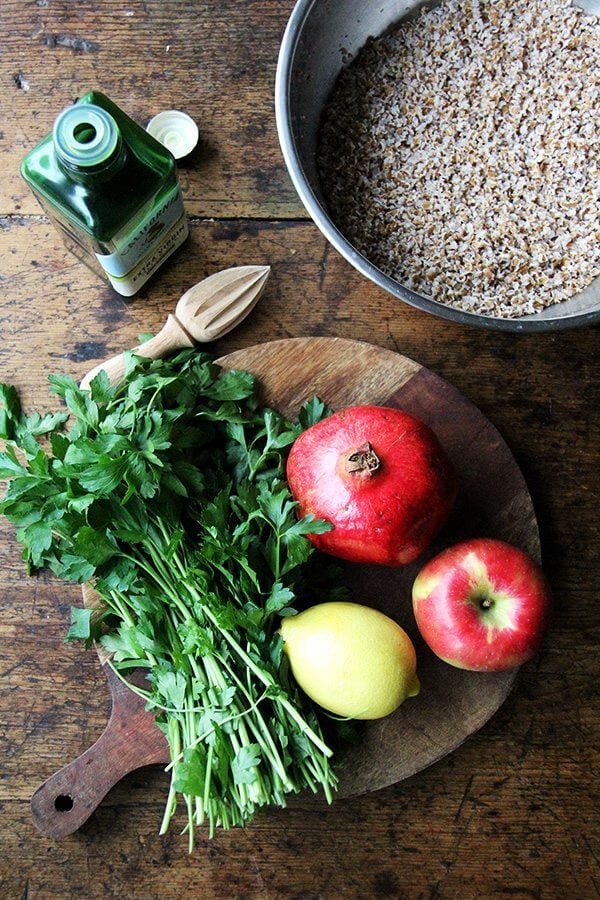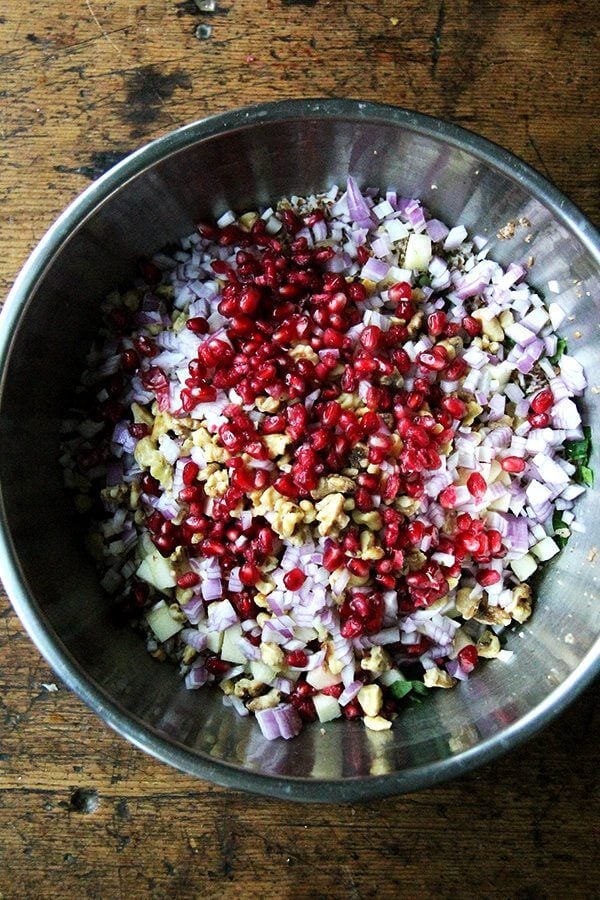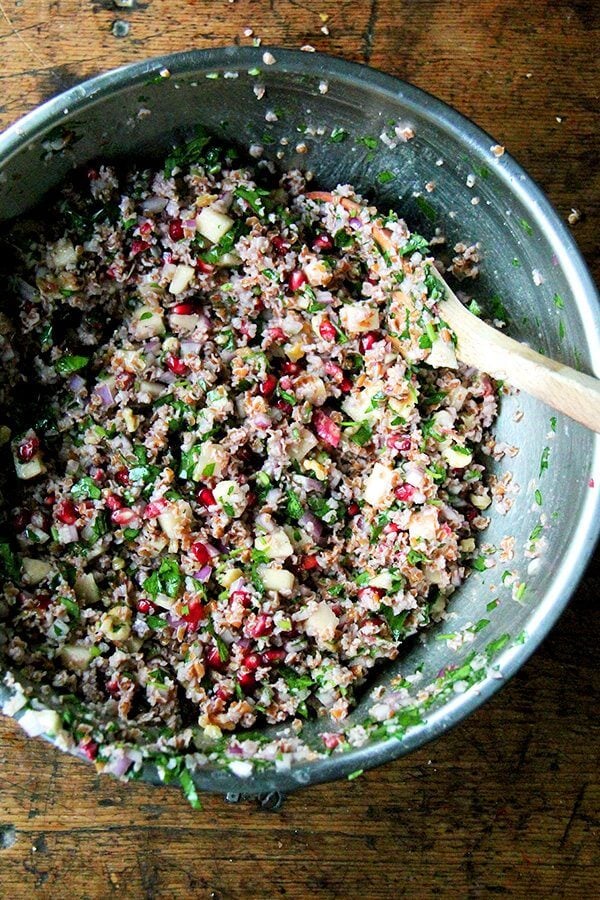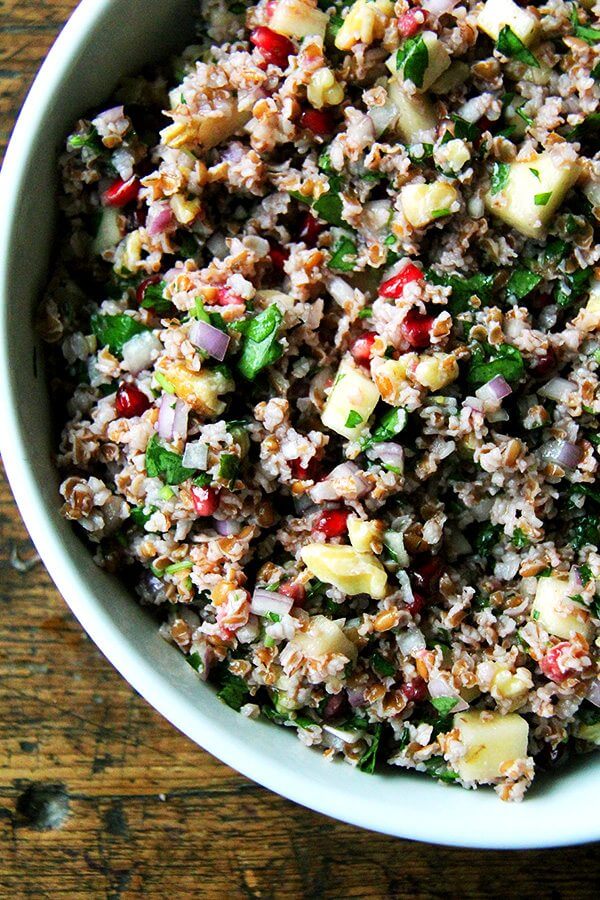 After the bulgur soaks for an hour, this salad takes about 10 minutes to throw together. Watch it live!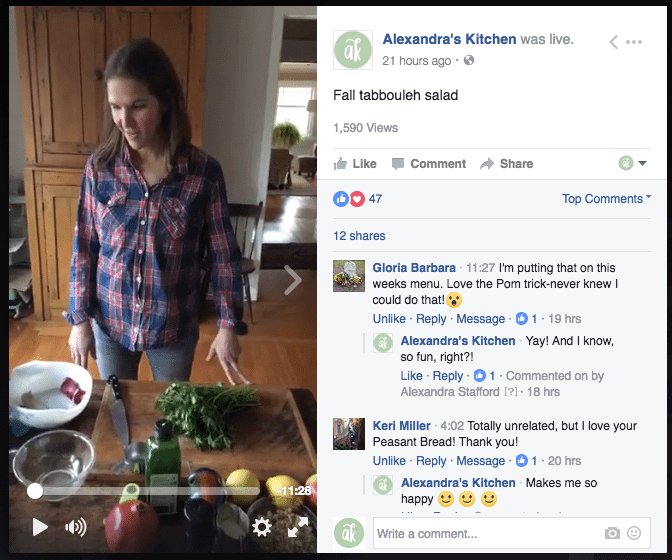 Print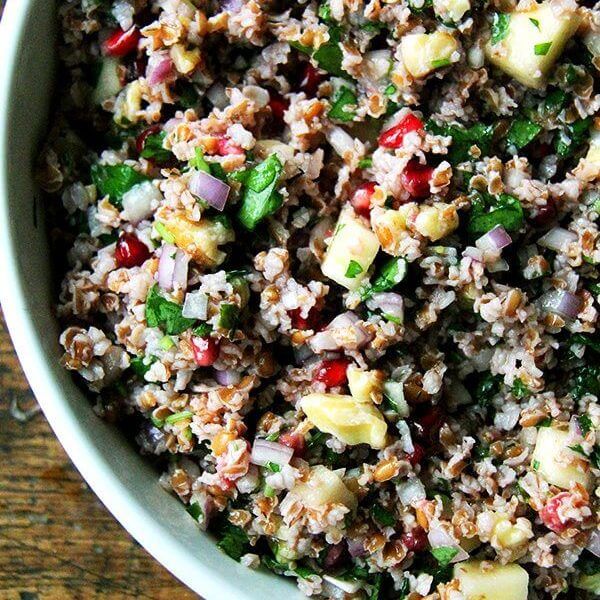 Fall Tabbouleh Salad
---
Author:

Alexandra

Total Time:

1 hours 15 minutes

Yield:

6 to 8
Description
From Michael Solomonov and Steven Cook's Zahav Original recipe calls for 1/2 cup dried bulgur and 2 cups parsley, which is a little heavier on the parsley than this one. Adjust to your liking. Traditional tabbouleh is very heavy on the parsley. Original recipe also calls for equal parts olive oil to lemon. I like mine a little less lemony than equal parts, but this is a salad that should be dressed to your liking. Toast walnuts on a sheet pan at 350ºF for 10 to 15 minutes or until lightly golden and fragrant.Cooked quinoa can be used in place of the parsley. Golden raisins would be a nice addition.
---
1 cup

bulgur

1

large bunch parsley, leaves removed and finely chopped to yield about

2 cups

1

apple, peeled and diced

1

red onion, peeled and finely diced

1 cup

walnuts, toasted and crushed, see notes above

2

pomegranates, halved

1/2 cup

olive oil

1

to

2

lemons, halved

1

to

2

teaspoons kosher salt or to taste
freshly cracked pepper to taste
---
Instructions
Place the bulgur in a large bowl. Cover with cold water by a few inches. Let sit for at least one hour. Drain. Transfer to another large bowl.
Add the parsley, apple, onion, and walnuts. Place one half of the pomegranate in your hand, halved side down. With a wooden spoon, beat the heck out of it until all of the arils have dropped into the bowl. This video may offer some guidance. Repeat with remaining pomegranate halves.
Add half of the olive oil, the juice of 1 lemon (straining out the seeds), and 1 teaspoon kosher salt. Add pepper to taste. Toss to coat. Taste. Add the remaining oil if desired, the juice of the second lemon or as much to taste as you would like and more salt and pepper to taste. I've been using about 1.5 teaspoons kosher salt and the juice of two lemons. I've also adjusted with 1/2 a teaspoon of sugar to counter the tartness.
Prep Time:

15 minutes

Cook Time:

1 hours
Two pies: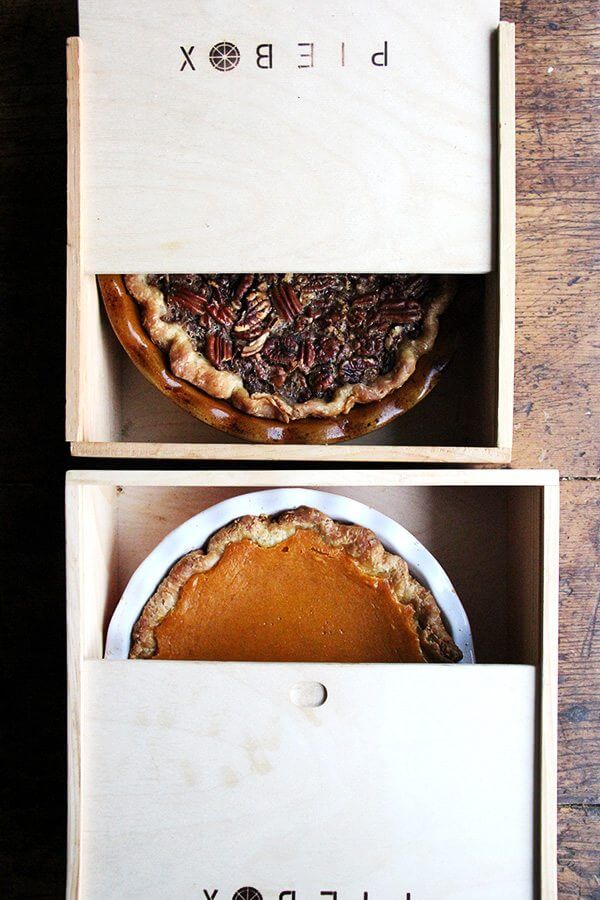 Two naps:

This post may contain affiliate links. Please read my disclosure policy.