Endive Boats with Pear, Blue Cheese, & Shallot Vinaigrette
This post may contain affiliate links. Please read my disclosure policy.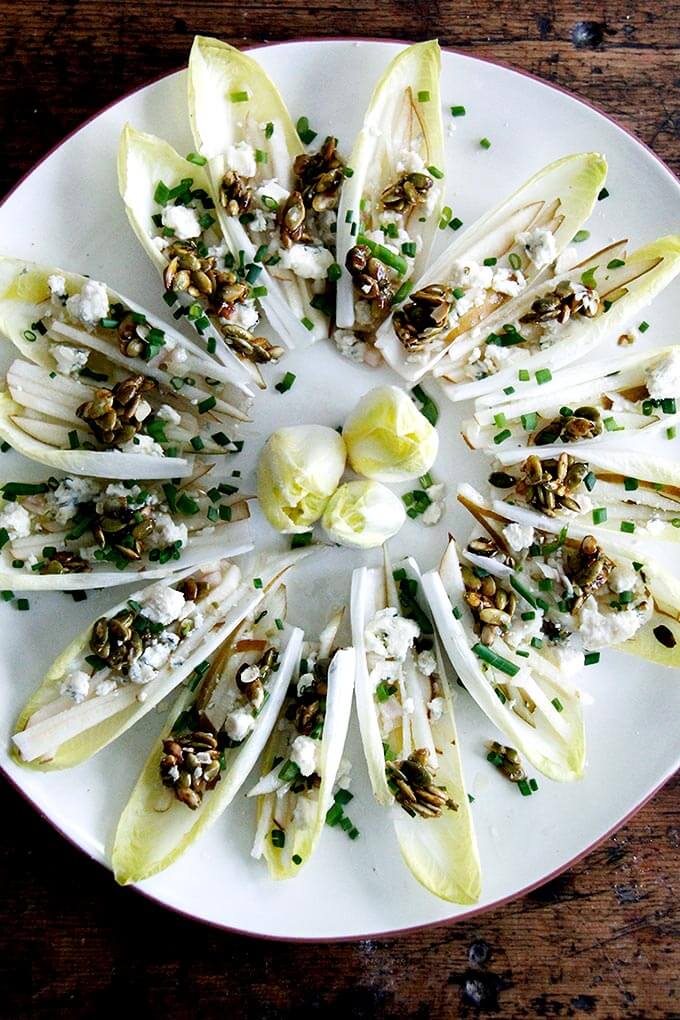 Last fall, just before beginning a French bistro cooking class at the Hillsdale General Store, a woman walked in wearing stripes and a black beret, her berry red lips matching the silk scarf tied artfully around her neck. We said hello and she introduced herself as Jamie, but we didn't get to chat until class wound down, when I learned her love for all things French and, from her friend sitting beside her, that her book, Parisian Charm School, would be coming out in January. We stayed in touch, and last month I made a few nibbles for her book launch celebration at the Chatham Bookstore.
That evening, as Jamie chatted about the charm of her French grandmother, of a mysterious Madame M., and of many other French women she had befriended over the years, her guests sipped on sparkling wine, listening intently to her every word. I loved everything she said as well, most especially that charm has nothing to do with money or how pretty you are or how many outfits you have. She demonstrated this by pulling out a small collection of scarves, draping or wrapping or tying each one differently, matching each with a different beret, observing as she switched accessories how each changed the look and feel of her outfit.
I haven't made it too far into PCS yet, but I loved two early paragraphs:
"French women have explained to me that part of their heritage is to "put a flower on it…" This means that even if your jacket is worn and slightly tattered—as many of the French women's jackets were after the war—you can still put a little flower in your lapel. In fact, to wear a flower in this instance is an act of courage and a show of defiance.
Perhaps this is why a French woman believes it's important to always dress nicely, even if she is staying at home, but especially when she leaves the home. French women know that when a woman is well groomed and wearing something thoughtful and charming she is a delight to all those around her. And most important, she delights herself."
Note to self: brush hair; change out of yoga pants.
Friends, it was such a treat to hear Jamie talk and to meet her many friends and fans. In regard to the nibbles, given my lack of kitchen situation, I kept it simple, purchasing a few cheeses and olives, making bread, of course, and candied pepitas, which I'm realizing more and more are so nice to have on hand: they are a nice addition to any cheese board, lovely in salads, and, as here, delicious sprinkled over endive boats with pear and blue cheese. The filled spears get drizzled with a shallot vinaigrette and taste fresh and bright for being wintry in spirit. It's a classic combination that would work well in salad form, too, but there is a certain, if I may, je ne sais quoi about the single-leaf presentation. Bon Appetit!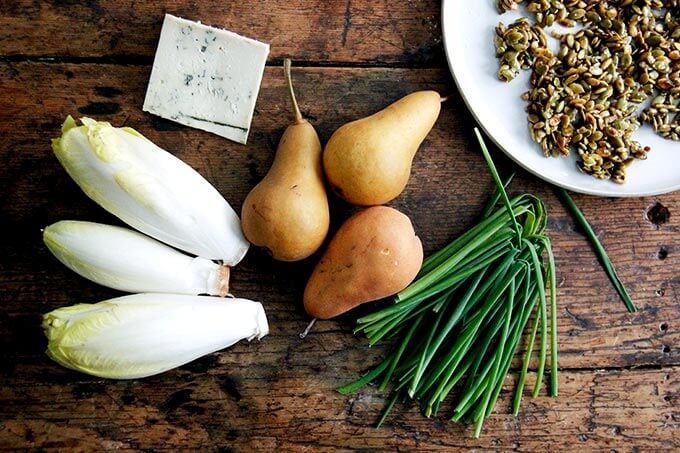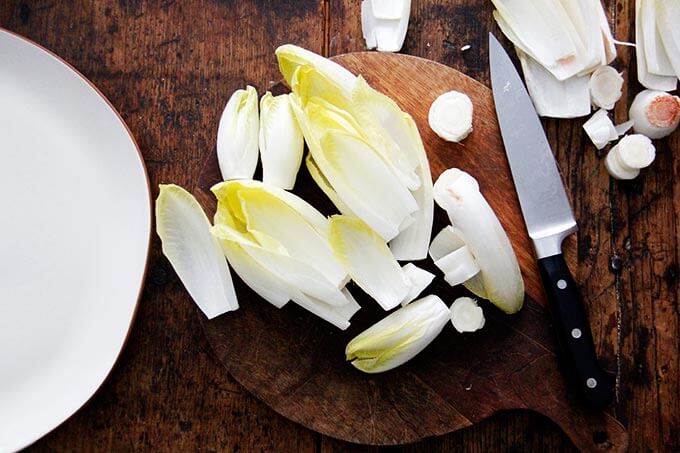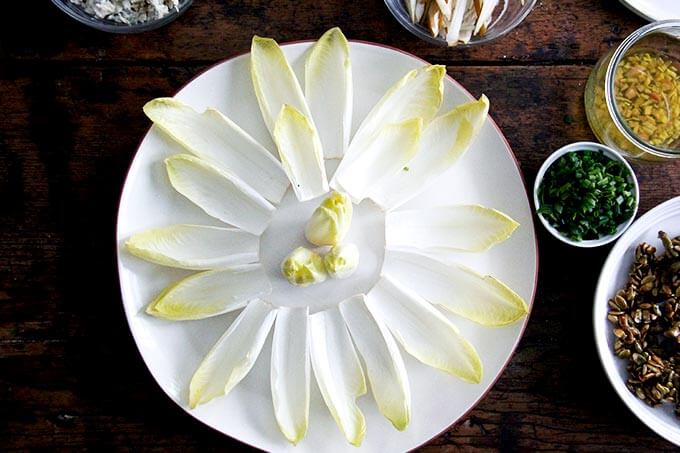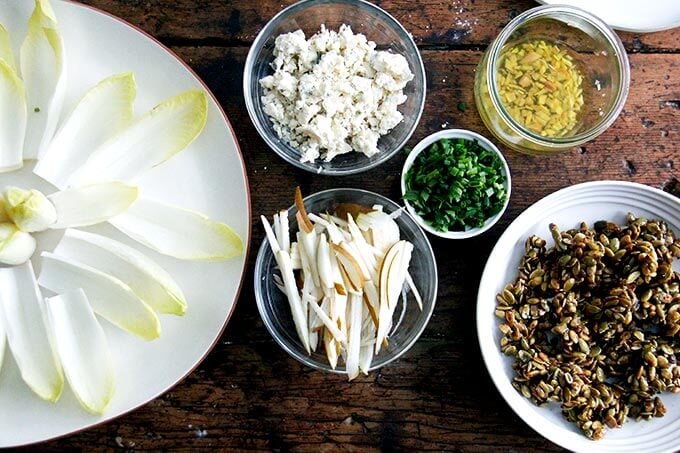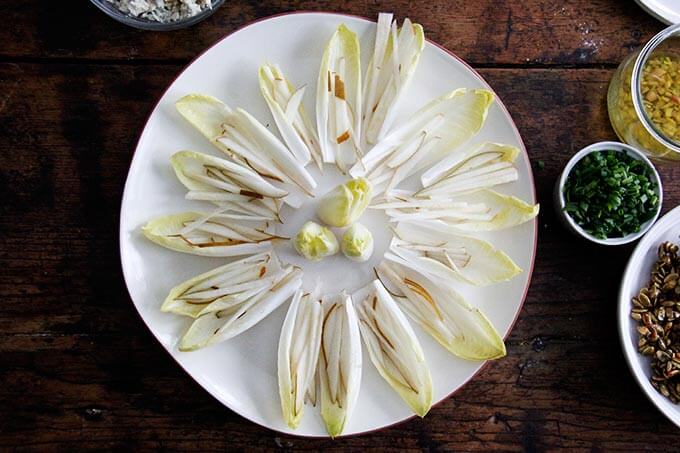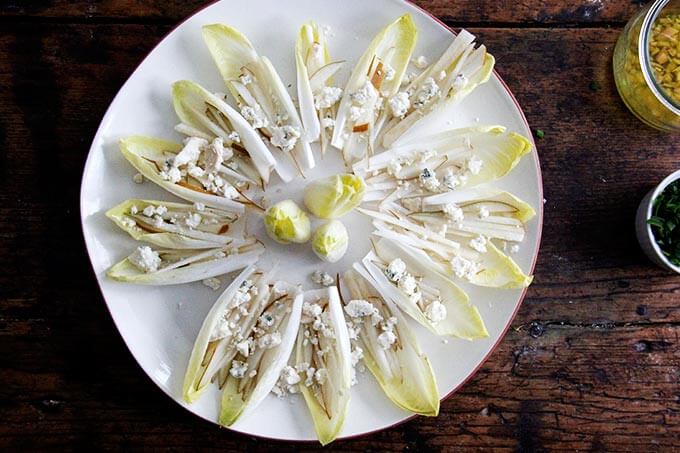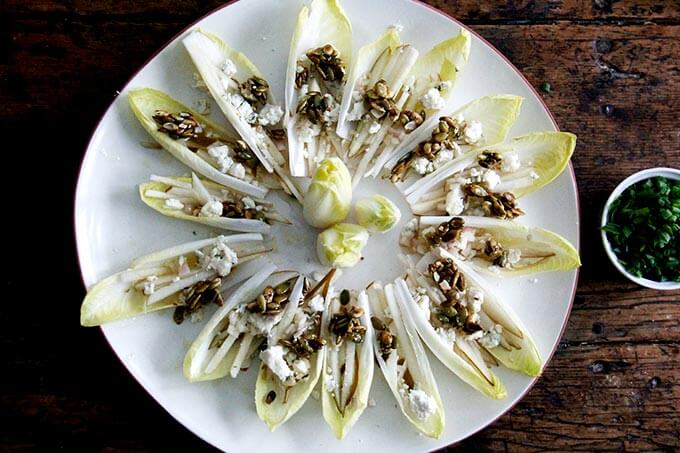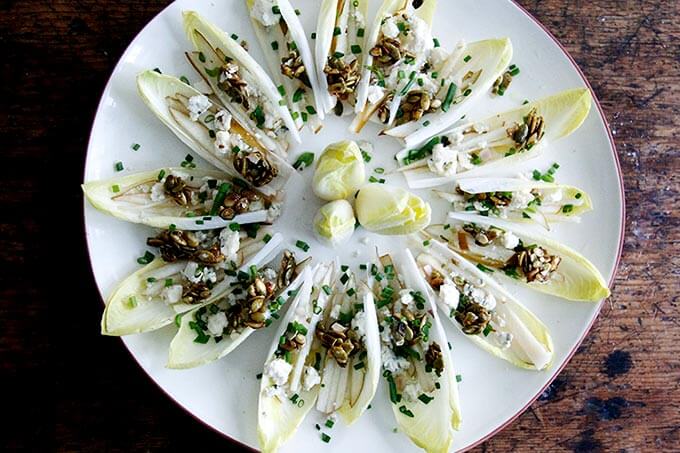 Print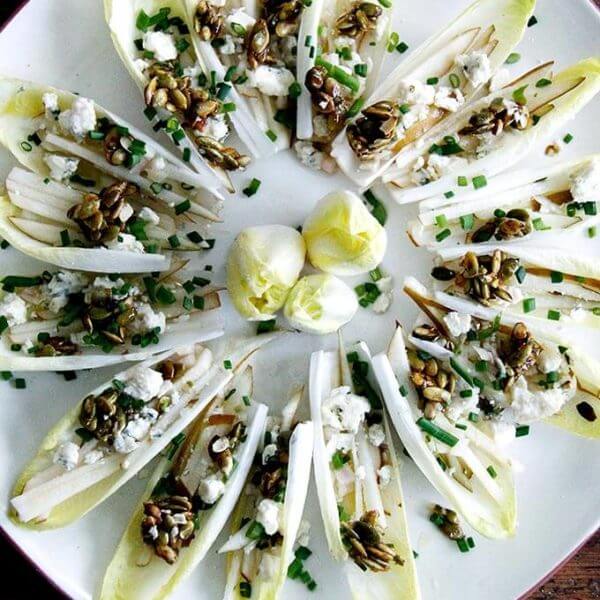 Endive Boats with Pear, Blue Cheese & Shallot Vinaigrette
---
Description
This is a classic combination and tastes fresh and bright for being wintry in spirit.
When I made these for the Parisian Charm School book celebration, I used an Amish blue cheese that tastes milder than many blue cheeses — I can't remember its name, but it's readily available. A number of people who said they typically don't like blue cheese, said they liked this one—in fact, they were surprised it was blue cheese. If you don't like blue cheese, you can use goat cheese or feta or really anything you like.
The candied pepitas and dressing can be made days in advance. Store the pepitas in an air-tight container at room temperature; store the dressing in the fridge. The endive and pear should be sliced closer to serving time.
---
2

to

3

heads endive, separated into leaves

1

to

2

pears, thinly sliced into matchsticks
blue cheese, see notes
chives, finely minced
---
Instructions
Arrange endive spears on a platter. Fill each one with a pinch of the thinly sliced pears. Crumble in some blue cheese. Spoon over some of the orange-shallot vinaigrette. Crumble the candied pepitas over top.  Garnish with chives.
Prep Time:

25 minutes

Cook Time:

10 minutes

Category:

Appetizer

Method:

Arrange on Platter

Cuisine:

American
Keywords: endive, boats, pear, blue cheese, pepitas, candied, shallot, vinaigrette
This post may contain affiliate links. Please read my disclosure policy.