How to Make Classic Garlic (or Ramp!) Aioli
This post may contain affiliate links. Please read my disclosure policy.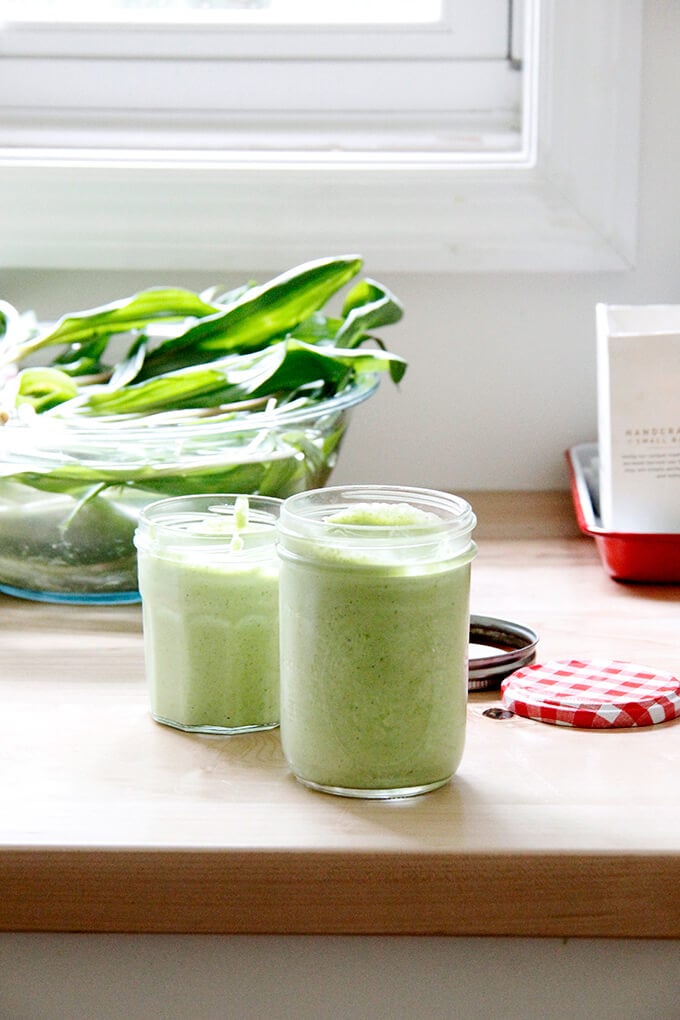 Friends, sandwich season is upon us. We've got our buns and bread down. Let's polish up on our condiments.
I had forgotten how much I love flavored mayonnaise till a few weeks ago, when I ordered the 44 Special at the Copake General Store.  The garlicky mayonnaise spread across the toasted bread provided a creaminess and richness while also imparting bite and flavor.
I have no idea if the CPG makes their mayonnaise from scratch, but I returned from Copake eager to make aioli, which in essence is a very garlicky mayonnaise—the two condiments are made nearly the same way.
How to Make Aioli
Purée an egg with garlic, some sort of acid (lemon, lime, vinegar), and a pinch of salt.
Then, while whisking vigorously or with the assistance of your food processor (highly recommended), slowly beat in olive oil.
Taste and adjust flavor as needed.
The variations are endless, but with ramps (wild garlic) in supply, I couldn't resist making a ramp aioli, which whipped into a minty green emulsion tasting both garlicky and herbal. It has a really lovely flavor. When I worked at Fork, the chef always put capers in the aioli, so I always do that, too, but feel free to leave them out.
The Food Processor Trick to Foolproof Aioli (or Mayonnaise)
As with mayonnaise, a food processor really shines at making aioli. The trick, which I learned from a Mark Bittman article years ago, is to pour the oil down the food pusher insert, so that it enters the food processor through the teensy pinhole at the bottom of the pusher—you know that teensy hole, right? If you have never done this, you might not know the hole exists, but using it will ensure you do not add the oil too quickly, which is the critical step when making aioli and mayonnaise.
You can watch a how-to video on Instagram Stories here.
PS: Ramp Pesto | Pickled Ramp Bulbs
Here are the ingredients for the ramp aioli: fresh lemon, capers, 1 egg, salt, ramps, and oil (not pictured):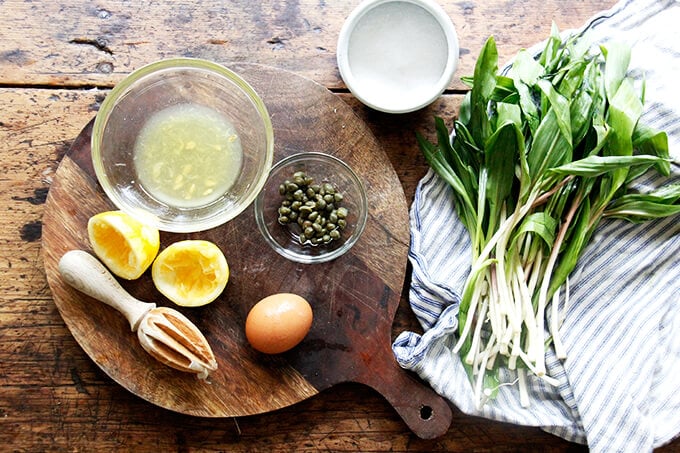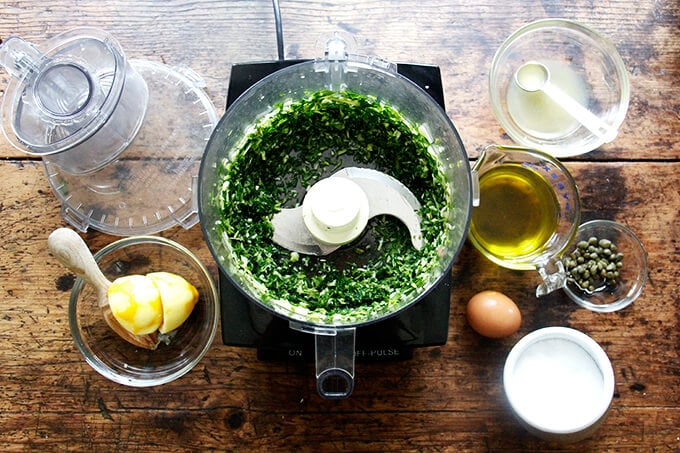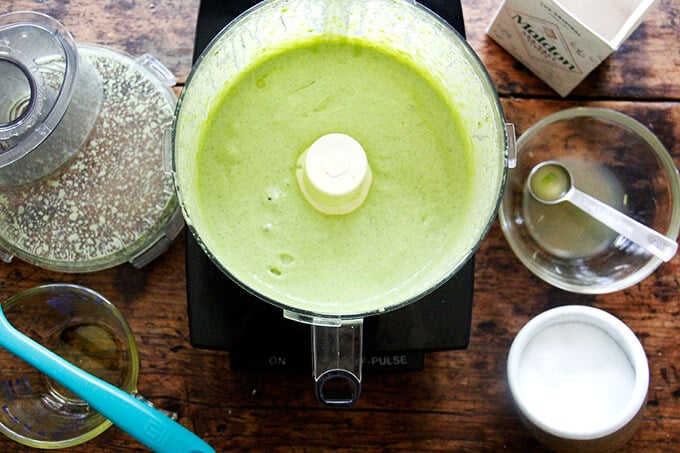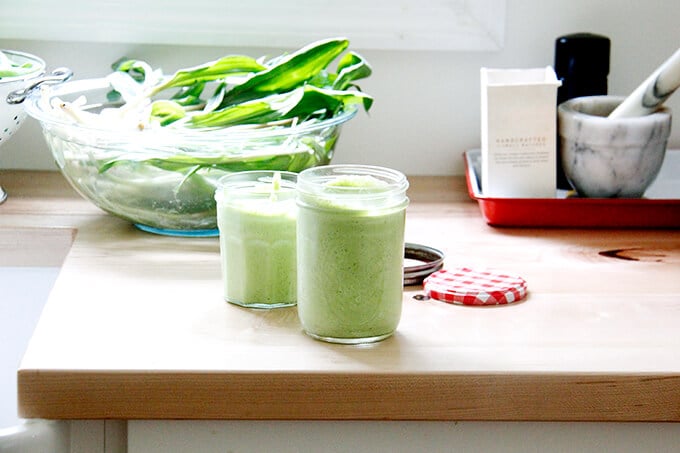 Garlic aioli ingredients: capers, 1 egg, a ton of garlic, fresh lemon, and oil (not pictured):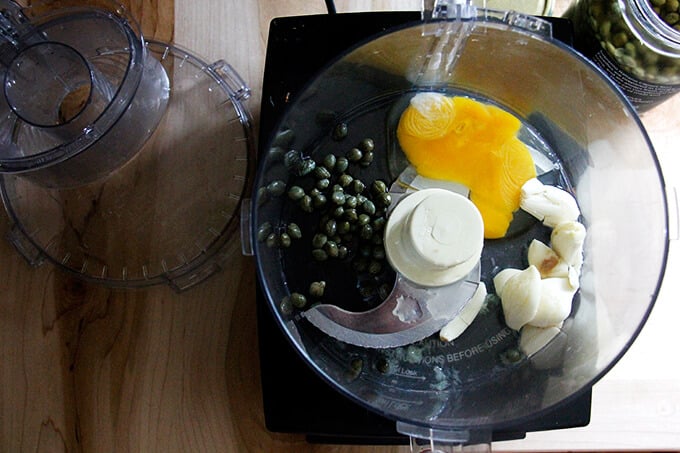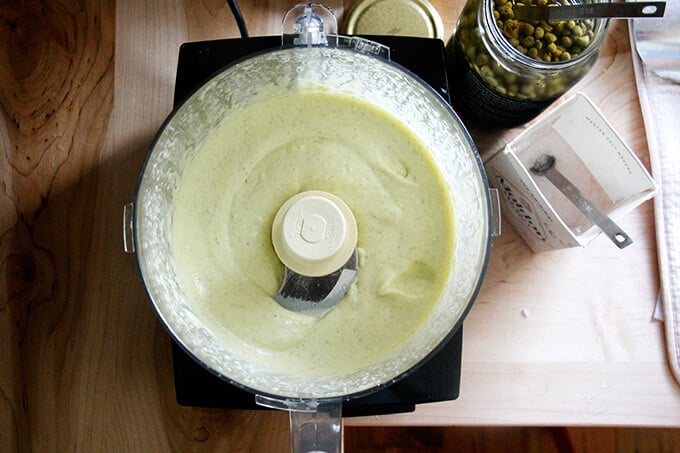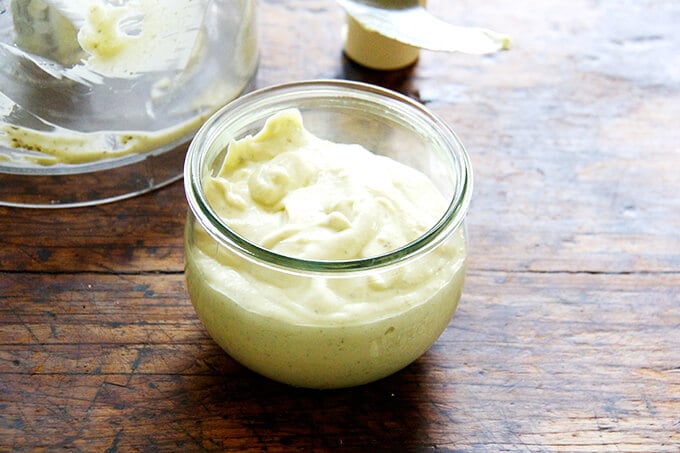 Print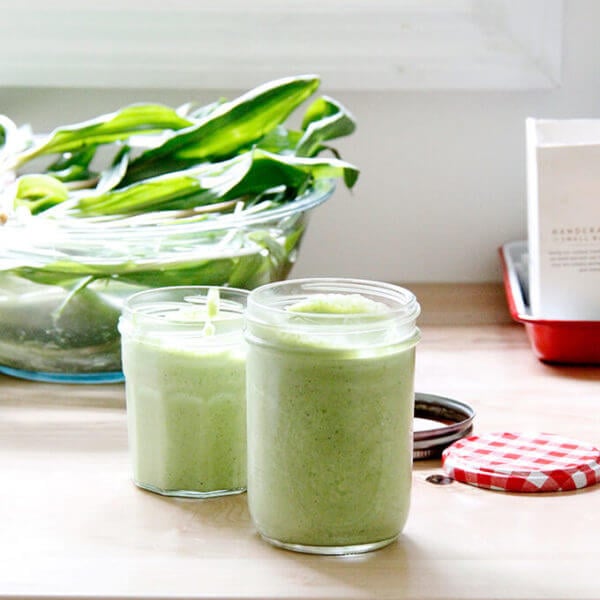 Homemade Classic Garlic (or Ramp) Aioli
---
Description
Aioli is such a nice condiment to have on hand for all sorts of sandwiches: burgers, BLTs, roasted eggplant, etc.
If the raw egg worries you, you can boil it for as long as 4 minutes. Shock it in an ice bath, peel it, and proceed with recipe.
---
small bunch ramps, cleaned and roughly chopped, or 6 peeled garlic cloves
Kosher salt

1

 tablespoon capers, optional

1

 egg

1

to

2

tablespoons fresh lemon juice

1/2

 cup olive oil

3/4

 cup neutral oil such as grapeseed, canola, or vegetable plus more as needed
flaky sea salt, such as Maldon
---
Instructions
In a food processor, pulse the ramps (or garlic) with a pinch of salt until finely minced, scraping down the sides of the processor as necessary. Add the capers, egg, and 1 tablespoon of the lemon juice, and process until combined.
With the motor running, pour the oil through the teensy hole of the food pusher insert so that it enters the bowl in a very slow, steady stream — add the oil very slowly at first; once it starts emulsifying, add the oil more quickly. Note: If you are using garlic as opposed to ramps, the amount of oil here should be right. If you are using ramps, you may need to add as much as a cup more oil to get it to the thickness you desire. The moisture of the ramps will make the aioli be on the thin side in terms of texture if you use only 1.25 cups. If the thin texture doesn't bother you, there is no need to add more oil—I actually don't mind the thin texture. It should be emulsified. 
After all of the oil has been incorporated, stop the motor and taste. Add more salt—I like using the Maldon at this point. Add it (or other salt) 1/4 teaspoon at a time. Add more lemon if the aioli is needing more sharpness. Process again, and continue adjusting as needed until it tastes right. Store in fridge until ready to serve.
Prep Time:

20 minutes

Category:

Condiment

Method:

Food Processor

Cuisine:

American
Keywords: Homemade, aioli, ramp
This post may contain affiliate links. Please read my disclosure policy.