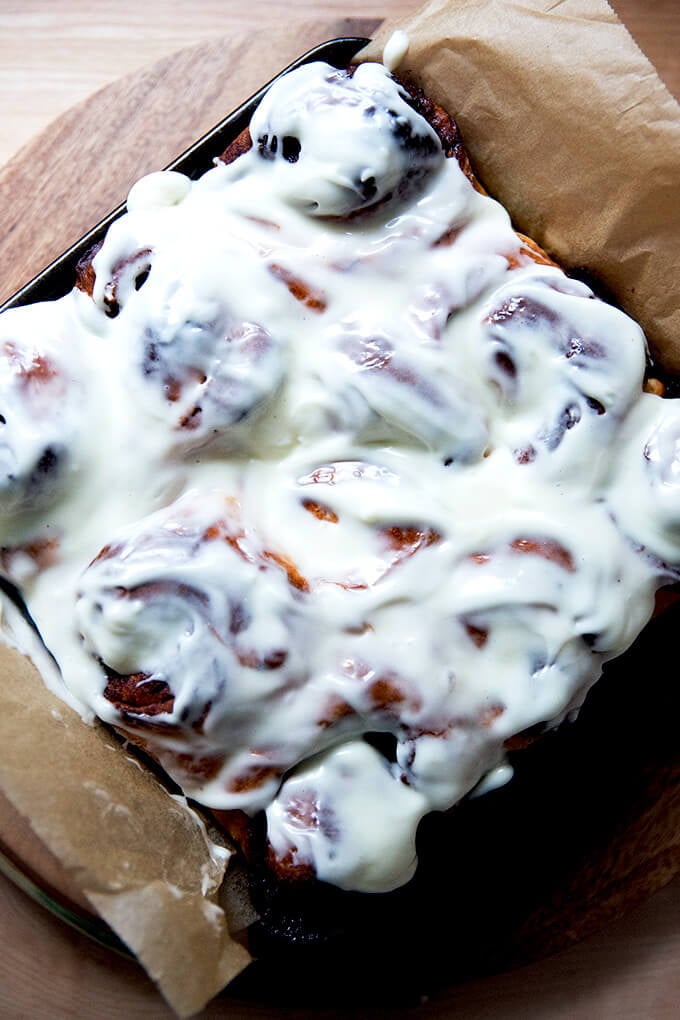 Someone messaged me on Instagram telling me she had used the brioche recipe from Bread Toast Crumbs to make cinnamon rolls. Inspired by this Washington Post article, she also assembled the pans of rolls the night before and baked them in the morning. It worked like a charm, and I had to try immediately. The method worked beautifully for me, too—a Christmas miracle!
The recipe is below, and I will add more photos and notes soon, but given it is Christmas Eve, I wanted to get this recipe up. Wishing you all a happy happy holiday season!
Print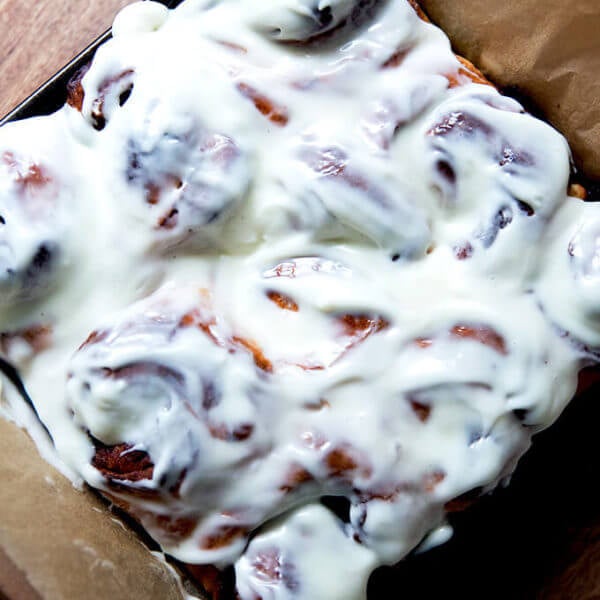 Overnight Cinnamon Rolls
---
Description
Yield = 9 or 18 rolls
This dough recipe is the light brioche recipe from Bread Toast Crumbs.
The assembled pans of rolls can rise in the fridge overnight and baked directly from the fridge (no additional rising on the counter top) in the morning.
The assembled pans can also be frozen. Thaw at room temperature about 6 hours before you plan to bake. Then bake as directed in recipe. Someone on Instagram messaged me this Washington Post article about freezing unbaked cinnamon rolls — you might find it helpful.
*For lukewarm water: Mix 1.5 cups cold water with .5 cups boiling water. Or, simply, use 2 cups warmish tap water.
---
Ingredients
for the dough for 18 rolls:
6 cups (768 g) all-purpose flour
1 tablespoon kosher salt
1/3 cup (77 g) sugar
2.5 teaspoons instant yeast
2 egg
2 cups lukewarm water* (see notes above)
1/2 cup milk, 2% or whole
6 tablespoons melted butter
for the dough for 9 rolls:
3 cups (384 g) all-purpose flour
1.5 teaspoons kosher salt
3 tablespoons sugar
1.5 teaspoons instant yeast
1 egg
1 cup lukewarm water
1/4 cup milk
3 tablespoons melted butter
for the filling (halve these quantities if making 9 rolls):
1.5 cups packed brown sugar
1/4 cup cinnamon
pinch salt
12 tablespoons melted butter
for the glaze (halve these quantities if making 9 rolls):
8 oz cream cheese, softened
2 cups confectioners' sugar
1 teaspoon vanilla extract
pinch salt
milk or cream to thin
---
Instructions
In a large bowl, whisk together the flour, salt, sugar and yeast.
In a separate large bowl, beat the eggs. Add the water, milk and

 

melted butter. Whisk to combine. Pour the liquid ingredients into the dry and mix with a rubber spatula until combined; the mixture will be wet and sticky. Cover the bowl with a bowl cover or tea towel and let rise until doubled, 1.5 to 2 hours.
Flour a work surface and have more flour nearby — use as much flour as you need. This is a sticky dough, and if you don't use enough flour, it will stick to your board and hands.
Turn dough out onto work surface. Divide into two equal portions. At this point, you could transfer one half to a buttered loaf pan and simply bake a brioche loaf. Or, you can make two pans of cinnamon rolls.
Form each half into a rough ball, using flour as needed for the board and your hands. Let rest while you make the filling.
Make the filling: Place the brown sugar, cinnamon and salt in a medium bowl. Pour the melted butter over top. Mix with a fork or spoon to combine. Set aside.
Butter or grease with nonstick spray a 9×9- or 8×8-inch baking pan.
Working with one round at a time, pat into

 

a rectangle about 15×11 inches — it doesn't have to be exact, but don't go larger than that. Spread the filling over top. Starting at the long end, roll into a coil. Cut into 9 equal pieces. Transfer to prepared pan. Repeat with remaining dough and filling. Cover each pan with plastic wrap or a bowl cover or tea towel and transfer to the fridge.
The following morning, heat the oven to 375ºF.
Transfer pans to the oven and bake for about 20 minutes or until golden. Meanwhile, beat the cream cheese with the sugar, vanilla, and salt until light. Thin with milk if desired.
Remove pan from the oven. Let buns cool briefly. Spread frosting over top. Serve warm with more frosting on the side.