Chickpea and Escarole Soup
This post may contain affiliate links. Please read my disclosure policy.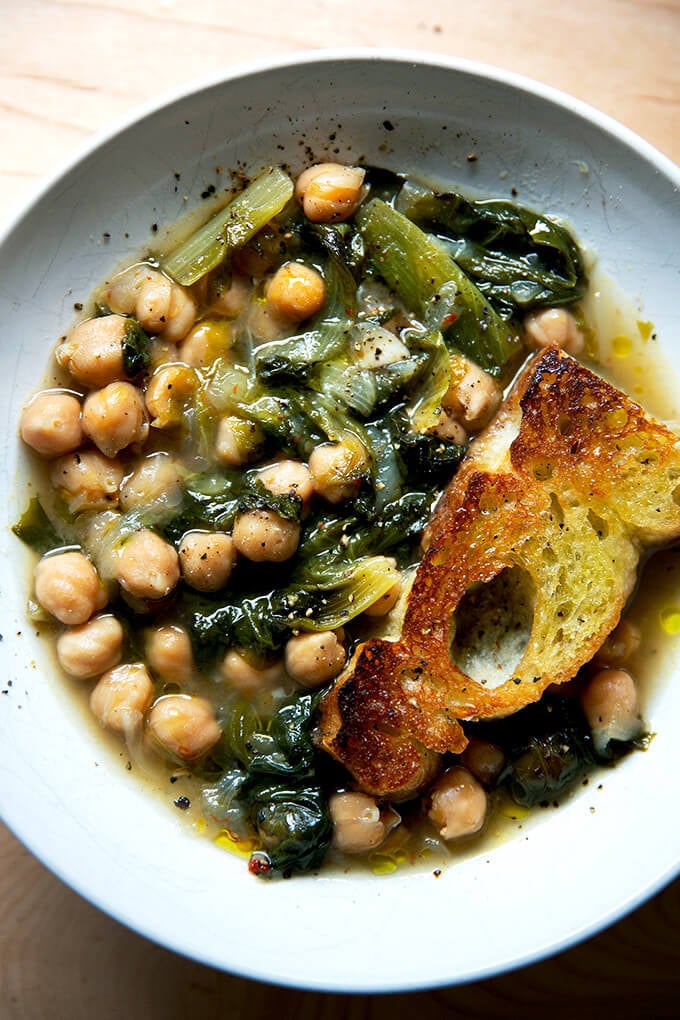 I left the grocery store yesterday morning with a somewhat renewed sense of optimism: some of the previously empty shelves — flour!! — had been re-stocked, and the general supplies throughout the store looked good: bananas! kale! milk! (Still no toilet paper).
But the shopping experience continues to feel surreal: there's an uneasiness in the air; no one is making eye contact; everyone is on a mission, moving through the aisles with real urgency, hoping to get in and out as quickly as possible. This is to be expected and understood, of course, and while it doesn't feel like complete panic, the absence of the normal is palpable.
Friends, I'm hoping you, too, are seeing your store's stocks back at normal-ish levels and that you are able to find what you love and need (TP!).
---
This past week, I've been cooking a lot of chickpeas. I've rounded up some of my favorite ways to eat them here, and I'm sharing a new one today: chickpea and escarole soup.
Escarole is one green I have seen consistently this past week in relatively plentiful supply at my grocery stores. It's a green I once cooked with all the time — it was, shall I say, my gateway leafy green? the kale to millennials? — but for whatever reason (… er, kale?…) I have neglected in recent years.
This simple soup, a classic "beans and greens" preparation, has rekindled my love for it, especially as a green in soup. Its texture is SO nice: it melts into the broth, absorbing all of its flavors, while still retaining a bit of sturdiness and, more important, a presence, unlike other greens, such as spinach, which can disappear. Escarole is a member of the chicory family, so it's got a slight bitterness, but it tempers upon being cooked.
For this soup, I've been using one to two heads of escarole, a little over a pound total, for about 6 cups of cooked chickpeas (from a pound of dried). The broth is very simple, a combination of the chickpea cooking liquid, water, a sautéed onion, and a parmesan rind. After 30 minutes of simmering, the soup is done.
To serve, toast up some old bread in a good amount of olive oil till its nicely golden, dunk it in the soup, then crack lots of black pepper over top. Shave parmesan over top if you wish.
A Few Notes:
At the start of the year, I told you I was trying to be less of a stinker (snob) about using only cooked-from-scratch beans, but if there's ever been a time to attempt bean cookery or to embrace it, it's now.
More important, I think this soup, because it derives flavor from so few ingredients, demands from-scratch cooked beans. I'll go so far as to say this: don't make this one if you only have canned beans on hand.
This soup's flavor relies on the chickpea cooking liquid, which draws flavor from the chickpeas themselves, an onion half, a bay leaf, olive oil, salt, and crushed red pepper flakes.
Two Ways to Cook Chickpeas
Slow Cooker Chickpeas: Dump unsoaked dried chickpeas into the slow cooker with half an onion, a bay leaf, salt, olive oil, crushed red pepper flakes, and water. Cook for about 8 hours or until done.
Stovetop Chickpeas: Dump soaked chickpeas into a large pot with the same seasonings listed above. Simmer stovetop for about 45 minutes or until done.
Both of these methods will leave you with about 6 cups of cooked beans and at the very least 4 cups of cooking liquid, which essentially is a super-flavorful homemade vegetable stock. It's this stock along with more water that flavors the soup.
With cooked chickpeas on hand, this soup comes together in no time. Hope you love it as much as I.
PS: If you're having trouble finding dried chickpeas, Nuts.com is a great source.
Here's the play-by-play: Gather your ingredients: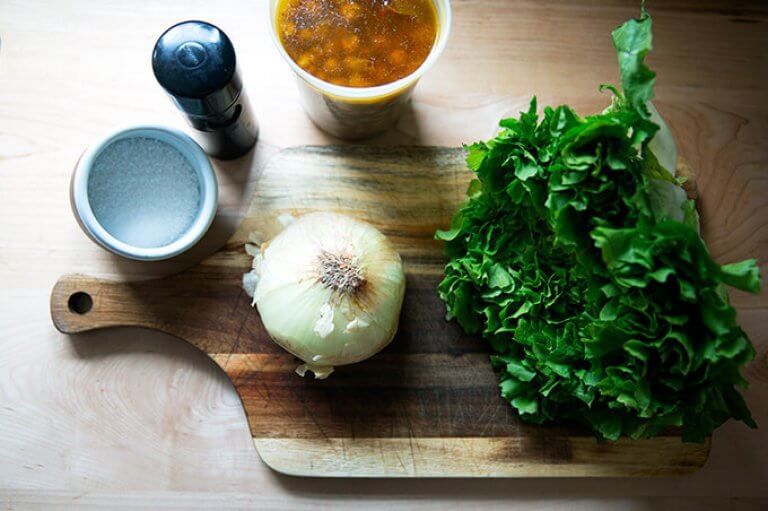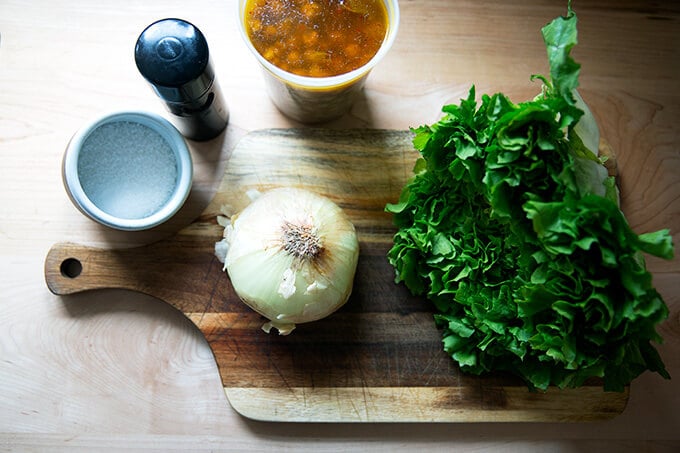 Chop up the escarole and place in a large bowl, cover with cold water and let it sit while you prep the remaining ingredients. Escarole tends to be a bit dirty.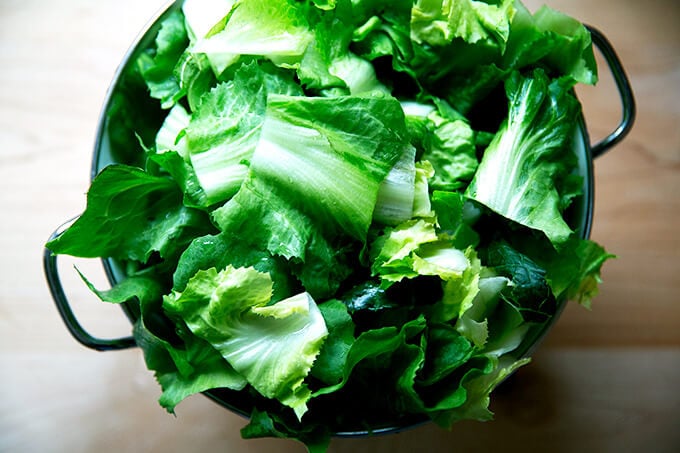 Slice up an onion thinly.
Put it in a large pot with a tablespoon of oil. Cover. Turn and cook over low heat for 15 minutes or until the onion is…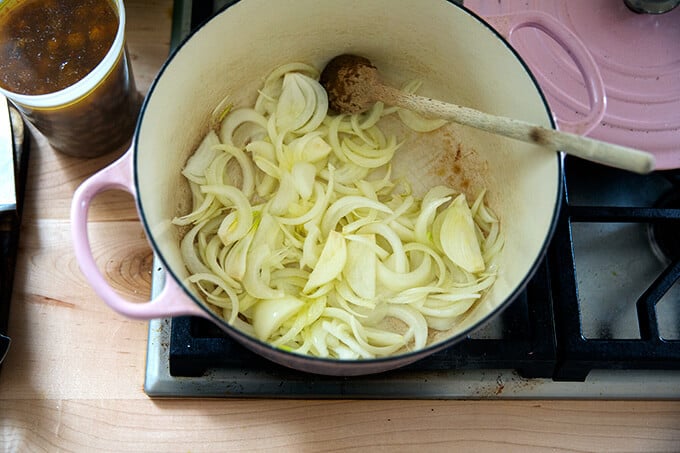 …soft and translucent.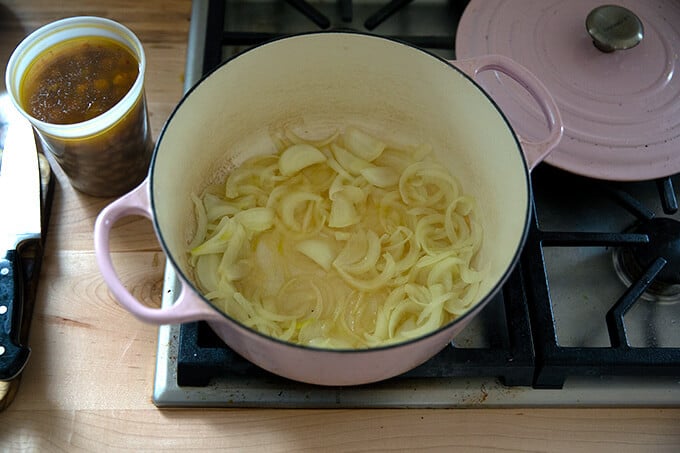 Add the escarole, leaving the water behind. It's OK if some water clings to the leaves.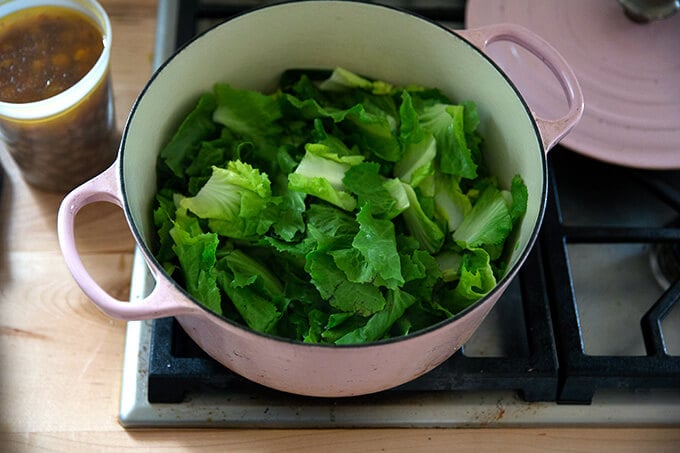 Use tongs to encourage the escarole to wilt down. This will take about a minute.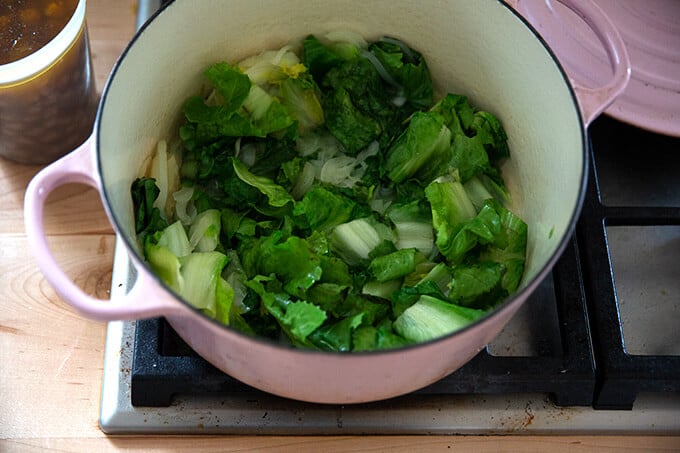 Then add 6 cups cooked chickpeas along with their cooking liquid + more water. Add a parmesan rind if you have one on hand.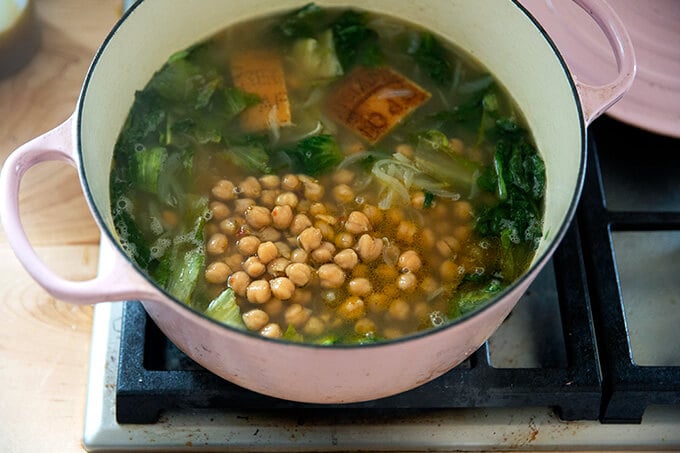 Simmer for 30 minutes.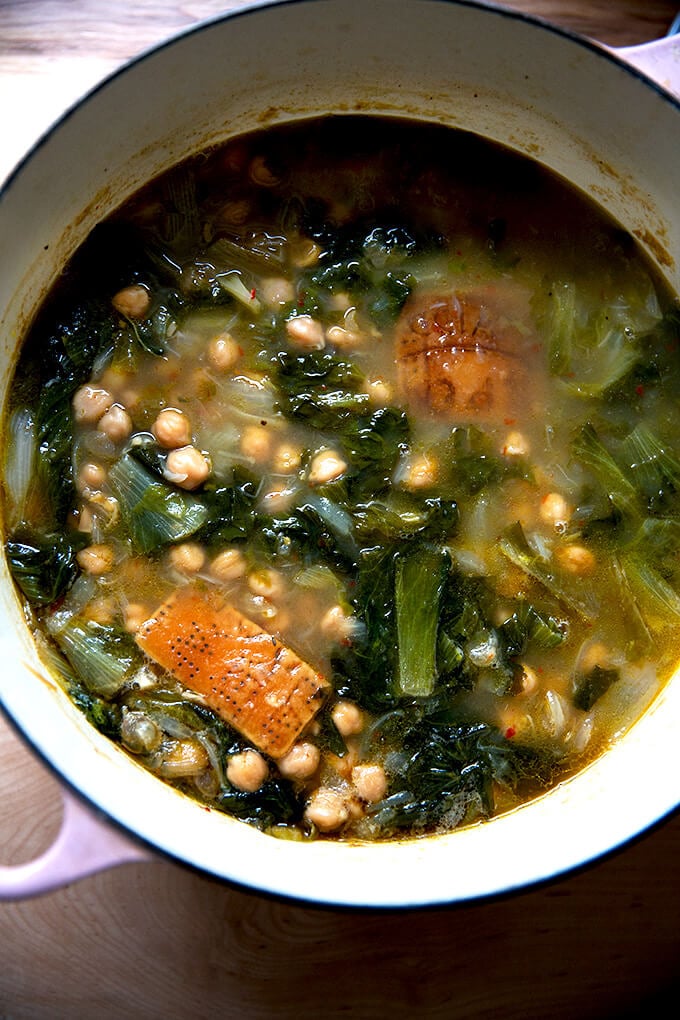 Toast up some bread, if you wish. This is very stale overnight, refrigerator focaccia, but it revives beautifully with a little oil and heat.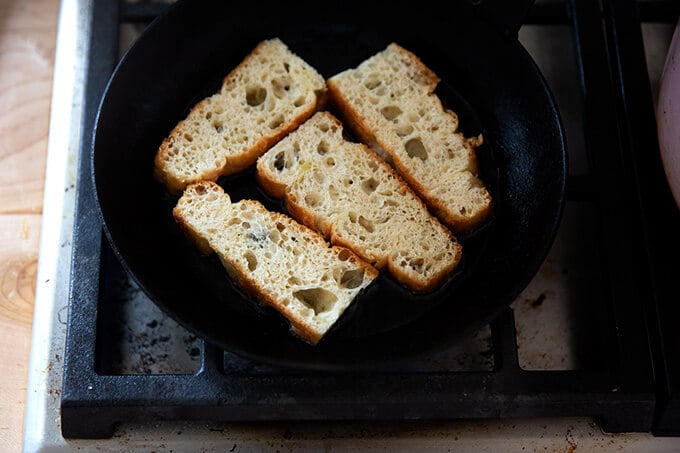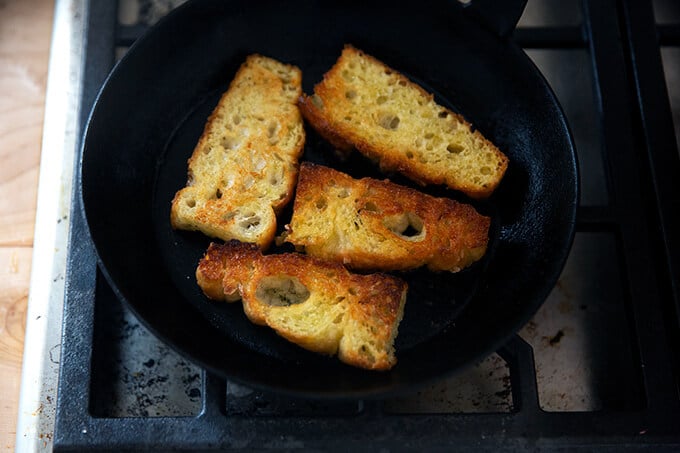 Dunk it in your beans and greens and crack some fresh cracked pepper over top …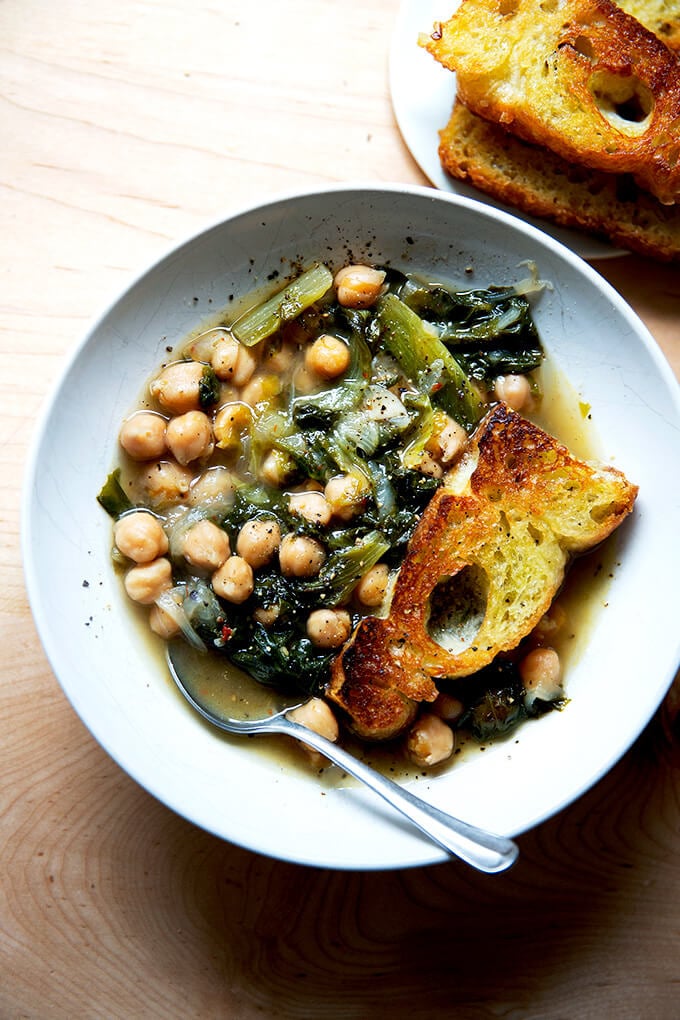 … a little extra shaved parmesan never hurts.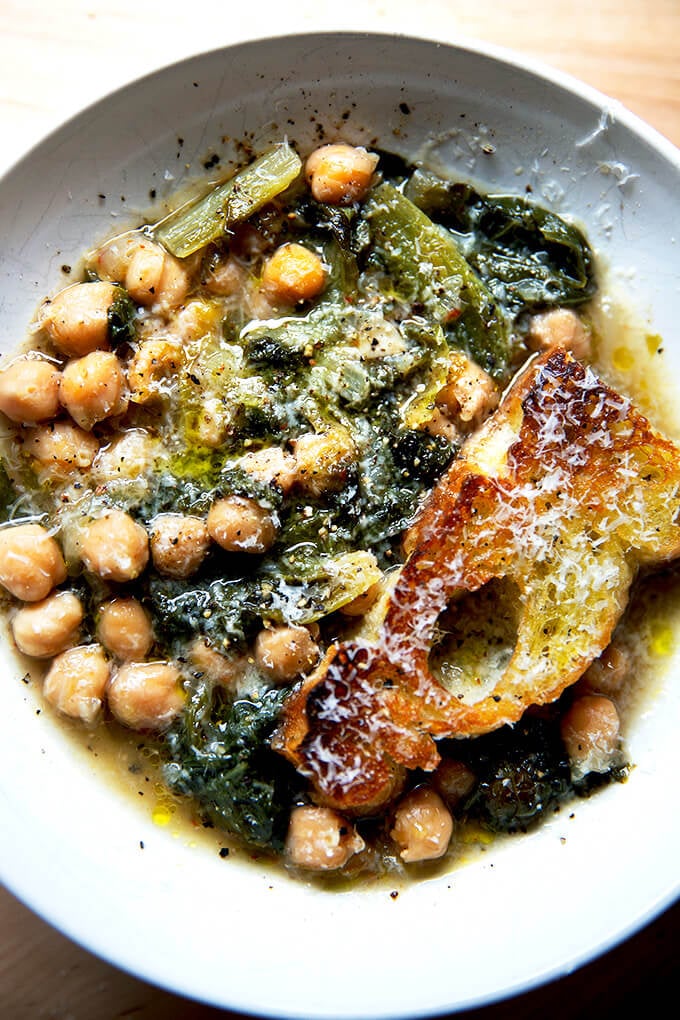 Print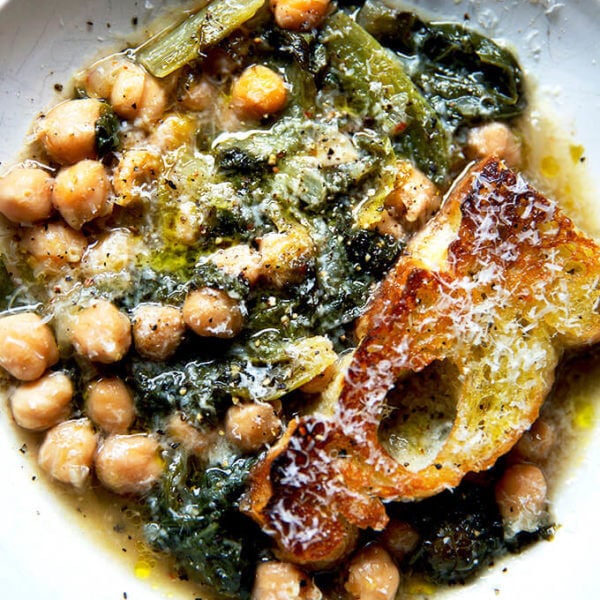 Chickpea and Escarole Soup
---
Author:

Alexandra Stafford

Prep Time:

10 minutes

Cook Time:

45 minutes

Total Time:

55 minutes

Yield:

3 quarts, Serves 8-12
Description
Notes:
Chickpeas: I highly recommend using from-scratch cooked chickpeas (or white beans) for this recipe. Here are two methods I love:
Each method will leave you with about 6 cups of cooked chickpeas and at least 4 cups of cooking liquid. 
8 Cups Liquid: The broth here is a combination of the chickpea cooking liquid and water. If you have 6 cups of chickpea cooking liquid, use that plus 2 cups water. You can also use vegetable stock, but I highly recommend using homemade. 
Parmesan rind: A parmesan rind will lend an incredible amount of flavor (and saltiness, so be careful: I've made the mistake of using two rinds, and the soup was too salty).       
---
1.25

–

1.5

lbs escarole, from 1-2 small heads or

1

large

1 tablespoon

olive oil

1

large onion, thinly sliced
kosher salt

6 cups

cooked chickpeas, from 1 lb. of dried, see notes above

8 cups

liquid: a combination of the chickpea cooking liquid + water or vegetable stock, see notes above

1

rind from a wedge of Parmigiano Reggiano, optional
Freshly cracked pepper to taste
Parmigiano Reggiano, optional, for serving
good, fresh crusty bread or olive oil toasted bread, for serving, optional
---
Instructions
Roughly chop the escarole and place in a large bowl. Cover with cold water. Set aside.
In a large pot, heat the oil over high heat. Add the onion. Season with a pinch of salt. Stir to distribute. Cover. Immediately turn heat to low. Cook for 15 minutes or until onions are translucent and beginning to take on some color.
Remove the lid from the pot, and add the escarole, scooping it from the bowl of water with your hands, leaving the water behind — some water clinging to the greens is fine. Let the escarole cook for a minute undisturbed, then use tongs to stir and encourage it to wilt down, which will happen quickly, 1-2 minutes.
Add the chickpeas and their cooking liquid — if you are using the slow cooker chickpea recipe, you can dump the entire contents of the slow cooker into the pot (remove the onion half and bay leaf first). This is roughly 6 heaping cups of chickpeas and 4 cups of cooking liquid. Add 4 more cups of water. Add the parmesan rind if using. Season with freshly cracked pepper. Let simmer 25-30 minutes or until the broth, chickpeas and escarole taste nicely seasoned. Taste for salt. If you are using the slow cooker chickpeas, whose broth is nicely seasoned, plus a parmesan rind, you likely won't need to add more salt. But if not, add salt to taste. 
To make the crusty bread, heat a large skillet over medium heat with some olive oil. Cook slices of bread on one side until golden. Flip, and cook the other side till crisp and golden. 
Ladle soup into bowls. Dunk in a slice of olive oil toasted bread. Crack pepper over top. Shave parmesan over top if you wish. 
Category:

Soup

Method:

Stovetop

Cuisine:

American, Italian
Keywords: chickpeas, escarole, soup, vegetarian, Italian, peasant
This post may contain affiliate links. Please read my disclosure policy.