Large-Batch Tahini Salad Dressing
This post may contain affiliate links. Please read my disclosure policy.
This tahini salad dressing comes together in no time and has become a favorite: it's got a nutty, earthy flavor as well as great acidity and heat, too. I like to make it in large batches because it keeps for weeks in the fridge, and there is nothing better than having a vat of salad dressing on hand.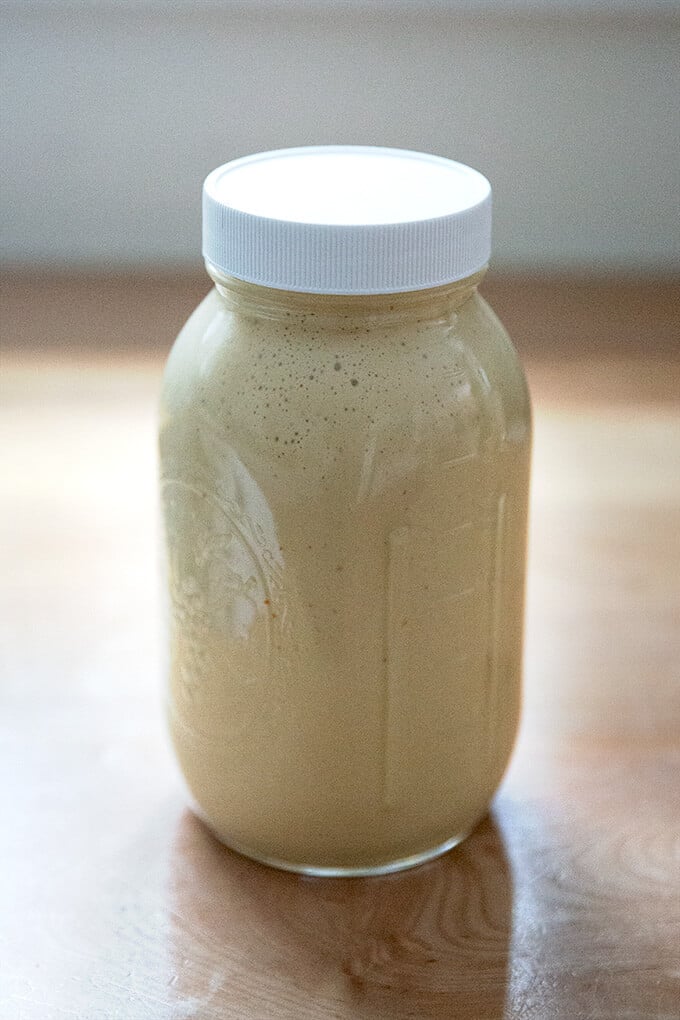 About this time of year last year, I discovered a very tasty new salad dressing. Made with cashews, it has a creamy texture, and the inclusion of fish sauce and raw garlic makes it reminiscent of a Caesar dressing, though a very sharp one, thanks to a high ratio of vinegar to oil. A teaspoon and a half of crushed red pepper flakes gives it a serious kick.
A few months ago, I set out to make it and realized I didn't have cashews, so I subbed in tahini. And then, realizing the dressing had so much potential to be vegan friendly, I omitted the fish sauce and used maple syrup in place of the honey. Finally, to simplify things: I left out the garlic.
The result? Heaven! I find this dressing to have as much complexity and flavor as its cashew predecessor, no doubt thanks to the tahini, which, as in this "no-tuna" tuna salad, lends an earthiness and nuttiness, a flavor those you serve it to may not identify upon first bite. Like the cashew dressing, this one is highly seasoned and has a lot of acidity and heat, too.
After I made the dressing once or twice, I started making it in large-batch form, because, as with this shallot vinaigrette, it's just as much work to make a small batch of dressing as a large. AND: Is there anything better than opening up the fridge and finding a vat of dressing on hand?
I've been using this dressing as I do the cashew dressing: to unify the odds and ends in my fridge in big, hearty, satisfying chopped salad: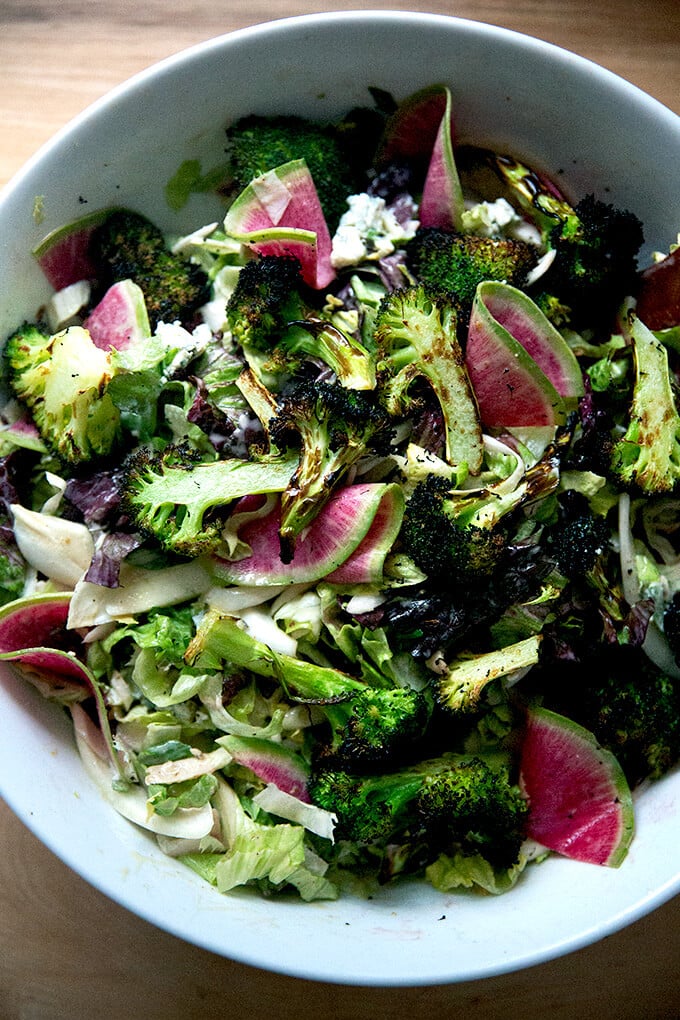 The one in the picture above includes:
Crumbled blue cheese
Scallions
Red leaf lettuce
Endive
Thinly sliced watermelon radishes
This time of year other great additions include toasted nuts, sliced pear or apple, grapes, clementines or grapefruit, avocado, cooked beans, hard-boiled eggs, jammy eggs, thinly sliced salami or soppressata or really whatever leftovers you find in your fridge.
Final note: I made this dressing in a virtual cooking class this past October, and everyone raved. Hope you all love it, too.
PS: Large Batch Shallot Vinaigrette + Favorite Kale Salad
PPS: Spicy Cashew Dressing with Charred Broccoli Chopped Salad
How to Make Tahini Salad Dressing
Gather your ingredients: water, maple syrup, tahini, white balsamic vinegar (or other white vinegar), olive oil, salt, and crushed red pepper flakes.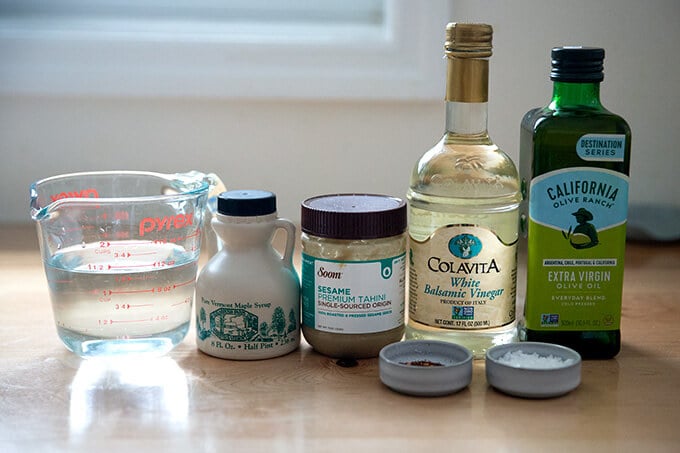 Measure everything out or …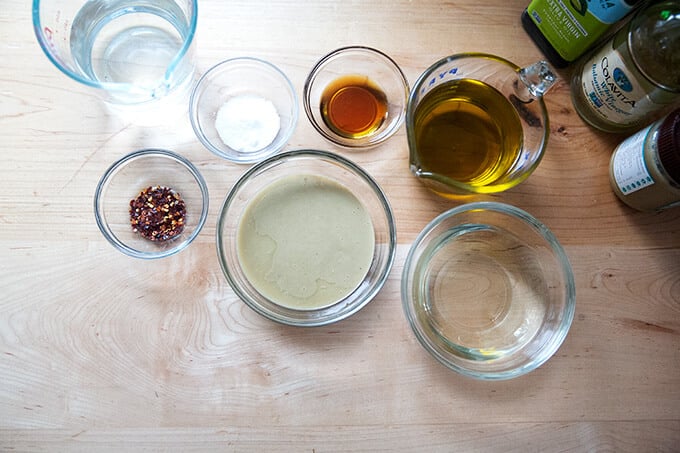 … dump everything straight into your food processor or blender: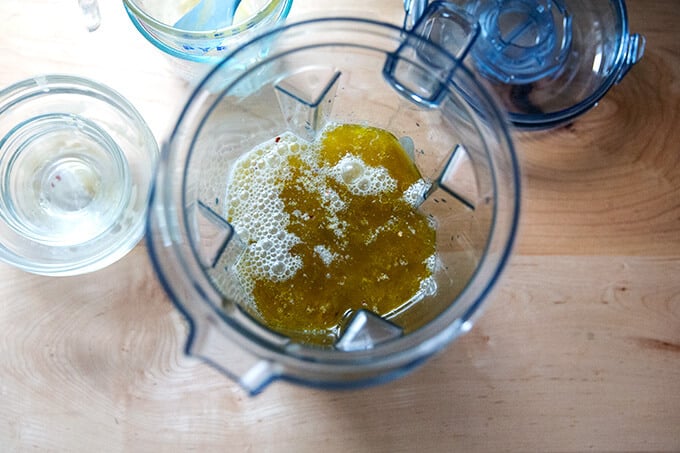 Blend until smooth and emulsified: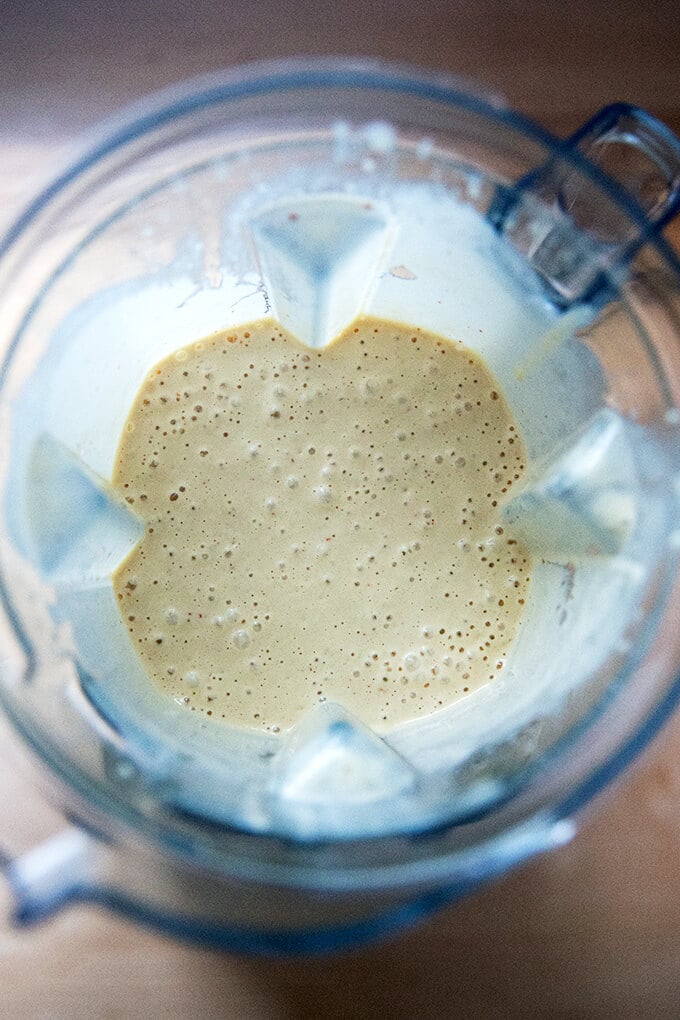 Transfer to a storage jar or two. It makes a heaping quart of dressing: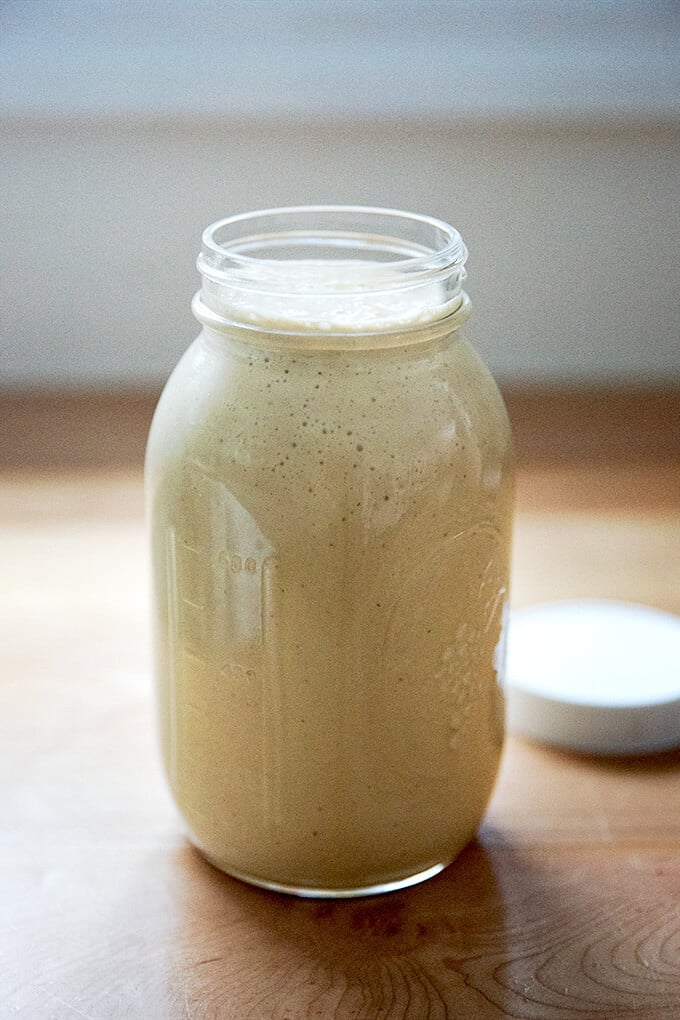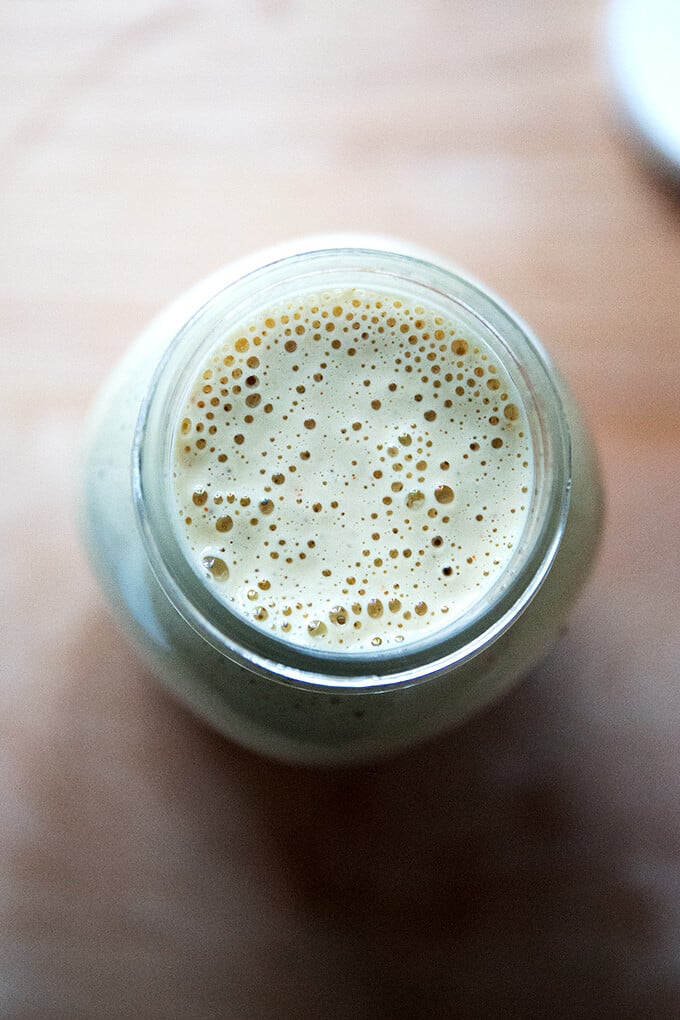 Store in the refrigerator for weeks or use immediately on a big chopped salad — it's a great format for cleaning out the fridge of leftovers.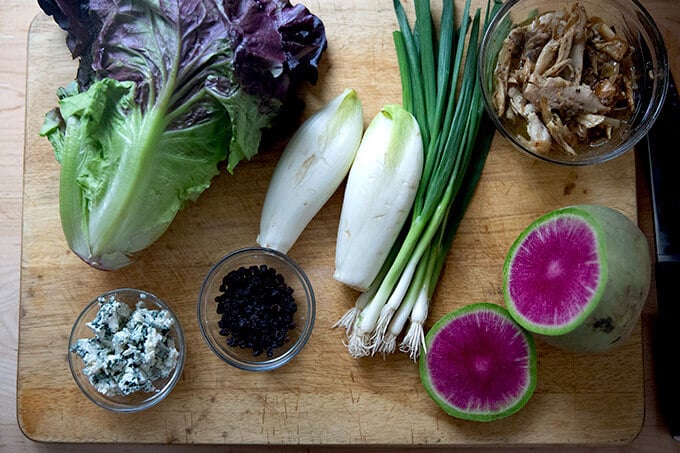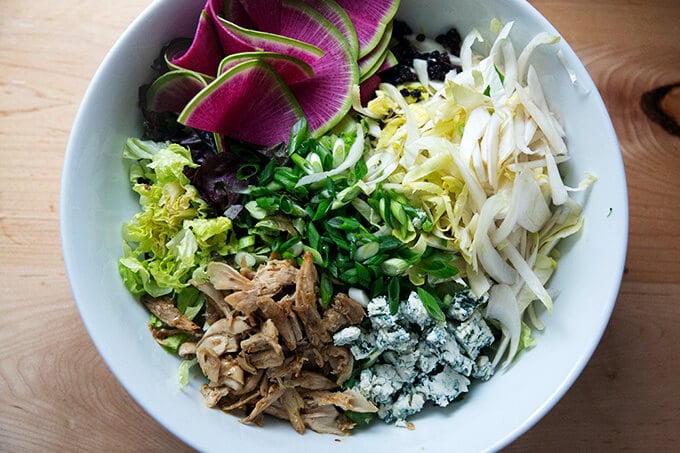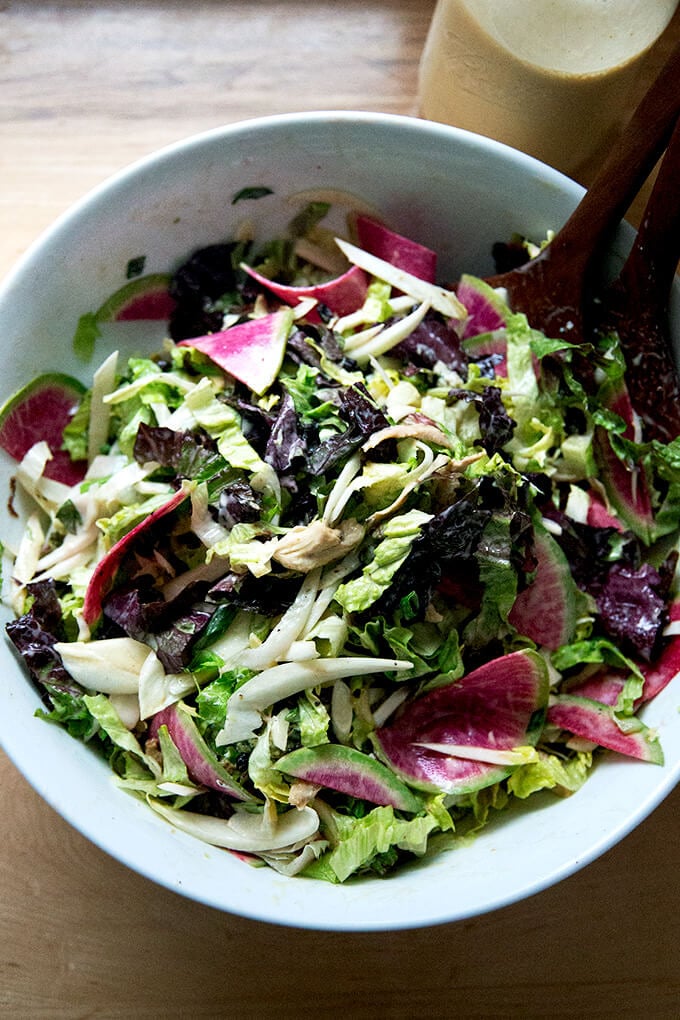 Adding broiled broccoli to these salads instantly makes the salad a little heartier.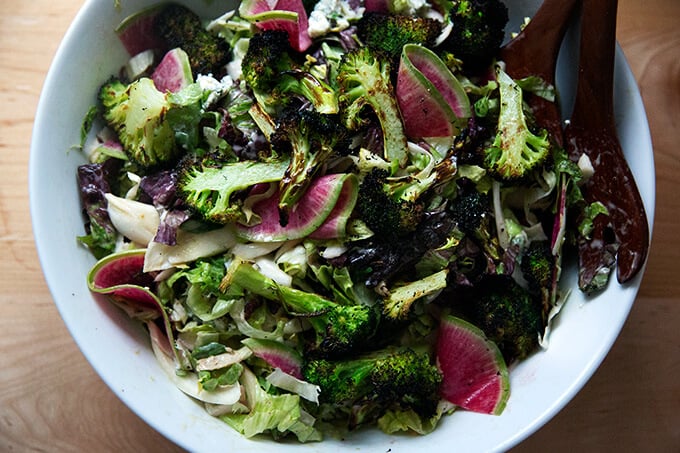 Print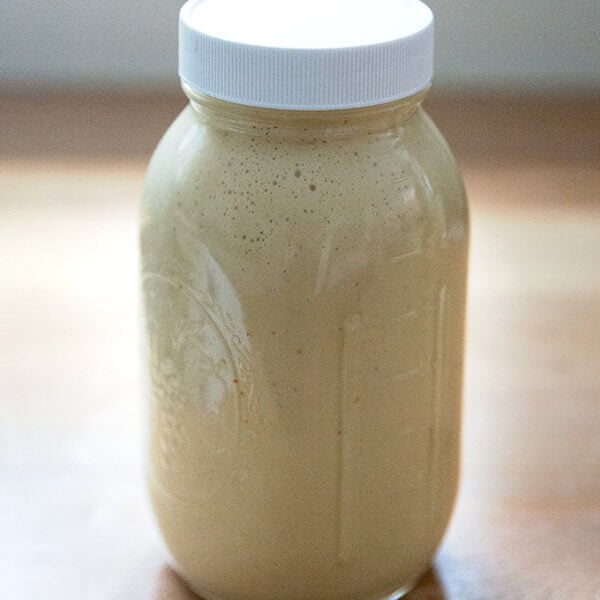 Large Batch Tahini Salad Dressing
---
Description
A few notes:
Salt: When I use Diamond Crystal kosher salt, I find 3 teaspoons to be right. When I use fine sea salt, 2 teaspoons is about right. So, start with 2 teaspoons, blend it up; then add another 1/2 or 1 teaspoon salt to taste. OR: if you are sensitive to salt, start with 1 teaspoon and add more to taste.
Tahini: I love the Soom brand, but I have also used and loved the Joyva brand, which may be more readily available. Use what you have or what you like. The thing to note is that different tahinis will have different salt levels, so keep this in mind when seasoning your dressing
If you want to make a chopped salad, follow the guidelines on this charred broccoli chopped salad post.
---
2/3 cup

well-stirred tahini, see notes above

2/3 cup

white balsamic vinegar, or other

1 cup

extra-virgin olive oil

1 1/3 cup

water

2

to

3

teaspoons salt, see notes above

1/2

to

1

teaspoon crushed red pepper flakes or to taste

2 teaspoons

maple syrup
---
Instructions
Place all ingredients into a blender or food processor, and purée until smooth. Transfer to a jar and store for at least 2 weeks in the fridge.
Note: This dressing likely will separate in the fridge overnight. When ready to use it again, give it a good stir or shake it well. It doesn't thicken the way the cashew dressing does, but if necessary, thin with more water or a splash of vinegar to taste. Taste and adjust seasonings as necessary. 
Prep Time:

5 minutes

Category:

Dressing

Method:

Blender

Cuisine:

American
Keywords: tahini, salad, dressing, vegan, large-batch
This post may contain affiliate links. Please read my disclosure policy.