20+ Mother's Day Gift Ideas
This post may contain affiliate links. Please read my disclosure policy.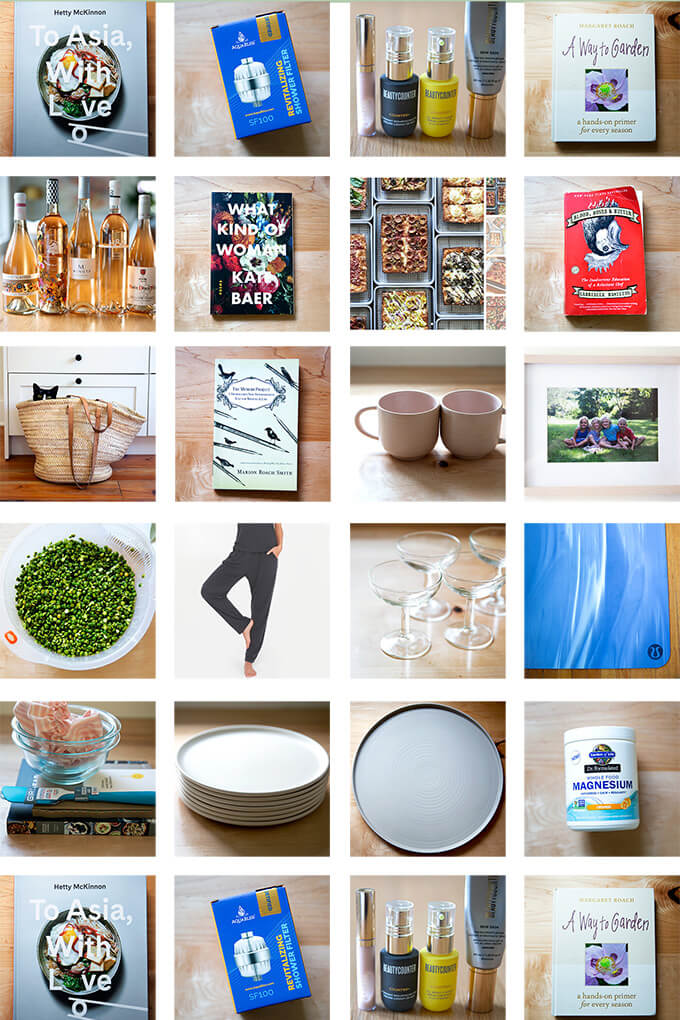 Friends, Mother's Day is less than two weeks away. I'm getting this post out a little later than I had hoped, but most of the items, I imagine, will still ship in time. As always, I hope the ideas below serve as inspiration, and, as always, I love hearing your ideas, too, so please share in the comments.
My perennial favorites can be found in the shop. This post is organized as follows:
PS: Holiday Gift Guide 2020 | Mother's Day Gift Guide 2020
---
Books
Kate Baer's What Kind of Woman
Like many, I learned about Kate Baer via Cup of Jo, fell in love with her Instagram posts, and bought her book of poems. I keep it on the coffee table, where it's at the ready to pick up while sipping my coffee or anytime I can find a quiet moment throughout the day. The poems are short, easy to understand, and so relatable.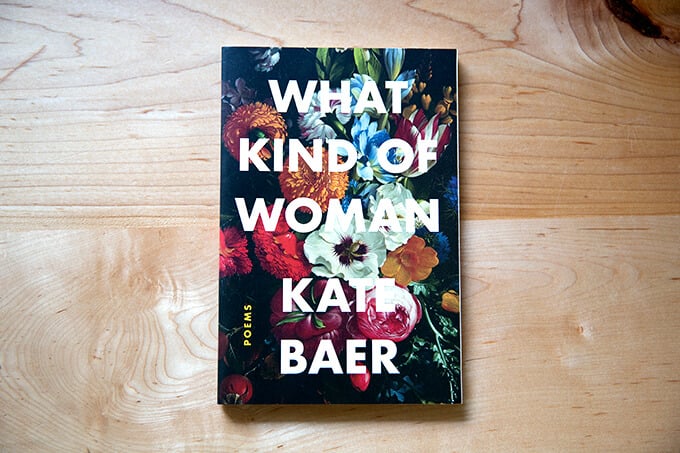 Marion Roach's The Memoir Project
Most of you likely know the brilliant Margaret Roach, but you might not know her sister, Marion Roach, equally brilliant, who is a memoir coach. After listening to a conversation with her and David Leite at the Hillsdale General Store several years ago, I bought her book, which is about memoir writing and which feels very meta — I'm never sure I'm using that word correctly, but The Memoir Project teaches you how to write memoir while also being part memoir itself. (Meta, right?) That said, it's so much more than a book about how to write a memoir — it's a practical guidebook on how to write well or how to, as Marion says, "write with intent."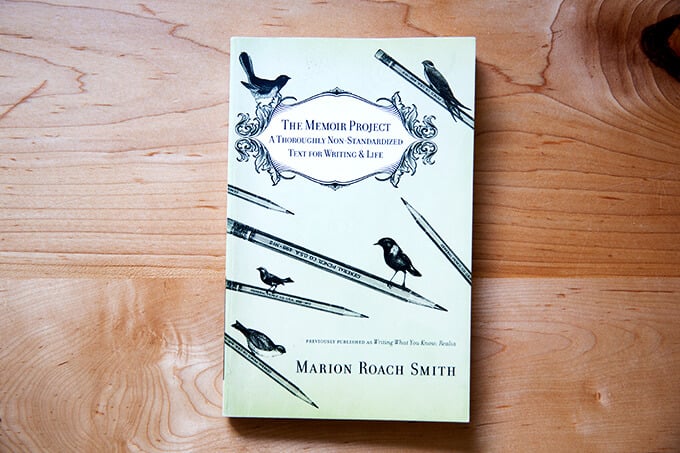 Gabrielle Hamilton's Blood, Bones & Butter
Speaking of memoir, this one is my favorite. I'm re-reading it now. Here's a passage I love relating to mothers:
"Until this moment, more or less, I sat in her lap after dinner every single night. For a period I was too young for after-dinner chores—clearing, washing, drying—and possibly too favored, and so I eagerly crawled up and took my place in her lap, barefoot and drowsy. I leaned back into her soft body and listened to the gurgling as she chewed and swallowed. I breathed in her exhale: wine, vinaigrette, tangerines, cigarette smoke. While all of the others were excused from the table, I got to sit, alone with my mother and father as they finished. I watched her oily lips, her crooked teeth, and felt the treble of her voice down my spine while she had adult conversation and gently rested her chin on the top of my head. She cracked walnuts from the Perigord and picked out the meats, extinguished her occasional cigarette in the empty broken husks, shifted my weight on her lap; she squeezed the tangerine peel into the candle flame and we watched the oils ignite in yellow and blue sparks. I sat in that woman's aproned lap every single night of my young life, so close to the sounds and smells of her that I still know her body as if it were my own."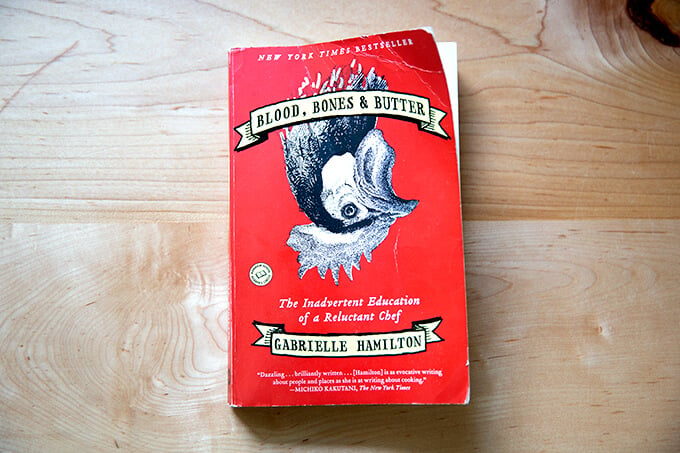 Of course, I'm always honored when you gift my book to anyone you think might enjoy learning how to bake simple bread. I also sell these peasant bread kits, which include all the peasant bread baking essentials: two 1-qt Pyrex bowls, a pink Dot and Army cloth bowl cover, a GIR spatula, a digital scale, a signed copy of Bread Toast Crumbs, and a Julia Child quotation notecard: "I think every woman should have a blowtorch." There's a "blue" kit as well.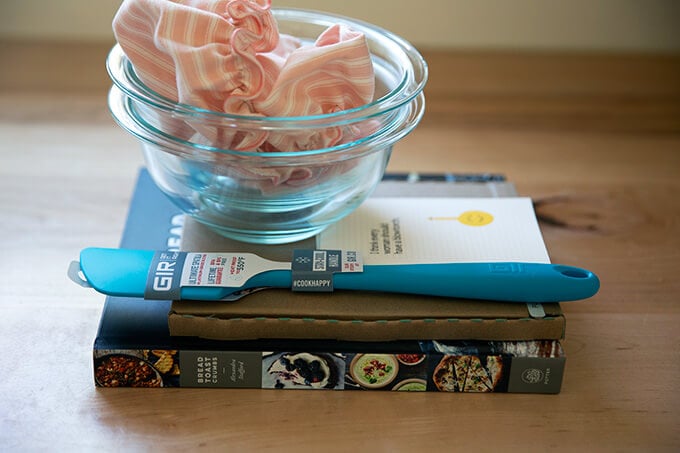 Hetty McKinnon's To Asia with Love
I recently wrote about Hetty's latest book, which is "full of everyday Asian recipes made with simple ingredients (many of which you will already have in your pantry) along with personal stories of growing up in a Chinese household in Sydney." It's beautiful.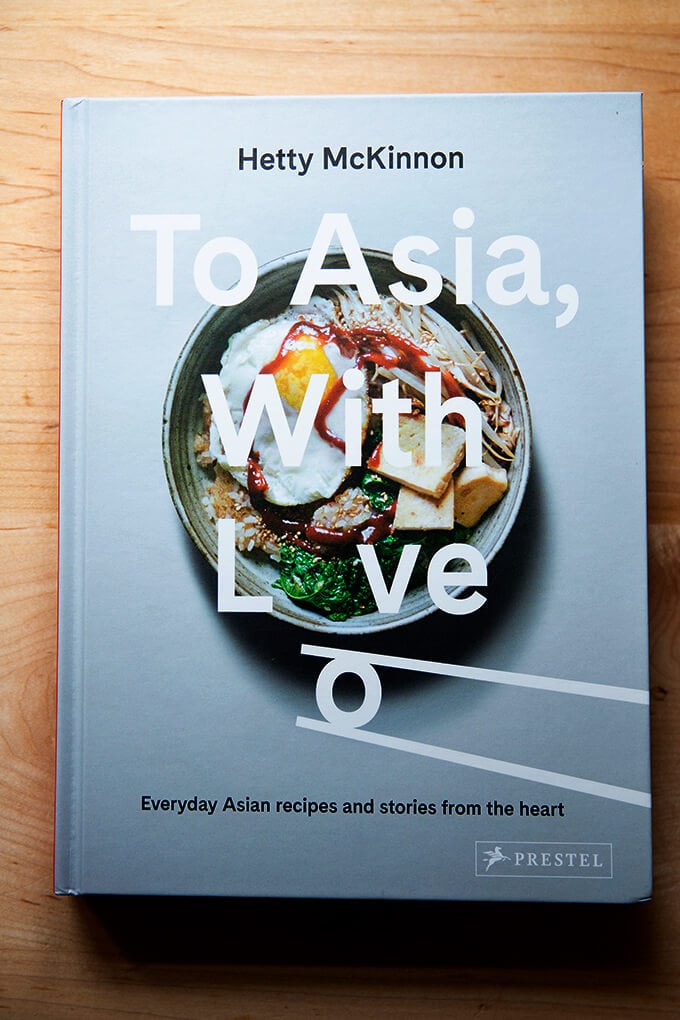 Because every gardener needs a trusty, comprehensive resource by her side, Margaret Roach's A Way to Garden continues to be a favorite gift, but especially for Mother's Day, when gardening season is just getting underway. Maybe pair it with a packet of seeds? These look fun. If you have questions about seeds, Margaret has a comprehensive FAQ page on her website.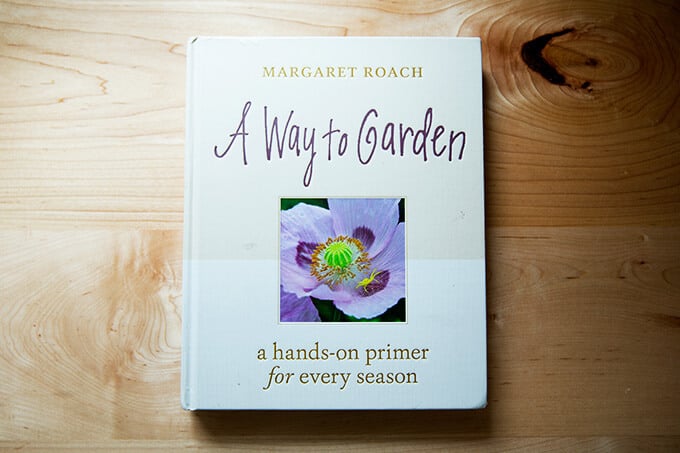 Health, Beauty, Wellness
Anything from Beauty Counter
I love Beauty Counter products for both their quality and their standards: they ban the use of over 1,800 ingredients in their formulations. A go-to gift for my sister and soon-to-be sister-in-law is either a lip gloss or tinted moisturizer — I love this dew skin.
The lovely Bridget Hunt, who has a wonderful blog and Instagram, and who is a Beauty Counter consultant, has introduced me to a few other products I am loving, namely the overnight resurfacing peel and the bright side c serum. She also highly recommends this cleansing balm, which she describes as a "Swiss army knife of skincare products." I bought one for my mom, and I'm tempted to try it out myself.
PS: Beauty Counter is currently offering 15% off everything … the sale ends today, April 28th, at midnight.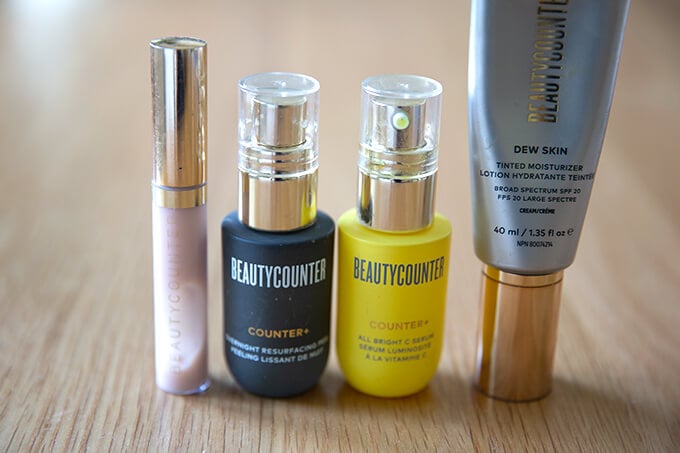 I learned about shower filters from Liz Moody's Instagram. I bought this one a few months ago, and, incredibly, installed it myself — it took 5 minutes. I truly notice a difference in my hair, but apparently, a shower filter also can benefit your skin and nails, because chlorinated, chemical-ridden water can be the cause of itchy skin, dandruff, eczema, dry hair, and brittle nails.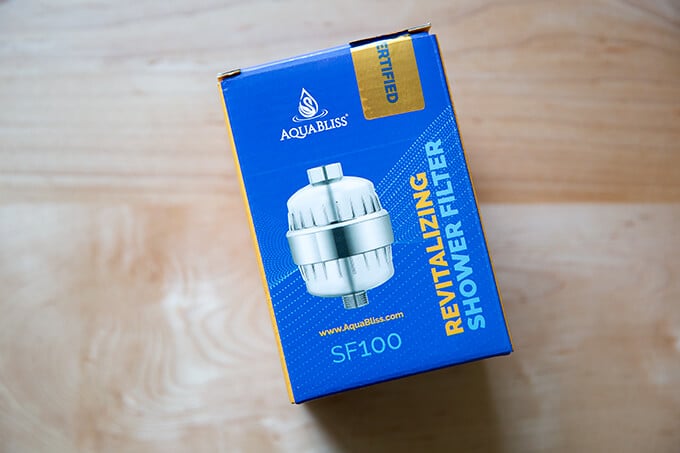 A tub of Magnesium
This is another product I learned about from Liz Moody, but from her Healthier Together podcast. I don't remember which episode it was, but I think it was one of her "ask the doctor" episodes about gut health. I stir a teaspoon of it into a very large glass of water and begin every day with it. I love it mostly because it helps me drink water — I am a terrible water drinker — so I start the day feeling hydrated. Apparently, it also supports relaxation and helps with sleep, stress, and regularity. As I remember, the doctor in that episode recommended taking it in the evening — I think for its calming benefits — so that's an option, too, if you find winding down difficult.
Incidentally, I really love all of Liz's "ask the doctor" podcast episodes. There's one on skincare, hormones, anxiety, and aging, to name a few. Liz asks great questions, and I always learn a lot from each episode. Also: this is a favorite salad from her cookbook Healthier Together.)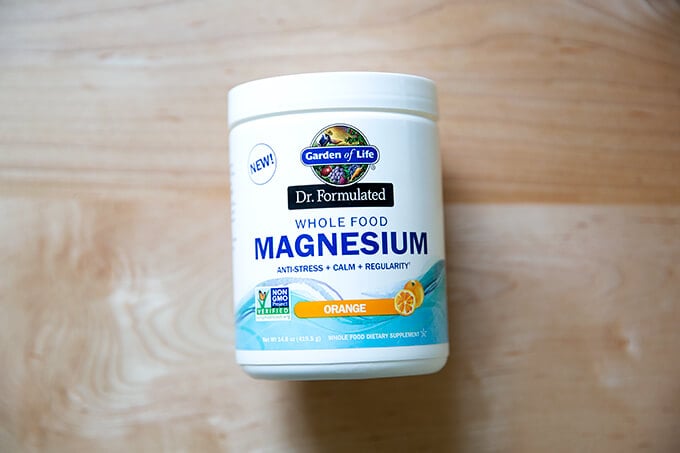 A New Yoga Mat
I recently replaced my many-years old yoga mat with this one, which I bought at Studio 4 Hot Yoga (in Schenectady if you are local), and it makes such a difference! I am a sweater, and so I slip around a lot on my mat, but not anymore! Isn't it pretty, too?
Incidentally, if you live locally, Michelle, the owner of Studio 4, has a lot of cute tie-dye cut-off shirts in stock right now. A gift card to Studio 4 (or to your local yoga studio) would also make a great gift.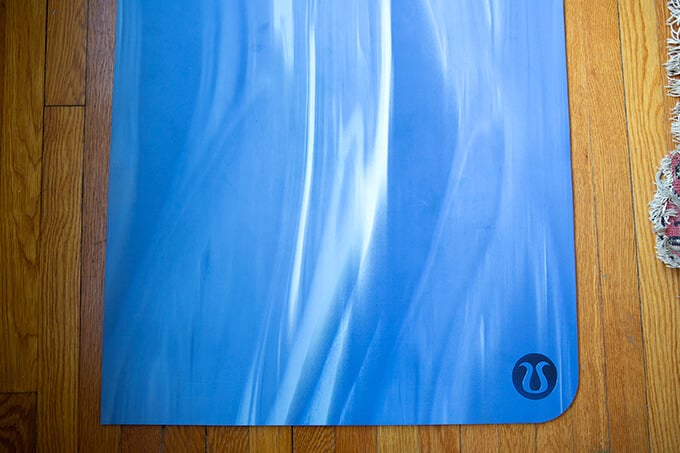 Sleep pants or shorts from Mate the Label
Do you know Mate the Label? As with Vuori, Mate the Label came into my life via well-targeted Instagram ads. I was drawn to their neutral colors and purchased a pair of their sleep pants and sleep shorts this winter — I love them! They're so soft and comfortable.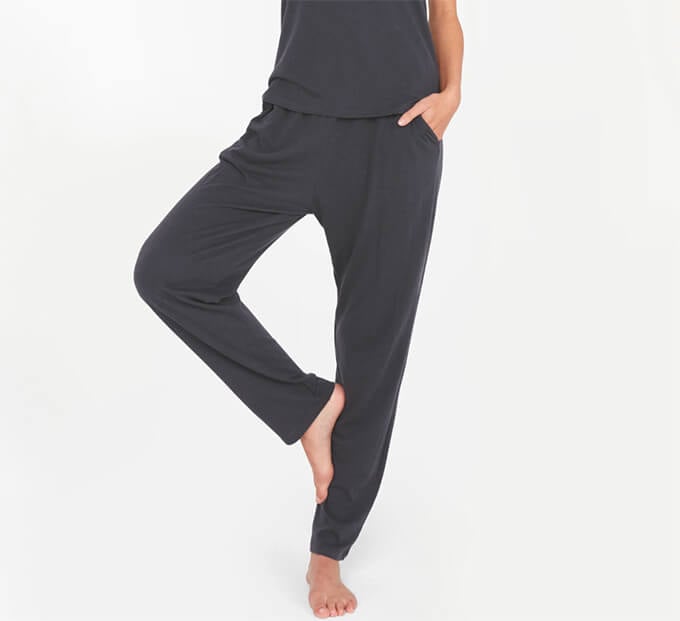 Kitchen
A Set of Champagne Coupes
I discovered Elsie Green sometime this winter and instantly fell in love with their vintage furniture and decor. I bought a set of champagne coupes, the shape of which I love — so much more practical than a flute, which I inevitably knock over and break after one glass of chapagne.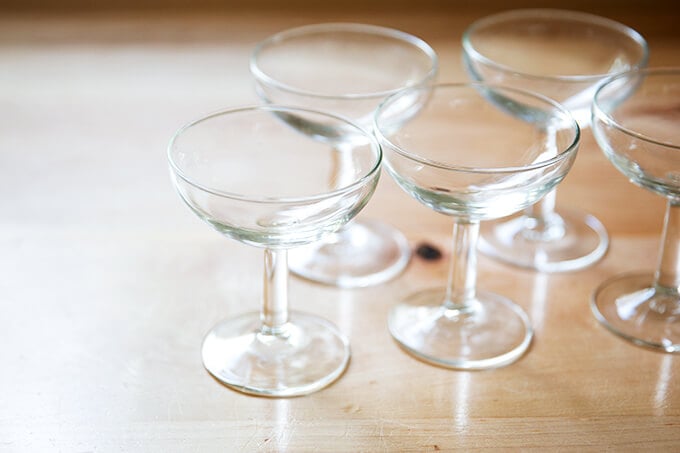 New Dinner Plates
I bought these plates from Food52 in early March of 2020 in anticipation of a large Easter dinner, which, of course, never happened. Having owned these plates for over a year now, I can say with certainty I absolutely love them. I love the matte finish, and I love the flat surface. Food looks very pretty on them, they have a nice weight, and they wash up beautifully.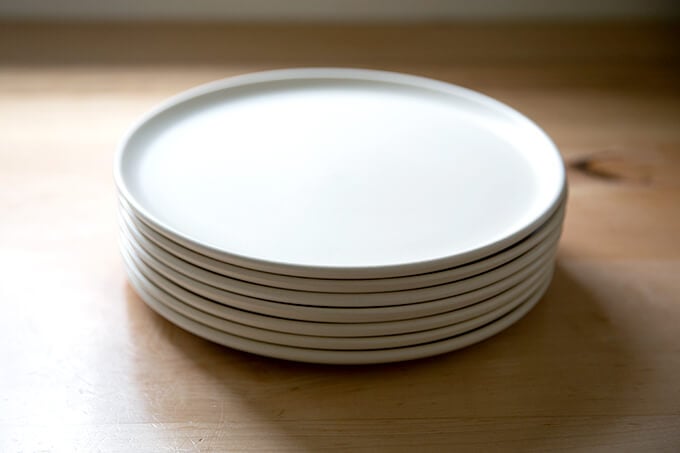 A New Serving Platter
I have a few large circular platters, and every time I plate something on them on Instagram stories, people message me asking where I got them. This is one I use a lot. It's from Hawkins New York.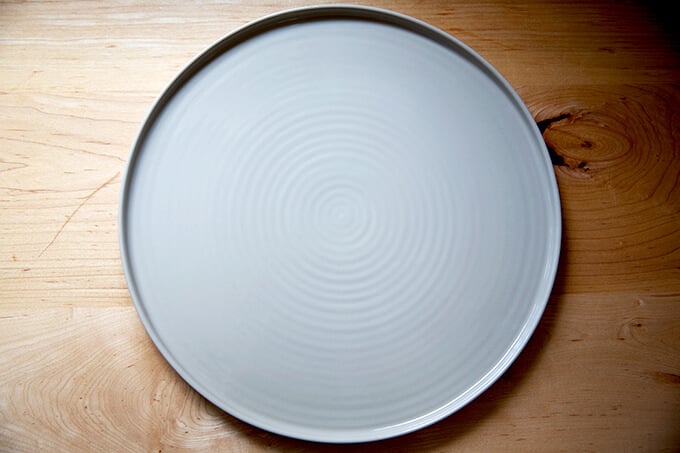 Here it is topped with roasted cabbage. This is essentially this recipe but without the salsa — it's basically roasted cabbage drizzled with reduced balsamic out of the oven, and it's so tasty.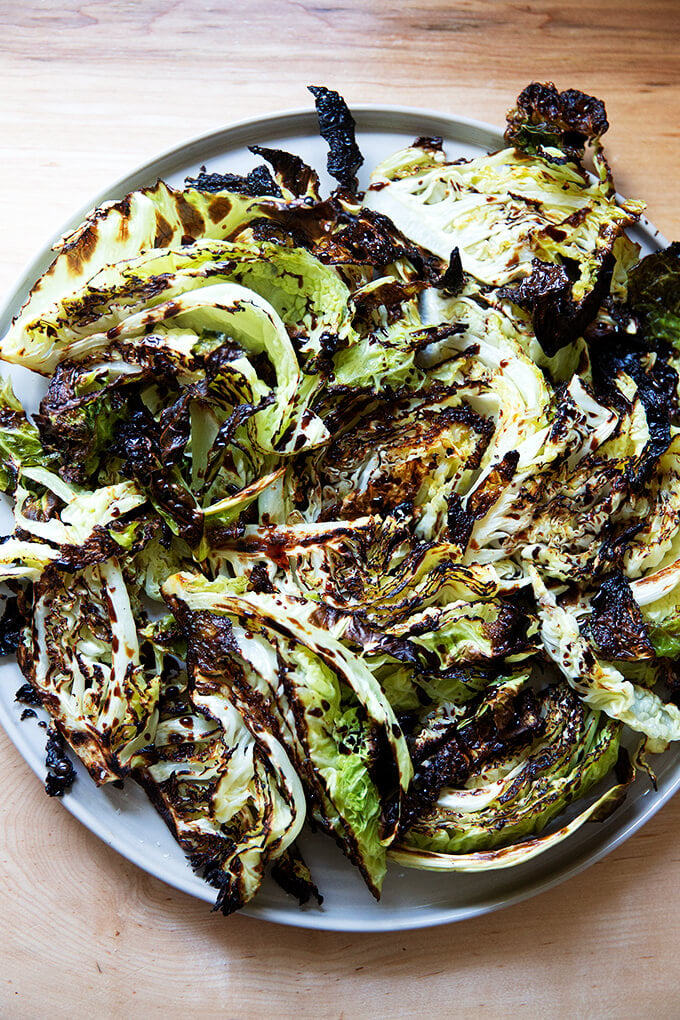 A New Mug
Your mother likely needs a new mug about as badly as she needs a new robe, but hear me out. I have a drawer filled with mugs, only one of which I truly truly love. It's from Crate and Barrel, and it was something I got for my wedding. It's the perfect size (for me), and it's made of bone china, so its edge is nice and thin. Unfortunately, it's no longer in production, and I hadn't been able to find anything I like quite as much, until I found these mugs from Hawthorn New York. Note: these are not thin like bone china, but the edge is thin enough for me, and the size is just right — not too big, not too small.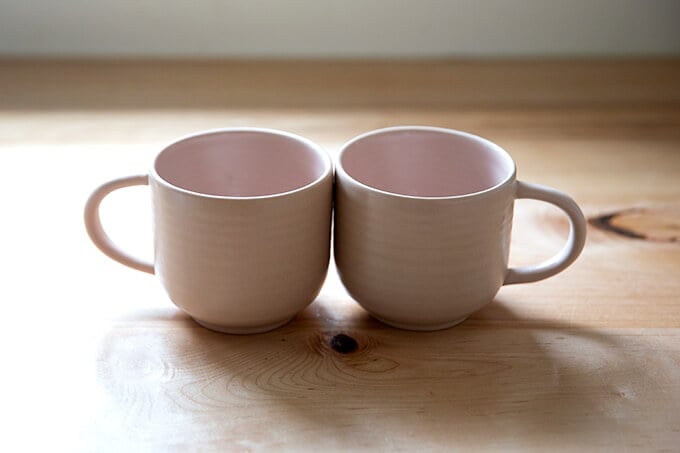 Here it is with my favorite homemade latté: steamed cashew milk and brewed espresso. I use my Nespresso Aerochino to steam the milk, and I brew the espresso with my Nespresso Pixie. Incidentally, I love this cashew milk. I get a monthly subscribe-and-save delivery because I love it so.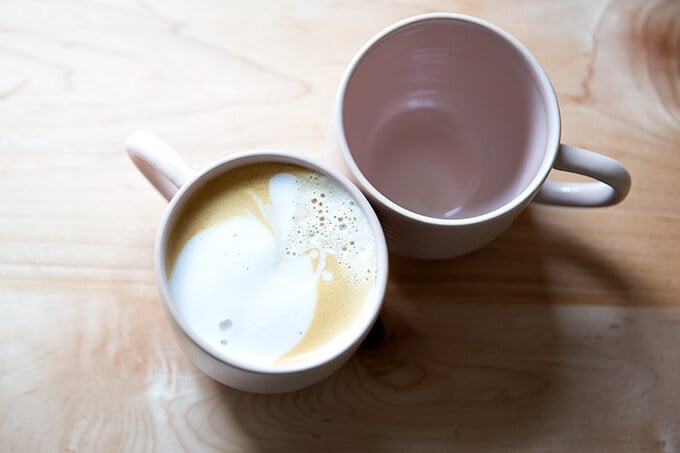 Inomata Japanese Rice Washing Bowl
One of you recommended this Inomata Japanese Rice Washing Bowl, and I use it all the time. Love it. Thank you. It's pictured below with split peas, but I mostly use it for this coconut rice recipe.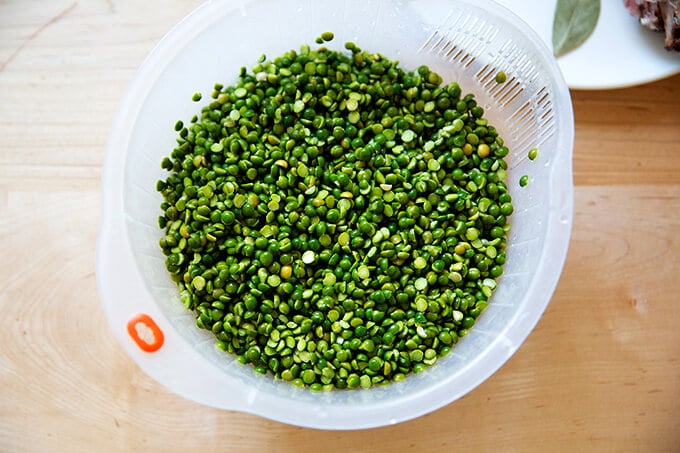 Food & Wine
Rosé All Day 🍷🍷🍷🍷🍷
It's almost rosé season, and I think a bottle of it (or your favorite wine) would make a lovely gift. I really like the H&B rosé. Maybe make some homemade crackers and buy some stinky cheeses to pair with it? I love this aged gouda as well.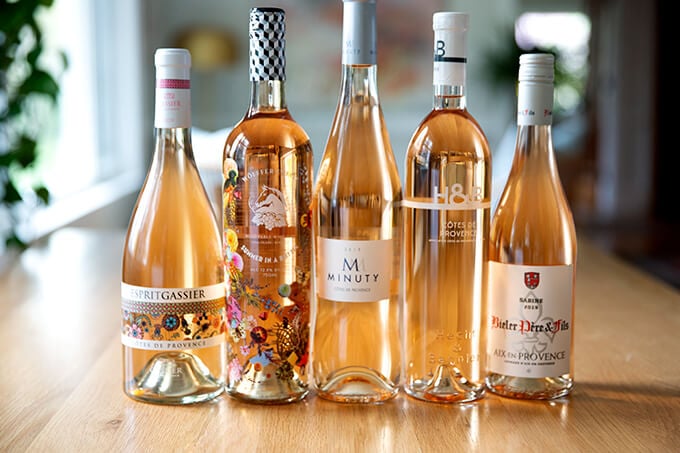 Or bake some bread and buy some good butter to gift with it?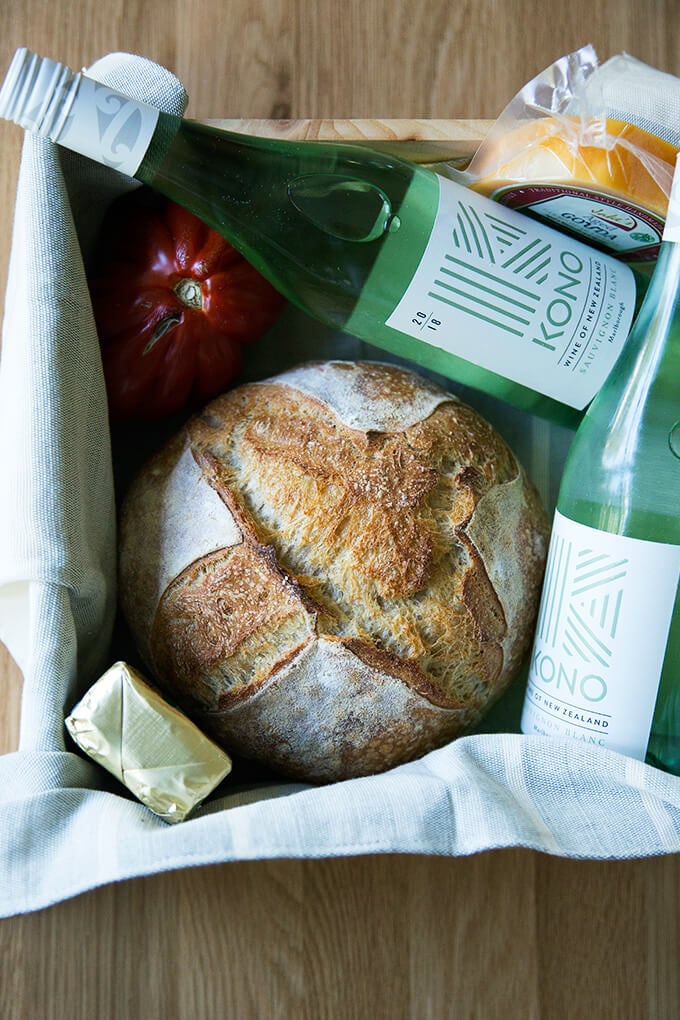 A gift card to Goldbelly
Like many people at the height of the lockdown last year, I found myself both worrying about favorite restaurants and longing to visit them. When I learned about Goldbelly, which ships food from renowned restaurants nationwide, I immediately ordered a 3-Pack of Emmy Squared Detroit Style Pizza. The pizzas baked up beautifully, and it was a really fun night — it felt more special than the usual takeout. I ordered the vodka, roni supreme, and the Emmy (white), and we all loved them all.
In addition to offering food, they offer cooking classes. How fun does this pizza-making class sound?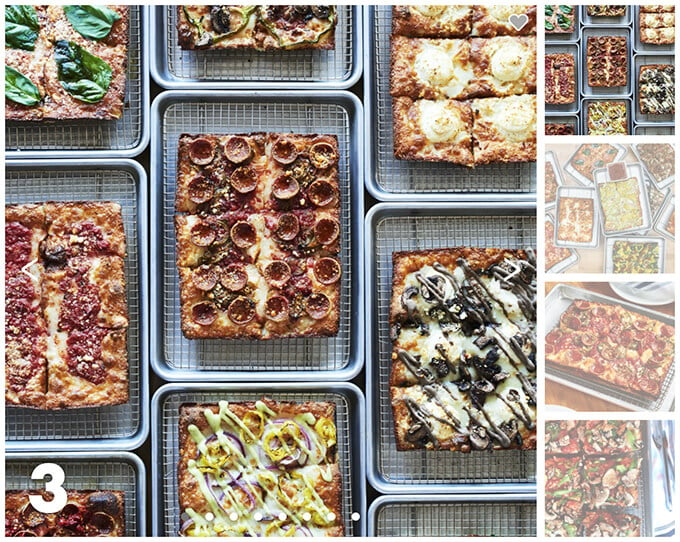 Home + Other
A framed photo or piece of art from Framebridge
Every year for Christmas but often for Mother's Day and Father's Day, too, I frame a photo of the kids for my parents and in-laws. Framebridge always does a beautiful job, and they're fast, too. My favorite frame is the bleached maple (pictured below). Use code alexandracooks15 to receive 15% off.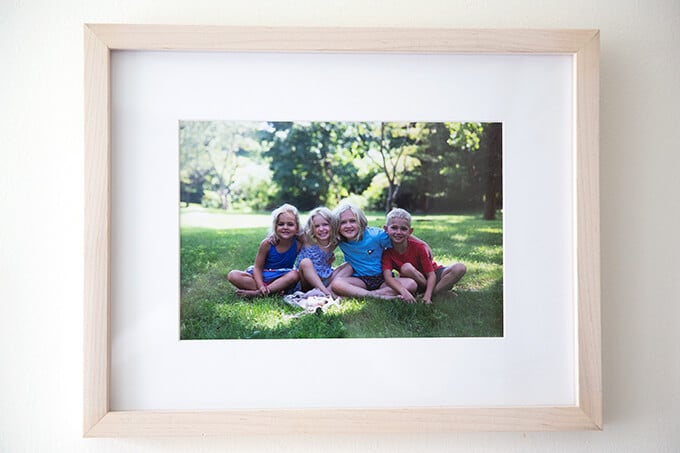 A Moroccan Tote
I bought this one from the Vischer Ferry General Store, which, if you are local, is a great spot for both gifts and food, and I use it all the time. I'm not sure if they have any in stock at the moment. Call to see: 518-579-0195. Elsie Green sells a similar Moroccan tote.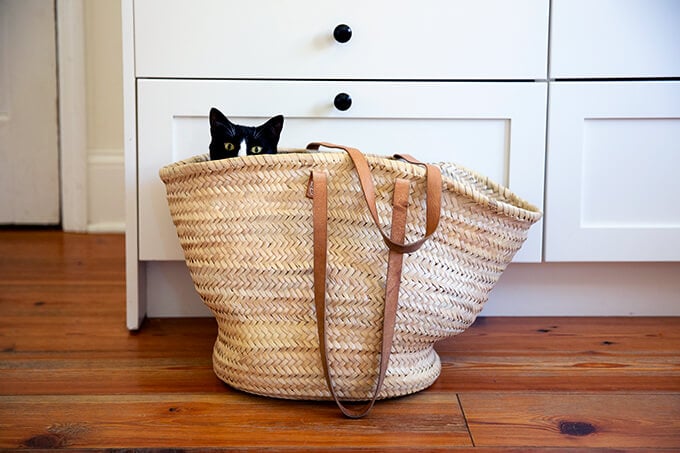 In addition to the items above, here are a few more thoughts:
Friends, what are your current favorite items to gift?
This post may contain affiliate links. Please read my disclosure policy.