Mixed Berry Galette (with Foolproof Pastry)
This post may contain affiliate links. Please read my disclosure policy.
This mixed berry galette is incredibly easy to make and couldn't be more summery or delicious. The homemade pastry dough is buttery, flaky and truly foolproof to assemble. Make this recipe using whatever fruit is in season — it's particularly good with a mix of blackberries, raspberries, and blueberries.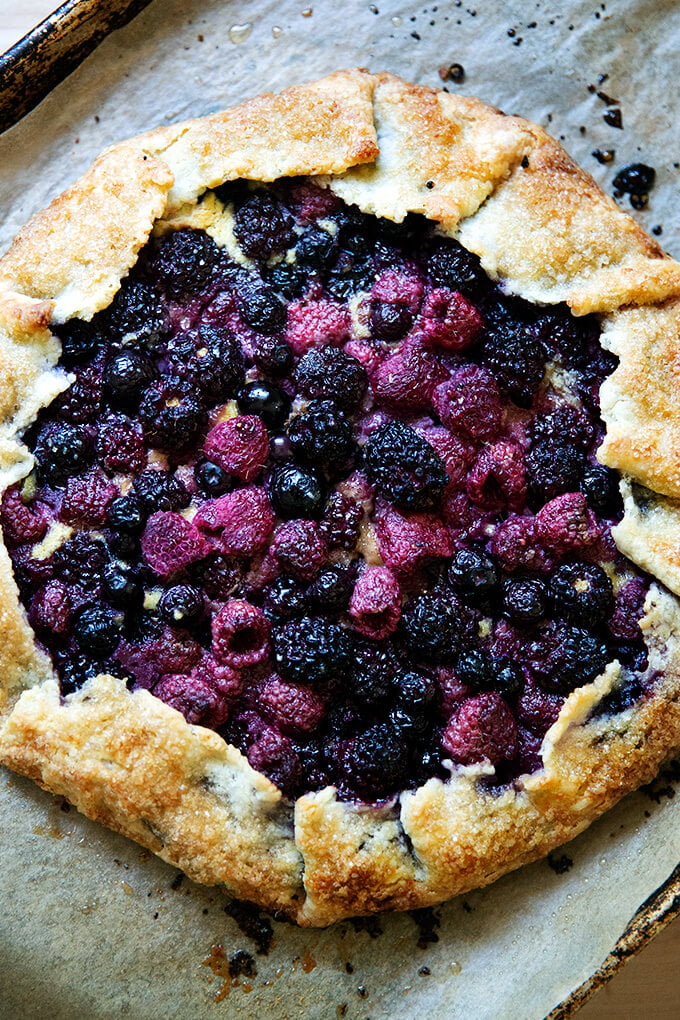 Last August, I published yet another galette recipe here on Alexandra's Kitchen. With the birth of this sixth galette baby, I thought my galette family of recipes was complete, the collection including both sweet and savory characters with personalities ranging from citrus-scented to bourbon-spiked, their birthdays spanning the seasons.
But last week, in preparation for a galette-making class I was teaching, I found myself facing this predicament: stone fruit, my favorite to use in this dessert, are not yet in season, but rhubarb, currently abounding at the market, is not everybody's favorite.
This left me with the berry category, a logical choice this time of year, but I had never made a galette with berries — shocking, I know — and, if I'm being honest, I was feeling a little daunted by the potential experiments before me: Would blueberries alone be boring? Would I need to use cornstarch? Lemon? If I used a variety of berries, what would be the optimal mix?
In other words: How many darn galettes would I have to make before my class to get it right?
It turns out just two! At the start of the week, I made one with all blueberries. Remembering a text and a photo from my cousin Kristina last summer, who had made a blueberry galette without cornstarch or lemon, I chose to do the same. It turned out beautifully — the berries didn't release enough juices to warrant using a thickening agent, and because the berries in this recipe aren't tossed with any sugar, it didn't taste too sweet.
That said, although it was delicious and quickly demolished, I found myself wanting more variety both in texture and flavor. And so on the night of my class, I made a galette with a mix of berries: equal parts blackberries, raspberries, and blueberries, about a pound altogether.
Friends! I know better than to pick a favorite child, but that gal was my favorite to date. The recipe is below. Hope you love her, too!
How to Make a Berry Galette: An Overview
There are three elements in this galette: the pastry, the frangipane, and the fruit. Let's explore each one.
The Pastry
The food processor method shared here truly is foolproof — if you have struggled with pie dough in the past, please give this recipe and method a try. It is the only recipe I use for all of my pies, tarts, galettes, etc. — anytime I need a flaky, buttery pastry shell, this is the recipe I use.
The pastry recipe comes from David Lebovitz, but I learned the method from a French woman, Caroline Cazaumayou. I've shared the story before, so I'll briefly sum it up: Caroline makes her pastry in the food processor, pulsing the dough as minimally as possible, then uses a tea towel to shape the dough into a perfect round.
This tea towel trick achieves two things:
A tender crust, because the crumbly dough ensures it has not been over worked.
A perfectly round shape, the ideal starting point for many a pie and/or tart.
The Frangipane.
Frangipane is an almond-flavored creamy filling made with ground almonds or, as here, almond flour, softened butter, sugar, eggs, and often some sort of flavoring such as vanilla, rum, or Bourbon. It's a cinch to mix together, and in this recipe, you'll make it in the food processor immediately after you make the pastry dough, no need to wash it in between 🎉🎉🎉
You can make this galette without the frangipane, though its inclusion makes for a particularly tasty galette. Not only does the almond flavor pair so nicely with the fruit, the creaminess adds a lovely textural element as well.
The Fruit.
As noted above, you can use any number of fruit in this recipe, but there is something really nice about the combination of blackberries, raspberries, and blueberries not only from a taste perspective but also visually and texturally.
Unlike fruit pies, which often call for some sort of thickening agent such as cornstarch and some sort of acid such as lemon to balance the sweetness, galettes do not.
Find links below to other galette recipes that use other fruits (and vegetables!).
5 More Galette Recipes to Make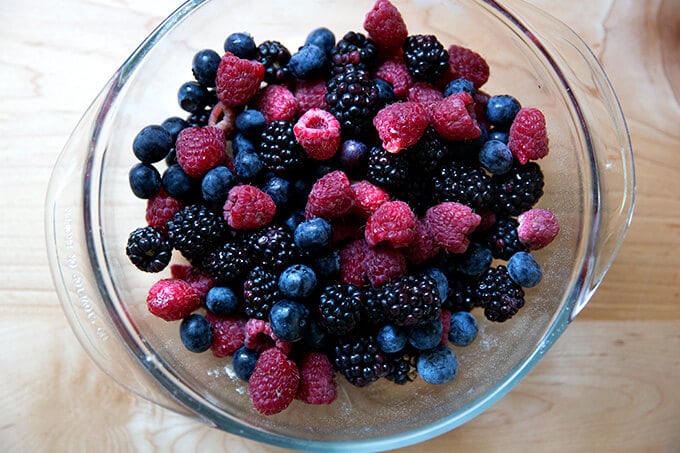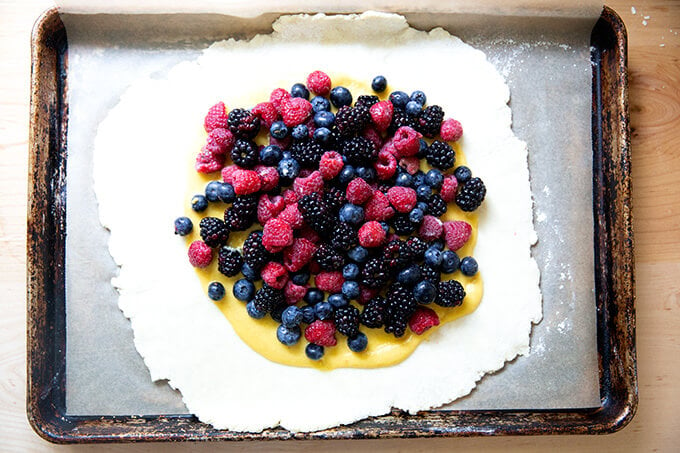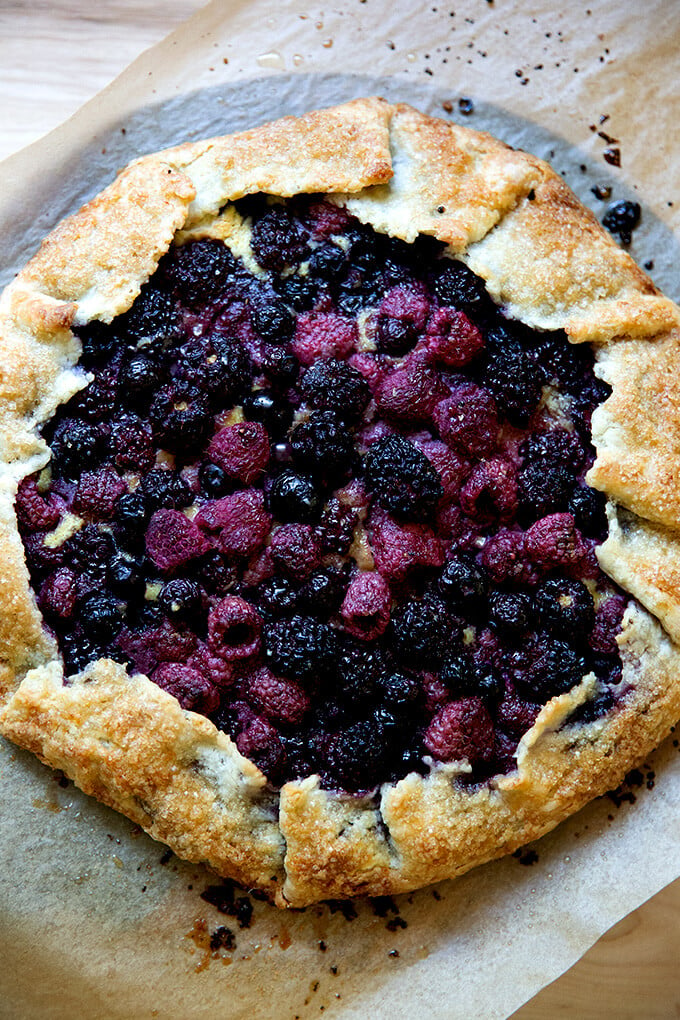 I love serving this galette with vanilla ice cream or slightly salted whipped cream. See the notes in the recipe for how to make the whipped cream from scratch.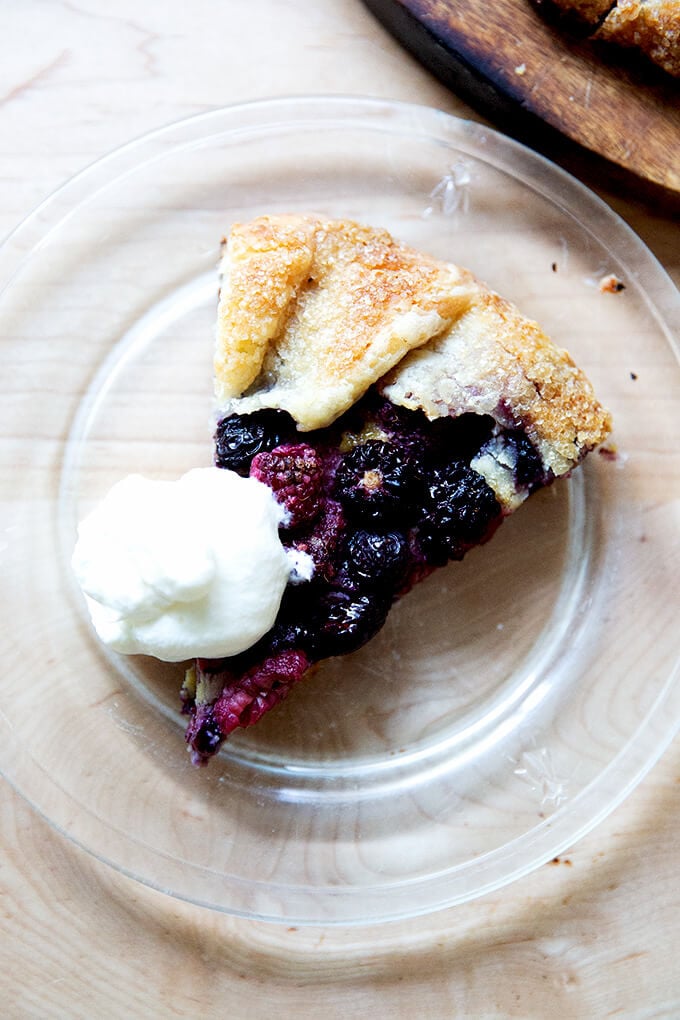 To me this dessert is heaven.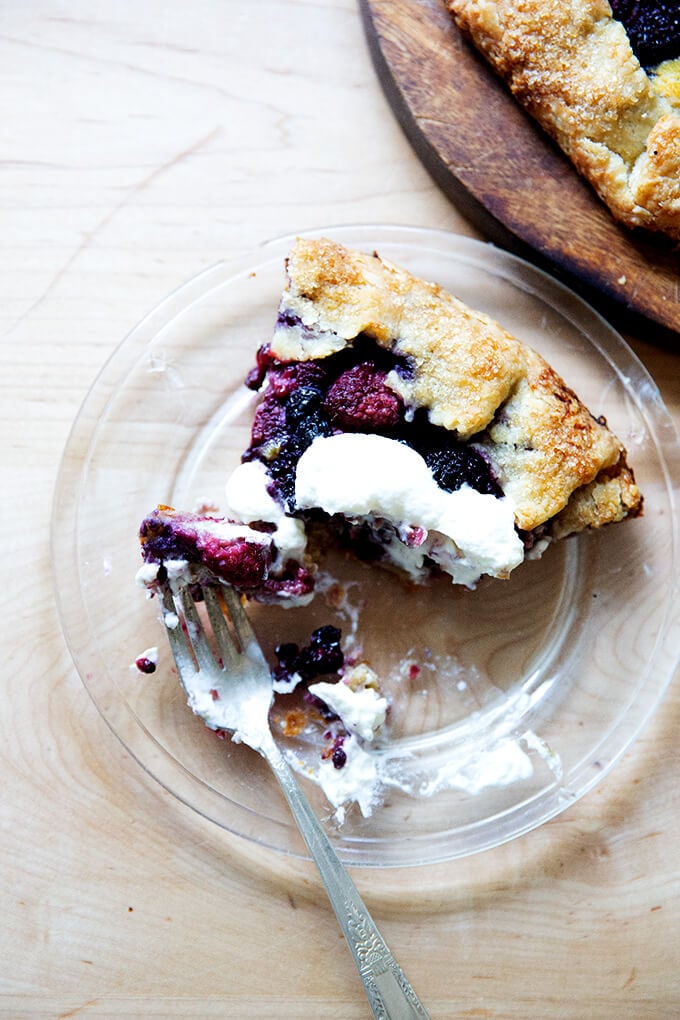 Print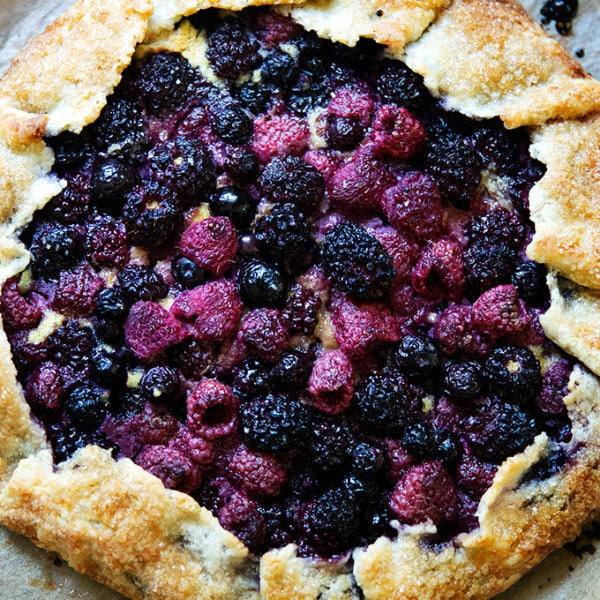 Mixed Berry Galette (with Foolproof Pastry)
---
Description
Adapted from David Lebovitz's recipe from Fine Cooking.
You can use this recipe as a guide, substituting in whatever fruit you love for the berries. Here are a few variations I love: rhubarb, peach, apple.
To make whipped cream from scratch: Whip 1 cup heavy cream in the bowl of a stand mixer until soft peaks begin to form. (You can do this by hand, too, with a bowl and whisk.) Add confectioner's sugar — start with 1/4 cup and add more to taste. Add a big pinch of sea salt and 1 teaspoon vanilla and beat to combine and until the peaks begin getting firmer. Taste — the mixture should be slightly sweet and the salt should be noticeable, though the whipped cream should not taste salty.
---
For the tart dough:
1 1/4 cups

(160 g) all-purpose flour

1 tablespoon

(14 g) sugar

1/4 teaspoon

table or kosher salt

8 tablespoons

(114 g) cold, cubed butter, salted or unsalted

1/4 cup

+

1 tablespoon

(71 g) ice water
For the frangipane:
1/2 cup

(60 g) almond flour

2 tablespoons

(28 g) sugar

pinch salt

2 tablespoons

(28 g) butter at room temperature

1

egg (small if possible)

2 teaspoons

vanilla, rum, brandy or bourbon
For assembly:
1

lb. berries (about

3 cups

) — I like to use a mix of blackberries, raspberries, and blueberries

2 tablespoons

melted butter

1

to

2

tablespoons sugar, turbinado is nice

vanilla ice cream or homemade whipped cream for serving, see notes above for making whipped cream from scratch
---
Instructions
Preheat the oven to 400ºF and place a rack in the center of the oven. In the bowl of a food processor, pulse the flour, sugar, and salt together. Cut the butter into small pieces, then add to the food processor. Pulse at 1-second intervals until butter is the size of peas—should be about 10 quick pulses. Add the ice water and pulse again about 10 times until the mixture is crumbly but holds together when pinched. 

Lay a clean tea towel on a work surface. Dump the crumbly dough mixture into the center. Grab the four corners of the towel together and twist to create a beggar's purse, pressing the dough into a disk. Use your hands to pack and pat the disk together. Transfer to fridge.

Don't wash the food processor! Combine almond flour, sugar, salt, butter, egg, and vanilla or alcohol in the dirty bowl of the food processor. Purée until smooth. Set aside

On a lightly floured work surface, roll out the dough into a 12- or 13-inch round. Use as much flour as needed to prevent the dough from sticking, and every few rolls, flip the dough over. Transfer dough to a parchment- or Silpat-lined sheetpan. Spoon the frangipane into the center leaving a 1- to 2-inch border. Spread the berries evenly over the frangipane. Fold the exposed edge of dough towards the center to make a rustic enclosure. Brush the edge of the dough with melted butter. Drizzle the remainder over the exposed berries. Sprinkle the sugar evenly over the top. If time permits, refrigerate the galette for 30 minutes — this prevents the butter from seeping out of the crust as it bakes. 

Bake for 35 minutes or until golden. Remove pan from the oven and let rest on cooling rack for 5 to 10 minutes or until Silpat or paper is cool enough to handle. Grab the edges of the paper or Silpat and slide to a cooling rack to cool further or to a cutting board to serve. Cut into wedges. Serve on its own or with vanilla ice cream or whipped cream.
Prep Time:

30 minutes

Cook Time:

35 minutes

Category:

Dessert

Method:

Oven

Cuisine:

American, French
Keywords: mixed, berry, galette, summer, fruit, frangipane, pastry
This post may contain affiliate links. Please read my disclosure policy.