Sweet Potatoes with Chilies, Lime, & Cilantro
This post may contain affiliate links. Please read my disclosure policy.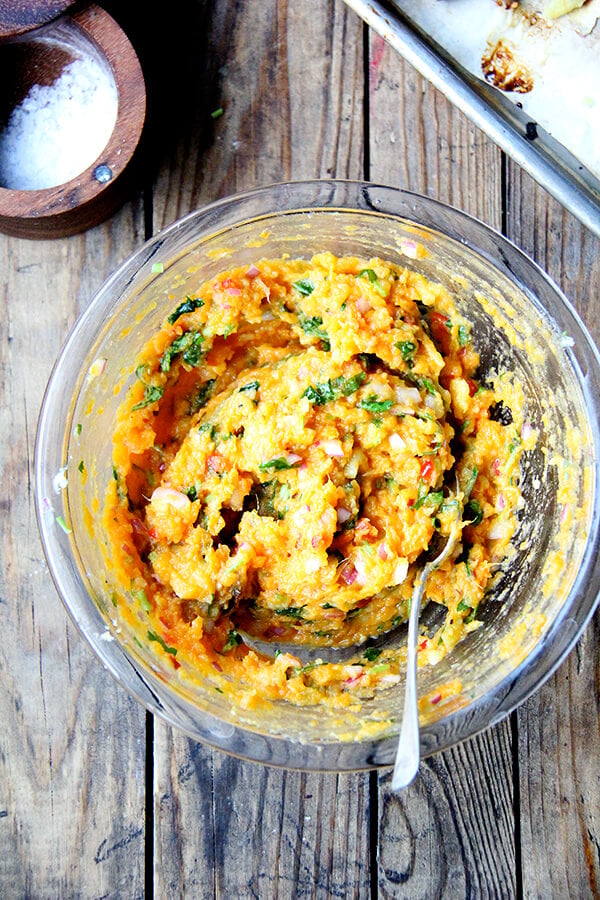 Friends, I received another disheartening letter from a dear friend. I've transcribed it below:
I hope this letter finds you well. I'm reaching out because I saw you signed up for the Roxbury Farm winter CSA again — thank you! — and I know, as a result, you and I will be spending a lot of time together.
I feel awkward reaching out like this, but I think it's best I voice my concerns now. You see, about this time of year every year, I find myself in the hands of cooks determined to turn me into something that, well, frankly, I'm just not. I admire their dedication, I do, but I think it's time to face the facts: no matter how much cornstarch you toss me in, no matter how long you soak me, no matter how high you blast the oven, I am not going to taste like a French fry. I am not a potato — we're not even in the same family. Try try try as you might, you will be disappointed.
What do you say? Do you think we could wipe the slate clean? Do you think you could accept ME for ME this winter?
I hope you understand. And I hate to impose, but if you wouldn't mind sharing this with anyone you think might be interested, I would so appreciate it.
Your friend,
Sweet Potato
Sweet Potato! My sweet sweet Sweet Potato! On behalf of the entire cooking community, I extend my sincerest apologies. I promise to accept and cherish and embrace YOU for YOU, orange-fleshed or white, soft and creamy, with the occasional caramelized edge, but always with the sweetest of sweet hearts.
From here on out I promise to highlight your strengths, starting with this recipe for mashed sweet poatoes with chilies, lime and cilantro. It's a Tamar Adler recipe from The New Greenmarket Cookbook, and feels very new and fresh and Ottolenghi in spirit, but reminds me of one my oldest, most favorite recipes from Chez Panisse Vegetables, which calls for simply squeezing fresh lime over roasted sweet potatoes and showering fresh cilantro over top.
In her recipe, Adler suggests cooling the potatoes in the fridge, slicing them into rounds, then dressing them with the chilies, lime and cilantro. For whatever reason, I've chosen to mash everything together, which gives this a guacamole-like taste and texture, making it as suitable for serving aside chips as perhaps some larger bird.
For sweet potato lovers, this dish no doubt will be a welcomed addition to your repertoire. And for everyone else, I suspect this, with its bright, fresh flavors, may just win you over, too.
PS: Favorite Fall Recipes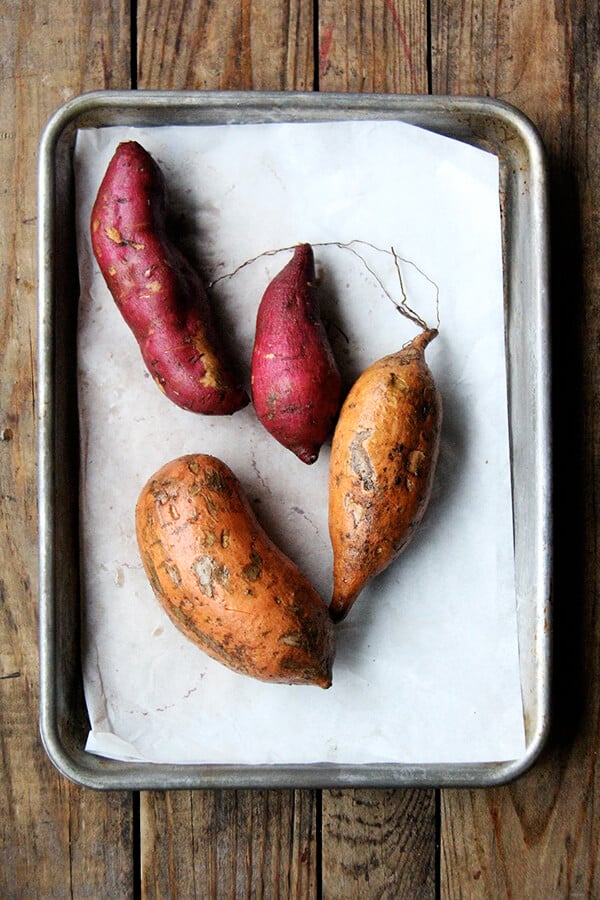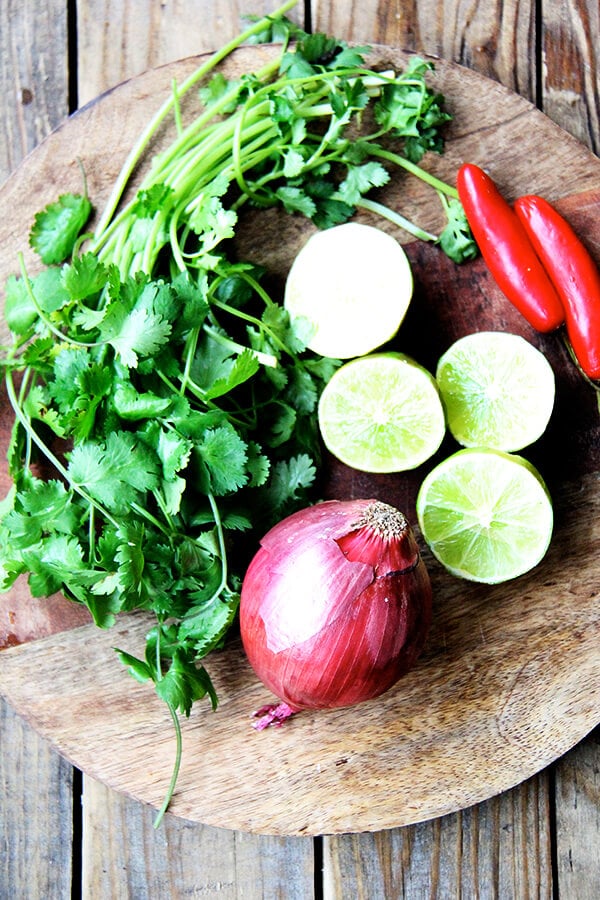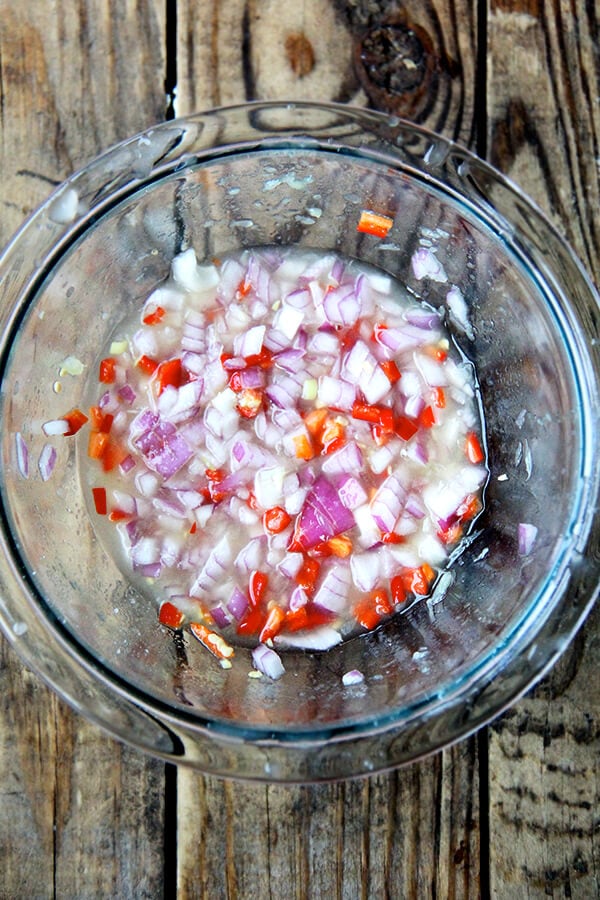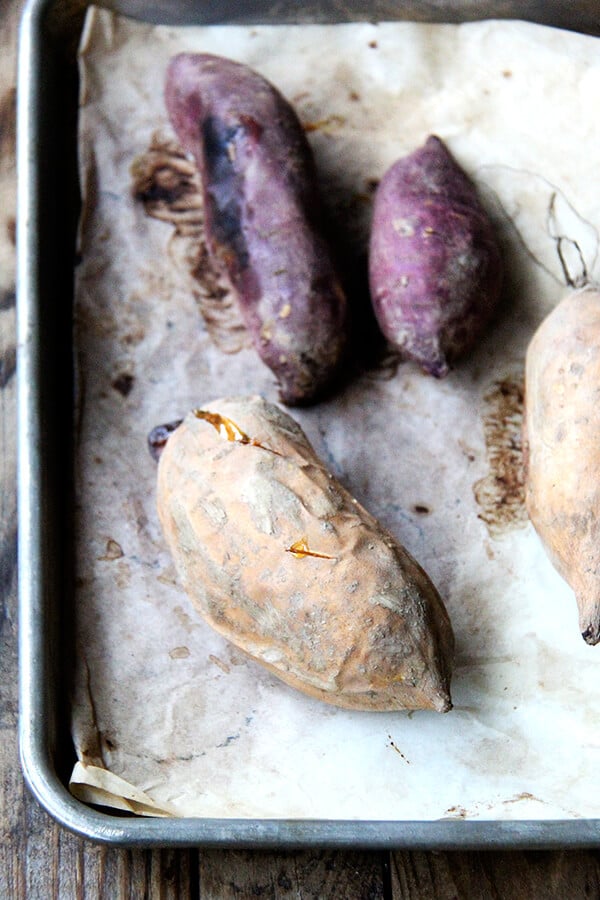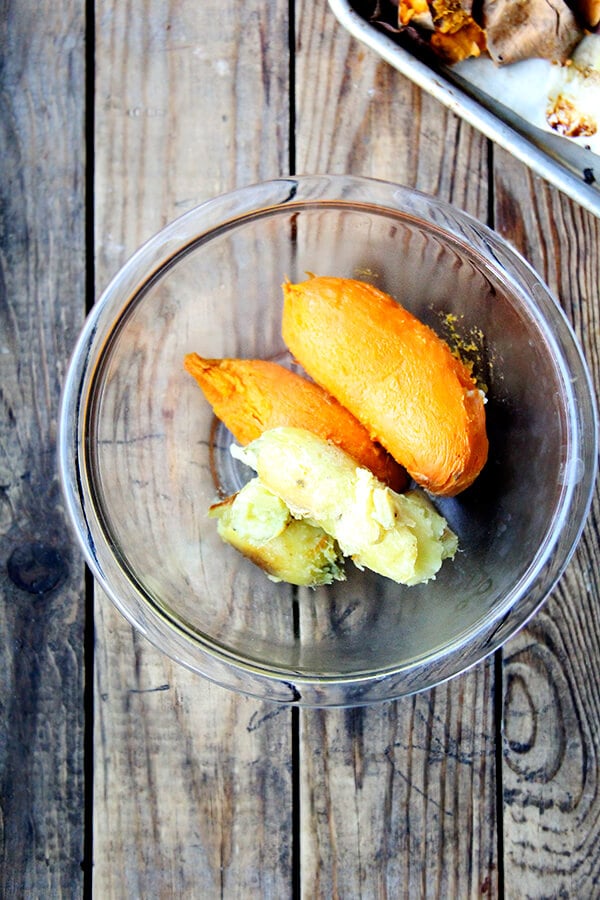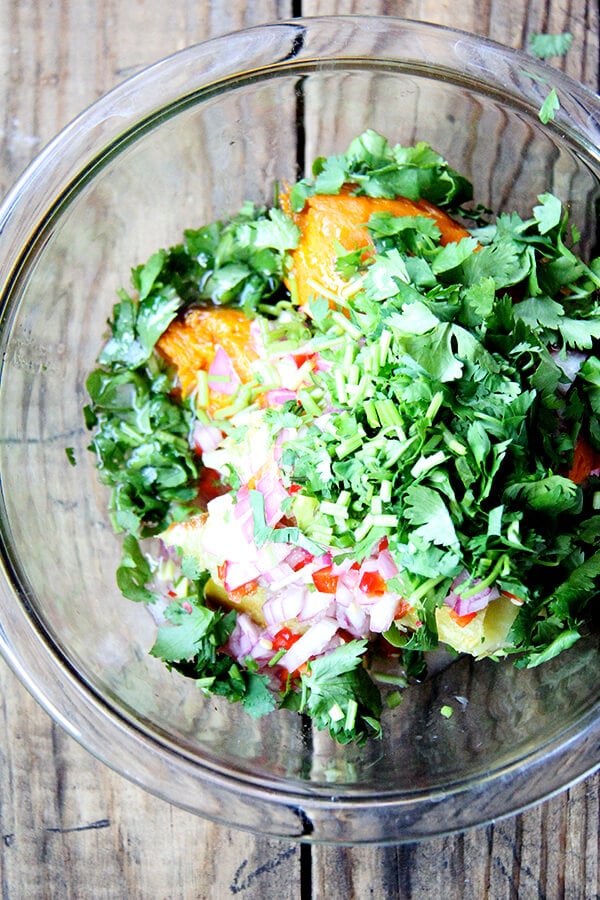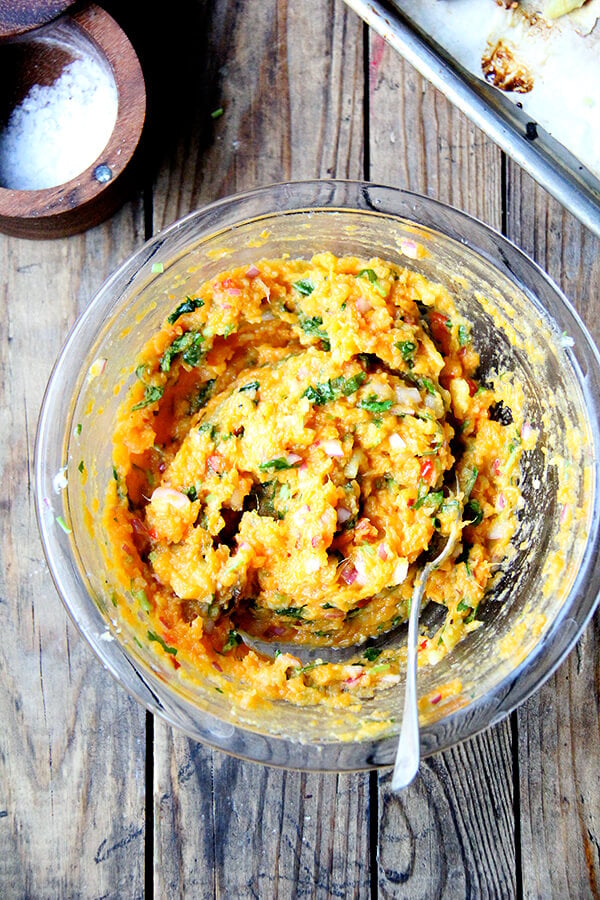 Print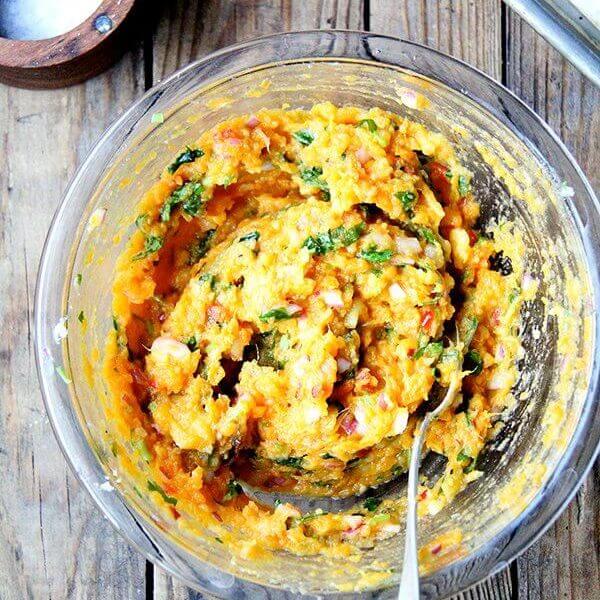 Mashed Sweet Potatoes with Chilies, Lime, & Cilantro
---
Description
Source: The New Greenmarket Cookbook Recipe by Tamar Adler, author of An Everlasting Meal, who suggests letting the potatoes cool in the fridge, then peeling and slicing the potatoes into rounds, then dressing the potatoes with the remaining ingredients. I haven't tried this method, which sounds lovely, and I am sure I will soon.
The method below sort of turns this into sweet potato guac, and it's delicious. I've used coconut oil, always a nice complement to sweet potatoes, in place of the olive oil, but I'm sure olive oil would be nice, too.
---
2 1/2

pounds large sweet potatoes, about

2

to

3

1

finely chopped jalapeno, seeds included

1

large, thinly sliced shallot or

1/4

red onion

2

to

3

tablespoons fresh lime juice, from about

1

lime

2 tablespoons

olive oil or melted coconut oil

1/4 cup

roughly chopped mint, if you have it

1/4 cup

roughly chopped cilantro

1/4 cup

chopped, roasted peanuts, optional
salt to taste
---
Instructions
Preheat the oven to 400ºF.
Prick the sweet potatoes with a fork and bake on a foil-lined or parchment-lined baking sheet for about an hour, until the skins are wrinkled and the flesh is completely tender.
Meanwhile, combine the jalapeno and shallot in a large bowl with a pinch of salt and the lime juice. Allow to sit for at least 10 minutes or up to a few hours. Remove potatoes from oven and let cool briefly, then peel and place in a bowl.
Pour the macerated shallots and jalapeno over the sweet potatoes. Add the oil, herbs and salt to taste. Mash with a fork and stir to combine. Taste, and add more salt, lime or oil if necessary. Garnish with peanuts, if using.
Prep Time:

10 minutes

Cook Time:

1 hours

Category:

Side Dish

Method:

Roast

Cuisine:

American, Southeast Asian
Keywords: mashed, sweet, potatoes, chilies, lime, cilantro
This post may contain affiliate links. Please read my disclosure policy.