Chez Panisse Almond Torte
This post may contain affiliate links. Please read my disclosure policy.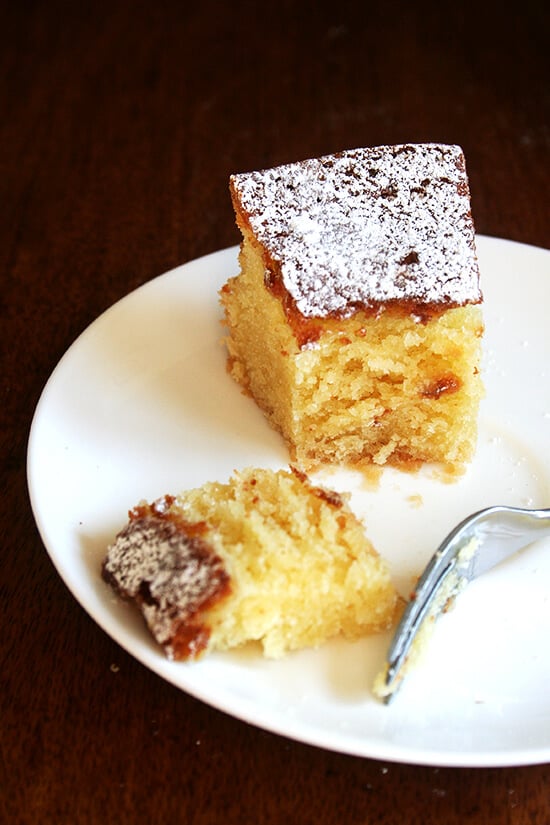 Some of you know my sister Lindsey. Some of you have only read about her here and thus only know about her penchant for crust-based dishes — pies and quiches in particular — and her love for Peeps and leftovers.
Let me tell you a little bit more. Lindsey, while a wonderful cook, doesn't quite share the enthusiasm for cooking that many of the women in my family do.
She doesn't go to bed with a full belly dreaming about what she might cook up tomorrow morning nor does she subscribe to a single cooking magazine; to her, nothing could be more boring than a tv program on cooking and a discussion about recipes might send her straight into another room; and she has been known on more than one occasion to exclaim:
"Why does everything have to be such a production?!"
The older I get, I tend to agree with this last statement more and more. It's the simplest meals with the most minimal cleanups that leave everyone the happiest.
I should also note that Lindsey is a doctor, has two children, plays in an orchestra and is far too busy to spend time toiling in the kitchen. That said, a few days ago I called her and much to my surprise discovered she had been in the kitchen whipping up an almond torte in preparation for a few visitors.
"Little Lindis!" I exclaimed. (Yes, my sister is 32, and I still call her by her childhood nickname. We also still chase each other up the stairs and shriek in fear when we get together…that's normal, right?) "I am so impressed."
"Oh please," she replied. "It's so easy. It's the only thing I make anymore."
My sister (and the family as a result) has been making this torte since 1997, when she discovered the recipe in my mother's copy of Chez Panisse Desserts, which is now in my possession. Truly, this almond torte, made entirely in the food processor, is one of the simplest and most delicious desserts you could ever prepare.
It's definitely for almond/marzipan lovers and like the orange-and-olive oil cake and Teddy's apple cake, tastes better with each passing day, so don't be afraid to make it a day or two in advance if you're preparing for a holiday gathering.
Dusted with powdered sugar, nothing will look more elegant on your dessert table. I hope all of your holiday preparations are going well.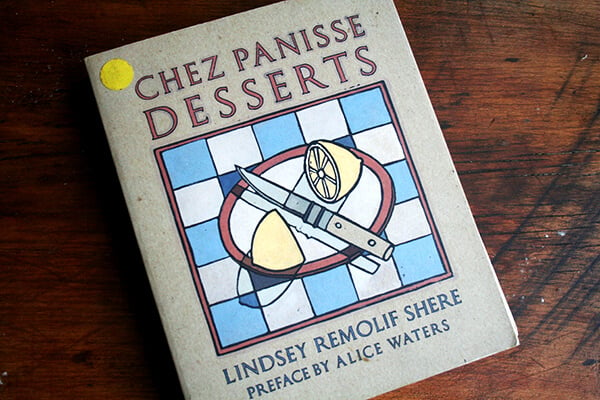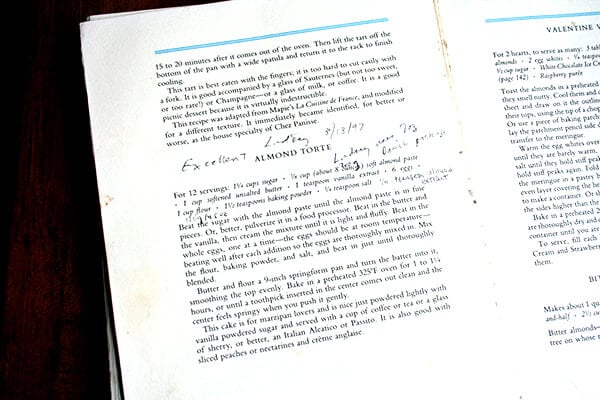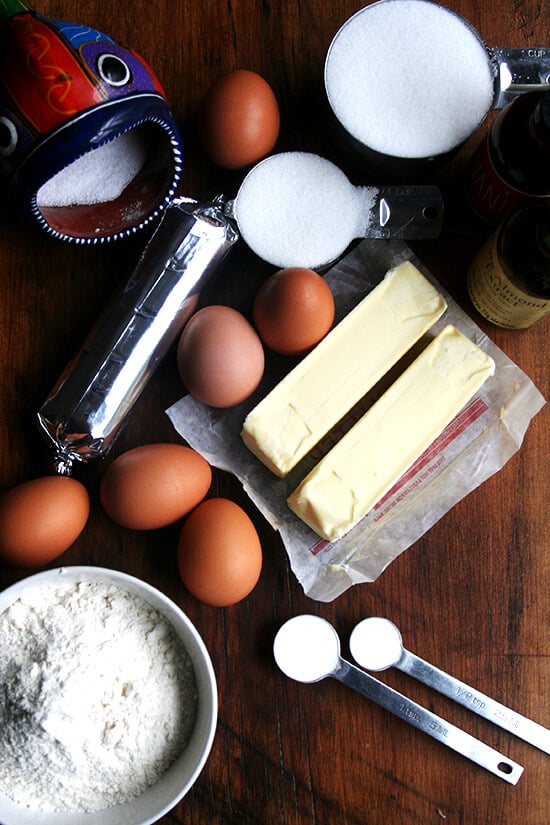 I am not partial to any particular brand of almond paste, but if you can find a 7-oz box (which seems to be standard), that is ideal for this recipe: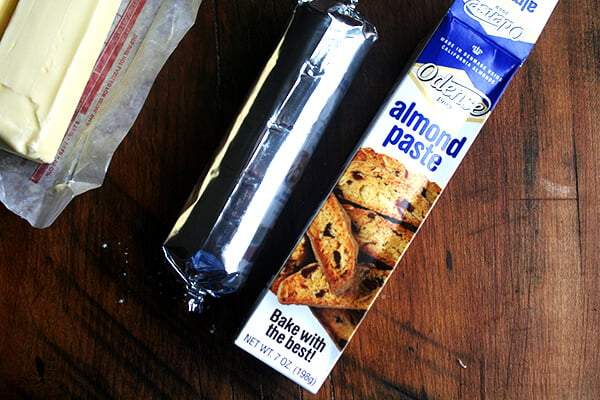 This torte is made entirely in the food processor. First the almond paste and sugar are blended: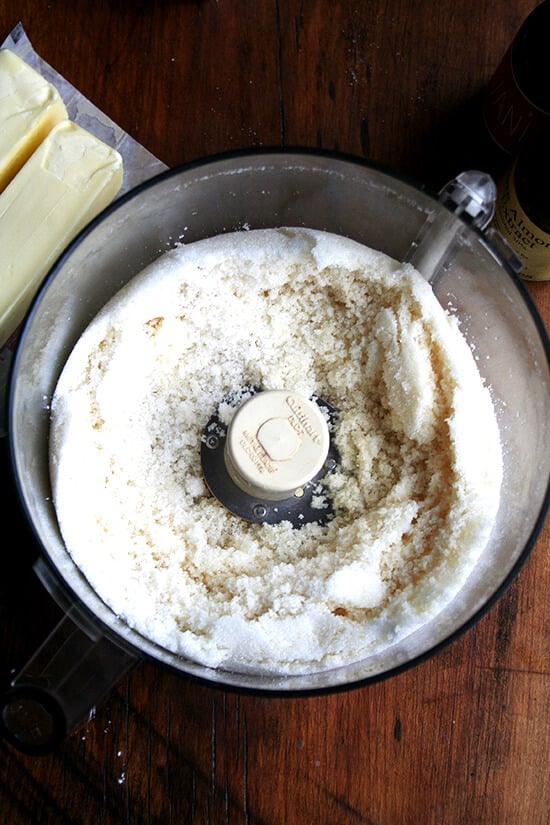 Up Next, the butter and vanilla are added: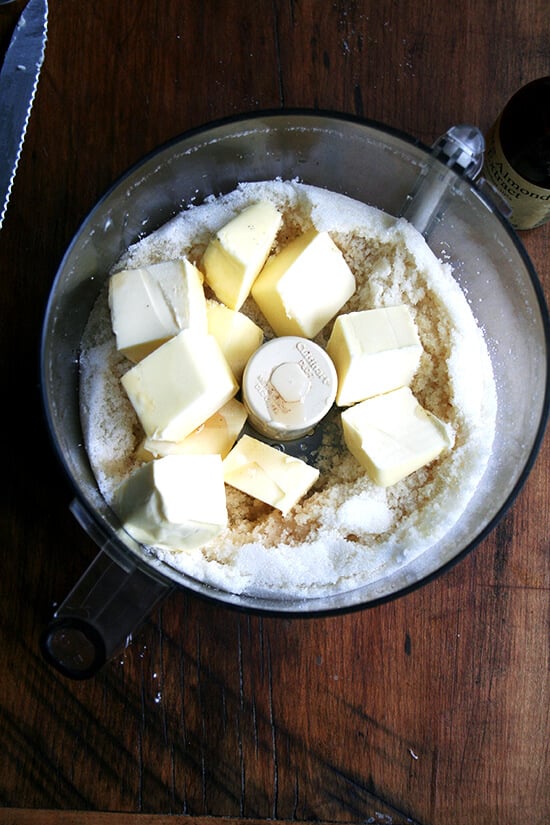 and blended: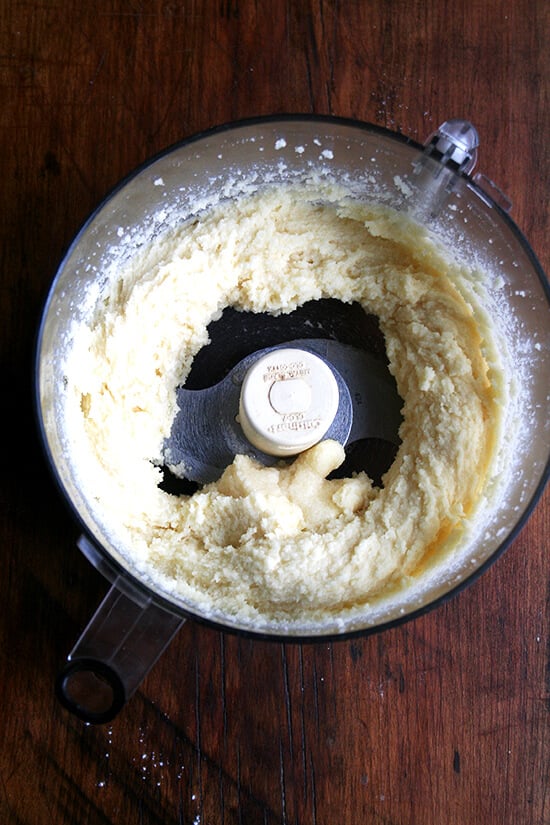 Then the eggs are added one at time. This is what the finished batter looks like: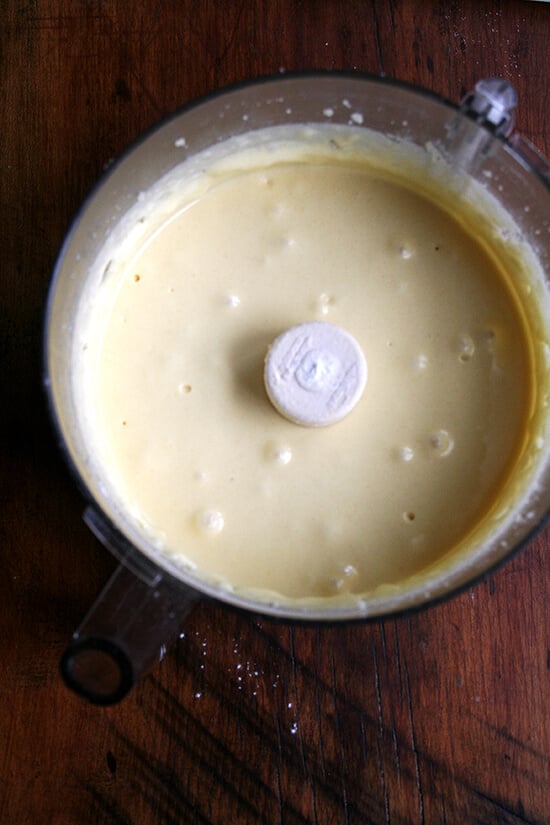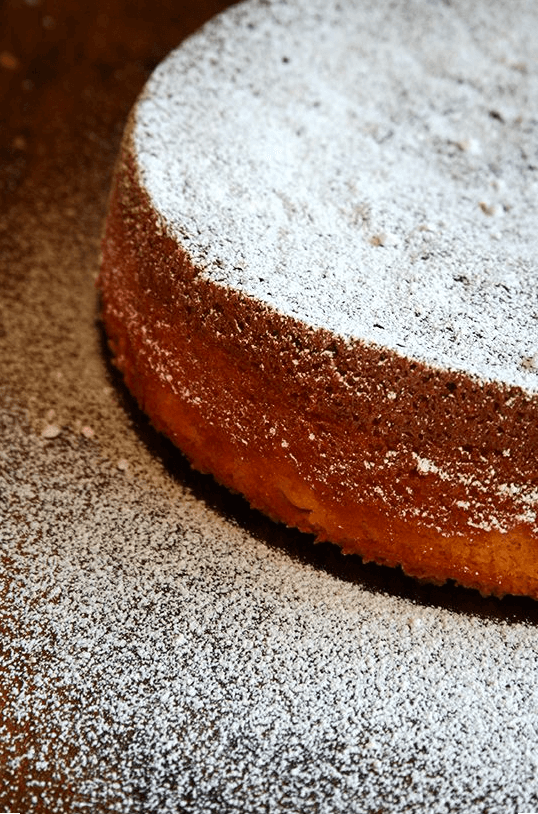 Print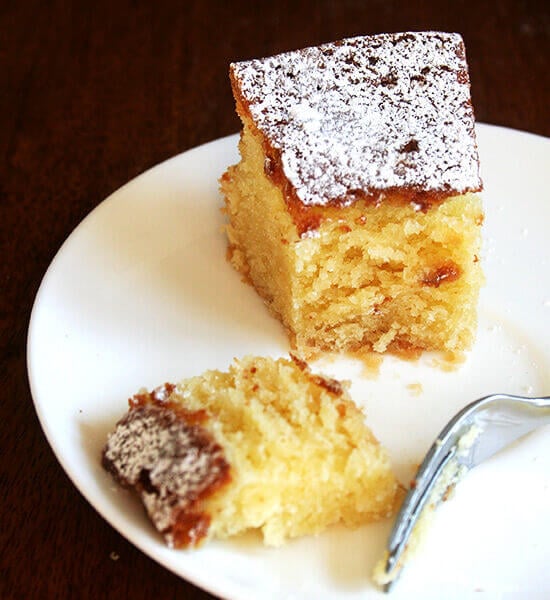 Chez Panisse Simple Almond Torte
---
Description
Adapted from Chez Panisse Desserts
Author Lindsey Shere's notes: Serve this torte with a cup of coffee or tea or a glass of Sherry, or better, an Italian Aleatico or Passito. It is also good with sliced peaches or nectarines and crème anglaise.
Be sure to buy almond paste versus marzipan, which are often placed next to each other in the baking aisle. Second, the recipe in Chez Panisse Desserts calls for 8 oz. of almond paste, but we have always just used one of those tubes that usually weighs 7 oz. If you don't have a scale and can't find a 7-oz tube of almond paste, measure out the 7/8 cup, but don't pack it too tightly.
---
1¼ cups

sugar

7/8 cup

(

7 oz

./

200g

) soft almond paste, see notes above

1 cup

(

2

sticks) softened unsalted butter

1 tsp

. vanilla extract

1/8 tsp

. almond extract (optional)

6

eggs

1 cup

(

4.5 oz

/

130g

) flour

1½ tsp

. baking powder

¼ tsp

. salt
powdered sugar for dusting
---
Instructions
Preheat the oven to 325ºF. Beat the sugar with the almond paste until the almond paste is in fine pieces. Or, better, pulverize it in a food processor. Beat in the butter and the vanilla, then cream the mixture until it is light and fluffy. Beat in the whole eggs, one at a time — the eggs should be at room temperature — beating well after each addition so the eggs are thoroughly mixed in.
Mix the flour, baking powder, and salt, and beat in just until thoroughly blended.
Butter a 9-inch springform pan and turn the batter into it, smoothing the top evenly. Bake for 1 to 1¼ hours (mine baked for 1¼ hours) or until a toothpick inserted in the center comes out clean and the center feels springy when you push it gently.
Let cool for about 20 minutes before releasing the sides of the springform pan.
Prep Time:

10 minutes

Cook Time:

1 hour 25 minutes

Category:

Dessert

Method:

Oven

Cuisine:

American/French
Keywords: almond, torte, chez, panisse, food processor, simple, holidays, Christmas
This post may contain affiliate links. Please read my disclosure policy.