Paul Steindler's Cabbage Soup and A Peasant Bread Follow-Up
This post may contain affiliate links. Please read my disclosure policy.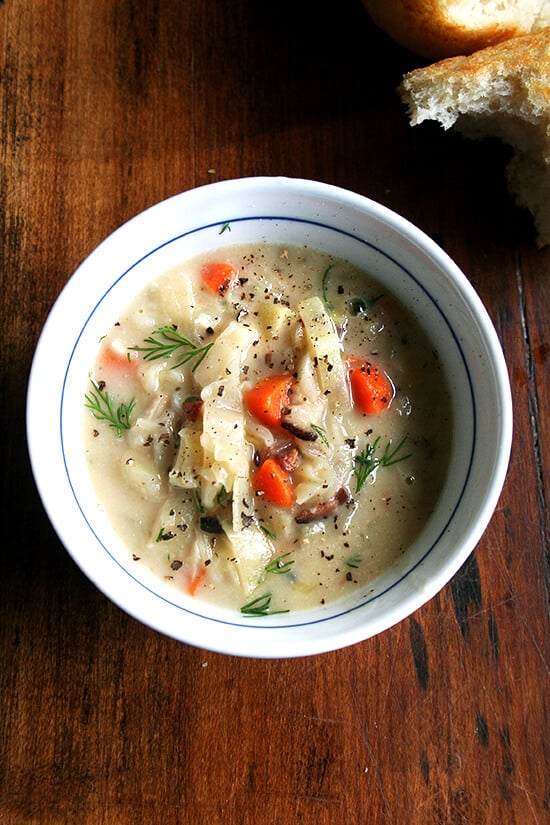 When I'm home in CT visiting my parents, my favorite pastime is poking around the two basement refrigerators, the home of all sorts of treats my mother has been preparing — soups, spanakopita, Grand Marnier chocolate truffles — and stocking up on — smoked mussels, white anchovies, enough cheeses to feed the neighborhood — for weeks. It's a little gourmet paradise inside those boxes, and it's impossible not to sneak a peak (and a truffle) with every trip down to the basement.
The only hard part about being home for the holidays is refraining from eating all day long. From the first bite of homemade cinnamon oatmeal bread in the morning to the last bite of flourless chocolate-almond torte in the evening, my stomach barely gets a rest. There is goodness at every turn, and none so much (if you ask me) as at lunch, which hasn't changed (during the holidays at least) in about a decade: a bowl of soup, a square of spanakopita and a slice or two of homemade bread. On this most recent visit, we feasted on Vermont cheddar cheese soup — my favorite — and rosemary butternut squash bisque with slices of toasted buttered rye bread on the side. It was heaven.
Five days of this soup-and-bread routine made me miss it dearly upon returning home to my all-but-bare refrigerator. But when a large head of cabbage and a few carrots sitting in my vegetable drawer caught my eye, my spirits lifted. With the exception of fresh dill, I had everything on hand to make another favorite soup of my mother's, one she has been making since the early 80's: Paul Steindler's cabbage soup with caraway seeds, a recipe Craig Claiborne wrote about many years ago in The New York Times Magazine and eventually published in The Essential New York Times Cookbook. Loaded with vegetables — carrots, potatoes, onions and cabbage — a little bacon and a touch of cream, this is definitely a hearty soup, best served on a cold winter day with crusty bread and nothing more. For me, it's the dill and caraway seeds that make it unlike any other I have tasted, the caraway seeds in particular imparting a lovely yet subtle flavor.
I don't think there is a better winter lunch than homemade soup and a little hunk of bread, and with that in mind, I wanted to post a follow-up to the peasant bread recipe, which seems to have been a great success for many of you but continues to trouble others, and in turn, me as well. The trouble most people seem to be having is with the second rise, which after a successful first rise, inexplicably isn't happening. I have been stumped over this issue for months. When I read the first few comments about this issue, I suspected the size of the bowl was the culprit — I worried that the bowls might be too big for the delicate structure of this dough to handle. But when a few of you had the same issue but were using the appropriate-sized bowls, I knew it had to be something else. During an email conversation with one Reader this past weekend, I discovered she had misinterpreted my instructions (which I have since clarified in the post) and rather than preheat the oven for 1 minute total — to create a warm spot for the bread to rise — she had preheated the oven fully to its hottest setting and let it heat at that temperature for 1 minute before shutting it off. So for this Reader, while the bread did rise initially, it also partially baked, and so when it was punched down, the yeast was dead, which is why it never rose the second time around. I am wondering if anyone else who had trouble with the second rise similarly placed the dough to rise the first time around in a too hot oven? And if not, fellow bread bakers, do you have any thoughts as to why a dough might rise the first time around, but not the second? I so badly want this recipe to turn out for all of you — it's such a good one.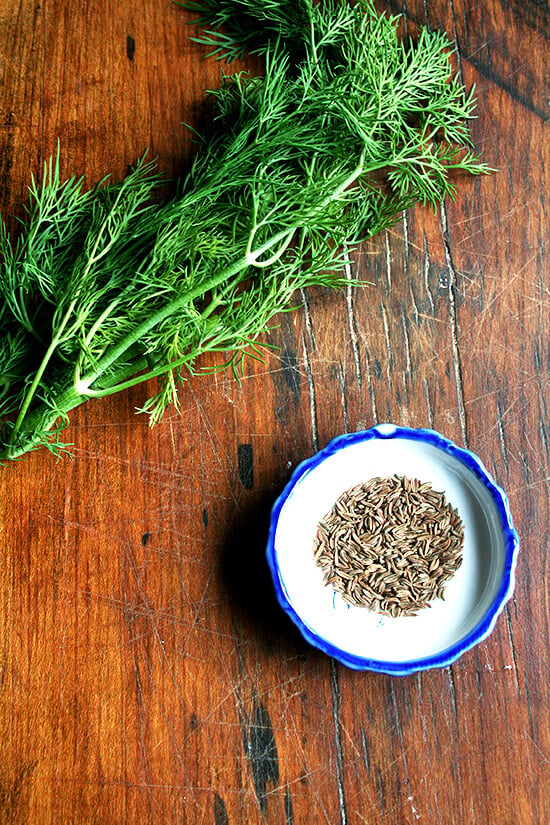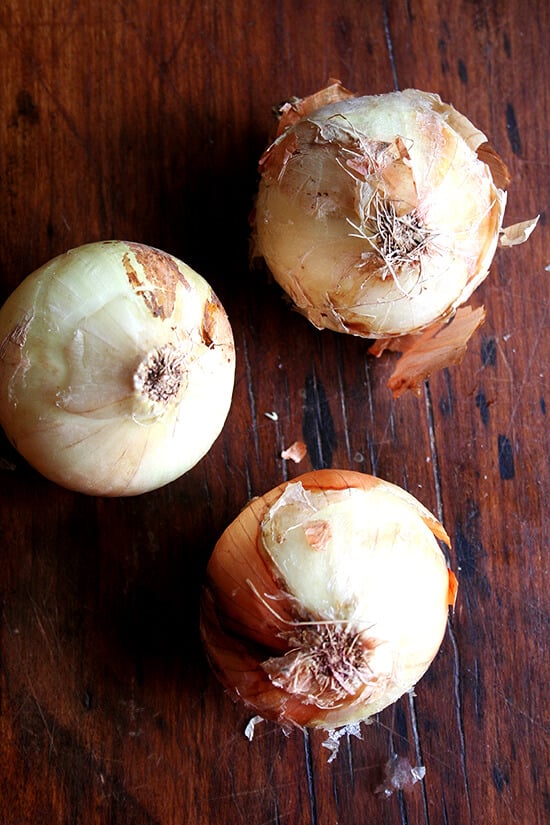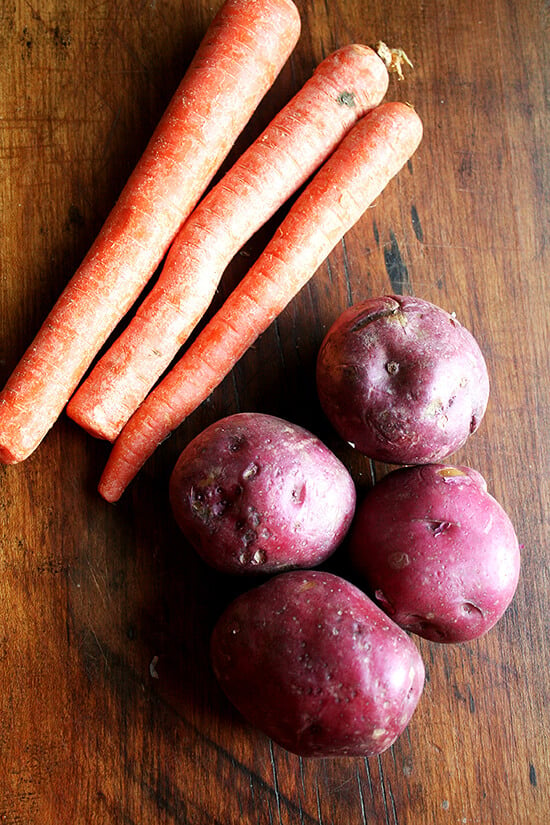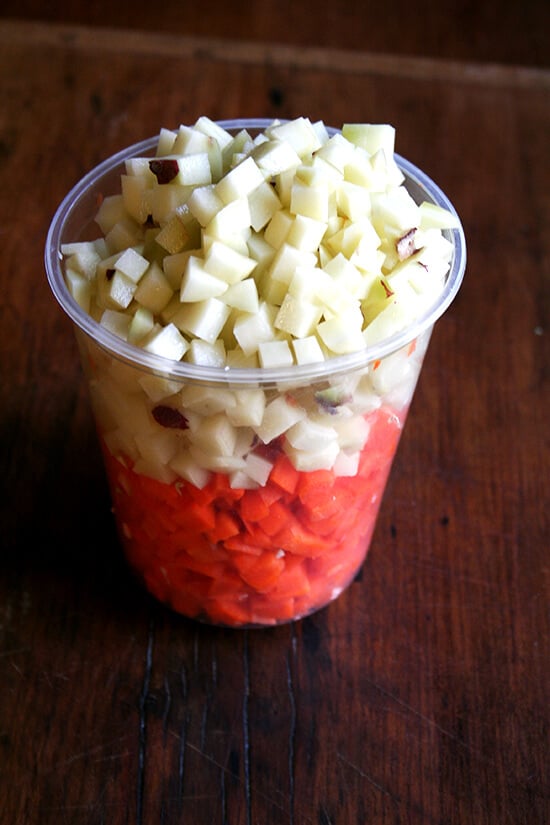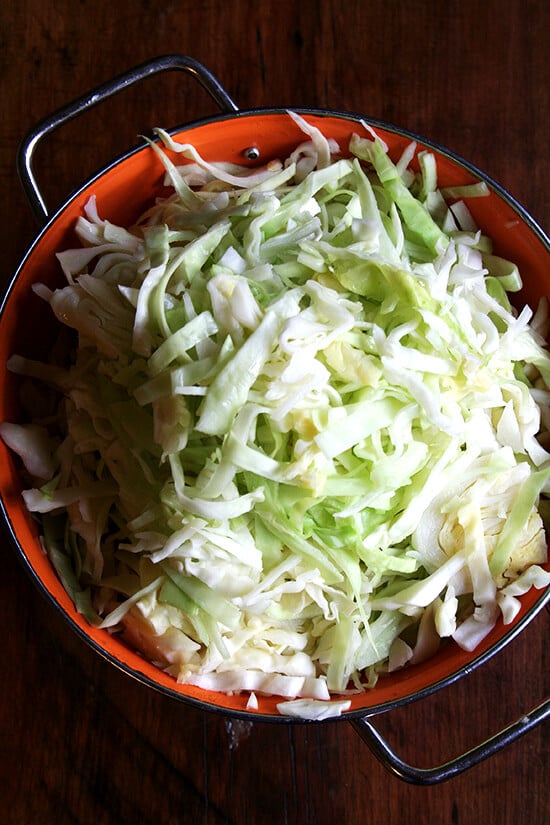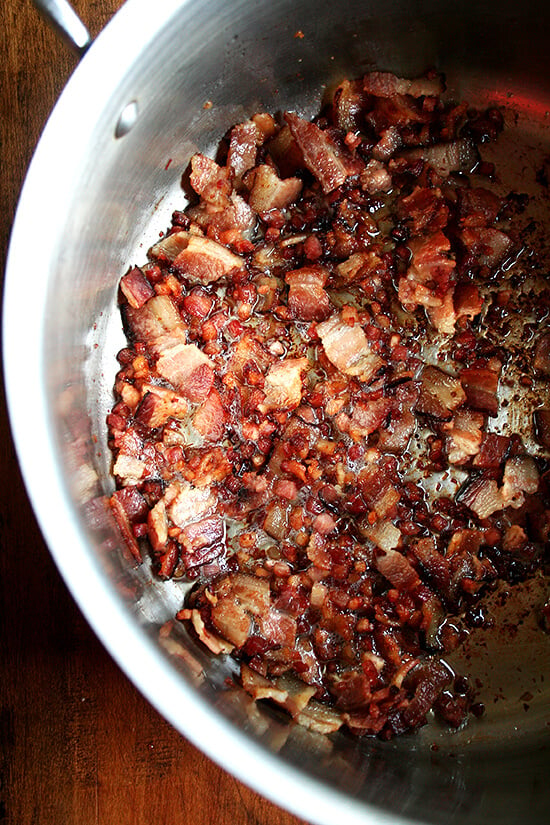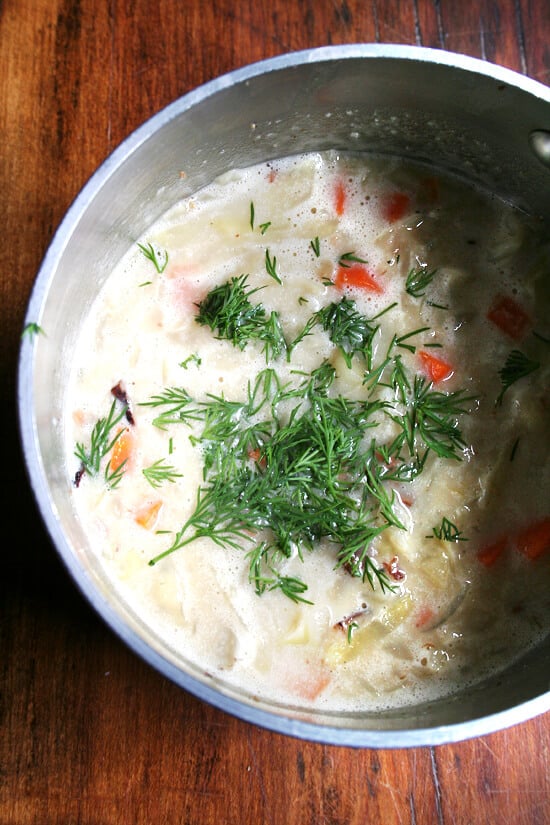 Print
Paul Steindler's Cabbage Soup
---
Total Time:

50 minutes

Yield:

8 servings
Description
Slightly dapted from a Craig Claiborne & Pierre Franey recipe
Note: This is a double recipe, and it yields a lot, but it's so nice to have on hand, especially, if you have company arriving. With a little hunk of fresh bread — rye, which I have never made, is particularly good with this soup — it makes the most wonderful lunch. Also, while this recipe requires a fair amount of chopping, you can sort of chop as you go: while the bacon is rendering, chop the onions; while the onions are sautéing, dice the carrots and potatoes, etc.
---
12 cups

shredded cabbage*

2 cups

(about

12 oz

.) finely diced bacon or pancetta or a mix

2 cups

finely diced onions

1/2 cup

flour

10 cups

homemade chicken stock

2 cups

finely diced carrots

2

to

3

cups finely diced potatoes
kosher salt and freshly ground black pepper to taste

2 teaspoons

whole caraway seeds, crushed or pulverized

2 tablespoons

white wine vinegar

1 teaspoon

sugar

1 cup

heavy cream

1/4 cup

finely chopped fresh dill (or more or less to taste)
*If you use a relatively large head, you may get as many as 14 cups or more — use it all.
---
Instructions
Place cabbage in a large bowl. Bring enough water to a boil — I fill a tea kettle, but you could always fill a large sauce pan — to submerge the cabbage in the bowl. Pour the water over the cabbage; let sit one minute; drain.
Meanwhile, in a large pot over medium heat, cook the bacon until rendered of its fat, about 10 minutes, then transfer bacon to a plate. Add the onions, and cook, stirring, until they are wilted, about 15 minutes. Sprinkle with flour and stir. Add the broth, stirring rapidly with a wire whisk. When the mixture simmers, add the cabbage, carrots, potatoes, salt, pepper, caraway seeds, vinegar and sugar.
Simmer, stirring often from the bottom, about 30 minutes. Stir in the cream and simmer five minutes. Add the chopped dill to the pot. Serve, adding more chopped dill to each bowl if desired.
Prep Time:

5 minutes

Cook Time:

45 minutes
Making mini loaves — perfect for soup — of my mother's peasant bread in a popover pan: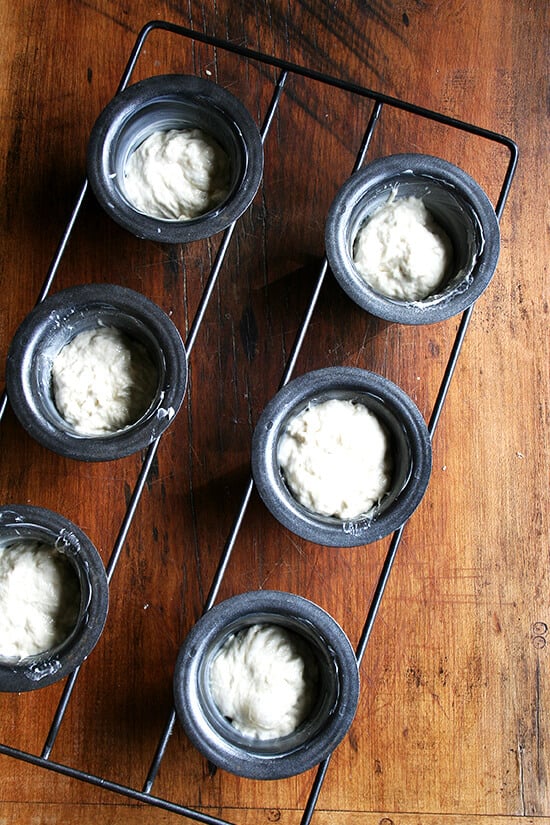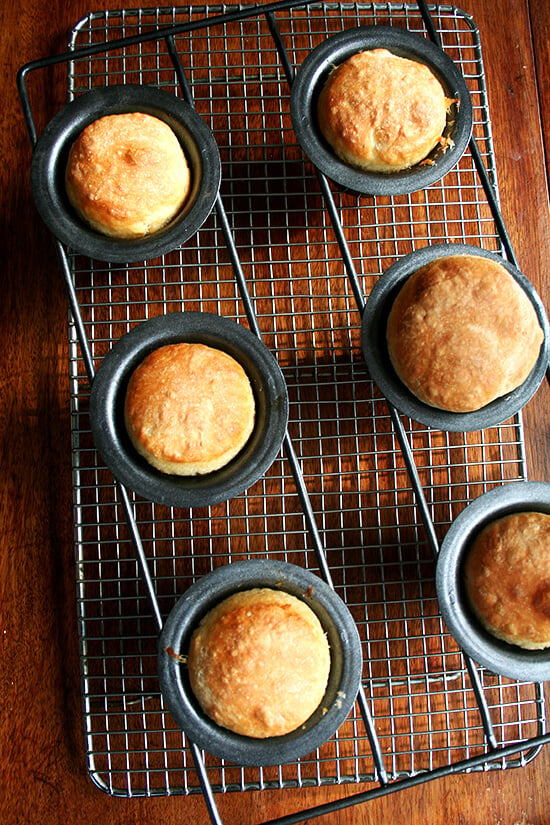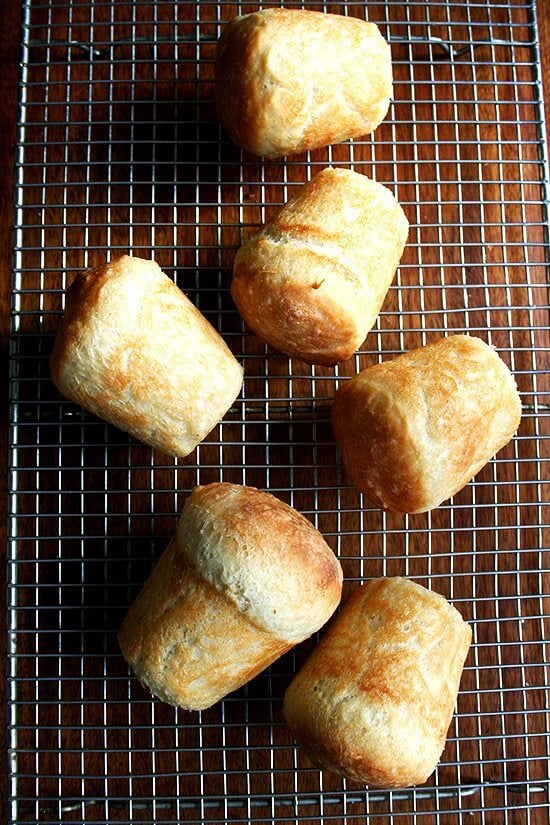 Mini loaves: a nice little way to silence your children, briefly anyway.

This post may contain affiliate links. Please read my disclosure policy.