Pan-Seared, Oven-Finished New York Strips with Balsamic Caramel
This post may contain affiliate links. Please read my disclosure policy.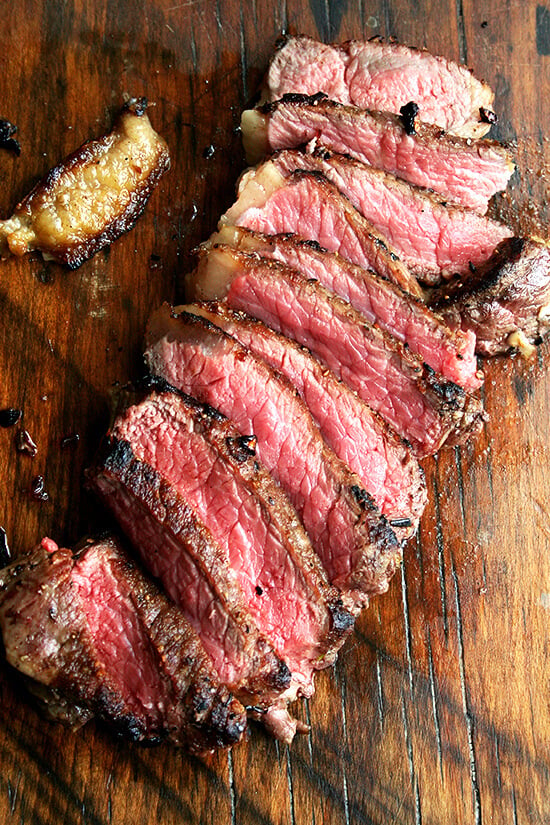 It's a rare occasion that a New York strip steak needs anything more than a little salt and pepper. That said, in the spirit of special-occasion dining, a good sauce does make a meal feel a wee more special. And when a good sauce mixes with the juices of a good steak and that fusion pools around the edges of a good creamy purée and the dregs of that sauce-infiltrated purée get mopped up by a piece of good bread, well, it just doesn't get much more special than that.
This balsamic caramel is another three-ingredient sauce that tastes as though much more effort went into its creation than actually did. Like the port wine reduction, the flavor from this sauce is attained by slowly reducing the liquids into a super concentrated syrup: a half cup of madeira reduces to a tablespoon; a cup of balsamic vinegar gets reduced by three quarters. The resulting flavor of this balsamic caramel resembles that of expensive Italian barrel-aged balsamics, fit for drizzling over anything ranging from prosciutto-wrapped figs to vanilla ice cream to pan-seared steaks. This recipe doesn't yield a lot, but a little goes a long way, and as noted above, there's no reason to smother a New York strip.
With Valentine's Day a week away, I'm starting to finalize my menu. We'll be starting with Delice de Bourgone (if there is any left) and homemade walnut bread (if I get around to making it) followed by these steaks alongside a turnip and apple purée — same as last year, boring I know, but we have a ton of turnips on hand — and a green salad with breadcrumbs and citrus vinaigrette. There's no chance there will be any torta caprese remaining, so I'll have to think of something else for dessert. For those of you planning a dinner at home next Thursday, here are a few other thoughts:
Images link to posts: pan-seared duck breasts with port wine reduction; turnip and apple purée; greens with homemade breadcrumbs and citrus vinaigrette; Jean-Georges nearly flourless chocolate torte; homemade Valentine's Day card (inside); homemade Valentine's Day card (outside)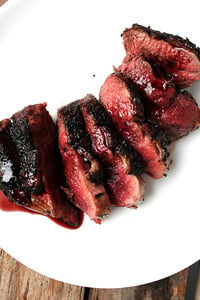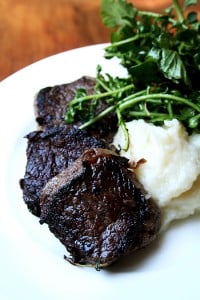 steak marinating with olive oil, garlic, shallots and rosemary:

seared steak ready for the oven:

Print
Description
Source: Sally Schneider's The Improvisational Cook
Notes: This balsamic caramel is wonderful drizzled on countless foods ranging from prosciutto to Parmigiano Reggiano to fresh strawberries. If you have any leftover, which you likely will, try drizzling it over vanilla ice cream — very different experience than hot fudge sauce but really good!
---
½ cup

Rainwater Madeira

1 cup

commercial balsamic vinegar

2 teaspoons

dark brown sugar
---
Instructions
Place Madeira in a small saucepan and simmer over medium heat until reduced to about 1 tablespoon. Add the balsamic vinegar and boil until the vinegar has reduced to about ¼ cup and is very syrupy and big shiny bubbles are forming at the surface. Watch the mixture very closely at this point — it will burn very easily. If it appears too thin, be assured that it will thicken upon cooling. Remove from the heat and stir in the brown sugar until dissolved. Pour into a clean jar and cool before using.
---
Print
Pan-Seared, Oven-Finished New York Strips
---
optional marinade:
olive oil to cover the steak
sliced shallots
a couple cloves of garlic, minced
a sprig or two of rosemary
---
Instructions
Place steaks in a ziplock bag or a shallow dish or whatever vessel you like to use to marinate meat. Drizzle with olive oil, cover with shallots, rub with minced garlic, nestle with rosemary. Place in fridge if you plan on marinating for more than a couple of hours, otherwise set aside until you are ready to cook.
method:
There are countless variables that factor into the final doneness of a cooked steak — thickness of the steak, oven temperature, temperature of the meat (room temperature or chilled) before being cooked, etc. This is a method I have been using that consistently gives me a medium-rare steak. Once you try it once or twice, you will be able to make adjustments depending on your preferences for doneness:
Buy steaks or have butcher cut steaks about 1½ inches thick.
Marinate steaks (or don't) for an hour or as long as overnight. Bring steaks to room temperature at least one hour (two is better) before you plan on cooking them.
Preheat oven to 450ºF.
Prepare a low-rimmed baking sheet (like a jelly roll pan) with a piece of parchment paper.
Remove steaks from marinade, scraping off big slices of shallots and garlic. Season steaks generously on both sides with kosher salt and freshly cracked pepper.
Heat a large (or small, depending on how many steaks you plan on searing at one time) skillet over high heat for two to three minutes. When you place your hand over it, you should feel considerable heat. Pour two teaspoons olive or vegetable oil (or whatever oil you prefer to sear meat with) into the skillet, then immediately place steaks into skillet. Let the steaks sear for 1½ to 2 minutes a side, or until they are nicely browned. Transfer steaks to prepared pan. My reason for transferring the steaks to a baking sheet versus just placing the pan in the oven is this: I find the steak always cooks unevenly — that the side touching the pan cooks more than the other — when I place the skillet in the oven. On the other hand, when I sear each side of the steak for about the same amount of time and then place it on a room temperature baking sheet, I know the steak will cook more or less evenly in the oven. Perhaps this is fussy, and I won't argue with you if you have a better method — this is just what I like to do. This method moreover works well if you are cooking a bunch of steaks for company. It also allows you to sear the steaks ahead of time and let them rest for as long as necessary until you are ready to finish them off in the oven. For Valentine's Day, for example, you could sear the steaks before you start tucking into the cheese and bread, and when it comes time for the main course, all you have to do is stick the steaks in the oven. Simps.
Place sheet pan with seared steaks into the oven for five minutes. Note: depending on how long you seard the steaks — the full 2 min on each side ormorse like 1.5 min each — you might need more or less time in the oven to achieve the medium rare doneness. You might want to poke the steak with your finger at minute 4 to evaluate doneness.
Remove pan from oven and transfer steaks to a cutting board. Let steaks rest for at least six or seven minutes before slicing.
Slice and serve. If using the balsamic caramel, make sure sauce is slightly warm (pop in the microwave briefly or if it's still in the skillet, just warm it up a bit) and drizzle just the smallest amount overtop. Or, spoon a little onto the plate before topping with the meat.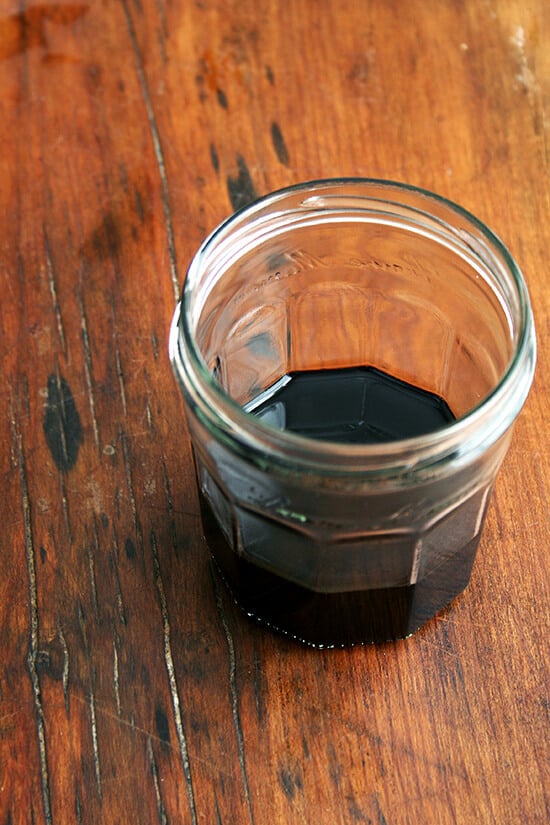 This post may contain affiliate links. Please read my disclosure policy.