Burnt Eggplant with Za'atar Flatbread
This post may contain affiliate links. Please read my disclosure policy.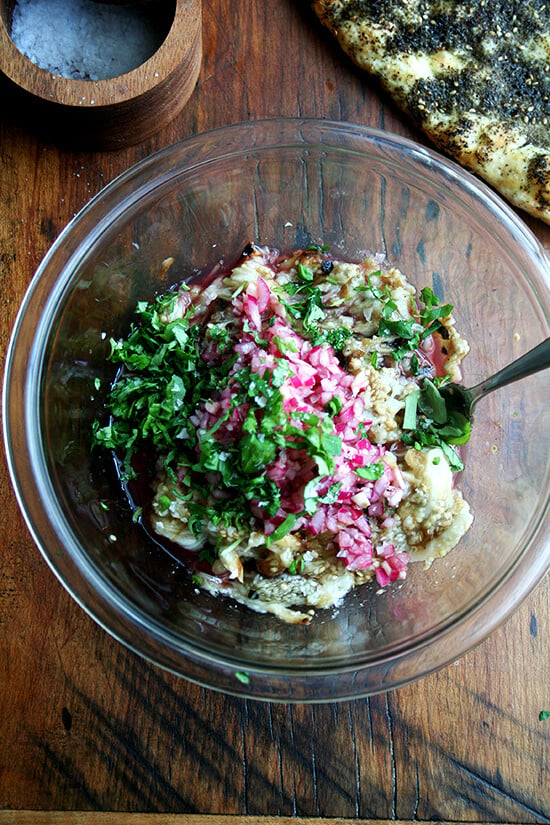 Last summer I discovered eggplant caviar, a dish made from peeled eggplant roasted in a foil-covered pan, a preparation that, with minimal oil, produces the creamiest lightest flesh imaginable. Seasoned with fresh herbs and macerated shallots, spooned over grilled bread, this mashup makes a wonderful summer hors d'oeuvre.
This year, I've been using my grill to make the eggplant caviar, and I think I might love it even more. After reading about charring whole, unseasoned eggplants over coals or in the oven seemingly everywhere I turned — in Mark Bittman's Flexitarian column, in Yotam Ottolenghi and Sami Tamimi's Jerusalem, and in the book I always rely on this time of year, Alice Waters' Chez Panisse Vegetables — I had to try the method myself.
It turns out that a charred eggplant behaves much the same as a charred pepper: after collapsing, it releases an astonishing amount of liquid and its flesh gently pulls from its blistered skin. And peeling a charred eggplant is no different than peeling a charred pepper — if you are patient with both the blackening and the cooling, the process is easy. Like the foil-covered roasting method, too, this technique produces a creaminess without the help of oil, and the charring moreover imparts such a nice smokiness to the eggplant's flesh.
I have been up to my eyeballs in eggplant this week, and I've been throwing them all — big dark globes, speckled Sicilians, baby zebras — on the grill, and I'm eager to explore more burnt eggplant dishes: stewed with tomatoes, onions and garam masala (Bittman), whipped with lemon, mint and pomegranate seeds (Ottolenghi and Tamimi), and simply left whole and tossed with olive oil, cilantro and lemon (Waters). Some sort of flatbread or grilled bread is a must with each of these preparations, and if you happen to have some za'atar in your pantry, the aromatic spice mixture complements the eggplant so nicely. Have a great weekend, Everyone.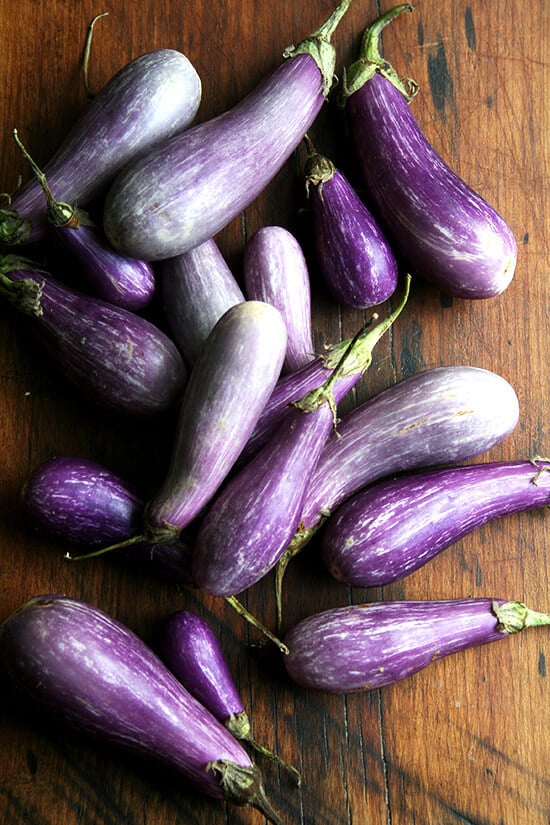 You can make this spread with small eggplant…: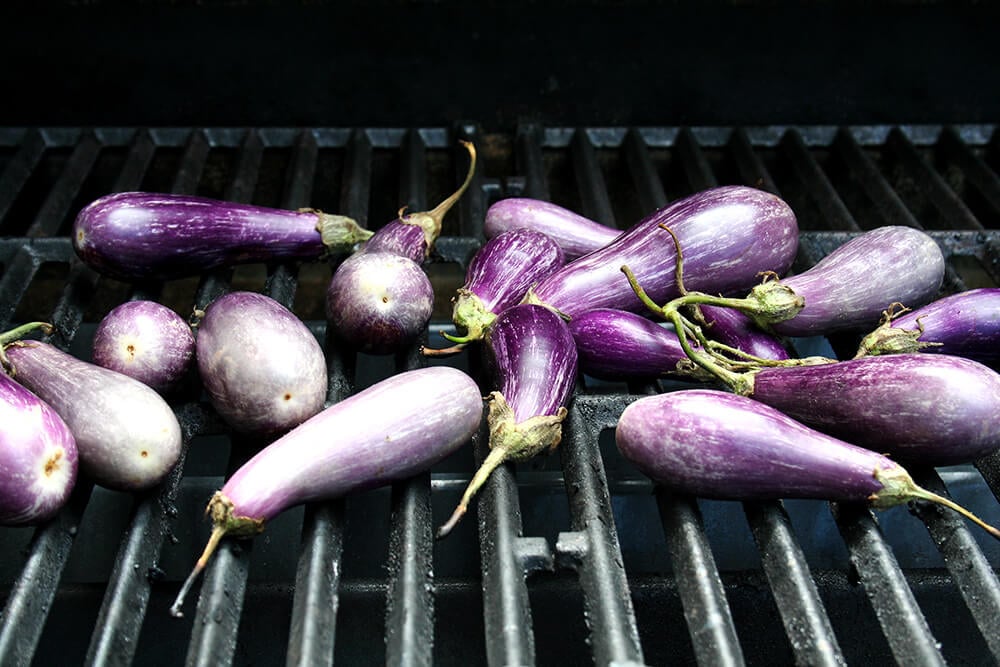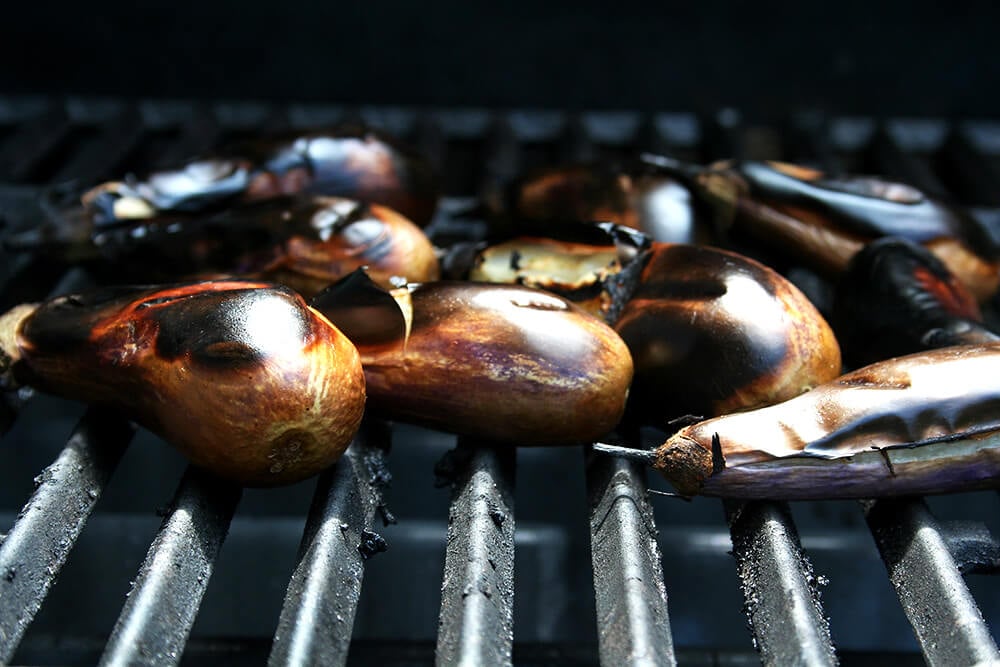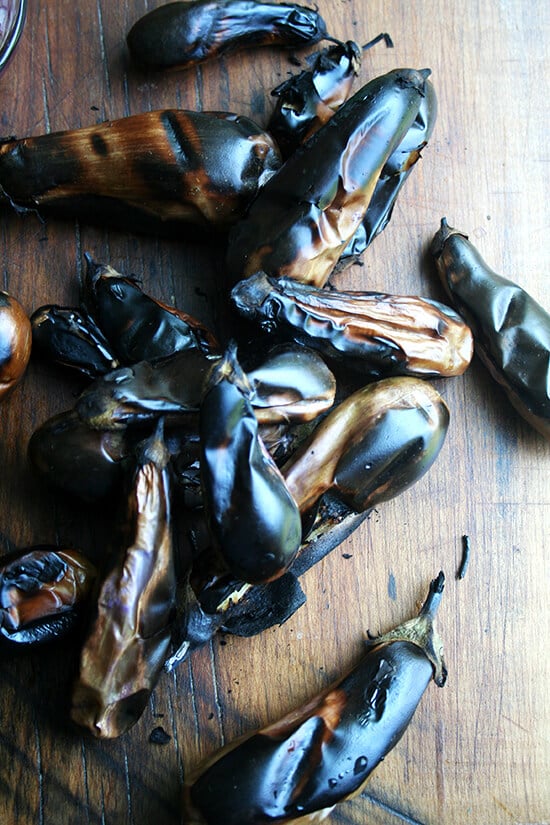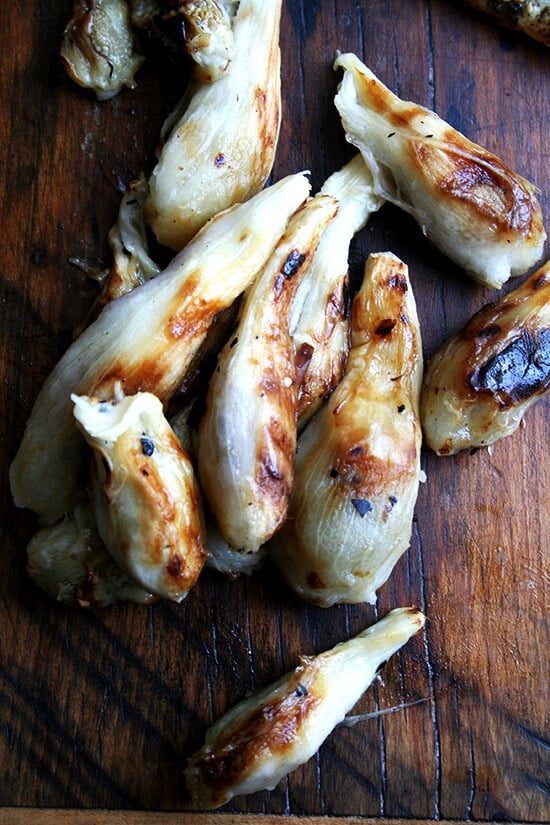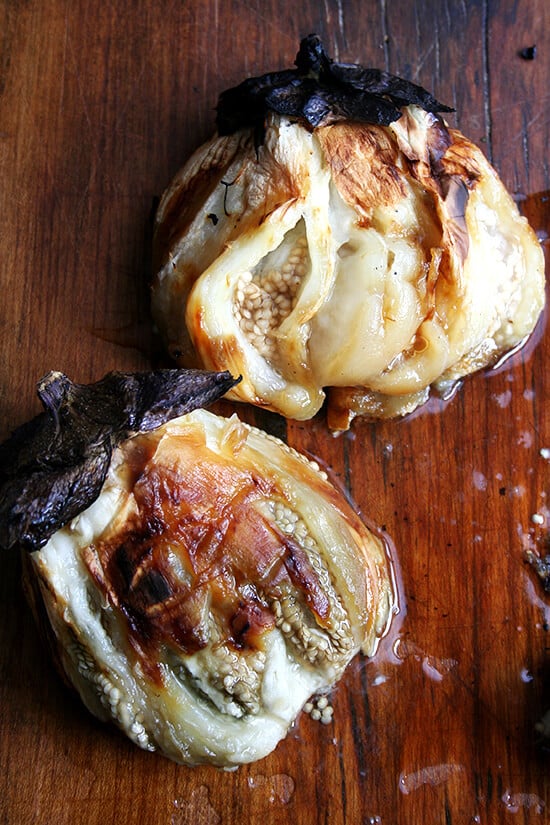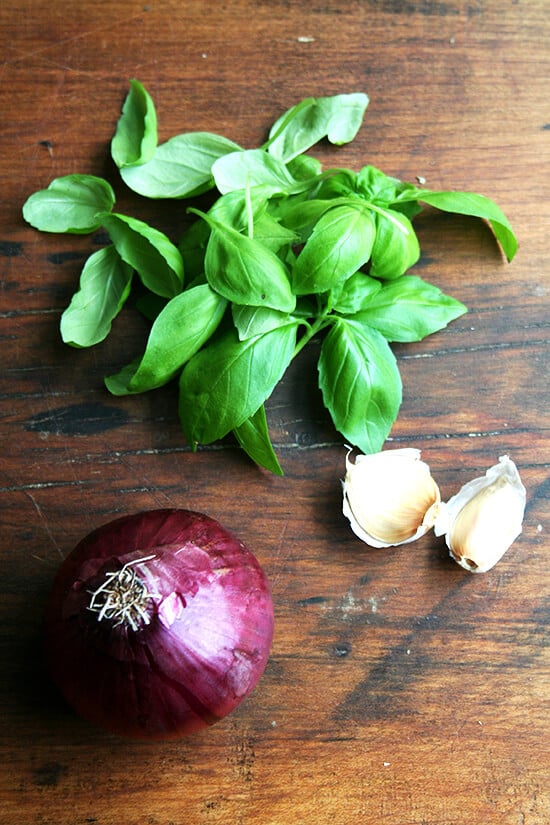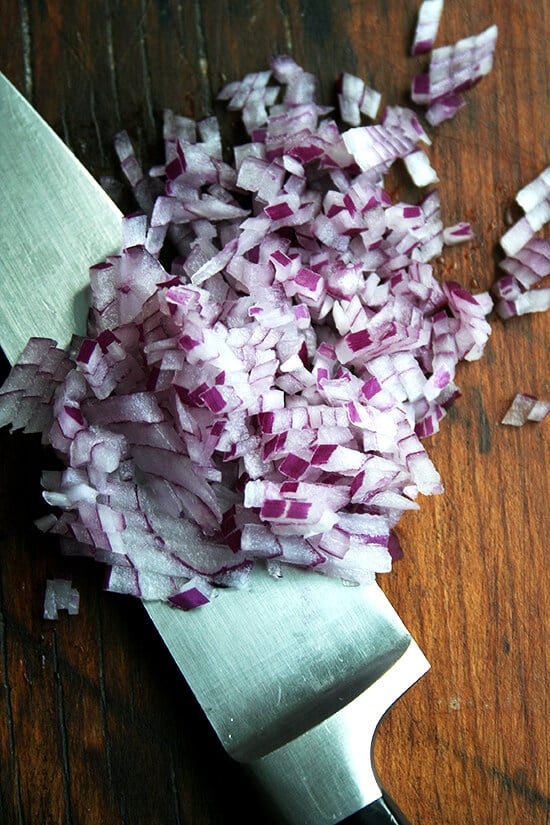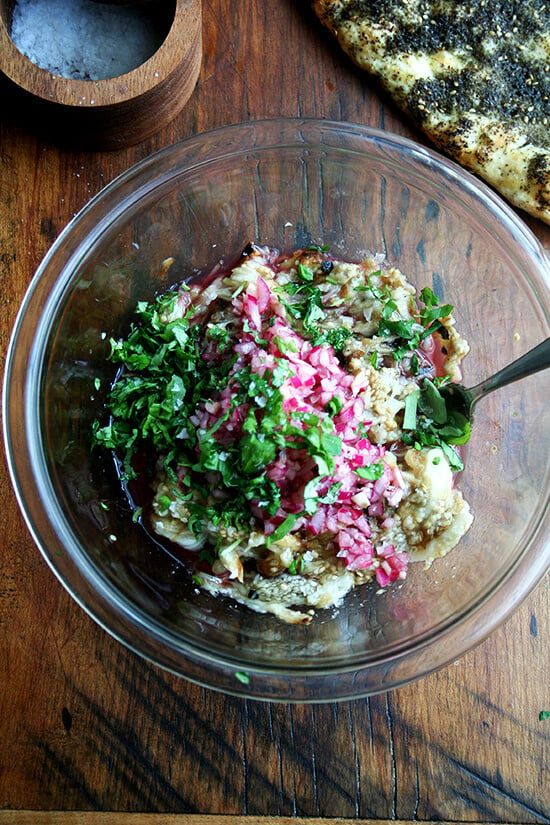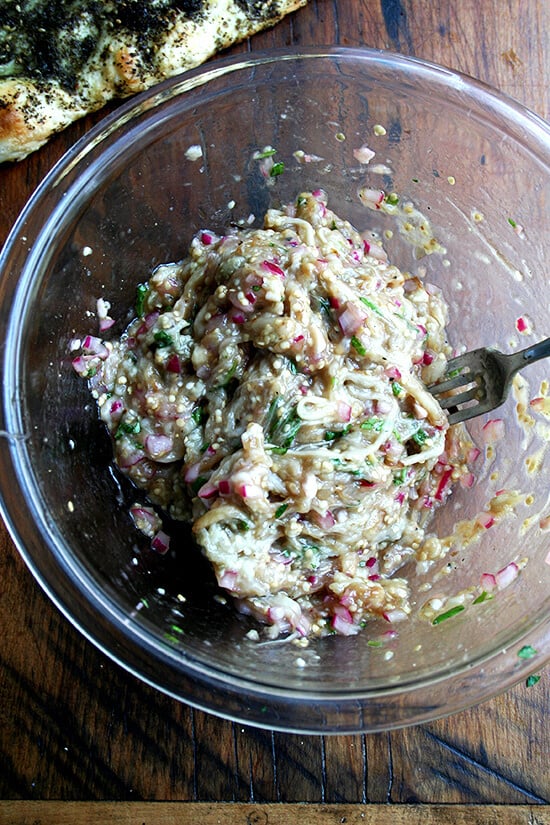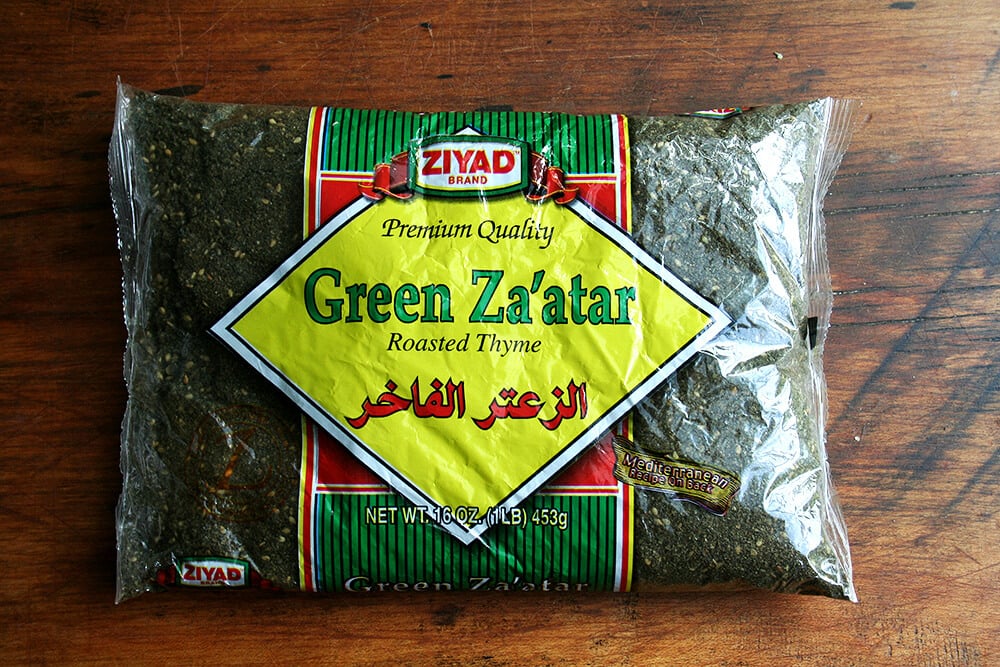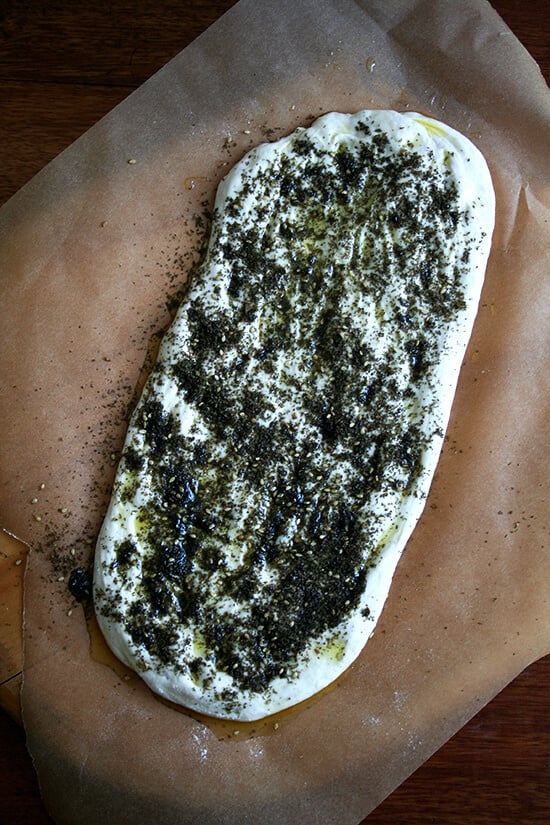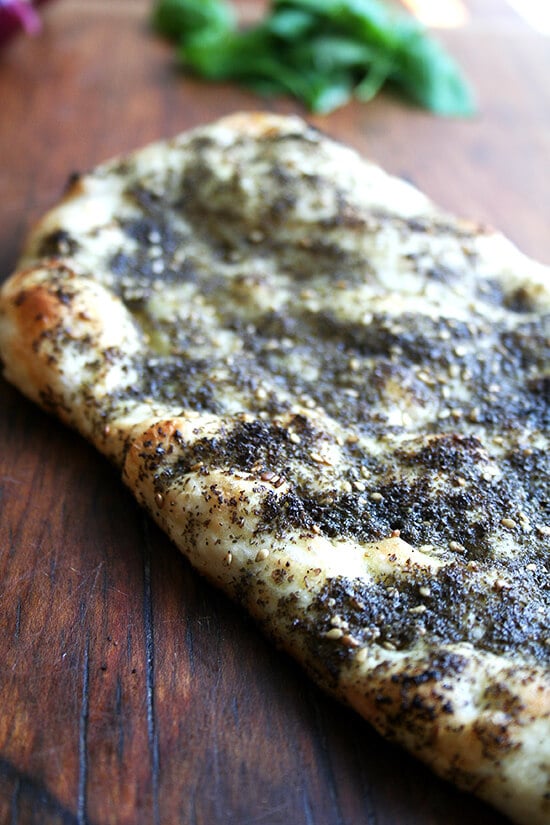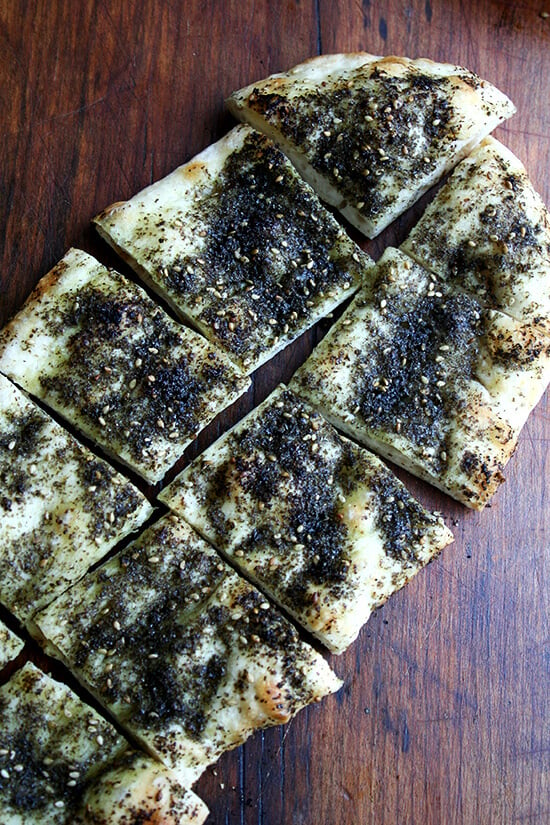 Pizza Perfected
7 Secrets to Mastering Pizza at Home
Always Free. Unsubscribe Anytime.
Print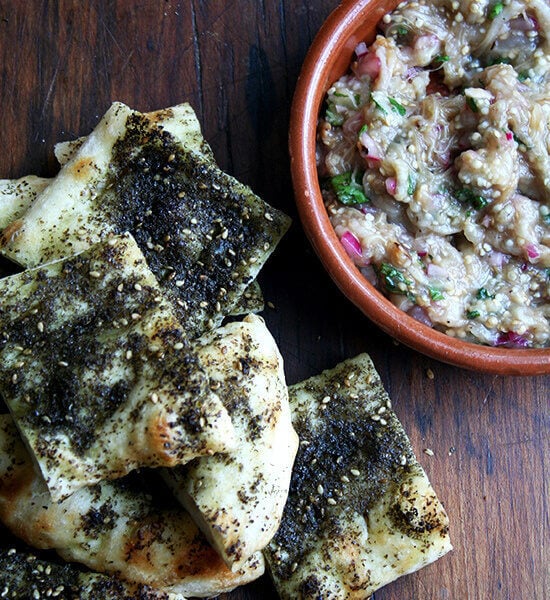 Burnt Eggplant with Za'atar Flatbread
---
Author:

alexandra

Total Time:

35 minutes

Yield:

4 servings
---
1

large globe eggplant (

9

to

10

oz) or about a pound of mini eggplants

2

shallots or

1

small red onion, finely chopped

1

clove garlic, minced
balsamic or red wine vinegar (I love white balsamic)

1/4 cup

finely chopped basil, parsley, cilantro, or more to taste
kosher salt or a nice sea salt like Maldon and freshly ground pepper to taste
extra-virgin olive oil to taste
---
Instructions
Heat a grill to high. Alternatively, place a cast iron skillet into your oven and heat oven to 500ºF.
Place eggplant directly on the grill. (Do not oil or salt and pepper). If you are using your oven, place eggplant into heated cast iron skillet (again, without oil or seasonings). The large eggplants will take about 20 minutes on the grill and in the oven — cook 10 minutes a side. The mini eggplants will take about 10 minutes total — cook five minutes a side. The key is to be patient. If you really let the outside char, peeling will be easy. Remove from the grill and let cool completely before peeling. If the eggplant seem really watery — the larger ones tend to give off more liquid — let them drain in a colander for 10 to 15 minutes.
Meanwhile, place the shallots and garlic in a bowl and let them macerate for at least 10 minutes in about 2 tablespoons of the vinegar. (I let them macerate the whole time the eggplant cooks.) When the eggplant is finished cooking, cooling, and being peeled, place it in a bowl and sprinkle it with salt and pepper to taste. Mash it all together with a fork.
Add half of the macerated shallots and garlic to the eggplant mash. Add in the chopped herbs and a drizzling of olive oil. Mix and then taste. Adjust seasoning as necessary with more salt, pepper and macerated shallots. I always use all of the macerated shallots, and I never have to use more than a tablespoon of olive oil. Serve with grilled bread.
Prep Time:

15 minutes

Cook Time:

20 minutes

Category:

Appetizer

Method:

Grill

Cuisine:

Middle Eastern
Keywords: eggplant, grill, burnt, appetizer, za'atar
Print
Za'atar Flatbread
---
Author:

Alexandra

Total Time:

50 minutes

Yield:

2
---
Instructions
If you have a Baking Steel or pizza stone, place it in the oven and preheat your oven to 550ºF. Alternatively, just preheat your oven to high and line a baking sheet with parchment paper. Allow steel or stone to heat for 45 minutes.
About 20 minutes before baking, remove pizza dough from fridge and let rest on floured surface.
When ready to bake, place a piece of parchment paper on a pizza peel. Alternatively, sprinkle peel with cornmeal or flour. (Note: I know using parchment paper is kind of wimpy, but it prevents any kind of sticking to the peel and it allows you to not have to use any flour or cornmeal, which burn on pizza stones and steels after the pizza is removed from the oven.) With lightly oiled hands, stretch dough out into an oval — do this in the air or on the peel itself (however you feel comfortable). Place on peel (or sheet pan if you are not using a steel or stone) and drizzle with more olive oil. Use your fingers to create small dimples in the surface of the dough. Sprinkle pizza liberally with za'atar. Sprinkle lightly with sea salt — your za'atar may have some salt in it already.
If you are using a peel, shimmy the whole piece of flatbread-topped parchment paper onto preheated steel or stone. Alternatively, place pan in oven. (Note: After about a minute or two, you can pull the piece of parchment paper from underneath the flatbread (if you wish) or you can just let it char.) Cook for about 5 minutes if using peel or stone — it might take more or less time depending on your oven and on the size of the flatbread you make, but start checking after 5 minutes. On a sheetpan, the flatbread will probably take more like 7 to 10 minutes.
Prep Time:

45 minutes

Cook Time:

5 minutes
Incidentally, I have been loving my Baking Steel. More on this shortly.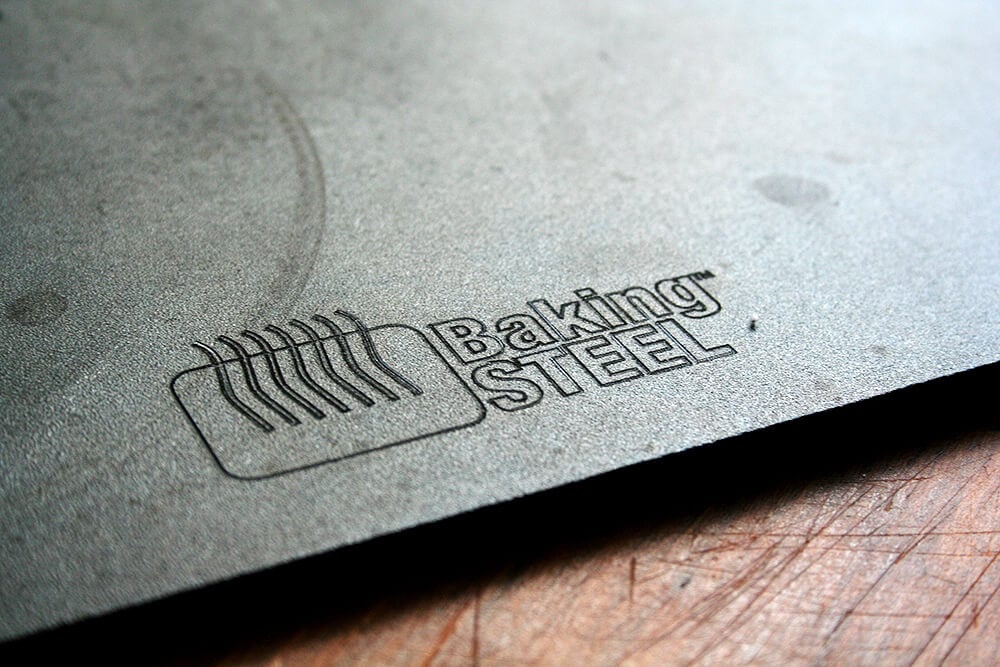 This post may contain affiliate links. Please read my disclosure policy.