New Potatoes with Green Harissa
This post may contain affiliate links. Please read my disclosure policy.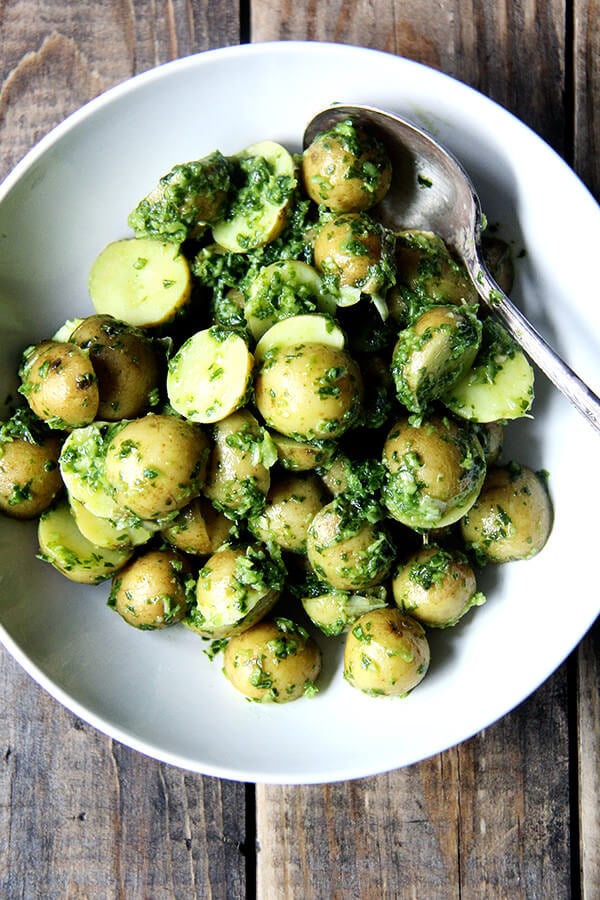 Here's another another one of those how-to-please-everyone-at-the-bbq-this-summer recipes: a vegan, gluten-, dairy- and nut-free recipe capable of basking on a sun-strewn buffet table for hours. Unfortunately, it's not raw — gahh!
Can't please everyone I suppose.
I first tasted this combination — potatoes with green harissa — at a potluck a few weeks ago, and I've been making it ever since. What I love about the harissa is its adaptability: I've made it with mint and cilantro, mint and thai basil, basil alone, etc. I've used lemon, lime, vinegar. I've used a whole jalapeno. I've made it without a chili all together. Sometimes I use cumin, sometimes I don't. It doesn't matter.
The upshot of puréeing herbs with garlic, olive oil and some sort of acid is a sharp, vibrant sauce fit for dressing up any boiled root vegetable, uniting disparate ingredients in a grain bowl, or drizzling over roast chicken or grilled fish.
Essentially, this harissa is a spicy, cheese- and nut-free pesto, a sauce to have on hand all summer long.
PS: More Salads & Sides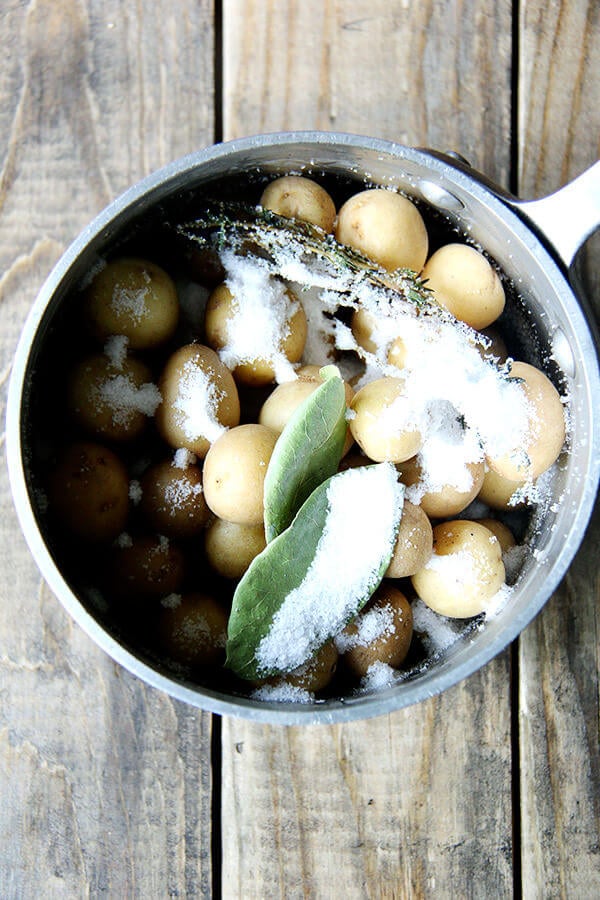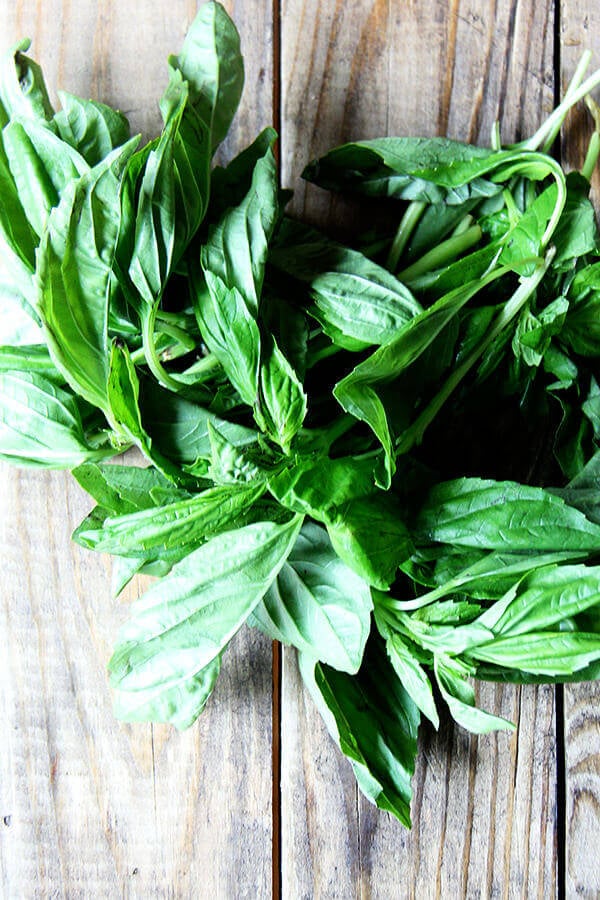 Into the food processor: a ton of basil, one halved jalapeno, two cloves garlic, 1/3 cup olive oil, 2 tablespoons vinegar and a pinch of salt: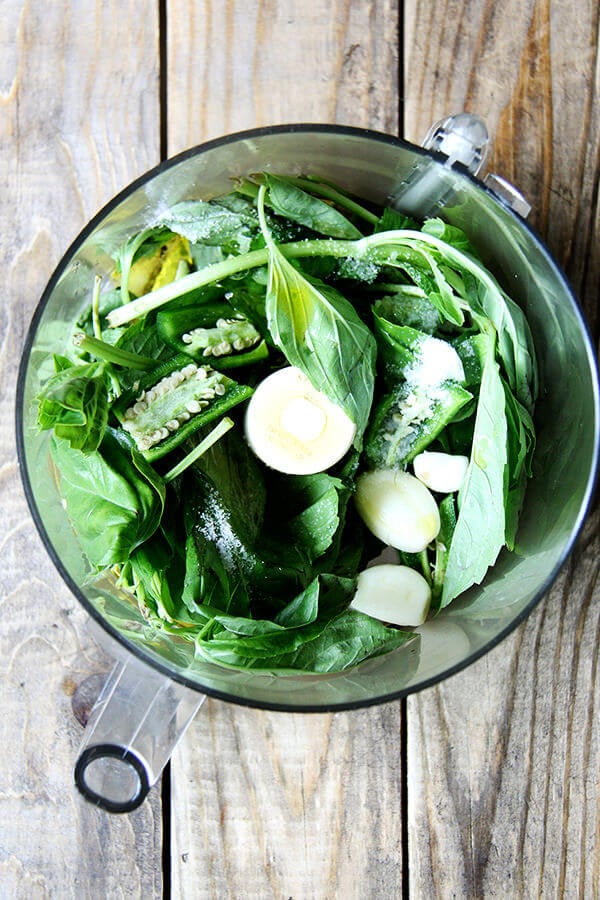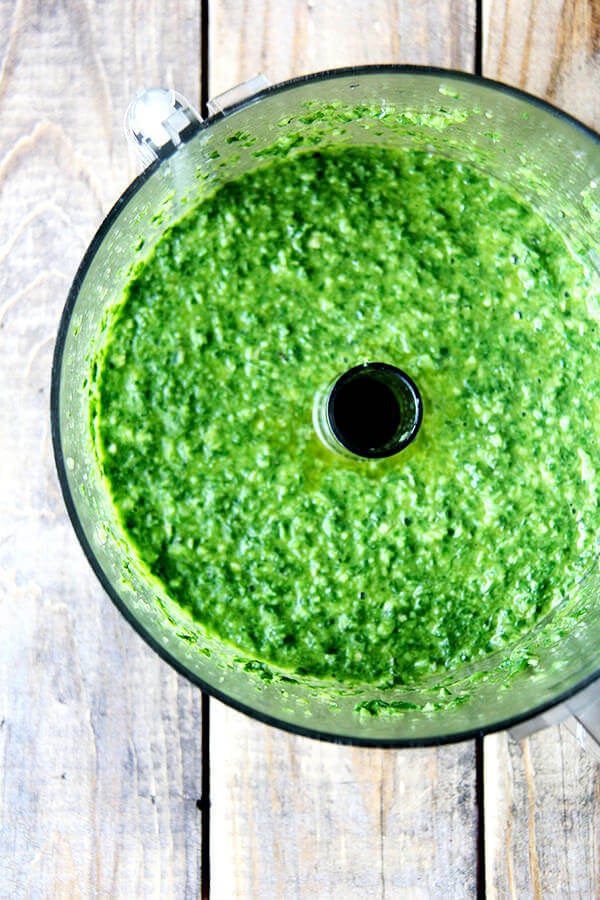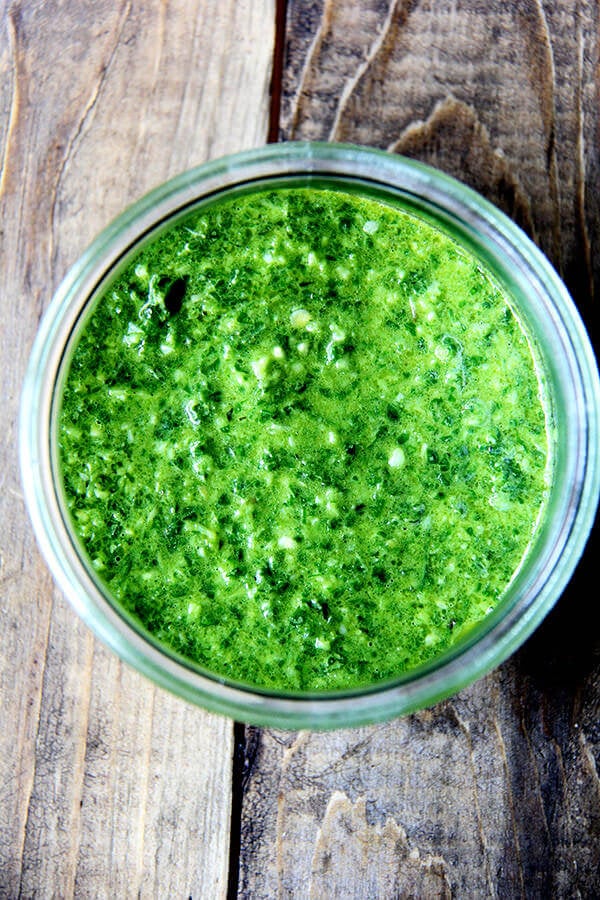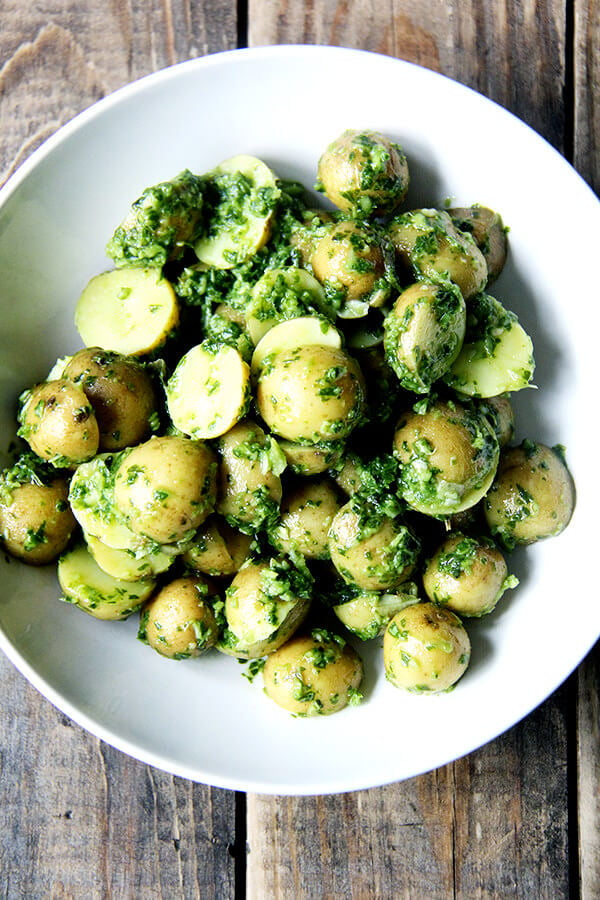 Print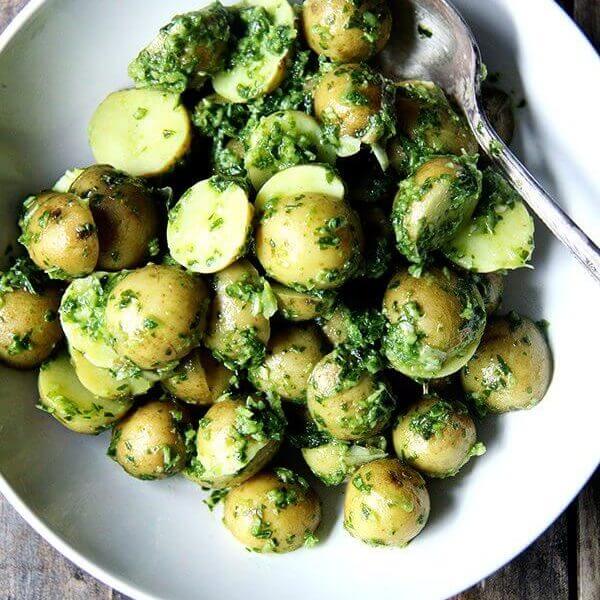 New Potatoes with Green Harissa
---
Description
As I noted above, I first tasted this harissa at a potluck several weeks ago. Jodi from What's Cooking Good Looking brought a potato salad dressed in this vibrant sauce, which she had made from Bowl + Spoon, Sara Forte's new cookbook.
Notes: Use this recipe as a guide. Use any herb or combination of herbs: mint, cilantro, parsley, thai basil, basil, etc. I use a whole jalapeno, but seed the chili if you are sensitive to heat. I often use vinegar in place of lemon, mostly out of laziness. Recently I have been omitting the cumin, but it does add a nice smokiness if you like that sort of flavor.
As for the potatoes, this is the method I learned many years ago while working at Fork. This method only really works with small potatoes such as new or fingerlings. If you are using larger potatoes, boil the potatoes for a few minutes before turning off the heat. Once the potatoes are cool, you can eat the them as they are or you can crisp them up in olive oil with more thyme and rosemary. These potatoes are wonderful to have on hand — delicious cooked as they are, sliced and tossed into salads or as they are prepared here tossed in a spicy, green sauce.
---
for the potatoes:
1

lb. new or fingerling potatoes

1/4 cup

+

2

T. kosher salt
bay leaves, thyme, rosemary, garlic — if you have them on hand

for the harissa:

2

cloves of garlic

2

to

4

cups loosely packed herbs (basil, cilantro, mint, parsley)

1

hot chili (serrano or jalapeno), stemmed and seeded if you are worried about heat
the juice of 1/2 a lemon or 2 tablespoons white balsamic vinegar

1/2 teaspoon

cumin (optional)

1/2 teaspoon

of kosher salt plus more to taste

1/3 cup

of extra virgin olive oil
---
Instructions
Make the potatoes: Place potatoes in a pot. Add the salt, herbs and garlic (if you are using). Cover with approximately one inch of cold water. Bring the pot of water to a boil, then turn off the heat. Let the potatoes cool completely in their liquid before proceeding. (See notes above re timing.)
Make the harissa: Place the garlic, herbs, chili, lemon or vinegar, cumin (if using), and salt into a food processor and pulse a few times to combine. Then, while the food processor is running, drizzle in the olive oil until everything is combined. (I actually just throw everything in together and puree it all at once.) Taste. Adjust seasoning as necessary. You may need more vinegar for bite. You may need more salt. You might want to thin it out with a little more olive oil. Set aside.
When the potatoes have cooled completely, halve them and place in a mixing bowl. Toss with dressing. Season with more salt if necessary. Note: The sauce loses its bright green hue shortly after it is tossed with the warm potatoes, but it is no less delicious.
This post may contain affiliate links. Please read my disclosure policy.