Perfect Pan-Seared Duck Breasts with Port Wine Sauce
This post may contain affiliate links. Please read my disclosure policy.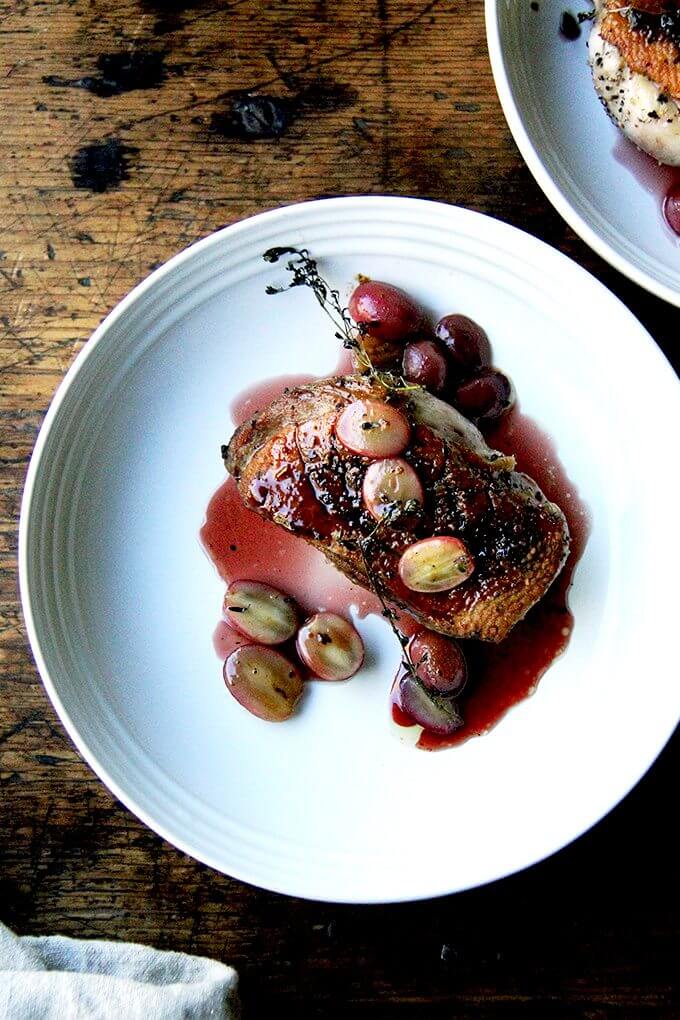 Several weeks ago, I had dinner at Otway in Brooklyn. Chef Claire Welle prepared a fall meal in collaboration with Le Creuset and Cherry Bombe in anticipation of the now-released Le Creuset Cookbook and tableware collection. Of the many memorable dishes Claire cooked for the event, several came from the Le Creuset Cookbook itself, including one of my favorites of the evening: duck breast with banyuls gastrique.
As I swiped each piece of duck through the ruby red sauce pooling on the plate, I remember thinking: Only in a restaurant is duck ever this good, the meat this perfectly cooked, the sauce this flavorful. When I turned to the recipe in the Le Creuset Cookbook, I expected to see a list of elusive ingredients and a note saying: sous-vide machine required.
On the contrary, the recipe looked simple, the sauce requiring three ingredients, the duck an oven-proof skillet. I was intrigued by the technique, too:
"Instead of slapping the duck into a screaming hot skillet, scored breasts are placed skin-side down in a cold pan, slowly brought up to temperature, and left undisturbed until they render copious amounts of delicious fat and the skin turns deep brown and crisp."
Cold. Pan. Did you catch that?
I've now made the dish complete with fancy sauce and thyme-roasted grapes several times, and every time I am surprised by how quickly it comes together, how impressive it looks, and how tasty it is. I've never cooked better duck at home, with skin beautifully crisp, flesh medium rare, the sauce restaurant caliber. What's more? It turns out the secret to perfectly cooked duck at home is also the key to not smoking out your house. Win win.
A note: Don't be intimidated by the word gastrique. If you've made a caramel sauce — and even if you haven't — you can make a gastrique. Here's the basic process: Melt sugar with water in a small saucepan, and cook it until it turns pale gold. Instead of adding heavy cream as you would when making a caramel, you add vinegar (Banyuls, if you can find it, red wine, if you cannot) and then some fortified wine (Banyuls, if you can find it, Ruby Port, if you cannot.) As the sauce simmers, it reduces into an irresistibly sweet-sharp syrup, tasting like an expensive aged vinegar. In the end, you will feel you have a pot of gold on your hands, a sauce to make anything better.
With the sauce done, there is nothing tricky about the dish. When the breasts are finished cooking, they, like all meat, must rest, at which point you throw a handful of grapes and a few sprigs of thyme into the now-empty pan and then toss the pan into the oven. Genius! Just the distraction you need to keep you from slicing the duck prematurely.
Duck is rich, like steak, so I've been serving the breasts with a simple green salad dressed with a shallot vinaigrette and bread, of course. This meal is dinner-party worthy though weeknight (if you like to do it up) friendly — if you make the sauce ahead of time, the meal comes together in about 20 minutes.
Friends, Le Creuset is generously giving away a copy of their cookbook, which by the way, is absolutely stunning: the photographs will make you want to leap on a plane, but the recipes will keep you at home, bringing salad Lyonnaise, lentils with whipped goat cheese, oil-poached leeks, chocolate pots de crème — France as I've always envisioned — to you.
Le Creuset is also giving away a 16-Piece Place Setting with Pasta Bowl in white. The white pasta bowl is featured above and below (and you've likely seen it in several recent posts like here, here, here, and here) — I absolutely love this bowl. It's called a pasta bowl, but it's super versatile — I use it for everything.
To enter the giveaway, leave a comment. US residents only (sorry friends from afar!). Thank you, Le Creuset! UPDATE: GIVEAWAY IS CLOSED. By random number generator, winner is David. Thank you all for your comments.
Gastrique ingredients: sugar, vinegar, Ruby port or Banyuls: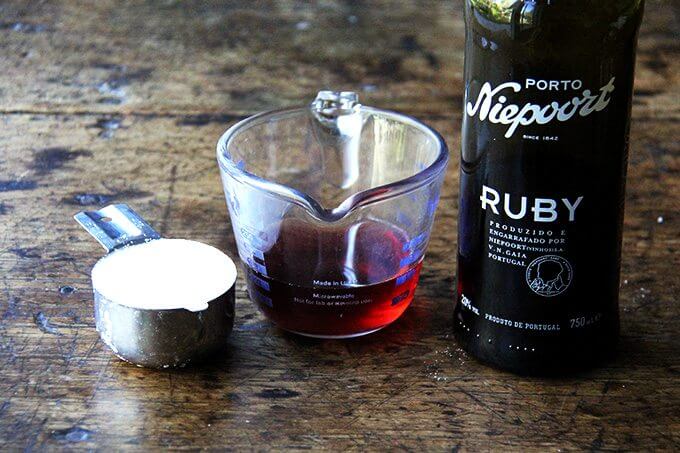 First, caramelize the sugar: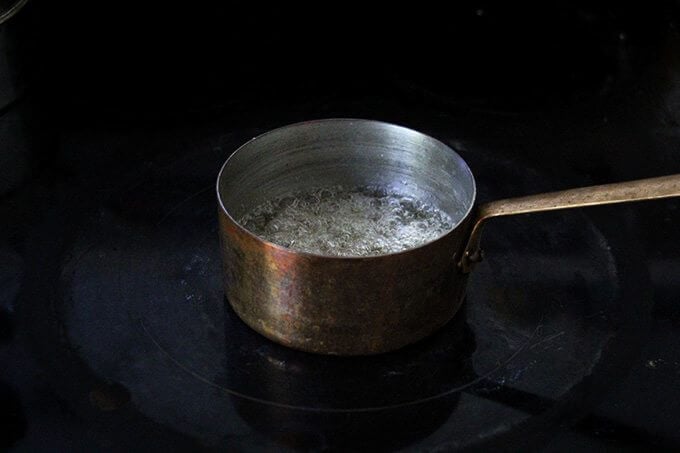 Add the vinegar, at which point, the sugar will harden, and you will feel you are doing it all wrong…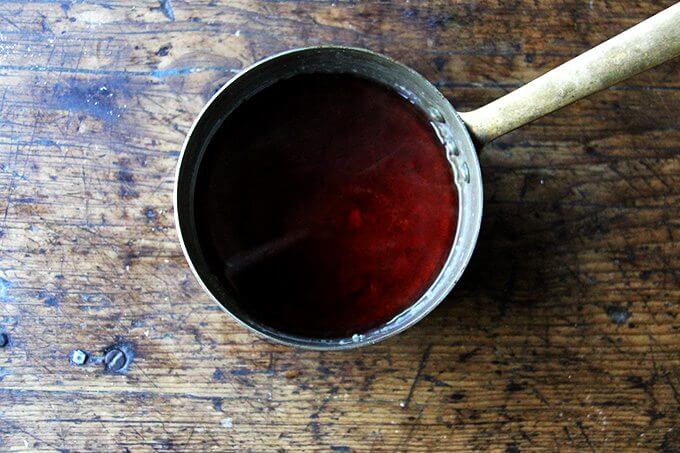 but after a brief simmer, the sugar will melt, you'll add the Port or Banyuls and simmer for 10 more minutes, at which point the sauce will begin coating the back of a spoon, a sign you have a most delicious, sweet-sharp syrup in the house… woot woot!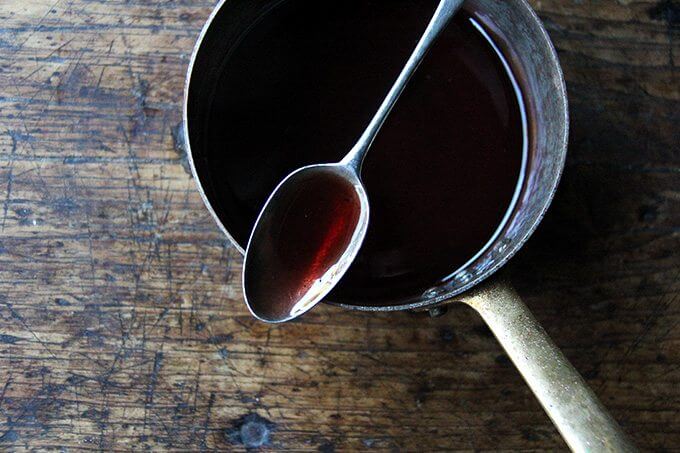 Meanwhile, score duck breasts and …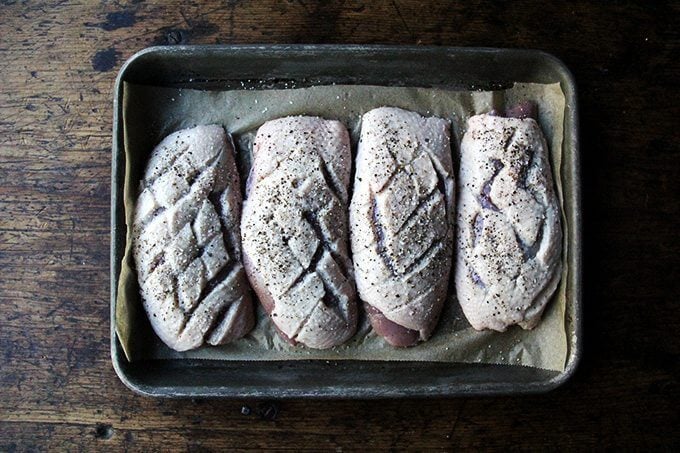 place them in a cold skillet. (This, by the way, is my new favorite pan. It's 5 qts, which is to say it can fit a lot of food at one time. Moreover, it distributes heat evenly, it cleans like a dream, it's oven-safe, and it's nice to look at to boot. Seen previously here and here.)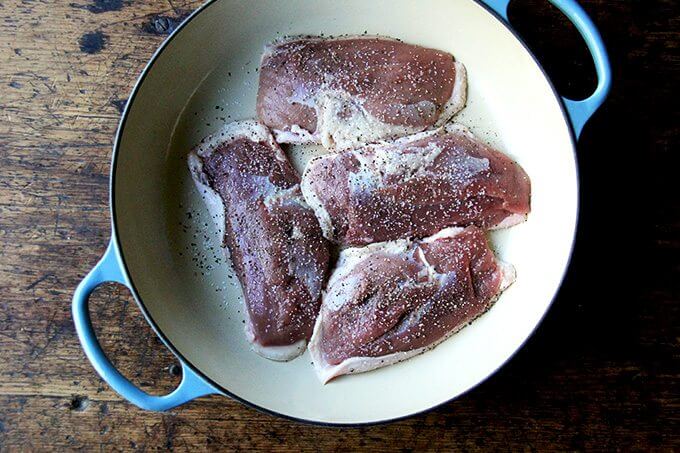 Render the fat, then cook until…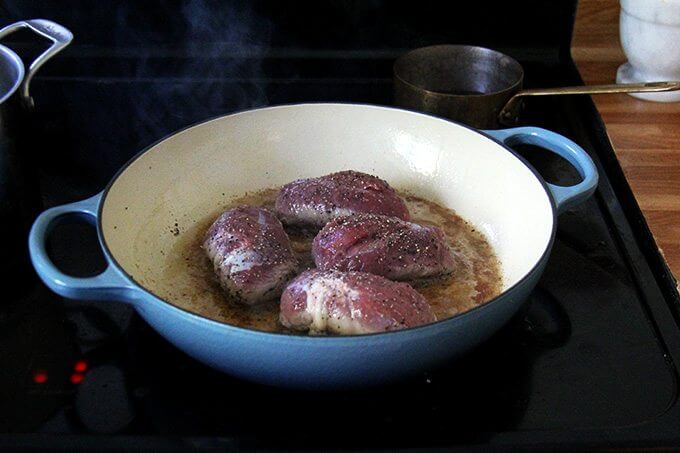 skin is crisp and in instant-read thermometer — can't say enough about my Thermapen — registers around 130ºF for medium rare: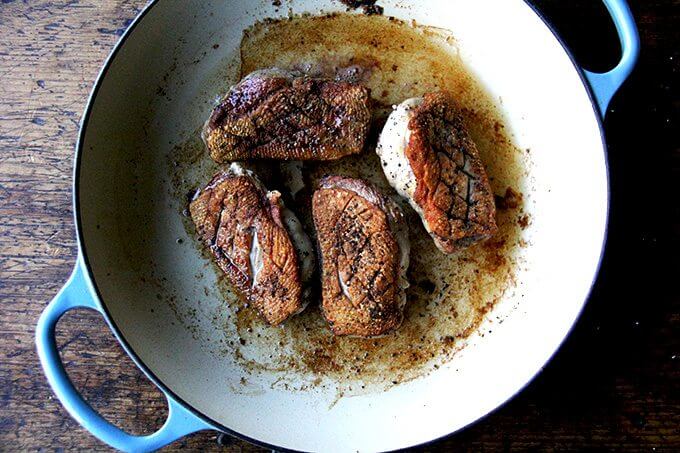 Add grapes and thyme to the pan and roast while the duck rests.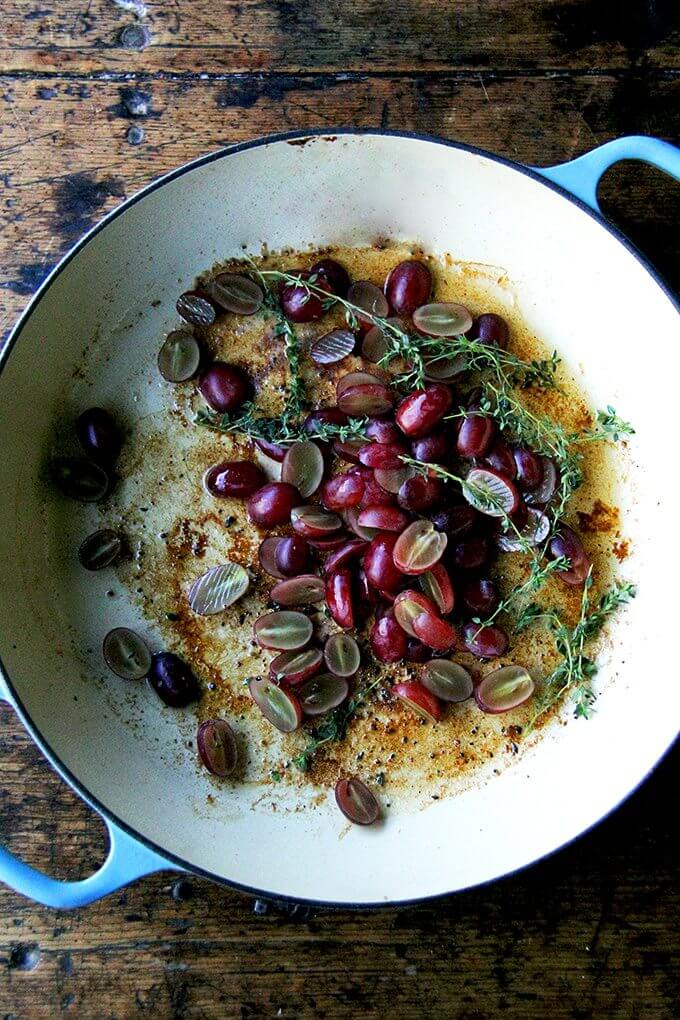 Spoon grapes and gastrique over breasts, then …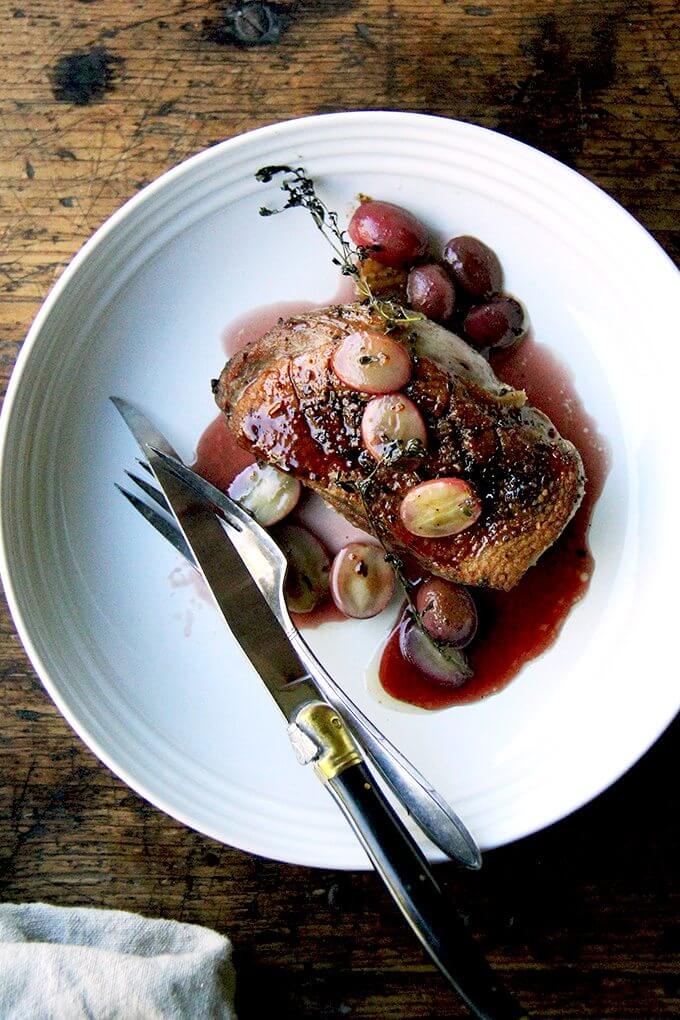 gather your favorite people around the table.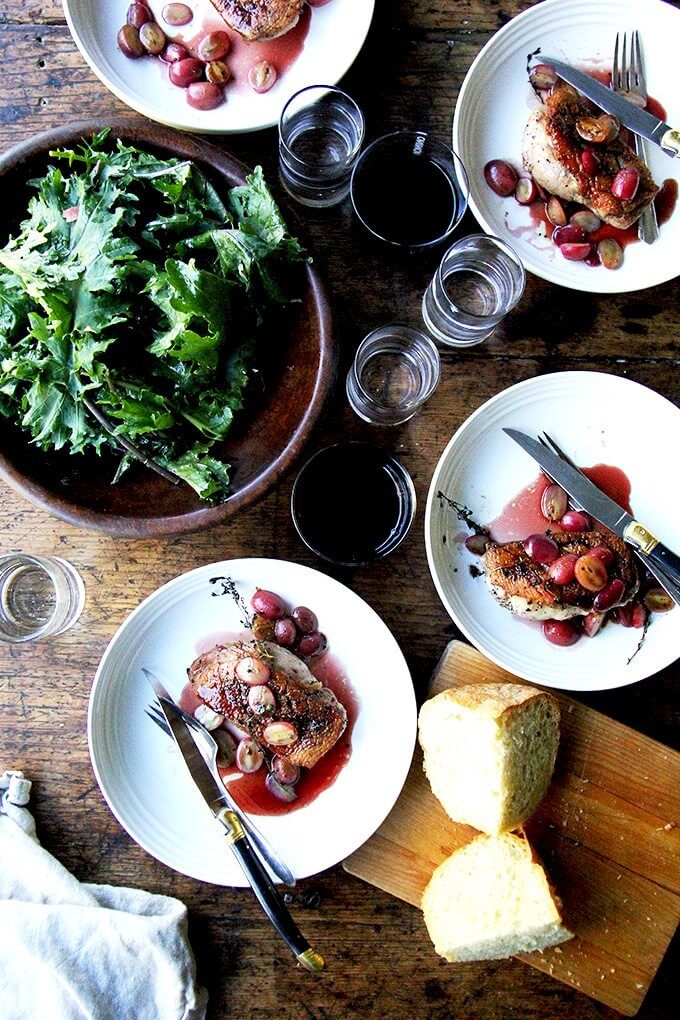 Love this cover. Say it with me: l'uh • cru • say • l'uh • cru • say • l'uh • cru • say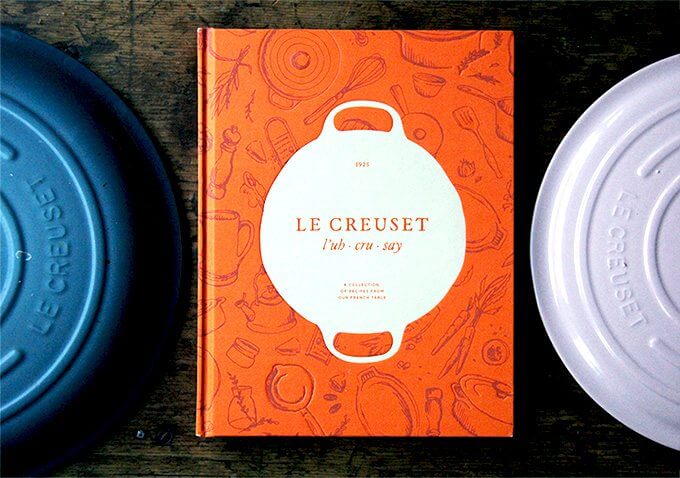 Print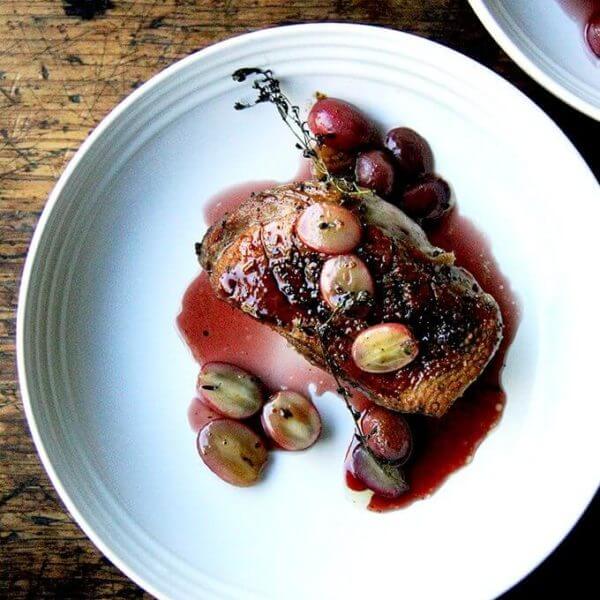 Perfect Pan-Seared Duck Breast with Roasted Grapes & Gastrique
---
Prep Time:

20 minutes

Cook Time:

40 minutes

Total Time:

1 hour

Yield:

Serves 4
Description
From the Le Creuset cookbook | l'uh • cru • say • l'uh • cru • say • l'uh • cru • say
A few notes:
This summer I invested in a good instant-read thermometer: a Thermapen. I can't recommend this tool enough. Duck breasts in particular have been a challenge for me to cook — so many times I've pulled them from the heat, let them rest, only to cut into them to find flesh too rare or way overcooked. What is hard about cooking meat like steaks or duck breast is that when you get that good sear, it's misleading — the meat may feel firm to the touch, but you might only be feeling your nice sear … what lies beneath is a guess. The Thermapen takes the guesswork out.
I did not use the star anise, because the first time I made this, I didn't have any on hand, and I absolutely loved the flavor of the sauce as it was, so I've since omitted it. I imagine a single star anise would impart a very nice, subtle spice to the sauce, so absolutely use it if you have one on hand.
---
Ingredients
1/2 cup

sugar

2 tablespoons

water

1/2 cup

Banylus vinegar or red wine vinegar

1/4 cup

Banylus fortified wine or ruby port

1

star anise pod, optional

4

boneless duck breast halves with skin
kosher salt to taste
fresh cracked black pepper to taste

1.5 cups

halved red seedless grapes

1 teaspoon

chopped fresh thyme (or a few sprigs if you are lazy)

1 cup

loosely packed mâche or watercress leaves, optional
---
Instructions
For the gastrique:
In a small saucepan over medium-high heat, cook the sugar and water, swirling gently until the sugar dissolves and the mixture turns a pale golden color, 8 to 10 minutes. Lift the pan from the heat and pour in the vinegar. The caramel will bubble vigorously and possibly seize and harden. Return the pan to the heat and cook until the caramel is melted and smooth, 2 to 3 minutes. Add the wine and star anise, if using. Simmer until the liquid reduces to thin syrup, about 10 minutes. Discard the star anise. Keep the gastrique warm over very low heat until ready to use.
For the duck breasts:
Blot the duck breasts dry. Use a sharp knife to score the fat of each in a diamond pattern, taking care not to cut into the meat. Season both sides of each breast generously with salt and pepper, then place them skin side down in a large, cold skillet. Place the skillet over low heat and cook for 3 minutes. Increase the heat to medium, and continue cooking until the duck begins to sizzle. Continue cooking undisturbed until the skin is browned, crisp, and has rendered most of its fat, 6 to 8 minutes.
Heat oven to 350ºF.
Spoon off and reserve the fat from the skillet. Flip over the breasts and transfer the skillet to the oven. Alternatively, flip the breast and cook stovetop until the breast registers 125ºF-130ºF. I prefer finishing the breasts stovetop as I feel I have more control/vision on when the breasts look done, at which point I test with my instant-read thermometer. For me it's been about 2 minutes on the second side. If you place pan in oven, roast for 2 to 4 minutes or until an instant-read thermometer inserted into the thickest part of the breast registers 125ºF-135ºF — Note: I find 125ºF-130ºF to be about right for medium rare.  Transfer breasts to a plate to rest.
Add the grapes to the skillet and toss with the thyme and a pinch of salt and pepper. Roast in the oven until the grapes are hot and wrinkled in spots, 8 to 10 minutes.
Transfer breasts to plate, spoon grapes over top. Spoon sauce over top. Top with a small handful of mâche, if using, and serve immediately.
---
Category:

Dinner

Method:

stovetop

Cuisine:

French
Keywords: duck, breast, gastrique, pan-seared, Le Creuset, grapes, thyme, Port, gastrique
This post may contain affiliate links. Please read my disclosure policy.