One-Pan Chicken with Sherry Vinegar Sauce
This post may contain affiliate links. Please read my disclosure policy.
This one-pan chicken with sherry vinegar sauce emerges with beautifully golden and crisp skin, meat falling off the bone, a plentiful sauce pooling all around. The best part? There's no need to brown the chicken. Simply make the simple sauce, add the chicken, and chuck it in the oven. About 45 minutes later, dinner will be done!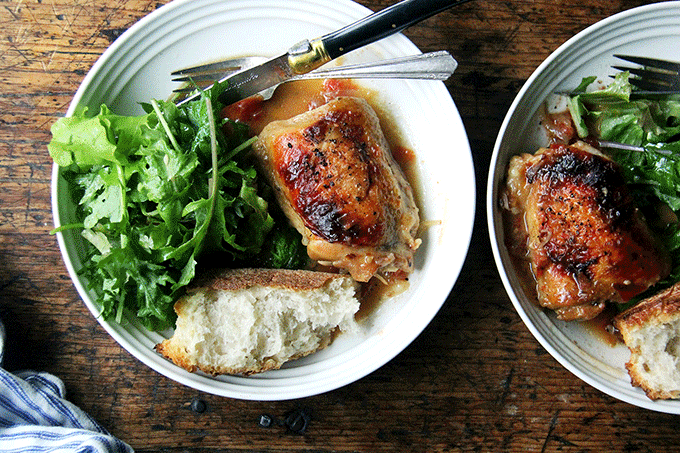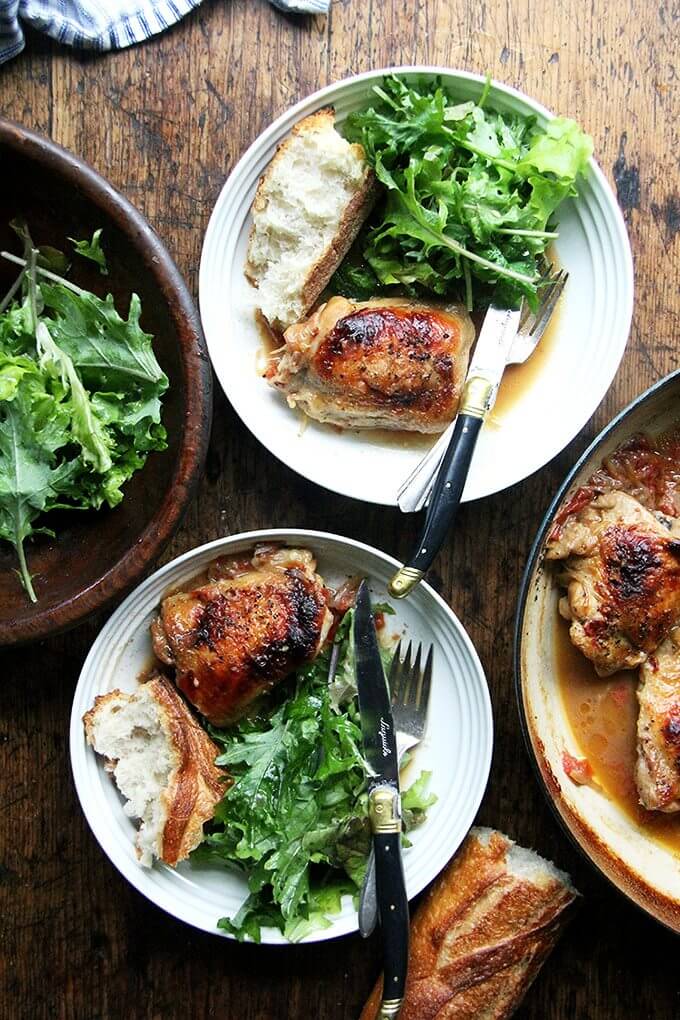 Inspired by Diana Henry's method for Moroccan Chicken and Rice, this recipe calls for forgoing standing at the stovetop browning chicken in batches, opting to chuck everything into the oven at once.
How to Make One-Pot Chicken with Sherry Vinegar Sauce
Sauté a shallot.
Add diced tomatoes (fresh or canned).
Add mustard, Sherry, vinegar, and water. Bring to a simmer.
Add chicken, transfer to the oven, and cook for about 45 minutes.
Serve with lots of crusty bread to sop up the delicious sauce.
5 Favorite No-Browning Chicken Recipes
Print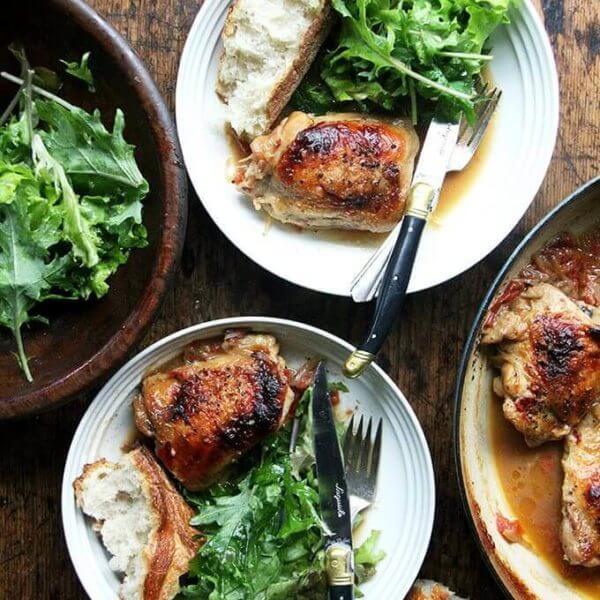 One-Pan Chicken with Sherry Vinegar Sauce
---
Description
Adapted from a favorite Sally Schneider recipe, this one-pan chicken with sherry vinegar sauce comes together in a snap. It's weeknight friendly but dinner party worthy.
As always, for the best chicken, no matter which recipe you are making: salt ahead. If you remember to salt a day in advance, that's ideal, but salting the morning you plan to cook the chicken is great, too. A good rule of thumb: 1 teaspoon kosher salt per pound of chicken. I do this in a 4-qt Pyrex bowl that has a lid, but you certainly could use a Ziplock bag.
---
1 

tablespoon olive oil


1 to 2 

shallots, thinly sliced to yield a heaping 1/4 cup

Kosher salt and pepper to taste


6 to 8 

bone-in, skin-on chicken thighs


1 cup

drained and coarsely chopped peeled plum tomatoes (I like Pomi Chopped Tomatoes) or

2 to 3 

Roma tomatoes, diced to yield 1 cup


1 

tablespoon Dijon mustard


2/3 

cup Sherry, such as Harvey's Bristol Cream, or white wine


1/3 

cup sherry vinegar or other


2 

cups water


Bread for serving
---
Instructions
Directions
Heat the oven to 400°F. In a large skillet over high heat, heat the oil until it shimmers. Add the shallots and immediately reduce the heat to medium. Add a pinch of salt, and sauté until the shallots are soft and translucent, about 5 minutes.
Meanwhile, place the chicken in a large bowl. Pat dry. Season all over with salt and pepper. (Note: If you've salted ahead (see notes above), do not add more salt; just add pepper to taste.)
Add the tomatoes to the pan and cook for 1 minute. Add the mustard and cook for 30 seconds, stirring to incorporate it. Add the sherry, sherry vinegar, and water and bring to a simmer. Transfer the chicken pieces to the pan skin side up. Transfer pan to the oven and roast for 40 to 50 minutes or until the skin is evenly golden brown.
Remove pan from the oven, and transfer chicken to a plate to rest. Pour juices from the pan into a large bowl or large liquid measure. Let liquids sit for a minute or two until the fat rises to the surface. Use a spoon or ladle to remove fat. Taste juices. Adjust with salt or pepper. Return juices and chicken to the pan. Bring to a gentle simmer. Serve chicken with plenty of juices pooling all around—I like using shallow bowls for this one. Serve with crusty bread, if you wish.
Prep Time:

20 minutes

Cook Time:

1 hour

Category:

Chicken

Method:

Oven

Cuisine:

American, French
Keywords: one-pan, chicken, roast, sherry, vinegar, tomatoes, mustard, shallots
This post may contain affiliate links. Please read my disclosure policy.